Little known and under-explored, the Seychelles remote Outer Islands are home to some of the most pristine dive sites in the Indian Ocean. Lying hundreds, if not thousands, of kilometres from the main island of Mahe, these isolated destinations certainly require a little extra effort to reach. But, with jaw-dropping coral, exciting encounters with exotic marine life, and world-class dive sites still waiting to be discovered, we promise it'll be worth the journey. 
Don't believe us? Check out some of the Outer Islands' best dive sites below - you'll be booking your trip in no time.
---
Need help planning your dive holiday in Seychelles?
Contact one of our dive travel experts today

---
The Canyon, Desroches
This dive site is a jumble of big stone blocks, offering some interesting topography and plenty of nooks and crannies to explore. The boulders have formed a series of nice swim-throughs in places, as well as a long, narrow canyon from which the site gets its name. A vibrant display of soft corals and sea fans lines the walls of the canyon, all some interesting macro species can normally be found. 
Even seasoned divers will be impressed by the abundance of fish life on this site, with large schools of snappers and fusiliers, as well as sweetlips and sleeping stingrays. The boulder-strewn landscape is also well-suited to nurse sharks, which are often found napping underneath large rocks.
Best for - picturesque topography
Arcade, Alphonse
Arcade is one of Alphonse Island's most northerly dive sites, with a sloping reef profile that drops away into a wall at around 16-metres. Hard coral covers the reef and the plateau is a good place to spot scorpion fish and sleeping sea turtles. The arcade itself is an U-shaped bowl-like structure covered in cracks and crevices, where bluestripe and humpback snapper, yellow-spotted emperors, and giant sweetlips can sometimes be seen seeking shelter from the current.
Schools of bigeye trevally, and both pickhandle and chevron barracuda commonly surround divers above the drop-off, while Napoleon wrasse, bumphead parrotfish, and unicornfish can be seen out in the blue. Various species of shark have also been known to frequent this site.
Best for - schooling fish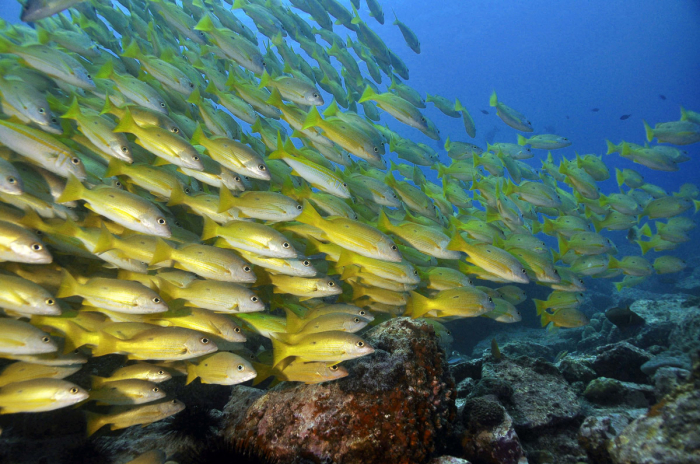 Galawa, Alphonse
Located on the west coast of Alphonse, this dive starts in shallow water, following the spur and groove reef formations towards a sloping drop-off. Dogtooth tuna and potato grouper can often be seen out in the blue, with the ever-present possibility of an inquisitive shark appearing from the open ocean. The wall itself is carpeted with encrusting coral, along with the odd flourish of purple sea fans. 
Turtles, lionfish, and nudibranchs can be spotted on top of the plateau, while a bowl-shaped area carved into the reef provides shelter for various schooling fish species, as well as divers. Giant sweetlips, Napoleon wrasse, netfin grouper, and bluestripe snapper congregate here, along with the occasional school of bluefin or giant trevally on the hunt.
Best for - pelagic fish patrolling out in the blue
Shark City, Bijoutier
This deep site is located on Bijoutier's west coast and features a ridged reef surrounded by a sandy plateau that reaches depths of 30-metres. Gorgeous gorgonian sea fans reach vertically from the flat seabed, while tawny nurse sharks, green sea turtles, and camouflage grouper rest below. But it's the sandy arena perched on the edge of the drop-off that is the real draw, as it offers shelter for divers and attracts sharks up from the deep. 
A variety of shark species have been seen here, including grey and whitetip reef sharks, silvertips, hammerheads, and bull sharks. Don't expect to have to wait until you reach the drop-off to spot these incredible creatures, as sightings often occur at the very start of the dive, as you descend through the water column. 
Best for - multiple shark species
Ready to start planning your dive holiday in Seychelles?
Search, compare and book from our hand selected resorts
Napoleon, Bijoutier
This open water reef is found off the northwest coast of Bijoutier, and is considered one of the best dive sites in the Alphonse Group. The raised reef plateaus at around 15-metres and is forested in large colourful sea fans peppered with nudibranchs and flatworms. Deep crevices and protruding coral formations provide shelter for octopuses and tawny nurse sharks, while fusiliers, yellow-spotted emperors, bluestripe snapper, and humpback unicornfish school around the coral.
The reef slopes away towards a field of vibrant sun corals, before dropping away beyond recreational limits. Napoleon wrasse, giant sweetlips, and large schools of batfish frequent this drop-off, as well as dogtooth tuna and bluefin trevally. It's even possible to spot several shark species here, including whitetip reefs sharks, silvertips, and the occasional hammerhead. 
Best for - open-ocean excitement
Theatre, Bijoutier
Located around 15-minutes south of Bijoutier Island by boat, this site features a raised crescent-shaped reef resembling an amphitheatre. The wall is decorated with purple sea fans and interesting overhangs, as well as a picturesques ridges covered in anthias. In the deeper section, a rocky outcrop covered in encrusting coral extends out towards the blue, before dropping well beyond the reach of recreational divers. 
Golden, bluefin, black, and giant trevally can be seen cruising along the wall here, while bohar and black snapper gather in deeper water. This site also lies at an entry point to the lagoon, meaning larger species such as bumphead parrotfish, manta rays, and hammerhead sharks can often be seen enjoying the current.
Best for - mesmerising scenery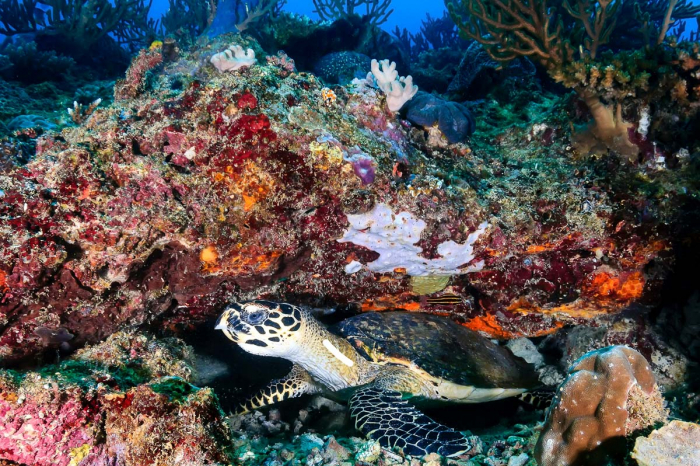 North Point, Astove
As the name suggests, this site occupies an exposed location at the island's northern point. With currents flowing from either side of the island, no two dives are the same, making it one of the most thrilling dive sites Astove has to offer. It is possible to coordinate your dive with the relative calm of slack tide. But, the real action here takes place when the currents are running, forcing divers to use reef hooks to hold their position while they gaze at the stunning display of schooling fish.
A variety of habitats, from sand and seagrass to large coral colonies draw a variety of fish to this site, including big potato groupers and plenty of permits. To end the dive, groups will usually drift out into the blue with the current, enjoying a safety stop alongside a tornado of black fin barracuda.
Best for - adrenaline-fuelled action
The Wall, Astove
The diving around Astove Atoll is dominated by a dramatic six-kilometre wall on the island's northwest coast. Known simply as 'The Wall', this site is probably the most spectacular section, plummeting from waist-deep water into the inky-black abyss. Several sinkholes have opened up in the reef flat here, allowing divers to descend into the hole, emerging on the outside of the wall at a depth of around 15-metres.
Every inch of the reef face here appears to be armoured with plates of coral, while scar-like fissures are filled with colourful soft corals. As with all deepwater walls, this site also has potential to lure bigger pelagic species from the open ocean. 
Best for - dramatic wall diving
Recommended resort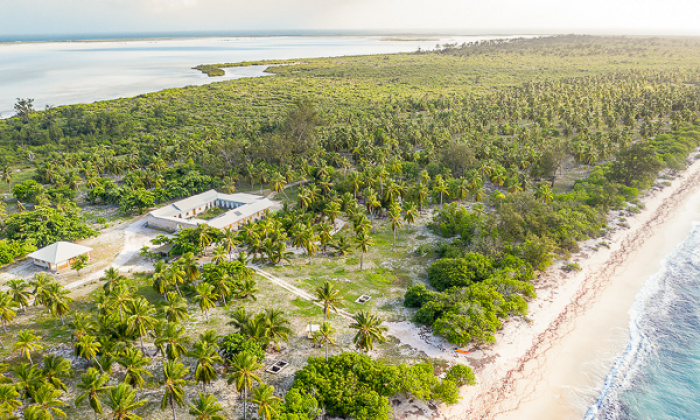 Aldabra, Astove and Cosmoledo
Astove Coral House
Located over 1,000-kilometres from Mahe, Astove Coral House is located on one of the most remote inhabited islands in the Seychelles, surrounded by picture-perfect beaches and palm ...
Petite Astove, Cosmoldeo
The reef running between Menai Island and Iles du Nord, northwest Cosmoledo, is one of the most spectacular in the Seychelles, boasting close to 100% coral cover. This site, located near the tiny speck of an island known as Petite Astove, features a shallow reef with a rapidly sloping drop-off that reaches just beyond recreational limits. 
Drift along the drop-off at around 15-metres, exploring the impressive hard coral coverage and deep crevices in search of various species of grouper. You'll likely encounter schools of golden and humpback snapper, along with plenty of bluefin trevally, and early morning visits can also offer surprise hammerhead encounters. 
Best for - impressive coral coverage
Cosmoledo Atoll
While there are several other dive sites around Cosmoledo that deserve a place in this list, the true magic of this atoll is found in the dive sites that don't yet have a name - at least, not yet. This remote atoll is so isolated, it has welcomed just a handful of divers over the last decade, leaving huge areas of its underwater environment largely uncharted. For visitors today, this ensures opportunities for fantastic frontier-style exploration, and the ever-present possibility of discovery.
The impressive hard coral on Cosmoledo's reefs is some of the healthiest in the entire country, and it supports plenty of macro species such as pipefish, nudibranchs, and leaf scorpionfish. Bigger species are never far away, however, with barracuda, batfish, and schools of bluelined, humpback, and bohar snapper often engulfing divers both above and beyond the reef. A variety of shark and ray species can also pass through, and being a frontier diving destination, you never truly know what you might encounter - but that's the thrill.
Best for - frontier exploration
---
Need help planning your dive holiday to the Seychelles?
Contact one of our dive travel experts today

---