Perched above tranquil lagoons overlooking the expansive Indian Ocean, the Maldives' iconic overwater villas are the height of sophisticated luxury. These glamorous accommodations have all you could possibly ask for from a spectacular dive getaway, with a wide choice of extravagant extras on offer, including private infinity pools, slides, glass floors, and personal butler service. 
So, if you're ready to take your scuba diving holiday to the next level in 2023, or if the sun-baked Maldivian sand is just a little too warm for your toes, then you're in the right place - because these are the best overwater bungalows for a dive holiday in the Maldives. 
Dreaming of your perfect Maldives dive holiday?
Search, compare and book from the best overwater bungalows in the Maldives
Sun Siyam Olhuveli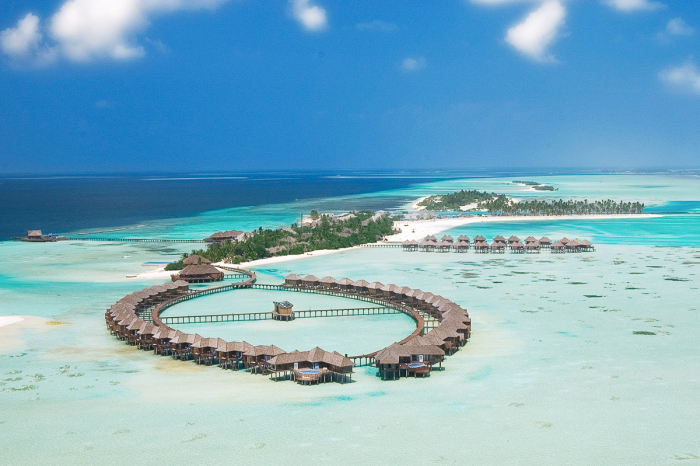 Affordable overwater bungalows in the Maldives are difficult to come by, particularly without sacrificing added luxuries and five-star service. But, at Sun Siyam Olhuveli, you can find some of the region's most budget-friendly overwater options, complete with many of the first-class facilities you've dreamed of. 
This resort's wide range of overwater bungalows combine authentic Maldivian elegance and modern convenience, with both traditional-inspired suites and chic contemporary villas. Designed to deliver dream getaways for all guests, Sun Siyam Olhuveli's eight overwater accommodation options each offer something a little different, from private outdoor hot tubs, infinity pools, and direct lagoon access, to extra privacy, romance, and epic sunsets. But there's one thing they all share - breathtaking views of the island's stunning turquoise waters.
Catering to every whim, Sun Siyam Olhuveli has three shared pools to choose from - including an adults-only infinity pool that never fails to impress - and a wide selection of watersports including parasailing, kitesurfing, and one of the widest ranges of scuba diving facilities in the atoll. Tech, sidemount, rebreather, dive scooters, and more - you name it, Sun Siyam Olhuveli can help make it happen. 
Komandoo Island Resort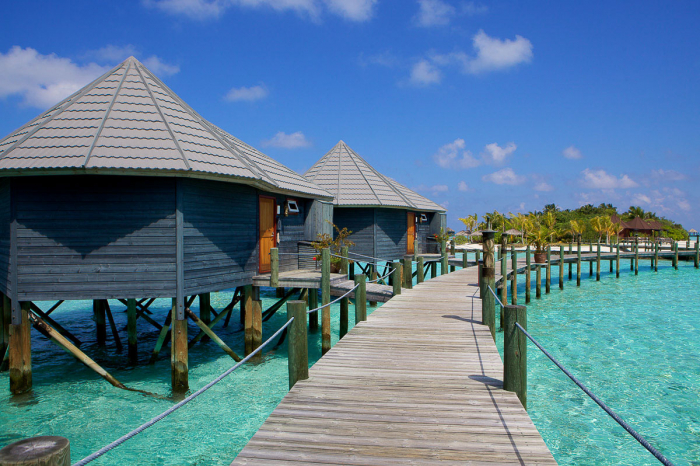 Combining classic Maldivian beauty with the charm of a small resort, Komandoo Island is paradise, pure and simple, and their sumptuous overwater villas guarantee a luxurious and romantic atmosphere to compliment your stay. Sitting on stilts above the tranquil lagoon, each of Komandoo Island's water villas feature a large, partly roofed wooden deck with a staircase leading directly down to the ocean, allowing guests to slip seamlessly from alfresco breakfast to blissful morning dip. And, as the day draws on, relax in your own Jacuzzi bath whilst gazing out over the horizon, where still azure waters meet cloudless skies.
Lying just a short 40-minute plane ride from Male's international airport, Komandoo Island Resort boasts a secluded adults-only ambience, creating some of the most intimate getaways in the atoll. During your stay, you can enjoy some truly outstanding facilities, including a fitness centre, sports grounds, and award-winning spa, as well as a variety of watersports including kayaking, paddleboarding, sailing, and yacht charter. And, of course, you'll also have access to over 60 remarkable dive sites - including the resort's own stunning house reef - thanks to Komandoo Island's highly-regarded partner dive centre, Prodivers Maldives.
---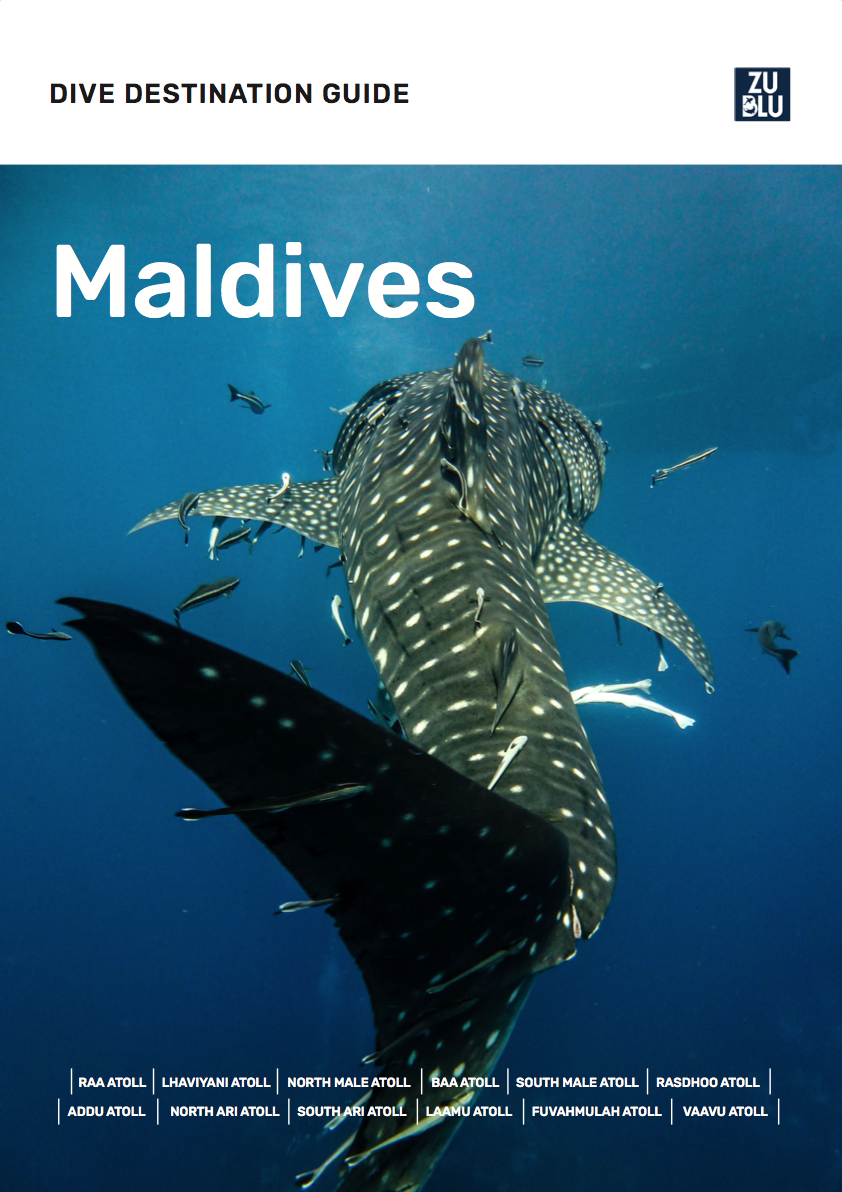 Complete guide to the best diving in the Maldives. Explore the atolls, seasons, and pro tips in this free 37 page destination guide.
---
Drift Thelu Veliga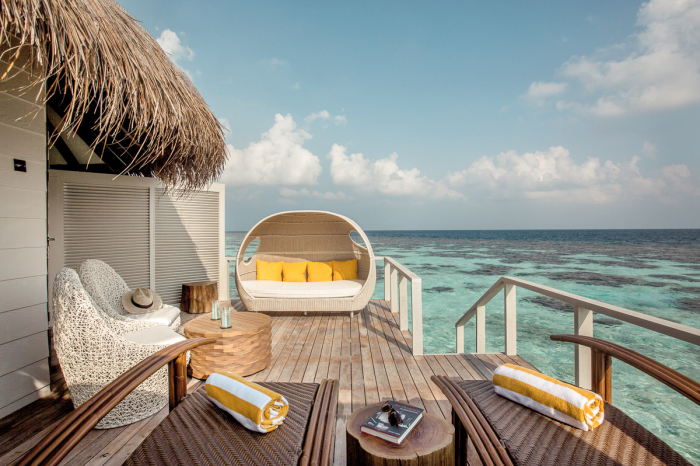 At just over a hectare in size, the intimate Drift Thelu Veliga Retreat promises untouched tropical surroundings that nod to a simpler time. The resort's 20 water villas are poised over the island's vast turquoise lagoon, taking full advantage of the island's stunning natural beauty, and are about as chic as they come. Expect blonde thatched roofs, boutique wooden furnishings, and concertina doors that allow the beauty of the Indian Ocean to be enjoyed from the comfort of your stylish designer bathtub. And what's more, Drift Thelu Veliga Retreat's overwater bungalows all feature a private deck with contemporary outdoor furniture and access to the cool blue waters below.
Known for its outstanding, unspoiled natural beauty and abundant marine life, Drift Retreat promises a getaway you'll never forget, complete with some of the most incredible snorkelling and diving in the world. In fact, the resort's PADI 5-Star dive centre is located just 20 minutes by boat from the Kudarah Thila Marine Reserve and Whale Shark Point - known for encounters with marine megafauna such as whale sharks - making it perfect for divers who want to experience the very best of Maldivian diving.
Adaaran Prestige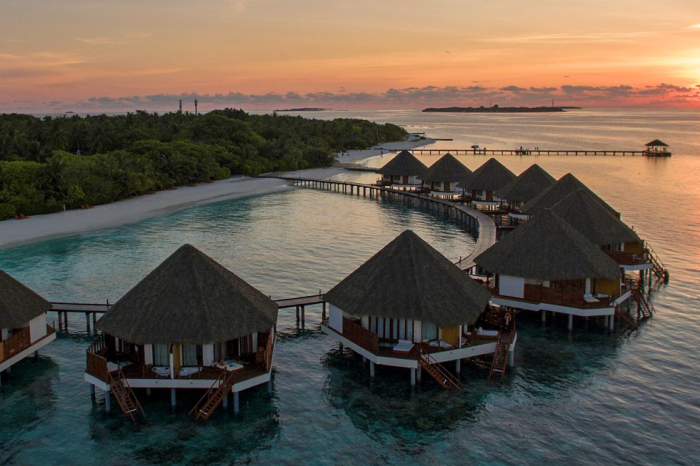 Awarded the World's Leading Water Villa Retreat at the World Travel Awards, Adaaran Prestige was always going to make this list. The resort offers 50 overwater bungalows in total, six of which are inspired by timeless Japanese design - reflecting the principles of elegant simplicity mixed with disciplined luxury. All villas feature a range of contemporary comforts - such as teak wooden floors, 24-hour butler service, and plunge pools with all-encompassing views of the Indian Ocean - creating intimate living spaces above the azure Indian Ocean where a barefoot, laid-back living takes precedence.
In total, Adaaran Prestige hosts a maximum of 40 guests, making it feel more like a private getaway than a five-star resort. Plus, with such a small number of tables, the resort's chefs are free to focus on creating innovative and exotic daily offerings or custom meals for special occasions. And the flexible five-star service doesn't stop there, as Adaaran Prestige's partner dive centre, Dive Point, specialises in concierge service and unique underwater experiences in the world-renowned Raa Atoll - known for big fish, manta cleaning stations, and spectacular underwater formations.
Ready to start planning your luxury holiday in the Maldives?
Search, compare and book from the best overwater bungalows in the Maldives
Six Senses Laamu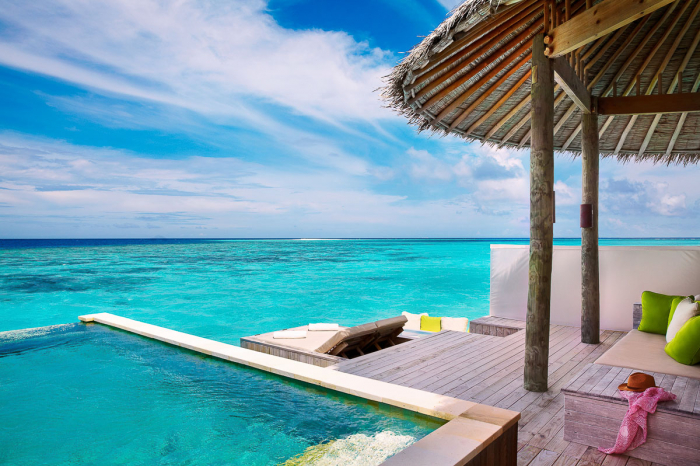 Six Senses Laamu - the atolls sole resort - offers an idyllic palm-fringed paradise, where sumptuous surroundings meet sustainability. Accessed via a weathered timber jetty, the resort's overwater villas have been carefully designed to harmonise with the outstanding beauty of the island, making the most of natural materials, and allowing for the utmost space and privacy. Each luxurious villa makes the most of their premier location with a cushioned outdoor seating area with glass-bottom table, and a sumptuous semi-open bathroom with glass-bottom bath, providing views of the water below. Optional extravagant extras include an overwater netting hammock, a higher 'treetop' deck with comfortable seating, and a generous private swimming pool stretching out over the water.
But it's not just the villas that are situated above the water here, Six Senses Laamu is also home to the largest overwater restaurant in the Maldives. All of the resort's restaurants focus on fresh, sustainably-sourced ingredients from the resort's Leaf Garden - as well as a chocolate studio and ice cream parlour. And, if you need some exercise to work off all that food, you'll have to look elsewhere - the concierge-style service at this resort's state-of-the-art PADI 5-Star dive centre, Deep Blue Divers, means you'll barely have to lift a finger.
Baros Maldives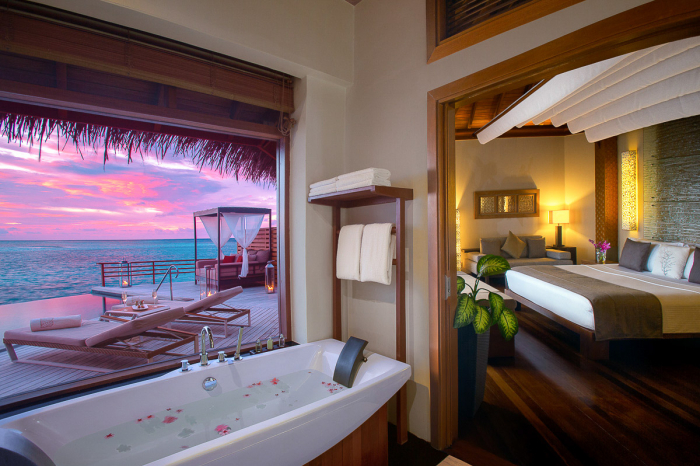 Perched high above the lagoon, Baros' overwater villas are poetically described as 'timber cocoons of tranquillity' - a statement that could hardly be more fitting. Each stunning water bungalow is a personal retreat, with elegant furnishings, plush amenities, and thoughtful touches of indulgence everywhere you look. Inside you'll find rich teak floors, luxurious furniture, a library of books and indoor games, and every convenience - including a dedicated 24-hour villa host. Outdoors, the sweeping timber deck offers endless ocean views, a private four-poster daybed, optional infinity pool, and a stairway descending into the crystal-clear waters below. 
Baros is one of the top resorts in Maldives, tucked away in a natural jungle just 25 minutes by speedboat from the international airport. And, with its overwater infinity pool, idyllic beaches, tennis courts, well-equipped fitness centre, and luxury private yacht charter, it's easy to see why this resort has become so iconic. Baros is also home to one of the Maldives' original dive centres, Divers Baros Maldives, which opened its doors in 1979. This PADI 5-Star Gold Palm gives guests the chance to explore over 30 different sites, as well as Baros' own house reef with two small wrecks, just metres from the beach.
Amilla Fushi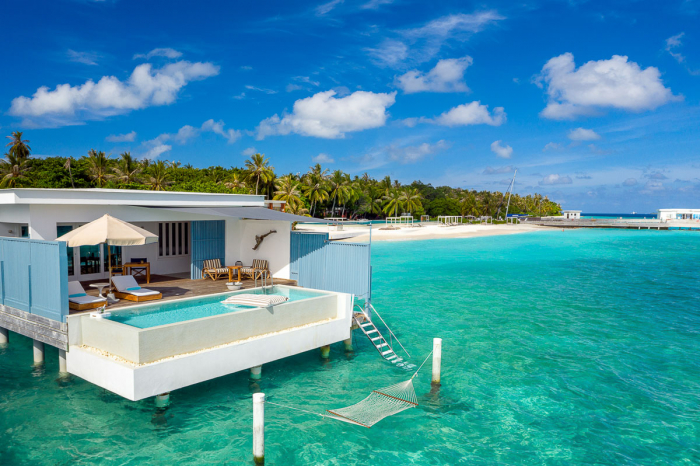 Looking for the ultimate all-inclusive Maldives overwater bungalow experience? Then look no further than Amilla Fushi. The resort's overwater bungalows are far larger than most others in the country, with huge indoor and outdoor areas for play and relaxation. Gorgeous rich wooden furnishings stand out within the spacious living areas, providing an air of sophistication and a contemporary style. Each of Amilla Fushi's overwater bungalows come with an outdoor rainshower, sumptuous on-deck swimming pool, and direct access to the warm crystalline waters below. Plus, these exceptional accommodation options even boast their own wine 'cellar', providing the perfect accompaniment to any moment.
Amilla Fushi is one of the largest and most spacious Maldives resorts, with just 67 villas set within more than 20 hectares - leaving 70% of the island untouched, where leafy cycle tracks, secret beaches, and unparalleled freedom take centre stage. But if all that space isn't enough, why not take your adventure further afield with Amilla Fushi's PADI 5-Star and SSI dive centre, Dive Butler. Specialising in personalised scuba experiences, Dive Butler aims to make memories that will last a lifetime, and will happily capture your experience on film so you can cherish it for years to come.
---
---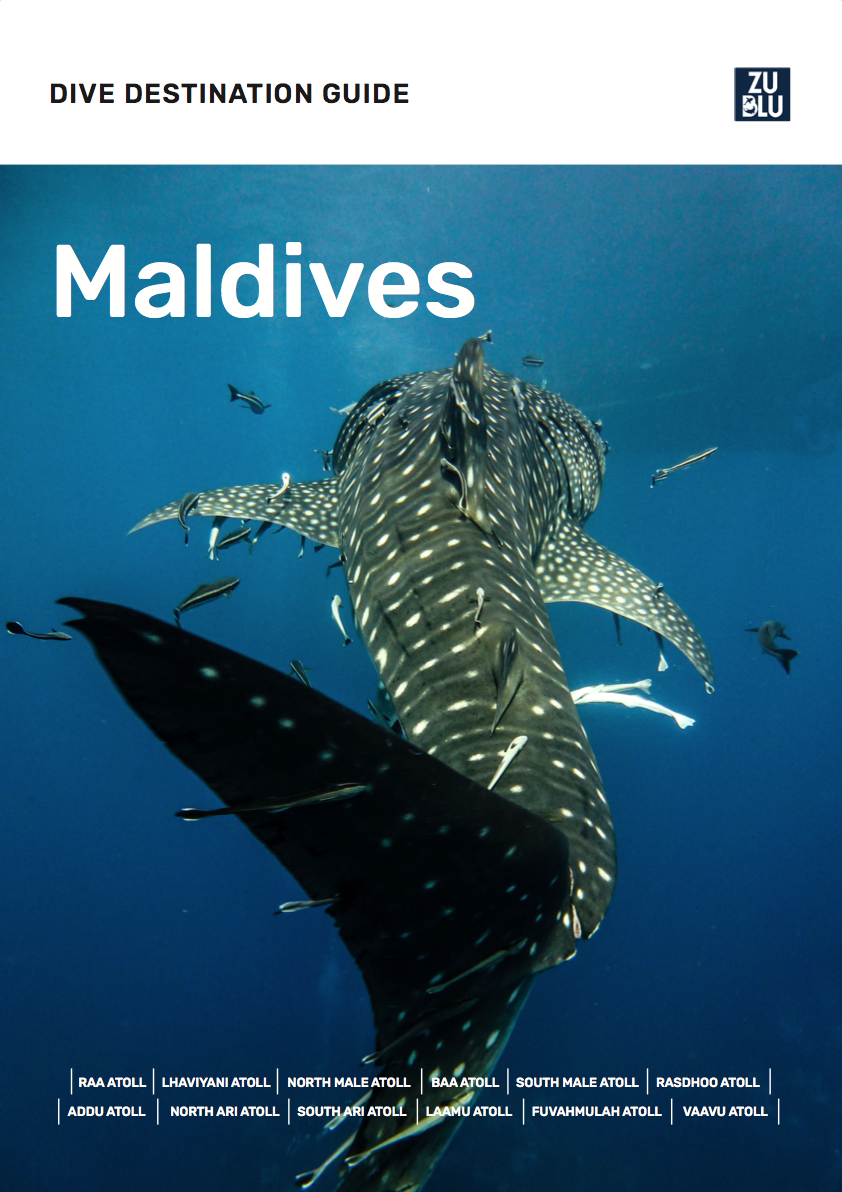 Complete guide to the best diving in the Maldives. Explore the atolls, seasons, and pro tips in this free 37 page destination guide.
---
---
---
Looking for some more inspiration?
Get in touch with our travel concierge today

---