Located in the heart of the Indian Ocean, hundreds and thousands of kilometres from the main islands, the Seychelles' Outer Islands are one of the planet's last untouched frontiers. Offering an entire realm of sustainable experiential travel, guests can immerse themselves in a pristine paradise with a unique biodiversity of fauna and flora. Be among the few to explore these remote atolls and islands, where nature is both protected and appreciated for all its beauty.

---
Need help planning your dive holiday to Seychelle's Outer Islands?
Contact one of our dive travel experts today

---
Why the Outer Islands are ideal for a sustainable ocean adventure
The Seychelles has become one of the most conservation-minded nations in the world, with around half of its total territory now under protection. And the further you travel from the main island of Mahe, Praslin and La Digue, the more options there are for a truly sustainable experience. Located up to 1,000-kilometres from the main island of Mahe, the Seychelles' Outer Islands are home to the most remote conservation outposts in the region - offering just one resort or guest house per island, if any at all - guaranteeing authentic and immersive eco-adventures.
Surrounded by vast stretches of deep open water, these tiny specks of land act as havens for a plethora of flora and fauna. Their isolation has helped to protect endemic plants and wildlife from human interference, while attracting migratory species from the emptiness of the Indian Ocean. As a result, these islands shelter a treasure trove of tropical species - from nesting turtles and passing cetaceans, to breeding seabirds and the endemic Aldabra giant tortoises. Many of these species are endangered elsewhere in the world, and visitors have the opportunity to contribute to their conservation.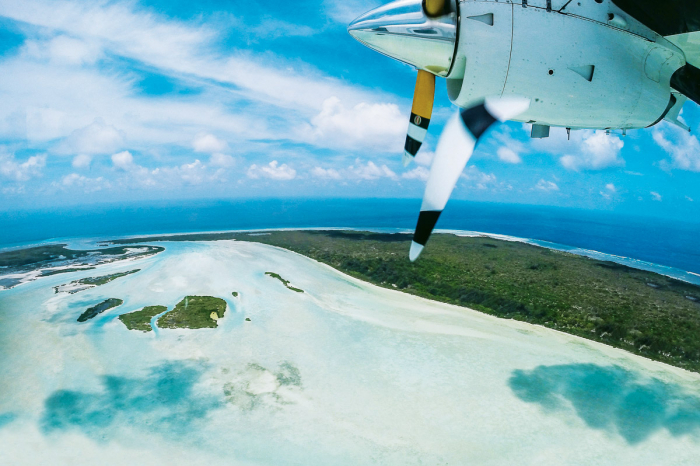 What's on offer…
Although each destination in the Outer Islands has their own unique attractions, most offer the same opportunities to enjoy a more sustainable holiday. Read on to discover ZuBlu's top sustainable ocean adventures in the Outer Islands.
Scuba diving
Tucked away in a remote corner of the Indian Ocean, the Seychelles' Outer Islands are a haven for adventurous scuba divers. Their significant isolation means that the islands' see remarkably few visitors, leaving huge areas of the surrounding waters almost entirely uncharted. In fact, these underwater environments have remained so pristine, their beautiful unbleached corals and abundant marine life have starred in several iconic nature documentaries throughout the years - from Cousteau's The Silent World in 1956 to Attenborough's Blue Planet II in 2017. 
Dives are almost exclusively operated by Blue Safari, a PADI 5-Star dive centre staffed by skilled divemasters and specialist conservationists. Blue Safari are well-versed in helping visitors discover the region's plummeting walls, coral-filled lagoons, and as-yet undiscovered dive sites. They also offer a range of eco activities to help guests make their stay as sustainable as possible. During their diving excursions, guests can assist Blue Safari in collecting debris from the ocean and removing any Fish Aggregating Devices found around the islands. The dive centre also offers a selection of eco-focussed scuba courses to take on, including AWARE Shark Conservation, AWARE Coral Reef Conservation, and AWARE Specialist, as well as the PADI Underwater Naturalist certification.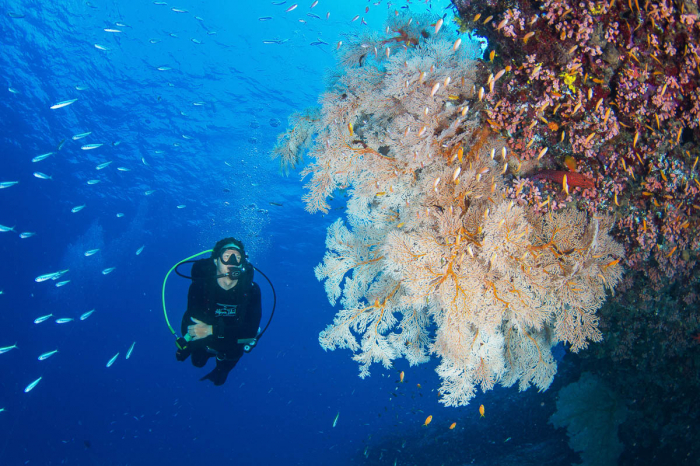 Snorkelling
Snorkeling is possible around all of the Outer Islands and visitors can explore outer reefs, lagoons and more. With such a diversity of snorkelling sites on offer, visitors of all ages will find an experience they can enjoy, guaranteeing plenty of fun for the whole family. Like the diving, Blue Safari are responsible for snorkelling trips operated throughout the Seychelles' Outer Islands, with knowledgeable staff who are happy to teach guests all about the different species of corals and the fish spotted on the reefs.
While the country's impressive biodiversity is one of its biggest draws, there are one or two experiences that truly stand out. Manta rays are often seen around the atolls of Astove, Cosmoledo, and Poivre, allowing visitors the chance to snorkel alongside these incredible creatures, while the islands of D'Arros and St. Joseph also boast a resident population. But, arguably the region's most unique underwater experience can be found at Alphonse Island - one of the only places on earth where visitors can snorkel amongst sailfish!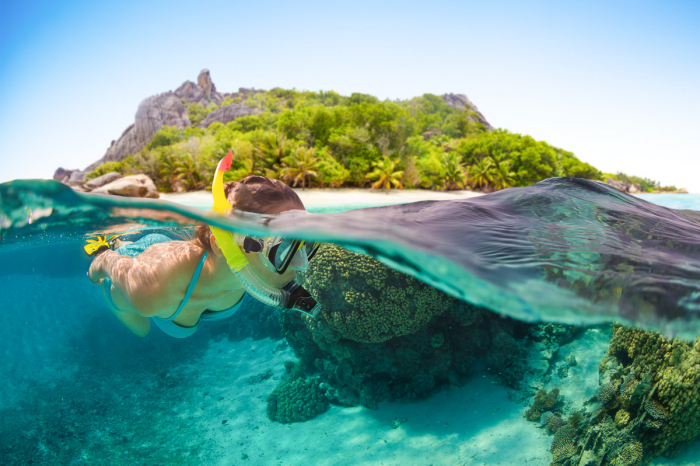 Fishing
Recreational catch and release fishing is well established throughout the Outer Islands, with Blue Safari and the Alphonse Fishing Company working side by side to protect the fishery through best angling practices. Guests can stay at resorts including the Alphonse Island Lodge, Astove Coral House, and Cosmoledo Eco Camp, and enjoy the experience of expert fishing guides and complimentary use of rods and reels, as well as a range of flies, hooks, lines, and more, available for purchase. 
The atolls here are well known for their expansive and picturesque white sandy flats - perfect for wading and spotting your target in the shallows - with deep sea fishing and bluewater fly fishing also on the cards, allowing guests to take on all of the most sought-after species of the Indian Ocean. Targeted species include feisty specimens like milkfish, bonefish, barracuda, wahoo, permit, sailfish, marlin, and various species of triggerfish.
As if that list couldn't get any better, this region is also often regarded as the giant trevally capital of the world, with regular record-breaking catches being recorded. These bullish fish can be found both out in the blue and tearing around the sand flats, offering ample opportunity for a thrilling catch. 
Ready to start planning your perfect holiday to the Seychelles outer islands?
Search, compare and book from our hand selected resorts
Kayaking and stand-up paddleboarding
With sweeping sand flats and uninhabited islands to investigate, kayaks and stand-up paddleboards are an ideal way to explore these Outer Island atolls. Paddling across the shimmering waters also portrays the ocean's wonders in a whole new way, and allows visitors to discover their own secret spots and take a refreshing dip wherever they want to. Best of all, you'll leave nothing but ripples in the water and footsteps in the clean sand.
Self-guided tours are the way to go if you're seeking seclusion, but if you'd like to learn all about these islands and their unique fauna and flora, Blue Safari's specialist staff and expert marine biologists are always on hand to guide you. Many of the uninhabited islands are popular turtle nesting sites, as well as breeding grounds for rare seabirds, and the sand flats are often filled with rays. 
Dolphin and whale watching
Action-packed reefs and sand flats aren't the only option for incredible animal encounters in the Outer Islands, as these isolated atolls act as beacons for plenty of bigger open ocean species. The Seychelles' waters are home to around 25 different cetaceans, which come to feed, breed, or pass through on their way to another destination. Guests can expect to learn about a range of marine animals that could crop up on these adventures, including how to behave for the most enjoyable and sustainable interaction.
Indo-Pacific and common bottlenose dolphins are frequently sighted, as well as the entertaining spinner dolphins which are residents around some of the atolls. Other dolphin species that can be seen include Risso's, rough-toothed, Fraser's, and Indian humpback dolphins, as well as striped, spotted, and long-beaked dolphins. Whale species documented here include minke, sperm, pilot, Bryde's, Cuvier's, melon-headed, and humpback whales. Blue, fin, and sei whales can also be seen, as well as with both false and pygmy killer whales, and many more. Dugongs have even been spotted within the Aldabra Atolls on rare occasions, with surveys suggesting only a small handful still reside here.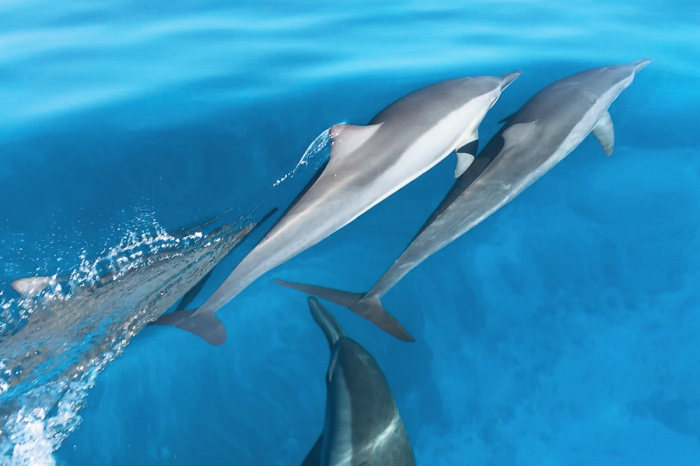 Turtle tracking and manta identification
Both green and hawksbill turtles have been protected in the Seychelles since 2001 and can be spotted nesting in the remote and quiet atolls of the Outer Islands. Hawksbill turtles tend to nest during the day, between the months of September and March, while green turtles usually nest at night from January through September - allowing visitors to witness these charismatic creatures for much of the year. 

Guests at the remote resorts of Alphonse Island Lodge, Astove Coral House, and Cosmoledo Eco Camp can join the Island Conservation Society team as they head out on their daily surveys. Activities include monitoring turtle tracks, marking new nests, and occasionally keeping a watchful eye whilst hatchlings make their way to the ocean.
The Island Conservation Society also works with Manta Trust to monitor the behaviour, movement, and population size of manta rays within the Seychelles. Guests can contribute to this cause through citizen science by taking photographs of manta rays during their diving and snorkelling excursions. Submitting these images to the international Manta Trust database helps with identifying individuals and tracking their movements. And, should you be the first to spot and photograph a new manta ray, you will get to name it! During each trip the conservation team will also share facts and stories about the creatures encountered.
Sand flat excursions
In places, the Outer Islands' expansive sand and reef flats stretch towards the very edges of the atolls, allowing guests to trek out and peer down into the depths. Rays, turtles, eels, lemon sharks, and a variety of other marine creatures call these shallow waters home, sheltering amongst the mangroves and calm, crystalline waters. Excursions take place on Poivre, Alphonse, Cosmoledo, and Astove, with expert marine biologists guiding guests through the flats, ensuring as little disruption to the habitat as possible. 
During the tour, visitors will learn all about current research and conservation projects, as well as the local fauna and flora. Guests who would like to get more involved, can take part in an optional volunteer biodiversity survey, where they will assist in gathering baseline data of all the species found on the flats.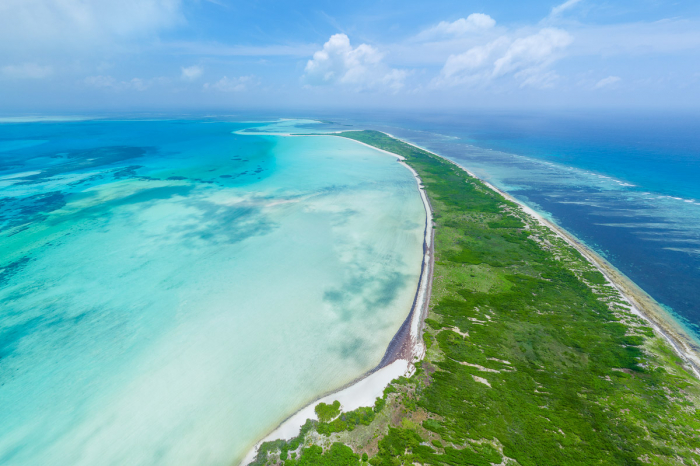 Other sustainable activities
The ocean is the true highlight of these far-flung islands and atolls, but there's a handful of land-based eco-activities on offer as well. Both Alphonse Island and Astove Atoll feature healthy populations of Aldabra giant tortoises, and guests at Alphonse Island Lodge and Astove Coral House can meet these endemic creatures and help monitor their population growth and movements. These two resorts, along with Cosmoledo Eco Camp, also encourage visitors to plant their own endemic tree during their stay, as part of the Native Vegetation Restoration project.
---
Blue Safari
Of the 72 islands and atolls of the remote Outer Islands, Blue Safari have selected four as bases for their operations. Each offers one-of-a-kind accommodation, three of which are operated by Blue Safari themselves - Alphonse Island Lodge, Astove Coral House, and Cosmoledo Eco Camp. Blue Safari has pioneered exceptional hospitality, marine safaris, and sustainable ocean experiences throughout the isolated Outer Islands with the hope of educating and inspiring visitors about the biodiversity and beauty of the region.
Recommended resort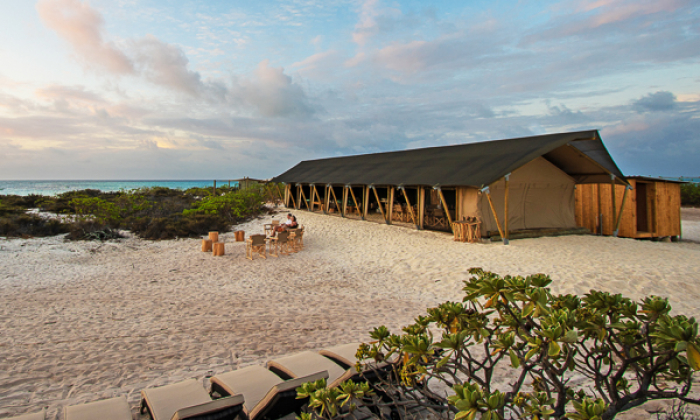 Aldabra, Astove and Cosmoledo
Cosmoledo Eco Camp
Located on one of the Seychelles' most isolated atolls, just a stone's throw from the World Heritage Site of Aldabra, Cosmoledo Eco Camp feels like it is perched at the edge of the ...
---
Need help planning your holiday to the Seychelles?
Contact one of our award winning travel experts today

---
---
Join the ZuBlu community to receive the latest insights and unmissable adventures
Don't worry, we'll only send you really good stuff - and we never share your details
---