If you're looking to get up close with a manta ray for the first time, read on! We've put together a list of the top destinations to dive and snorkel with manta rays, plus when to see them, as picked by ZuBlu's expert team of diving pros.



Manta rays are a divers' delight, playfully swooping and barrel rolling in the current, performing fascinating mating dances, and even lining up to feed in formation when the conditions are right. They're also spotted visiting cleaning stations, where colonies of grazing fish offer free spa services, picking away parasites and cleaning the ray's skin.
This is what makes scuba diving with mantas so special. If you've ever been in the water with one, you know that their underwater acrobatics are impossible to match, putting a smile on the face of even the most experienced of divers.
Hanifaru Bay, Baa Atoll, Maldives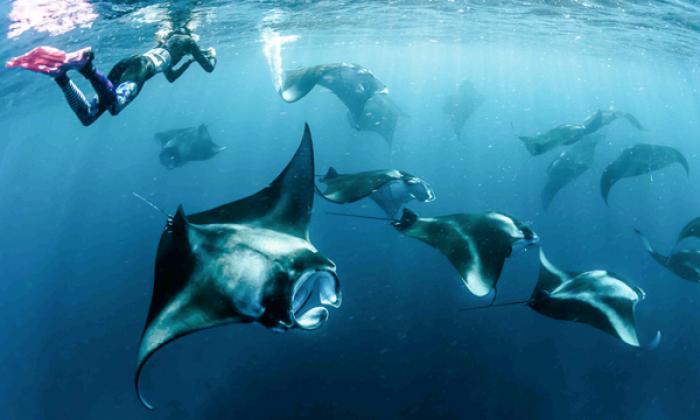 This UNESCO World Biosphere Reserve is home to one of the most spectacular gatherings of reef manta rays in the world. And, by happy coincidence, its unique and breathtaking aggregation is perfectly timed for celebrating World Manta Day!
Hanifaru Bay is one of the world's only places where reef mantas can be seen performing their rare cyclone feeding behaviour. During these incredible feasting events, hundreds of graceful filter feeders gather to dine on their favourite dish, plankton. As Hanifaru's tides filter in and out of the bay, they bring high concentrations of these microorganisms close to the surface where spiralling cyclones of mantas form, all feeding on the bounty created by this uniquely-shaped reef. Hanifaru can be visited via a liveaboard safari or day trip, and manta activity boasts a surprisingly long season, running from May through December. 
When to visit - For full-on manta madness, plan your trip during the peak between July and October, ideally during the full or new moon.
Experience level - Hanifaru can only be visited by snorkellers, making it suitable for beginners.
---
Ready to start planning your manta ray adventure?
Contact the ZuBlu Travel Team today

---
Komodo National Park, Indonesia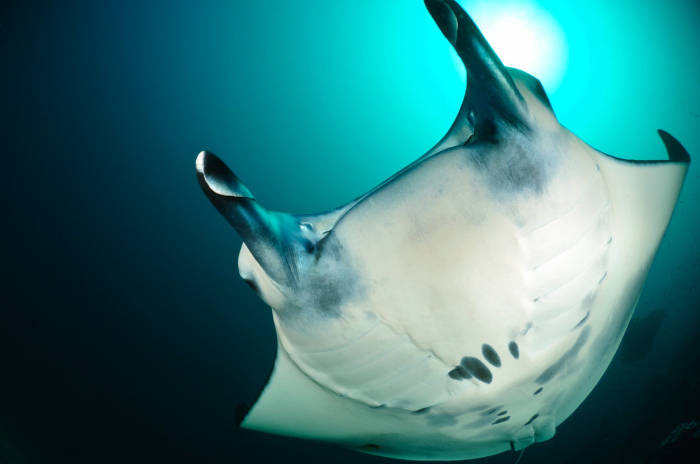 As well as its spectacular topside scenery and resident giant lizards, Komodo National Park is home to a large population of reef manta rays which gather at particular sites throughout the park to feed, or to visit cleaning stations.
Manta Point in the north is one of Komodo's most famous dive sites for encountering these incredible animals, with lucky groups sometimes spotting them by the dozen. This scuba diving hotspot is visited on most liveaboard itineraries, and divers have a very good chance of an encounter on this reef. Down in the south, liveaboards head to Manta Alley at the southern tip of Komodo island - another renowned hotspot for rays which comes alive during the winter season.
When to visit - The rays in Komodo can be encountered year round, but the north is best from May to September, and the south from September to December. 
Experience level - Powerful currents, challenging surface conditions, and cold upwellings make this destination best for advanced divers.
Sangalaki Island, Indonesia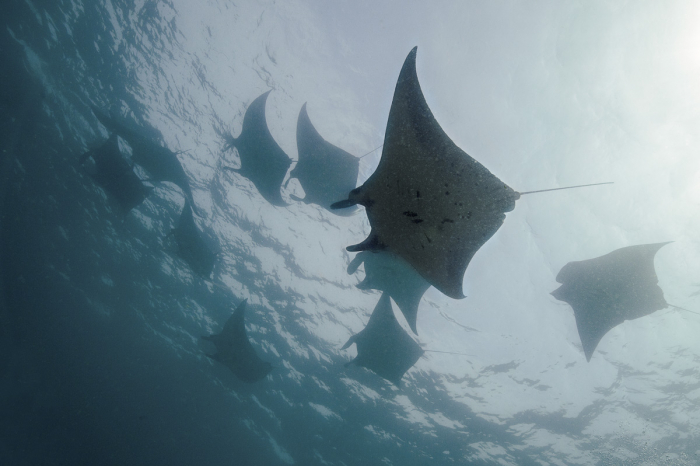 Part of the remote Derawan Archipelago off the coast of East Kalimantan, this far-flung island is famous for its wide variety of underwater attractions. These waters are home to over 500 species of coral and 800 different types of fish, making it one of the most biodiverse underwater areas in all of Indonesia. 

Sangalaki's resident reef manta rays stay in the region all year round, delighting scuba divers and snorkellers with their playful antics. Because the mantas spend all their time here, your chances are good for spotting some of their most fascinating behaviours, including feeding, trips to the local cleaning stations, and even a captivating courtship dance that looks a bit like a conga line! 
When to visit - While the diving is good here all year round, some local resorts and transportation close during January when conditions are at their roughest.
Experience level - Most manta sightings here take place in less than 20-metres of water, making it a ideal destination for intermediate divers.
Nusa Penida, Bali, Indonesia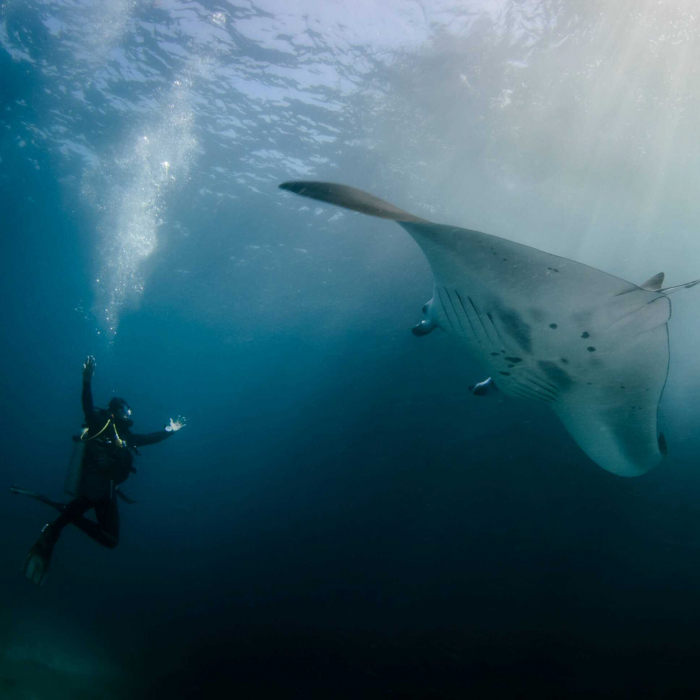 This current-swept island is famous for its fast-paced drift dives and seasonal mola mola sightings, and it's one of the world's most reliable places to dive with reef manta rays year round. A day trip from Bali, Nusa Penida's southwest coast is normally combined with diving around its neighbouring island, Nusa Lembongan.
Nusa Penida is home to stunning reef ecosystems, absolutely swarming with fish. Hundreds of species of hard and soft coral are found here, creating a stunning backdrop for manta encounters and adding depth to wide-angle photography. This island is home to the legendary dive site Manta Point, where dozens of these friendly oceanic acrobats can be seen cruising in the current. You're also likely to spot mantas queued up at the island's numerous cleaning stations, patiently waiting their turn to be picked clean of parasites.
When to visit - Although it's the windy season and conditions are rougher, the diving is best here between June and September.
Experience level - Some of the diving here can be challenging to the extreme, with ripping currents and cold water.
Raja Ampat, Indonesia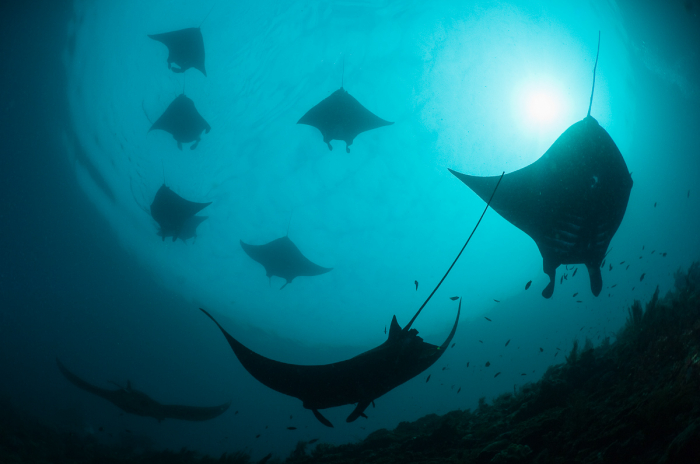 This legendary marine park and UNESCO world heritage site is home to over 1500 islands ringed by spectacular coral reefs. And with over forty thousand square kilometres of land and sea to explore, your options are almost limitless! Raja Ampat is the only destination on our list to boast close encounters with both reef and giant oceanic mantas, depending on where and when you're diving.
There are several well known hotspots for manta rays throughout the park. The northern reaches around the Dampier Strait have several renowned cleaning stations as well as the famous Blue Magic - a site well known for oceanic rays. Further south around Misool you can spot both species at Magic Mountain, as well as at other cleaning stations. As a bonus, you can also encounter schools of mobula rays feeding on baitfish early in the season around Misool.
When to visit - Raja Ampat's diving conditions are best between October to April.
Experience level - This remote region is ideal for intermediate divers and beyond, though some sites are suitable for beginners as well.
---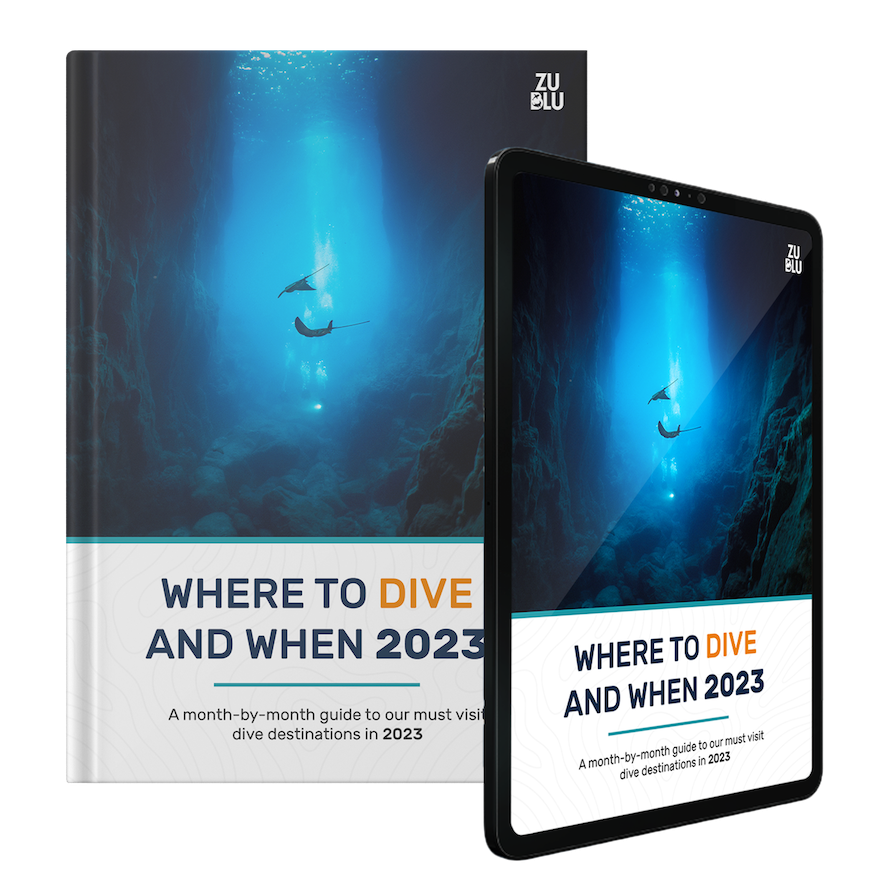 Need some inspiration for your next diving holiday? Download this FREE month-by-month guide to ZuBlu's top diving destinations in 2023.
---
Galapagos Islands, Ecuador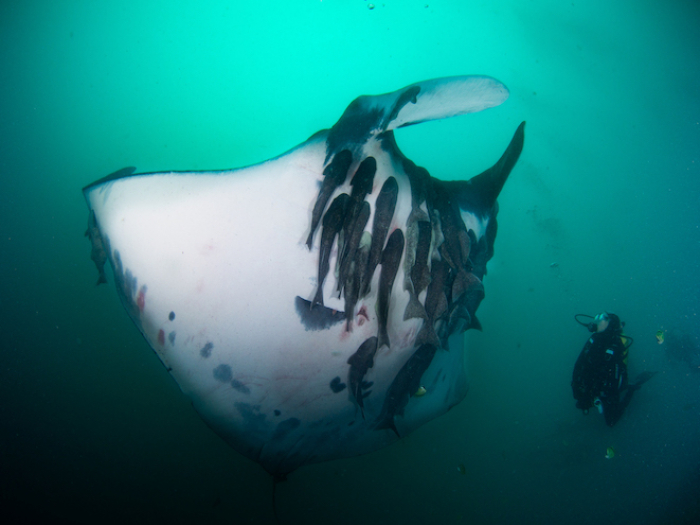 The Galapagos Islands are amongst our planet's most biodiverse diving destinations, home to over 30 shark species and marine megafauna including whale sharks, mola mola, and giant oceanic manta rays. With an incredible wingspan reaching up to seven-metres, this is the largest ray species in the world - and Ecuador is home to the largest population. 
The wet season here is known as manta season, and divers are likely to encounter these ocean giants every day. Punta Albemarle and Cape Marshall off the northern coast of Isabela Island are sometimes referred to as the Galapagos' ray capital, thanks to the number of individuals that frequent the dive sites. Crouch down in the rocks for a chance to spot them hovering motionless while they patiently wait at the cleaning stations - and keep an eye out during your safety stop where they're often encountered cruising in the shallows.
When to visit - Dive here between December and April for the most manta action.
Experience level - Cold water and strong currents make this destination best for intermediate and advanced explorers.
Socorro, Mexico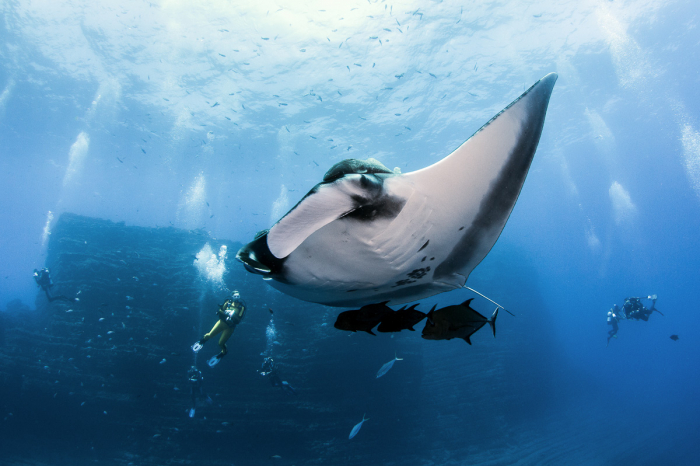 World-renowned for its up close and personal encounters, this might be the very best place to dive with manta rays. Like other destinations in the eastern Pacific, you'll spot the giant oceanic species on numerous dives here. But, far fewer liveaboards make the trek to this remote region - and those that do are carefully coordinated to ensure each group gets to explore the archipelago's very best sites undisturbed.
Socorro's giant mantas are famously friendly, often approaching dive groups with curiosity and making multiple passes to take a closer look. In some cases, the same individual will stay with its new-found friends for an entire dive, posing for as many pictures as you'd like to take. This region's mantas also display some unique behaviour, passing overhead, again and again, seeming to enjoy the sensation of divers' bubbles rising from below. 
When to visit - Giant oceanic manta rays can be encountered throughout the diving season from November to July. 
Experience level - While some of Socorro's sites are extremely challenging, most intermediate divers will feel comfortable with the conditions.
Ningaloo Reef, Western Australia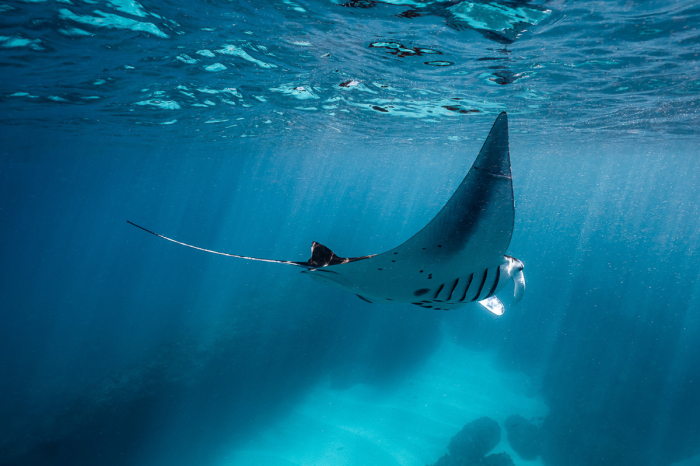 If you're searching for manta madness, you've come to the right place. Not only is this region home to both reef and oceanic mantas, it's actually home to multiple resident and migratory populations. For visitors, that adds up to nearly guaranteed encounters both diving and snorkelling throughout Australia's Coral Coast.
Western Australia's reef manta rays are present all year round, with the highest concentration found in and around Coral Bay. Reef mantas can also be seen along the reef near Exmouth from May to November. This region's oceanic population is migratory, passing through in search of food and stopping at the local cleaning stations along the way. And, while these graceful giants are less common, there are still plenty to be found, especially in the waters around The Muiron Islands.
When to visit - Reef mantas can be found all year round in these waters, with a peak season between May and November.
Experience level - This is an excellent destination for divers of all skill levels including beginners, and even snorkellers.
Yasawa Islands, Fiji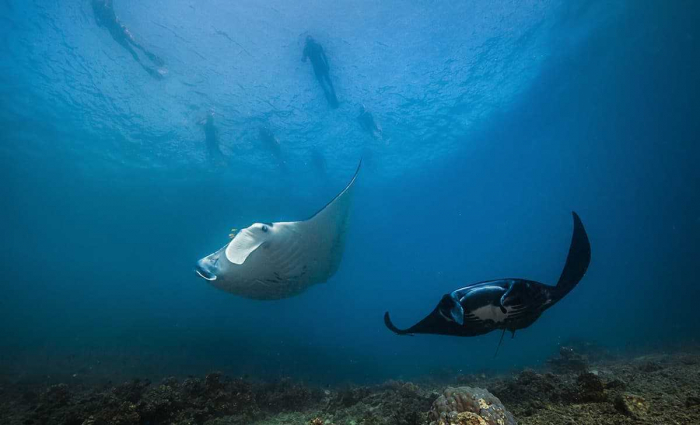 Lying west of Fiji's main island, Viti Levu, the remote Yasawa Islands offer a relaxed tropical ambience with a bounty of beautiful beaches and incredible scuba diving alongside reef manta rays. 
During a dive holiday here, you're likely to encounter mantas on nearly every dive. But the real attraction is an opportunity to snorkel amid large groups of them in the legendary Manta Ray Passage. This narrow and shallow channel between Drawaqa Island and Naviti Island creates a funnel for the tides, pushing an incredible volume of plankton-rich seawater through each day. Between May and October, this attracts large groups of mantas to feed, with near-guaranteed appearances throughout the season. The passage isn't deep enough to dive, but don't worry - this experience is well worth your while, even if you don't strap on a tank before taking the plunge!
When to visit - Manta season in the Yasawas runs from May through October. 
Experience level - Varying currents make this destination ideal for intermediate and advanced explorers.
German Chanel, Palau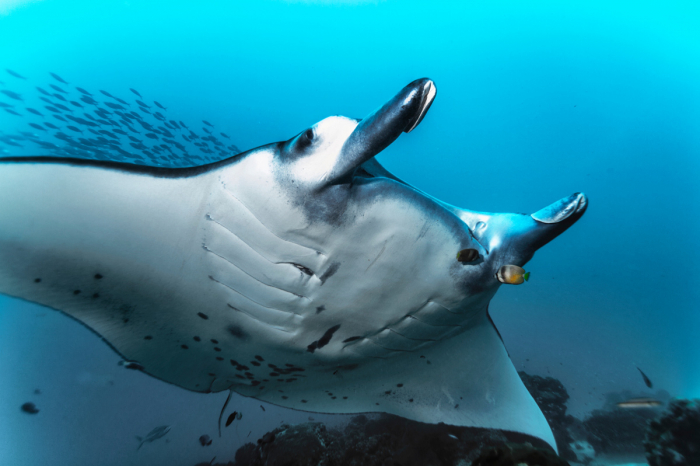 This man made dive site is one of Palau's most epic, a deep channel carved out by the country's colonial administration in 1911. When the canal was dredged, the bottom was scraped clean, leaving behind nothing but sand and rubble. This allows Palau's shifting tides to build speed as they pass through, inviting large groups of reef mantas to play in the current.

The channel itself isn't the only reason you'll spot so many mantas here. Nearby cleaning stations are also a major attraction, beckoning marine megafauna of all kinds from the open ocean for a chance to have their skin cleaned of parasites. Between November and April, blooming plankton brings higher numbers to the region. During these months, you'll likely spot them swooping and barrel rolling, gills agape, as they collect massive mouthfuls of these minuscule organisms.
When to visit - Manta season in Palau runs from November through April but peaks during January and February.
Experience level - This dive site is famous for its strong and swiftly changing currents - not for the faint of heart.