Discover the best places to dive with manta rays in Southeast Asia and the Maldives - one of the most awe-inspiring and exciting underwater experiences out there.
These incredible animals combine grace, elegance and power, with a notable intelligence and inquisitiveness. Once you witness groups of manta rays feed in synchronised twists and turns, or barrel-roll through clouds of plankton, it is easy to appreciate why they are the star attraction at many dive destinations. There is no doubt that this experience is high on every ocean lover's agenda. Luckily, many destinations in Southeast Asia - as well as countries such as the Maldives in the Indian Ocean - offer some of the most unmissable manta encounters in the world! 
So, where are the best places to dive with manta rays? Read on to find out!
---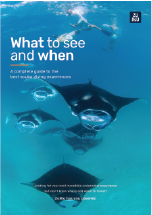 Discover when and where to travel for the ultimate underwater experiences in this free, 33 page guide to the best underwater experiences.

---
1. Hanifaru Bay - Baa Atoll, Maldives
Snorkelling amongst the feeding congregations of manta rays and whale sharks at Hanifaru Bay is one of the Maldives' best known underwater experiences - and quite possibly one of the most exciting of all manta ray encounters. There are few places in the world where visitors can get so close to so many manta rays, swimming alongside them as they barrel-roll and 'fly' in formation through the dense plankton - a behaviour that has become known as 'cyclone feeding'.
Hanifaru Bay is located close to the south-eastern edge of Baa Atoll, a 1,300m section of keyhole-shaped reef acts like a funnel, concentrating both currents and any plankton in the water which in turn attracts filter-feeding giants - the schools of manta rays and whale sharks. Conditions and currents have to be just right for feeding aggregations to occur - it is not a daily event.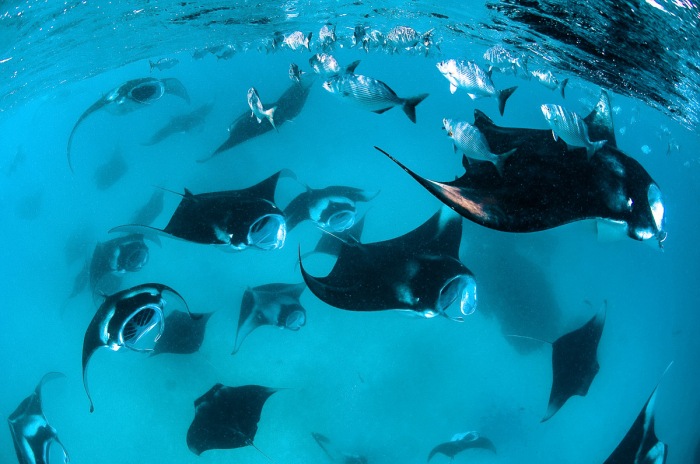 Hanifaru Bay was declared a Marine Protected Area in 2009, then incorporated into the Baa Atoll UNESCO World Biosphere Reserve in 2011. Scuba diving with manta rays is no longer permitted in the bay - you can only snorkel with the manta rays and whale sharks - and to keep any disturbance to a minimum, strict guidelines for visitors have been put in place. Visitors must purchase tokens prior to their visit with all proceeds going towards the Baa Atoll Conservation Fund and the future of the incredible manta ray congregations of Hanifaru.

Great for: Snorkelling and swimming with manta rays and even whale sharks in large groups, as they feed on a plankton 'soup'.


Best time to visit: For the best chances to swim with a manta ray feeding congregation, we recommend visiting from late July to early October.


Best place to stay: Join one of the Manta Expeditions citizen-science expeditions and assist with vital research on manta rays, or stay at one of the many great resorts that ZuBlu partner with in Baa Atoll.
---
2. Komodo National Park - Indonesia
Komodo is justifiably famous for its incredible landscapes, biodiversity and of course, its dragons. But the park is also an exceptional destination for scuba diving with manta rays throughout the year. In the south of the Komodo National Park, the cold, nutrient-rich upwellings that are so prevalent here create blooms of plankton when the cold water hits the sunlit shallows - perfect feeding conditions for manta rays. As such, the south is home to Komodo's best manta ray dive site at the aptly named 'Manta Alley'. Here, large numbers of manta rays gather to feed on the plankton and visit a series of cleaning stations dotted along the reef. Whilst such large gatherings can never be guaranteed, scuba divers can often witness squadrons of manta rays feeding in unison, or get up close and personal with a ray as it hovers over a cleaning station.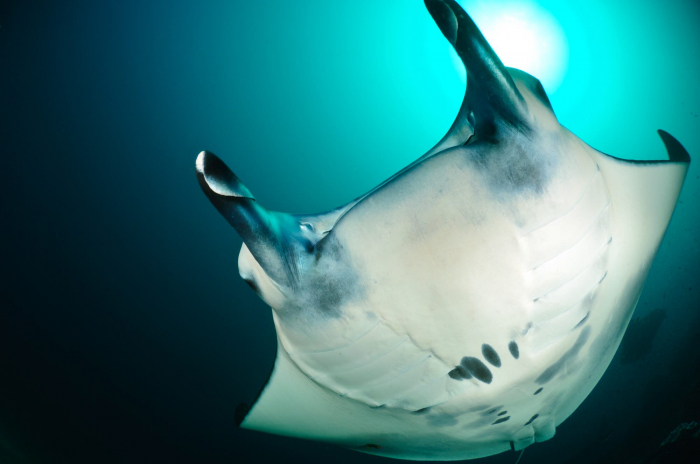 The north of the park is dominated by warm, clear water and the marine life and habitats are  typical of reefs throughout Indonesia. For those that still need their manta ray fix, Karang Makassar close to Batu Bulong and Tatawa is well known for congregations of manta rays that gather along the reef when the conditions and tides are perfect. The reef here is not the prettiest, but when the tide is running, all eyes are on the groups of manta rays that congregate here.
Best for: Diving with groups of manta rays at Manta Alley in the south and Karang Makassar in the north - Komodo's most reliable manta dive sites.
Best time to visit: October to December for the south, March to October for the north. The north can be dived year-round as the sites are sheltered from rough seas that can impact the south, whilst the south is best dived when the cold water and calm seas create perfect condition.
Best place to stay: Book a trip aboard Wunderpus for a bespoke adventure far from the crowds, with a maximum of just eight guests on board.
---
---
Ready to start planning your manta ray adventure?
Contact one of our dive travel experts today!

---
3. Sangalaki - Kalimantan, Indonesia
The diving around the islands of the Derawan Archipelago has something for everyone - from 'muck' and critters around Derawan and stingless jellyfish at Kakaban, to schooling fish, sharks and beautiful reefs around Maratua. However, for many people it is diving with the manta rays of Sangalaki that is the highlight of a trip.
Sangalaki's manta rays are thought to be resident year-round, although they will come and go according to their own schedule and sightings are never guaranteed. However, scuba divers have a very good chance of encountering these incredible animals at several sites along Sangalaki's north and northeastern reef. Here, a series of sand channels funnel the prevailing currents and concentrate any plankton in the water, creating perfect feeding conditions for the manta rays that simply cruise along at the surface, hoovering up their food. Non-divers can swim and snorkel  amongst the rays as they go about their business. There are also several cleaning stations at bommies along the reef, where divers can watch as the manta rays use the services of small cleaner wrasse and other fish that remove parasites and debris from their skin.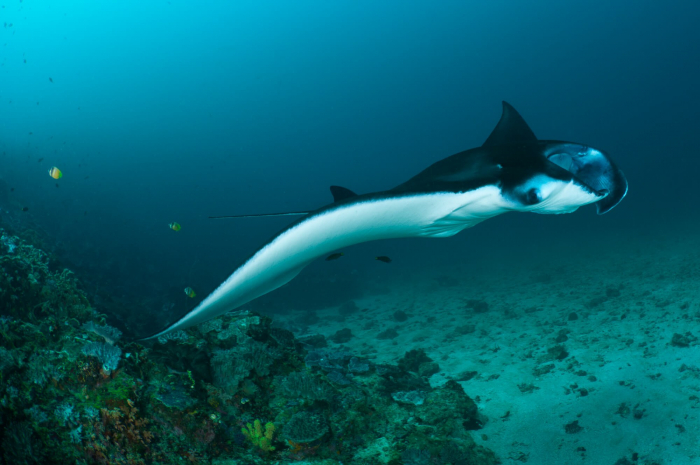 Sangalaki is also home to many turtles which nest on the island, as well as whale sharks that feed around nearby fishing platforms known as 'bagans'. Given its location so close to the equator, the wet and dry seasons prevalent in much of Indonesia have less impact around Sangalaki and the island can be dived all year round. However for the best weather we would recommend visiting between March and October when there is little rain, and timing you stay for the dark of the new moon for the best chance to see whale sharks as well as the manta rays.

Great for: Snorkeling and diving with manta rays at Manta Avenue and Manta Parade.
Best time to visit: Year round, but the best weather is from March to October. 
Best place to stay: Stay at the luxurious Virgin Cocoa, Maratua
---
4. Nusa Penida - Bali, Indonesia
Dive with manta rays just off Bali's southeastern coast in the deep seas around the islands of Nusa Lembongan, Ceningan and Nusa Penida. Home to an extraordinary proliferation of marine life, manta rays are reliably encountered around the islands throughout the year, with schools of graceful manta rays gathering to feed on the plankton brought in by the strong currents that sweep past the islands every day.
Witness manta rays at Nusa Penida as they visit 'cleaning stations' at several known locations along the rocky south coast. Here, manta rays queue up to have parasites and dead skin removed from their bodies by small fish, and divers have an amazing chance to get close to these stunning animals. If divers are lucky, they may well see one of Nusa Penida's unusual 'black morph' manta rays, that have lost a lot of their white markings and are almost completely black.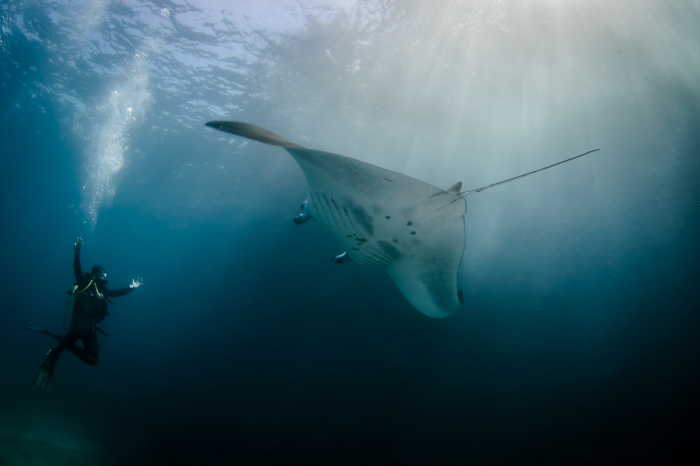 During the summer months between June and September, cold water upwellings create the perfect conditions for manta rays, as well as the extraordinary mola mola. Divers have a very good chance of encountering mola mola around Nusa Penida and Lembongan on a deep dive in the morning. Then, head to Nusa Penida's manta ray dive sites in the afternoon to complete the perfect big-fish 'double whammy' in a single day!

Great for: Diving with manta rays that can be reliably seen along Nusa Penida's south coast all year round.
Best time to visit: Year round, June to September has cold water upwellings and is also the best time of year for mola mola.
Best place to stay: Hai Tide Beach Resort is right on the beach on Lembongan Island - the perfect base for divers in search of manta rays and mola mola.
---
5. Raja Ampat - Indonesia
Raja Ampat is fast becoming one of the best places in Indonesia to dive with manta rays, but because of its more remote location. As well as being home to some of the best reef diving on the planet, Raja Ampat has several dive sites where both reef and oceanic manta rays are seen on a regular basis. In the north, the famous 'Manta Ridge' and 'Manta Sandy' dive sites are both very consistent for diving with manta rays, and 'Blue Magic' often has visiting oceanic manta rays. In the south, close to Misool, 'Magic Mountain' has both reef and oceanic manta rays - a unique experience for divers lucky enough to see both in a single dive!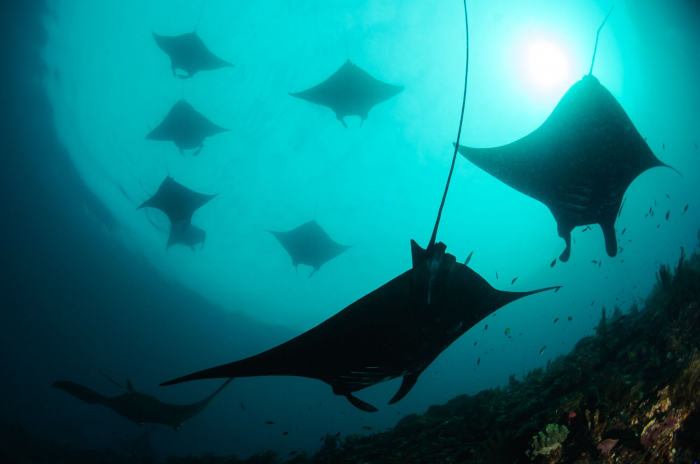 Great for: Diving with both oceanic and reef manta rays that can be reliably seen in the Dampier Strait and around Misool.

Best time to visit: Manta rays can be seen throughout the main season from October to May, but November to March offers the best combination of weather, as well as a good chance of encountering manta rays.
Best place to stay: There are now plenty of beautiful eco-resorts in the north, as well as the famous Misool Eco Resort in the south. There are also liveaboards to suit every budget.
---
---
Join the ZuBlu community to receive the latest insights and unmissable adventures
Don't worry, we'll only send you really good stuff - and we never share your details
---