Located just off Bali's exotic southeastern coast, Nusa Lembongan, Nusa Penida and Nusa Ceningan are home to some of Indonesia's most adventurous scuba diving experiences.

In fact, a few of the dive sites around the islands have become legends within the diving community. Take the plunge and ride the island's famously strong currents along plummeting walls, colourful sloping reefs, and craggy cleaning stations where massive reef mantas and mola mola await. If you need a break from the current, these islands offer sheltered sites as well, packed with fascinating macro finds and light-filled coral gardens, ideal for underwater photography.  
---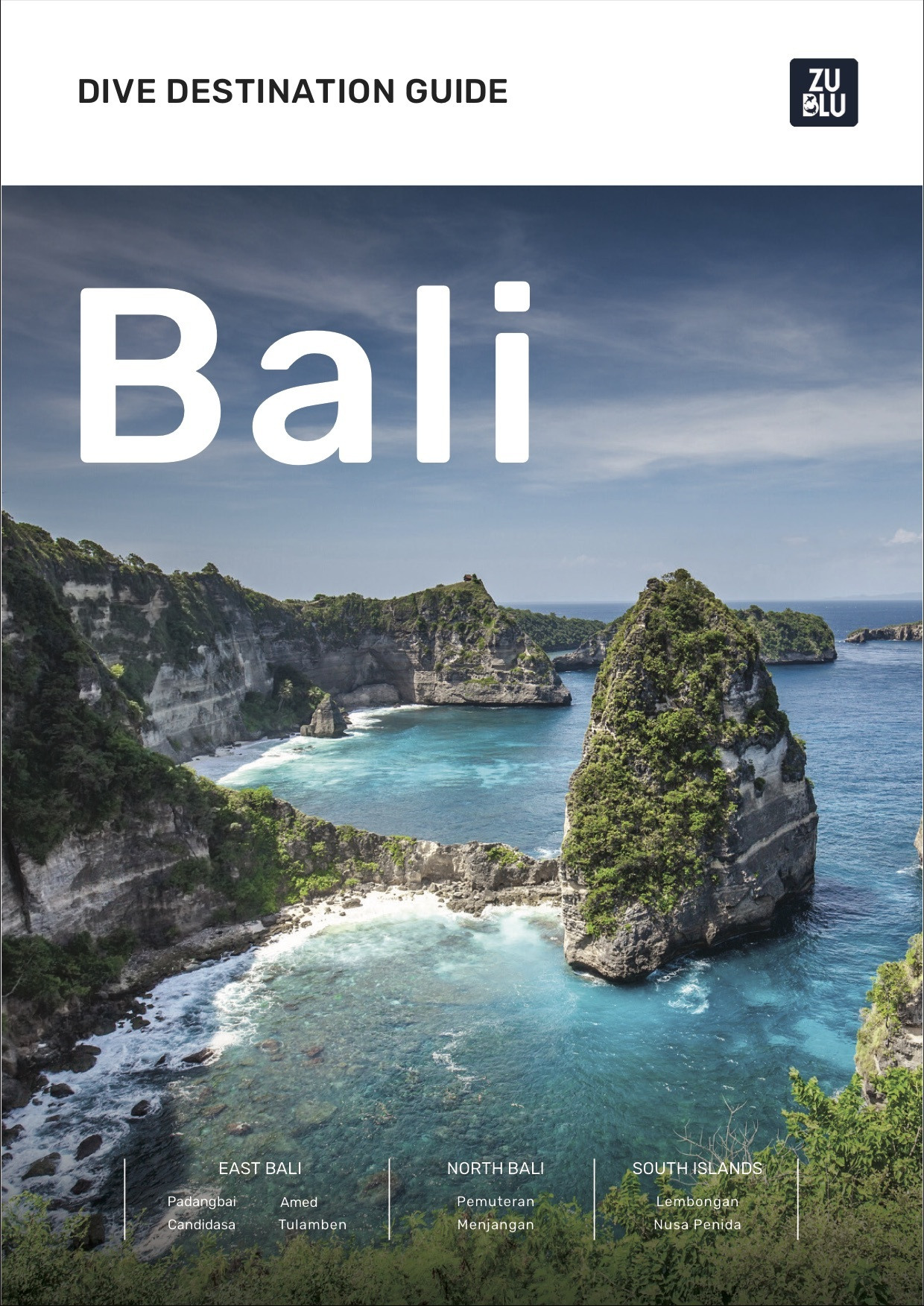 Discover the top dive sites, the best seasons and other tips in this comprehensive guide to diving in Bali.
---
Why are the Nusa Islands so popular for diving
The Nusa Islands are found right at the edge of Indonesia's Lombok Strait, a narrow passageway connecting the Java Sea to the Indian Ocean. Each day, massive amounts of seawater are forced through this narrow passageway - an event known as the Indonesian Throughflow. This incredible tidal shift ensures a steady stream of nutrient-rich water, fuelling the region's impressive coral growth and providing sustenance for an impressive array of wildlife. The islands also fall within the Coral Triangle, one of the planet's most biodiverse marine environments, home to thousands of fish and coral species. Combined, this unique set of conditions allows for exceptional scuba diving amid species not seen elsewhere.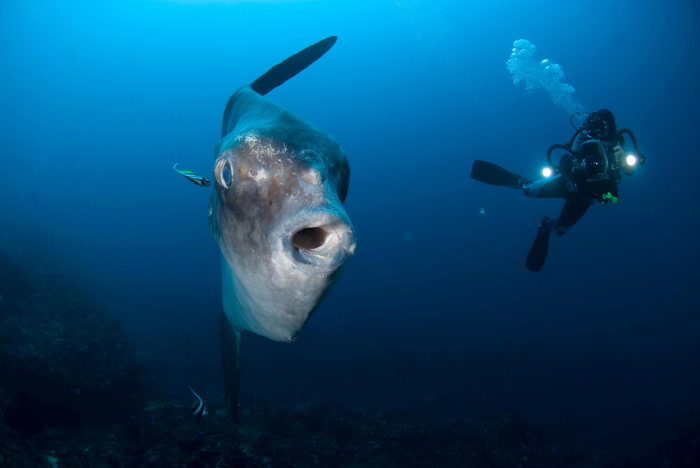 There are dozens of dive sites around Nusa Lembongan, Nusa Penida, and Nusa Ceningan, with a bit of something for everyone. In fact, this is one of the few places on planet earth where you can traverse current-swept slopes, coral reefs filled with macro, and deep, rocky channels bustling with cleaner fish, reef mantas and mola mola - all in one day.
Above water, the islands are equally dramatic, with stunning wind-swept cliffs, beautiful religious sites, and dramatic beaches. Not to mention a wide variety of accommodation ranging from rustic beach resorts to secluded eco-lodges and humble homestays - and some legendary surf breaks. Plus, the islands are also home to an impressive number of dive centres offering courses for all skill levels, making this a fantastic place to begin or continue your underwater education.
The best diving in Nusa Lembongan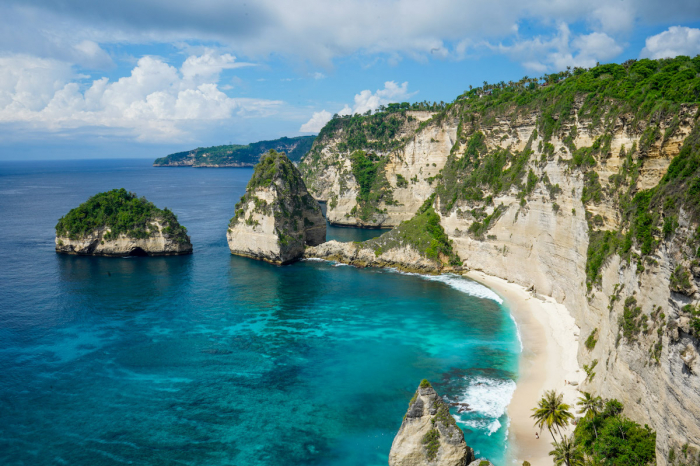 Mola mola might be the seasonal stars of the show around Nusa Lembongan, Penida and Ceningan, but they're not the only attraction. High-speed currents, sloping reefs swarmed by colourful fish, and surprise encounters with marine life including reef sharks and massive marble rays keep the action going all year round. And, despite its reputation for outstanding drift diving, there are a handful of sites here that are sheltered from the islands' famously strong currents. 
Lembongan Bay
This calm, shallow site is one of the region's only diving areas that is truly fit for beginners. But that doesn't mean there isn't plenty to see here! Set up your camera and hit the sandy bottom in search of fascinating bottom dwellers like fire and shrimp gobies, frogfish, pipefish, seahorses, and cuttlefish and octopus of all kinds. This site's massive bommies are also hotspots for marine wildlife, housing kaleidoscopic nudibranchs, leaf fish, moray eels, and schools of silversides. Lembongan Bay is also a great place to spot local reef fish like anthias, Moorish idols, and unicornfish. 
Blue Corner
Blue Corner is easily Lembongan's most famous dive site, featuring a steep, rocky slope dropping down into the depths, with overhangs, stone outcrops and a plateau. Drift with the current down toward the thermocline in search of mola mola and marble rays, while keeping an eye open for passing reef sharks and eagle rays, and hunting tuna and wahoo. The drop-off is home to vast schools of butterflyfish, triggerfish, snapper, fusiliers and trevally. While you'll likely keep your focus out in the blue while diving here, Blue Corner's current-swept reef is simply stunning as well, with hard coral, supersized sponges, and swaying sea whips and fans. 
Mangroves
This site is named for its location, right by the mangroves northeast of Nusa Lembongan. Descend along a healthy sloping coral reef, exploring coral bommies and tables along the way. This is a great place to peek under rocks and overhangs for the smaller stuff, with plenty of cool macro critters and juvenile fish calling the reef home. But, don't forget to look up! Larger species like marble rays and sharks are sometimes seen here too. This is a relaxed enough site for divers of all levels, with little current and good visibility - and there's plenty to see from the surface, too, making it a top pick for groups with snorkellers. 
Ready to start planning your dive holiday in Bali's Nusa islands?
Search, book and compare from our hand selected resorts
The best diving in Nusa Penida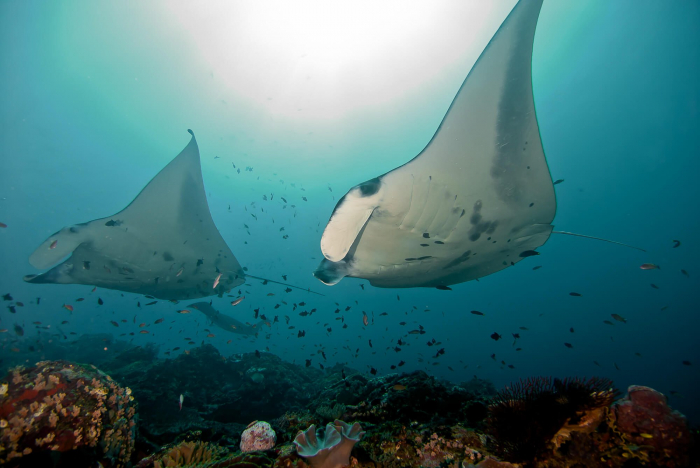 Like Lembongan, Nusa Penida is also home to mola molas, but most divers flock to this island for a chance to encounter reef manta rays that can be seen year round, congregating to feed and visit bustling cleaning stations. The reefs around Nusa Penida are absolutely loaded with smaller animals too, and schooling fish, macro creatures, turtles, and sharks can be spotted on nearly every site, depending on whether you spend your time exploring in the shallows or drifting along the near-vertical walls. Some of the currents around Nusa Penida can pick up to an alarming speed, sometimes changing rapidly and unpredictably. If you prefer something more relaxed, head to the island's protected north coast.
Toyapakeh
Toyapakeh has a gentle reef slope with several plateaus carpeted in hard corals, along with swaying sea fans and black coral bushes. The fish life here is prolific, especially around the bigger bommies, with schooling angelfish, sweetlips, anthias, and snapper, joined by parrotfish, grouper, and stingrays. Keep an eye out for large, free-swimming morays and vast shoals of fusiliers and butterflyfish, occasionally split by patrolling sharks and hunting tuna. This is also one of the island's best sites for spotting mola mola, especially at the southern end of the reef, where a steep wall marks the start of a current-swept channel.
Crystal Bay
This is Nusa Penida's best-known site, so it can get busy, particularly during mola mola season. The bay has a shallow, sandy lagoon that leads to a steep slope descending into the depths. Here, divers can spot sharks and rays cruising the drop-off, and colourful schools of bannerfish and pyramid fish patiently waiting to pick larger species clean from parasites. Between July and October, when local water temperatures plummet, incredible groups of mola mola are seen at cleaning stations. In the shallows, divers will find a 'bat cave' where they can surface inside a large air pocket and observe roosting bats overhead.
Manta Point
Located on the southwest coast of Nusa Penida, this dive site actually encompasses several spots where manta rays can be regularly encountered. Located at the foot of dramatic cliffs, these current-swept craggy reefs offer visitors the chance to get up close and personal with large reef manta rays barrel rolling and swooping toward the surface as they feed on plankton. Nearby cleaning stations offer a unique chance to watch the mantas as they hover near-motionless while they patiently allow small cleaner fish to nibble away at parasites and dead skin - an ideal opportunity for underwater photography. 
Ceningan Wall
This impressive wall begins at the foot of the sea cliffs to the north of Ceningan Island, between Nusa Penida and Nusa Lembongan. Descend along a near-vertical surface blanketed in coral, dropping down nearly vertically to a depth of 180-metres. Currents run strong here, sometimes offering far more than a gentle drift, so this site is reserved for advanced and experienced divers only. The wall is eye-poppingly colourful and in constant motion, with dense collections of soft corals, sea whips and fans swaying in the fast-moving water. Gaze out into the blue where sharks and rays pass by, alongside schools of oriental sweetlips and sleek unicornfish.
Gamat Bay
This small yet memorable site off Toyapakeh Strait starts as a protected bay but quickly opens to a fast-paced drift. The steep, rugged reef slope is rich in hard and soft corals, with dramatic and colourful formations stretching well beyond the recreational dive limits. Start your dive in Gamat Bay, canvassing the slope for small wildlife, peeking under the large bommies, overhangs, and small caves where small and cryptic creatures like to hide out. Then, you'll have the option to drift along the wall in search of pelagics and vast schools of trevally, or head back into the shallows to spend your safety stop coral-gazing and critter-hunting.
---
Need help planning your dive holiday in Nusa Lembongan or Penida?
Contact one of our dive travel experts today

---
---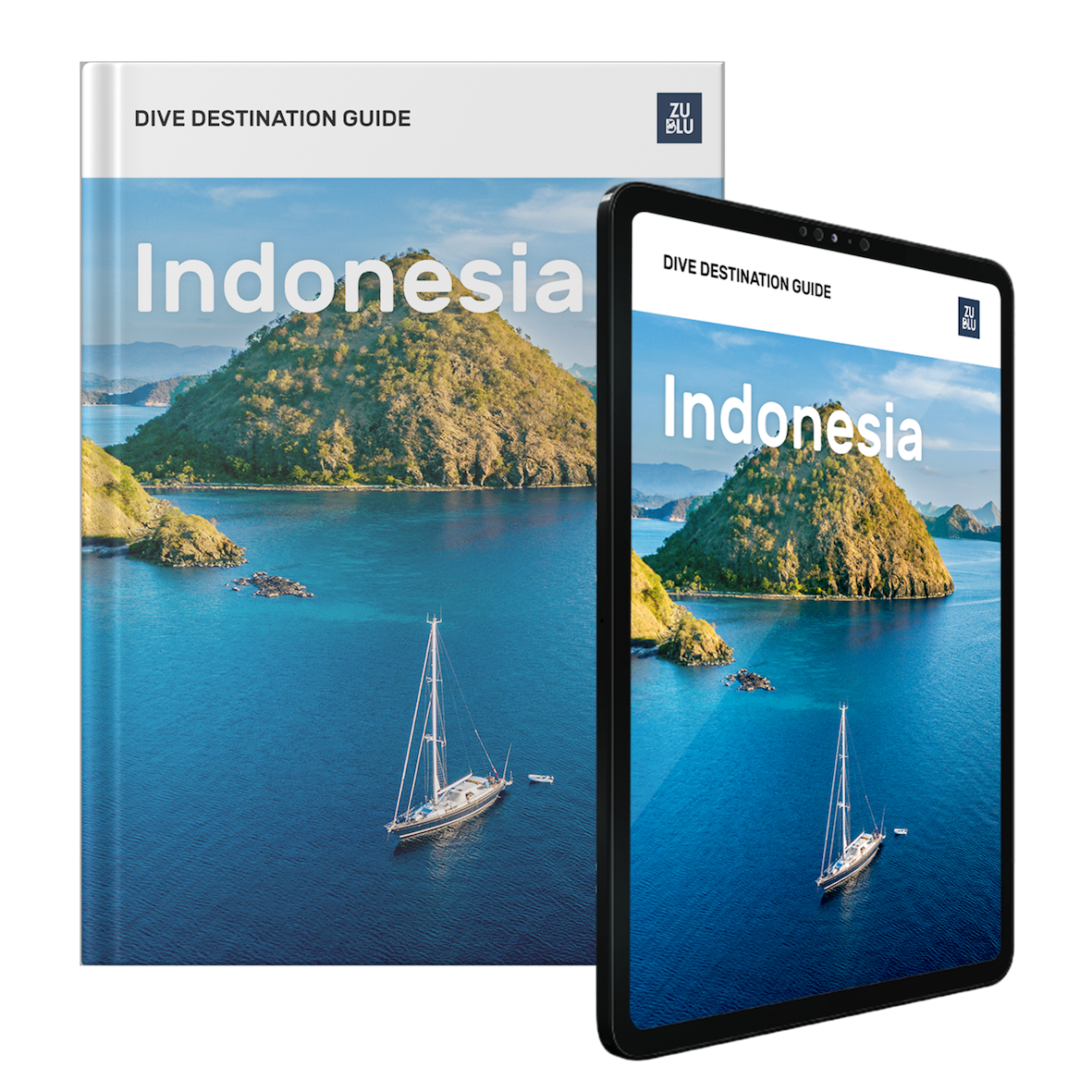 Discover the secrets of Indonesia in this FREE 150+ page scuba dive destination guide. Read online or download today and let us inspire your next diving holiday.
---
---
Join the ZuBlu community to receive the latest insights and unmissable adventures
Don't worry, we'll only send you really good stuff - and we never share your details
---