Charter a private yacht and set sail on the trip of a lifetime exploring the Maldives, famous for sharks and rays, surf breaks, and endless stretches of perfect white sand. 
With the whole boat to yourself, private yacht charters deliver a totally different experience to a typical liveaboard trip, ensuring everything is exactly how you want it – from the stops included on your itinerary to each day's delicious menus. 
Read on for a rundown of the Maldives' top charter yachts and their classic itineraries, and start planning your trip today!
The Maldives' best private charter yachts
The charter yachts in the Maldives are some of the very best in the world, delivering the country's famous first-class hospitality during exciting and action-packed itineraries. These stunning vessels cater to groups of all sizes and offer an incredible selection of itineraries touring the Maldives' most impressive atolls. Find your perfect yacht and start planning your tailored adventure.
Fascination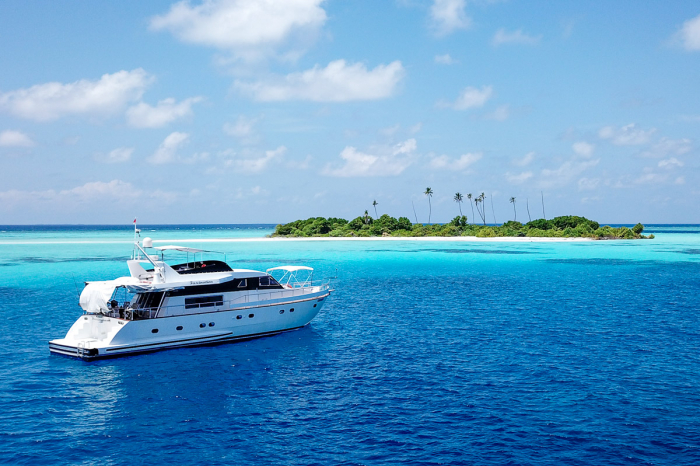 Catering to just six guests, Fascination offers a cosy and intimate experience lasting up to 10 days at sea, visiting various atolls of your choosing along the way. You can expect generous common areas complete with modern furnishings, delicious chef-prepared meals, and cabins that feel like five-star hotel rooms. Plus, creative itineraries in the central atolls for diving and snorkelling, and fun extras like wakeboarding and water skiing.
Dhoni Stella 1 and Dhoni Stella 2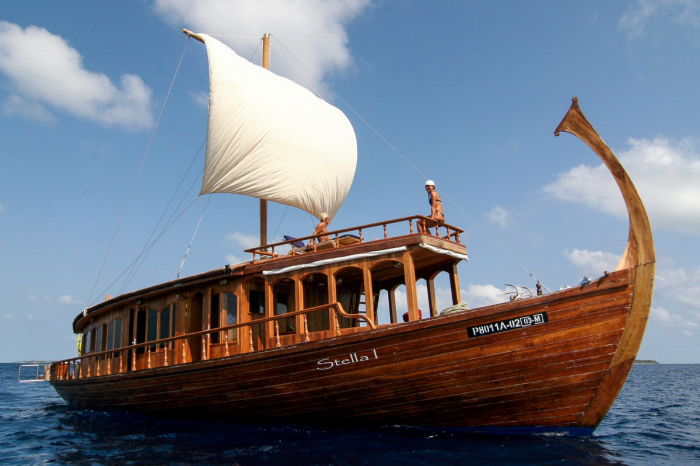 These charming traditional wood vessels offer both standard itineraries and completely custom trips. Ideal for families or couples travelling together, each of these classic dhonis holds two to six guests, with warm and comfortable classic Maldivian surroundings. Stunning solid wood interiors, local cuisine, and a chance to visit some of the region's most remote islands make these twin charter yachts some of the most authentic available.
Over Reef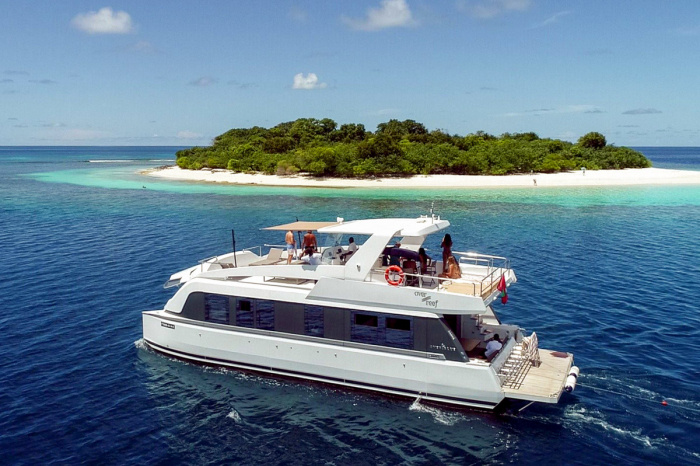 Part of the same prestigious family as Dhoni Stella 1 and 2, this brand new motor yacht is the most innovative and luxurious catamaran for small private charter available in the Maldives. Over Reef accommodates up to six guests in three stunning cabins complete with panoramic views, alongside generous common areas, and a nearly 1:1 crew to guest ratio. Guests will also appreciate this vessel's unexpected details like fresh baked bread and pastries, and flexible itineraries that allow you to combine your voyage with a luxurious resort stay.
Dhinasha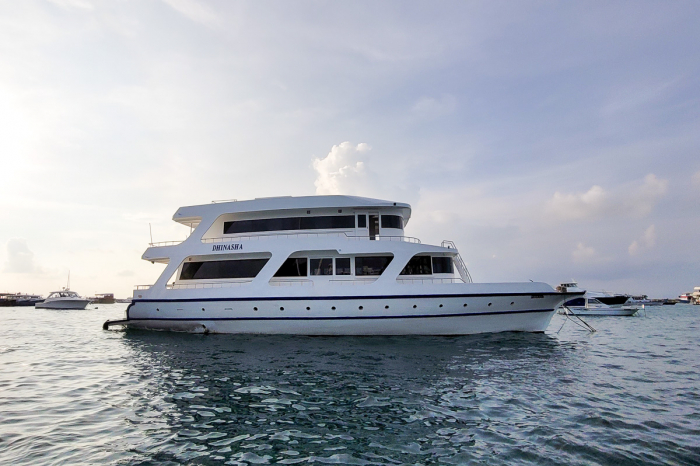 Ideal for fun, social voyages, Dhinasha can accommodate up to 14 guests in seven comfortable cabins. Ideal for beginners and intermediate divers, this charter yacht focuses on the Maldives' stunning central atolls, with trips suitable for all skill levels including snorkellers. After each dive day's adventures are over, relax in luxurious private surroundings with spacious sun decks and a top-shelf bar stocked with all your favourite selections.
Felicity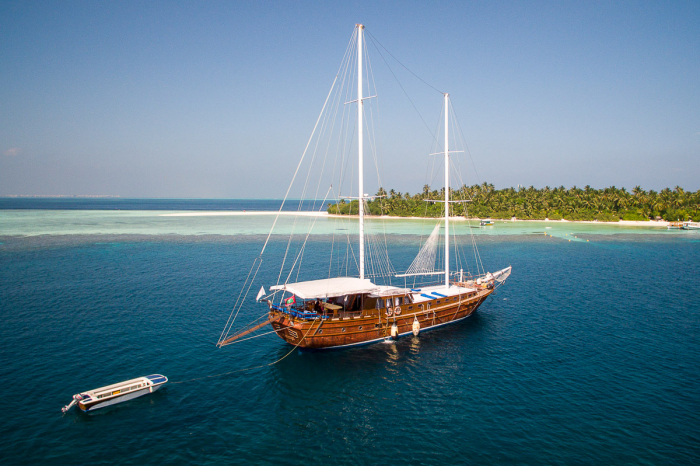 This traditional Turkish gulet is one of the Maldives' most beautiful boats, accommodating up to 14 guests in seven cosy cabins. Its classic, solid wood interiors, spacious common areas and sun decks, and generous air-conditioned interior make it an excellent option for visitors who want to spend their days split between diving and deep relaxation. Felicity offers classic kid-friendly itineraries through the Maldives' central atolls with onboard extras including kayaks and paddleboards, plus optional shore excursions. 
---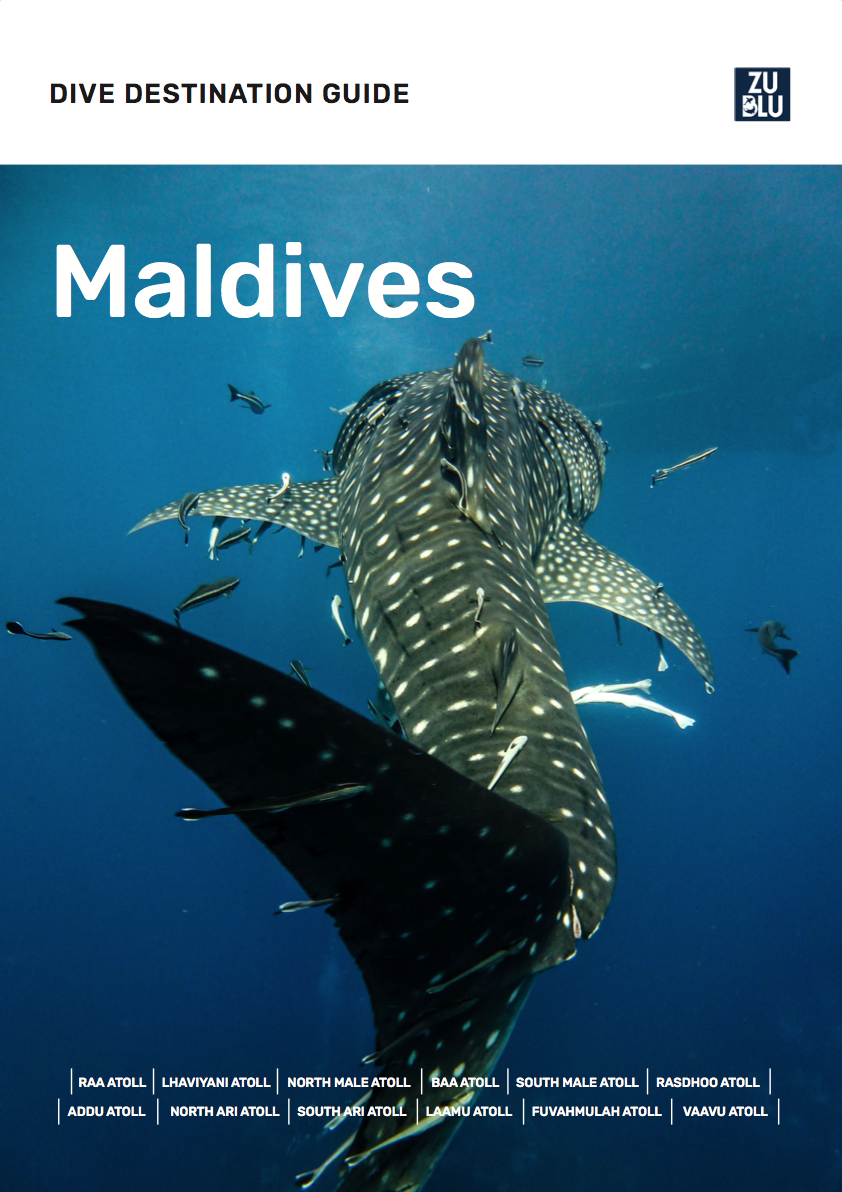 Complete guide to the best diving in the Maldives. Explore the atolls, seasons, and pro tips in this free 37 page destination guide.
---
Top charter yacht itineraries in the Maldives
When it comes to booking a luxurious private yacht charter in the Maldives, your itinerary is one of the most important factors to consider. The various voyages offered are designed to showcase particular atolls, each with their own special attractions to suit every guest. 
'Best of the Maldives' charter yacht itinerary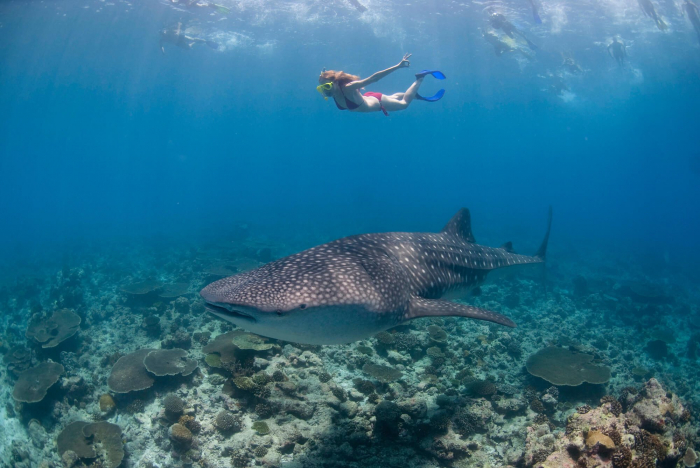 Lasting four to ten days at sea, these "best of" itineraries tour the central atolls in search of whale sharks, manta rays and more. You'll also stop at some of the most beautiful islands, famous for their villages and picturesque landscapes of sparkling turquoise sea and deserted sandbanks.
Your adventure will begin and end in North Malé Atoll, with its own fantastic diving and some of the best surf breaks in the Maldives. This is also an excellent place to stop off at a resort for a cocktail or a rejuvenating day at the spa. A short sail away, South Malé boasts more challenging sites with exhilarating drifts at current-rich channels and seamounts. 
No 'Classic Maldives' itinerary is complete without a stop in Vaavu, famous for its night dive with dozens of docile nurse sharks, and exceptional channel dives. Then, it's off to South Ari atoll for snorkelling with whale sharks. North Ari delivers some of the Maldives' most iconic reefs and yet another fantastic night dive – this time with dancing manta rays. And finally, Rasdhoo Atoll is often the highlight of a classic cruise, thanks to its dawn dives in search of sharks and pristine sandbanks – the perfect photo op.
Areas of exploration - North and South Malé, Vaavu, North and South Ari, Rasdhoo
Best for - intermediate divers, extended voyages, groups with non-divers
Highlights - sharks and mantas, drift diving, surfing, stunning scenery  
Top dive sites - Alimatha, Maamigili, Maaya Thila, Fesdhu Lagoon
'Northern Explorer' charter yacht itinerary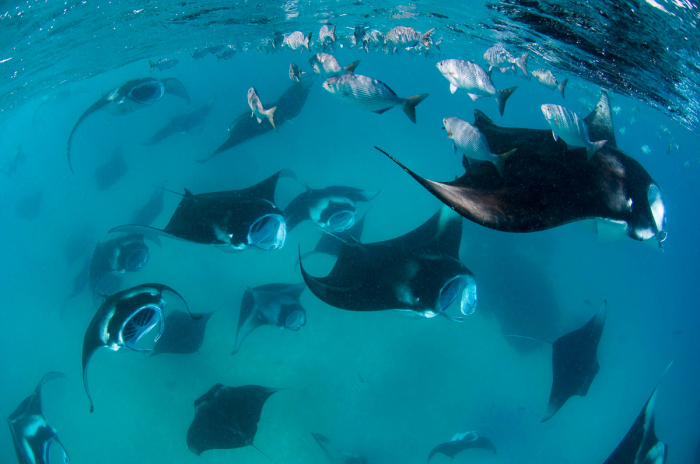 Lasting between seven to ten days, these itineraries head north to explore Baa, Raa and Lhaviyani Atolls in search of hidden reefs and islands. You'll have a chance to witness the largest gathering of manta rays in the Maldives, explore shipwrecks, and tour a UNESCO Biosphere Reserve – home to some of the region's most biodiverse reefs. 
Starting in North Malé Atoll, you'll have the chance to refresh your scuba skills or try your hand at surfing at some of the best breaks in the Maldives. Then, it's off to Lhaviyani Atoll, well known for its beautiful islands and reefs, as well as twin shipwrecks that can be dived or snorkelled.
Raa Atoll is often up next, which is home to serene natural surroundings and an impressive diversity of marine life, from macro to mantas. Baa Atoll is the highlight of this itinerary, offering a chance to explore stunning coral reefs and swim alongside hundreds of manta rays, sometimes joined by gulping whale sharks. 
For something a little more dramatic, head to this region's channels for fast-paced drift diving with a chance to spot sharks – a fun finale before you head back to Malé. Shorter itineraries lasting four to seven nights focus on Baa Atoll. Longer itineraries of seven to ten nights may include Lhaviyani Atoll, or even Rasdhoo and North Ari Atolls.
Areas of exploration - North Malé, Lhaviyani, Raa, Baa
Best for - beginner and intermediate divers, snorkellers, manta fanatics  
Highlights - manta rays and whale sharks, shipwrecks, surfing, relaxed reef diving
Top dive sites - Banana Reef, Hanifaru Bay, Shipyard, Kuredu Express
'Vaavu and Beyond' charter yacht itinerary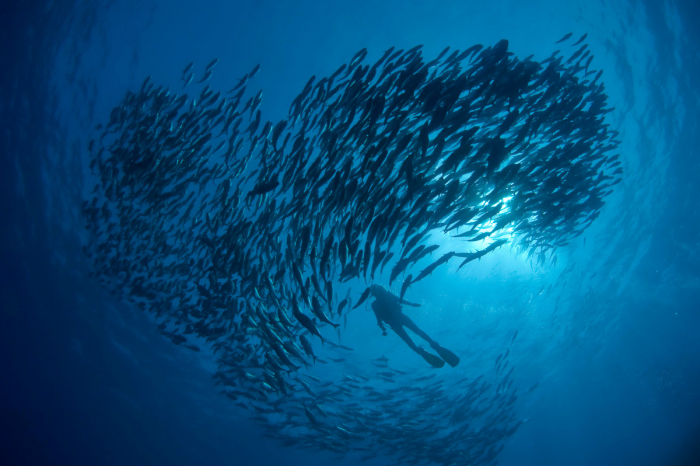 These itineraries venture well off the beaten track, sailing south to explore Vaavu Atoll's exceptional diving, beautiful local islands, and authentic Maldivian culture, then beyond into Meemu Atoll. Lasting four to seven days, these voyages are among the best options for quick getaways, but can be easily extended to cover more distant atolls including Thaa and Laamu. 
Beginning in North Malé, you'll sail due south for the start of your adventure. Dive exhilarating channels known for their high-speed drifts and big fish, plus stunning thilas bustling with marine life of all shapes and sizes. From South Malé you'll sail for one of the Maldives' least developed atolls, Vaavu. Vaavu Atoll is famous for beautiful reefs and the best channel dives in the country. Once you've had your fill of currents, take it easy topside, relaxing on a sandbank at sunset, or jump in for a night dive with friendly nurse sharks.
South of Vaavu, Meemu Atoll has a scattering of resort islands and remote dive sites well beyond the reach of most liveaboards - meaning you'll likely have them all to yourself. Dive more fantastic channels and thilas and enjoy a few close encounters with the region's majestic manta rays. Mix your itinerary up a bit with an excursion to tour authentic local villages, or enjoy an action-packed day at Meemu's surf breaks. Keep in mind, you'll need to spend seven days or more in the south if you're hoping to see the very best of both Vaavu and Meemu.
Areas of exploration - South Malé, Vaavu, Meemu  
Best for - intermediate and advanced divers, quick trips, authentic local culture
Highlights - fantastic drift diving, big fish action, uncrowded sites
Top dive sites - Guraidhoo and Embudhoo, Alimatha, Medhufushi Thila
---
Need help planning your chartered holiday experience?
Contact one of our Maldives travel experts today

---
---
Join the ZuBlu community to receive the latest insights and unmissable adventures
Don't worry, we'll only send you really good stuff - and we never share your details
---