Cruising the seas on a luxurious private yacht is many people's idea of a dream vacation. But, how does your expectation compare to the reality of chartering a yacht. 
Keep reading to discover what you can expect when that dream finally comes true, including the different types of yacht charter, what itineraries and activities they offer, and tips on what to pack.
---
Need help planning your private charter yacht?
Contact one of our award winning travel experts today

---
Types of charter yacht
The right ambience on board is often one of the most important aspects in creating your perfect charter experience, and it's worth noting that not all yacht charters are the same. Of course, not all vessels are identical, but there's also one fundamental difference that helps to separate charter yachts – the crew. 
Crewed vs bareboat yacht charters
On a crewed yacht charter, you simply rent a yacht complete with a crew. This might include a skipper, a chef, and any other personnel needed to complete your journey in maximum comfort. Crewed charters allow guests to simply sit back and enjoy the ride, without having to actually get involved in sailing the yacht. But on board a bareboat charter, you and your group will be crewing the vessel yourselves. As you can imagine, these itineraries suit guests looking for a little extra privacy during their trip, or groups with experienced sailors who would relish a hands-on holiday.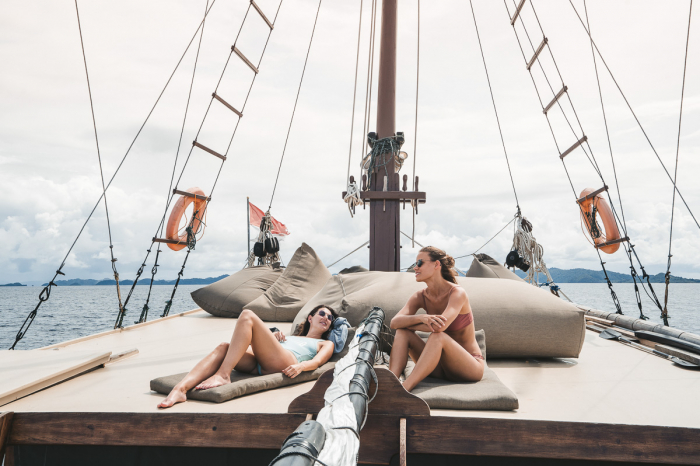 These two different types of charter dictate the atmosphere and ambience during your trip. A crewed charter is all about exquisite customer service and personalised attention, ensuring guests never have to lift a finger during their expertly-organised itinerary. A bareboat charter yacht, on the other hand, emphasises freedom and self-exploration, allowing guests to simply rent a yacht and set sail in search of adventure. 
Particular destinations around the world tend to favour one or other of these two styles. Indonesian yacht charters, for example, are almost always crewed and promise a true taste of the high-life, complete with first-class service and an exclusive atmosphere. In contrast, yacht charters in the Bahamas tend to be more laid-back and are often rented without crew, although skippers and chefs can often be added at an additional cost. 
All-inclusive yacht charters
It's worth noting that a crewed charter is not necessarily all-inclusive, and many require additional payment for the use of watersports equipment and scuba diving, as well as land-excursions, premium drinks, and other little luxuries. This can help keep costs down if you're not planning to indulge, but if you're looking for the complete luxury charter yacht experience, an all-inclusive itinerary might be right for you. To learn more about pricing, check out our article about the cost of chartering a yacht.
Ready to start planning your private charter yacht in the Maldives?
Search, compare and book from our hand selected boats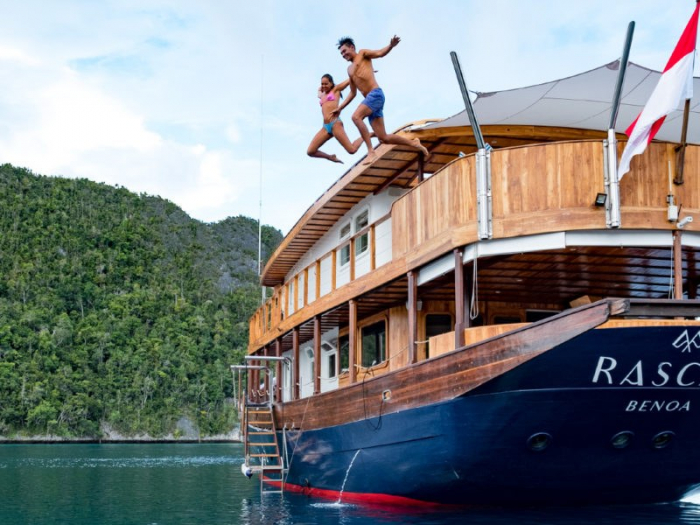 What to pack for a trip aboard a charter yacht
When embarking on a remote, ocean-based adventure it can be tempting to over-pack. After all, nobody wants to be uncomfortable or unprepared whilst on holiday. But remember, space is one of the biggest commodities on board a boat, and you don't want to be taking up room without good reason. Besides, whether your yacht of choice is crewed or not, it'll usually come well-equipped with the basics, such as kitchen appliances and utensils, TVs or projectors, and often even watersports equipment.
What to wear on your charter yacht vacation
The key to packing for your charter yacht experience is simplicity. You'll probably be exploring islands famous for their warm weather and glorious sunshine, so casual and breezy beach attire and swimsuits is likely all you'll need on deck. Of course, there's always the chance of a cool ocean breeze, particularly in the evenings, so a warm windbreaker jacket is a good idea too. A pair of comfortable, rubber-soled shoes are advisable and can be used both on deck and during excursions ashore. And, if you're planning shore visits beyond the popular tourist beaches, you should always have an understanding of the local culture and pack clothes accordingly.
Adequate sun protection is vital aboard your charter yacht trip, ensuring you can spend as much time as possible above deck, enjoying the surrounding ocean and spectacular scenery. Plenty of reef-safe sunscreen is a must, as well as sunglasses, sun hats and breezy, loose-fitting cover-ups. If you have a preference for any particular toiletries, you'll also want to bring them along, but make sure they are reef safe and dispose of any packaging responsibly. 
While simplicity is key, if you're planning on participating in any activities, such as scuba diving or surfing, you may need to pack your own equipment, depending on the vessel's facilities. 
Typical charter yacht activities
While direct access to the ocean and sun-soaked decks with stunning vistas should be plenty to keep you entertained, most charter yachts come well-equipped with extra activities and facilities to pass the time. Complimentary kayaks and stand-up paddleboards are often included in the price, allowing for self-guided exploration whenever the boat is moored. A selection of masks, snorkels and fins is also commonly offered – although you may wish to bring your own to ensure a comfortable fit. On certain all-inclusive charters, the vessel may even offer free use of water skiing equipment, and even jet skis.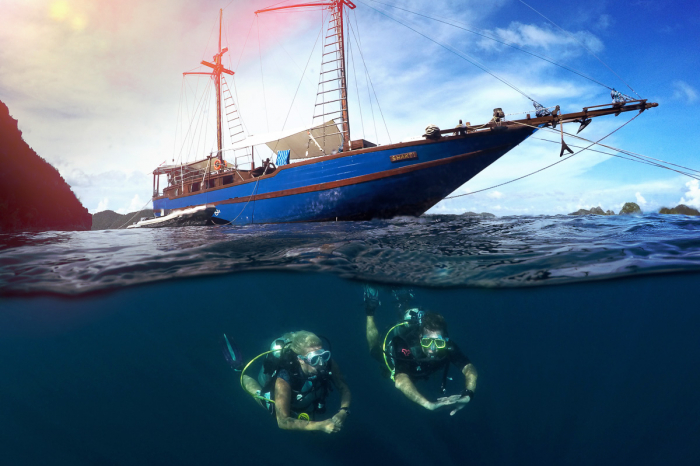 Crewed charters with a more clearly defined itinerary will also suggest land excursions as part of your trip. These might include treks through areas famed for their stunning natural beauty, visits to local villages and markets, tours around historic and cultural monuments, or hikes in search of endemic wildlife. The skipper and crew may also introduce you to a few of their favourite 'secret' spots along the way, such as secluded bays that will provide the perfect setting for a beach bbq or picnic.
For those quiet afternoons and cosy evenings, you might find a small library of books, films and board games available on board, although, if in doubt, bringing a good book and a hard drive full of movies from home is never a bad idea. Some boutique charter yachts even have film projectors for cosy open-air screenings and cushioned mats for yoga and meditation. Or, guests can even opt for a crewed charter with onboard massage services for the ultimate compliment to their relaxing vacation. 
Ready to start planning your charter yacht in Indonesia?
Search, compare and book from our hand selected boats
Types of charter yacht itineraries
Different itineraries deliver totally different atmospheres and activities, so choosing the right itinerary for you and your group is essential for creating a trip to remember.
Watersports charters
Chartering a yacht is all about enjoying the ocean, and many vessels can also cater to particular watersports such as surfing and diving. Surfing charters are popular in countries such as the Maldives, where iconic waves are spread out across the islands and atolls. Diving is another popular watersport during chartered voyages, particularly within island nations such as Indonesia, the Maldives, and parts of the Caribbean. These itineraries allow scuba divers to cover large distances and see all the best sites, with as much diving as they can handle. Charter yachts also differ in how they cater for different activities, with some simply facilitating self-exploration, and others offering concierge-style service, full rental gear, and even tuition.
Luxury and romance
There are few things more synonymous with luxury than having your own private yacht, even if it's just for a week or two. These itineraries will often be all-inclusive and offer a tempting selection of indulgences and luxuries. Exquisite onboard cuisine, massage services, and five-star customer service are to be expected on these lavish trips, along with once-in-a-lifetime activities such as candle-lit diners on deserted sandbars. 
Adventurous expeditions
Adventure itineraries are all about getting off the beaten track, and these itineraries mean escaping the tourist traps in favour of secret bays, hidden reefs, and plenty of paths less travelled. You're less likely to cross-paths with anybody else out in these remote regions, providing a true sense of solitude and escapism - perfect for switching-off from the stresses of day-to-day life. Activities on board will likely include lots of exploration, from snorkelling coral-carpeted bays to climbing jungle-clad peaks and spotting rare and beautiful wildlife.
Family trips
Chartering a yacht is also a great way to bring the family together, with itineraries specifically designed to cater for all ages at once. No matter what your interests, these itineraries can combine a range of family-friendly fun in an intimate and comfortable atmosphere - creating the ultimate bonding experience. 
For more information on charter yachts, including help with booking and tips on the best destinations for your adventure, check out our detailed advice on how to charter a private yacht.

---
Need help planning your private charter holiday?
Contact one of our award winning travel experts today

---
---
Join the ZuBlu community to receive the latest insights and unmissable adventures
Don't worry, we'll only send you really good stuff - and we never share your details
---