Have you ever dreamt of setting sail aboard a private yacht, joined by just your closest friends and family? Well, with exclusive charter yachts operating in some of the most sought after travel destinations around the world, your dream could easily come true. You don't even have to own a boat ...or know how to sail for that matter. 
Read on to learn about the different types of charter yachts available, how they differ from traditional liveaboards and resorts, and the benefits of booking your very own private charter. 
---
Need help planning your holiday onboard your private charter yacht?
Contact one of our award winning travel experts today

---
What does it mean to charter a boat?
Private charter yachts are those that allow guests to hire the entire boat – essentially it's a yacht rental. This means the biggest difference between charter yachts and normal liveaboards, is that you'll have the whole boat to yourself. Of course, each charter vessel will have its own rental agreement to specify the finer details of your booking, such as inclusion and exclusions, the number of guests allowed, activities offered, and the itinerary undertaken. You can even choose to charter a vessel with or without a crew, this is typically referred to as either crewed or bareboat.
Despite the differences in rental terms, and the huge potential for personalisation, most charter voyages still share a few common attributes. Firstly, these vessels often explore remote regions that aren't easily visited by day trippers, allowing guests to cover more highlights in a single trip and offering access to some of the planet's most pristine environments. What's more, charters typically roll the basic package into one set rate, while also offering a range of optional extras which can be added at an additional cost. But best of all, they give you the freedom to customise almost everything – from the voyage's guest list and itinerary to daily menus, additional activities, and more!
Charter yachts vs open cabin, what's the difference?
Normal liveaboard dive boats use an open cabin system for booking. The vessel has a fixed schedule and its staterooms are filled on a first come, first served basis, much like a hotel or resort. Some boats also offer shared cabins as an affordable option for solo travellers, or as a way for guests to meet a new dive buddy or two. 
A charter yacht, by contrast, means you reserve an entire boat for your exclusive use, only inviting people that you want to share your journey with. Most charter agreements include a maximum number of guests, and it's up to you to fill the cabins with as many – or as few – people as you prefer. 
Some boats also offer partial charters, allowing you to reserve a number of cabins for your travel group at a discounted rate. These trips don't offer the same level of privacy and exclusivity as a full charter, but they do include certain benefits, such as selecting cabins and activities just for you and your companions. 
Most common types of charter vessel
One of the biggest distinctions when it comes to booking a private charter is the type of vessel you'll be cruising on. Sailboats, motor yachts, catamarans, and traditionally-built solid wood ships are all available for rent – each offering its own unique perks and drawbacks. 
Sailing vs motor yachts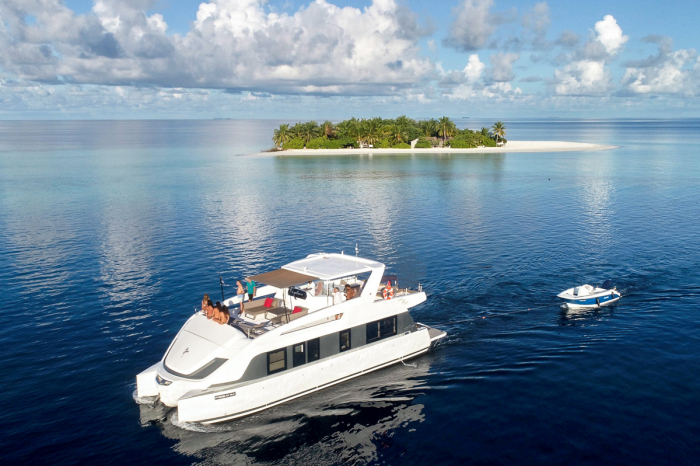 Sailing yachts cruise silently, propelled primarily by wind power, creating a charming atmosphere for your charter voyage. They are also more environmentally sustainable than motor or power yachts, because they use far less fossil fuel. That said, they are also much slower, making them less practical for covering great distances. 
Motor yachts often use powered stabilisation systems to deliver a smoother ride. These fins and flywheels kick on when the yacht rolls from side to side, helping to keep its decks level in the water. Sailboats, however, use internal water tanks to balance their weight and reduce roll. These do offer a somewhat smoother ride, but cannot compete with the technology used in motor-powered boats. 
Another key difference between sailing vessels and power boats is aesthetics. Sailboats offer a more traditional look, with masts rising from the deck and rich hardwood construction – making them ideal for romantic escapes and cultural immersion. Modern motor yachts, on the other hand, are typically made from metal and have no need for masts and sails, providing contemporary style and convenience.
Monohulls vs catamarans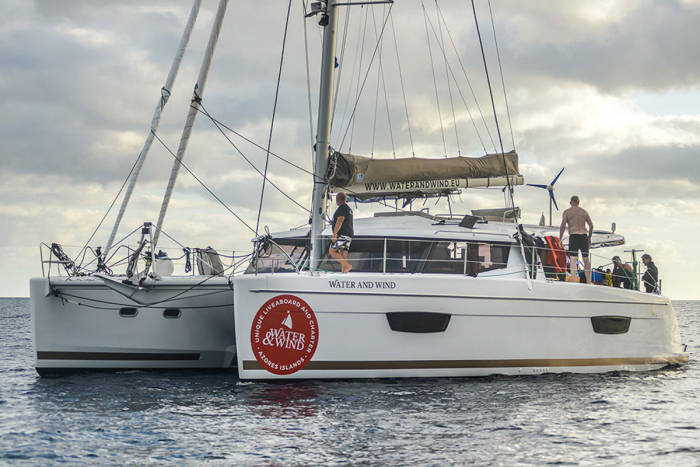 Monohull or single-hulled vessels are built with one large interior space, whereas catamarans are built over two separate hulls. And, a third, far less common type of boat – the trimaran, uses three individual hulls. Monohull vessels sometimes feel less stable in the water, as their shape allows them to roll back and forth more than a catamaran or trimaran. But, their layout is more practical and straight-forward, as the entire interior is connected. Catamarans are also less exhilarating to sail, as they are far less manoeuvrable. 
Traditional phinisis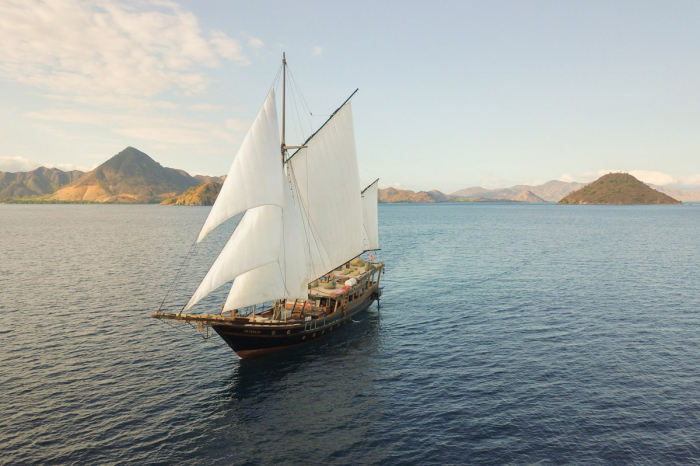 These traditional two-mast sailing vessels are constructed by the Bugis people of Indonesia's South Sulawesi, offering a local take on the European gaff or schooner. The same families have been building these boats for centuries, using techniques passed down from their ancestors to produce some of the planet's finest sailing vessels. Phinisis use a distinctive rigging system with seven to eight individual sails for power and propulsion, and are hand-built from teak, ironwood, and other exotic timber found in Southeast Asia. Almost all charter yachts operating in Indonesia are built around a traditional phinisi design.
Other traditional single hulled sailboats used as charter yachts around the world include Turkish gulets, Arabian dhows, Maldivian dhonis, and ketches. 
Benefits of yacht charters compared to resorts and liveaboards
A charter boat's biggest attraction is its exclusivity. Unlike a standard liveaboard or resort, you won't have to share the adventure with other groups or travellers, so every memory made is extra special. Of course, it's also up to you how many guests are invited, allowing you to create the exact atmosphere you desire. 
Charters often cater to a high-end clientele, offering services that might not be found elsewhere. As well as an atmosphere of exclusivity, such charter yachts might offer private adventures in far-flung regions, well off the typical travel radar, and highly personalised service with a high crew to guest ratio. The crew will be happy to honour your every request, as you'll have the entire boat all to yourself. You'll get to tailor every element of your experience – from what you eat to which sports you participate in and where you visit. Outings on private islands, state of the art watersports equipment, luxurious spa services, and romantic private dining, are just a few indulgent activities that may be available. 
Lastly, for divers that need a bit of extra attention in the water, chartering a private yacht can be a great option. You won't have to worry about holding other dive groups back or being pushed outside the limits of your skill and comfort level. You'll be guaranteed as much hands-on guidance and assistance as you want underwater, and will feel free to move at your own pace. Some vessels will even offer the chance to add dive training and courses to your itinerary, with the sole focus on you and your travel companions. 
Now you know what a charter yacht is, you probably can't wait to experience one for yourself. But before you do, be sure to check out our in depth advice on how to charter a private yacht.
---
Ready to start planning your private charter yacht?
Contact one of our award winning travel experts today

---
---
Join the ZuBlu community to receive the latest insights and unmissable adventures
Don't worry, we'll only send you really good stuff - and we never share your details
---