Nothing says luxury like chartering a private yacht for your family and friends, although naturally, cost may be a concern. So how much does it actually cost to charter a yacht? 
You'll be pleased to know that, in most cases, pricing is straight-forward and easy to understand, with fixed costs and all-inclusive plans that allow you to set an amount you want to spend, and stick to it.  
That said, how much your charter costs will depend highly on where your holiday takes place. In destinations like Indonesia, private yachts typically include almost everything except top shelf drinks and add-ons like massage therapies and speciality activities. In contrast, far fewer services are covered in the base price when booking charter yachts in the Bahamas, and elsewhere in the Caribbean.
Private charter pricing is also split into two main categories – bareboat and all-inclusive. Bareboat rentals often come with little more than the vessel itself, as well as full tanks of water and fuel. All-inclusive charters, on the other hand, will likely come with all that you'll need to enjoy your trip from food and drinks to fuel, sports equipment, crew, and more.  
Read on for a full rundown of the costs associated with chartering your own private vessel and helpful information on how much you can expect to spend. 
---
Need help planning your dream private charter holiday?
Contact one of our award winning travel experts today

---
Can I afford to charter a yacht?
While a charter yacht is certainly a luxurious way to travel, the price will vary between different countries, and according to the type of vessel and itinerary. But, booking a private yacht charter can be surprisingly affordable when you consider how many people you'll be traveling with. While the cost per night for a charter can seem prohibitive at first, when you compare what it might cost in a resort for all of your family and friends, a charter is often the cheaper option!
You'll also want to predetermine what sports, activities, and extra services you'll be participating in – that way, there are no surprises when it's time to pay. Plus, make sure you understand all of your charter company's policies ahead of time. This includes what currency you'll be required to pay in, the schedule of deposits and payments, what extra cash charges will be requested on arrival, and fees like required trip insurance, local taxes, and marine park entry.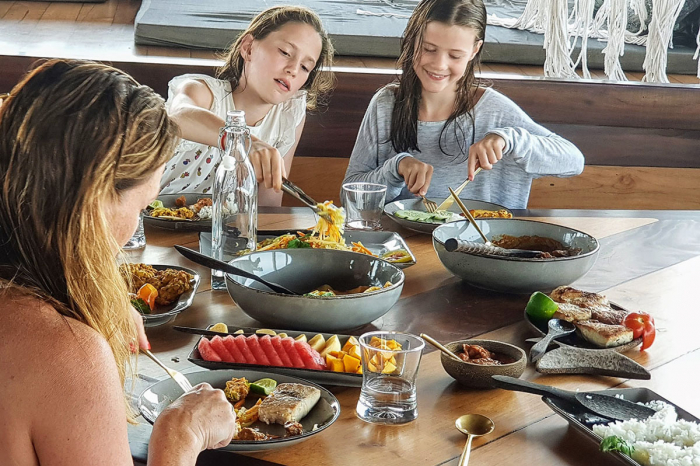 Ready to start planning your private charter yacht holiday in Indonesia?
Search, compare and book from our hand selected boats
So, exactly how much does it cost to charter a yacht?
The price for a charter boat can range from a few hundred to thousands of dollars per day, depending on a range of factors. So for those private yachts that aren't all-inclusive, we've highlighted some of the variables below.
Marina fees
Any time a yacht is in port, a fee is incurred. Depending on the location, boat size, and facilities available, this can range from pocket change to major port fees. Generally speaking, marina charges are included in the price of your private charter – but there are some exceptions.

If your itinerary includes stops at high-end resorts or private islands, you'll likely be asked to pay for your time there – even if you don't dock overnight. Likewise, most regions charge for dropping anchor or pulling into a slip in designated national parks and protected marine areas. Mooring fees may also apply if you're tying off to a fixed structure rather than simply dropping anchor. This is true in regions like the Caribbean, for example, where mooring buoys are commonly used to keep chartered vessels secure without entering a marina. 
You might also be required to pay an additional fee if you spend extra nights on board, either before or after your voyage. This is common practice in remote regions where transfers to and from port are offered less frequently and in marinas that have notable tourist attractions, worthy of sticking around for some added exploration. 
Fuel costs
If you've chartered an all-inclusive voyage, the cost of fuel will be built into the price of your charter. But, there are times when you'll be expected to pay a bit more. For example, if you've selected destinations outside the boat's typical range or the vessel needs to relocate, you might be asked to pay a bit more for the fuel used to get there. Fuel surcharges may also apply if the price of gas suddenly increases or if the trip's route changes unexpectedly – such as if you decide to add extra days to the original voyage once you're already underway or are forced off course due to inclement weather. 
Bareboat charters, on the other hand, often only include a full tank at the start of your trip. Then, you'll be responsible for topping up along the way. You may also be asked to return the yacht with a full tank.
Provisioning
Most standard provisions like food, drinking water, coffee, tea, soda, and snacks are rolled into the price of an all-inclusive charter. But, you might be asked to pay for special requests like top-shelf spirits, imported beer and wine, and speciality foods. Dietary accommodations such as vegetarian, vegan, and gluten-free may also incur small additional charges, based on the cost of their ingredients. 
Aboard your charter yacht, you'll have the freedom to customise almost everything, including your daily menu. While it may be reflected in the cost of provisioning, this is a unique opportunity to arrange private dining, with options like romantic candlelit dinners and beach barbecues on secluded sandbanks. Splashy extras might include locally sourced seafood like lobster, champagne, and baked goods – such as decorated cakes to help celebrate a special occasion. 
Bareboat charters, on the other hand, may include nothing but a refrigerator, ice, and a full tank of water. This type of trip requires that you plan your own menus and shop for groceries – or hire someone to help. You may also be required to return the yacht with a full tank of water.
Ready to start planning your private charter yacht in the Maldives?
Search, compare and book from our hand selected bots
Activities and equipment rental
Depending on where in the world you've decided to visit, you'll have the freedom to choose from all kinds of exciting activities during your charter yacht voyage. Snorkelling and scuba diving are often at the forefront, joined by watersports like kayaking and paddleboarding. But, other activities like jet-skiing, wakeboarding, and wind sports are also often available for a small extra charge.
Before booking your charter, you should research all the activities available and whether or not they'll incur fees for guiding and equipment rental. This small extra expense will most likely be due in cash when you arrive for your trip and may include diving and snorkelling gear, tank fills and nitrox, sports lessons, watersports rentals, and more. You should also plan for some extra expenses associated with these activities, including park fees and separate gratuities.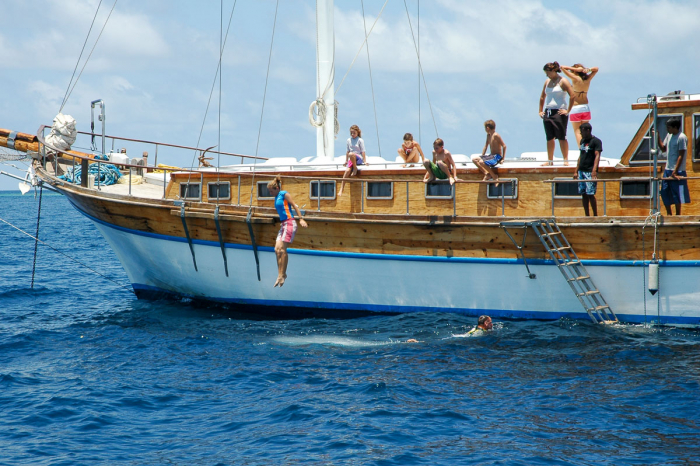 Private guides
Some charter yachts offer private guiding for an additional fee. This service typically includes hands-on attention and small group supervision from a highly trained professional with a naturalist or sports instruction background. Private guiding may include scuba diving, snorkelling, trekking, and other above-water activities like island hopping. Your charter may ask that you pay for these services in cash on arrival.
How much to tip on a private charter
As with a traditional liveaboard or resort stay, how much you tip a charter boat captain or crew is largely up to you – and it's absolutely based on the quality of service you receive. Most boats suggest a minimum gratuity, for example, ten per cent. Then, you're free to add on to that amount if you've enjoyed your experience. In most cases, tips are shared among the entire boat crew – but it is also acceptable to offer separate tips to any individual staff members that made your voyage special. In fact, in many charter yacht destinations, gratuities are a primary source of income, relied upon heavily by both the captain and crew. 
Now you have an understanding of how much your yacht charter might cost, you're ready to start planning. So check out our detailed advice on how to charter a private yacht, and turn that dream holiday into a reality. 
---
Need help planning and. booking your charter yacht holiday?
Contact one of our award winning travel experts today

---
---
Join the ZuBlu community to receive the latest insights and unmissable adventures
Don't worry, we'll only send you really good stuff - and we never share your details
---