The Philippines is one of the world's best-loved diving destinations, well-known for its biodiversity, affordability, and welcoming hospitality. And, with a huge number of islands to choose from, all offering unique underwater environments, scuba diving liveaboards are considered an ideal way to explore the Philippines Archipelago.

Keep reading to discover the most iconic routes offered by liveaboards in the Philippines, including the typical itineraries and the types of diving experiences on offer. 
Never considered a liveaboard before? You're missing out. Click here to learn all you need to know about liveaboard diving.
---
Need help planning you liveaboard adventure in Philippines?
Contact one of our dive travel experts today

---
Why choose liveaboard diving in the Philippines?
As the northern tip of the Coral Triangle, it goes without saying that the Philippines is home to vibrant and biodiverse underwater ecosystems. You name it, you can find it here, from mucky slopes crawling with critters, to coral-clad walls, reefs and pinnacles – as well as untouched offshore atolls surrounded by deep open ocean. Plus, many of the Philippines' most iconic destinations offer year-round dive seasons, meaning some of the country's most popular routes run practically uninterrupted.

Despite boasting over 7,000 islands, the best diving destinations are actually located in a comparatively small geographical area. In fact, almost all of the Philippines' well known dive cruise itineraries take place within the country's innermost regions, as many of the outer islands and far extremities are simply too exposed to offer reliable diving conditions. But, while the routes are less far-flung, there are no compromises when it comes to diversity, and these itineraries often include world-renowned dive destinations, as well as a full spectrum of diving experiences, in a relatively short distance. It also means the vessels' ports of departure are readily accessible, reducing the need for complicated travel arrangements.
Typical liveaboard routes in the Philippines
Northern Visayas liveaboard itinerary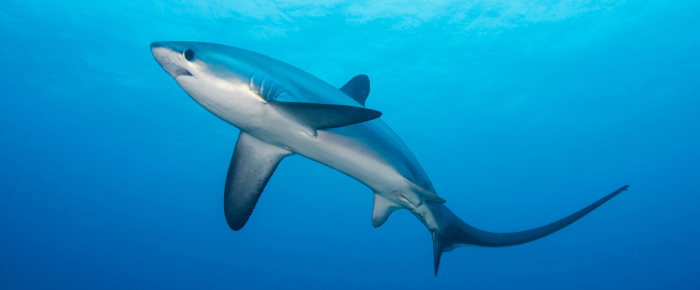 Normally lasting around seven days, this itinerary explores some of the Philippines' most iconic diving destinations. Departing from Cebu, vessels head north towards Gato Island and Malapascua, where divers will discover the famous thresher sharks of Monad Shoal and Kimud Shoal, along with the sun-soaked swim-throughs of Gato Island. Other notable dive sites here include the Dona Marilyn Wreck and Lighthouse Wreck, as well as White Tip Alley, and Nudibranch City. 
Sailing back south, many itineraries will then visit Kalanggaman and the Camotes Islands on the way to Southern Leyte. Whale sharks migrate through these waters between November and May, and areas such as Sogod Bay and Panaon Island can offer some truly exceptional encounters. While sailing west, back towards Cebu, this itinerary might include stops at destinations such as Anda and Olango Island, allowing macro enthusiasts and underwater photographers to get their final fix.
Possible destinations – Cebu, Malapascua, Camotes Islands, Leyte, Anda
Highlights – Thresher sharks, whale sharks, swim-throughs and macro
Best season – December through February, when conditions are at their best
Central Visayas liveaboard itinerary
Often dubbed the 'Central Visayas', this itinerary departs from Cebu and simply loops around the island of Bohol, stopping at a series of spectacular dive destinations on the way. Voyages will likely make a stop at Olango, a site well-known for its opportunities for macro photography, before crossing over to Southern Leyte for some bigger subjects – including whale sharks between the months of November and May. The Tagbak Marine Park and Napantao Marine Sanctuary are two iconic sites in this area.
From Southern Leyte and Panaon Island, the vessel will head back west, meandering along Bohol's southern coast in search of more unmissable experiences. The peaceful reefs and mucky slopes of Anda are first up, perhaps followed by a quick diversion south to take in the northern tip of Camiguin, where the hunt for all things weird and wonderful continues. The central Visayas itinerary will then head back towards the Cebu Strait, stopping at islands such as Pamilacan and Balicasag, as well as Cabilao, Sandingan and Pangangan – home to gargantuan corals in a kaleidoscope of colours.
Possible destinations – Cebu, Leyte, Anda, Camiguin, Pamilacan, Balicasag, Cabilao
Highlights – Whale sharks, coral reefs and macro
Best season – December through February, when conditions are at their best
Recommended liveaboard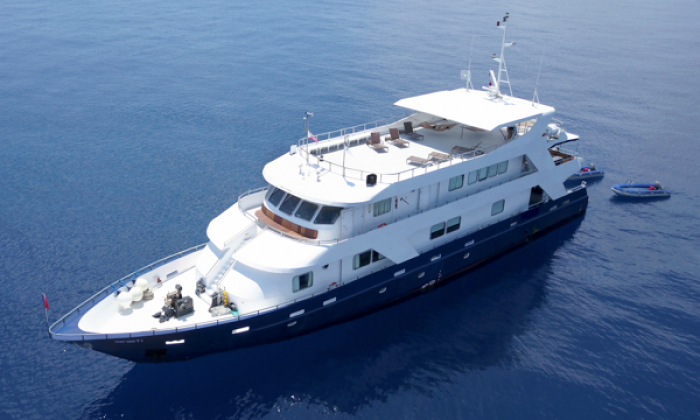 Philippines
Infiniti
Infiniti is a recently renovated modern power yacht offering week-long trips through the Philippines' most impressive diving areas - Tubbataha Reef, Malapascua and Leyte, Bohol, and ...
Southern Visayas liveaboard itinerary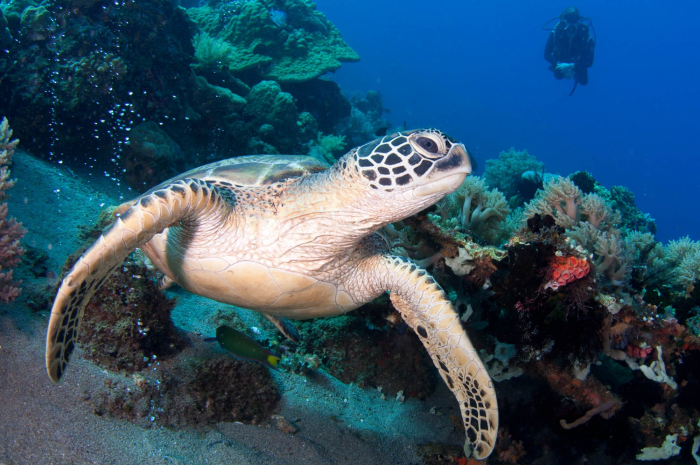 Both Cebu and Dumaguete are convenient departure points for itineraries exploring the Southern Visayas region and some vessels offer voyages which start in one town and finish in the other. No matter where you start, or which direction the vessel takes around this route, You're sure to visit almost all of the same exceptional dive sites. 
Departing from Cebu, this route runs south through the Cebu Strait, likely visiting Cabilao and the marine sanctuary of Balicasag on the way. Curving around Cebu's southern coast, the route then steams north towards Moalboal. The resort town of Moalboal has become famous for its dramatic coral walls just metres from the shore, and its very own sardine run which hugs the coast near Panagsama Beach. Nearby Pescador Island is also a popular spot, well known for its swim-throughs and shallow, sun-soaked coral gardens.
Heading south towards Dumaguete once more, this itinerary might stop off to explore the gorgeous coral reefs of Sumilon, where blacktip reef sharks roam, along with the diverse diving of Apo Island. And, if you're disembarking in Dumaguete, you might just get the chance to explore the muck and macro delights of Dauin!
Possible destinations – Cebu, Balicasag, Cabilao, Moalboal, Dumaguete, Dauin, Apo, Sumilon
Highlights – Coral reefs, muck and macro
Best season – December through February, when conditions are at their best
Tubbataha liveaboard itinerary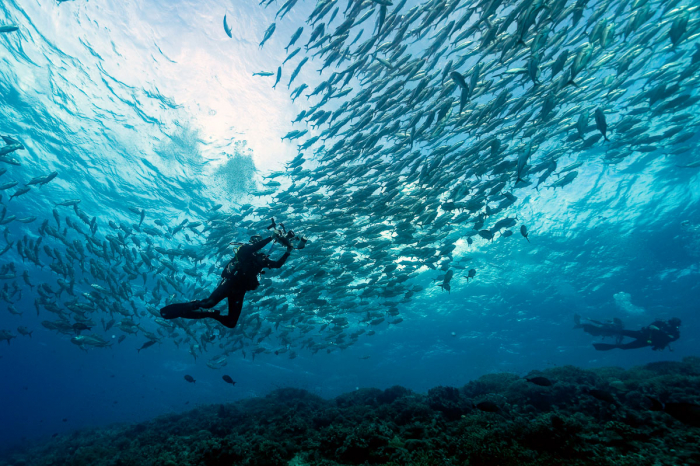 Located in the middle of the exposed Sulu Sea, the offshore atolls and reefs of Tubbataha represent the Philippines' most adventurous diving. Usually lasting a week, these itineraries depart from Puerto Princesa, taking up to ten hours to reach the first dive destination. Tubbataha's North Atoll and South Atoll are home to plummeting walls covered in soft coral and barrel sponges, which in turn attract dogtooth tuna, giant trevally, and schools of barracuda. Blacktips, whitetips, grey reef sharks, silky sharks, and schools of hammerheads can also be seen.
Jessie Beazley Reef is located north of the main two atolls, and is often the last stop before the return crossing. This pristine reef plays host to more powerful pelagic species including hammerheads, silky sharks, and even the occasional whale shark.
Ready to start planning your liveaboard adventure in Tubbataha?
Search, compare and book from our hand-selected trips
Sulu Crossing liveaboard itinerary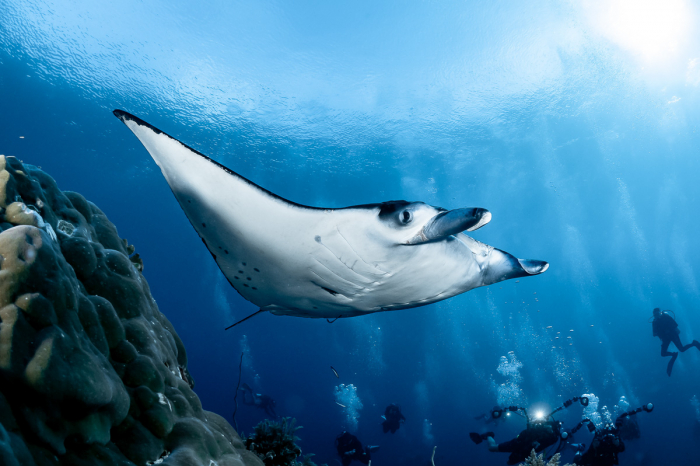 With Tubbataha offering some of the Philippines' best diving, but only a limited season, many vessels relocate from the Visayas to Palawan to make the most of this short window of diving opportunity. Lasting between 9 and 11-days these crossings depart from either Cebu or Puerto Princesa, depending on the season and direction of travel. 
From Cebu, the vessel will hop south along the Cebu Strait, sweep past Apo Island and Dauin, and across the Sulu Sea towards the Cagayan Islands, then onwards to Tubbataha and Jessie Beazley Reef – hitting all the world-class dive sites along the way. Finally, the voyage will disembark in Puerto Princesa.
Of course, if you book a trip at the end of Tubbataha's season, the vessels will be making this crossing in the opposite direction – departing from Puerto Princesa and arriving in Cebu. These itineraries combine some of the Philippines' most sought-after underwater experiences, from silty slopes scattered with macro subjects, to pristine reefs, and powerful pelagic predators and marine megafauna. 
Apo Reef liveaboard itinerary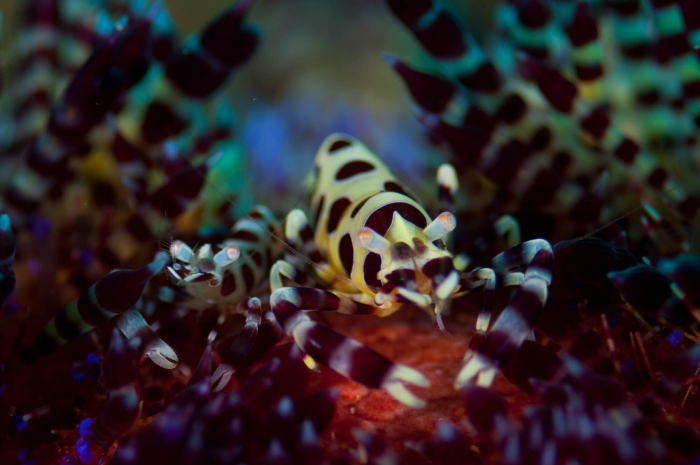 This less common itinerary is a great option for adventurous visitors looking for something a little different. Departing from Puerto Galera or Batangas, this itinerary will often make a quick stop to enjoy the easy-going dive sites and world-class macro of Anilao before heading west along the Verde Island Passage and curving around the north coast of Mindoro. The route then follows the island's west coast towards Apo Reef Natural Park which lies in the middle of the Mindoro Strait. This UNESCO World Heritage site boasts the Philippines largest reef, immense biodiversity and the odd chance of an encounter with schooling hammerheads.

Once the vessel crosses the Mindoro Strait, sometimes with a brief stop at Tara enroute, the many wrecks of Coron are then on the menu. Looping around Coron, Culion, Dimipac, and Busuanga, this route cherry-picks the very best wreck dives in the region, such as the Okikawa Maru, Olympia Maru, East Tangat Gunboat, Akitsusima, Irako, and the Kyokuszan, to name a few. The vessel will then cross the Mindoro Strait once more and return to port.
Possible destinations – Anilao, Verde Island Passage, Apo Reef Natural Park, Coron
Highlights – Coral reefs and wrecks
Best season – December through March offers the best conditions for Coron's wrecks
---
Ready to start planning your liveaboard adventure in the Philippines
Contact a dive travel expert today

---
---
Join the ZuBlu community to receive the latest insights and unmissable adventures
Don't worry, we'll only send you really good stuff - and we never share your details
---