Ready to learn to dive in the Philippines?
Search, compare and book from our hand picked resorts for dive tuition
Why the Philippines is a dream destination for scuba students
Beginner scuba divers are spoilt for choice in this diverse country, with a variety of destinations perfect for getting certified and starting your underwater adventures. In the Philippines, students can explore shipwrecks, get up close to powerful pelagics such as sharks, and dive some of Asia's most impressive coral reefs – all while developing their basic scuba skills. 
Easy conditions
As a beginner diver, you'll likely feel most comfortable in clear water with easy-going currents and calm surface conditions. The Philippines ticks all these boxes and more, boasting fantastic tropical weather above the waves and eye-popping Coral Triangle biodiversity beneath.

In fact, many of the Philippines' best destinations for learning to dive also feature high on the bucket-list of experienced divers too, thanks to their stunning reefs and extensive marine life.  And, with much of the country's coral reefs just a few metres from the shore, you won't have to worry about long, arduous boat rides. 
Of course, if you're up for a bit of adventure, or looking to further your dive education, the Philippines is also home to various more advanced sites. Truth be told, there are very few underwater environments that can't be found in the Philippines. This means scuba students can continue to explore this diverse destination to earn more advanced diving certification including deep exploration, wreck and cavern diving, conservation specialities, and more.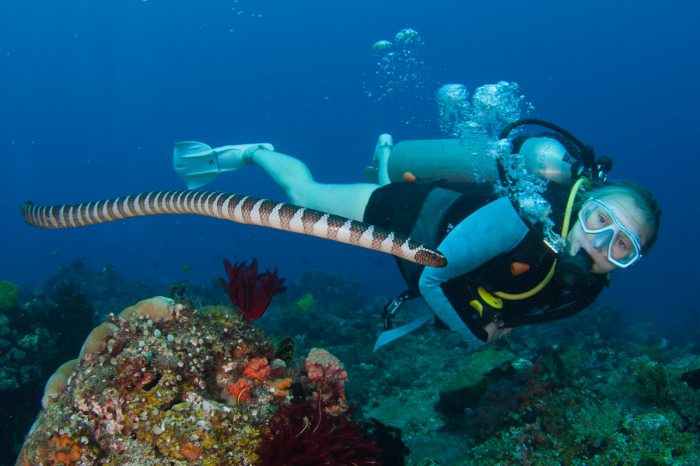 Awesome vacation atmosphere
The Philippines has been welcoming foreign visitors for decades, with warm traditional hospitality, well-established tourist services, and an incredible variety of hotels, homestays, and resorts – with a bit of something for everyone. Thanks to this well-established tourism industry, you'll find plenty of highly experienced dive operators to choose from here, complete with friendly international instructors who love getting guests acquainted with the underwater world.

Many of the Philippines' lively coastal towns and villages offer a relaxed resort atmosphere with comfortable tropical weather, world-class scenery, culture, nightlife, and delicious local cuisine. And, with plenty of activities on land to keep you busy between dives, this is the ideal environment for easing into the world of scuba.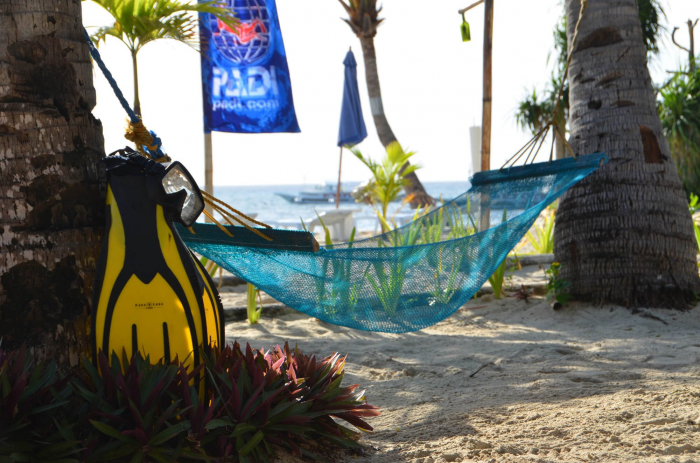 Value for money
The Philippines is one of Asia's most affordable destinations, with far lower rates than most other scuba diving hotspots. This applies to everything from humble homestays to five-star resorts, dining and drinking, activities, and of course, scuba diving. While there are other highly affordable dive destinations in Southeast Asia, the Philippines represents better overall value for money than most other countries. 
Exciting marine life
Thanks to its location at the heart of Southeast Asia's Coral Triangle, the Philippines is home to an incredible number of marine species, both big and small. Reef diving will bring visitors into a kaleidoscopic kingdom of coral, with schooling reef fish, and passing pelagics like trevally, jacks, and reef sharks. Wall exploration promises more big fish action, with dizzying drop-offs patrolled by sea turtles, larger shark species, patrolling rays, and shoals of barracuda. The region's mucky slopes are home to a fantastic variety of strange animals, including frogfish, nudibranchs, seahorses, and other unusual bottom dwellers like mimic octopus, mandarinfish, and sea moths.

For scuba divers, this eye-popping diversity can deliver once-in-a-lifetime opportunities to check numerous species off their scuba bucket list in just one trip. Best of all, because most scuba students in the Philippines will practice in the open ocean rather than a swimming pool, the chances to see these incredible animals start with your very first breaths underwater!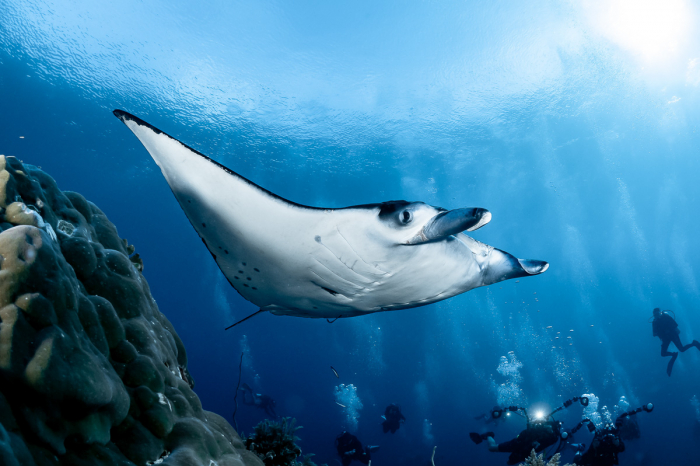 Diving courses on offer
Whether you're brand new to scuba diving or hoping to continue your underwater education, you'll find a variety of diving courses on offer in the Philippines. Start with these basics to ensure a rock solid foundation for your future skills and knowledge.
Discover Scuba Diving
If you aren't quite ready for a full Philippines' diving course, but you want to give the sport a try, this one-day experience is your best bet. Offered by almost every dive centre in the Philippines, Discover Scuba Diving teaches you the basic skills required to enjoy a shallow dive, closely supervised by an instructor. Because the region enjoys such good diving conditions, these are usually conducted in the ocean, rather than a pool, allowing coral reef exploration on day one underwater.
Open Water
This three to four-day course is ideal for aspiring divers, combining pool or sandy-bottomed training sites and open ocean sessions to help you master all the basics. Upon completion, you'll be qualified to explore up to a depth of 18-metres with your buddy, ideal for touring the Philippines' shallow reefs. 
Advanced Open Water
This course is for certified open water divers who are ready to develop their scuba skills. You'll choose five specialities to focus on and learn to dive in a variety of conditions. You'll also be tasked to start thinking like a diver, taking more responsibility for planning and executing safe underwater exploration. Popular specialities associated with this course include night, deep, wreck, and drift diving, as well as underwater photography, navigation, and nitrox use.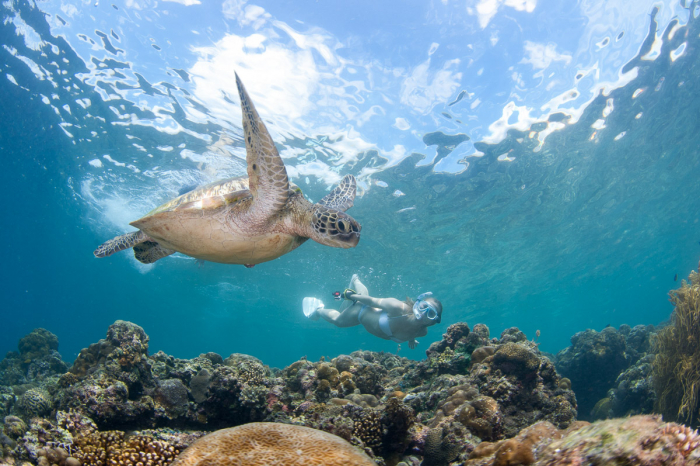 The best place to learn to dive in the Philippines
The Philippines covers a giant geographic area, with thousands of islands to choose from, and several superb dive destinations for beginners. Keep reading to discover the top spots for learning to dive in the Philippines.
Puerto Galera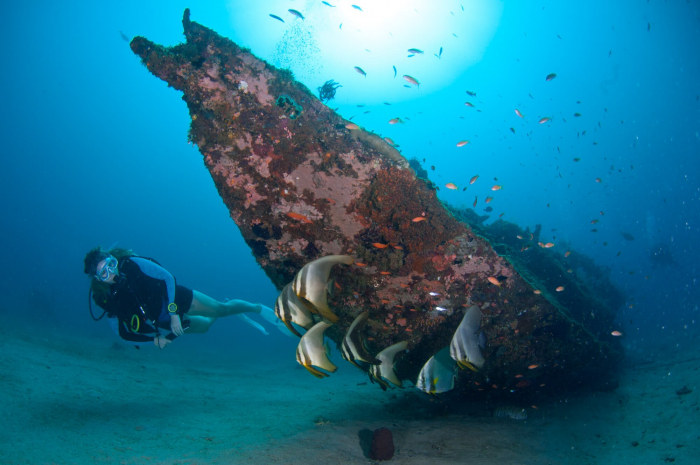 This series of narrow coves, just a few hours from Manila, is home to some of the Philippines' most diverse and accessible scuba diving. The region is renowned for its beautiful island landscapes, powder-white beaches, and low-key resort atmosphere with plenty of eco-retreats, comfortable hotels, and beach bars. 
Diving students in Puerto Galera are in for a treat, with calm, shallow sites around Sabang that are ideal for beginners. Once you've mastered your buoyancy and essential underwater skills, you'll be free to explore the exciting reefs around Verde Island, Paniquian, and Medio, famous for their currents and pelagic marine life, including schools of batfish, trevally, and jacks. For experienced divers, more challenging conditions are easy to access, with current-swept and sea fan encrusted canyons, dizzying drop-offs, caverns and swim-throughs, and muck diving galore. 
Moalboal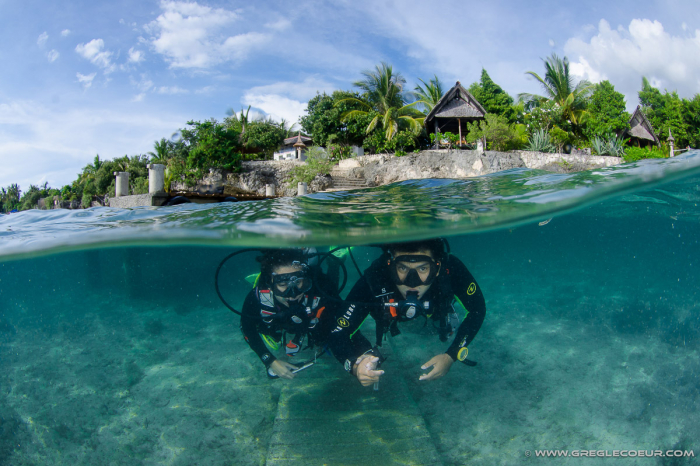 In the heart of the Visayas Islands lies lovely Moalboal, home to some of the Philippines' best dive sites and one of the country's most famous underwater attractions – the 'Sardine Run' at Panagsama. Despite its reputation for drift dives, plunging walls, swim-throughs and channels, the region also offers plenty of sheltered bays, ideal for beginner divers. And, in this biodiverse area, you're likely to spot plenty of marine life, including sea turtles and sharks, on your very first day in the water.
In addition to fantastic scuba diving, Moalboal is home to beautiful beaches and a laid-back resort atmosphere with well-established dive centres that have been in business for decades. This was one of the Philippines' first dive destinations thanks to its impressive near-vertical walls and prolific marine life, and despite its growth, the town itself hasn't lost its charm. 
Alona and Panglao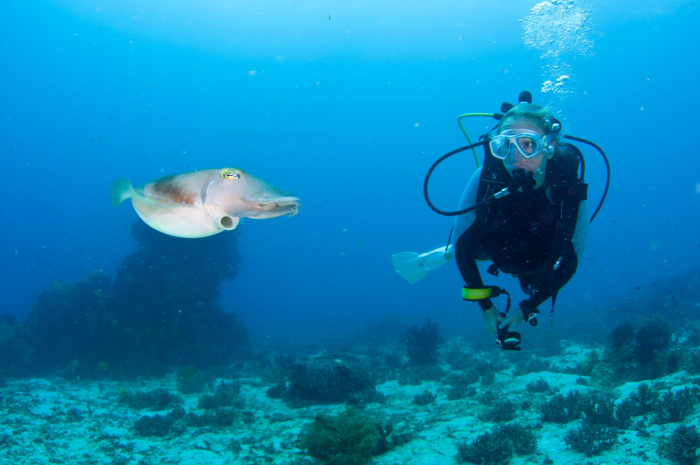 Panglao Island's most vibrant destination, Alona Beach, is a lively holiday resort known for its fun resort ambience, with a wide variety of accommodations, pulsing nightlife, beautiful sandy beaches and great diving. In addition to its welcoming tourist atmosphere, Alona also makes a fantastic base for exploring the rest of Bohol, with exciting side trips to visit rare endemic tarsiers and trek the spectacular Chocolate Hills.
The sandy slopes and fringing coral gardens around Alona beach make for an ideal underwater classroom, with calm, clear water and plenty to see, even on your first dive. Nearby Balicasag and Pamilacan Islands offer sites for all skill levels with exceptional reefs and plummeting walls, graced with abundant marine life and outstanding visibility. Head further afield to experience sea snake sanctuaries and exciting drift dives alongside sea turtles, schooling trevally, and giant barracuda.
Dumaguete and Apo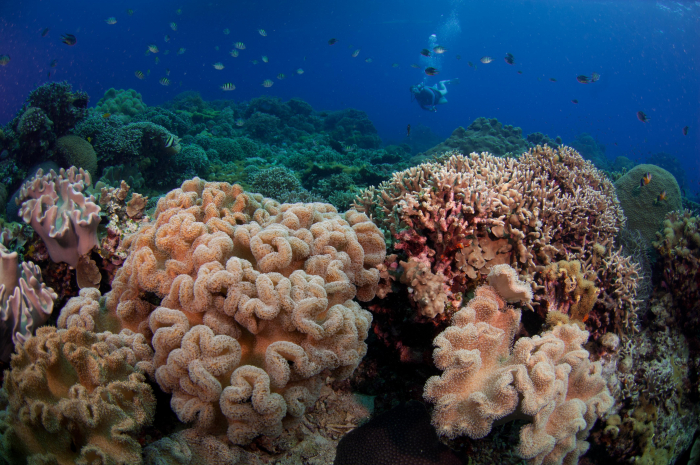 Dumaguete is a charming coastal city surrounded by dramatic scenery, with stunning volcanic black sand beaches and the backdrop of towering Mt Talinis. Leaving town, you'll pass through traditional Filipino communities and kilometres of coconut palms before reaching the seaside resorts and dive centres that this remote retreat is known for. The perfect place to get away from it all, this is also an excellent location for learning to scuba dive, with moderate currents and sheltered dive sites.
Dumaguete has a well earned reputation as one of Southeast Asia's best muck diving destinations, with black sand and rubble slopes that crawl with macro species. Divers can spot critters including frogfish, nudibranchs, and ghost pipefish on nearly every dive – even while they're learning the basic scuba skills. Head to nearby Apo Island for an entirely different experience, with flourishing coral reefs, turtles, and sea snakes. The island is also home to a bubbling geothermal vent, with volcanic gases bubbling up through the sand.
Coron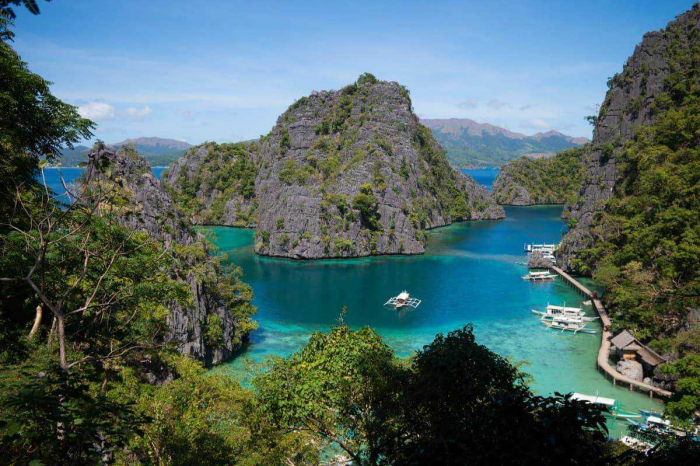 A paradise above and below water, Coron boasts both outstanding scuba diving and picturesque scenery, with towering karst formations, hidden lakes, and pristine beaches surrounding turquoise lagoons. The region is also home to a fantastic assortment of resorts, homestays, dive centres, and even private island retreats, making it a top pick for travellers from all walks of life. 
While Coron is most commonly associated with challenging wreck diving, it's actually a great place to learn how to dive, as well. Beginners can practice in the region's sandy bays, before taking the plunge on pretty reefs and some of the easier to access shipwrecks. This is also a fantastic place for advanced open water certification, wreck speciality training, diving with nitrox, and more! Head inland to experience one of the world's weirdest dives at Barracuda Lake – a collapsed limestone sinkhole warmed by volcanic hot springs, famous for its strange reverse-thermocline.
El Nido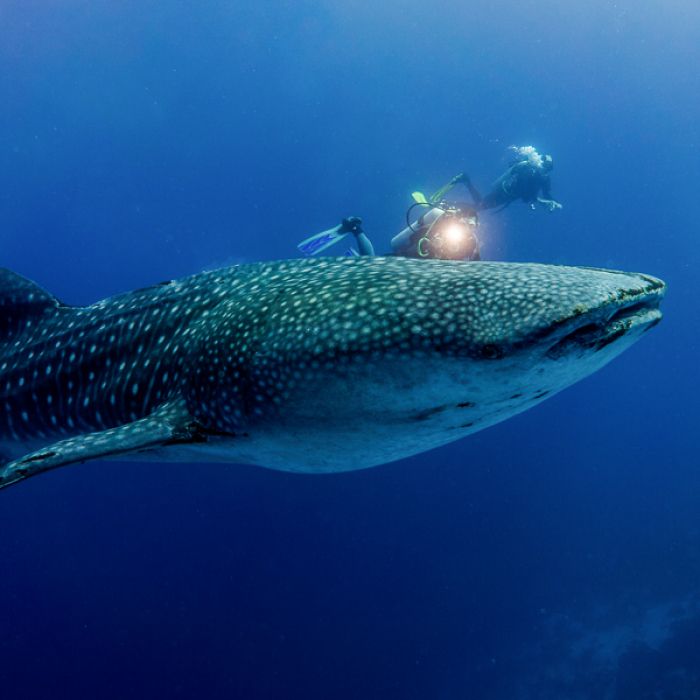 A dream destination for nature lovers, El Nido delights with kilometres of pristine coastline, dense jungles, underground rivers and caves, and an offshore landscape of idyllic islands bordered by brilliant white sand beaches and seemingly endless lagoon flats. Found at the far north of Palawan Island, this is also an excellent jumping off point for exploring nearby attractions like Puerto Princesa and the Bacuit Archipelago.
Below water, El Nido is a diver's dream, thanks to incredible Coral Triangle biodiversity, excellent visibility, and sites for all skill and certification levels. Sandy bottoms crawling with macro wildlife, lovely light filled coral gardens, and challenging overhead environments like caverns and swim-throughs set the stage for all levels of learning – from your first breaths underwater all the way up to advanced and adventurous specialities. 
Malapascua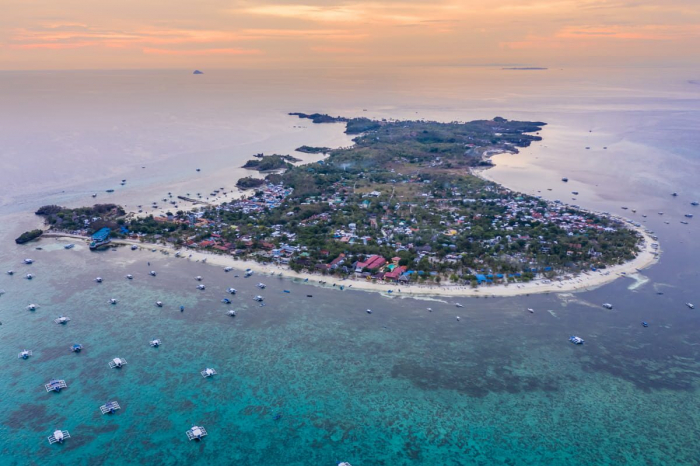 Malapascua is most famous for its population of thresher sharks, that can be found at the nearby reefs of Kimud Shoal and Monad Shoal each morning. But, this tranquil tropical island has more to offer than close encounters with these timid yet powerful predators. The island is also home to beautiful white sand beaches, a variety of resorts, and some of the best all-round underwater experiences in Asia. 

Beginners can enjoy exceptional reef diving, with courses conducted at calm sites surrounded by colourful coral. Nearby adventures include day trips to Gato Island – home to a legendary swim-through, two shipwrecks, and a wide variety of macro focused sloping rubble sites. Combined with a laid back island lifestyle, an attractive assortment of dive centres, and plenty of backpacker-friendly options, this is an epic dive destination suited to scuba students of all stripes!
---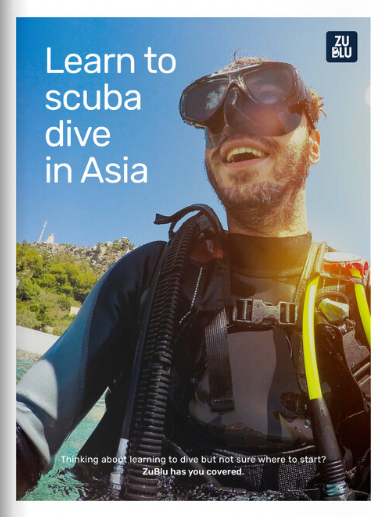 All you need to know about learning to scuba dive in Southeast Asia
---
---
Ready to start planning your trip to the Philippines?
Contact one of our dive travel experts today.

---