Surrounded by nothing but the deep blue of the Sulu Sea, Tubbataha is an oasis of life at the heart of the coral triangle, playsing host to some of the highest levels of biodiversity imaginable. These near-untouched atolls represent one of only a handful of frontier diving destinations left, kept isolated by a long, open-ocean crossing and a limited exploration season, guaranteeing unparalleled liveaboard diving in the Philippines. 
So take the plunge with us as we explore what makes this destination so remarkable, and discover which of Tubataha's very best sites to add to your bucket list.
---
Need help planning your dive holiday to Tubataha?
Contact one of our dive travel experts today.

---
What is Tubbataha Reef?
Previously nominated as one of the 'New Seven Wonders of the Natural World', Tubbataha is a gem in the centre of the Sulu Sea, some 150-kilometres southeast of Palawan's Puerto Princesa. The region is made up of two atolls, creatively named North Atoll and South Atoll, along with a smaller underwater structure known as Jessie Beazley Reef a little further north. Between them, these three locations support over 360 species of coral and almost 700 species of fish, and demonstrate frontier diving at its finest.
As you can imagine, the diving at this isolated offshore destination is characterised by sheer walls plummeting into the darkness of the deep, open sea. Giant gorgonian sea fans and bulky barrel sponges cling to the vertical reefs, simultaneously benefiting from, and battling with, the fierce currents flowing tirelessly to and fro. The shallow, sun-soaked reef tops are carpeted with hard and leather corals, and frequented by turtles, stingrays, and large schools of trevally, snapper, and barracuda patrolling the reef's edge. 
Tubbataha is a beacon for big and powerful fish, luring the likes of grey nurse sharks, tiger sharks, whale sharks, and even great hammerheads in from the open ocean with the promise of a thorough cleaning or an easy meal. But, Tubbataha isn't entirely dominated by megafauna, with interesting nudibranchs, leaf scorpionfish and pygmy seahorses all to be found amongst the colourful coral.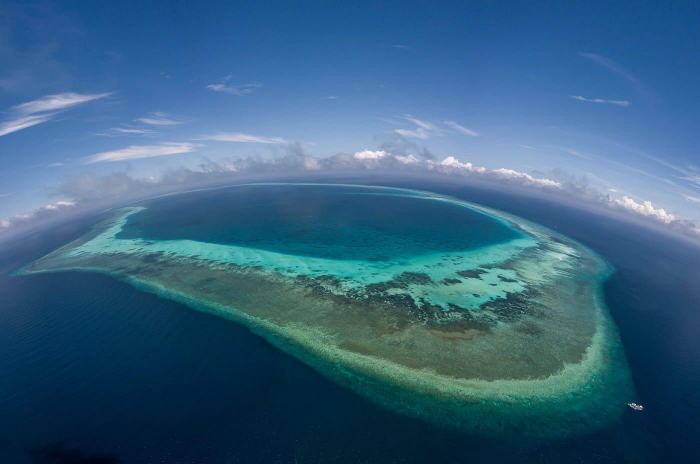 History of Tubbataha's protection
Lying more than a 10-hour boat journey from the nearest landmass, Tubbataha's remote reefs remained pristine and almost entirely untouched for millennia. Even now, their isolated location provides much needed protection against modern-day plagues such as pollution and unsustainable fishing practices. But, despite this natural defence of distance, Tubbataha once teetered precariously close to becoming overexploited. 
Traditional fisherfolk from the Southern Philippines have been making annual expeditions to Tubbataha for generations, setting sail in small fleets of wooden vessels in search of these revered fishing grounds. With only a small window where conditions were calm enough to make the crossing, these pioneering fleets and their traditional fishing techniques had minimal impact on Tubbataha's immense underwater ecosystems. But, by the 1980s, the sailboats from the Southern Philippines began to give way to larger, motorised vessels and industrial fishing fleets travelling ever-increasing distances to reap the remote atolls' rewards.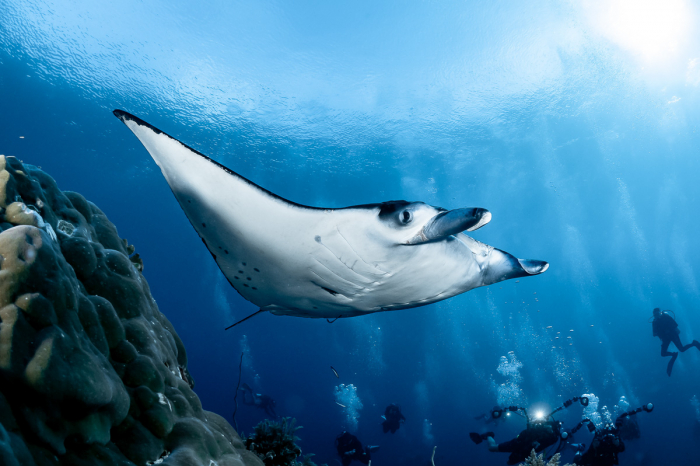 Thankfully, as a result of a vigorous campaign led by divers and environmentalists, President Corazon Aquino, and the Provincial Government of Palawan, declared Tubbataha a national marine park in 1988 – the very first of its kind in the Philippines. UNESCO followed suit, declaring Tubbataha a World Heritage site in 1993, due to its outstanding natural beauty and significance for protected and endangered species. Finally, the park's boundaries were increased in 2006 to include the Jessie Beazley Reef, 20-kilometres north of the two atolls.

Today, dive tourism makes up more than 50% of the marine park's revenue, with entrance fees and diving permits contributing directly to rule enforcement and educational initiatives. A handful of dedicated multi-skilled rangers now patrol the park's boundaries during two-month-long tours, preventing illegal fishing, assisting with research, and briefing tourists.
Ready to start planning your trip to Tubbataha?
Search, compare and book from our hand-selected liveaboards
Best dive sites in Tubbataha
There are about 20 individual dive sites around Tubbataha Marine Park and each one has the potential to deliver a dive of a lifetime on any given day. But, here are just a handful of our favourites. 
Washing Machine, North Atoll
Located on the exposed northeastern edge of North Atoll, the aptly named Washing Machine is so called for its intense currents that can change unexpectedly, dragging divers back and forth. With a maximum depth of 24-metres, this is a relatively shallow drift, but there's plenty on offer beyond the fast-paced roller-coaster ride. The current attracts tuna, giant trevally, barracuda, triggerfish, sweetlips, and more, while stingrays, turtles, nurse sharks and whitetips can be seen sheltering in the fissured reef below. Washing Machine is also well-known for its exceptional visibility, allowing sharp-sighted divers to spot eagle rays, mantas, grey reef sharks, and even whale sharks in the distance.
Shark Airport, North Atoll
Located just south of Washing Machine, on North Atoll's northeastern edge, this site is regarded as one of the region's most prolific dives. Shark Airport is the largest cleaning station in Tubbataha Marine Park, with a wide sandy plateau at around 15-metres, before dropping off to a second shelf at around 25-metres. Sharks are certainly the main attraction here, with schools of grey reef sharks joined by silky sharks, guitar sharks, and sometimes even whale sharks. You may even spot whitetip and nurse sharks 'lined-up' on the seafloor, reminiscent of planes boarding at the terminal.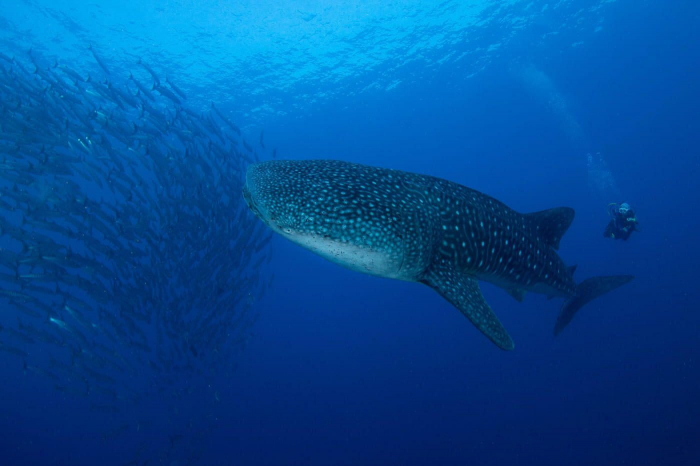 Malayan Wall, North Atoll
Located on North Atoll's southwest edge, Malayan Wall is an advanced and exciting dive site named after a small wreck believed to have sunk either in the late '70s or early '80s. While the wreck is home to some interesting macro such as nudibranchs and leaf scorpionfish, it is rarely the highlight of the dive. Instead, divers drift along a wall, or out into the blue, searching for sharks and other large pelagics. Whitetips, grey reef sharks, and nurse sharks are common visitors here, along with African pompanos, great barracuda, and red snapper. But, perhaps this site's biggest allure, is the ever present possibility of glimpsing schools of hammerhead sharks passing by in the blue.
Amos Rock, North Atoll
Sometimes also referred to as Southwest Rock, due to its location, this famous Tubbataha dive site boasts a breathtaking wall section covered with whip corals and massive gorgonian sea fans. Big fish are found in abundance here, including grouper, snapper, dog-tooth tuna, Napoleon wrasse, blue and giant trevally, mackerel, and both pickhandle and great barracuda. Even whitetip and grey reef sharks can sometimes be seen. Dusk dives here allow divers to witness many of these bullish predators hunting smaller species near the lip of the wall, while night dives reveal a range of flatworms, nudibranchs, crabs, lobsters, and crinoids.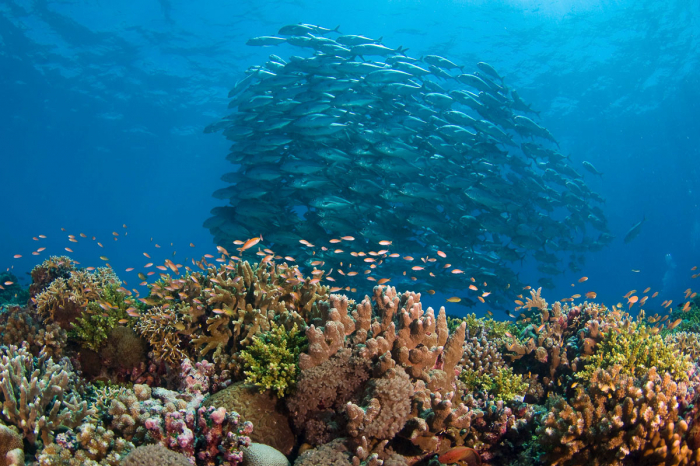 Delsan Wreck, South Atoll
Found on the southeastern edge of South Atoll, this site gets its name from the remains of a small ship wreck. While the wreck itself actually forms very little part of the site, its anchor is often used to mark the start of the dive. A large crack can be found in the reef wall here, measuring some 30-metres deep by 20-metres wide. Known as 'The Cut' this sizable gap is a hotspot for groups of grey reef sharks hunting smaller fish in the current. Other pedigree predators seen here include dog-toothed tuna, great barracuda, giant trevally, and whitetip sharks, as well as heavy-hitters such as hammerheads and tiger sharks.
Jessie Beazley Reef
When conditions allow, it is possible to dive several sites around this emerging coral reef, including North End and South End, White Sand Cays, and Reef Shark Point - none of which are particularly sheltered. The surface here can be rough at times, and below the waves, the currents are renowned for changing speed and direction unpredictably. Starting as shallow as just seven-metres, this mushroom-shaped structure drops below recreational limits. But, despite its challenges – or perhaps as a result of them – Jessie Beazley Reef makes for an unforgettable diving experience, boasting large barracuda, Spanish mackerel, and Napoleon wrasse, as well as schools of unicornfish and surgeonfish. And, as with other parts of Tubbataha, sharks are always on the cards.
---
Need help planning your dive holiday to Tubbataha?
Contract one of our dive travel experts today.

---
---
Join the ZuBlu community to receive the latest insights and unmissable adventures
Don't worry, we'll only send you really good stuff - and we never share your details
---