Scuba diving in
Eleuthera, Exumas and Cat Island
East of Nassau, these islands are famous for their exhilarating shark action, current dives, and stunning underwater formations - with canyons, reefs, walls, and caverns waiting to be explored
Highlights
Fast-paced dives with high-speed drifts along epic canyons and walls
Diverse reef and wall diving with sharks, sea turtles, eagle rays, and schooling fish
Fantastic topside attractions with caves, hikes, and even swimming pigs
Beautiful beaches, and some of the most picturesque islands in the Caribbean
Close encounters with sharks during carefully coordinated baited and natural experiences
The Exumas were among the Bahama's first marine protected areas, and today, they are a paradise above and below the waves - with calm turquoise seas, swaying palms, and endless stretches of postcard-perfect white sand. Eleuthera and Cat Island add to the excitement with fascinating geological formations, seasonal wildlife encounters, and plenty of sleepy seaside villages, perfect for divers who want to get off the beaten path. For the ultimate Bahamas adventure, join an extended itinerary liveaboard - these extended voyages hit all the hotspots in this idyllic chain of islands, plus classic destinations like Nassau or Grand Bahama.
Diving Eleuthera, Exumas and Cat Island
Schooling reef fish

Year round

Walls & pinnacles

Year round

Plentiful reef life

Year round
While nearby Nassau is the most popular area for scuba diving in the Bahamas, this small group of islands due east boasts some of the region's richest reefs. You can expect kilometres of hard and soft coral clouded by schooling fish, and exciting wildlife like turtles and eagle rays on most dives. No matter where you're diving, keep one eye on the blue - larger shark species like tigers and hammerheads make surprise appearances at the reef's edge. Underwater photographers might also want to bring their macro lenses along, as cool critters including jawfish, seahorses, and solar-powered nudibranchs are sometimes spotted in the shallows.
Exumas' canyons, reefs and currents
Nearly every liveaboard in the Bahamas visits the Exumas, and countless divers make the trip from Nassau for a chance to explore the region's stunning canyons and coral reefs. This chain of islands is home to one of the Bahamas' most beloved sites - The Washing Machine, where adventurous divers can ride high-speed swirling currents as they drift over a plateau of corals. Other highlights include some of the Caribbean's most stunning reef formations at The Cathedral and plenty of powerful pelagics - with sharks cruising past on nearly every dive.
Eleuthera's diving highlights
Eleuthera diving is limited to exploring the island's protected west coast, as the east side is far too exposed. And even on the calmest of days, this region is known for its challenging conditions - with high-speed currents ideal for advanced drift divers. Visit sites like Current Cut for heart-pounding flyovers of the region's pristine coral - with no kicking required. Many of the walls around Eleuthera are also home to swim-throughs and caverns, some of which can be explored by qualified divers. Reef sharks show up on almost every dive here but are occasionally joined by larger and more uncommon species like tigers and hammerheads.
Sharks of Cat Island
Cat Island is famous for two things - its seemingly bottomless blue water sites and a seasonal aggregation of oceanic whitetip sharks. Only a few dive centres and liveaboards bring guests to this remote shark observation area, and the season is short - with sightings taking place from March through June and peaking during April and May. During these months, the sharks follow seasonal migrations of tuna, wahoo, and mahi-mahi from the open ocean toward the shoreline of this small cay. Because you might be drifting in a few hundred - or even a few thousand metres of water, perfect neutral buoyancy is absolutely mandatory for dives at Cat Island. You'll also be required to follow strict environmental protocols for the protection of sharks and divers alike.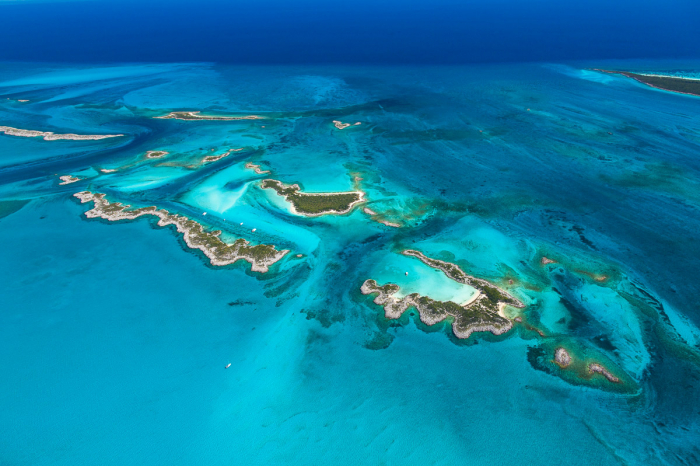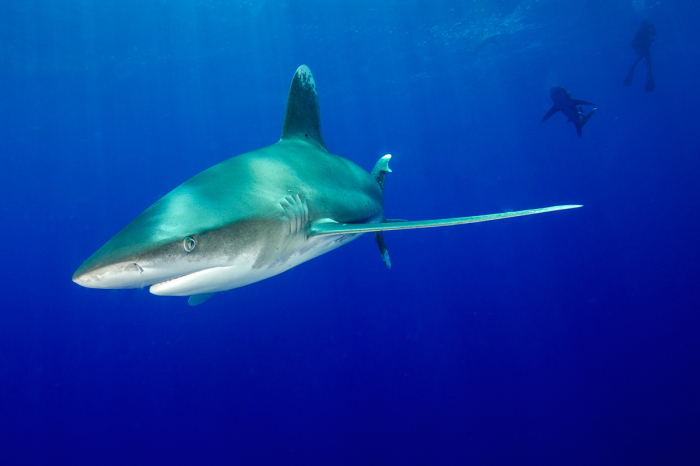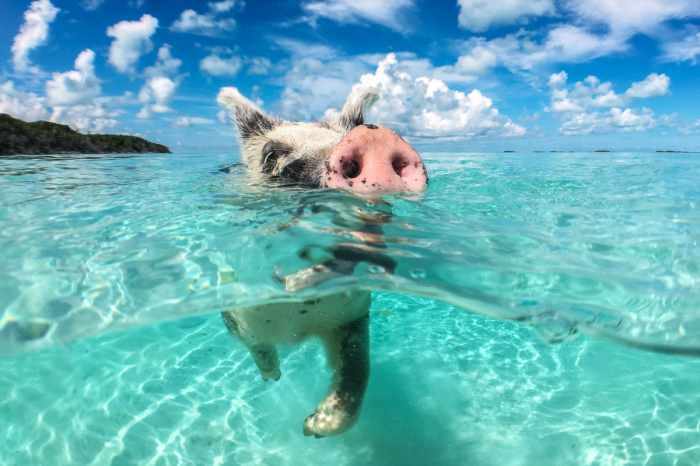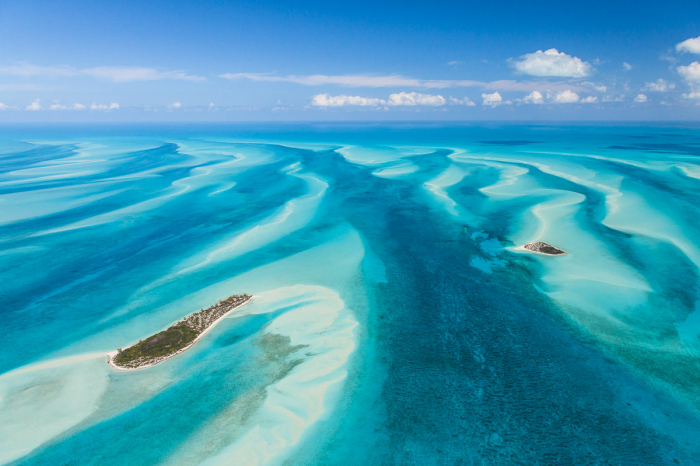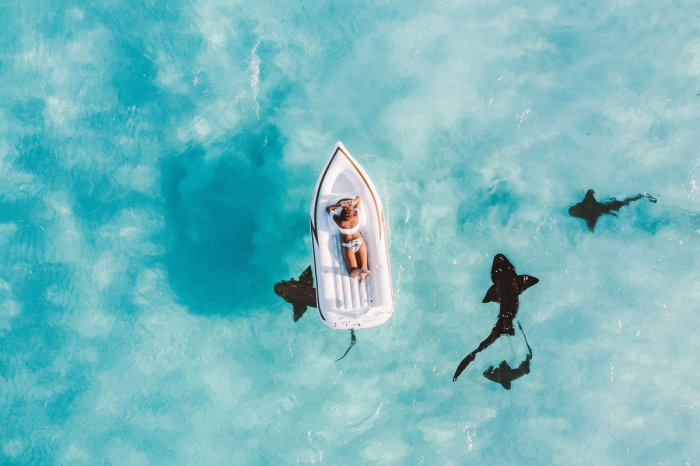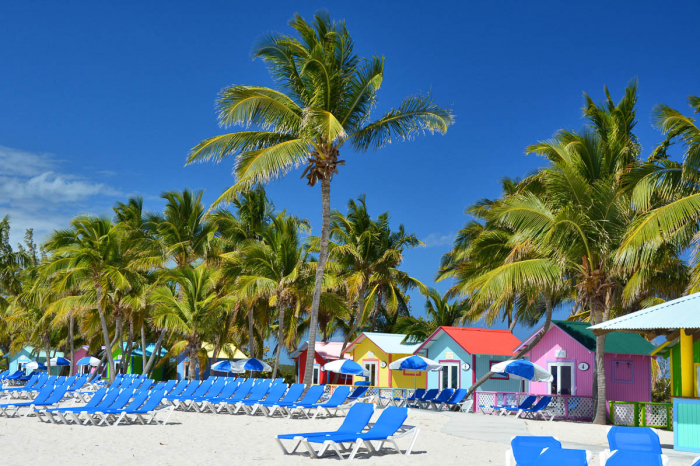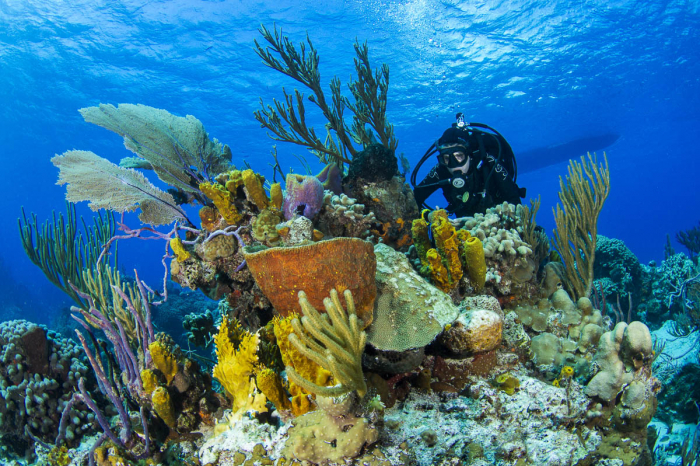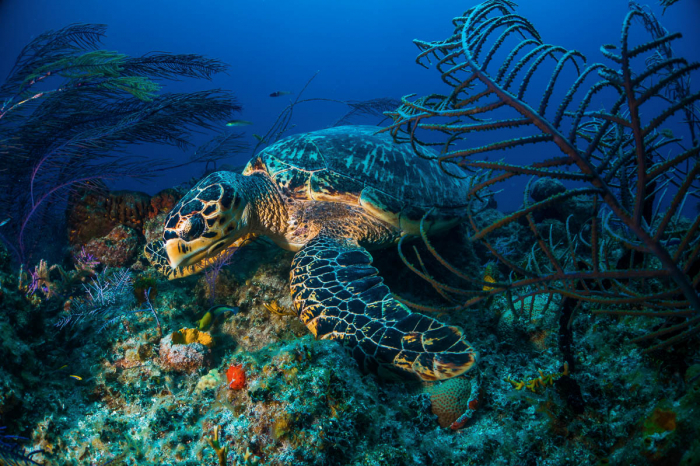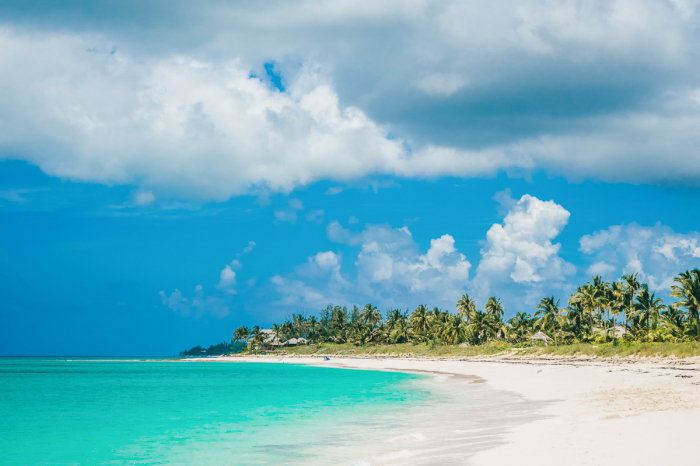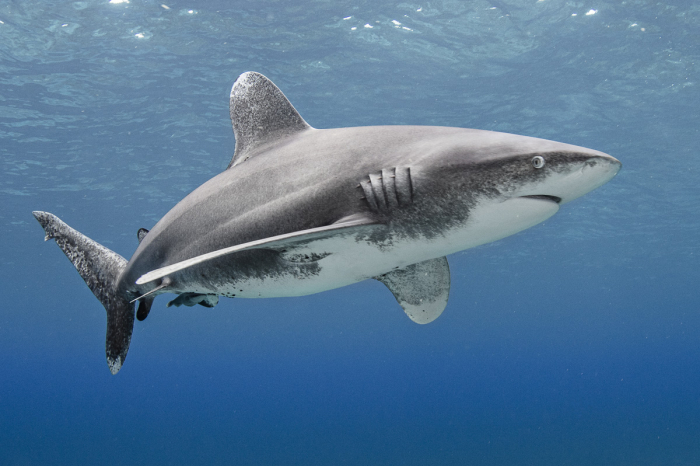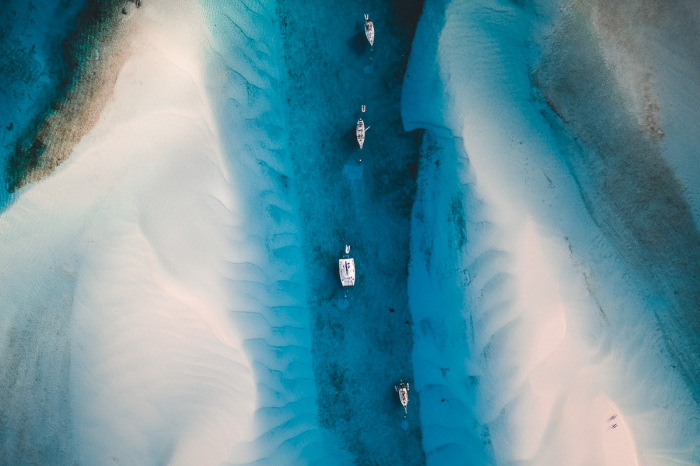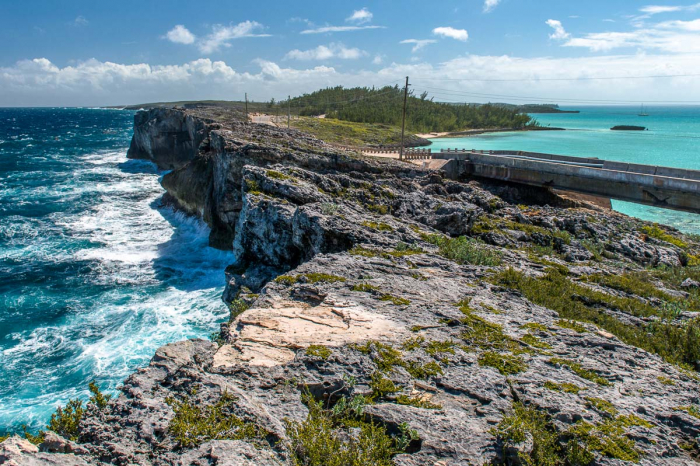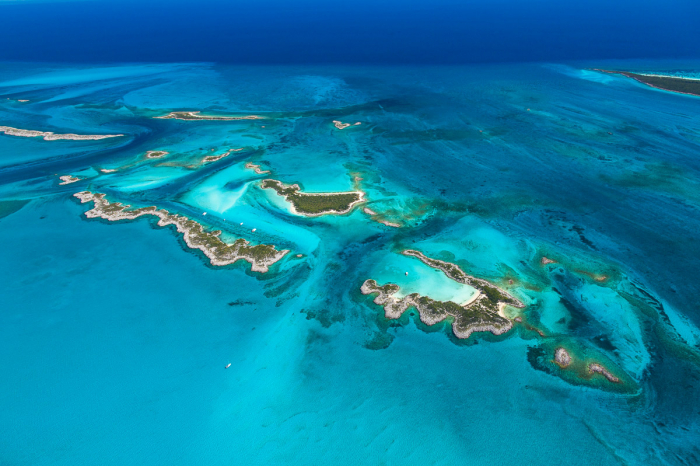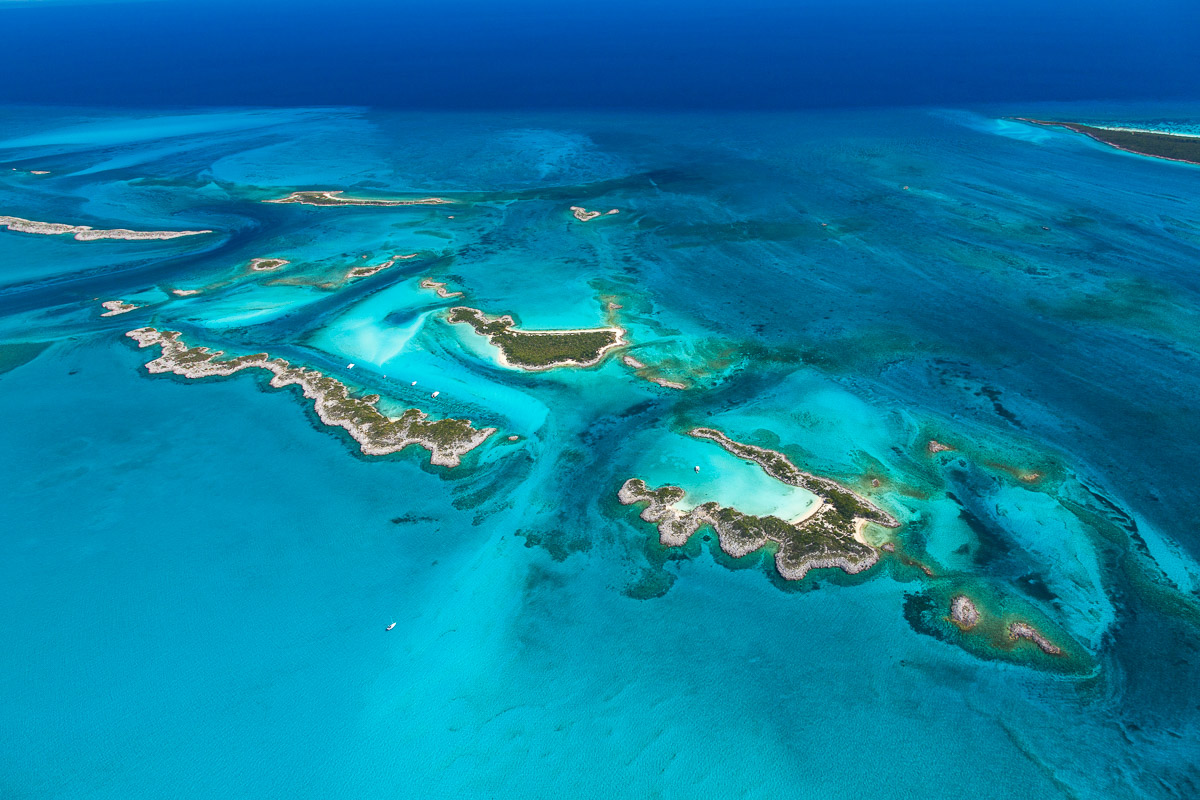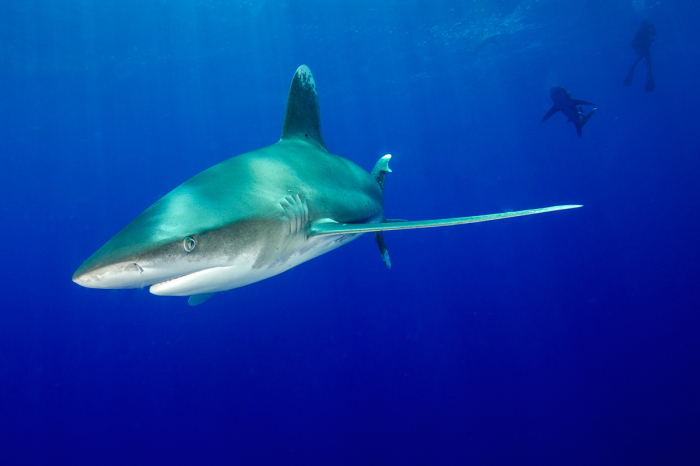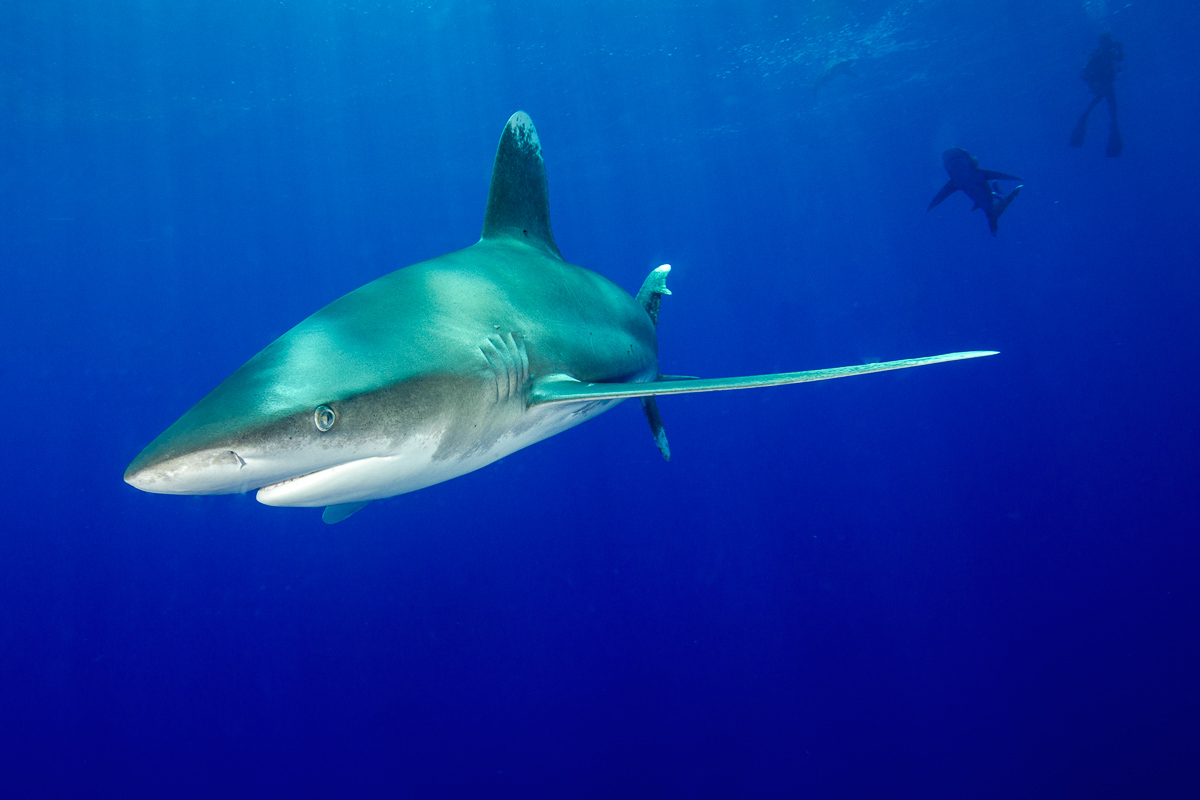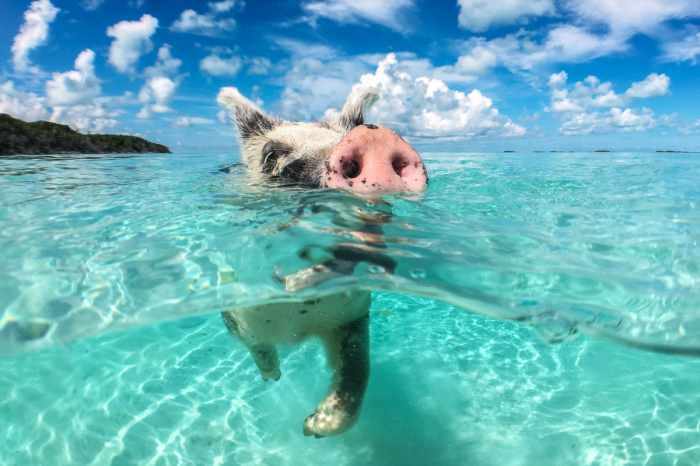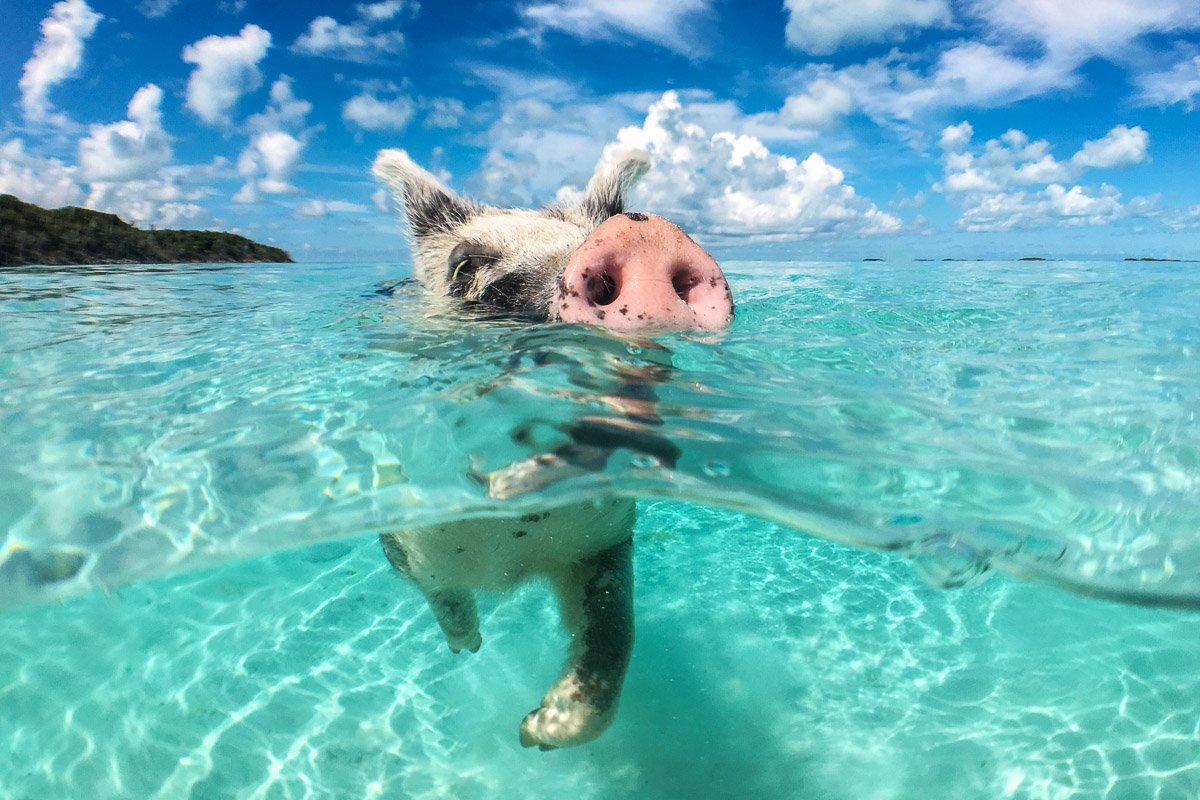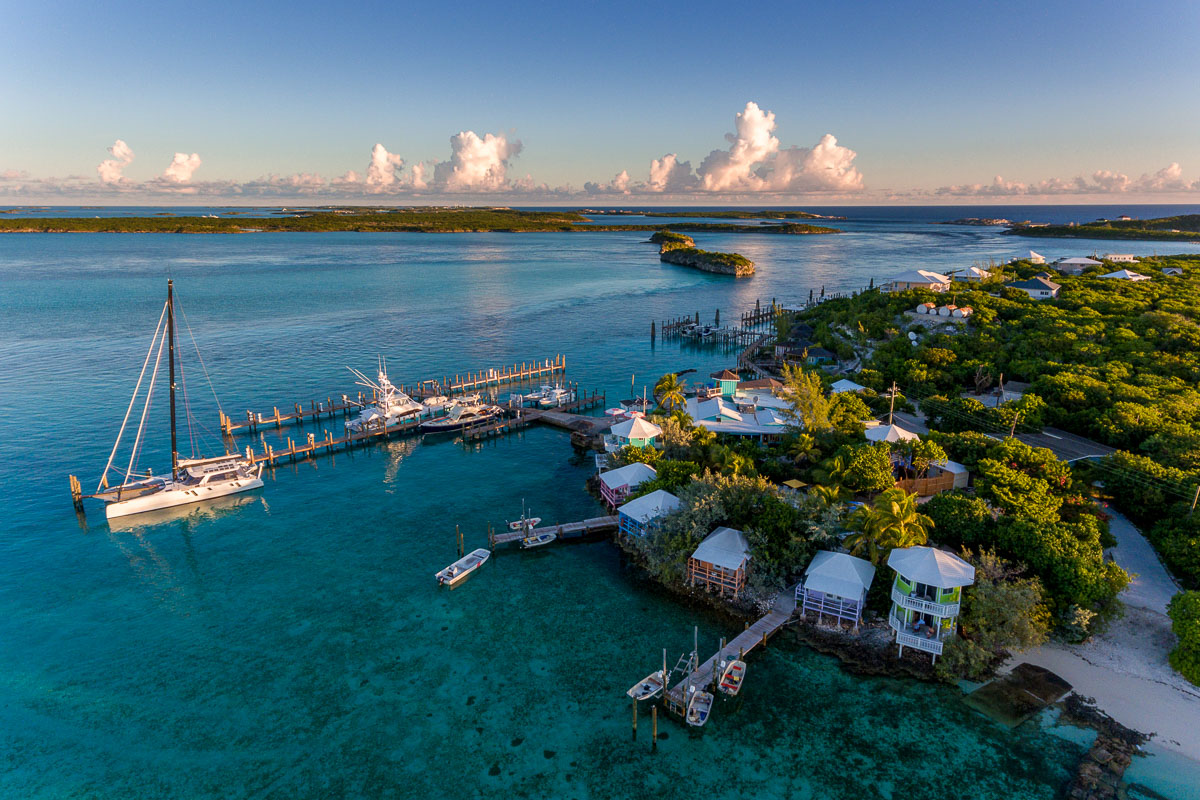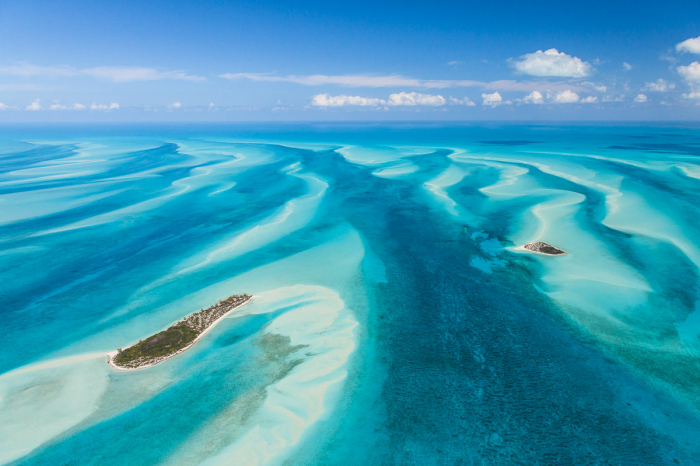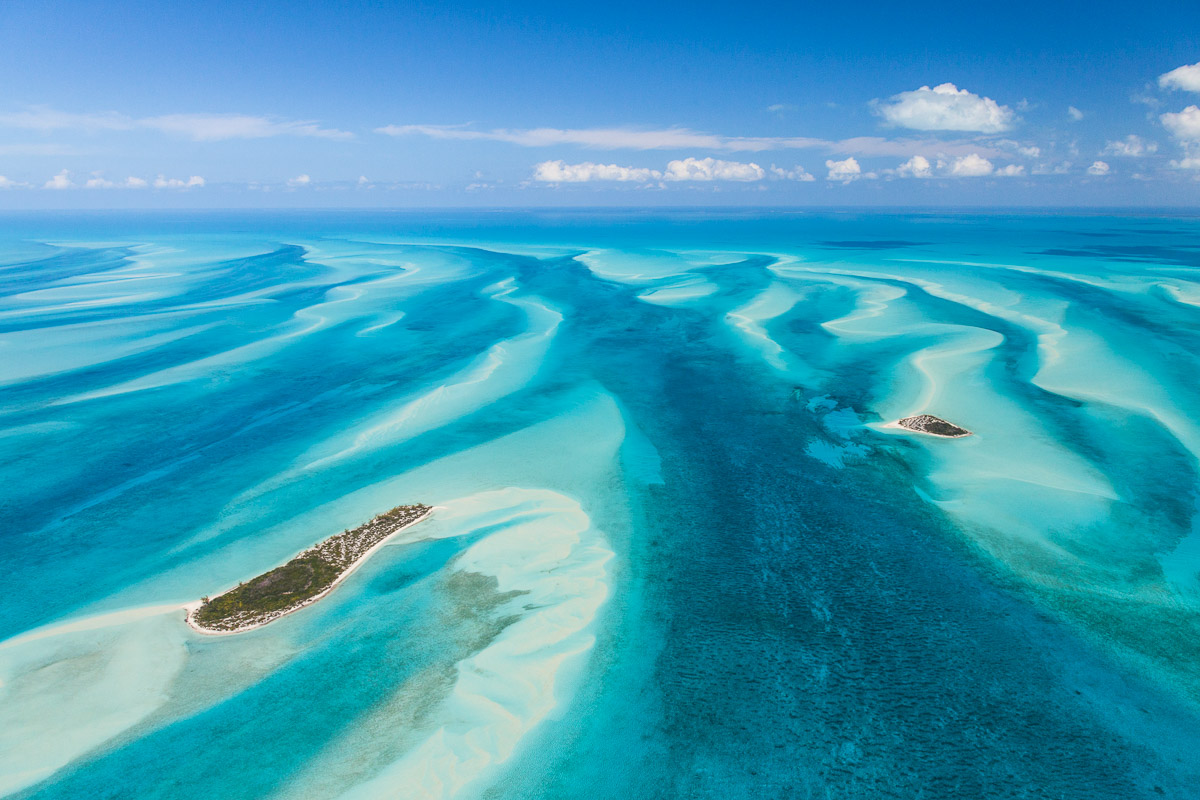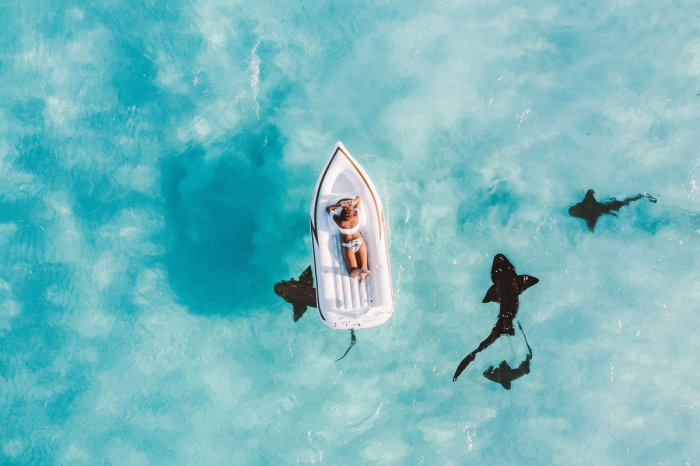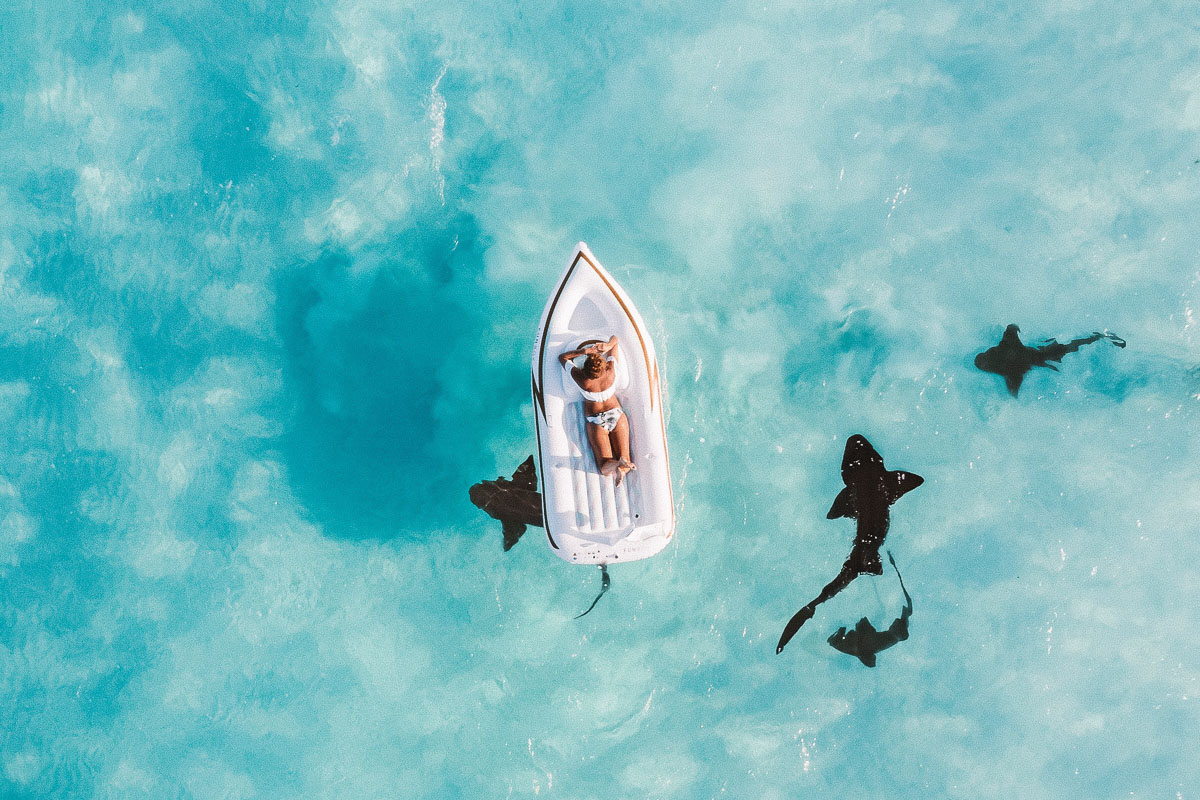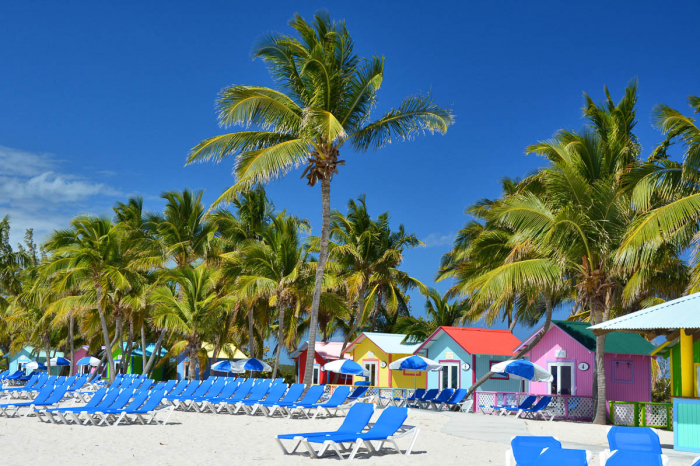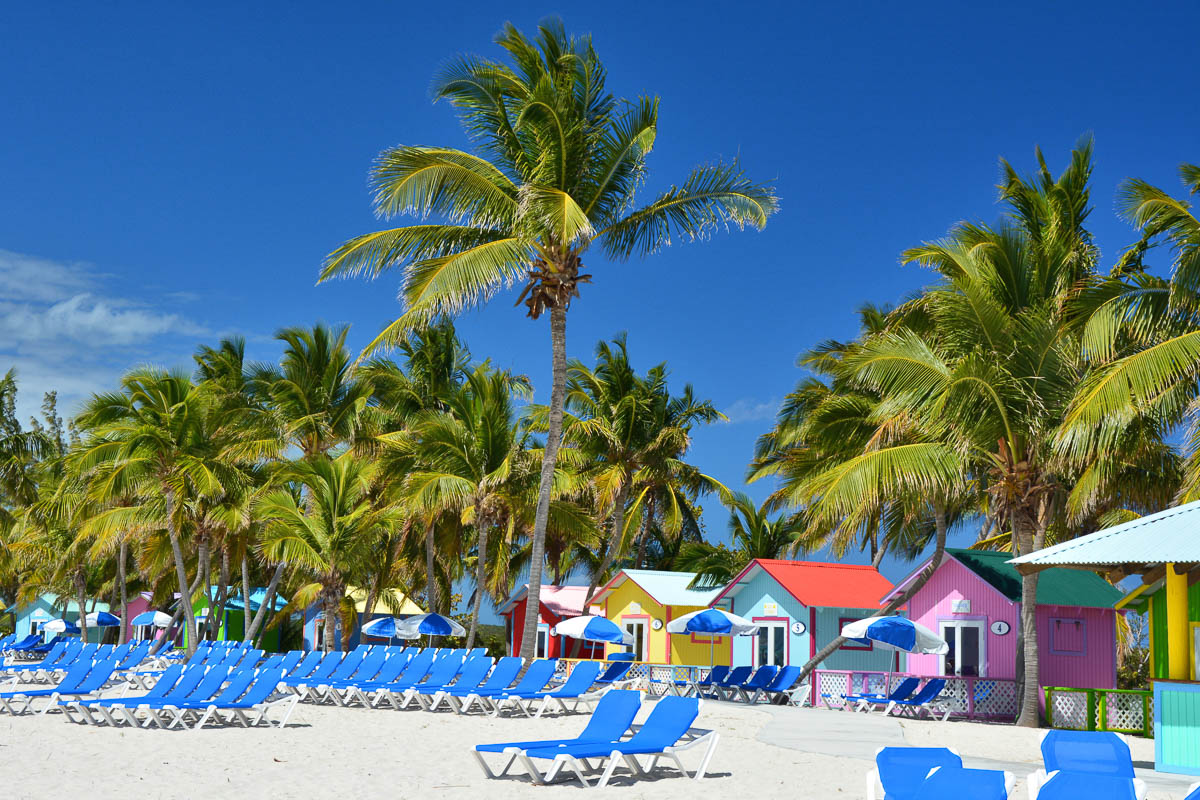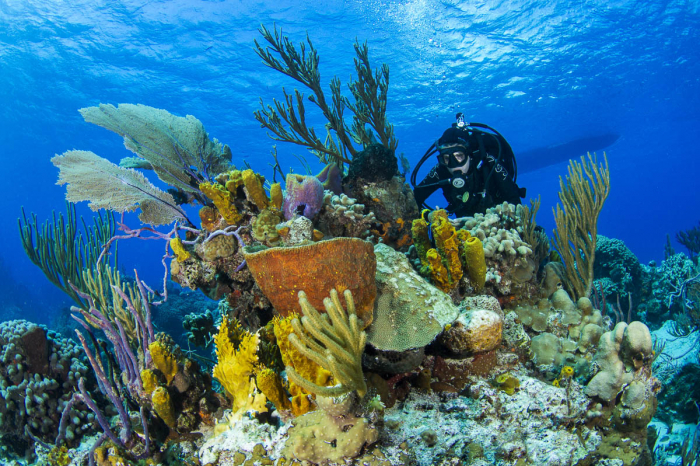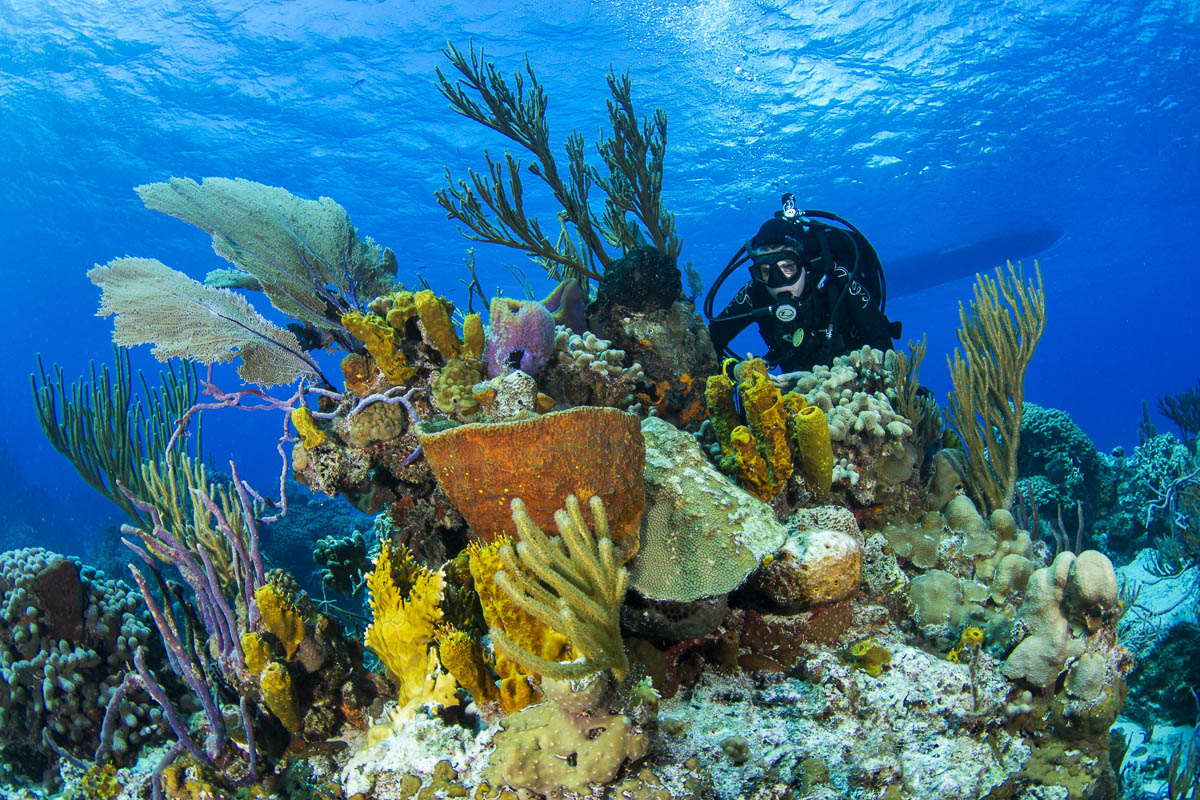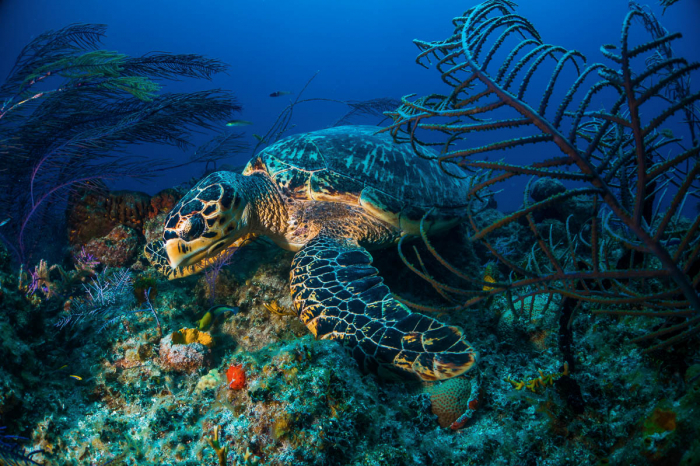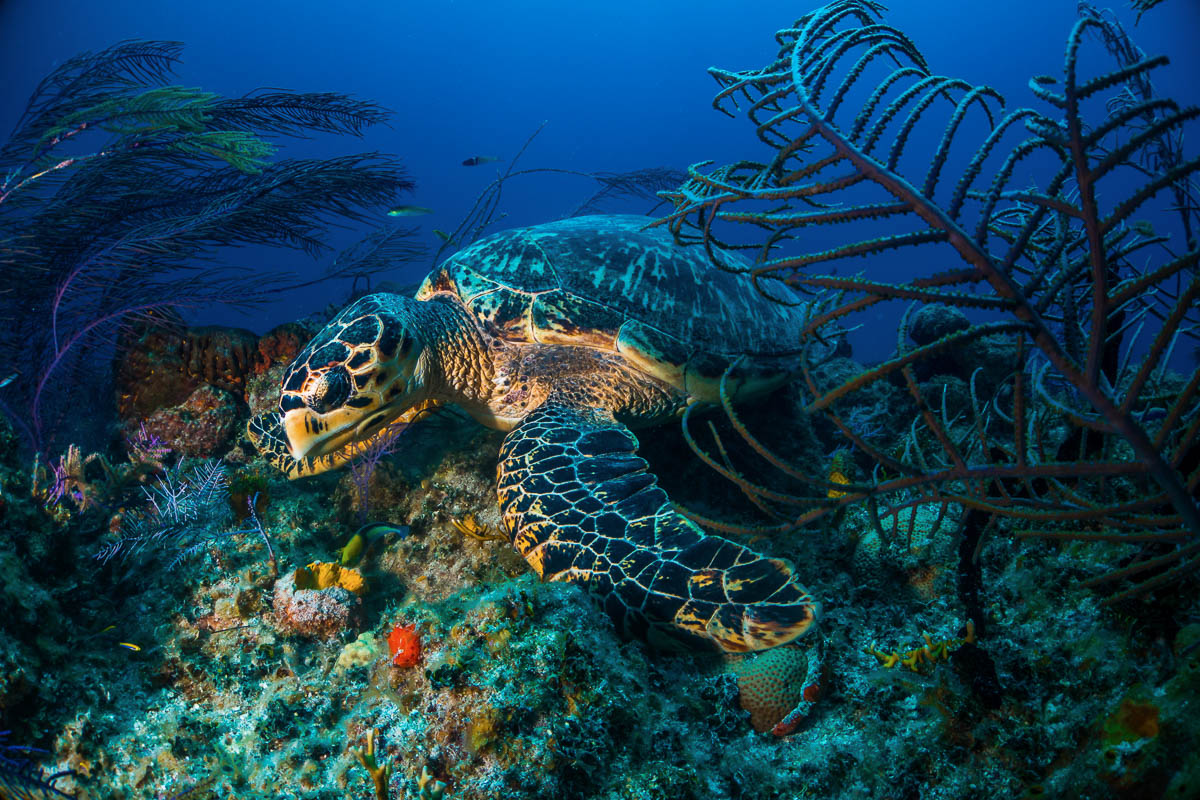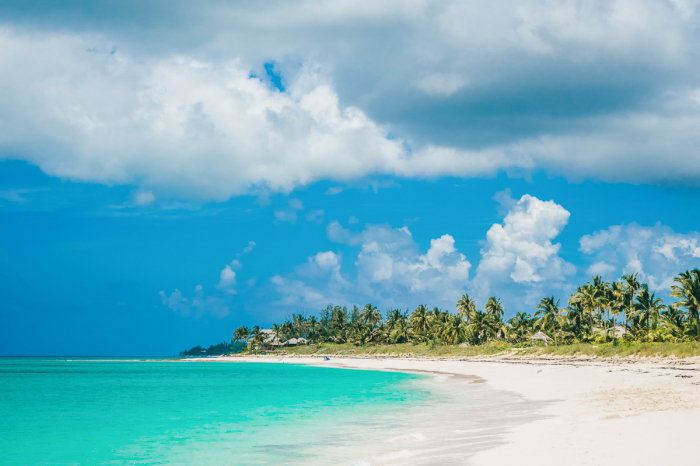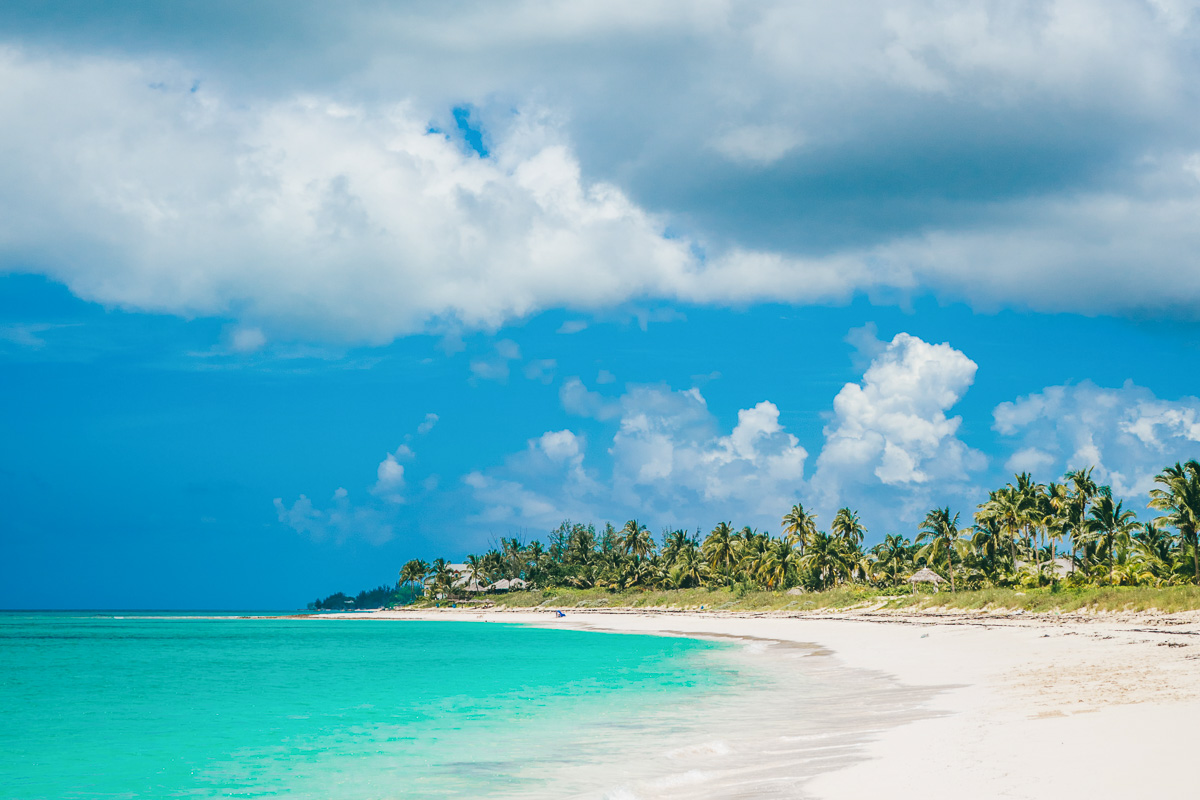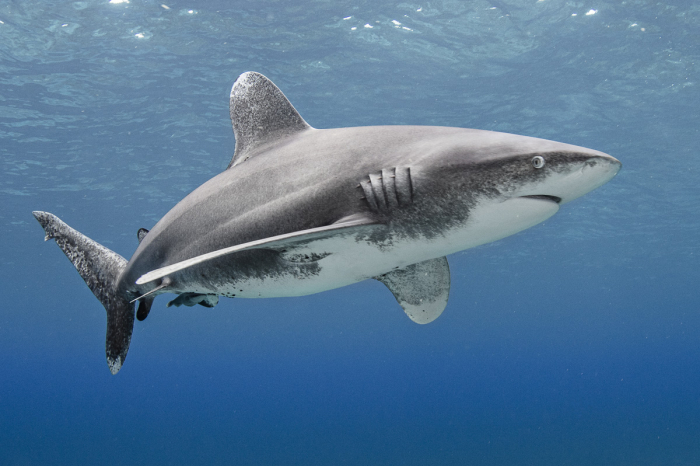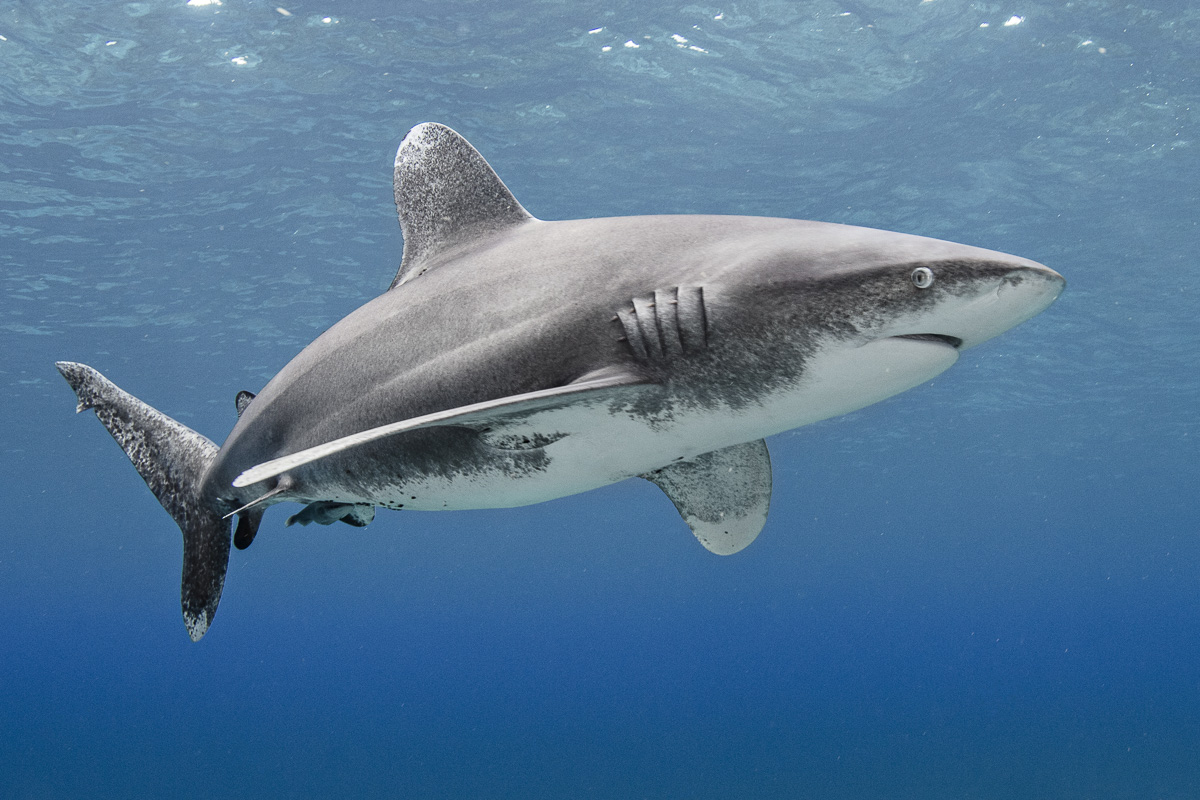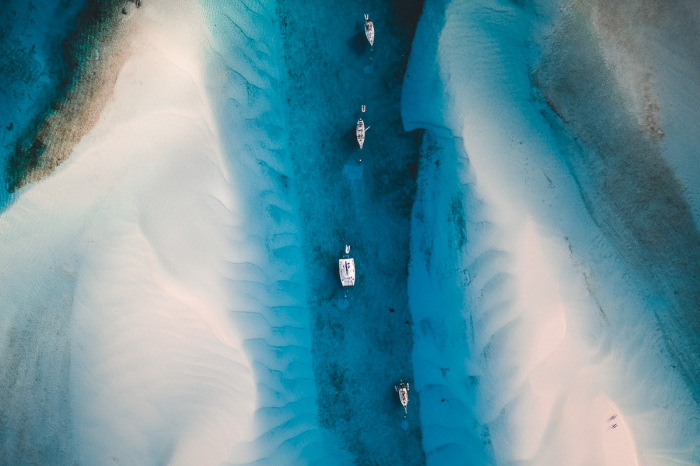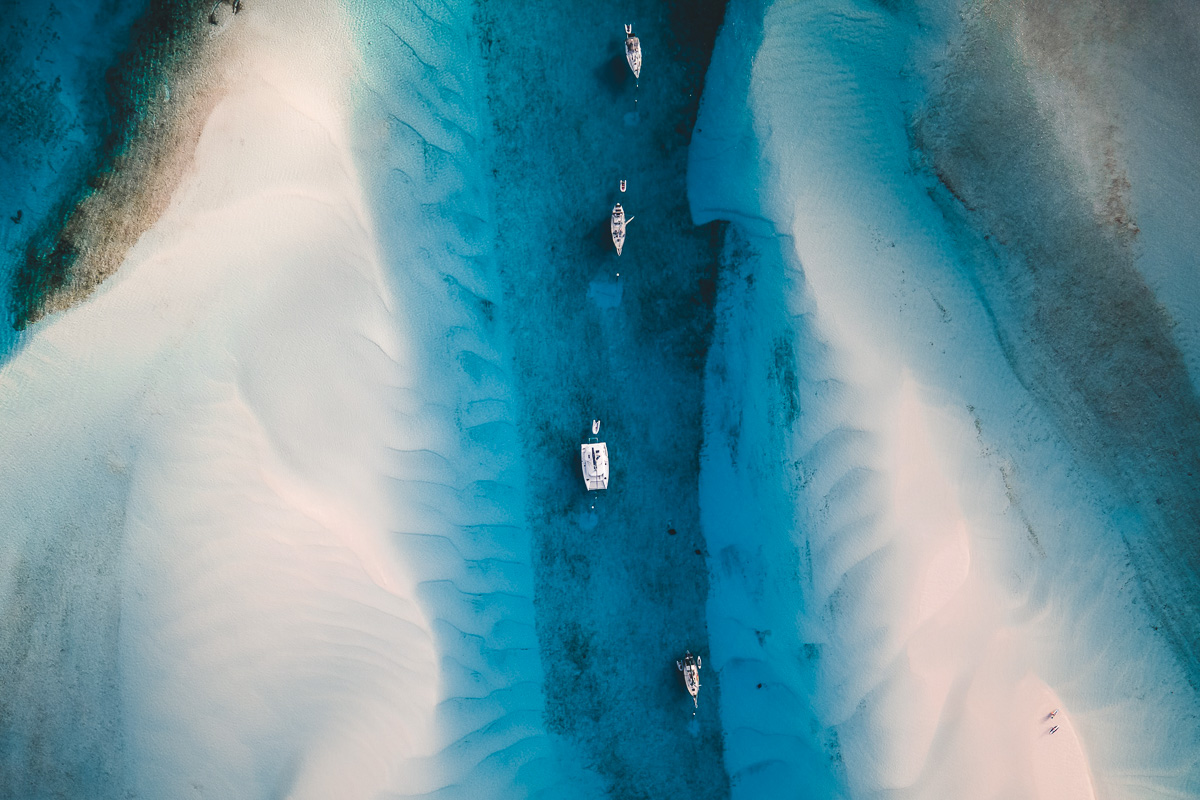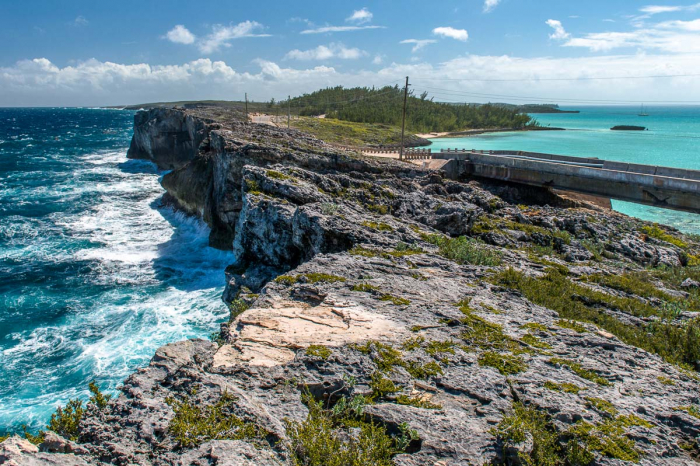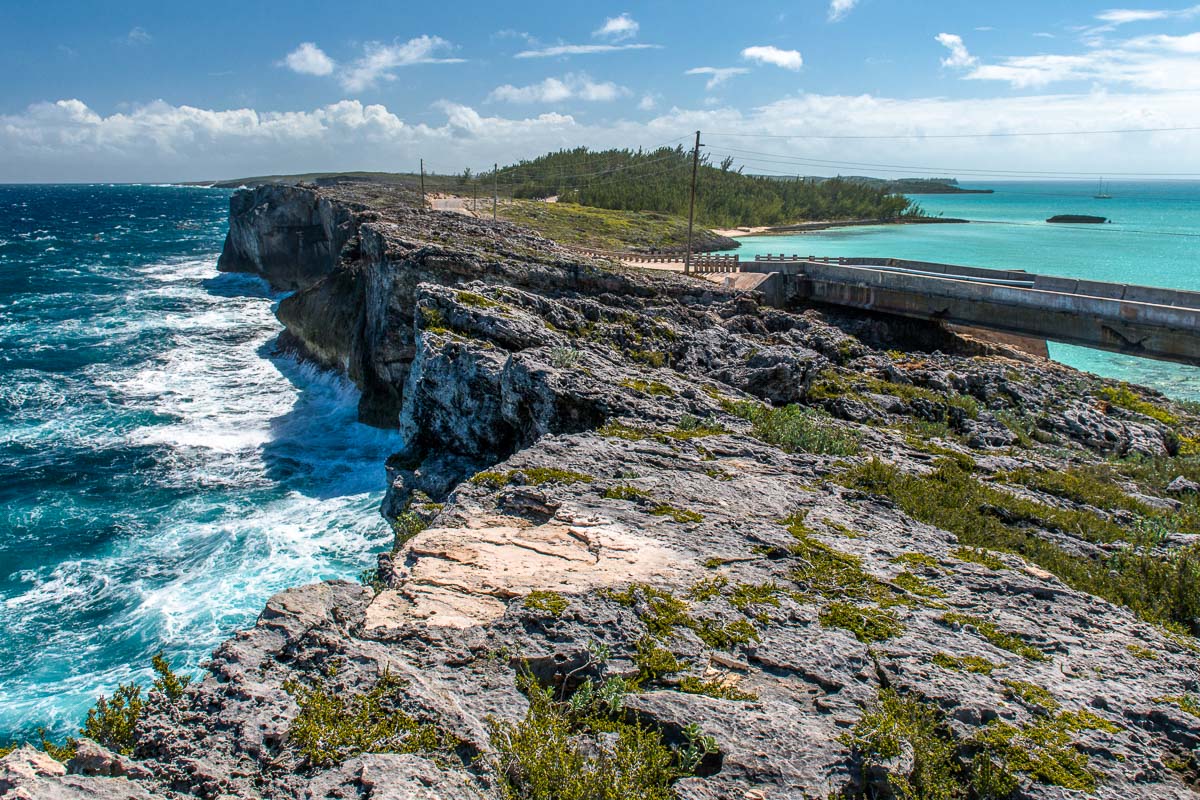 Diving Environment
Top tips

Opt for an extended liveaboard - ten days or more, if you're hoping to see all the region's highlights.
Pack your macro lens for closeups of critters, including seahorses and solar-powered nudibranchs.
Plan your trip during April or May for the best chances of diving with oceanic whitetips at Cat Island.
Don't forget lightweight clothing, comfortable walking shoes, and plenty of sun protection for your above-water adventures. 
About Eleuthera, Exumas and Cat Island
Eleuthera, the Exumas, and Cat Island are all part of the "Out Islands" of the Bahamas. Lying to the east of Nassau, these are among the archipelago's most wild and beautiful destinations, backed by decades of national park protection.
Eleuthera is 177 kilometre-long stick-thin stretch of pink and white sand, with a wild windward coast famous for its plunging cliffs and austere landscapes. This island is split in two - north and south, and both sides are home to historical landmarks and natural attractions at every turn. Diving, snorkelling, and taking it easy are the main activities here, with a slow pace, friendly locals, and kilometres of pineapple plantations.
Spanning nearly 200 kilometres, the Exumas are scattered in a line running north toward Nassau from Great Exuma. The northern Exuma Cays are the most exotic of the Out Islands, a collection of tiny jewels set adrift in a turquoise sea. Many of the cays are privately owned, each with its own exclusive resort or celebrity mansion. Accommodations here are taking luxury to a whole new level, but it's still possible to get off the beaten path, with natural areas and laid back beach bars.
Just over 200 kilometres southeast of Nassau, Cat Island is one of the most adventurous destinations in the Bahamas. Home to the country's highest point, this fishhook-shaped stretch of sand boasts archaeological and historic sites, kilometres of nature trails, and a native setting - with much of the island still undeveloped. This island's rustic-chic cottages, thatched-roof tiki bars, and remote villages make it ideal for guests who want to unplug and unwind.
Getting there
Nearly every adventure in this region begins at Nassau's Lynden Pindling International Airport - the region's travel hub and the gateway to the islands. This is the Caribbean's busiest airport, receiving arrivals from the United States and Canada, Europe, Latin America, and beyond. This same airport's domestic terminal is also where local flights to Eleuthera, Exumas and Cat Island depart, making it a vital stopover for most visitors.
If you'd rather reach the islands by boat, some transfers are available from Nassau to Eleuthera and the Exumas. But, you should come prepared for a long ride and potentially rough surface conditions, depending on when you plan to visit. These crossings can present a challenge during the region's storm season, with strong wind and high seas. Cat Island takes 14 hours to reach by boat, and very few boats make the crossing.
Once you've arrived, your easiest options for getting around the islands are public taxis and mini buses known as jitneys. Rental cars are available, but they are expensive, and some non-European drivers may be uncomfortable using the left side of the road. Rental scooters are another option, allowing visitors to take in kilometres of stunning coastline and explore harder to reach natural areas. 
Most Bahamas liveaboard itineraries also visit these islands. These six to ten-night scuba safaris frequently combine the Exumas, Eleuthera, and Cat Island with Nassau or Grand Bahama. Extended voyages are also available, lasting ten to 14 days and hitting all of the archipelago's most exciting scuba spots! 
Where to stay
While Eleuthera, the Exumas, and Cat Island boast a far more laid-back atmosphere than Nassau or Grand Bahama, they aren't exactly off the tourist trail. All three areas boast a wide variety of hotels, resorts, and budget-friendly guesthouses and hostels.
Eleuthera is more developed but hasn't lost its original charm. Much of the island remains a sprawling stretch of wild beauty punctuated by small resorts and seaside shacks serving sumptuous seafood and fresh fruit. This is also an excellent place to explore tidal pools and natural baths created by crashing waves - just be sure to visit during low tide! Take a quick five-minute ferry to visit Harbour Island, a quaint coastal town with picturesque New England-style architecture.
The Exumas are a chain of over 300 islands famous for flawless coastlines, secret footprint-free beaches, deserted cays, and ultra-exclusive resorts playing host to some of the planet's most famous stars. This island chain is divided into three primary areas - Great Exuma, Little Exuma, and the Exuma Cays, each with its own distinct ambience. Spend some time island-hopping here for a chance to snorkel underwater caves, visit the Bahamas' world-famous swimming pigs, and swim alongside friendly nurse sharks.
Cat Island is the most unassuming and natural of the islands, with an untouched landscape ideal for diving, kiteboarding, and hiking - with miles of rolling hills and nature trails and a 12-kilometre long pink sand beach. Many of the resorts here are a bit smaller and cater to adventurous clients with more focus on outdoor pursuits than creature comforts.
For an all-inclusive best of experience, book a multi-day liveaboard safari through this region. These trips stop at all the best dive sites - usually offering three to four tanks per day, and include multiple shore excursions.
Eleuthera, Exumas and Cat Island diving seasons and weather
Like the rest of the region, these islands enjoy a tropical savannah climate with warm days, clear skies, and less humidity than the southern Caribbean. You can expect sunny afternoons and daytime temperatures between 25 and 32°C no matter when you plan to visit. During the Bahamas' mild winter between November and April, nights can become quite brisk, with temperatures dropping to 18°C and occasionally below. Then, from June to October, the rainy season brings warmer temperatures and a few days of precipitation per month.
The Bahamas are frequently impacted by hurricanes and tropical storms between June and November, with a peak in storm risk during August and September. During these months, passing storms can create rough surface conditions and poor visibility - even if they don't make landfall. Eleuthera, the Exumas, and Cat Island have far less protection than larger islands in the archipelago - like Nassau, making them particularly prone to flooding and storm surge.
Busy season runs from November through May, with two main peaks in tourism - Christmas and New Year holidays, and Spring Break. Dive here during summer months like May and June or between storm season and the holiday rush in November for uncrowded sites.
The Bahamas boast good visibility all year round, with 25 to 30 metres on most days. Water temperatures fluctuate dramatically by month, dipping as low as 22°C in January and reaching nearly 30°C in August. Depending on the timing of your trip, you may want to dive in a thin rash guard or skin, 3mm, or even 5mm wetsuit.
Conservation
The Exuma Cays Land and Sea park was one of the region's first marine preserved areas, enjoying strict protection since 1958. Further initiatives in the region and the Bahamas' new nationwide environmental efforts also benefit this region tremendously, capping development and keeping the islands pristine.
In 2008, this unprecedented, region-wide collaboration called the Caribbean Challenge Initiative (CCI) was launched. This programme joins countries across the Caribbean in a voluntary commitment to protect and effectively manage at least 20% of their nearshore marine environment by 2020. So far, the effort has led to 15 new marine protected areas and three expanded areas, comprising over 11 million newly protected acres.
Other local efforts include developing sustainable fisheries, protecting Bahamanian coral reefs, and promoting environmentally responsible tourism. NGOs like The Nature Conservancy, Bahamas Reef Environment Educational Foundation, and the Bahamas National Trust are leading the charge. Additionally, more and more resorts and dive centres are joining the fight by banning single-use plastics, promoting reef-safe products, and upholding high environmental standards in their operations.
If you're hoping to get involved with conservation or citizen science during your time on the islands, you're in luck! Eleuthera, the Exumas and Cat Island are home to multiple marine institutes, coral reef restoration projects, sea turtle sanctuaries, and environmental conservation efforts that accept volunteers.
---
Eleuthera, Exumas and Cat Island dive resorts