Scuba diving in
Turneffe Atoll, Lighthouse Reef and Great Blue Hole
Turneffe Atoll and Lighthouse Reef are Belize's premier scuba diving, snorkelling and fly fishing destinations, with legendary diving on the doorstep including wonders like the Great Blue Hole.
Highlights
Dive the famous Great Blue Hole, a spherical sinkhole 125-metres deep
Rich culture and history, from Mayans and pirates, to coconut plantations
Explore beyond the Belize Barrier Reef - some of the best diving in the Caribbean
One of the world's finest saltwater fly fishing destinations, with the opportunity to land bonefish, permit and tarpon
Popular pirate hideout, alleged location of the Fountain of Youth, and real-life 'Neverland' - Turneffe Atoll and Lighthouse Reef truly are the stuff of legend. Made up of isolated islands and reefs, expansive saltwater flats, and plummeting coral walls, these remote Belizean atolls are every adventurer's dream-come-true. And with some of the world's best diving and snorkelling on the doorstep - including underwater wonders like the Great Blue Hole - we defy anyone to grow up while exploring this magical destination.
Scuba diving Turneffe Atoll, Lighthouse Reef and the Great Blue Hole
Schooling reef fish

Year round

Healthy corals

Year round

Plentiful reef life

Year round

Caves & caverns

Year round
Turneffe Atoll and Lighthouse Reef are arguably Belize's best known diving destinations, and the location of the country's most easterly offshore sites. Turtles, eagle rays and large reef fish are the most common marine life, but almost anything can make an appearance here - including Caribbean reef sharks, nurse sharks and hammerheads, as well as dolphins and even manatees.
Turneffe Atoll diving
Turneffe Atoll is  considered to offer some of the best resort-based diving in Belize. The atoll's thick mangrove forests, shallow sheltered lagoons and nutrient-rich waters play host to all manner of marine life, from reef and nurse sharks to dolphins, manatees, and the endemic whitespotted toadfish. And, many of the dive sites are favoured by spawning reef fish, meaning the biodiversity and overall spectacle can be genuinely astonishing. The atoll's western edge offers many shallow reefs for novice divers, but the east and southern sides are where the real action lies.
Located at the southernmost tip of the atoll, The Elbow is an absolute must for any serious diver. Dramatic drop-offs and turbulent topography provide the perfect backdrop for schooling grey and mahogany snapper, permits, and jacks of all varieties, as well as groups of eagle rays and huge goliath groupers. Chinaman's Wall is one of the best wall dives in the region, adorned with yellow tube sponges, sea fans, and goldentail morays watching on from the crevices. Dogtooth and red snapper, Nassau and black grouper can also be found gathering within the recesses, while eagle rays and blacktip sharks slide past in the depths. Ascend to the top of the wall and over the lip onto the reef for a chance to find the endemic whitespotted toadfish.
Diving the Great Blue Hole and Lighthouse Reef
The marquee dive site of Lighthouse Reef is the Great Blue Hole, a huge spherical sinkhole in the centre of the reef that reaches a depth of 125-metres. While marine life here is scarce, the Great Blue Hole is considered a bucket-list dive for many, offering dramatic scenery and a unique feeling of sensory deprivation. In the south of Lighthouse Reef, the Half Moon Caye Natural Monument offers yet more spectacular underwater scenery, with garden eels, sea hares, torpedo rays, blue parrotfish and fantail blennies. Tarpon Caves is one of Half Moon Caye's most popular dive sites, featuring a vertical tunnel that runs from 12-metres down to almost 30-metres deep. Explore the many swim-throughs and holes covered in hard corals that punctuate the wall while barracuda, grouper and the namesake tarpon glide beside you.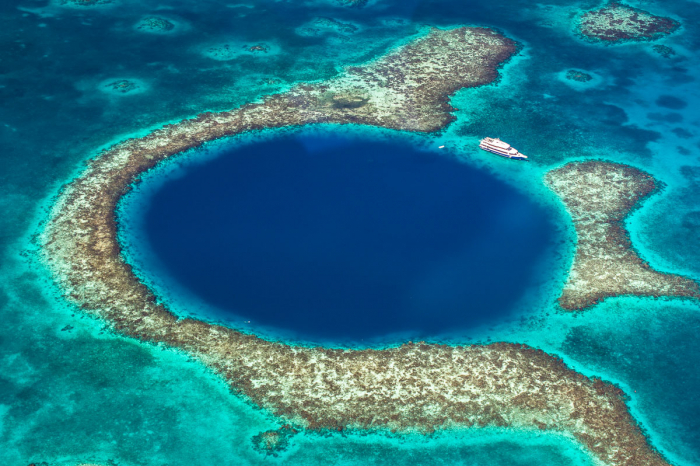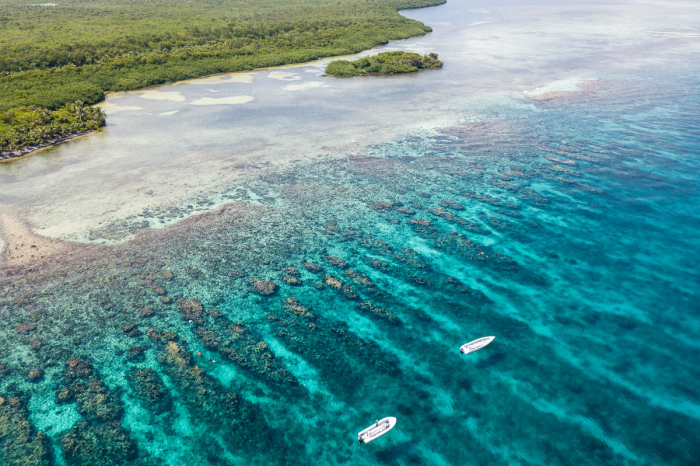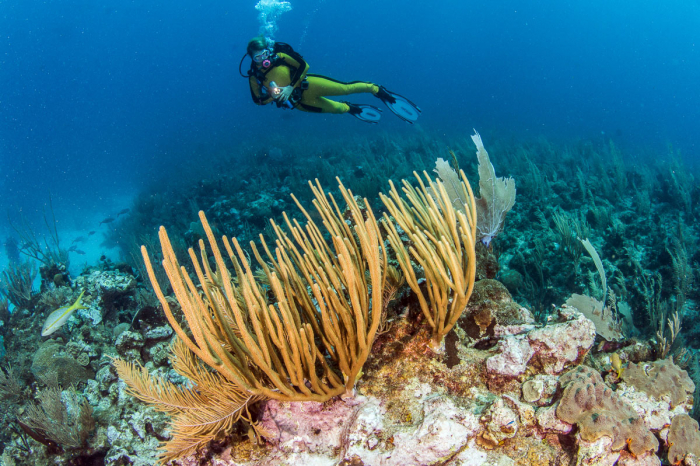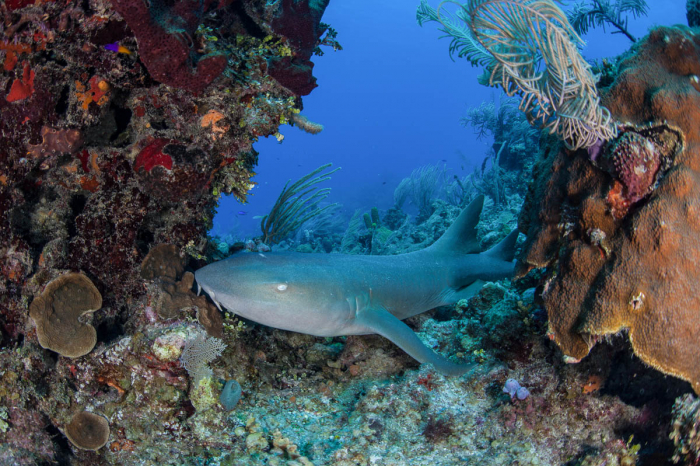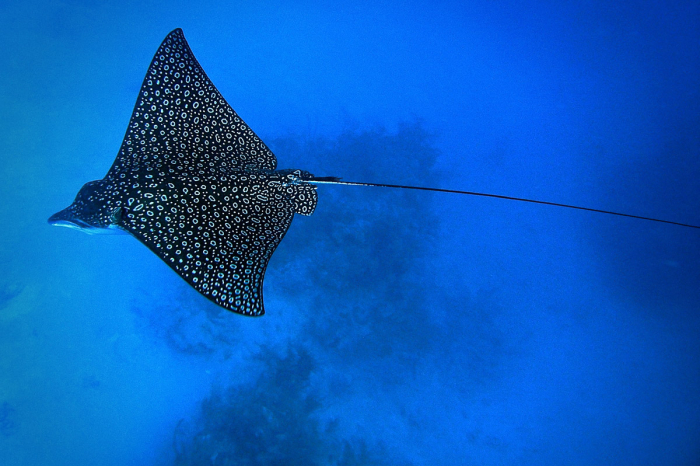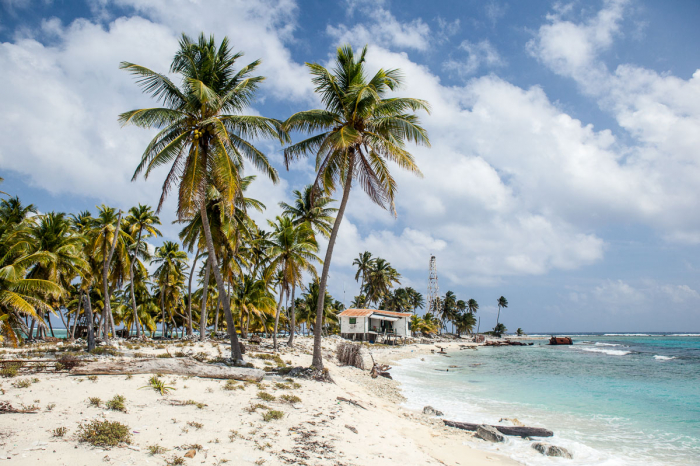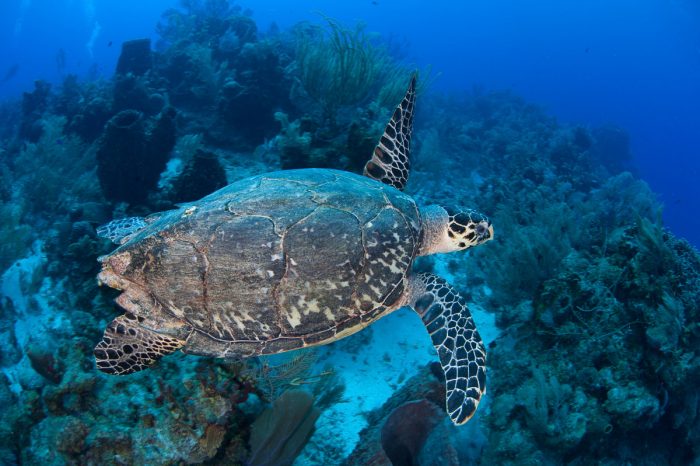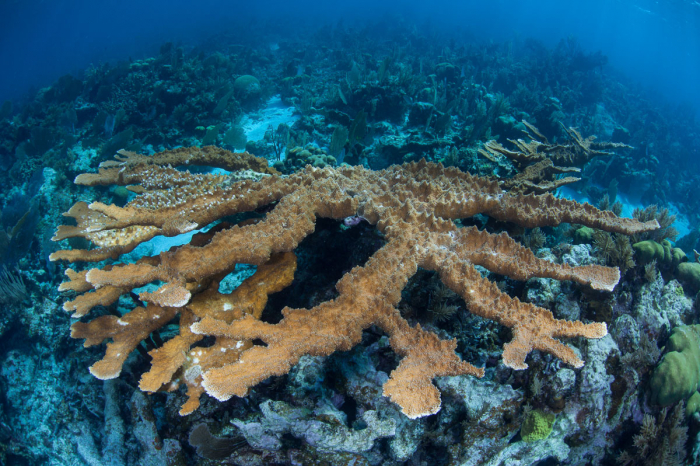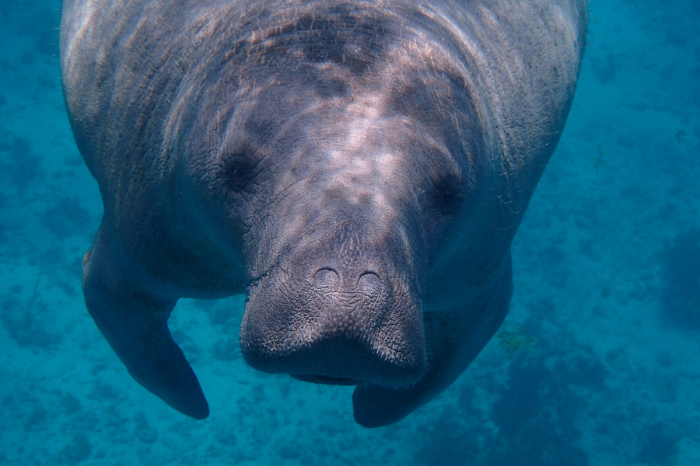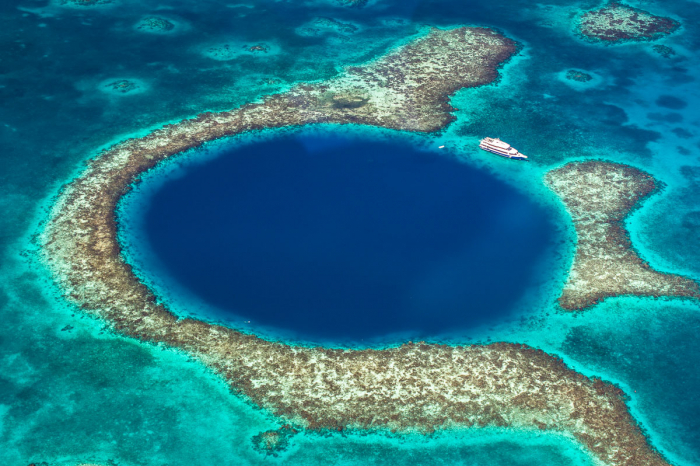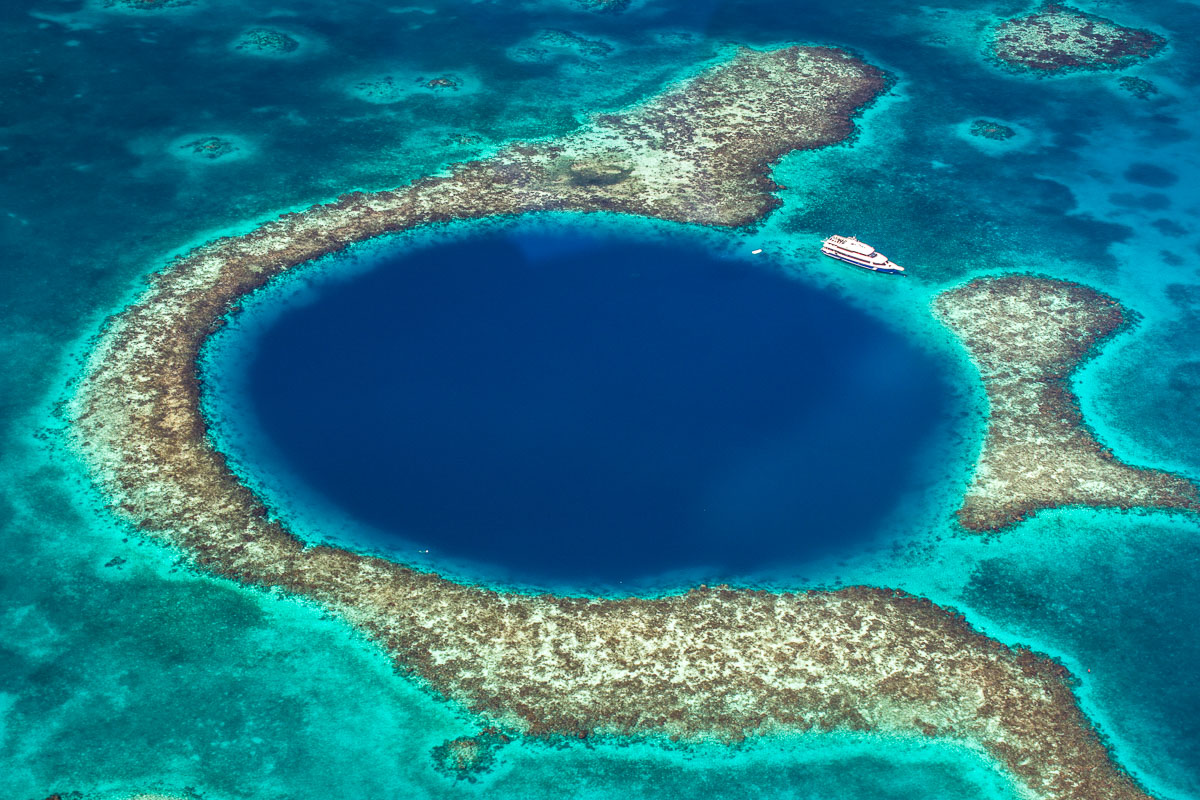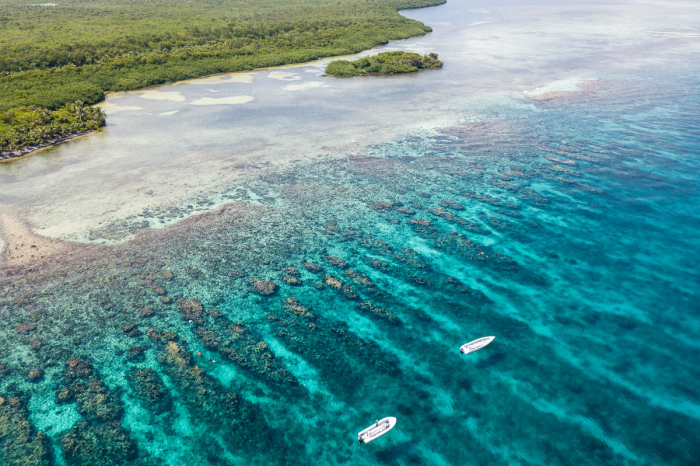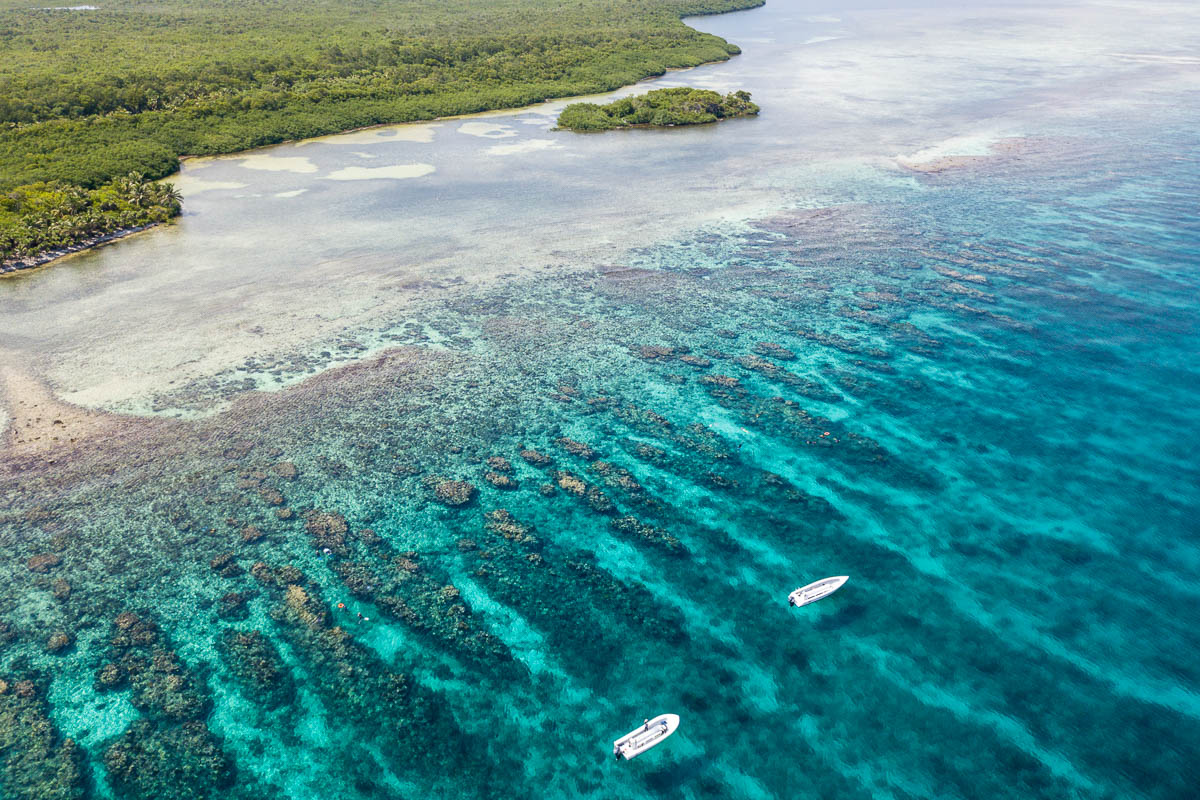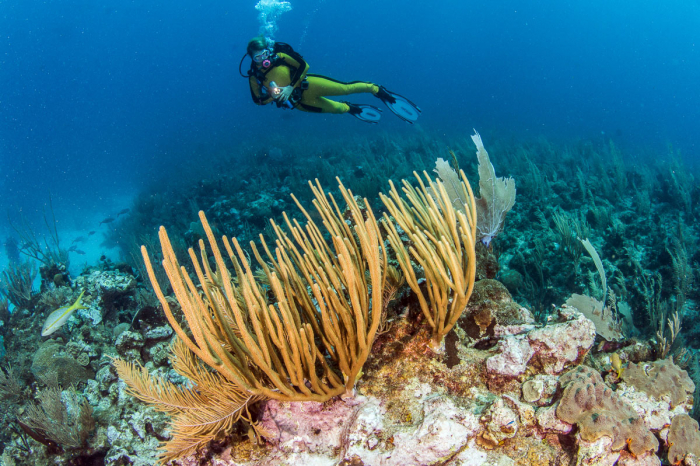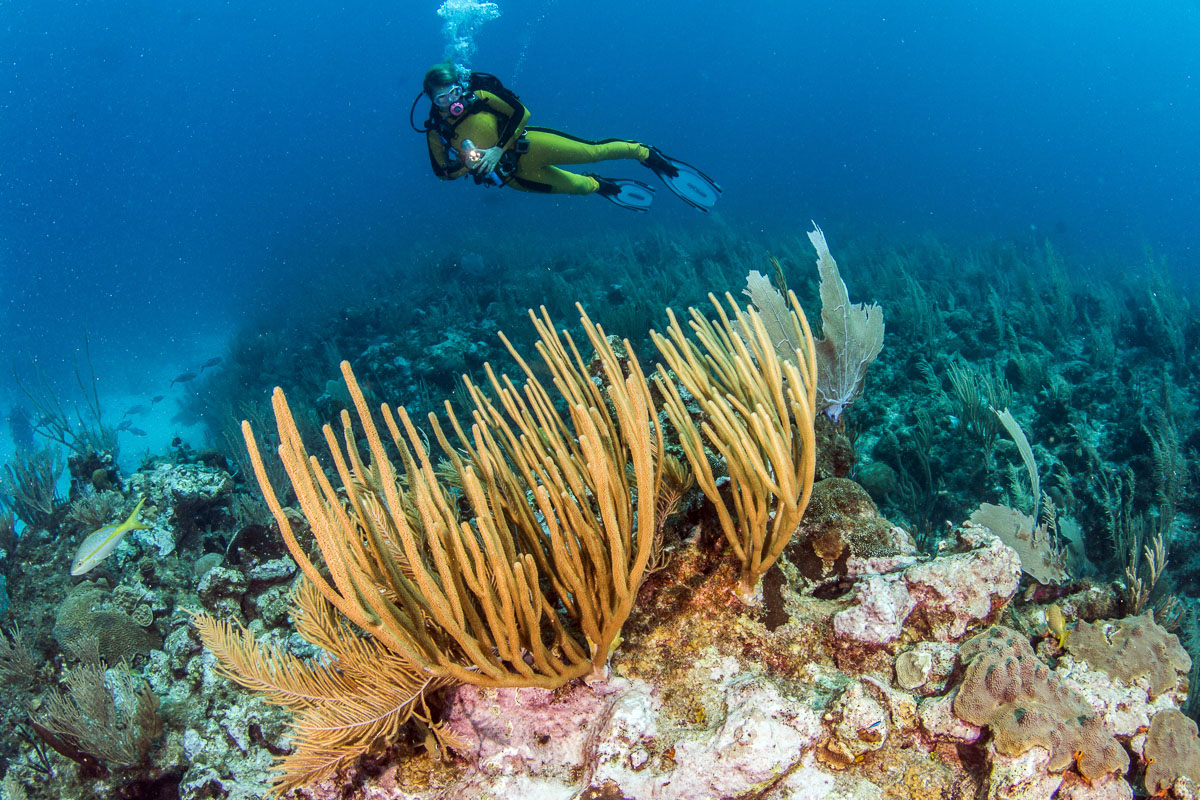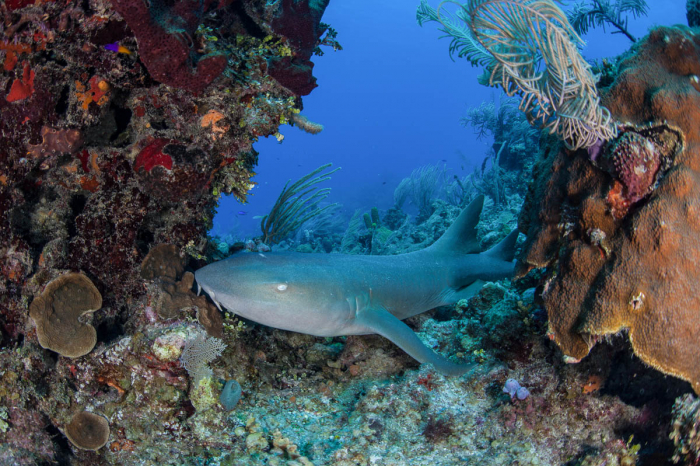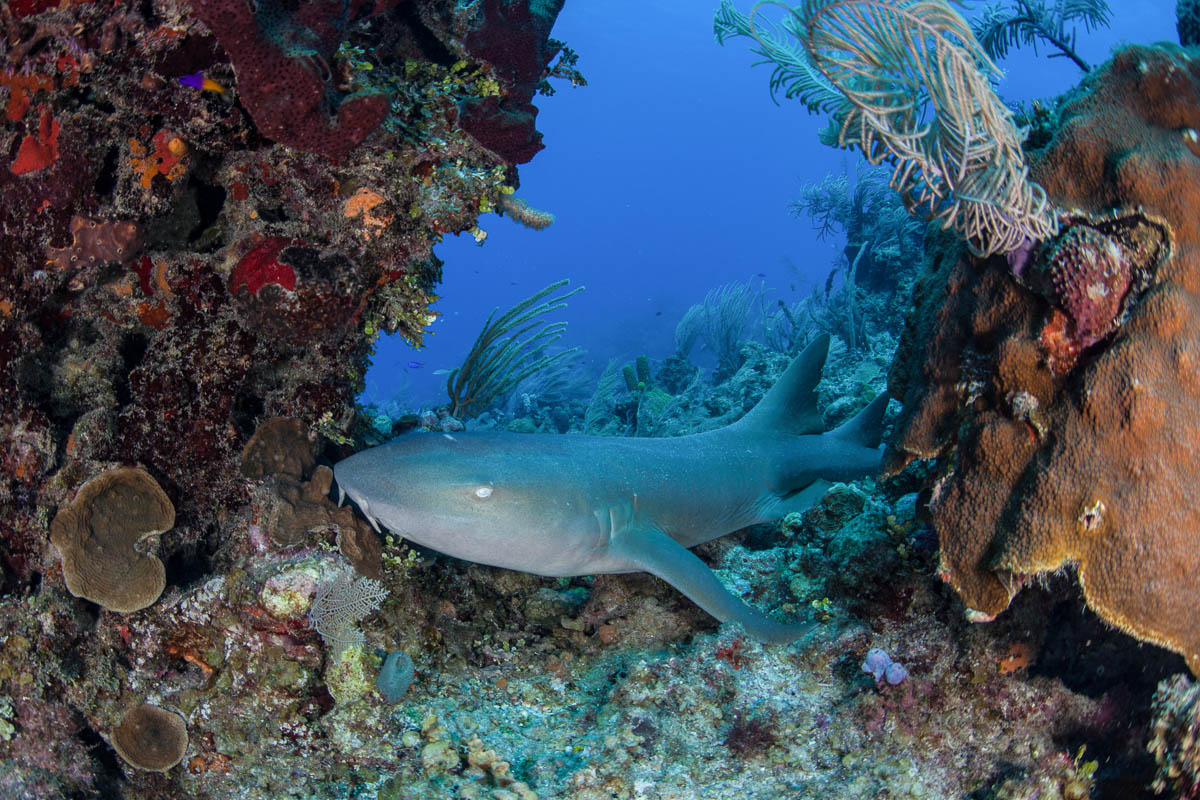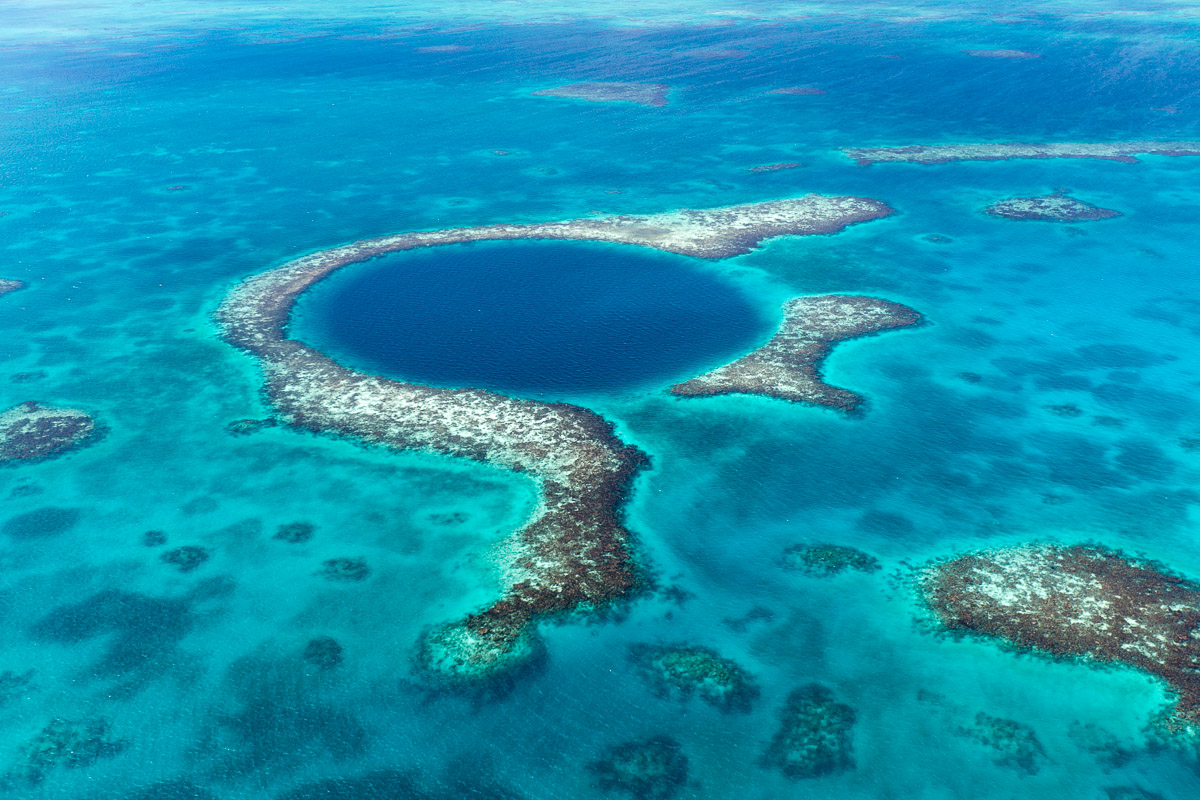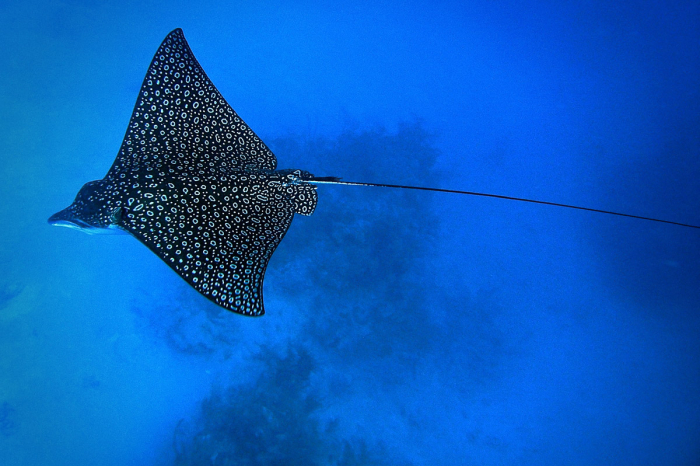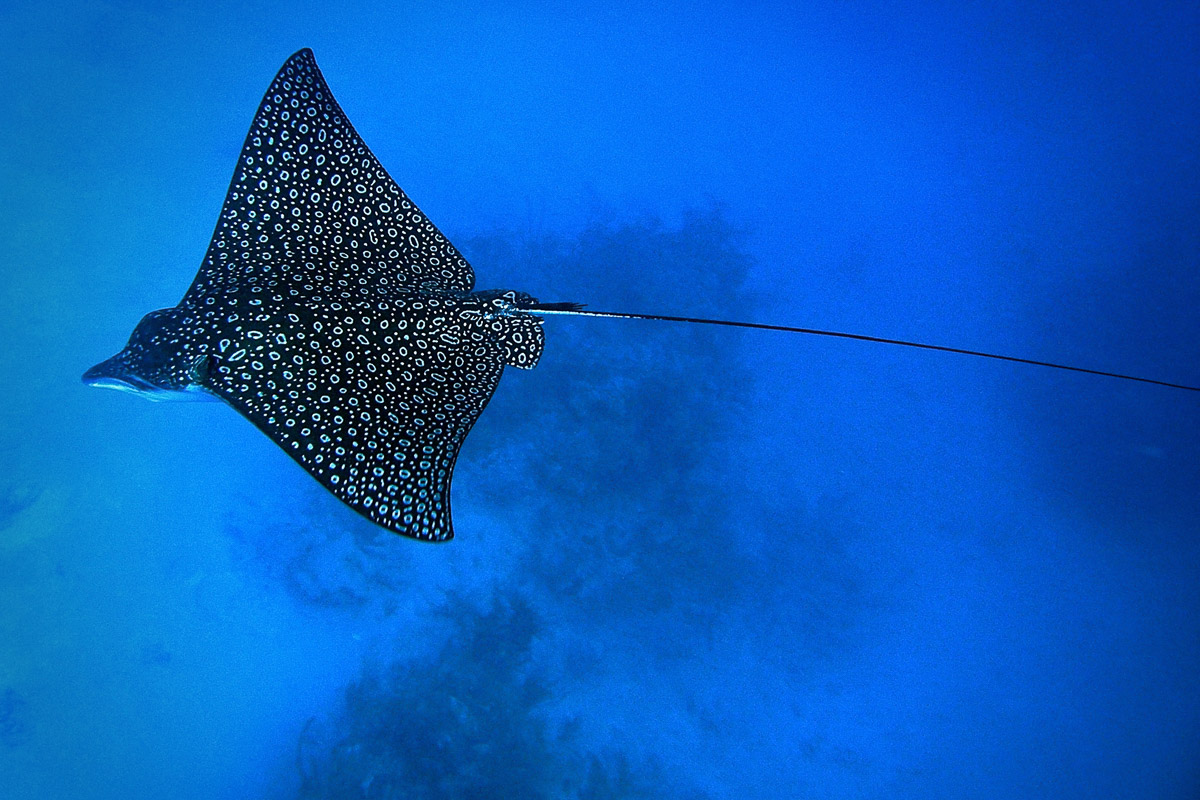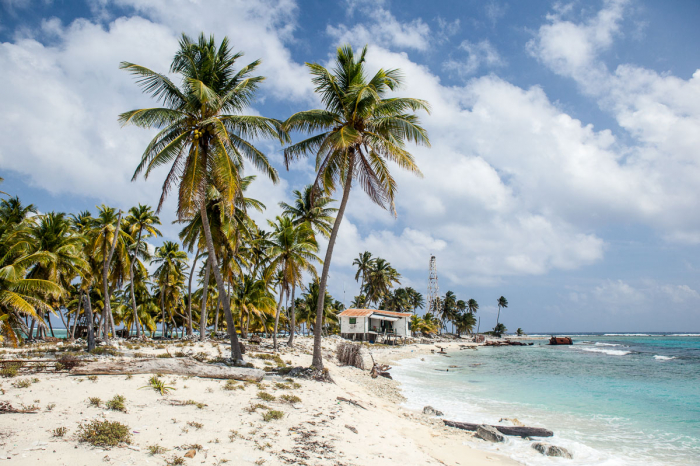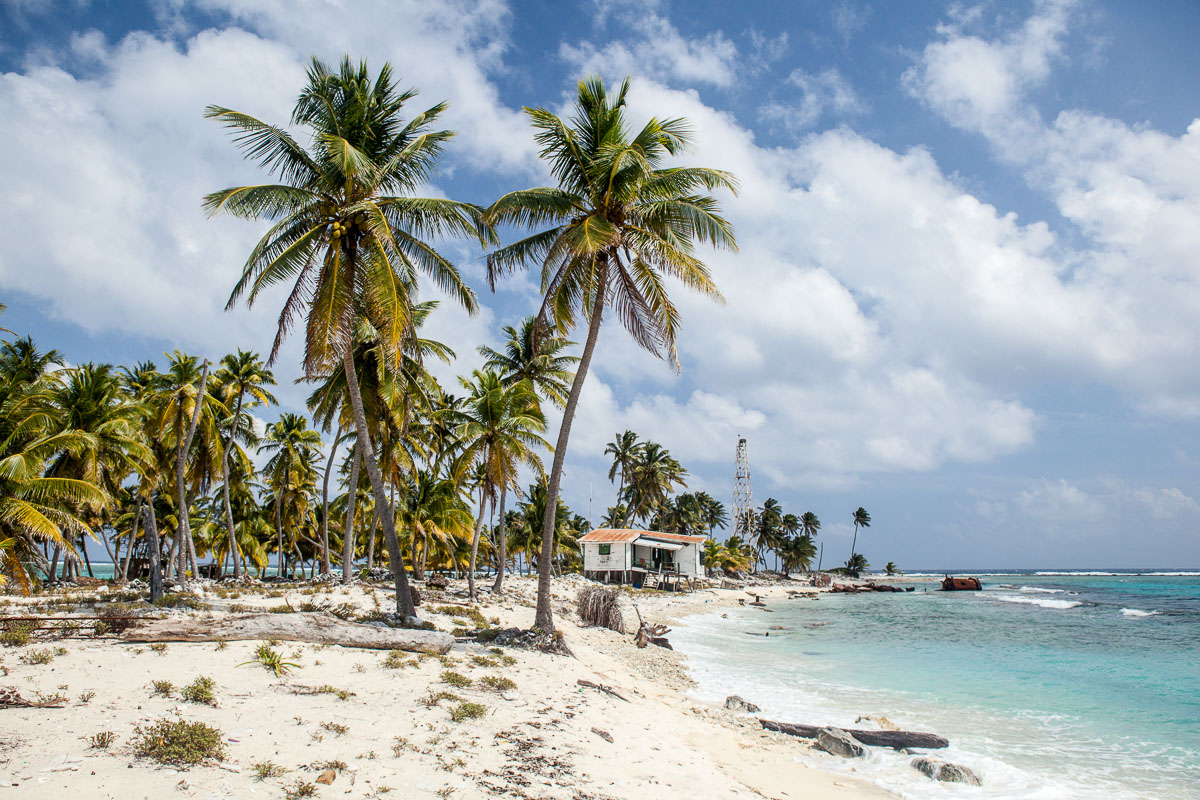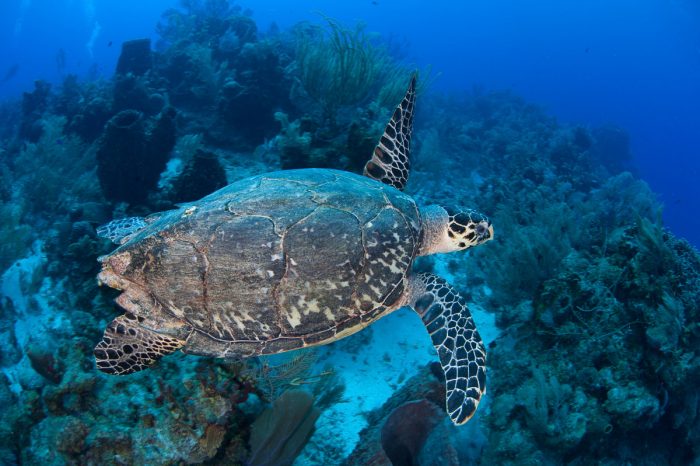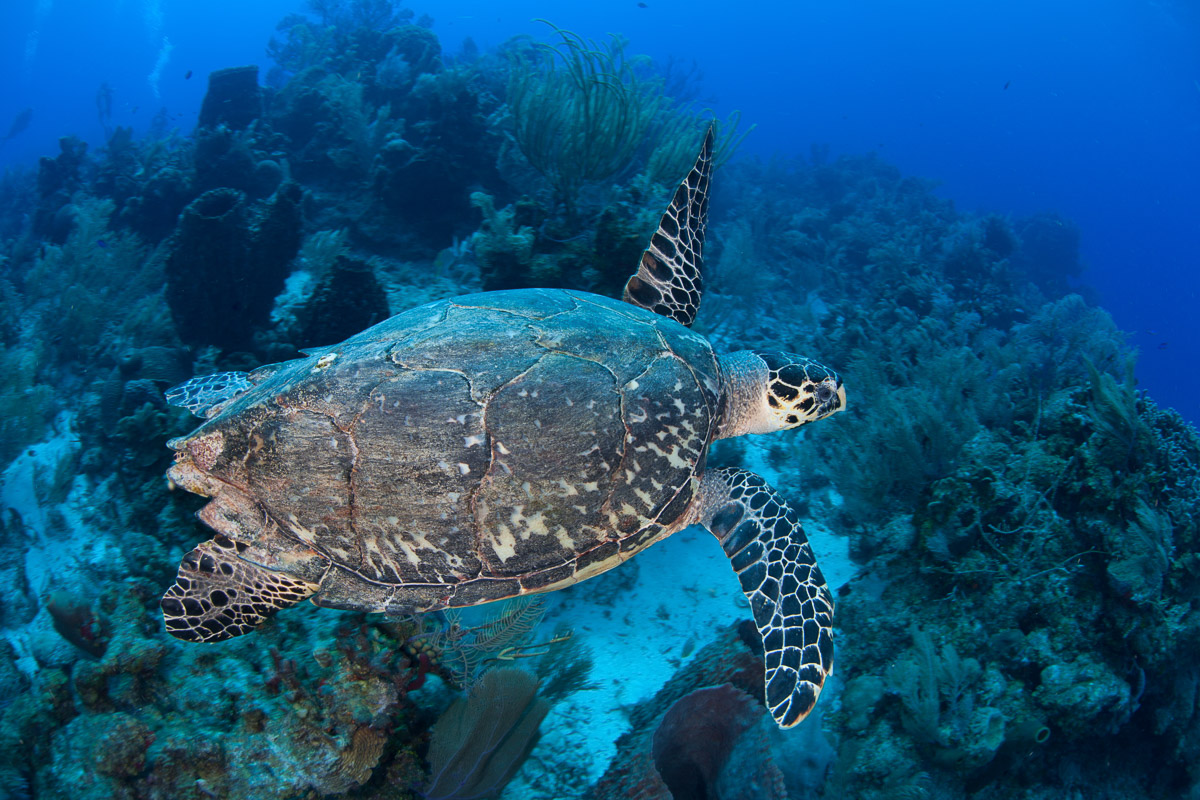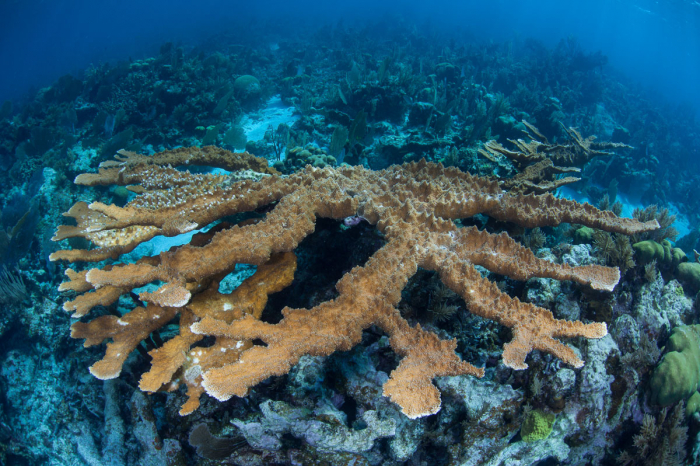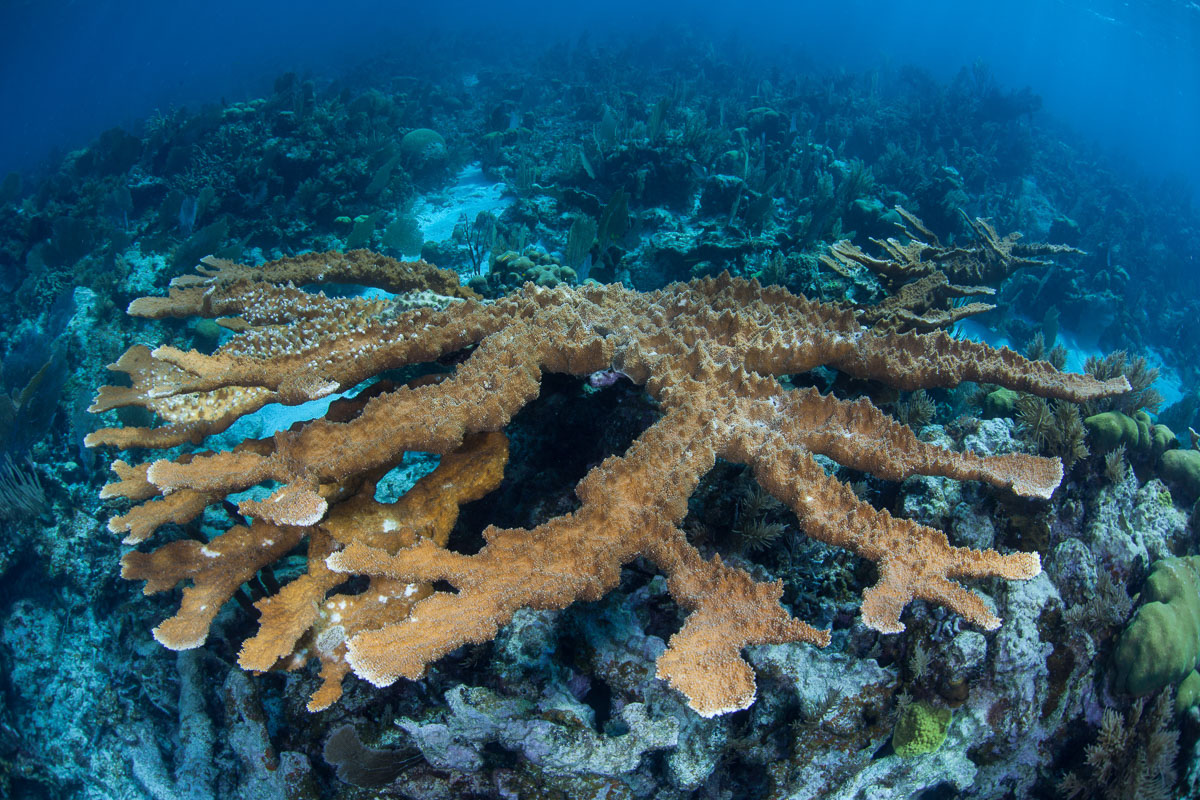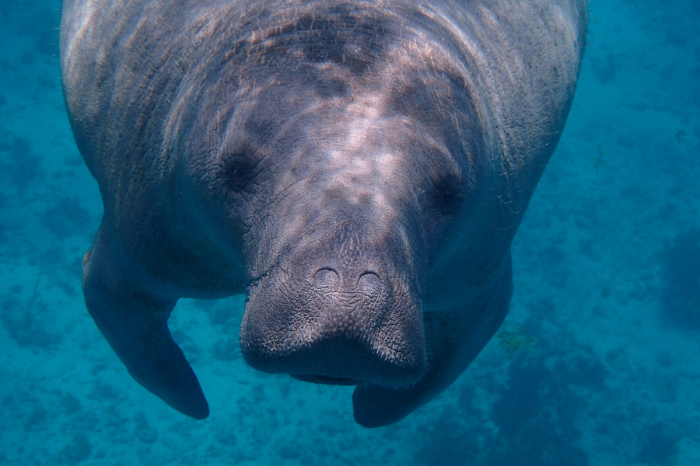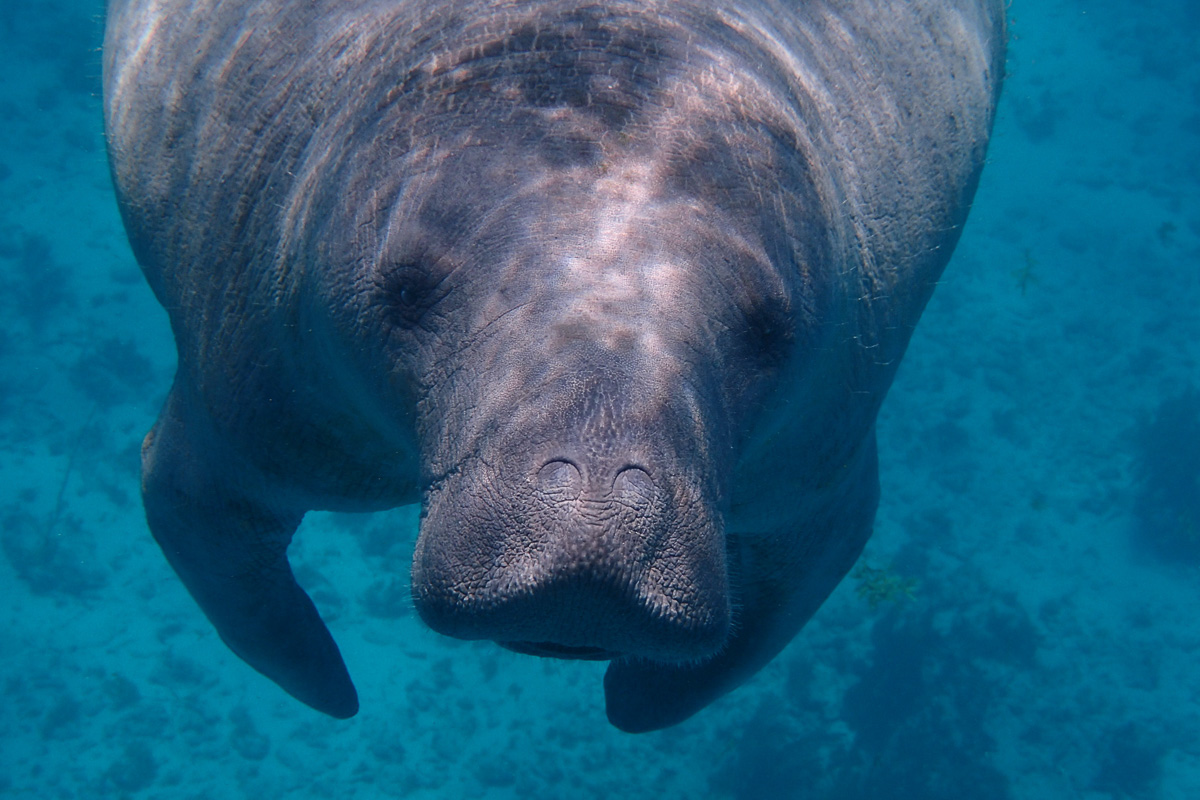 Diving Environment
Type
Reefs, walls and pelagics
Top tips

Visibility can reduce during March and April when strong winds can stir up sediment, and again between July through September when the warm weather increases plankton and algae blooms.
Turneffe Atoll's central lagoon is a spectacular place to watch the sun rise and spot crocodiles gliding sleepily across the surface of the water.
Many of the lodges in Turneffe Atoll offer both exceptional fishing managed in a sustainable way, helping to preserve the natural environment of this beautiful part of Belize.
About Turneffe Atoll, Lighthouse Reef and Great Blue Hole
Turneffe is one of the most visually spectacular of Belize's reefs, but the atoll also boasts an interesting history and strong connection to legend. Turneffe has been slated to be the real-life inspiration for the far-flung fictional paradise of 'Neverland', and even the source of the Fountain of Youth - a conclusion that any visitor would struggle to dispute. Back in the real world, the atoll was once roamed by pirates, and the infamous pirate Blackbeard used to patrol these waters in search of ships to plunder, using the islands as cover when launching attacks.
Thankfully, today, the pirates are long gone. But the productive waterways and lagoons, dense mangrove forests and tropical cayes remain - creating one of the best diving, snorkelling and fly-fishing destinations in the world. And, you'll have direct access to Belize's most easterly atoll, Lighthouse Reef, where you can explore protected Natural Monuments such as The Great Blue Hole and Half Moon Caye. So get ready to unplug and unwind surrounded by white-sand beaches, crystal-clear Caribbean waters, and impressive underwater reefs and seascapes.
How to get there
Most International flights land at the Philip S. W. Goldson Airport in Belize City, ideally located for accessing Turneffe Atoll and Lighthouse Reef. An airstrip on Blackbird Caye allows for a short 20-minute flight to Turneffe Atoll, while some other resorts can also organise helicopter transfers. There is no direct ferry route from Belize City to Turneffe Atoll, but your resort will offer a boat transfer as standard, usually taking around an hour and a half. The pleasant journey passes through one of the cuts in the barrier reef before weaving through Turneffe's mangrove-lined creeks to your resort of choice. Shuttle boats to the resorts on Long Caye in Lighthouse Reef Atoll generally run twice a week and the journey takes around two hours. Helicopter transfers can also be arranged.
Where to stay
Turneffe Atoll is made up of a network of flats, creeks, and lagoons meandering between more than a hundred mangrove islands and forested cayes. In a remote destination such as this, you'd be forgiven for expecting the accommodation to be ramshackled and rugged. In fact, in Turneffe Atoll, it's quite the opposite. A small handful of grand resorts and beautiful beachfront lodges are scattered throughout the atoll's eastern islands, providing a broad choice of comfortable and luxurious bases from which to explore the surroundings.
No matter where you stay, activities include scuba diving, snorkelling and kayaking in search of manatees, catch-and-release fly fishing, and bird-watching - with over 60 different bird species identified within the atoll. And, as there are no restaurants or tourist amenities beyond the boundaries of your resort, you'll find little else to do but relax, enjoy the isolation and make the most of this stunning natural setting - bliss.
Due to its protected status, Lighthouse Reef offers even fewer accommodation options, with just a couple of charming low-key lodges and a campsite located on Long Caye in the south of the atoll. If you're after a fully immersive experience, this could be your best bet, offering greater seclusion and more or less immediate access to some of Belize's most sought after dive sites.
A liveaboard is your final option for visiting these more remote atolls. Departing from Belize City or Ambergris Caye, these itineraries focus on the exceptional far-flung sites of Turneffe Atoll and Lighthouse Reef, providing an utterly absorbing way to experience Belize's astounding underwater world.
When to visit Turneffe Atoll and Lighthouse Reef
Lying just 32-kilometres from Belize City,Turneffe Atoll's seasons are closely tied to the mainland's wet and dry seasons, which run from June through November and December to May respectively - with July through September being the hottest months. These seasons are a little less noticeable at the more remote Lighthouse Reef Atoll, which offers a similar warm, sunny climate and sporadic rain throughout the year.
Both Turneffe Atoll and Lighthouse Reef feel the easterly trade winds for much of the year, making their leeward west coasts the favoured diving locations when the winds are strong between March and October. Water temperatures average 29°C at this time of year. From December through February, the northerly winds can blow in, bringing cooler weather and forcing divers to switch to the leeward south and east coasts of the atolls. Surge can also be present if the winds are particularly strong, but dives are very rarely cancelled as there are so many sites to choose from. Water temperatures can drop to around 26-27°C due to these northerly winds.
Seasonal marine life
During the month of January, both black and tiger groupers can be seen spawning off the wall at The Elbow, and blue tangs take over Calabash to spawn between February and March. Mutton snapper favour The Elbow from March through May while the less discerning horse eye jacks and dogtooth snapper can be found at The Elbow, Jo-Jo's, Chrissea and Mid Point from May through July.
Pilot whales and killer whales also migrate through the area from March through June while whale sharks pass by Lighthouse Reef Atoll around April and May. Manta rays also sometimes gather around the reef to feed on the plankton blooms from August through October. Finally, sea turtles can be seen nesting within the atolls between June and November and hatching from August through January.
Conservation
In 1928, the western end of Half Moon Caye, located in Lighthouse Reef, was designated as a bird sanctuary to protect the habitat of the red-footed booby birds, making it Belize's oldest protected site. Then, Half Moon Caye became the first area to be protected under the National Parks System Act in 1982, with its entire landmass and some 10,000 acres of surrounding waters designated as a National Monument. Finally, both Half Moon Caye and the Great Blue Hole became part of the UNESCO Belize Barrier Reef Reserve System World Heritage Site in 1996. Three other areas within Lighthouse Reef - Northern Two Cayes, Sandbore, and South Point - are protected to preserve species such as nassau grouper and spawning aggregation sites.
Turneffe Atoll was one of the most recently protected areas in Belize, only receiving its status in 2012. West of Turneffe Atoll, the vast Swallow Caye Wildlife Sanctuary encompases nearly 9000 acres, including Swallow Caye and some parts of Drowned Caye, too. This reserve is covered with turtle-grass beds, and is home to a small population of West Indian manatees.
The government has also imposed a moratorium on oil exploration and drilling in all of Belize's offshore waters. In 2018, thanks to the Belizean Government's clear commitment to conservation, UNESCO removed the Belize Barrier Reef Reserve System from its list of World Heritage in Danger sites.
---
Turneffe Atoll, Lighthouse Reef and Great Blue Hole dive resorts
Turneffe Atoll, Lighthouse Reef and Great Blue Hole liveaboards