Scuba diving in
Palawan
Philippines
Explore historical shipwrecks and thriving coral reefs, and discover an incredible variety of wildlife - both great and small - in some of the Philippines most spectacular diving destinations
Diving highlights
Discover Puerto Princesa's calm conditions, thriving reefs, and easy dive sites
Explore uncrowded dive sites and a pristine underwater ecosystem at Tubbataha
Cavern diving, cool macro finds, and world-class beaches in El Nido's Bacuit Archipelago
Coron's ghostly collection of Japanese World War II-era shipwrecks
Palawan is one of the most famous diving destinations in the Philippines, and for a good reason. This diverse region is home to nearly every kind of diving imaginable, ranging from mild to wild. And, it's just as spectacular above water as it is below. The province is home to thousands of remote islands ringed with white sand, and lush tropical jungles with a surreal backdrop of karst limestone cliffs peeking through the deep green. Palawan's hub, Puerto Princesa, is one of the cleanest and most beautiful cities in the Philippines and makes a great jumping-off point for exploring the area.
Below water, Palawan is a diver's dream. This massive region boasts incredible Coral Triangle biodiversity, excellent visibility, and endless opportunities for speciality dives. Fascinating macro wildlife, caverns and swim-throughs, and lovely fringing reefs await in Puerto Princesa and El Nido. A sunken fleet of Japanese WWII shipwrecks draws tech divers from all over the world to Coron. And, the remote waters of Tubbataha play host to some of the Philippines most impressive walls, complete with powerful open ocean currents, busy cleaning stations, and plenty of passing pelagics. 
---
Ready for your dive adventure in Palawan?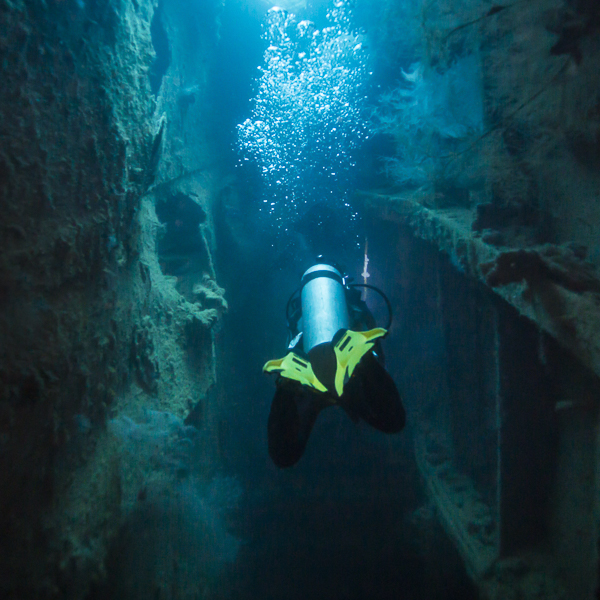 ---
Palawan dive seasons and weather
Palawan is best dived during the dry season running from December through June when visibility and conditions are at their best. But, this is a massive diving region with nearly 1,800 islands in the province, and some areas do have brief and specific diving seasons. 

Coron - December to March
Visibility around the famous shipwrecks of Coron is generally low. But, between December and March, it can reach up to 15 metres. This makes for better underwater photography and a more comfortable experience for new wreck divers. 
Tubbataha - March to June
This region is accessible by liveaboard only, and the park opens to tourists for just four short months. While this might make trip planning a bit of a challenge, it's well worth your extra effort. These reefs are among the most pristine and well preserved in the Philippines.