With plenty of sheltered lagoons and shallow reefs, the Maldives is a great choice for those who would like to complete their scuba certification, or beginner divers keen to advance their skills. We reveal why the Maldives is the ideal place to learn to dive.
Why choose the Maldives for a scuba diving course?
The Maldives has earned a reputation as one of the planet's top diving destinations but the country is not just for advanced divers. There are plenty of reasons to choose the Maldives for a scuba diving course - here's a few that are worth considering. 
Easy conditions
Thanks to the diversity of dive sites, many of which offer conditions suited to beginners, the Maldives is a great choice as a destination to learn to dive. The atolls provide plenty of shallow, sheltered lagoon sites to explore, with thriving reefs and iconic marine life to keep beginners busy. In fact, many of these sites are home to turtles, reef sharks, and even manta rays and whale sharks - there aren't many places in the world where you can see such wonders during your first few dives.
You'll likely train and complete your Open Water course at easy-going sites with minimal current, possibly on the resort's own house reef or in the shelter of a lagoon. Then, with a little more experience, you'll graduate to more challenging sites with boat entries and gentle drifts. If you stay for a few days of fun diving after your course, you'll have more chances to explore the Maldives' famous reefs and channels and even complete your Advanced course.
Experienced operators
Since opening to tourism in the 1970s, the Maldives has become an iconic tourist destination, with a large numbers of resorts and islands to choose from. Luckily, this also means new scuba divers are spoiled for choice, with a fantastic range of both SSI and PADI dive centres. Many of these operators have been diving the island nation for decades, boasting unparalleled experience and local insight into its magnificent underwater world. Instructors tend to keep groups small for comfort and safety, allowing you to enjoy high quality training and a personalised experience throughout your course - both above and below the water.
Great service
While scuba diving in the Maldives might cost more than other destinations, the level of service you receive, combined with the exceptional dive sites, is more than worth it. Besides, more affordable options can be found if you're travelling on a budget and there are plenty of dive centres and guest houses on local islands that offer the same standard of diving with a reduced price tag.
Ready to learn to dive in the Maldives?
Search, compare and book from our hand selected resorts
How much does it cost to learn to dive in the Maldives?
Whether you're a complete beginner, or aspiring to continue your dive education, you'll find a wide variety of diving courses in the Maldives that suit every skill level. Rates for courses do vary considerably, and will be lower on local islands.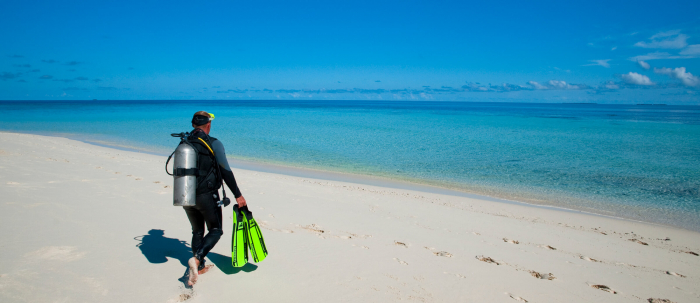 Discover Scuba Diving
This half-day experience is offered at almost every dive centre in the Maldives, and teaches you some essential skills before you embark on a 'try dive'. Thanks to the calm conditions that the Maldives is famous for, you'll usually find yourself exploring the open ocean on your first day underwater. The Discover Scuba Diving course typically costs from around US$125 per person with taxes and other charges.
Open Water Certification
This course is ideal for aspiring divers. It takes three to four days - or longer if you want to combine diving with beach days and excursions. You'll learn the basics either in the pool or on a sheltered site in the lagoon or on the house reef, and then be fully-trained to explore up to a depth of 18-metres. An Open Water course in the Maldives typically costs from around US$750 per person with taxes and other charges.
Advanced Open Water
This course is for certified open water divers seeking to enhance their skills. You'll choose five specialties to focus on, and learn to dive in a variety of conditions that match your desired specialties. Popular options include night, deep, wreck, and drift diving, as well as underwater photography, navigation, and nitrox use, and the course takes 2-3 days to complete. An Advanced Open Water course in the Maldives typically costs from around US$650 per person with taxes and other charges.
---
Need help planning your dive holiday in the Maldives?
Contact one of our dive travel experts today

---