Since opening up to tourism in the 1970s, the Maldives has rightfully earned a reputation among the global dive community as one of the planet's top diving destinations. But it's not just for elite and experienced underwater explorers. The Maldives' has something for every diver, no matter your skill level, including superb opportunities for beginners to get into the sport.
Ready to learn to dive in the Maldives?
Search, compare and book from our hand selected resorts
Why choose the Maldives for a scuba diving course?
The Maldives is not only one of the world's best scuba diving hotspots, it's also one of the most popular vacation destinations on the planet, making it an ideal choice for combining the best of both worlds. For newer divers, this is often important, allowing you to dip a toe into the underwater world without the need for commitment. But there's plenty of other reasons to choose the Maldives for a scuba diving course. Here's a few that are worth considering. 
Easy conditions
Learning to dive in the Maldives is a great choice thanks to its unparalleled diversity of sites, many of which offer conditions suited to beginners. The unique geography of this atoll nation has ensured new divers can find plenty of shallow, sheltered lagoons to explore, all packed with thriving reefs and iconic marine life. In fact, many of these lovely shallow spots are often home to friendly turtles, curious reef sharks, and even manta rays and whale sharks in some regions - there aren't many places on the planet where you can see such wonders while taking your first breaths underwater.
You'll likely start by exploring easy-going sites with minimal current, possibly on the resort's own house reef, just a few fin-kicks from the shore. Then, you'll gradually move onto more challenging sites with boat entries and gentle drifts. And, if you stay for a few days of fun diving after your course, you'll have more chances to explore deeper spots with pelagic action and even shark and manta ray sightings. It's also useful to note that currents are weakest outside the full and new moon periods, so be sure to factor that in when planning a trip.
Experienced operators
Since opening to tourism in the 1970s, the Maldives has become an iconic tourist destination, with an abundance of resorts and islands to choose from. Luckily, this also means new scuba divers are spoiled for choice, with a fantastic range of both SSI and PADI dive centres. And, many of these operators have been diving the island nation for decades, boasting unparalleled experience and local insight into its magnificent underwater world. Instructors tend to keep groups small for maximum comfort and safety, allowing you to enjoy high quality training and a personalised experience throughout your course - both above and below the water.
Value for money
As a destination synonymous with wealth and luxury, finding value-for-money in the Maldives might sound a little unlikely - but hear us out. Sure, scuba diving costs in the Maldives might be a little pricier than other destinations, but the level of service you receive, combined with the mind-blowing dive sites, is more than worth it. Besides, more affordable options can be found if you're travelling on a budget - just head outside the luxury resorts, and you'll find standalone dive centres that offer the same standard of diving with a heavily reduced price tag. 
---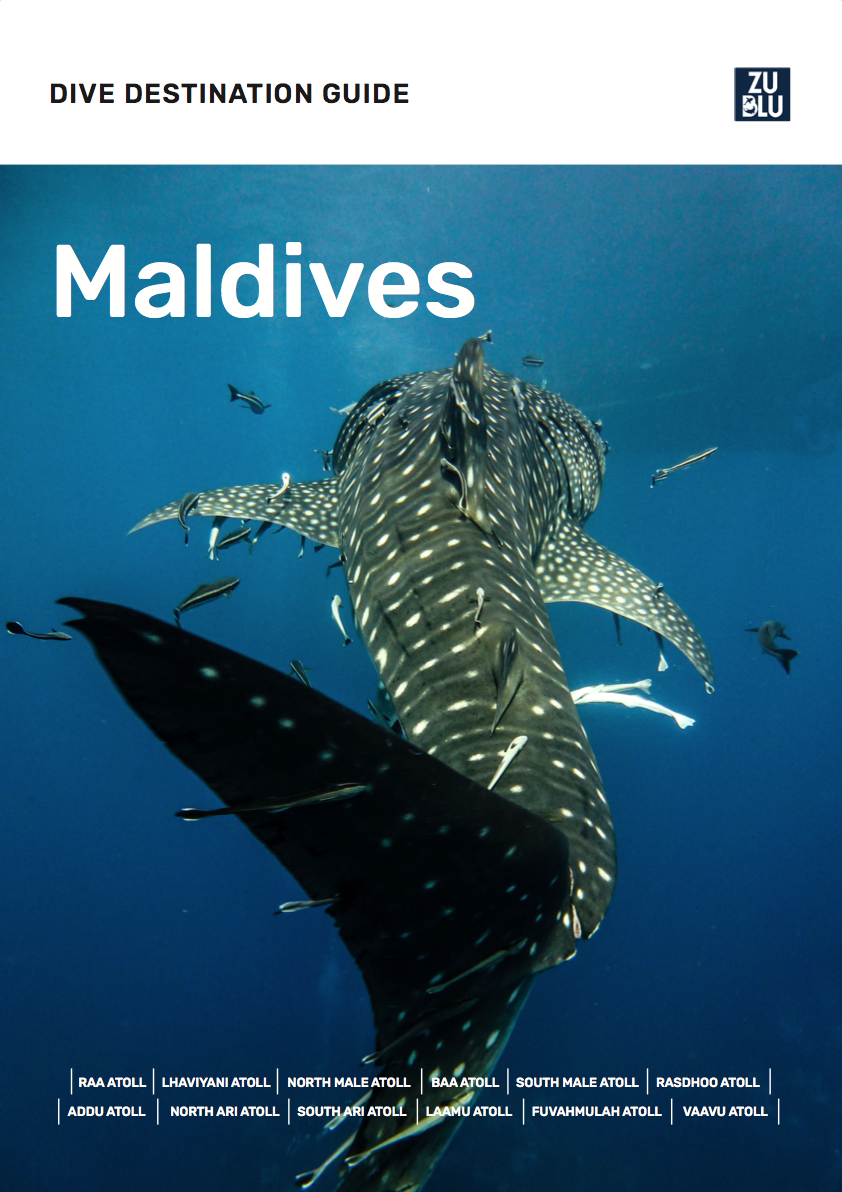 Complete guide to the best diving in the Maldives. Explore the atolls, seasons, and pro tips in this free 37 page destination guide.
---
Scuba diving courses in the Maldives
Whether you're a complete beginner, or aspiring to continue your dive education, you'll find a fantastic variety of diving courses in the Maldives that suit every skill level.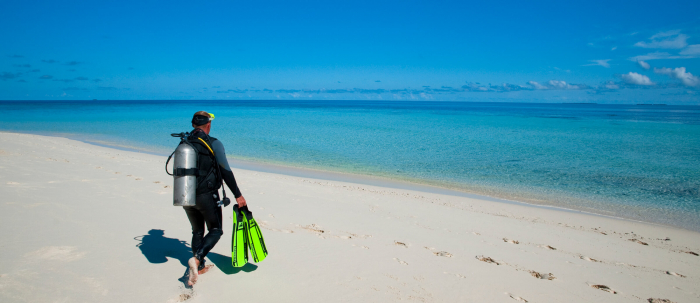 Discover Scuba Diving
This one-day experience is offered at almost every dive centre in the Maldives, and teaches you some essential skills before you take the plunge. And, thanks to the calm conditions that can be found here, you'll usually find yourself exploring the open ocean on your first day underwater.
Open Water Certification
This course is ideal for aspiring divers. It takes three to four days - or longer if you want to combine diving with lazy beach days and incredible excursions. You'll learn the basics either in the pool or on a sheltered sandy-bottom site, and then be fully-equipped to explore up to a depth of 18-metres. 
Advanced Open Water
This course is for certified open water divers seeking to enhance their skills. You'll choose five specialties to focus on, and learn to dive in a variety of conditions that match your desired specialties. Popular options include night, deep, wreck, and drift diving, as well as underwater photography, navigation, and nitrox use.
---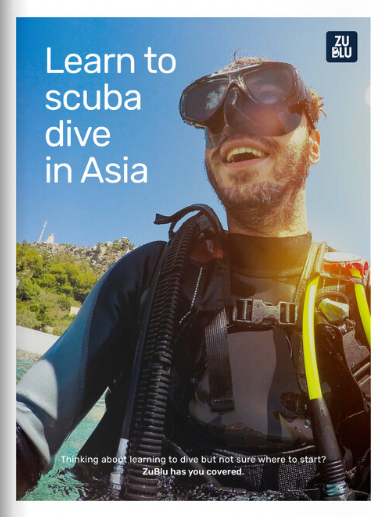 All you need to know about learning to scuba dive in Asia
---
Ready to learn to dive in the Maldives?
Search, compare and book from our hand selected resorts
Best places for learning to dive in the Maldives
One of the best parts about the Maldives is that almost every atoll has something for everyone, including beginners. That said, some atolls are slightly better than others for learning to dive, featuring more sheltered sites with less currents and shallower depths. 
Lhaviyani Atoll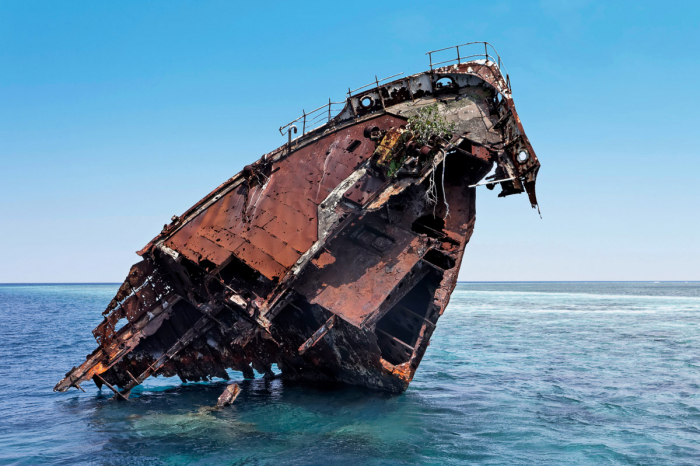 This atoll offers more than 50 dive sites suitable for all levels, with many providing the perfect conditions for beginners. In fact, nearly every island in this region is surrounded by its own fringing coral reef, providing easy conditions and stress-free access from the shore.
The sheltered Aquarium site is great for newbies, and features schools of blue snappers and colourful corals, in addition to hawksbill turtles and guitar sharks that sometimes use the coral as a cleaning station. Lhaviyani is also home to two famous shipwrecks which collectively make up a site known as Shipyard, located just off the eastern edge of Felivaru . One of these wrecks, Skipjack 1, actually protrudes from the surface of the water, providing plenty of opportunities for shallow exploration.
Recommended resort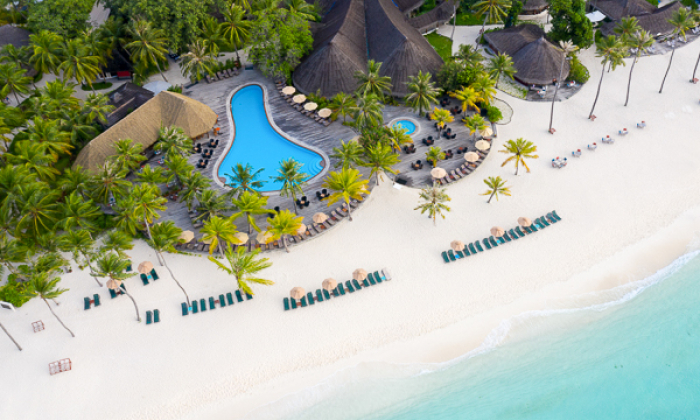 Lhaviyani Atoll
Kuredu Island Resort
Kuredu Island Resort is a private island playground catering to adventurous families, couples, and dive groups. This property boasts some of the atoll's most exciting amenities ...
North Male Atoll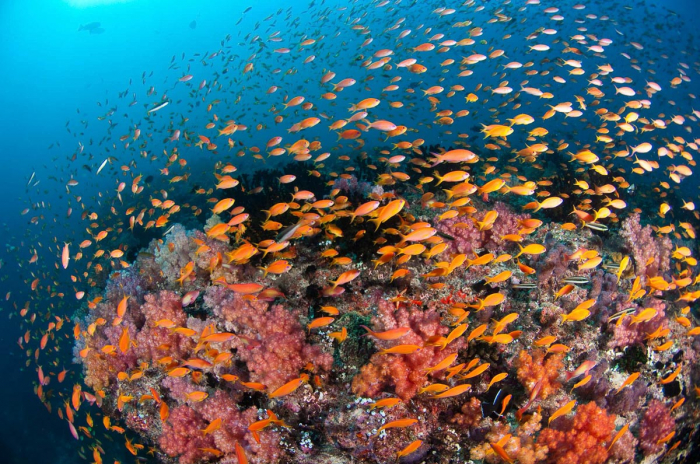 North Male Atoll is among the most visited regions in the Maldives thanks to its excellent diving scene combined with superb topside activities. Plus, this atoll is also the easiest to access, playing host to the country's international airport on the island of Hulhule. Whilst this atoll has plenty of sites enjoyed by advanced divers, there are more than enough for beginners.

The world-famous Manta Point in the atoll's southeast is a hotspot for manta rays, as well as schools of barracuda, turtles, and Napoleon wrasse. One of the highest rated dive sites in the Maldives, Girifushi Thila, is also located here, and offers opportunities for less experienced divers with its peak sitting at just 12-metres. Banana Reef is another great beginners site, with plenty of brightly-coloured coral and reef fish to be seen at various depths.
Recommended resort
North Malé Atoll
Bandos Maldives
Bandos Resort combines remote island bliss with luxurious comfort, intimacy, and just a touch of romance. With exceptional sports and leisure facilities, this resort caters to both ...
North Ari Atoll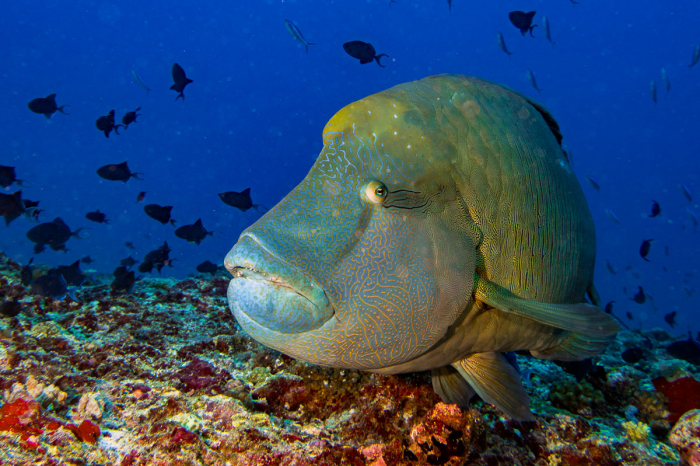 An abundance of pinnacles and channels here also offer increased depth and current, providing the perfect excuse to get your advanced certification or simply to gain underwater experience. But, one of the most unique experiences occurs in the shallow and sheltered Fesdu Lagoon, where manta rays congregate beneath the lights of liveaboards at night. Divers can sit on the sandy bottom here and watch as the mantas swoop and barrel-roll around them, all in just 15-metres of water. 
If you're ready for it, Maaya Thila is another must-visit site. Often patrolled by whitetip reef sharks and giant trevally, this pinnacle's real attraction is the endless kaleidoscopic corals and a wide variety of critters such as nudibranchs and frogfish calling it home. Fish Head is also a brilliant spot covered in black coral and overhangs, crevices, and caves.
Recommended resort
North Ari Atoll
Ellaidhoo Maldives by Cinnamon
Ellaidhoo Maldives by Cinnamon is a picturesque paradise-island resort providing peaceful getaways to both divers and non-divers alike. This resort is perfectly-placed to explore North ...
South Ari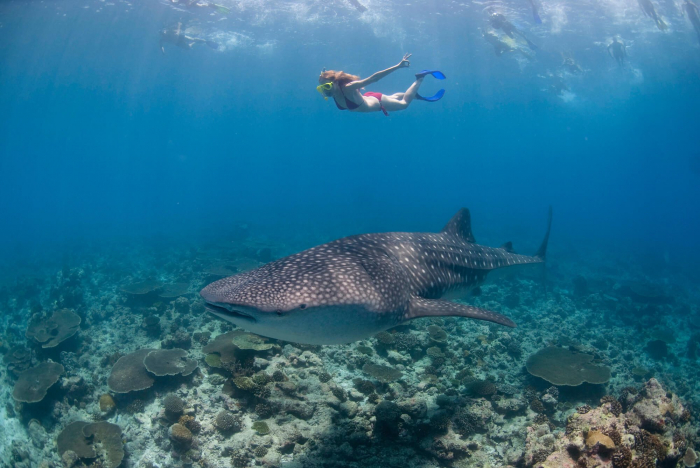 All-in-all South Ari offers far shallower and easier dive sites than its northern counterpart, making it a popular destination for beginners. Plus, this atoll offers some of the world's best opportunities to get up-close-and-personal with the biggest fish of them all, whale sharks. And as these giant creatures tend to feed and cruise along the surface, encounters often take place in surprisingly calm and shallow waters.
Besides the whale sharks, South Ari is also a hotspot for manta rays at sites such as Madivaru, or Manta Point. Plus, the impressive Machchafushi Wreck offers opportunities for exploration at depths of just 12-metres. This vessel's coral-clad exterior is home to a treasure trove of interesting macro life, including frogfish, ghost pipefish, and nudibranchs.
Recommended resort
South Ari Atoll
Drift Thelu Veliga
This private island retreat is ideal for traveling couples and friends, looking to get away from it all. Spend your vacation scuba diving, snorkeling, and sunbathing, or kick back and ...
Vaavu Atoll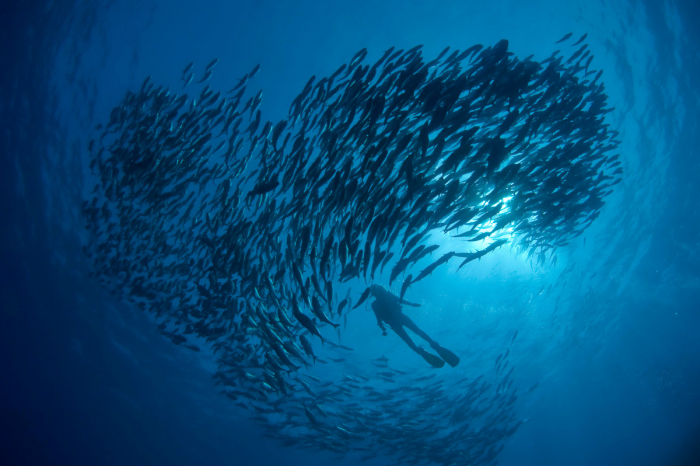 Just south of Male Atoll, Vaavu is better known for its advanced channel dives, but the atoll is also perfect for beginners with sheltered sites offering gentle drift diving over colourful coral reefs. Vattaru Reef is an excellent choice for novices, offering a relaxing dive through a kaleidoscope of butterflyfish and oriental sweetlips, while whitetip reef sharks patrol nearby. Napoleon wrasse and eagle rays are also common, and if you're lucky, you might spot a manta ray.
Vaavu is a lot less developed than other atolls and there are fewer local islands to choose from. But fortunately, Fulidhoo in the north of the atoll is perfect for beginner divers, with easy access from Male, and some great dive centres that know the best places to learn to dive.
Recommended resort
Vaavu and Meemu Atolls
Cinnamon Velifushi
Located in Vaavu Atoll, just an hour from Male, Cinnamon Velifushi is a small private island resort dominated by wide sandy beaches. Within easy reach of Vaavu's best dives, and ...
Addu Atoll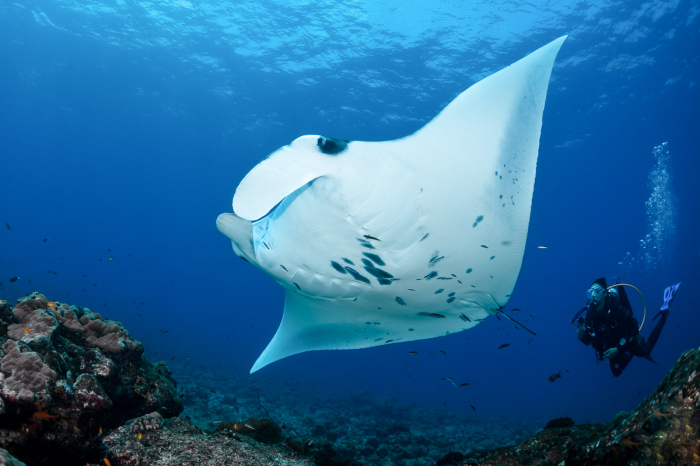 The Maldives' southernmost atoll is home to pretty dive sites with colourful corals, sharks, turtles and regular manta sightings. Although the atoll has only four channels breaking through the outer reef, their vast width allows water to flow through with ease and currents are reduced as a result. Thankfully, this also means Addu's channels can often be dived by less experienced divers.
Beginners will particularly enjoy a wide choice of sheltered reefs within the lagoon. A superb site for novices is Gan Inside - a shallow dive with a white sandy bottom and plenty of friendly stingrays and turtles. 
Recommended resort
Addu Atoll
Aquaventure Maldives
Aquaventure and its partner lodges make the perfect base for exploring Addu Atoll – a paradise for divers with easy currents, impressive underwater formations, the Maldives' most ...
---
Need help planning your holiday and dive training in the Maldives?
Contact one of our dive travel experts today!

---
---
---