Scuba diving in
Oman and Musandam
The charming country of Oman offers age-old Arabian culture, spellbinding scenery, and genuine hospitality, along with a surprising choice of accessible or adventurous scuba diving.
Highlights
Vast coastline, touching both the Gulf of Oman and the Arabian Sea
Encounter whales, dolphins, oceanic manta rays, and whale sharks
Explore dramatic mountains, traditional towns and breathtaking bays
Largely untouched coral reefs accessible for all experience levels
The Sultanate of Oman is the unassuming jewel of the Middle East, offering a sandy snapshot into a rich Arabian culture, authentic interactions with the Omani people, and thousands of kilometres of little-explored coastline. From the fjord-like inlets of Musandam, to Daymaniyat's seasonal whale sharks, and the frontier adventures of Hallaniyat, Oman is home to a surprising array of scuba diving experiences – all set to a stark yet beautifully-serene backdrop.
Scuba diving in Oman
Schooling reef fish

Year round
Oman's rugged coastline extends for more than 2,000-kilometres, touching both the Gulf of Oman and the Arabian Sea. Though much of this underwater world remains unexplored, several areas have already emerged as world-class diving destinations, offering virgin reefs bristling with both hard and soft corals, offshore islands, and sunken ships. Thousands of fish species also call these waters home, alongside more than 20 cetaceans, four turtle species, and numerous macro subjects such as seahorses and nudibranchs.
Scuba diving Oman's Musandam Peninsula
Musandam Peninsula is the northernmost part of Oman and is geographically isolated from the rest of the country by the United Arab Emirates. At the very tip of this peninsula, the jagged coastline has created numerous serene inlets, surrounded on all sides by steep mountainous slopes. This contrasting scenery causes many to refer to this region as the 'fjords of Arabia', while below the water, divers will find a variety of topography to explore, including drop-offs, tunnels, chambers, and coral encrusted walls. Cool, nutrient-rich upwellings also provide sustenance for a spectrum of macro species, as well as attracting giants such as whale sharks and even mola mola.
Scuba diving the Daymaniyat Islands
Located just north of Muscat, the Daymaniyat Islands are arguably the most popular dive destination in Oman. This archipelago of nine beach-fringed islands was the first protected nature reserve to me designated in Oman and is one of the world's densest nesting grounds for hawksbill sea turtles. 
The islands typically feature shallow sand flats on the mainland-facing southern side, while the exposed northern coast harbours steeper sloping walls covered in coral, providing plenty of interest for divers of different experience levels. Both green and hawksbill turtles gather here in large numbers, alongside other reef inhabitants including moray eels, stingrays and clownfish. Zebra sharks can also often be seen, as can whale sharks during colder months. Even cetaceans such as dolphins and humpbacks can make surprise appearances.
Scuba diving around Muscat
The capital city of Muscat is where visitors will find the majority of Oman's diving day trip operators. Situated just four-kilometres from the capital, Fahal Island is a popular destination for excursions, offering some of the most beautiful reefs in the country, some stunning swim-throughs, and an interesting tugboat wreck. Numerous blacktip reef sharks can be seen, as well as groups of mobula rays, and schooling barracuda.
Around half an hour southeast of Muscat by car, Bandar Kharyan is home to to more than a dozen dive sites consisting of shallow coral reefs, swim-throughs, and small walls infiltrated by honeycomb moray eels. Visitors can also explore the Al Munassir Wreck – an 84-metre ex-British Royal Navy vessel which was purposefully scuttled in 2003. Sitting at a depth of 30-metres, this artificial reef is now home to a rich tapestry of coral and an abundance of nudibranchs. 
Scuba diving the Hallaniyat Islands
Amongst those in the know, the Hallaniyat Islands are considered the crown jewel of Oman's southern coastline. Surrounded by the Arabian Sea, this small archipelago is visited by liveaboards, offering exhilarating exploratory scuba diving for experienced underwater adventurers. While there are many established dive sites surrounding these five islands, new spots are still being discovered. 
Aside from the thrill of being one of the first to dive this new frontier, many visitors are drawn to the Hallaniyat Islands by the abundance of big marine creatures. Humpback whales can be seen here year-round, while sperm whales also make regular appearances, and dolphins can be seen gathering in their thousands. Beneath the waves, divers can encounter both manta and mobula rays, zebra sharks, Spanish dancers, moray eels, and huge schools of fish. Not to mention green, hawksbill, and olive ridley turtles. Shipwrecks are another key attraction here, particularly the WWI-era City of Winchester which sits at a depth of around 30-metres.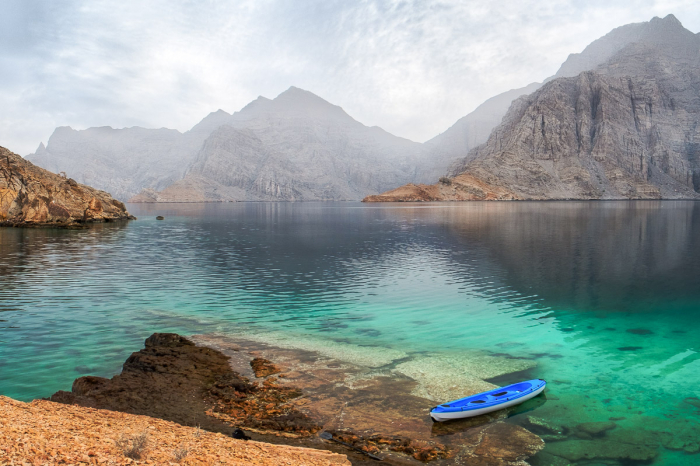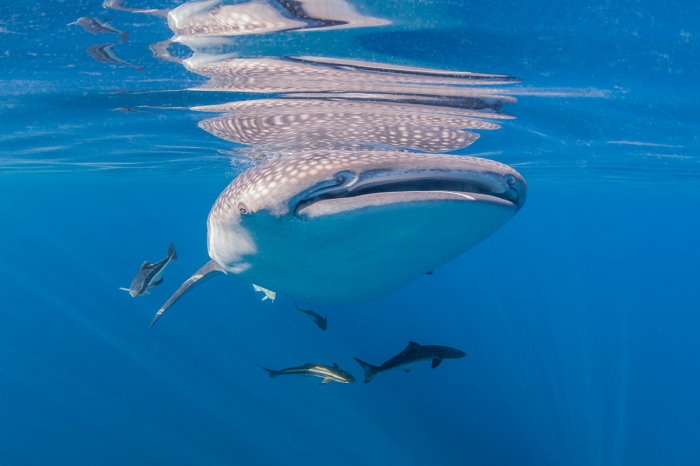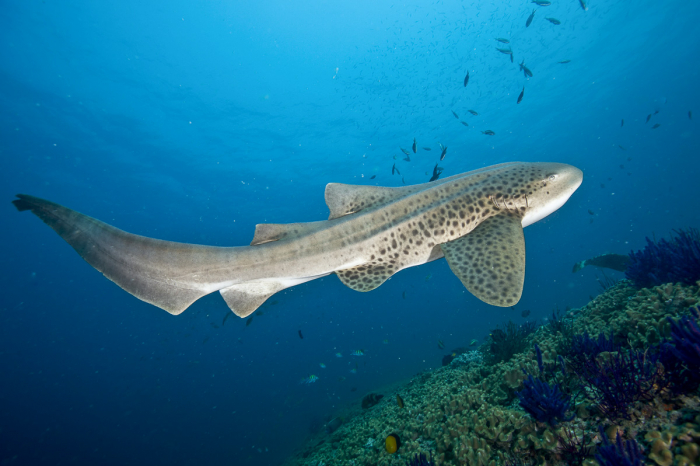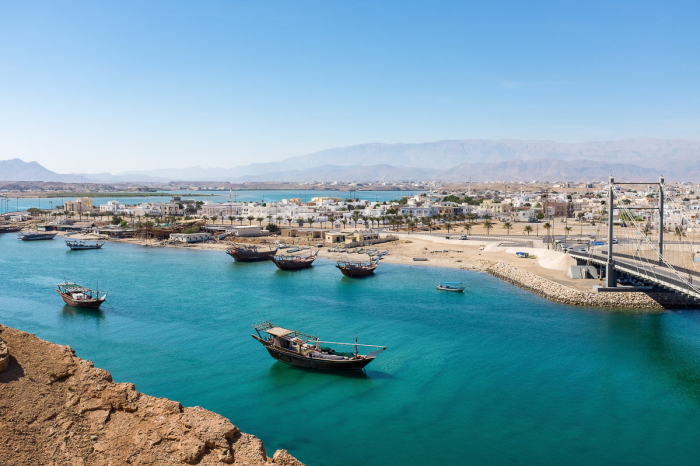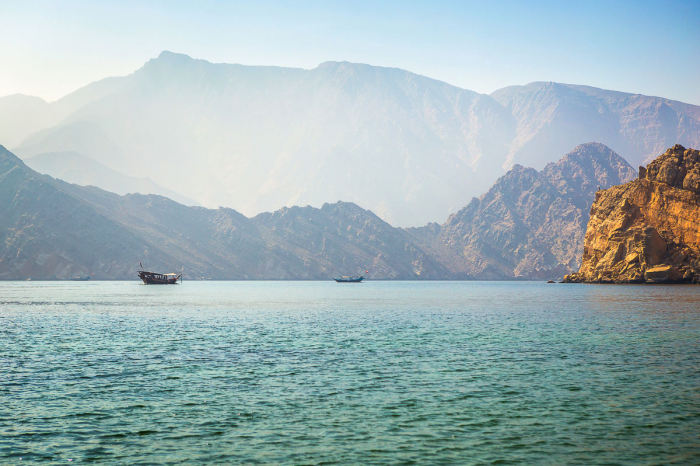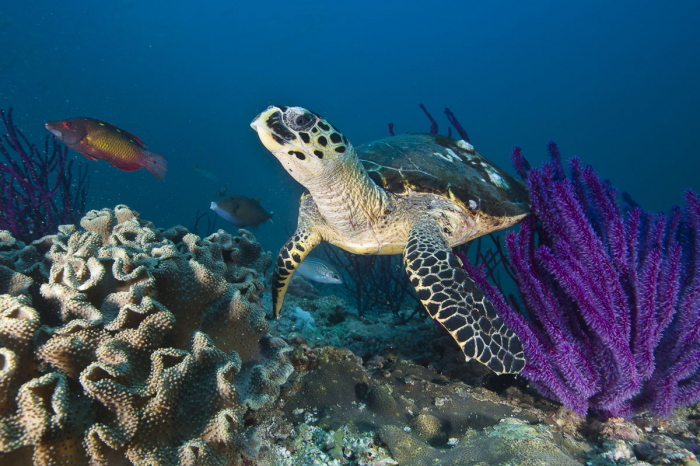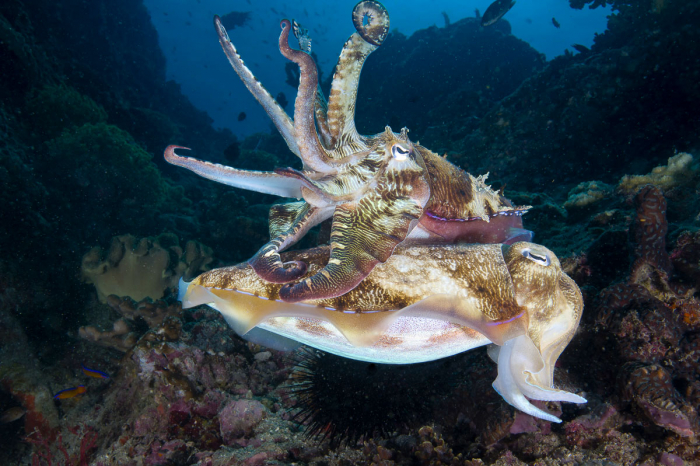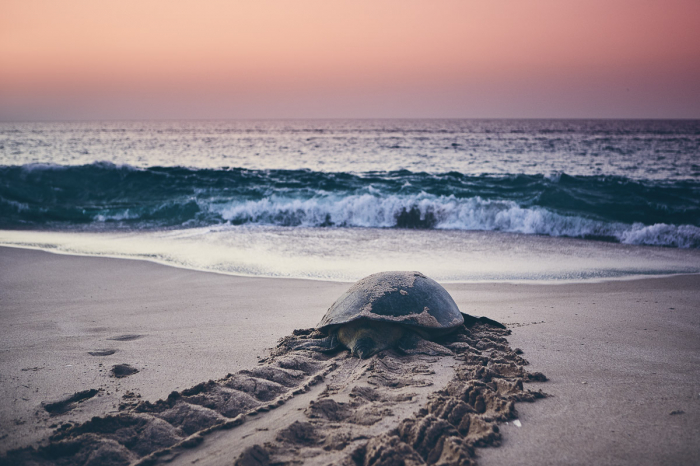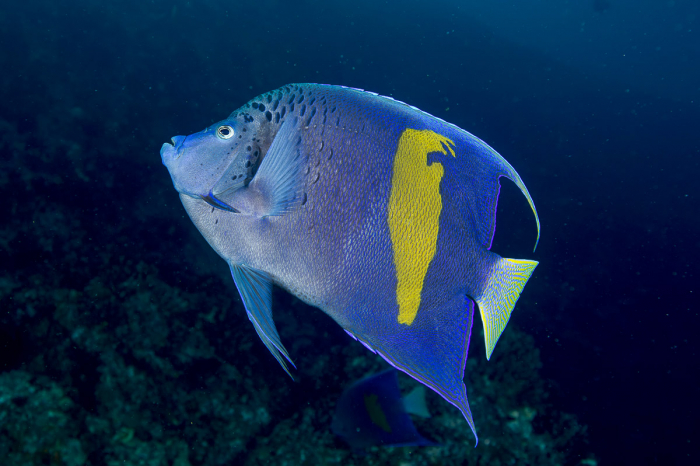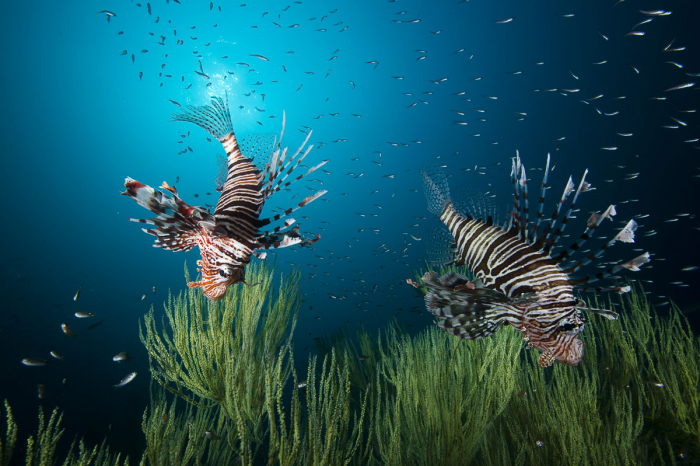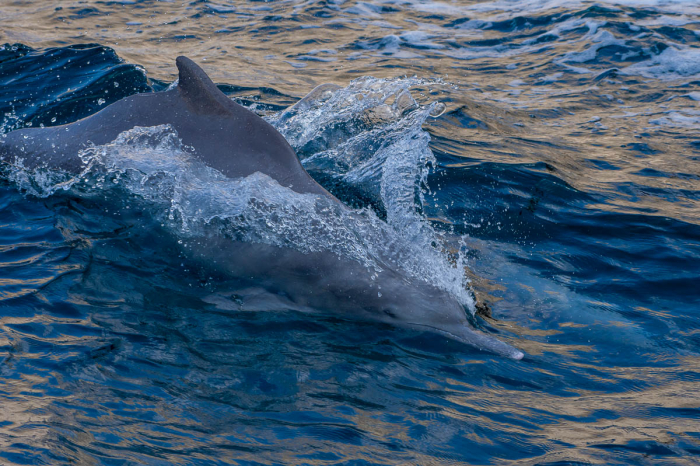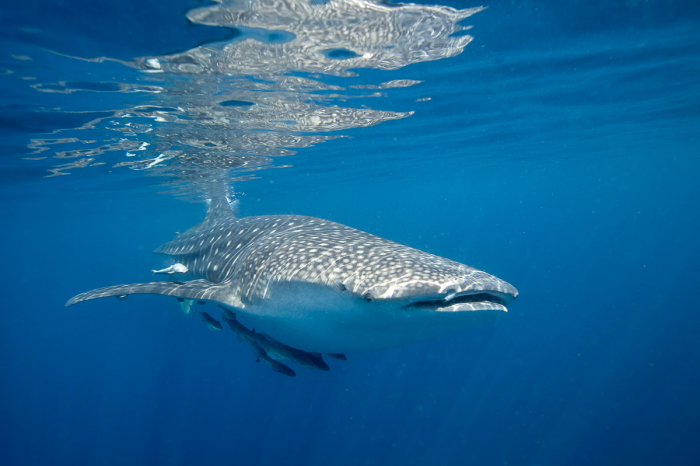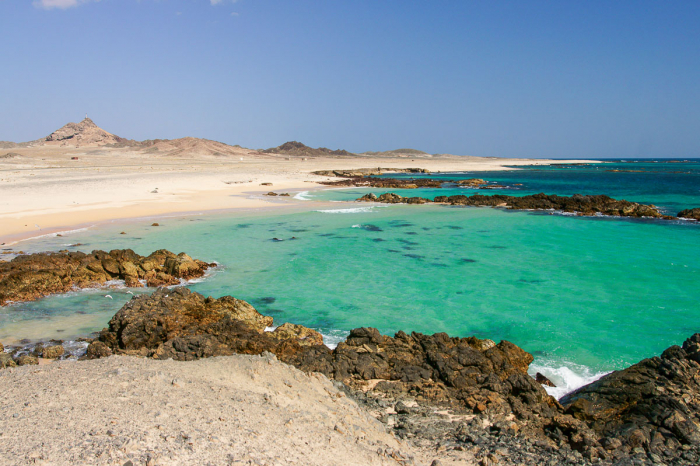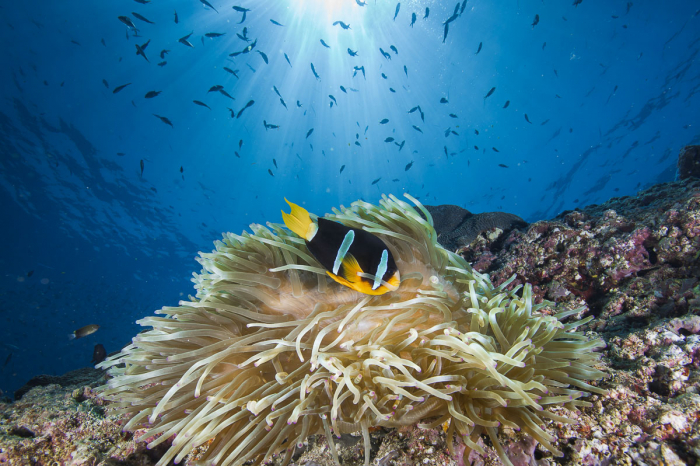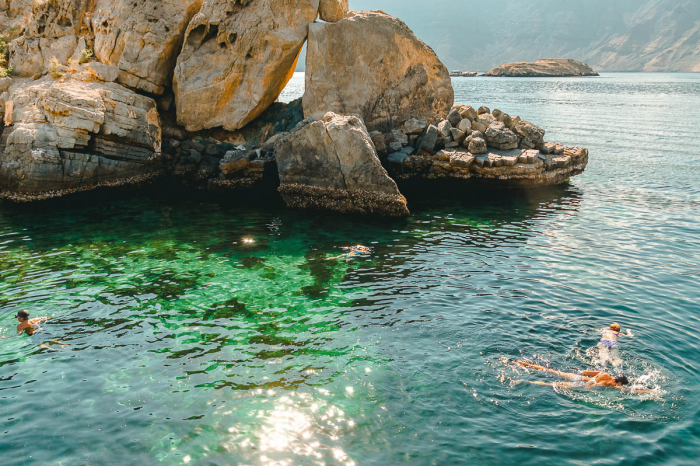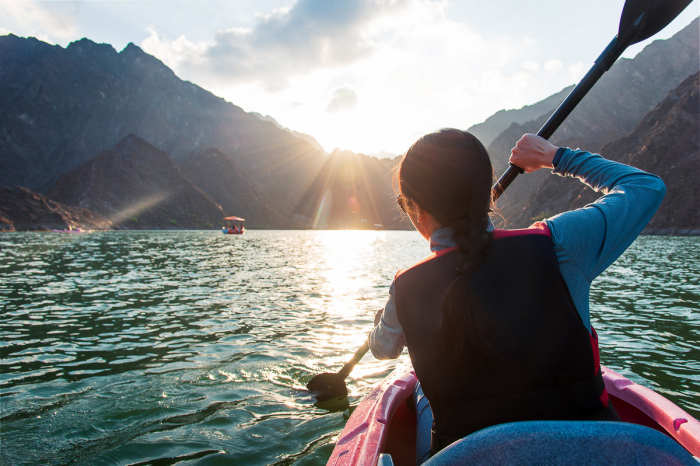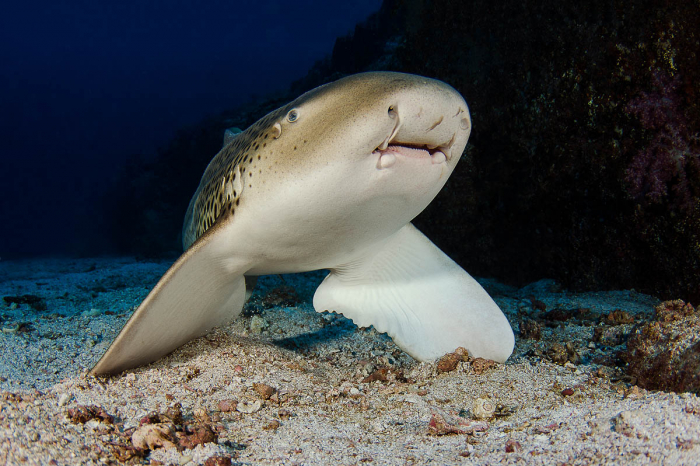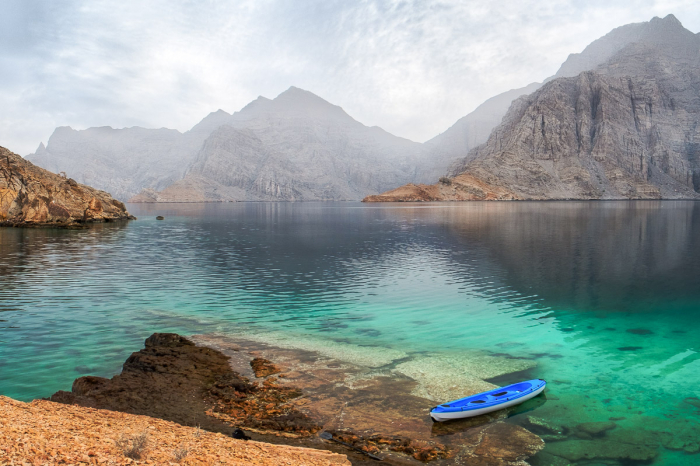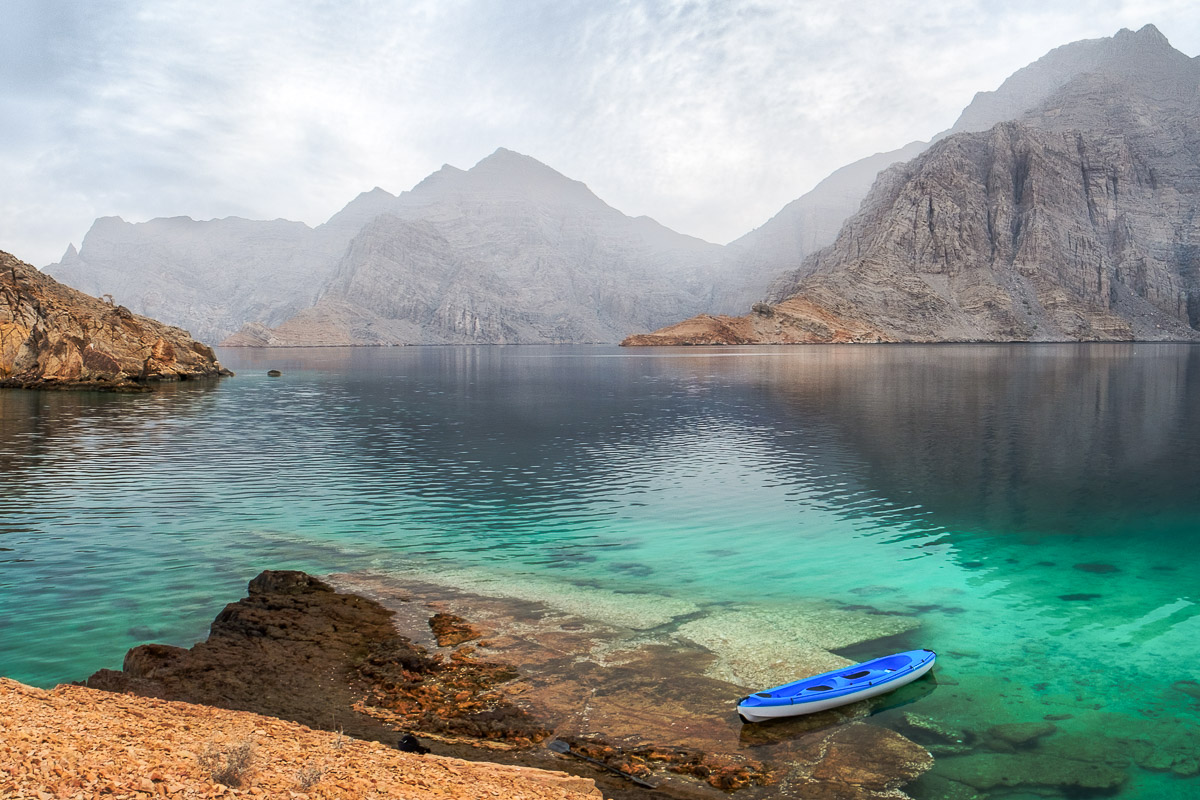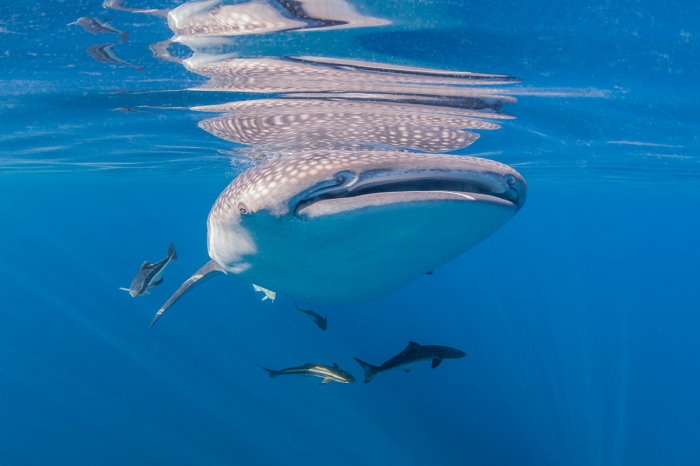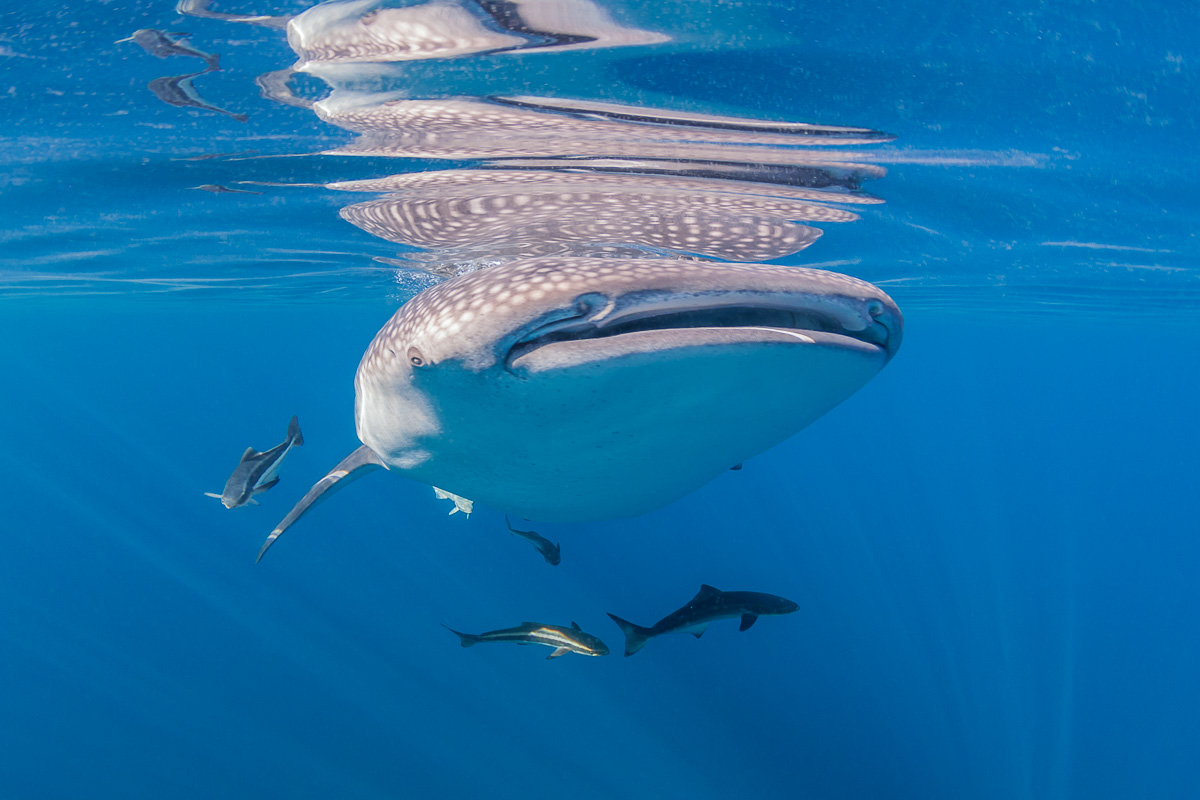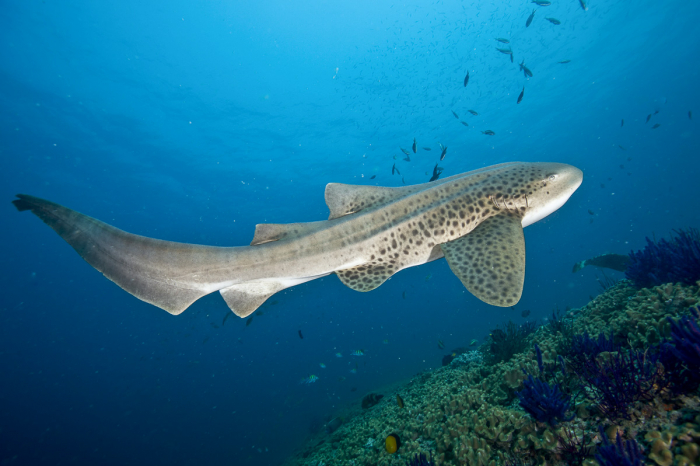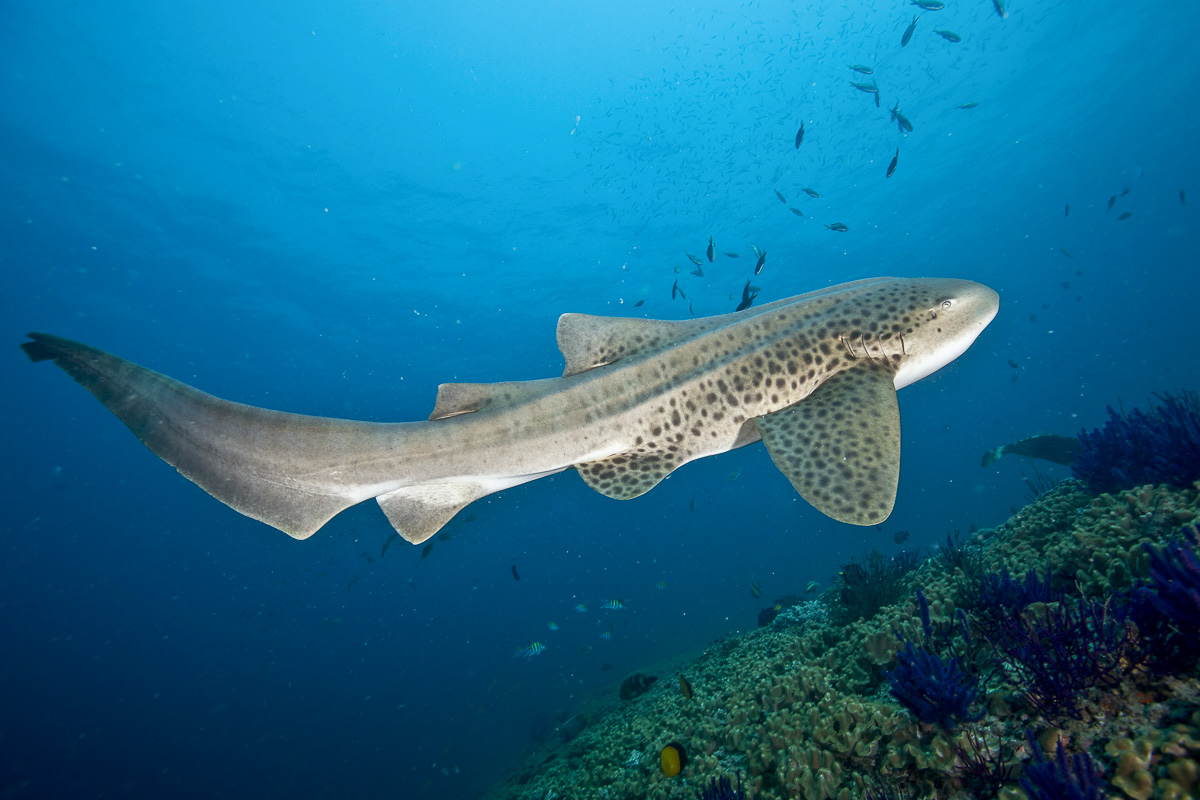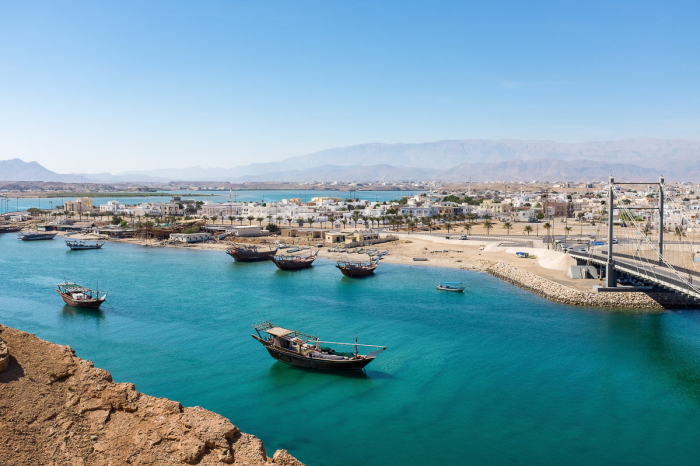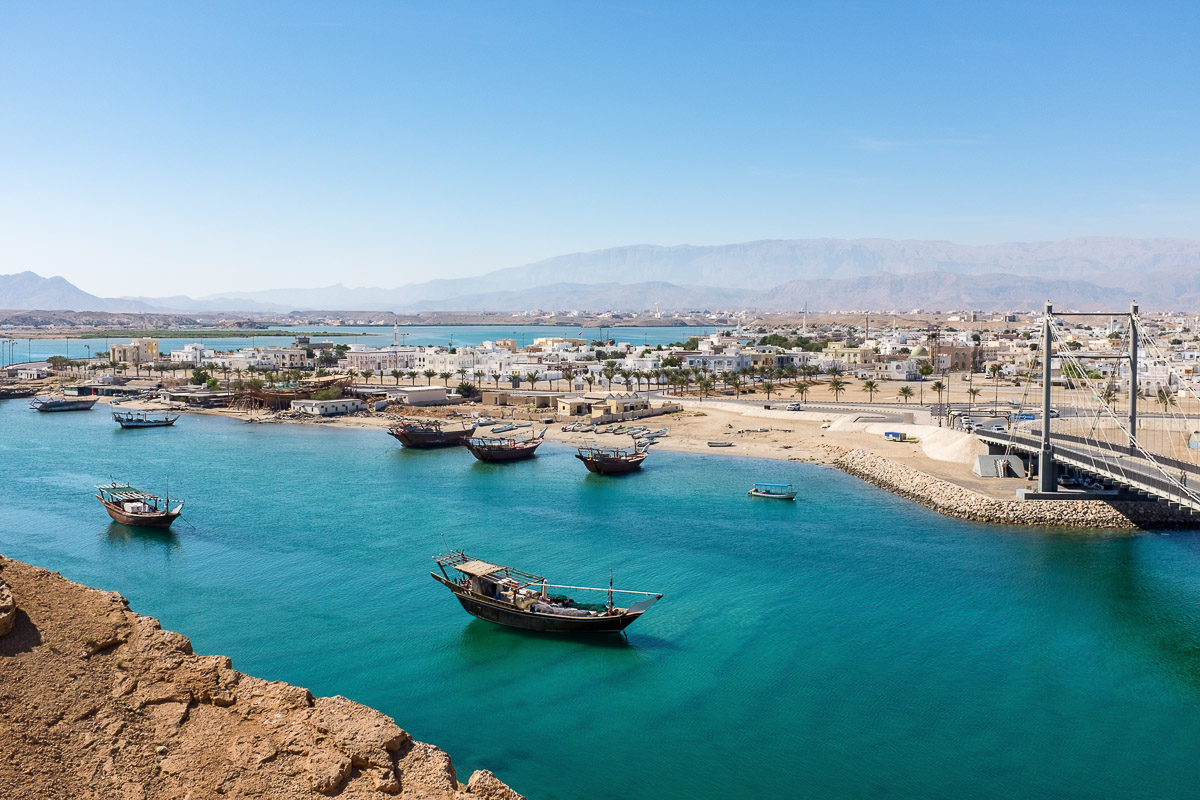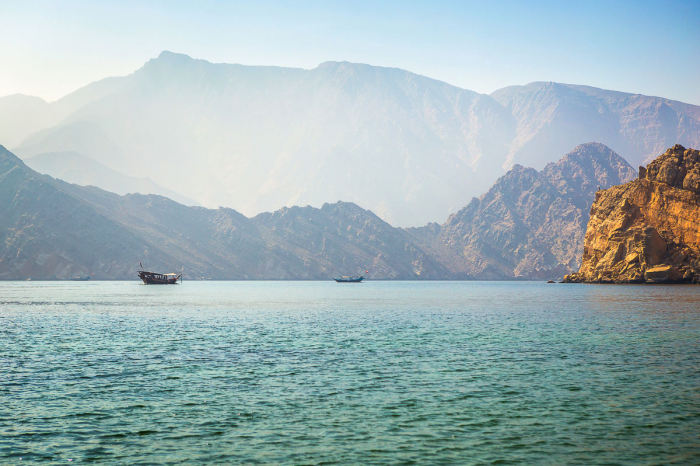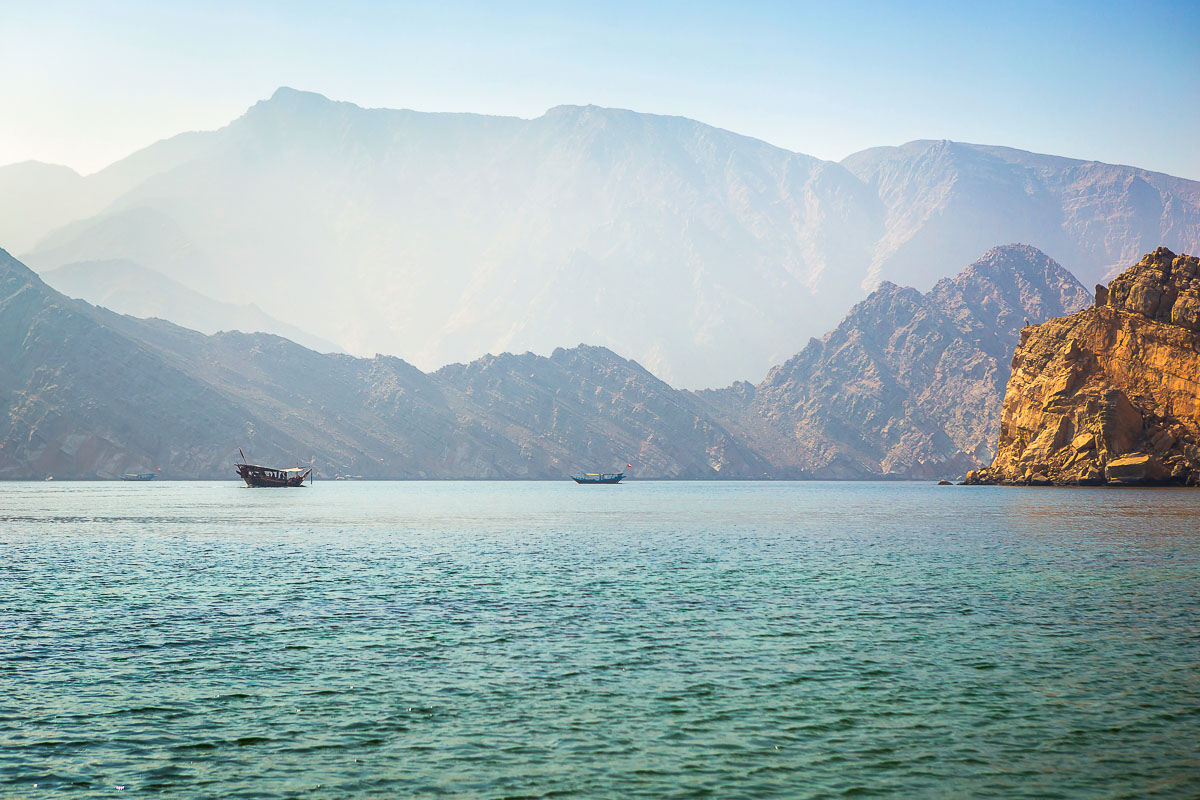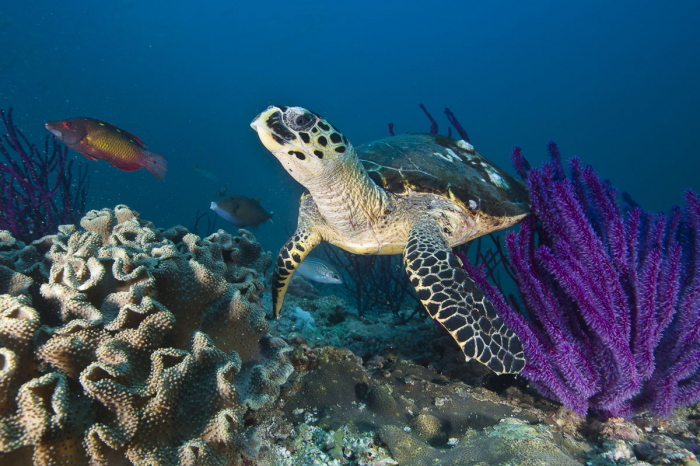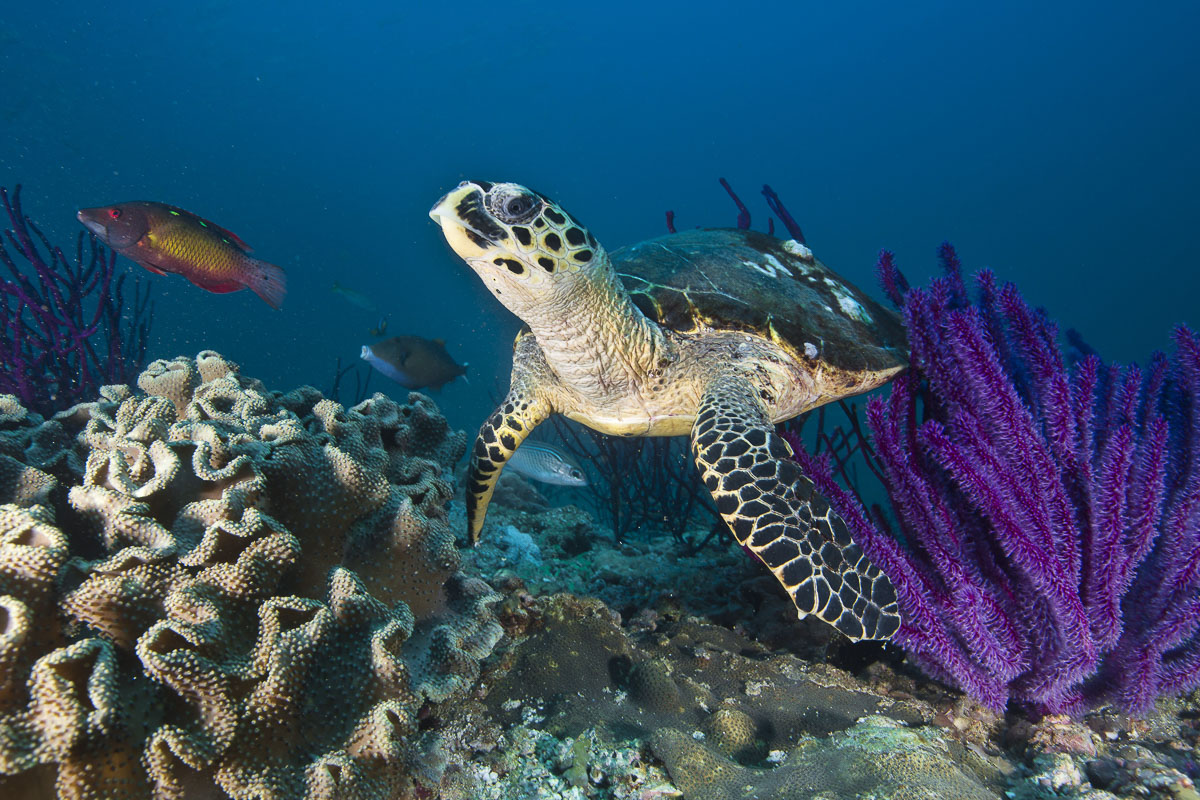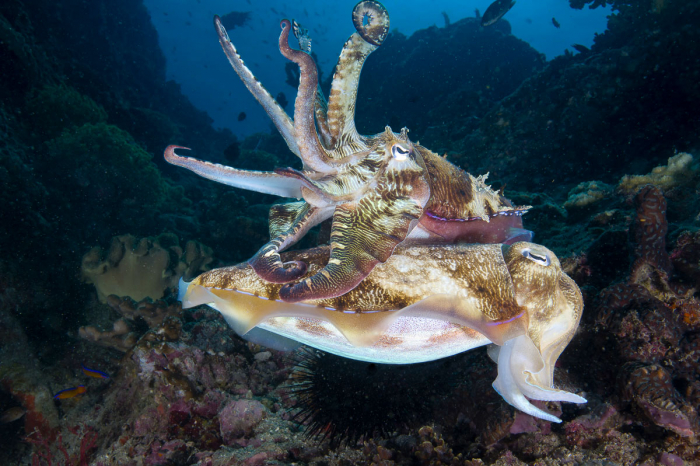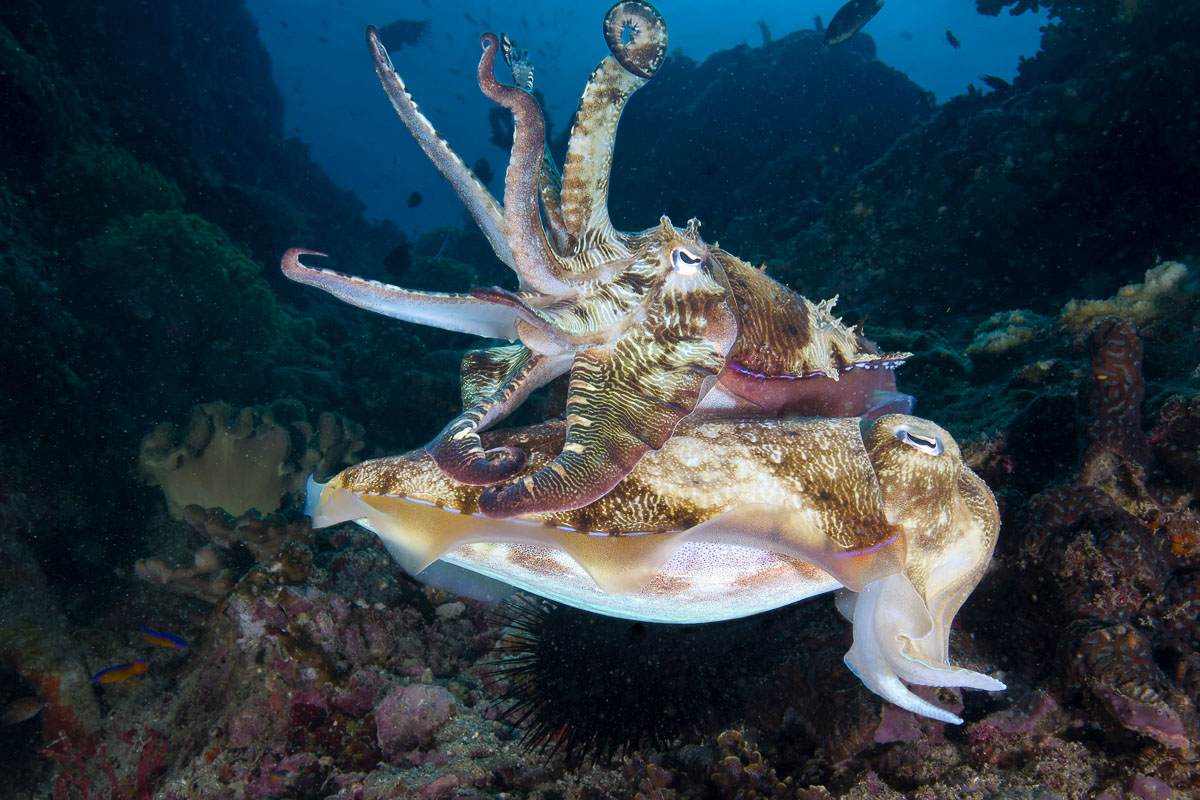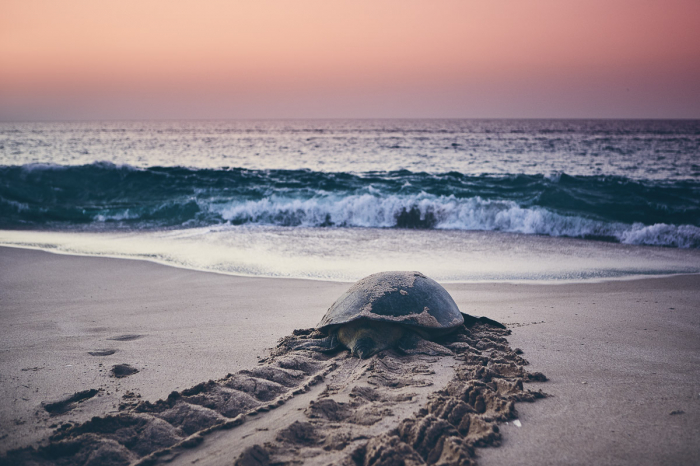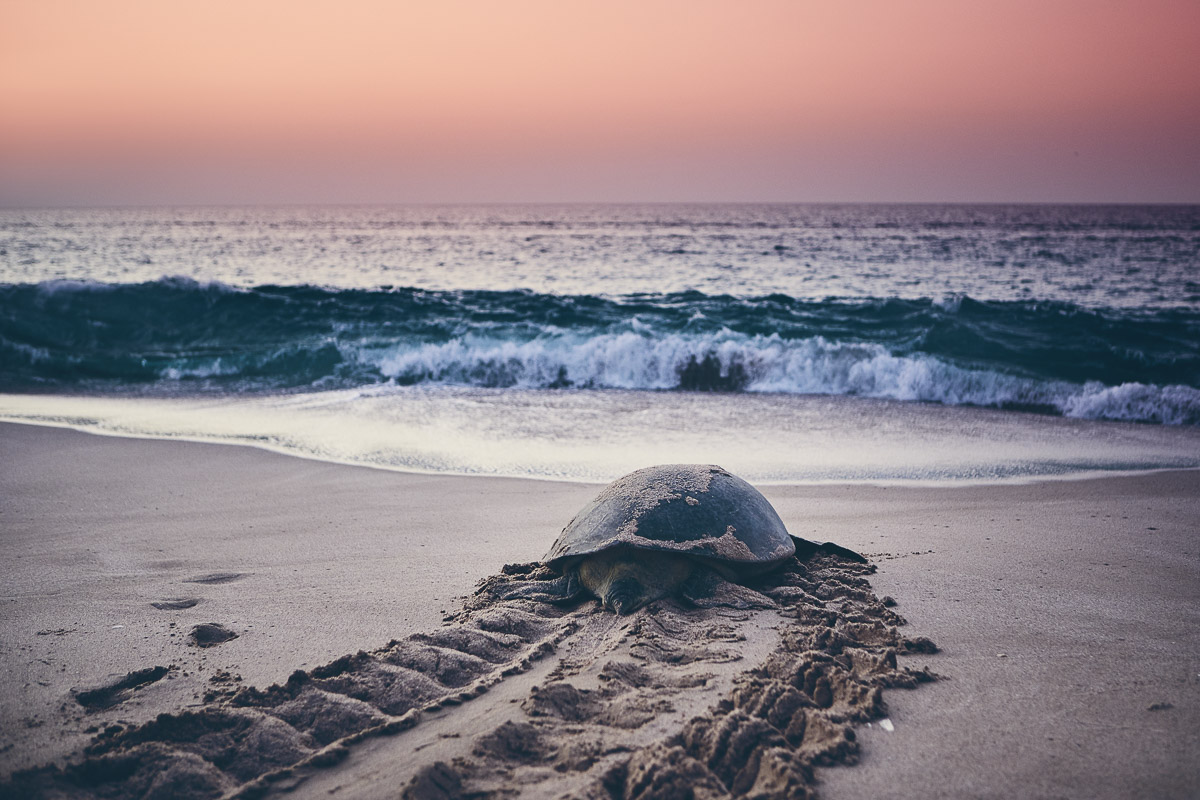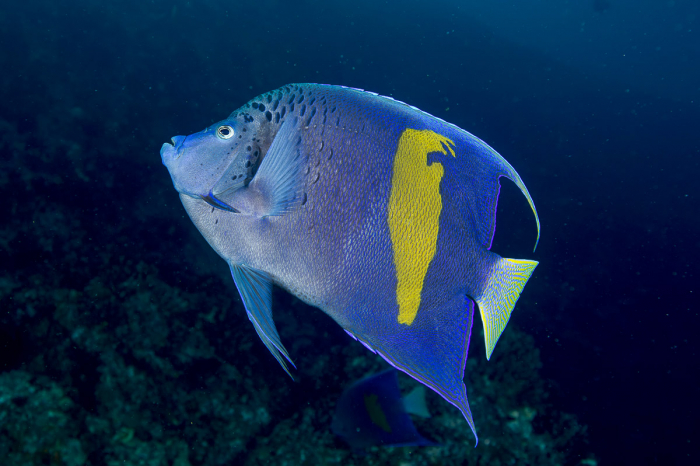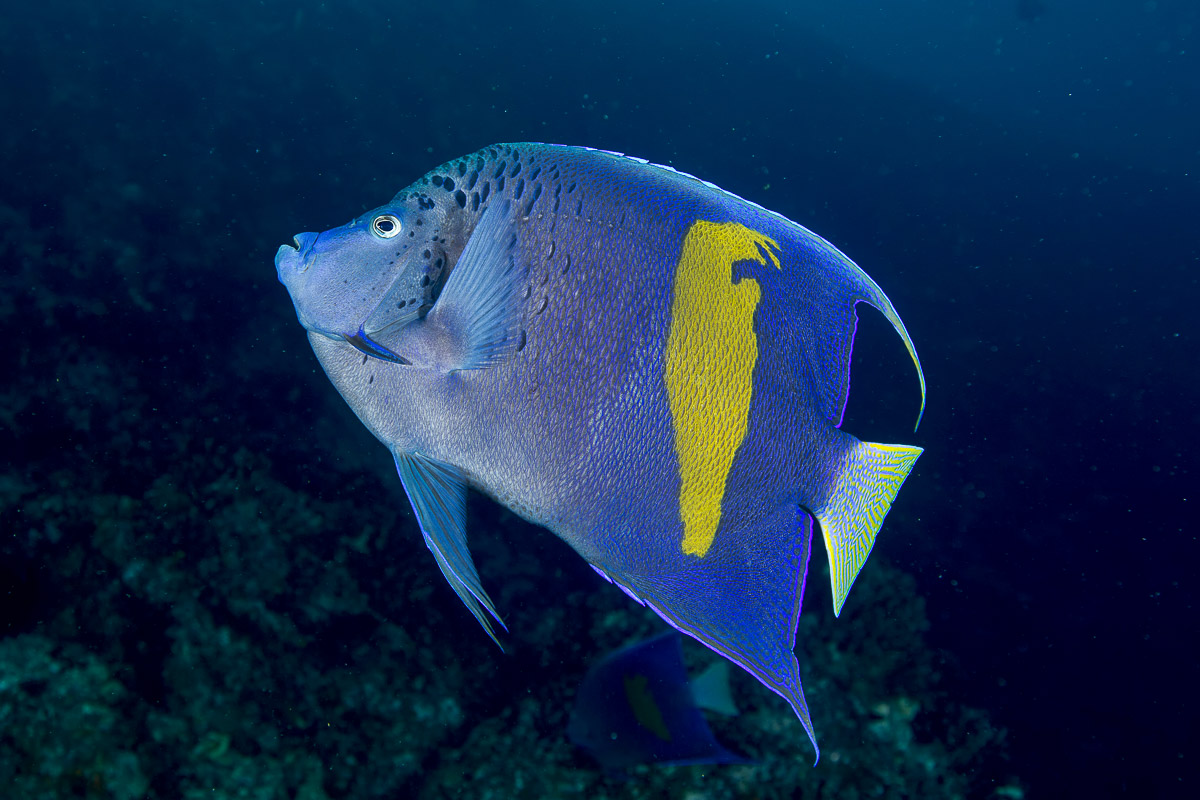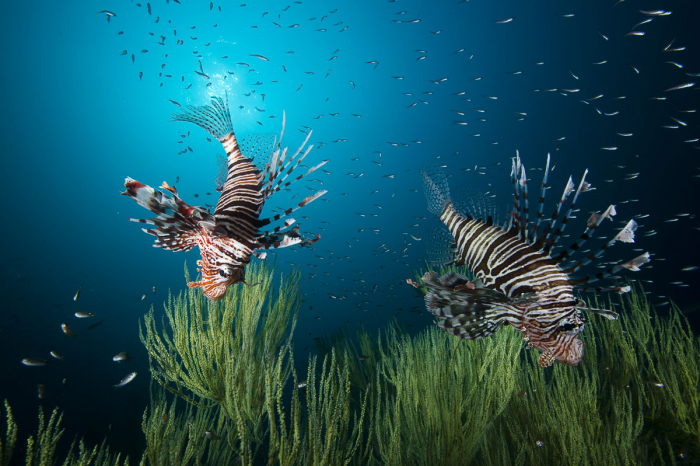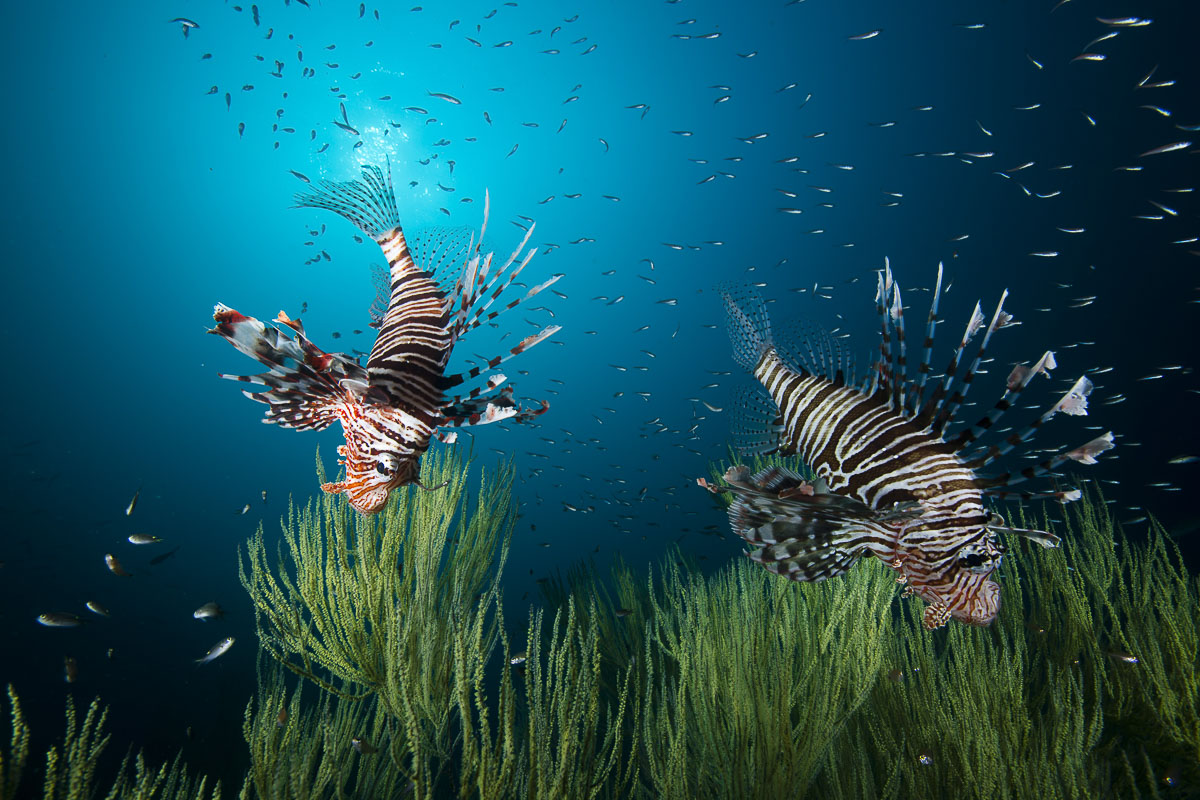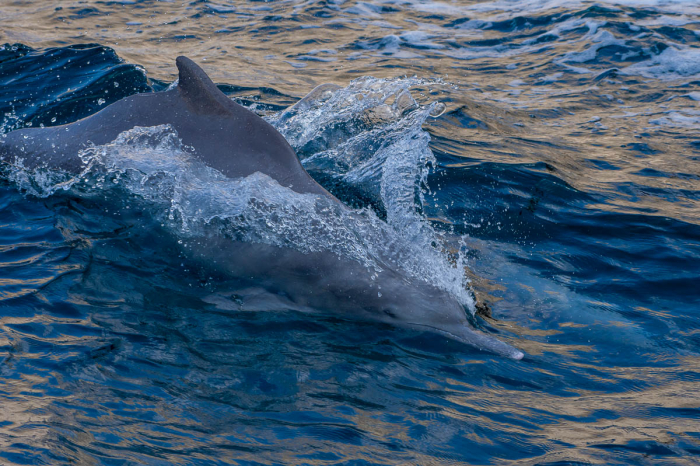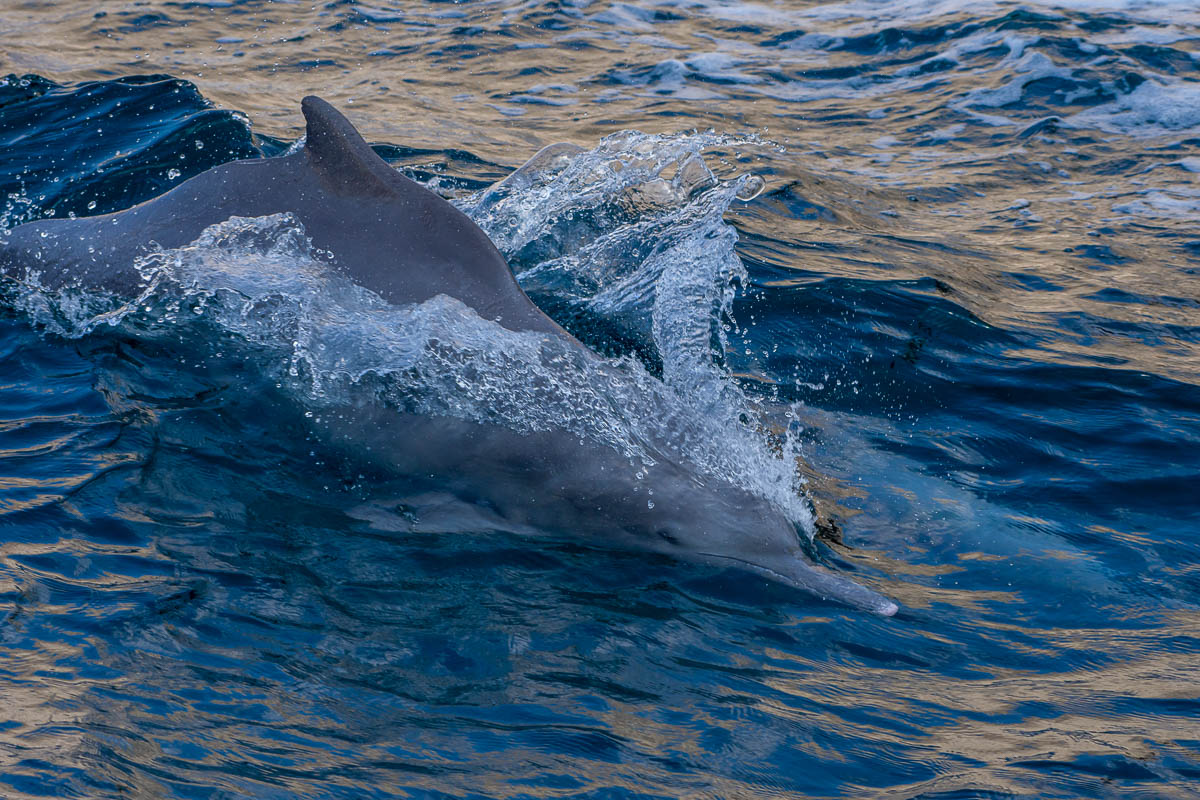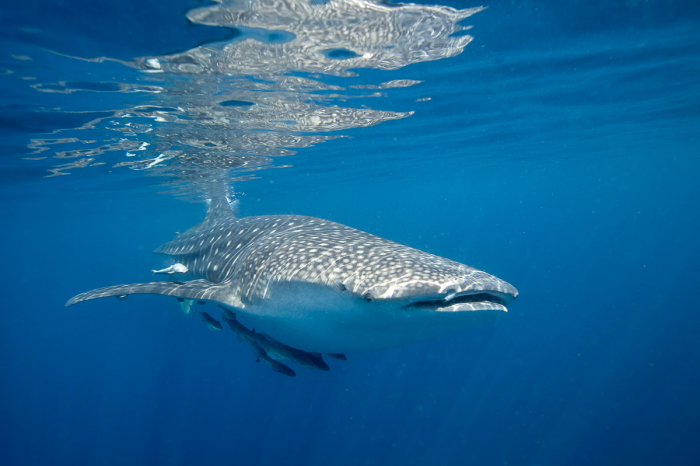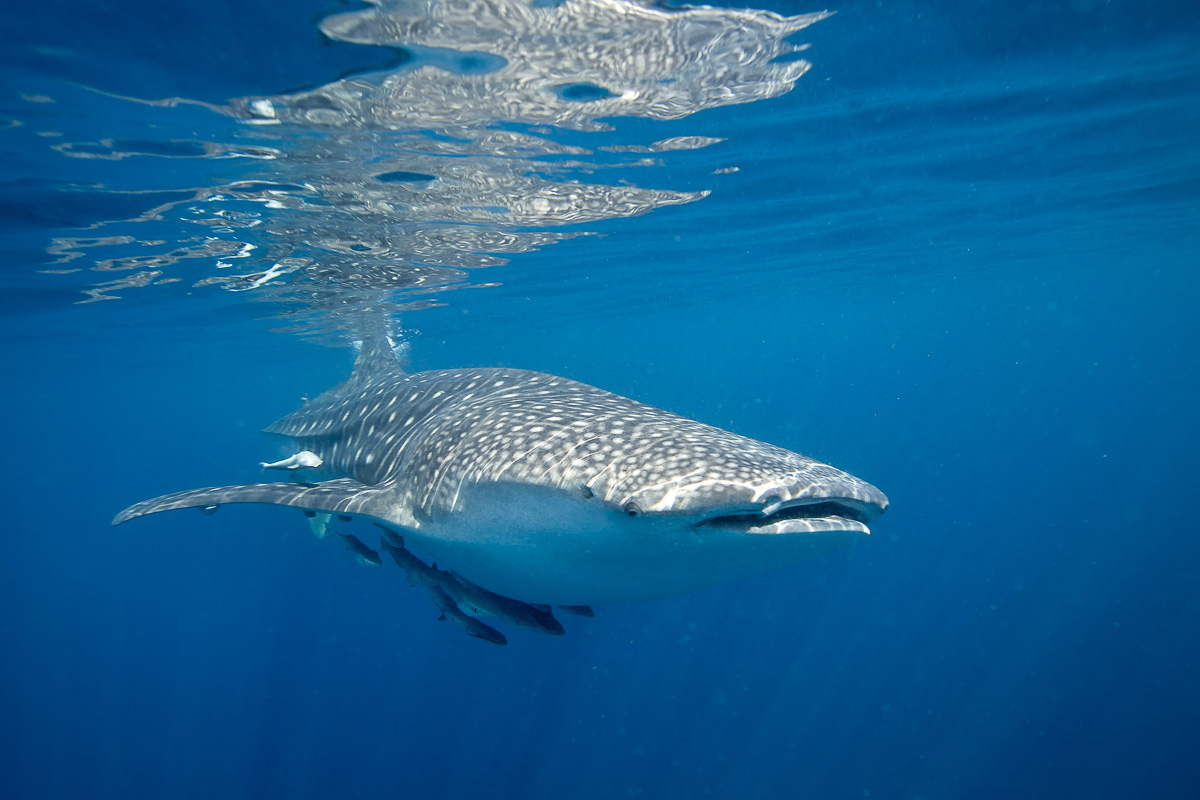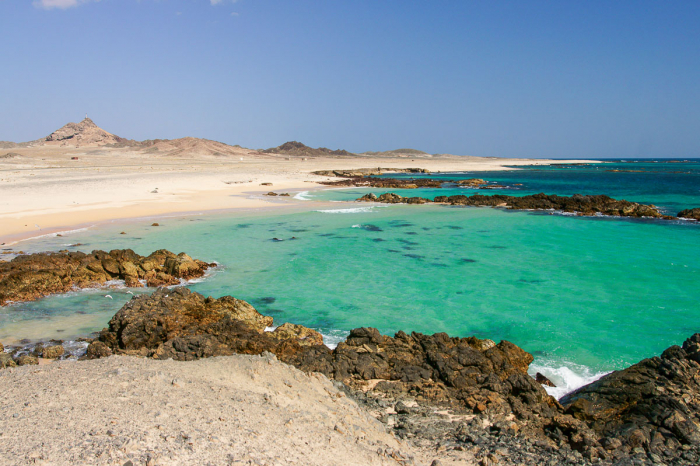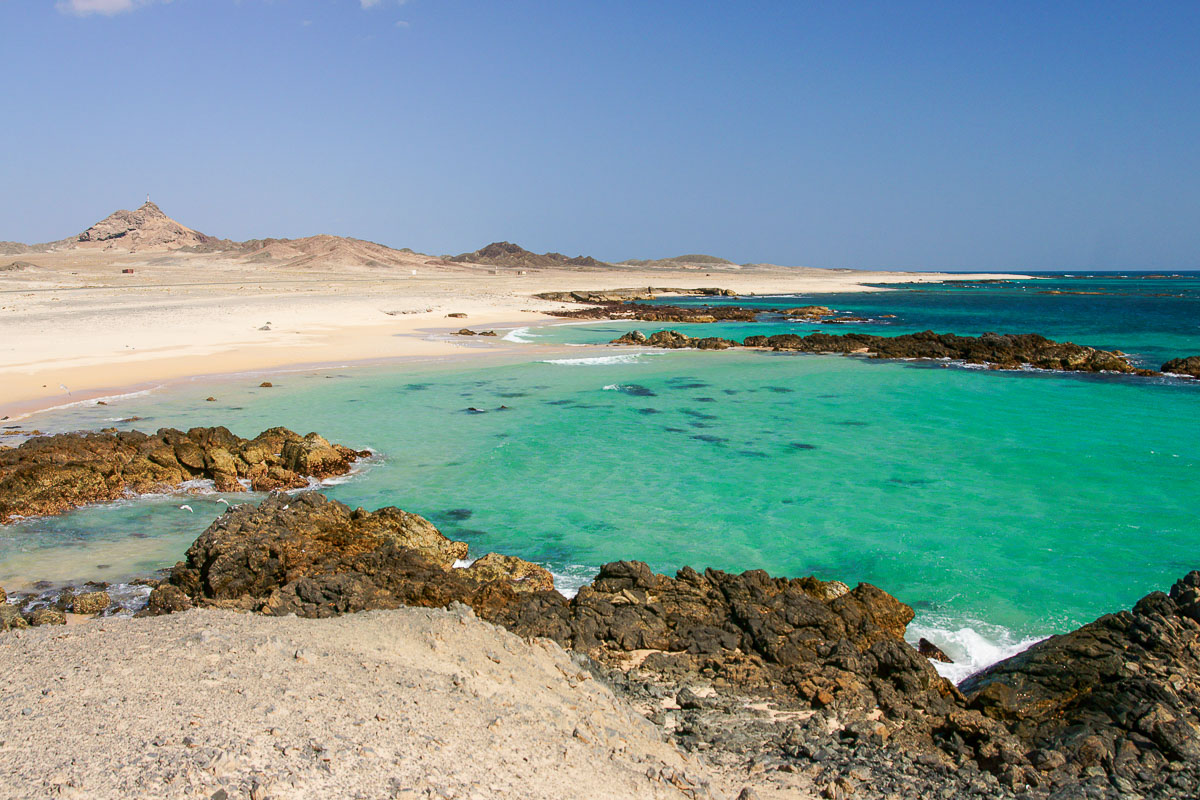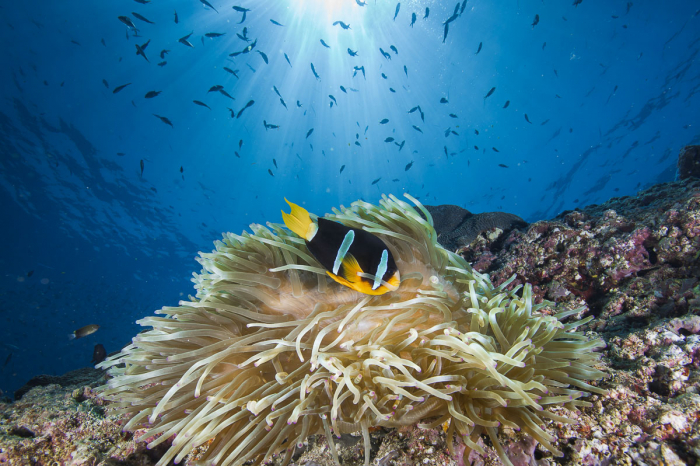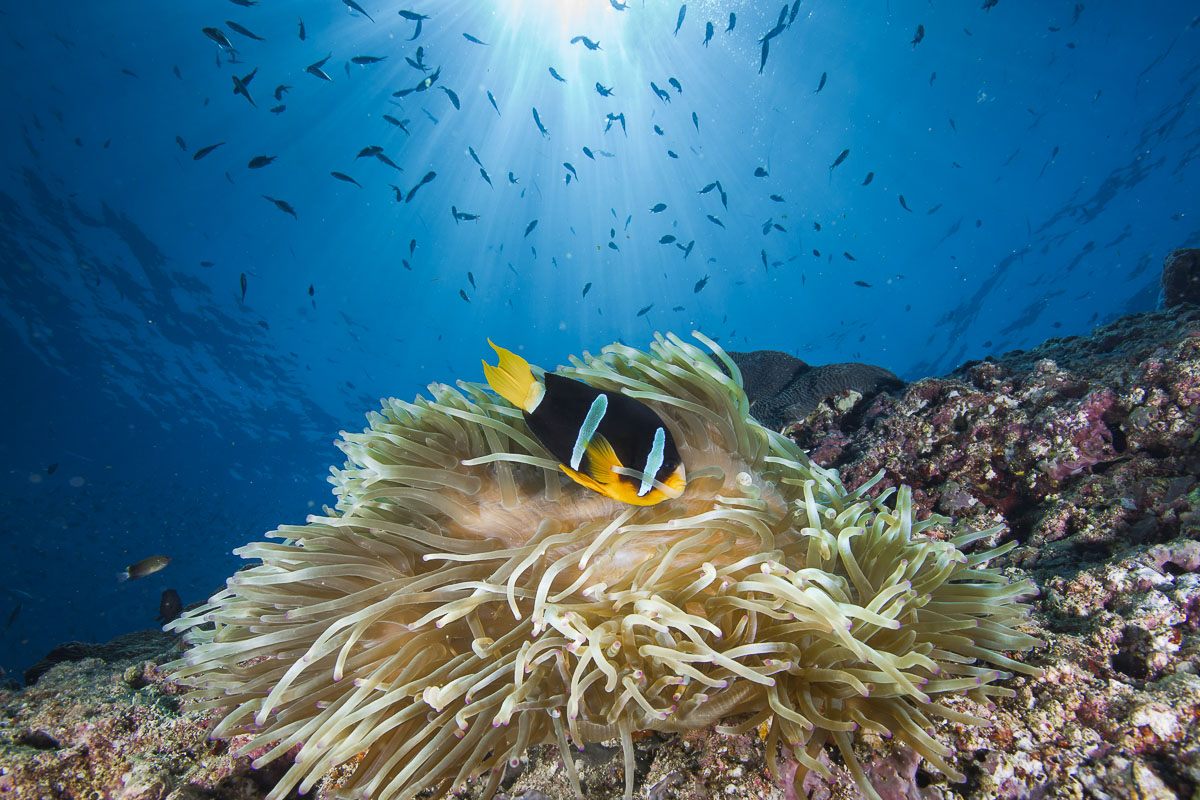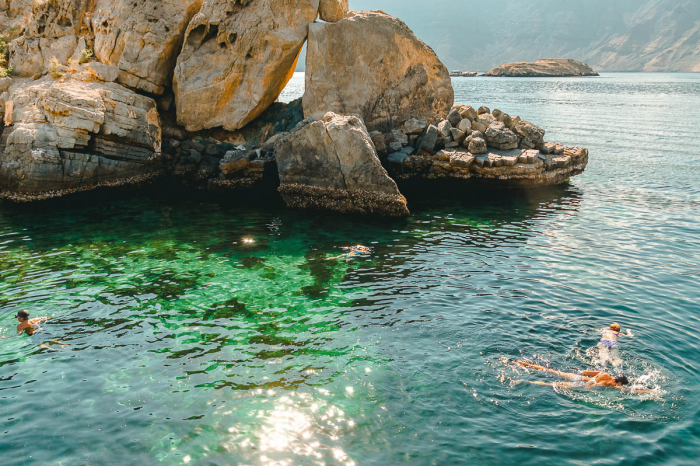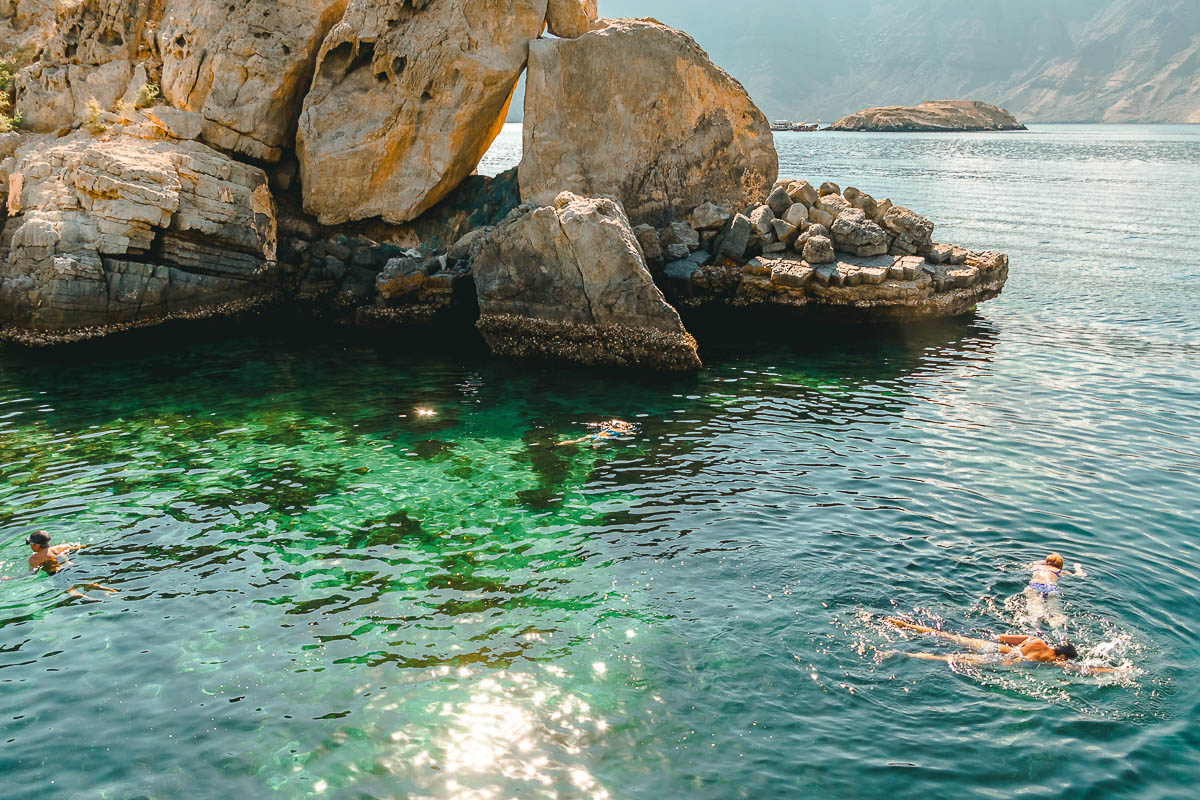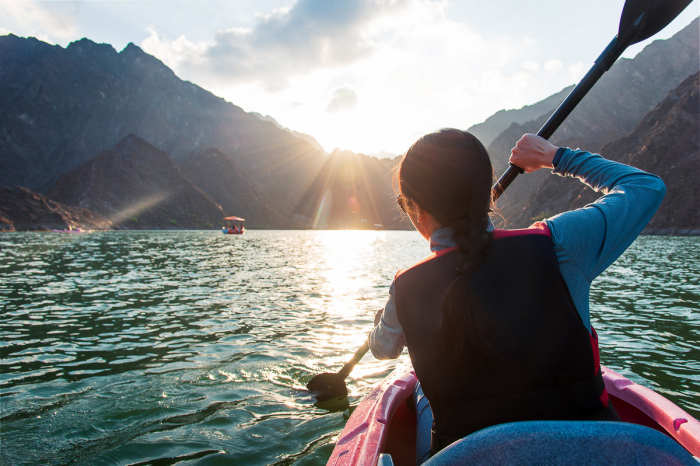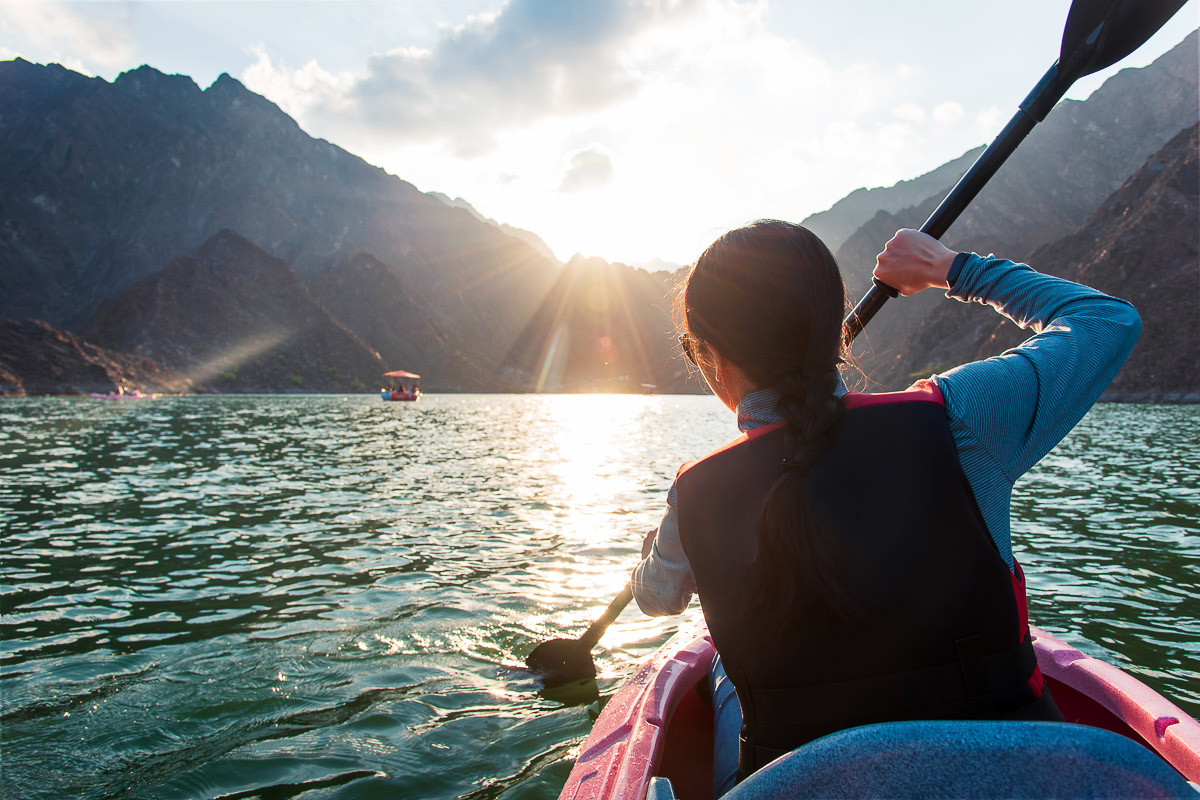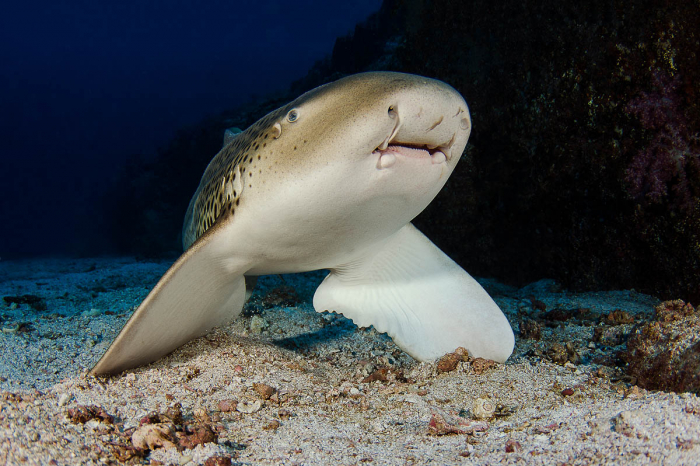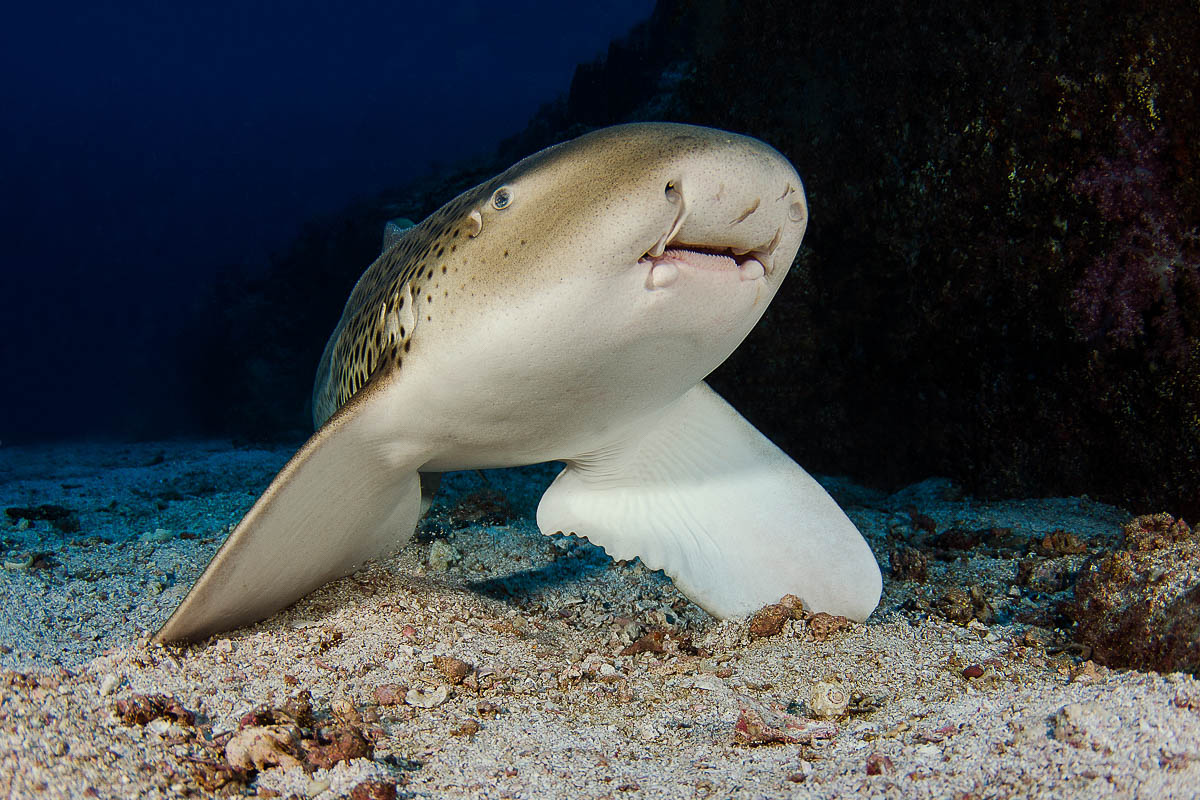 Diving Environment
Level
Beginners to advanced
Diving Season
Year round, but June and July are normally too hot
Top tips

It is common in Oman for buddies to dive without a guide, but guided dives are also available upon request.
It is worth noting that not all ATM machines accept cards from foreign countries.
Religious and cultural customs should be respected by foreign visitors. Locals may be too polite to comment, but Oman's laws are often strictly enforced.
No matter when you plan to visit, pack plenty of sun protection for long hot days at sea.
About Oman and Musandam
Situated on the eastern edge of the Arabian Peninsula, the Sultanate of Oman is the oldest independent state in the Arab world and remains one of the most traditional, both in its customs and its aesthetic. Despite having been open to travellers for decades, and the innate hospitality of the Omani people, the country has yet to realise its full potential as an international tourist destination. Of course, for those willing to pave the way, this means unique and genuine experiences, few crowds, and a chance to uncover the authentic beauty of this country and its people.
Oman certainly doesn't boast the same extravagant riches found in some of its wealthy neighbours. Instead, the sleepy pace of life, labyrinth-like souks, and exquisite, age-old Arabian architecture give the towns and cities here an inescapable charm. And, while the neutral tones of sun-baked sand and white-washed clay may seem a little subdued, as visitors venture ever deeper into each cities' veins, their true vibrancy begins to unveil. Beyond the built-up areas, this land is still dominated by rugged mountain ranges, oasis-dappled deserts, and winding wadis worn through the rock over millennia, creating plenty of opportunity for adventure.
Getting to Oman
Almost all international flights into Oman arrive at the capital city of Muscat. Dive operators visiting the Daymaniyat Islands, Fahal or Bandar Khayran will likely be able to offer transfers between Muscat airport and their dive centre or boat.
If you're planning on heading to the exclave of Musandam, it is possible to fly directly to the peninsula from Muscat, where you will land at a small airport in the city of Khasab. Connecting flights also operate between Muscat and the southern city of Salalah, which also receives a small number of international flights from neighbouring countries. An hour's drive east from Salalah will see visitors arrive in Mirbat, where liveaboards heading to the Hallaniyat Islands normally embark.
Where to stay
Whilst visitors will find a scattering of dive operators in the capital of Muscat, and several more around the southern city of Salalah, Oman's underwater world is most easily enjoyed from a liveaboard.
Oman's diving seasons
In the north, around the Daymaniyat Islands, the best months to dive are either between April and May or August and October. During these seasons, divers can enjoy water temperatures of around 30°C and visibility between 10 and 20-metres whilst also avoiding the intense air temperatures of summer which peak at around 40°C in June. The latter of these two seasonal windows also coincides with an influx of whale sharks from September to November, as well as the turtle nesting period which runs from June through September.
In the south, the monsoon seasons are markedly different, and diving is generally suspended around the Hallaniyat Islands between June and September due to adverse conditions, including heavy rains. In any case, the marine life of Oman's southern coast comes into its own between November and April, with oceanic manta rays making appearances between November and December, and humpback sightings increasing from December through March. During this time, visibility generally sits between 10 and 20-metres, and water temperatures fluctuate between 24-29°C, with January and February usually offering the chilliest dives.
---
Oman and Musandam liveaboards