Want to dive with sharks for the first time but don't know where to go? Or do you consider yourself an experienced shark diver and are looking for a trip of a lifetime? To help you find that perfect shark diving holiday, we've put together a guide to the best shark diving destinations in Asia.
Read on and discover how you can encounter schooling hammerheads, cruising tiger sharks and hunting reef sharks, or snorkel with giant whale sharks.
Where can I dive with sharks?
Some of the world's best places to dive with sharks can be found in Asia. Destinations such as Fuvahmulah, Vaavu, South Ari and Rasdhoo Atolls in the Maldives, Malapascua and Tubbataha in the Philippines, Layang Layang and Sipadan in Malaysia, and Triton Bay, Maratua and Komodo in Indonesia all offer amazing shark encounters, as well as some of the best scuba diving in the world. 
Further afield, Australia is famous for its great white sharks and whale sharks, Fiji has an exhilarating shark rodeo with bull sharks and tiger sharks, and French Polynesia offers adventurous scuba divers the chance to dive with huge schools of sharks in the passes of Fakarava.
How can I book a shark diving holiday?
ZuBlu has made it easy for you to discover and book your perfect shark diving holiday. Dive in and explore our selection of Asia's most exciting destinations below, or get in touch with our dive travel experts.
1. Fuvahmulah Atoll, Maldives
Nicknamed the Maldivian Galapagos, Fuvahmulah Atoll is one of Asia's hottest shark diving locations - book your trip today if you want to dive with tiger sharks, hammerhead sharks, thresher sharks and more!
Fuvahmulah's relatively unknown dive scene, unique location and isolation make it an ideal destinations if you are looking for exhilarating diving in the Maldives. The atoll's famous tiger sharks can be seen every day, but you'll also have the chance to encounter hammerhead sharks, thresher sharks, silvertip sharks, oceanic manta rays, big schools of barracudas, yellowfin tuna, bonitos, sailfish and even Mola mola and pilot whales!
Tiger Zoos resident sharks are in no way aggressive, but we recommend that you book with a reputable and professional dive operator. Fuvahmulah Dive School's is the perfect choice and their experienced guides will ensure your encounter is both safe and responsible.
Great for: Tiger sharks, thresher sharks, plenty of big animals!
Best time to visit: December to March. With the atoll's proximity to the equator, the monsoon are less pronounced compared to further north in the Maldives and the weather is pretty stable all year round. The dry north-east monsoon usually runs from December to March with the wet south-west monsoon from May to November.
Best place to stay: We recommend you book with Fuvahmulah Dive School, pioneers of the local diving scene and tiger shark encounters. They can organise all of your diving, as well as comfortable accommodation on the local island.
2. Malapascua, Philippines
The reefs and shoals that surround Malapascua are famous for the incredible underwater encounters on offer - particularly at the legendary Monad Shoal where you can dive with resident thresher sharks.
Monad Shoal is an underwater plateau with several cleaning stations along its reef edge. The thresher sharks come in at dawn and you can watch as cleaner wrasse and other species of fish clean the shark's skin of debris and parasites. Other shark species are seen here as well, and Monad and other nearby shoals are visited by hammerhead sharks in March and April.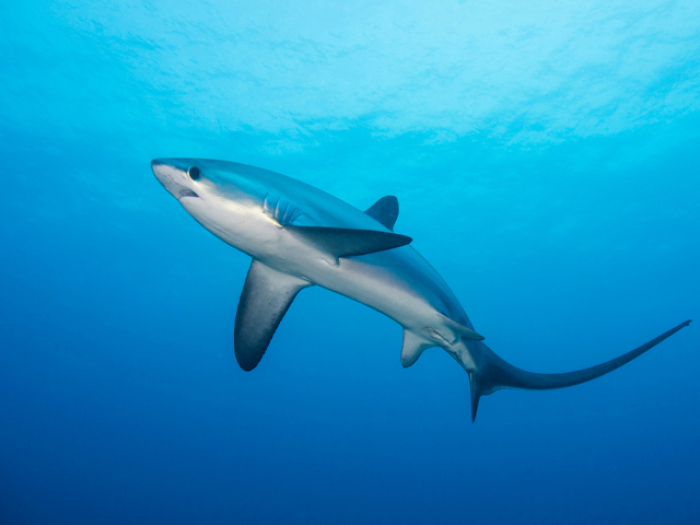 Aside from the unique opportunity to see these stunning and elusive sharks, Malapascua has a lot more to offer for divers. The island itself is surrounded by some fantastic muck-diving while nearby Gato Island has some beautiful reef structures for you to explore, and a tunnel filled with whitetip sharks running under the island. Combined with some exceptional resorts and beautiful beaches, Malapascua is best described as an epic shark diving destination!
The thresher sharks are seen year round, so you should base your decision on when to visit the island around the weather, and how busy you like the island. The high season between December and April has a lower chance of rain but is busier and accommodation is more expensive. Between March and May the diving and weather are great, and the island is a little quieter - making this period our favourite time to visit. Storms can occur at any time of the year, but the low season between July and December is most prone to bad weather and the effects of typhoons to the north. It's worth noting that the thresher sharks are shy, so during peak times around major holidays there are more divers and the sharks can be harder to spot.
Great for: Thresher sharks!
Best time to visit: March to May, when the weather is good and before the crowds appear over the summer months.
Best place to stay: We recommend you dive with Evolution - a fantastic resort with beautiful accommodation along the beach, highly experienced instructors and a fantastic atmosphere.
3. Vaavu Atoll, Maldives
The reefs on the eastern side of the atoll facing the open ocean are the scene for some truly exciting diving - even by Maldives' standards, Vaavu's channels are very special indeed. The strong tidal currents through these narrow cuts in the reef create ideal conditions for thrilling shark dives, and you can encounter large numbers of grey reef and white tip reef sharks congregating amidst swirling schools of barracuda, snapper and trevally.
The signature site is Fotteyo Kandu which could easily be considered one of the best shark dive sites in the Maldives. The narrow channel has swim-throughs, small caves and large overhangs to explore, as well as a drop-off covered in colourful soft corals. Swimming out in the blue hammerhead sharks are always possible, along with grey reef and white tip sharks, and large schools of trevally and sweetlips.
Nearby Miyaru Kandu, which translates to 'Shark Channel' certainly lives up to its name and large schools of grey reef sharks, white tip reef sharks, plus tuna and Napoleon wrasse, are all commonly seen. Last, but not least, Kunaavashi Kandu or Second Channel is another incredible site that has beautiful soft corals, squadrons of spotted eagle rays and big marbled stingrays.
Great for: Reefs sharks, hammerhead sharks, pelagic species, schooling fish, manta rays and current-fuelled channel dives.
Best time to visit: January to April is probably the best time to visit, with great weather and strong tidal flows through the channels. At the start of the northwest monsoon from May to June, manta rays become more common.
Best place to stay: For many years, Vaavu was the domain of liveaboards only. However there are now a number of small resorts located in the north or northeast of the atoll providing a great alternative to a liveaboard. We would recommend Fulidhoo Dive, located on Fulidhoo Island in the north of the atoll.
4. Triton Bay, West Papua, Indonesia
Located in the far south of the Bird's Head Seascape in West Papua, Triton Bay is about as far from civilisation as you can get in Indonesia!
The bay was first surveyed by scientists in 2006 who recommended the creation of the Kaimana Marine Protected Area that now extends along the coast either side of the bay. The scientists' remarked on the large numbers of bigger reef fish such as grouper and snapper, unusual soft corals and black corals that dominate the underwater landscape and the many endemic species that were discovered during the surveys.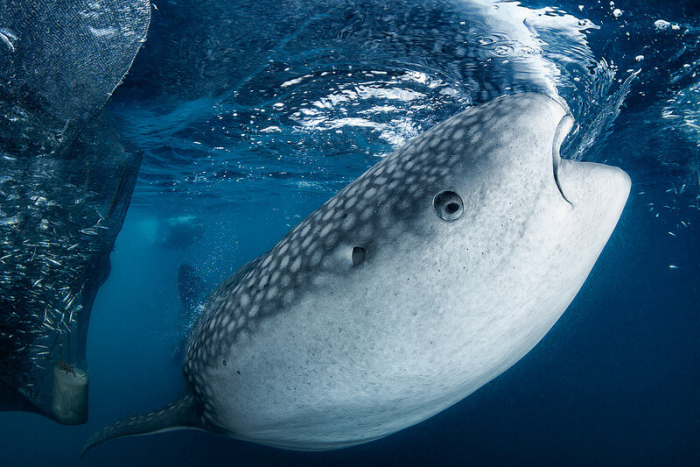 As well as its unique species and habitats, Triton Bay has become well known for its whale sharks that gather to feed around fishing platforms, along with wobbegong and walking sharks. In fact the bay is home to its very own species of walking shark which can be spotted ambling across reefs at night.
Whilst you might not encounter lots of reef sharks, Triton Bay's whale sharks, wobbegong sharks and the endemic walking shark make it one of our top - albeit, more unusual - destinations to dive with sharks in Asia.
Great for: Whale sharks, wobbegong sharks, walking sharks, as well as unusual reefs and an incredible array of marine species.
Best time to visit: October to December. During the summer monsoon between July and September, waves can make diving in the area difficult and the resort closes down. As the winds drop from September onwards, the water temperature gets cooler and the action in the bay is at its best.
Best place to stay: The beautiful Triton Bay Divers is the only land-based dive business in the area. The resort is perfectly located on a stunning beach and visiting divers can expect to have the dive sites to themselves for most of the season. Several liveaboards also schedule trips to Triton Bay.
5. Sipadan, Sabah, Malaysia
Malaysia's only oceanic island, Sipadan's reef is perched on the tip of an extinct volcano that rises out of the depths of the Celebes Sea. The combination of deep water, strong currents and a shallow, sunlit pinnacle perfect for corals, have come together to create a 'perfect storm' of conditions to produce the explosion of life that has made Sipadan so famous.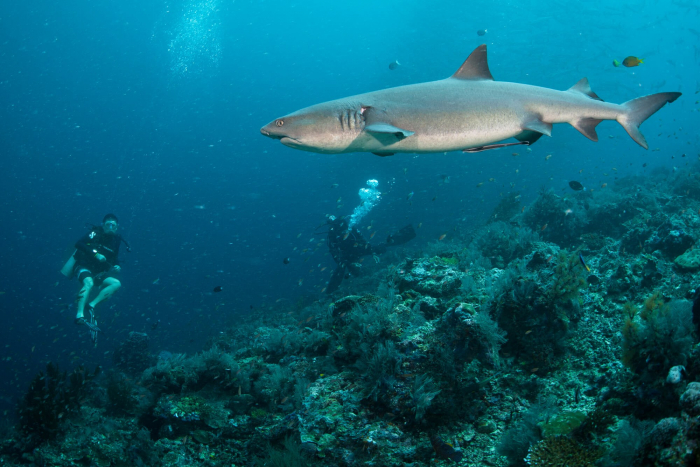 At sites such as the world-famous Barracuda Point, you can expect to see whitetip and grey reef sharks cruising off the wall or hunting in the shallows. Blacktip sharks, leopard sharks, hammerhead sharks and thresher sharks all make appearances, particularly when upwellings of cold water hit the island.
Add to the mix the famous green and hawksbill turtles, huge schools of barracuda and jackfish, bumphead parrotfish, plentiful reef fish and some fantastic walls and caves, and you have everything you could possibly want from a dive destination. And whilst you can't actually stay on Sipadan anymore,  the nearby islands of Mabul and Kapalai have plenty of options for accommodation as well as some interesting macro diving.
Great for: Reef sharks, the occasional hammerhead, turtles, schooling fish
Best time to visit: April to June, September to November. Sipadan can be dived year round but the best combinations of great weather, good diving and fewer visitors are normally found during the 'shoulder seasons' either side of the busy summer months of July and August.
Best places to stay: guests are no longer allowed to stay in Sipadan itself, but the nearby islands of Mabul and Kapalai have plenty of options to suite all budgets - from budget to luxury. Our personal favourite is Seaventures, a converted accommodation rig that provides a unique dive experience.
6. Maratua, Kakaban, and Sangalaki
Running along Kalimantan's northern coastline are a string of islands, reefs and atolls known as the Derawan Archipelago. These islands have remained 'under the radar' for many divers, but if you are willing to make the long journey, the islands of Derawan, Sangalaki, Kakaban or Maratua will reward you with some incredible underwater encounters with whale sharks, turtles, manta rays and huge schools of fish.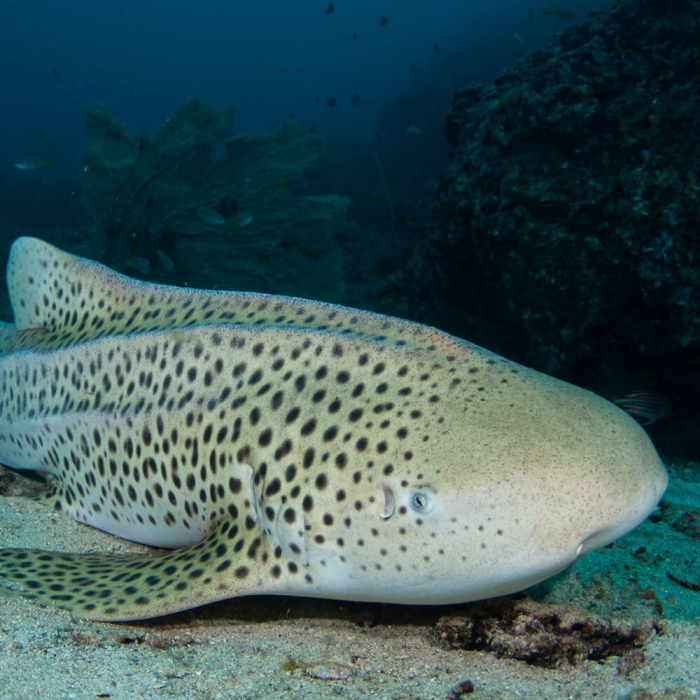 The area has become known as one of the 'sharkiest' in Indonesia, and you can be sure of sightings of reef sharks and leopard sharks, and even hammerhead sharks, thresher sharks and whale sharks. Add in the turtles, schools of barracuda, manta rays and beautiful reefs, and you soon realise why divers are prepared to make the long trip out to the islands.
Probably the best location for shark encounters is Kakaban, where the reefs drop away sharply and are swept by strong currents - perfect conditions for schooling fish and bigger animals including leopard sharks, grey reef sharks and the occasional hammerhead shark. But don't miss out on Maratua at the edge of the continental shelf. The atoll's single channel concentrates the currents and huge amounts of fish life, including sharks and a truly monstrous school of barracuda.

Great for: Reef sharks, leopard sharks and the occasional hammerhead and thresher shark. Whale sharks can also be seen closer to the mainland.
Best time to go: April to July. Between the end of the rainy season and the start of the summer winds, the weather is at its best and the diving fantastic. However, the islands can be dived year round.
Best places to stay: There are now resorts on Derawan close to the mainland and on Maratua itself. If you are looking to dive on a budget, Scuba Junkie on Derawan has great rooms built over the water and a dorm. Further east, Extra Divers manage 3 beautiful resorts on Maratua itself, offering beautiful accommodation and luxury if you prefer a few more creature comforts.
7. Rasdhoo Atoll, Maldives
Rising out of the ocean depths, this small atoll has found fame as the atoll of choice for those in search of hammerhead sharks, as well as spectacular dive experiences with other shark species, manta rays and schooling fish. Combined with beautiful beaches and the welcoming community on the local island, Rasdhoo easily ranks as one of the Maldive's best shark diving destinations.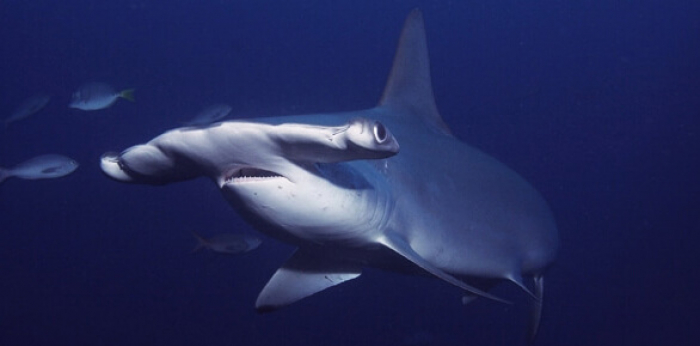 You'll start the day with a dawn trip to Hammerhead Point in search of the resident sharks out in the blue, then follow it up with a dive at Rasdhoo Madivaru - arguably the Atoll's most famous site. Here a horse-shoe shaped ridge is patrolled by grey reef sharks, whitetip sharks and schools of eagle rays while an expansive sandy bowl is home to whiptail rays, marble rays and patches of garden eels.
Throw in the occasional spotted eagle ray and a school of large barracuda and divers have all the ingredients for a near-perfect Maldivian dive experience. Between November and April, manta rays can also be encountered at a cleaning station. To complete an amazing day, you can simply sit back and watch these gentle giants as they hover and cleaner wrasse pick their skin and gills clean.
Great for: Reef sharks, hammerhead sharks, eagle rays, manta rays, big stingrays and schooling fish.
Best time to dive: January to April. The dry northeast monsoon usually brings blue skies and calm winds - perfect weather for a topical holiday - along with manta rays that can be seen at cleaning stations. However, Rasdhoo can be dived year round.
Best place to stay: The stunning Kuamathi Resort on one of Rasdhoo's tiny islands will give you that perfect Maldivian mix of luxury, beautiful beaches, incredible diving and fantastic service. 
8. Layang - layang Atoll
Part of the Spratly Islands that stretch several hundred kilometres off the north-west coast of Malaysian Borneo, this isolated atoll appears as no more than a tiny speck in the middle of the South China Sea. Its isolated sand bars and reef flats offer protection to migratory seabirds such as terns, frigate birds and boobies, but it is beneath the surface where things get a little more exciting.
Rising some 2,000 meters from the sea floor, Layang Layang's reefs provide exceptional diving for those in search of adventure. Its dramatic walls and beautiful reefs act as a beacon to pelagic marine life and big sharks, rays, whales and dolphins are all found around this isolated coral pinnacle.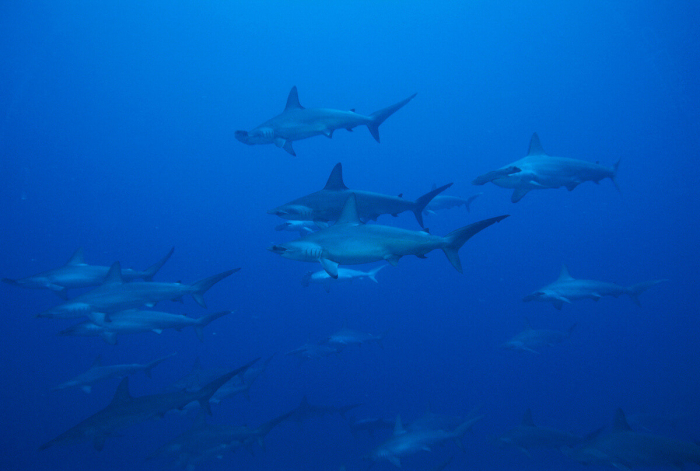 Layang Layang offers a rich display of biodiversity but it's the scalloped hammerhead sharks that are the real attraction. Divers are gifted with truly heart-stopping excitement as huge schools of these large sharks, sometimes hundreds strong, pass through between April and May for the mating season.
Sightings are still possible outside of this window but are less common. Other pelagics which can be spotted here include barracudas, trevally, snapper and dog-tooth tuna as well as other rarities such as thresher sharks, whale sharks, manta rays, eagle rays, leopard sharks and very occasionally, even orcas.
Great for: Reef sharks, hammerhead sharks, mobula rays, big stingrays and schooling fish.
Best time to dive: The season runs from February to the end of July but the best time for hammerheads is March to May.
Best place to stay: Layang Layang Island Resort is the only place to stay on this remote atoll. 
Is it safe to dive with sharks?
One of the most common questions asked about sharks is whether it is safe to dive or swim with them. The answer is simple - while any wild predator should be treated with respect, you have a much greater chance of being injured while crossing the street than when swimming with a shark.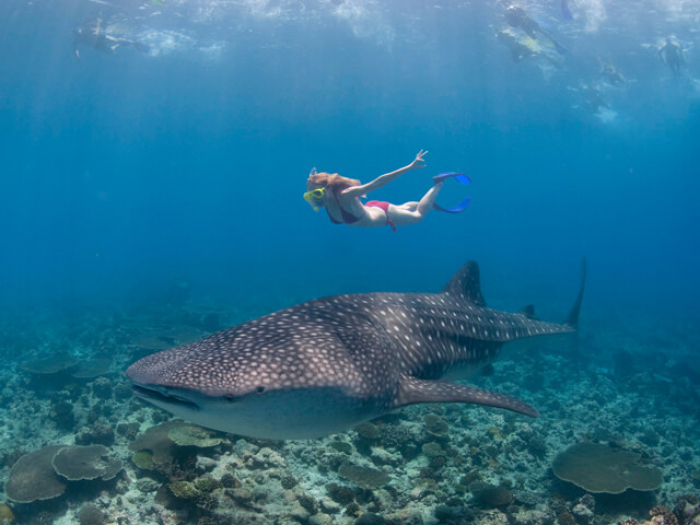 The fear of sharks is hard-wired into our brains, and the media has done much to reinforce the view that sharks are dangerous. Unfortunately the reality is quite different. Sharks are becoming increasingly rare across our oceans and it is man that should be feared. Diving with sharks in a controlled and responsible manner is safe and the more people that get to dive with these stunning animals, the better chance we have to protect sharks for the future.
---
---
---