Imagine yourself descending a mooring line, watching the hulk of a sprawling wreck slowly reveals itself in the depths. What lost treasures might you encounter, and what weird and wonderful animals might call this crumbling relic home? If you can feel the anticipation building, you're in the right place.
Wreck diving offers a unique opportunity to explore sunken snapshots of the past. Ranging from retired military vessels to freighters and cargo ships, passenger ferries, and more, these underwater museums can deliver plenty of chills and thrills for those who seek them. And, with the proper training wreck diving is accessible to every skill and certification level. 
Read on to learn about the planet's best wreck dives, with suggestions for beginners, enthusiasts, and experienced experts alike! We've also included helpful tips on when to visit, what marine species you might encounter, and whether each wreck is right for your personal training and comfort level.
---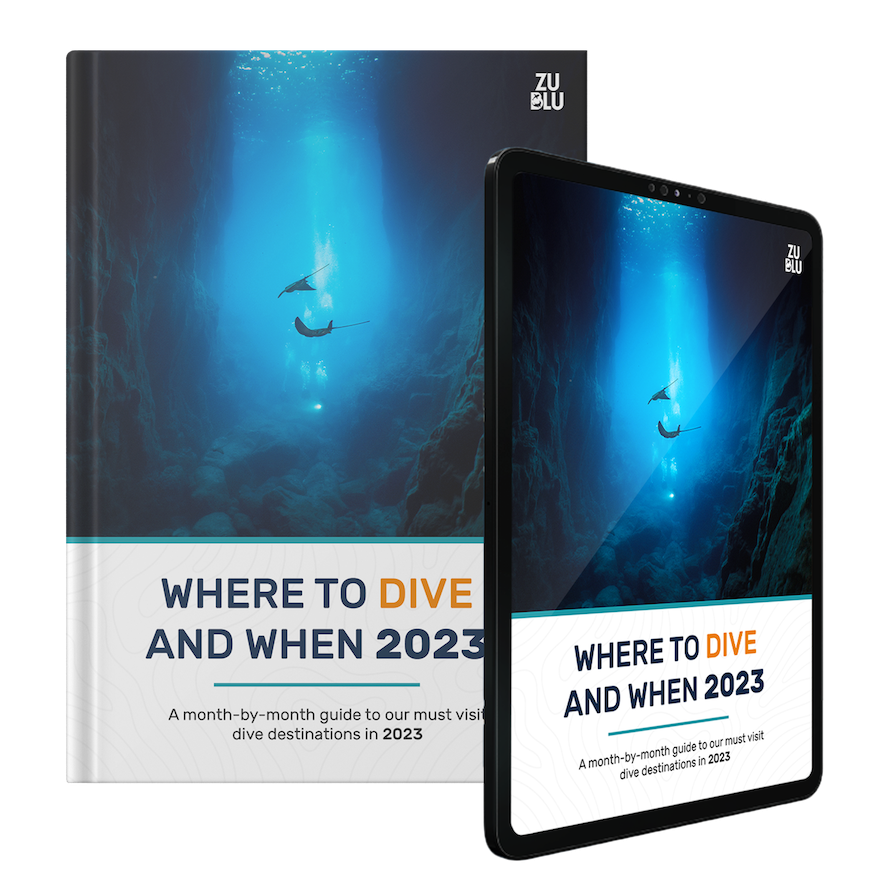 Need some inspiration for your next diving holiday? Download this FREE month-by-month guide to ZuBlu's top diving destinations in 2023.
---
---
Need help planning your next dive adventure?
Contact one of our award winning travel experts today

---
What makes wreck diving so appealing?
Wreck diving offers an entirely different type of underwater adventure, making it especially popular among experienced divers who are ready to master new skills, as well as underwater photographers, history buffs, and adrenaline junkies.
Scuba diving in wrecks is different from standard underwater exploration and requires particular training and skills, including near-perfect neutral buoyancy for gliding through narrow passageways and navigation in potentially complex environments. So, if you're interested in exploration deep inside these sunken structures, you'll need to learn new techniques like following a guide line and masterful management of your air consumption to account for limited and potentially challenging exit points.
If you've never been wreck diving before, you might be surprised to discover that it's a great way to encounter wildlife. These structures provide perfect cover for species that prefer to spend their time lurking in the darkness, like massive moray eels and goliath grouper. The debris and many nooks and crannies are also a great place to search for cryptic macro species like frogfish, nudibranchs, and crabs and shrimp. And, because wrecks eventually develop into thriving artificial reefs encrusted in coral, their structure is often swarming with small baitfish and juveniles, which in turn lures larger predators. 
Wrecks also offer divers the unique chance to step back in time, exploring undersea museums that are often littered with relics of the past. These artefacts include everything from ammunition and transportation on military boats to eerie personal possessions. You'll also have the opportunity to learn how and why the vessel went down and discover its hidden secrets, including cargo that it sank with and other special attractions.
The world's best wreck dives
Iro Maru, Palau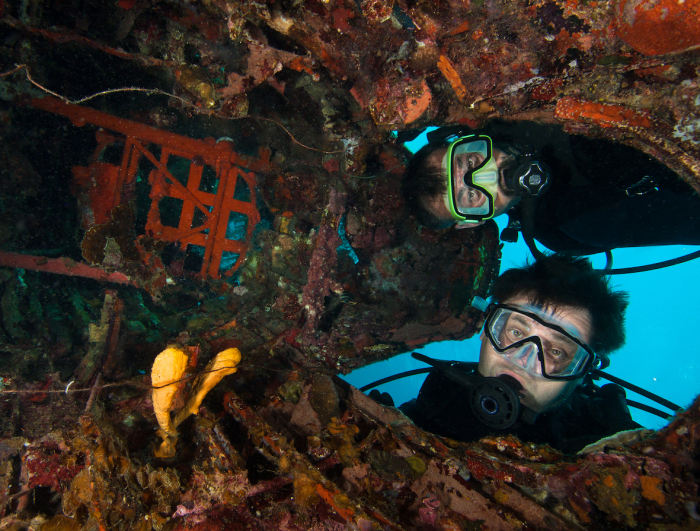 In March 1944, this 14-tonne Japanese oil tanker and supply ship was sunk by a torpedo while at the Urukthapel Anchorage just outside of Koror. Today, the Iro Maru is Palau's most famous wreck and its most popular among divers, thanks to its outstanding conditions and short commute - just a 15-minute boat ride from shore. 
Make your descent down a fixed mooring line, reaching the wreck at a massive forward tower. Then, drop down to the upper deck at 27-metres, to begin your exploration. Some of the Iro Maru's highlights include two massive guns found fore and aft, the large intact port anchor, and a towering boiler. The torpedo that downed this ship left extensive damage behind, allowing divers to peek into the hull through a huge hole. Head below the bridge for one of this ship's best penetration routes, through the crew quarters. Or, swim further down the deck to enter via the engine room. Interestingly, the Iro Maru's interior is loaded with wartime artefacts, including military uniforms and live ammunition. 
Capt. Keith Tibbetts, Cayman Brac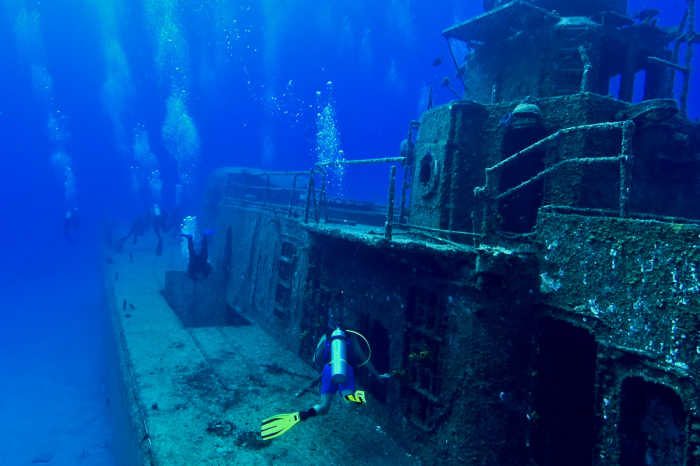 This 330-foot-long Koni II class frigate was originally built for the Cuban Navy by the Soviet Union in 1984. After more than a decade in service, it was purchased by the Cayman Islands and purposefully sunk in 1996 to create an artificial reef and dive site. In 2004, hurricane Ivan caused massive damage to the Cayman Islands and tore the Tibbetts in two, creating a sprawling field of debris. 
Several penetration routes are possible here, though the ship's deteriorating status makes them best left to experienced wreck divers. And, there's plenty to see outside the hull, including towering turret guns, in place and pointed skyward, as if poised for attack. The Tibbets is home to thriving marine life and extensive coral growth, plus a resident goliath grouper, turtles, rays, and hundreds of schooling fish. Found just 200-metres off the coast of Cayman Brac, this wreck is sometimes advertised as a shore dive. But, for most divers, exploring by boat is a more comfortable option.  
USAT Liberty, Bali, Indonesia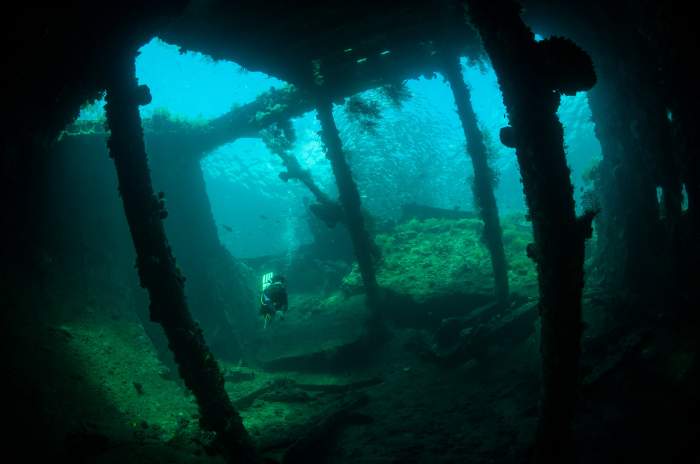 This 125-metre-long ship served in both World War I and World War II, before being torpedoed by a Japanese submarine in January of 1942. The strike caused extensive damage, leaving the Liberty disabled and taking on water. Towing efforts were unsuccessful, and the ship was eventually grounded on the beach, where it sat in the sand until powerful tremors from the 1963 eruption of Mount Agung returned it to the sea.
Today, the Liberty lies on its side in shallow water, ranging from three to 28-metres in depth. This is one of the best known dive sites in Bali, thanks to its easy access from shore, colourful hard and soft coral garden, and myriad macro creatures that inhabit it. The wreck's open structure allows for easy penetration through its middle section, with wide, light-filled swim-throughs. The Liberty makes for an outstanding dawn, dusk, or night dive, with an exciting assortment of nocturnal species present and far fewer divers than during daylight hours.
SS Thistlegorm, Red Sea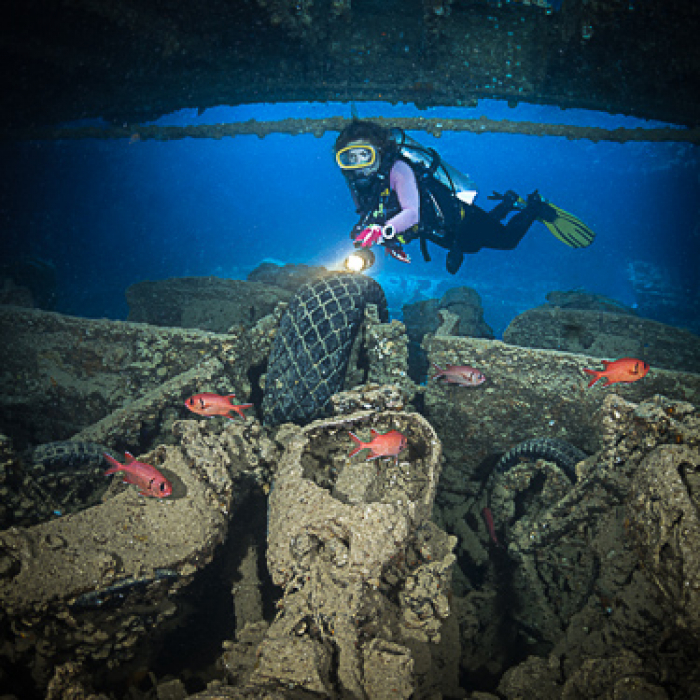 One of the diving world's most famous wrecks, the SS Thistlegorm is a can't-miss attraction in Egypt's northern Red Sea, and a highlight on nearly every liveaboard itinerary in the region. At the time of its sinking, the Thistlegorm was en-route to assist Allied forces stationed in Egypt, carrying locomotives, military vehicles and munitions. The ship was anchored and waiting for permission to pass through the Suez Canal when it was mistaken for a troop carrier and bombed by German forces. The wreck itself was lost for over a decade, before being rediscovered by the famous oceanographer Jacques Cousteau in the 1950s.

Most of the military cargo still remains in the hold, with notable exceptions including two locomotives that lie on either side of the shipwreck surrounded by a litter of military artefacts. This wreck's world-famous penetration routes let divers swim past military trucks and motorcycles, stacked crates of ammunition, and surplus supplies like boots and shoes. 
SS Yongala, Great Barrier Reef, Australia
Over 100 years ago, one year before the Titanic sailed, the steamship Yongala sank mysteriously during a tropical cyclone off the coast of Australia's Alva Beach, in an area that is now part of the Great Barrier Reef marine park. With no known survivors among the crew or passengers, this ship's sinking remains one of the most tragic maritime disasters in Australia. 
Now, covered in kaleidoscopic coral and home to a fascinating array of  marine species, the 110-metre long Yongala has earned a reputation as one of the planet's most picturesque wrecks. The ship lies on its starboard side, with depths ranging from 14 to 28-metres, making it a site suitable for all skill levels. This is the largest, most intact historic shipwreck in Australian waters, and now hosts a giant groupers, marble rays, schooling barracuda, eagle rays, sea turtles, and more. Penetration is not permitted during any SS Yongala wreck dive, but there's still plenty to see - and always keep an eye on the blue, as you never know what might swim past!
---
Ready to start planning your next dive holiday?
Contact one of our dive travel experts today

---
Hilma Hooker, Bonaire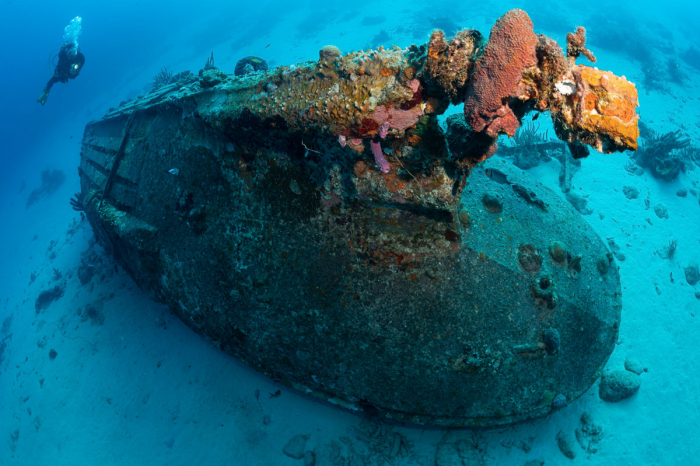 Shrouded in mystery, this 70-metre Dutch freighter has changed names and ownership numerous times since it was originally christened the Midsland on May 20, 1951. After sailing for years as part of a Colombian import-export fleet, the Hilma Hooker was towed into Bonaire's main port of Kralendijk, crippled by technical difficulties. The crew was unable to produce proper documentation for customs officials, and further investigation showed that both Interpol and the FBI had been tracking the vessel for months.
Following a lengthy search, a large volume of marijuana was found behind a false bulkhead, and the Hilma Hooker became evidence in a major smuggling case. Soon after, the ship started to take on water and sank naturally, coming to rest on its starboard side at a depth of just under 30-metres. 
Today, the Hilma Hooker is one of Bonaire's hottest underwater attractions, with easy access via shore and boat. This site appeals to all skill and comfort levels, offering everything from easy-going external tours to challenging penetration routes. Furniture and debris litter the ship's interior, while yellow snapper, parrotfish, tarpon, and barracuda are commonly spotted swimming outside. 
HMNZS Canterbury, New Zealand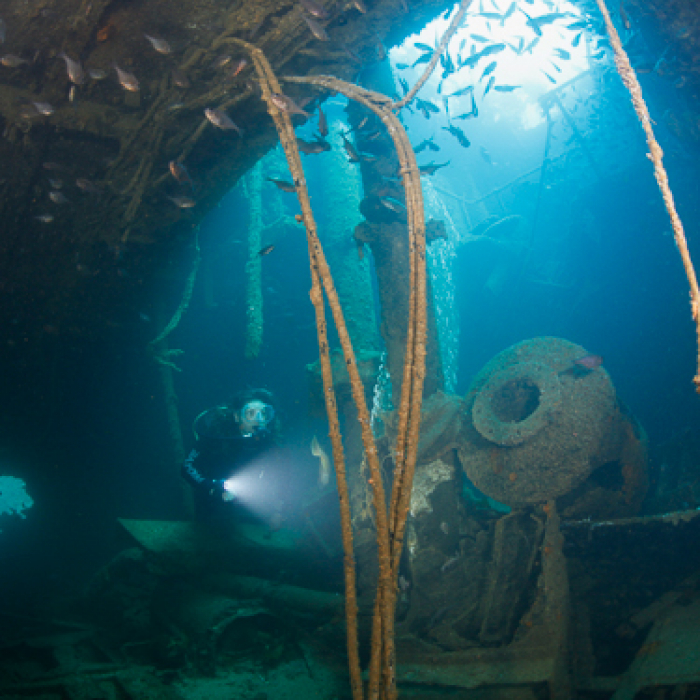 This frigate was operated by the Royal New Zealand Navy from 1971 to 2005, before being intentionally scuttled in 2007 to create an artificial reef - resting perfectly upright with plenty of large holes cut for easy internal access. The Canterbury wreck dive has become famous among wreck enthusiasts thanks to its safe and simple penetration routes, ideal for training, and its variety of depths, with the top decks sitting between 12 and 22-metres and the propeller at 40-metres. 
The Canterbury was sunk in Deep Water Cove to help improve its depleted fish stock - a tactic that has more than paid off. Today, the wreck's hull is carpeted with colourful life, including fascinating jewel anemones that can be seen spawning when the tides and moon align between June and September. Massive schools of sweep and other baitfish use this shelter for protection from hungry predators like large maomao, kingfish, and snapper. Keep an eye on the blue to watch these hungry pelagics and other large species charge in from the open ocean, hoping for an easy meal. Peek in this wreck's dark corners to find massive crayfish and vast schools of big eyes, as well as cryptic creatures like eels, shrimp, and nudibranchs.
El Aguila, Roatan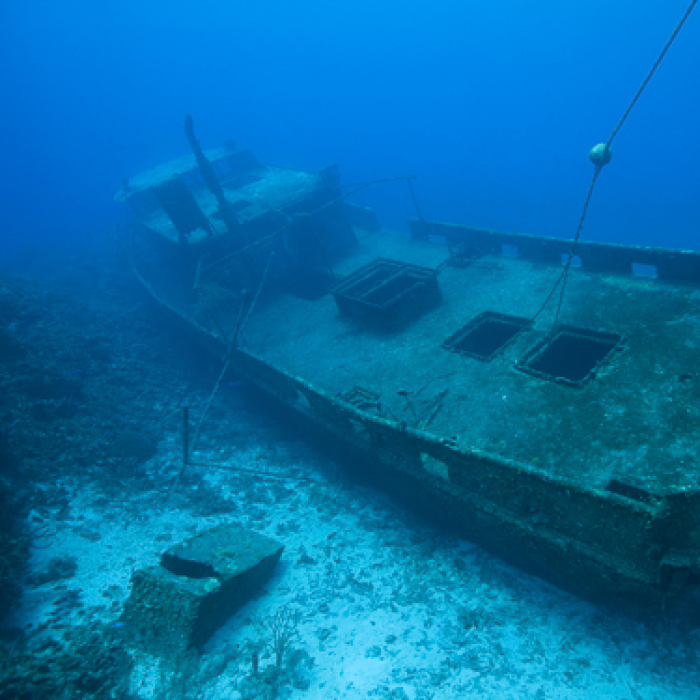 The king of Roatan wreck dives, this 100-metre cargo freighter originally sank near Utila, Honduras and was left floundering in the shallows, partially exposed to the surface. Later, the hold was stripped of its concrete cargo, and the rest of the vessel was moved to a sandy-bottomed site one island over, on Roatan. While the Aguila unfortunately broke into three separate pieces shortly after, during hurricane Mitch in 1998, this is still one of the region's most worthwhile wrecks, with plenty of spacious swim-throughs and eerily lit passageways open for exploration. 
Wreck penetration isn't the only attraction at El Aguila. This sunken mass is home to massive moray eels, grouper, and vast schools of silversides. Its exterior has grown into a lush coral garden, with hard and soft formations hosting myriad macro creatures, including tiny cleaner shrimp, nudibranchs, seahorses, and more. Larger animals also visit this structure, with sea turtles and eagle rays making frequent appearances. Divers should take care inside this wreck, as invasive lionfish are often found hovering inside - their spines can deliver a painful sting even during accidental contact. 
---
Need help planning your next diving adventure?
Contact one of our dive travel experts today

---
---
Join the ZuBlu community to receive the latest insights and unmissable adventures
Don't worry, we'll only send you really good stuff - and we never share your details
---