Discover the top luxury dive resorts in Indonesia, that strike the perfect balance between sumptuous surroundings, world-class service, and some of the best diving on the planet. 
Deep in Southeast Asia's Coral Triangle, Indonesia is a diver's dream. The region is home to staggering biodiversity including ocean giants such as whale sharks, manta rays, and the mysterious mola mola. Plus, small and fascinating macro creatures, some of which are so strange, you'll swear they're the work of science fiction!
But it's not just the diving that draws visitors to Indonesia. This country is famous for its welcoming hospitality and spectacular high-end resorts, perfect for adding some creature comforts to your holiday. Keep reading to discover our top picks for the best luxury dive resorts in Indonesia.
Ready to book your luxury dive holiday in Indonesia?
Search, compare and book from our top luxury resorts.
Bunaken Oasis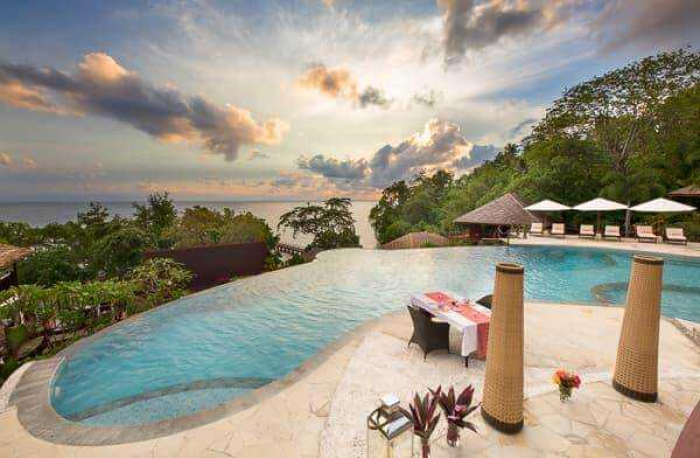 Nestled between lush tropical greenery and Bunaken's turquoise sea, this beautiful and luxury dive resort in Indonesia pairs flawless service with fully sustainable operations.
Bunaken Oasis is redefining the luxury diving experience in Sulawesi by providing a true five-star experience while keeping its ecological footprint to a minimum. This resort's earth-friendly efforts include farm to table dining, on-site water filtration, and no single-use plastics in sight. With only twelve rooms, Bunaken Oasis offers a truly intimate experience, complete with sophisticated service, lush accommodations, and an incredible time underwater. Divers will love this resort's fleet of comfortable custom boats, free nitrox for qualified divers, state of the art camera room, and access to over 100 stunning dive sites. But, land lovers will find plenty to do here as well, lounging around the generous infinity pool or enjoying a spa day. 
Great For: Dedicated divers and underwater photographers – you won't believe this resort's facilities for cameras and personal equipment!
Best Time to Visit: For the best combination of great weather and good diving, plan to visit between May and July or September and October.
Lembeh Resort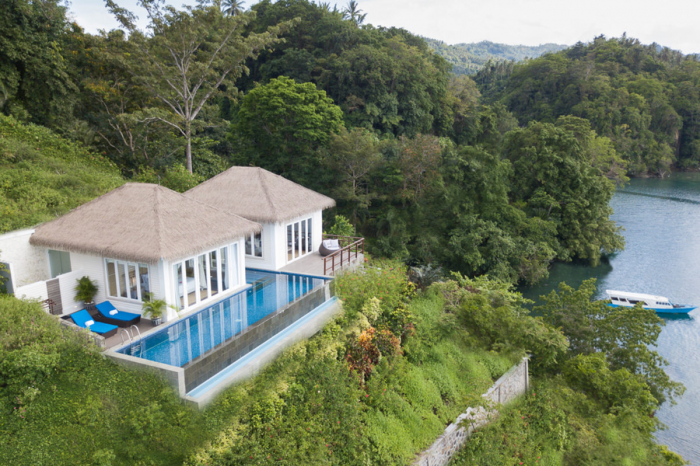 This stunning resort, perfectly located for exploring the region's famous muck diving, features some of Lembeh's best facilities for divers and underwater photographers.
Lembeh Resort is the strait's premier property, and one of the only luxury dive resorts that includes a purpose-built photo centre for visiting photographers. Their unique "dive as you like" policy lets you dive any time you want – day or night – and self-exploration on the house reef is available 24 hours a day. When you aren't busy blowing bubbles, you'll love Lembeh Resort's beautiful tropical gardens, luxurious spa services, and relaxing pool area. Plus, their range of accommodations is suited to all budgets, from cosy single rooms to dramatic cliffside suites. If you're looking for the ideal base to explore this stunning region both above and below water, Lembeh Resort might be your perfect fit!
Great For: Divers who want to make the most of their time in the water, with options for unlimited tanks on the house reef every day. 
Best Time to Visit: Lembeh's diving is great year round, but our favourite time of year is September and October.
Sorido Bay Resort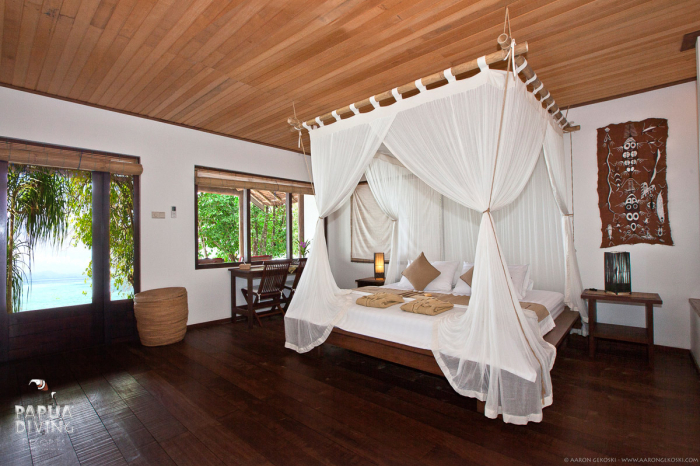 This luxurious getaway was one of the original resorts in Raja Ampat and lies just metres from the record-breaking biodiversity of Cape Kri.

Once a rustic dive camp, Sorido Bay continues to offer the same peaceful retreat into nature as it did on day one. Chic local architecture is showcased throughout the resort, but guests shouldn't expect too much materialistic extravagance here. Instead, Sorido Bay focuses on delivering the fundamentals in first-class style – from the welcoming overwater communal area and inviting accommodation to the warm smiles and devoted hospitality of the Papuan staff. When it comes to diving, Sorido Bay's luxury lies within the detail, offering small group sizes of just three guests per guide, complimentary nitrox fills, and a 'dive at your own pace' ethos allowing divers to take their time underwater. 
Great For: Dedicated divers looking to spend as much time as possible in the biodiverse waters of Raja Ampat, without compromising on comfort or style. 
Best Time to Visit: Plan your trip early in the season, between October and February for the absolute best diving conditions in Raja Ampat.
Misool Eco Lodge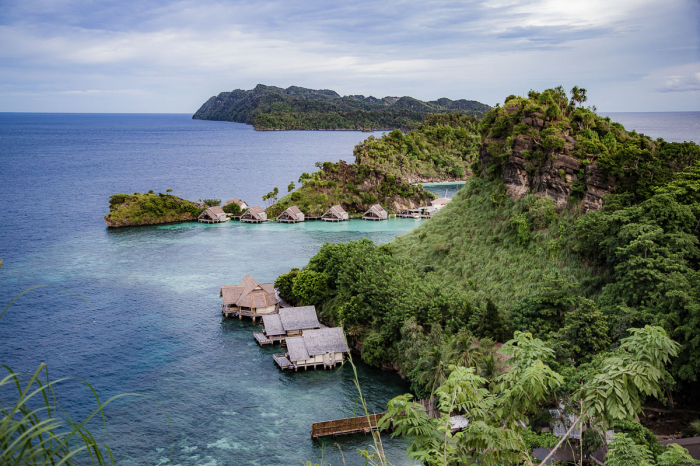 Take the plunge in some of the planet's most biodiverse dive sites from this private island eco-resort, hidden among an archipelago of uninhabited islands.
The Misool Eco Resort is a secluded luxury hideaway in Indonesia dedicated to sustainability. Lying at the heart of the Misool Marine Reserve this resort is uniquely situated, offering the variety and quality of liveaboard diving in Raja Ampat, combined with all the creature comforts of a private island resort. Underwater explorers will love little perks like a low guest to guide ratio, free nitrox for certified divers, easy access to the resort's house reef, and up to four dives a day with 25 of Misool's most stunning sites just a short boat ride away. Above water, outstanding service, gourmet meals, in-room massage and spa treatments, and plush cottages and villas add an extra air of luxury. 
Great For: Guests who want to get away from it all – private island style! This secluded paradise only has 18 rooms so you'll likely feel that you have the whole place to yourself. 
Best Time to Visit: Visit between October and February for calm conditions and uncrowded dive sites in Misool. 
Virgin Cocoa Resort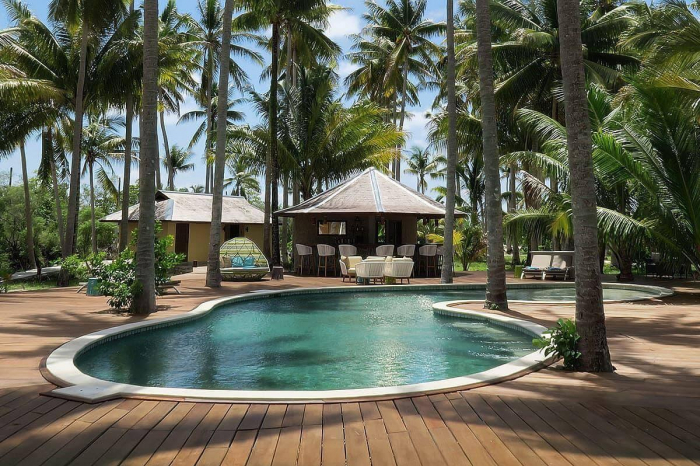 Enjoy a tropical escape immersed in secluded luxury on this picturesque island, with some of Indonesia's most exciting and least visited dive sites only minutes away. 
Set among swaying coconut palms and white powder sand, Virgin Cocoa resort is a perfect place to relax by the sea, practice yoga, treat yourself to a massage or lounge your days away at the pool. But, diving is the real draw here. Guests will love exploring the spectacular house reef, stretching for nearly four kilometres. Slightly further afield, adventurous divers can take advantage of beautiful and uncrowded sites around the largely undiscovered Muaras Atoll south of Maratua, spot manta rays and turtles at Sangalaki, or visit the Jellyfish Lake at Kakaban. After a long day of diving in some of Indonesia's most exciting and unspoilt waters, you'll feel perfectly at peace in your spacious and secluded bungalow, sipping a sunset cocktail, and enjoying a gourmet chef-prepared dinner. 
Great For: Deep relaxation with daily yoga classes and workshops, world-class scuba diving, and lush tropical surroundings. 
Best Time to Visit: Visit Kalimantan between May and September for the best chances of spotting large wildlife like manta rays.
Sudamala Seraya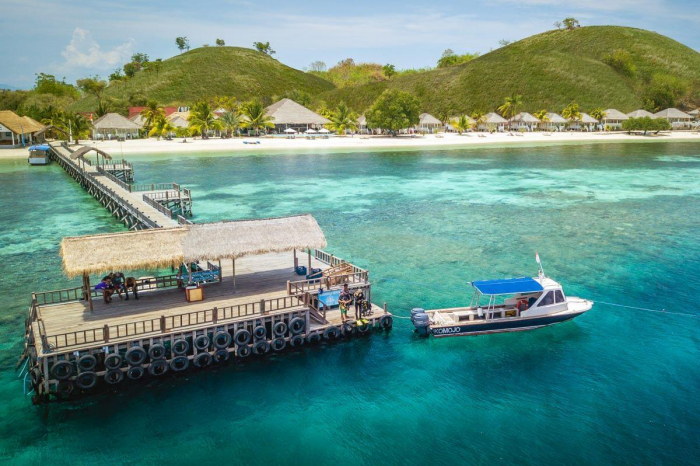 This beautiful beachfront resort offers laid-back luxury, impeccable service, and world-class diving in Komodo National Park, just a short speedboat away.
Perched over a private white sand beach on Little Seraya island, the Sudamala Resort is just minutes by boat from Komodo National Park's famous dive sites and infamous dragons. This oceanside sanctuary offers a secluded island getaway enhanced by understated luxury for the ultimate boutique diving holiday. Adventurous divers will love daily exploration on the resort's house reef, and multiple trips per day to the national park and beyond. After a long day underwater, relax with a poolside cocktail, take in a spa session, and enjoy a gourmet blend of local and western dishes with a stunning view of the sea. What better way to recharge your battery for the next day's adventures to world-famous destinations like Rinca, Padar, Manta Point, and Pink Beach?
Great For: Guests who want all the quality and diversity of a liveaboard in Komodo, without the cramped quarters and overnight stays on board. 
Best Time to Visit: Komodo's diving conditions are best between March and October, with the beginning of the season offering some of your best chances for manta sightings.
AlamBatu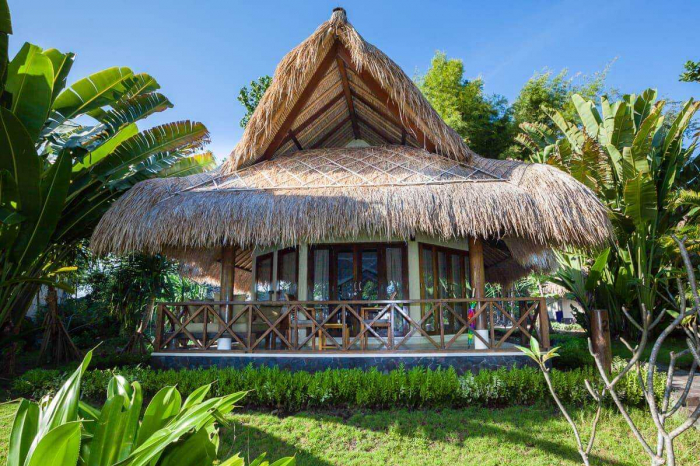 Explore eastern Bali's best dive sites from this small and beautifully-tranquil dive retreat bursting with tasteful luxury and over the top Balinese hospitality.
With just a handful of well-appointed thatched bungalows scattered throughout its stunning property, AlamBatu is an intimate escape for passionate divers. You'll have round the clock access to the 800-metre long house reef directly off the resort's beach, excellent dive centre facilities including free nitrox for certified divers and a modern camera room, plus easy access to Tulamben's famous dive sites. AlamBatu also offers a stunning variety of day trips around Bali, giving guests the opportunity for up to six boat dives a day! When you aren't busy exploring underwater, you'll feel perfectly relaxed lounging poolside, enjoying a massage, sipping sundown cocktails with a stunning ocean view, and enjoying fine dining under the stars. 
Great For: Divers who want the best of both worlds, with unlimited diving from shore and incredible day trips to some of Bali's best sites, plus a seriously luxurious setting. 
Best Time to Visit: Dodge the rainy season's rough conditions and bad visibility by planning your trip between April and July or October and November. 
Hai Tide Beach Resort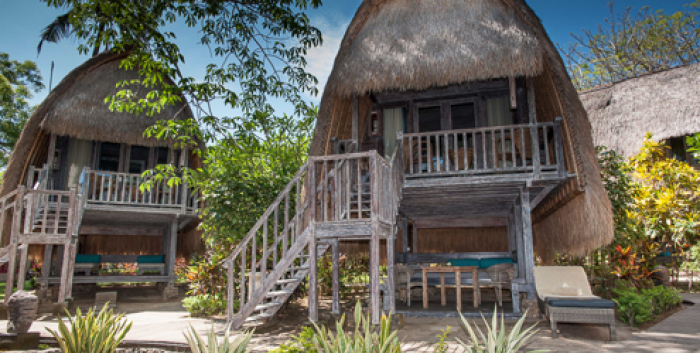 This stunning resort features beautiful two-story thatched roof cabins and family-style villas on the beach, plus easy access to Lembongan's very best dive sites and surf breaks.
Whether you're planning to spend your days relaxing on the beach, snorkelling and scuba diving, or trying your hand at other exciting watersports, you're sure to love this resort's laid-back yet luxurious atmosphere. Gourmet meals, spa services, a generous pool and sun deck, and babysitting services make it easy to unwind after a long day of adventuring. And, guest rooms and villas are very well equipped, comfortable and stylish, guaranteeing a peaceful night's sleep set to the gentle crash of waves. Best of all, the Hai Tide Beach Resort's newly built dive centre features top of the line facilities, a low guest to guide ratio, and daily trips to the most exciting sites around Lembongan and Nusa Penida.
Great For: Adventurous families traveling with children will love this resort's options for day trips and activities, plus on-demand childcare and babysitting services. 
Best Time to Visit: Diving in this region is good all year long, but lucky visitors between July and October might spot a mola mola – one of Bali's most fascinating marine life. 
---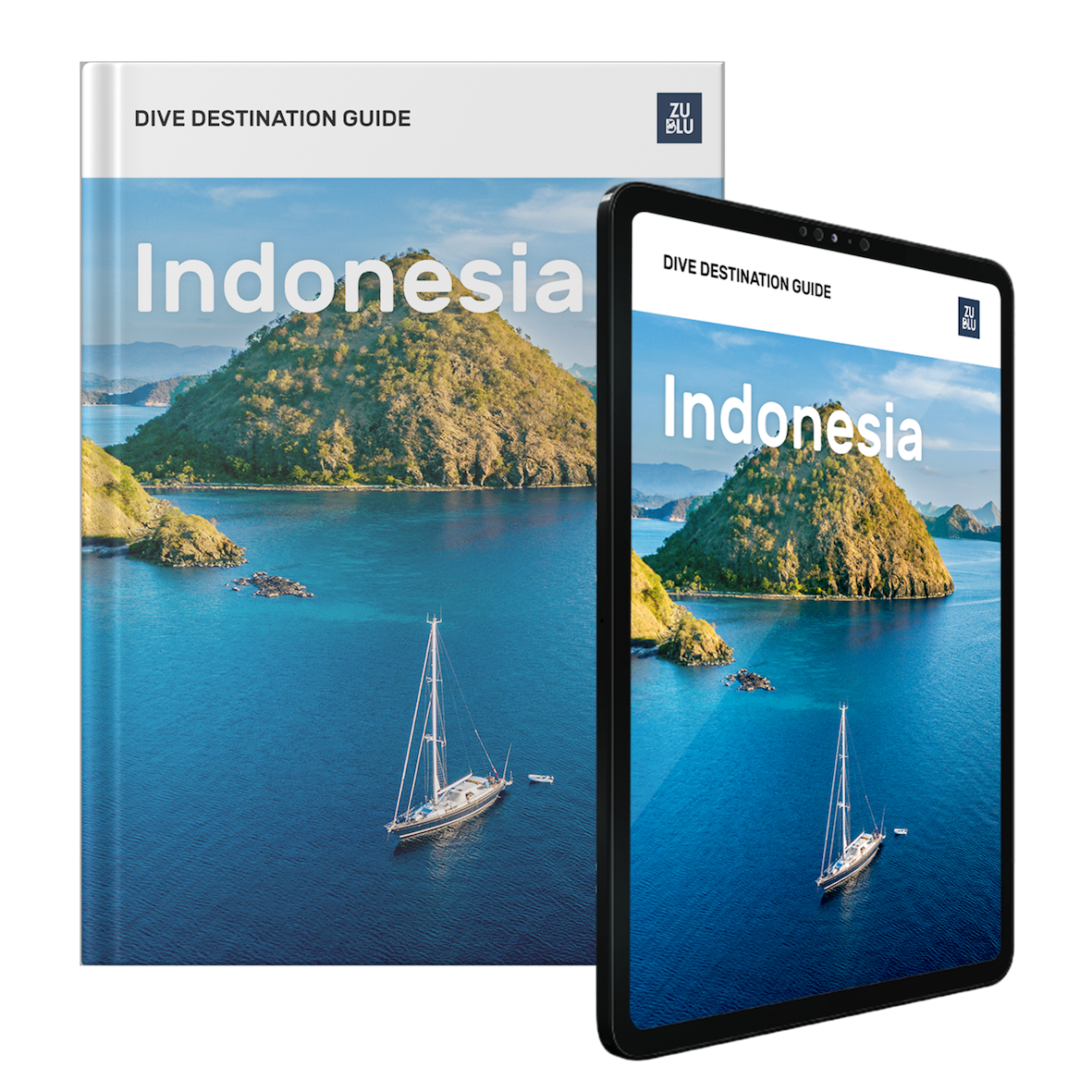 Discover the secrets of Indonesia in this FREE 150+ page scuba dive destination guide. Read online or download today and let us inspire your next diving holiday.
---
---
Ready to book your Indonesia dive holiday?
Contact a dive travel expert today!

---
---
Join the ZuBlu community to receive the latest insights and unmissable adventures
Don't worry, we'll only send you really good stuff - and we never share your details
---