Diving is not exactly known for its glamour and sophistication - and if anyone tells you otherwise, ask them to squeeze into a wetsuit and BCD and try looking stylish.
So if you can't look fabulous on the boat, what can you do? Well, you can always book a stay at one of these sumptuous resorts, safe in the knowledge that, whilst you might feel elegant as you back roll off the boat, you can always look your barefoot-best at the beach bar in the evening.

Dive in and discover the top luxury dive resorts in Asia and the Pacific, and find your perfect combination of glorious surroundings, impeccable service and of course, some outstanding diving.
1. Atmosphere
Atmosphere is one of the Philippine's most luxurious dive resorts and the ideal choice for couples, small groups or families looking for both amazing diving and an incredible holiday experience.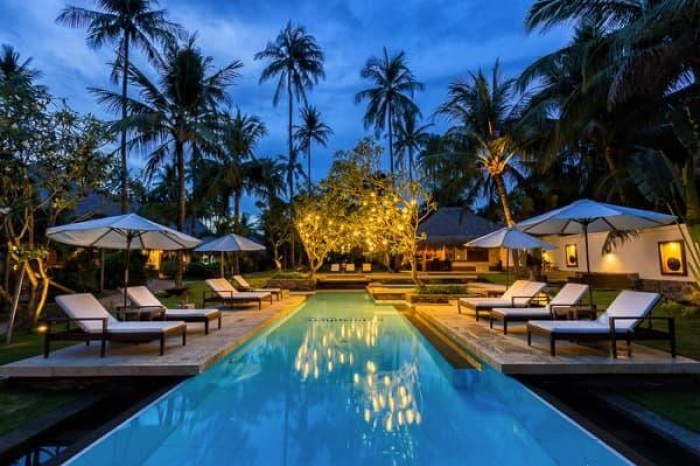 The resort's emphasis on first class amenities and exceptional service, combined with the warmest of Philippine hospitality, makes this spectacular resort one of ZuBlu's top choices for a luxurious and relaxing dive holiday in Asia.
Great for: An exceptional dive centre with and in-house marine biologist, luxurious suites and penthouse rooms, amazing spa, family pool and kid's club.
Best time to visit: October to June, but our favourite time is January and February.
2. Four Seasons Landaa Giravaruu
"Imagine white-sand beaches and turquoise waters punctuated with pops of green jungle stretching out as far as you can see – and that's just the beginning."
The Four Seasons' Landaa Giraavaru resort, set amidst the marine wonders of the UNESCO Biosphere Reserve in Baa Atoll, epitomises the very idea of Maldivian luxury.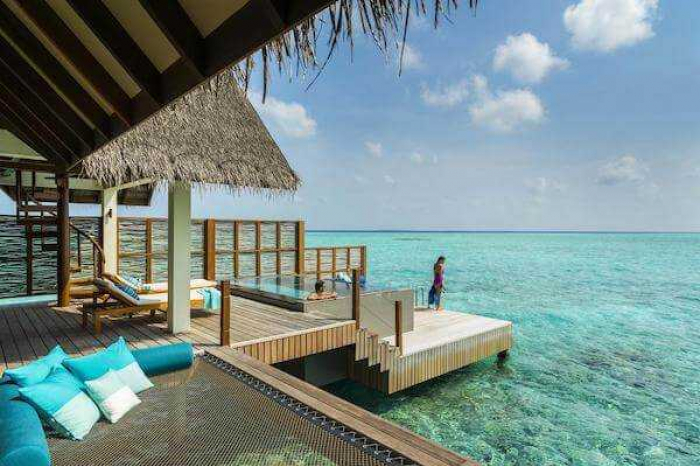 From this magical resort, you can explore Hanifaru Bay with its manta congregations, pamper yourself at the Spa and Ayurvedic Retreat, or simply relax on your private balcony and enjoy the peace of this pristine, remote Atoll.
Great for: Stunning, Four Seasons luxury rooms and impeccable service, an award-wining spa, exceptional dive experiences with in-house marine biologists.
Best time to visit: June to October around the full moon when the manta ray congregations are at their best.
3. Papua Paradise Eco Resort
Built along a pristine white sand beach and with a backdrop of green jungle and coconut palms, Papua Paradise Eco Resort could be considered a picture-perfect tropical dive resort - and certainly one of Raja Ampat's finest.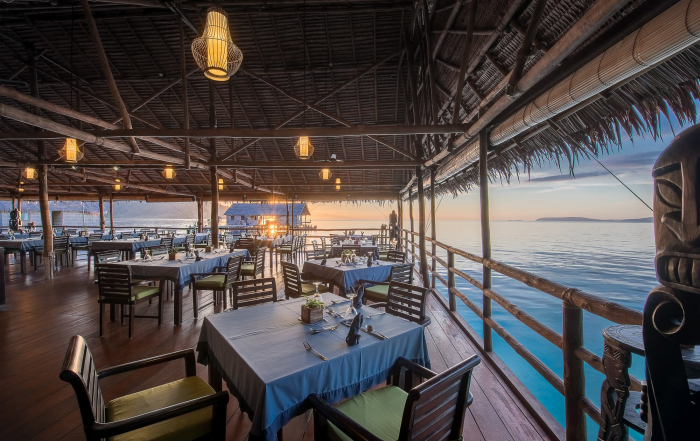 The resort's bungalows are both luxurious and comfortable, and offer glimpses of passing turtles, sharks and even dugong from their large wooden verandas, whilst Papua Paradise's location means the exciting dive sites of the Dampier Strait are just a short boat ride away. 
Great for: A glorious location, with beautiful bungalows built over the water along a beautiful beach, access to the Dampier Strait's incredible dive sites.
Best time to visit: Our favourite time in Raja Ampat is early in the season, from October to January or February.
4. Bunaken Oasis
Bunaken Oasis aims to redefine diving in Bunaken by providing a 5-star experience whilst keeping its ecological footprint to a minimum. With just 12 rooms, the resort offers sophisticated service and an amazing dive experience. We conceived Bunaken Oasis with one overriding aim in mind: to create a dive resort whose every aspect meets our own exacting requirements for quality and service, both on land and on the sea.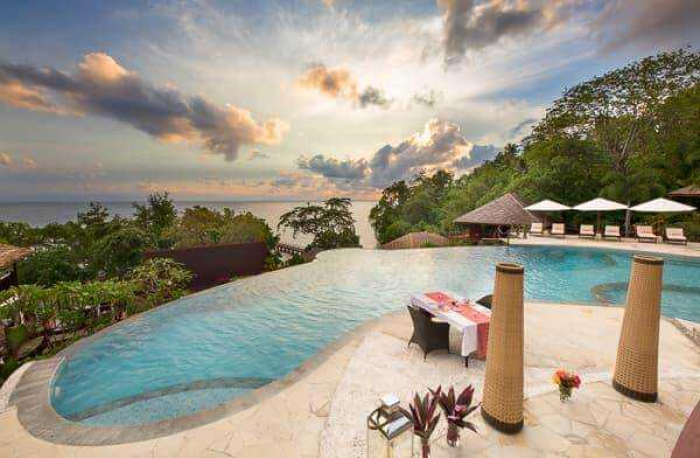 Distilling our experiences from luxury (and not-so-luxury) resorts around the world, our refusal to compromise means that every guest - diver, snorkeller, photographer - can enjoy the treasures of Bunaken from a resort which anticipates and meets just about their every need.
Great for: Just 12 rooms built around a beautiful infinity pool, sophisticated service, a commitment to conservation & sustainable practices, easy access to Bunaken's incredible diving.
Best time to visit: The best combination of great weather and good diving is normally from May to July and September to October.
5. Lembeh resort
Lembeh Resort is one of the Strait's premier resorts, perfectly set up for divers and photographers alike. The resort has been voted the #1 resort in Lembeh Straits for the last 7 years running, although this hasn't stopped the resort from continuously striving to improve their standards of service and facilities.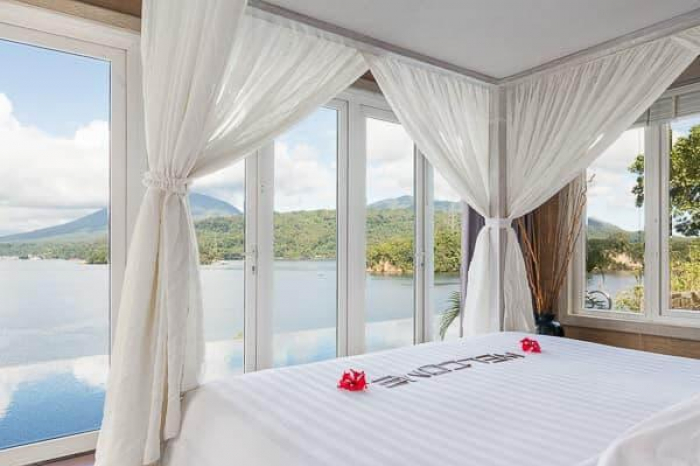 Lembeh Resort is the only one in the area to have a full-service 'Photo Centre' on site - perfect for photographers that are looking for support during a trip - and the beautiful grounds and buildings continue to attract visitors who return to Lembeh Resort, year after year. If you are looking for the perfect base to explore the incredible marine life of the strait, Lembeh Resort should be right at the top of your list.
Great for: Beautiful rooms and gardens, including a cliffside suite with private pool, fabulous service, an exceptional dive centre and photo centre, perfect location within the renowned Lembeh Strait.
Best time to visit: Lembeh's diving is great year round, but our favourite time of year is September and October.
6. Menjangan Dynasty
Perched on a narrow peninsula overlooking the calm waters of Banyuwedang Bay in peaceful north west Bali, is the island's ultimate 'glamping' resort.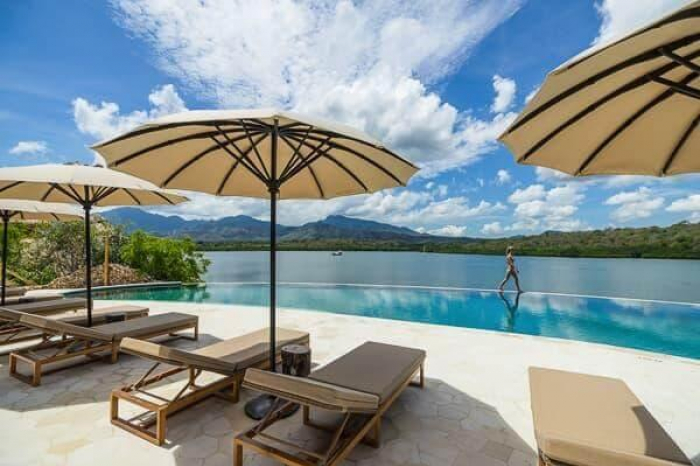 This fabulous property offers a luxurious 'glamping' experience in safari-style tents built above the beach, as well as a beach club, infinity pool with fabulous views and a dive centre with a great range of activities for divers and non-divers alike. Perfectly located to explore the beautiful coral gardens of the nearby Menjangan Island, this unique resort is one of the best choices for divers looking for an exceptional dive experience in Bali.
Great for: Unique, luxury 'glamping' experience in a stunning location, beautifully-designed safari-tent accommodation, an exceptional dive centre and great diving at Menjangan Island.
Best time to visit: The dry season runs from April to October and offers the best chance of beautiful dive conditions.
---
---
Join the ZuBlu community to receive the latest insights and unmissable adventures
Don't worry, we'll only send you really good stuff - and we never share your details
---