With so many islands, atolls, and cays surrounded by beautiful seas, it's no surprise that the Caribbean is home to plenty of incredible ocean-based escapades. But, this iconic region is also a hotspot for weird and wonderful dive sites and once-in-a-lifetime underwater experiences - from swimming with sharks, stingrays and pigs, to accessible wrecks that have blessed the silver screen.
Read on for our selection of unique dive sites from the Caribbean, and a handful of non-diving attractions too.
---
Dreaming of your next holiday in the Caribbean?
Start planning, contact one of our dive travel experts today

---
Ben's Cave, Grand Bahama
Ben's Cave is actually one of two blue holes located in the Lucayan National Park, near Freeport, but is the only one currently open to divers. The site is accessed via a 100-metre walk, with gear, followed by a steep descent into the sinkhole down a tightly spiralling staircase. And, incredibly, although Ben's Cave is thought to be one of the longest cave systems in the world - with more than nine-kilometres having already been charted - divers of all levels can get a taste of this incredible experience. A large open cavern at the cave's entrance allows exploration by less experienced visitors, with the dim glow from the surface illuminating the exit at all times.
The water clarity here is simply stunning, with sunlight searching far into the cavern from above before disappearing into darker, deeper passageways. Mosquito fish, shrimp, freshwater eels and an endemic species of crustacean can all be found underwater, along with several bivalve species. Stalactites, stalagmites and fossilised conch shells are other notable features, as well as a mysterious halocline, where the freshwater floats on top of the saltwater. Dives here require prior arrangement and visitors must be accompanied by a guide.
Lost Blue Hole, Nassau, Bahamas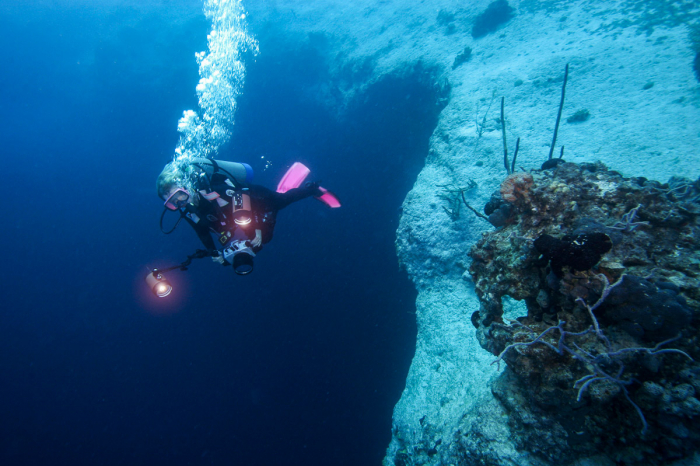 Nassau's Lost Blue Hole is located some 16-kilometres east of the island itself. Measuring around 25-metres wide, this large underwater sinkhole descends well below recreational limits, reaching depths of around 90-metres. But qualified divers of all levels can enjoy this remarkable site, simply by sticking within their certified limits. The sheltered, current-free habitats found both inside and outside the walls of this sinkhole play host to a surprising diversity of marine life, ranging from some of the Bahamas' best macro subjects to a handful of interesting larger species. And, best of all, the visibility is fantastic, allowing you to experience every aspect in perfect clarity.
The ring of sand that encircles the sinkhole is a fantastic spot to find stingrays, jawfish, gobies, and blennies, while seahorses and nudibranchs roam the seagrass beds beyond. Snapper, grunts, and goatfish can also be found darting to-and-fro. Inside the sinkhole, crabs, shrimps, and lobsters can be found clinging to the steep walls - amongst soft and hard corals, sponges, sea fans - while turtles and nurse sharks can sometimes be found resting on larger ledges. Seasonal aggregations of silky sharks can be found close-by, and between May and August the blue hole becomes a breeding ground for blacknose sharks which can sometimes be seen circling in schools up to 100 strong.
James Bond Wrecks, Nassau, Bahamas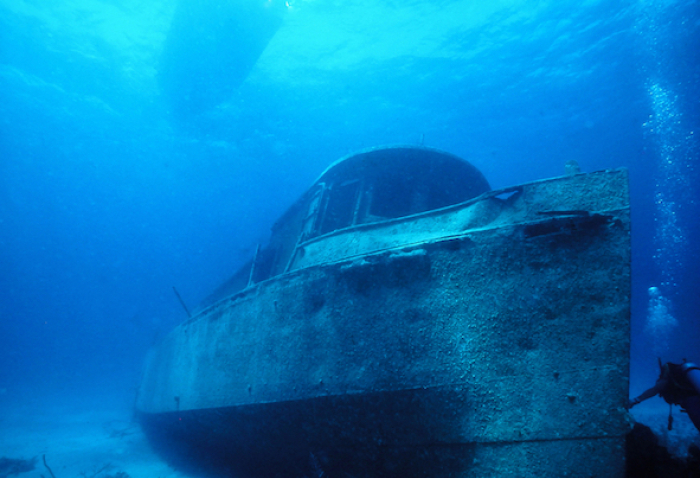 On the southwest side of Nassau lie two iconic wrecks which many will have already enjoyed, despite never having visited. These two wrecks, the Vulcan Bomber and the Tears of Allah, were both purposefully created to serve as props for the 1965 James Bond film Thunderball and its 1983 remake, Never Say Never Again. Both wrecks sit more or less side-by-side in shallow water and can be explored on a single dive. When the water clarity is good, as it usually is, both wrecks are easily seen from the surface, allowing snorkellers to also enjoy the spectacle. But, with a sandy seafloor below, novice divers should take care with their buoyancy to avoid disturbing the sand and reducing visibility.
Dives usually start at the deeper of the two wrecks, Tears of Allah, which lies at just ten metres. At almost 30-metres long, this upright tugboat is great for wide-angle photography and a large hole in its side allows certified divers to enter the hull. The Vulcan Bomber, on the other hand, is actually not a true wreck, having been constructed using fibreglass panels. All that remains is the scaffolding-like frame - creating a wonderful artificial reef. Both wrecks are now adorned with candy-coloured corals, sponges, and sea fans, which in turn attract plenty of reef-dwelling marine life. 
Stingray City, Grand Cayman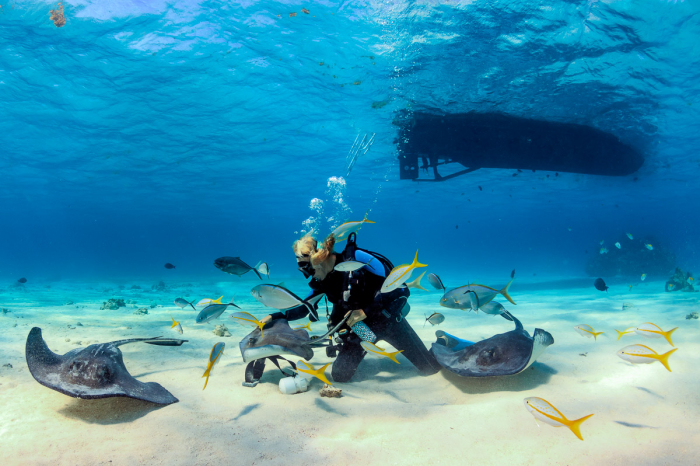 Located off the western corner of Grand Cayman's North Sound, Stingray City is one of the Cayman Islands' marquee underwater attractions. For many years, returning fishermen used to clean their catch around this shallow, sheltered sandbank and the local stingray population soon learnt to gather beneath the boats in anticipation of a free meal. Dive and tourism pioneers followed soon behind, and visitors to Grand Cayman have now been enjoying these exceptional encounters for decades. 
Both the site of Stingray City, and the rays themselves, are now protected, but divers and snorkellers are still allowed to enter the water amongst scores of these large yet gentle creatures. While most of the tourist action occurs in waist-deep water, dedicated dive groups get to avoid the crowds, descending into slightly deeper water just a short distance away. Here, at a depth of around four metres, you'll benefit from uninterrupted encounters with these Southern stingrays in near crystal-clear water. 
Captain Keith Tibbetts Wreck, Cayman Brac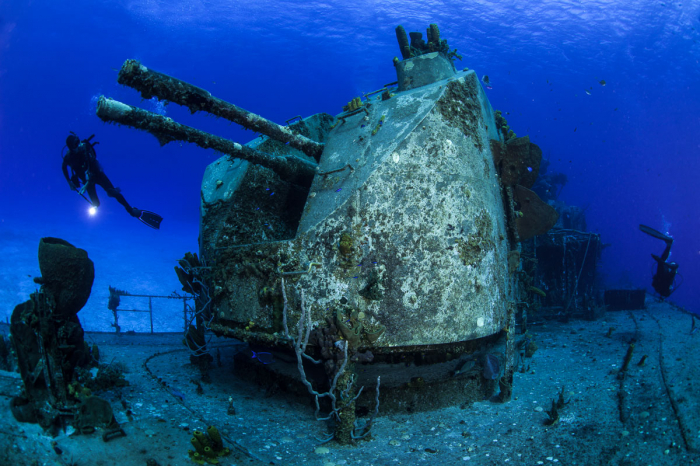 Cayman Brac is home to several worthwhile wrecks, but by far the most famous is the MV Captain Keith Tibbetts. This 100-metre anti-submarine frigate was built by the Soviet Union for the Cuban Navy in 1984 and subsequently sold to the Cayman Islands for tourism in 1996. The vessel was then renamed after a local dive operator, Keith Tibbetts, and deliberately scuttled off the northwest coast of Cayman Brac - creating the only diveable Soviet warship in the Western Hemisphere. The vessel now sits less than 200-metres from shore, making it possible to access with a surface swim on calmer days - but, for ease, most operators make the short journey by boat. 

After some 20-years underwater, the Captain Keith Tibbetts is already colonised by marine life and the impressive gun turrets add an extra layer of intrigue. During a hurricane in 2004, the wreckage was torn in half, leaving a scattering of debris on the sand below - creating plenty of hiding places for smaller critters. With a minimum depth of just 12-metres, a maximum depth of around 25-metres, and several safe penetration points, this large wreck offers plenty of exploration for certified divers of all experience levels. 
Great Blue Hole, Lighthouse Reef, Belize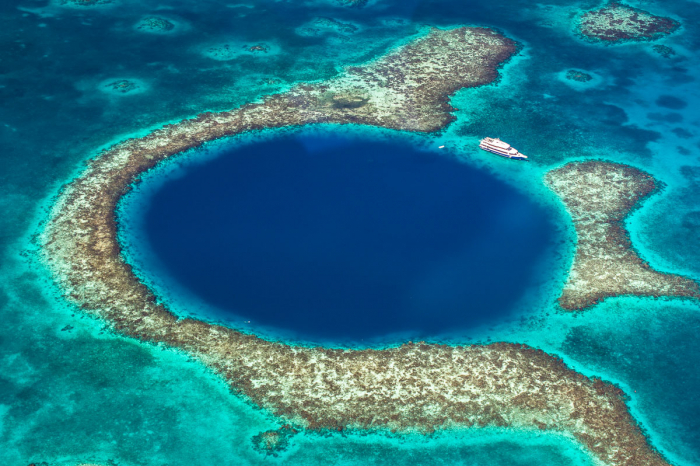 Originally discovered by the renowned underwater explorer, Jacques Cousteau, and aptly named the Great Blue Hole, this is arguably the most famous blue hole dive in the world. This impressive circular sinkhole is located in a remote and largely untouched offshore atoll - Lighthouse Reef - and is now a UNESCO World Heritage Site and protected Natural Monument. Its remote location means that trips to the site usually require a full day on the water and include several dives or snorkelling sessions in the blue hole and other nearby attractions. 
Juvenile reef fish and sometimes even sharks can be seen swimming near the surface, but once inside the blue hole, marine life can be scarce. Still, at 300-metres wide and 125-metres deep, this is the largest sinkhole on the planet, providing a once-in-a-lifetime experience regardless of what you see. The formation also features near-vertical walls, creating some spectacular scenery and a strange feeling of sensory deprivation as you descend deeper into the clear water.
Dolphin Den, Roatan, Honduras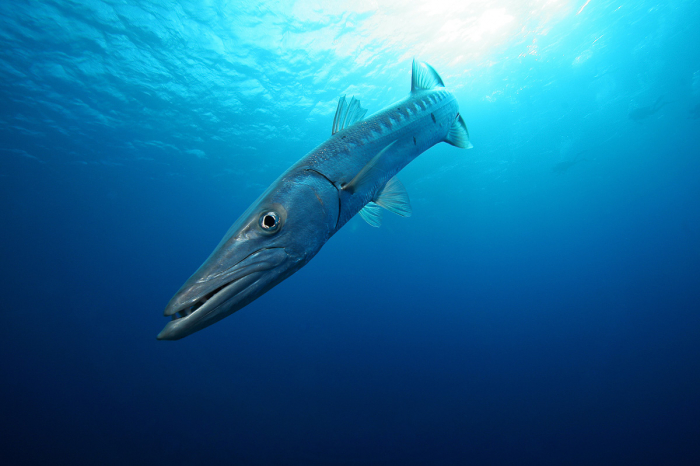 Located on the northern side of Roatan - within the Bay Islands of Honduras - the dive site known as Dolphin's Den is not well known among divers and has remained remarkably crowd-free. The dive focuses on a series of mesmerising coral canyons with a choice of routes that vary in light penetration and surface access. Also known by the more ominous name of Dolphin's Graveyard, this intricate system of tunnels and caverns has occasionally been known to disorientate dolphins that enter whilst on the hunt for silversides. In fact, the remains of unlucky individuals can still be found in the tunnels - including a skull.

While relatively simple to navigate, the maze of canyons is extensive enough to keep divers occupied for an entire dive. A variety of soft and hard coral decorates the walls, including giant anemones, while sand covers the floor along with patches of turtlegrass and upside-down jellyfish. The many overhangs are home to snapping shrimp, slipper lobsters, and channel clinging crabs, as well as the odd nurse shark napping in the shadows. During certain months of the year, the main chambers are packed with sparkling silversides, and you might also spot green moray eels, bluehead wrasse, and striped parrotfish.
Unique experiences for non-divers in the Caribbean
Whether you're a non-diver or just want to fill some time during a surface interval, the Caribbean has tons more once-in-a-lifetime experiences for you to enjoy. 
White Sand Ridge, Grand Bahama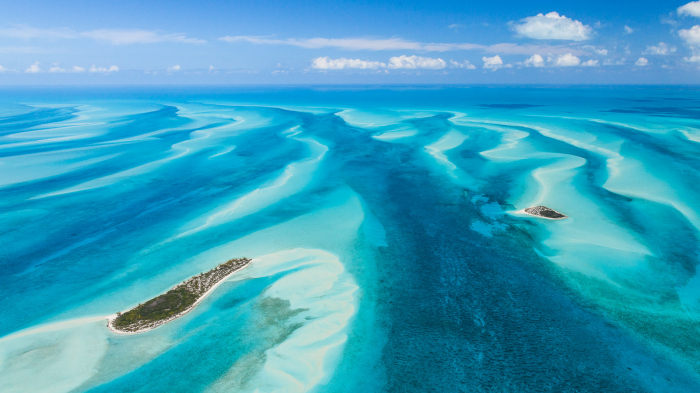 White Sand Ridge is an iconic snorkelling spot located more than 50-kilometres off the coast of West End, Grand Bahama - making it the realm of liveaboards excursions only. This pristine sandbank is a calving area for Atlantic spotted dolphins, but bottlenose dolphins also sometimes make an appearance.
Pablo Escobar's plane, the Exumas, Bahamas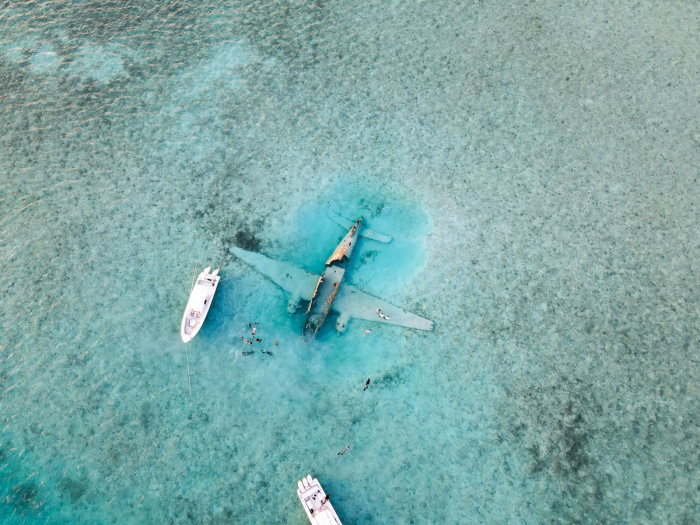 Used as a refuelling stop by Pablo Escobar's infamous cartel, Norman's Cay is about as remote as you can get in the Bahamas. In the shallow sand banks just off this small island, lies a sunken WWII-era military transport plane that was supposedly once part of the cartel's extensive drug smuggling operations.
Swimming pigs, the Exumas, Bahamas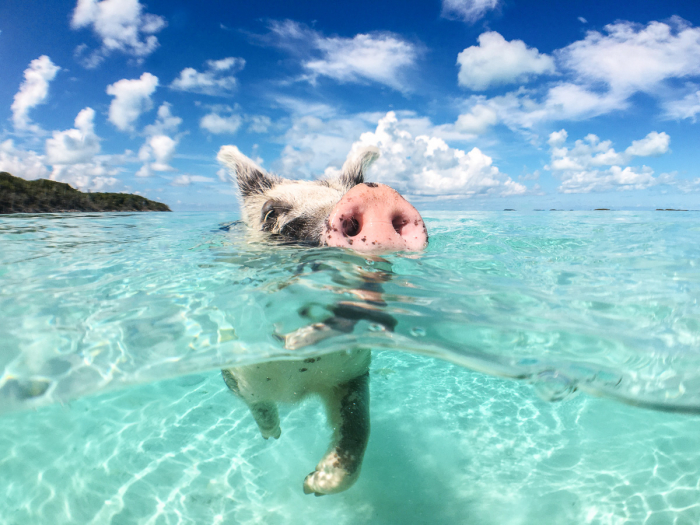 For many, this is the first thing that comes to mind when they think of the Bahamas. While the pigs are not native to the island, they have certainly made themselves at home, and seem to enjoy lounging on the beach, swimming in the shallows, and interacting with lucky tourists in exchange for a snack.
Shark Ray Alley, Ambergris Caye, Belize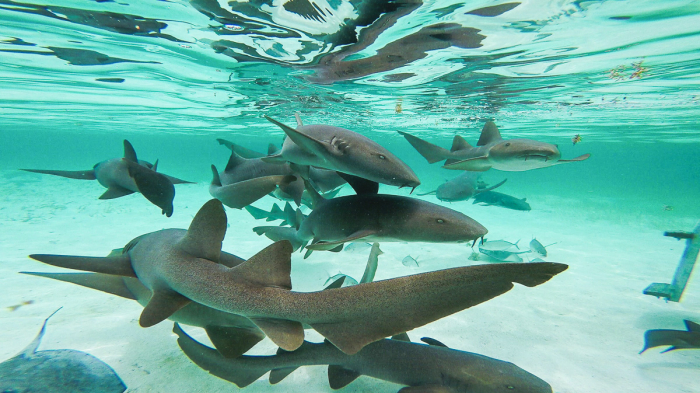 Just south of the well-known Hol Chan Marine Reserve lies a fantastic snorkelling spot named Shark Ray Alley. The area was once used by fishermen to clean their catch and the sound of boats arriving still draws large congregations of Southern stingrays and nurse sharks.
Humpback snorkelling, Grand Turk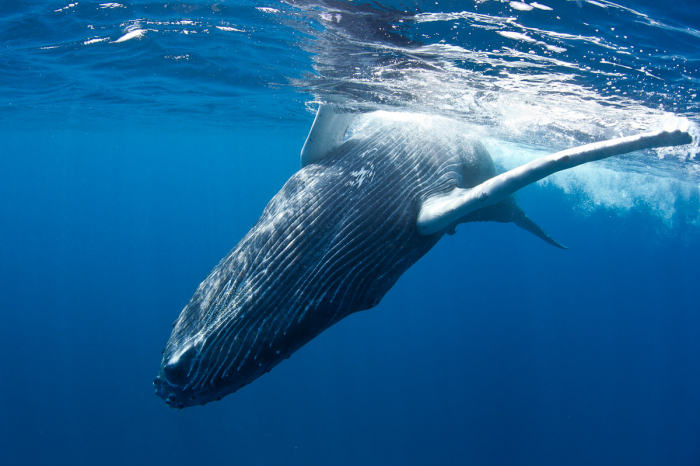 Every year, between January and March, humpback whales migrate past Grand Turk and neighbouring Salt Cay. Of course, sightings are far from guaranteed, but when humpbacks are spotted, it is possible to actually get in the water and snorkel alongside these enormous creatures. 
---
Need help planning your ultimate Caribbean getaway?
Contact one of our dive travel experts today

---
---
Join the ZuBlu community to receive the latest insights and unmissable adventures
Don't worry, we'll only send you really good stuff - and we never share your details
---