The ZuBlu team are passionate about dive travel and sharing their experience and knowledge with our guests. And while every one of us loves to explore new dive destinations, sometimes it's the favourites that keeps us coming back for more.
We've asked some of the ZuBlu family to share their all-time greatest dive sites - the one's they'll never forget - along with the one destination they dream of exploring. 
Dive in, and find out which destinations the ZuBlu team can't get enough of!
---
Matt Oldfield, ZuBlu co-founder
Favourite dive site - Blue Mao Mao Arch
From thousands of dives around the world, Blue Mao Mao Arch in the Poor Knights Islands of New Zealand stands out as one of my favourites, thanks to its spectacular scenery and vast amounts of marine life. As you can guess, this site has a huge underwater arch, often filled with dense schools of blue mao mao - a beautiful species of sub-tropical fish. Sunlight streams through the arch and illuminates the schools of blue fish below - absolutely breathtaking. Red pigfish frequently dart through the mao mao, creating an amazing colour contrast for photos. There's tons of macro life as well, particularly on the walls and in the kelp forests beneath, and you can spot cruising stingrays and eagle rays - all set to the backdrop of the arch itself!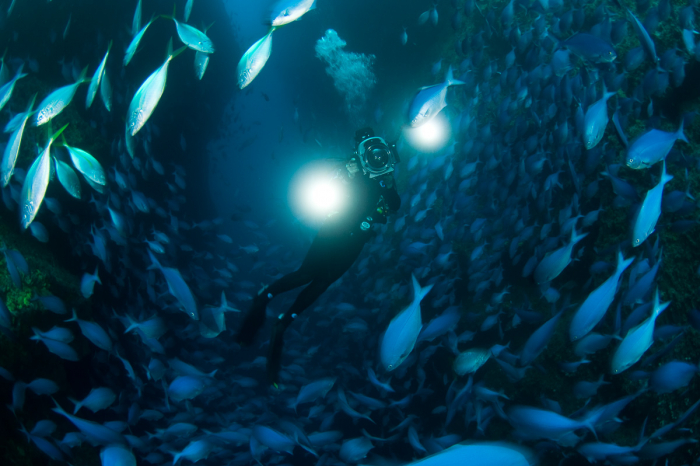 Bucket-list dive destination - Galapagos
Without hesitation, the destination I'd most like to visit is the Galapagos Islands, particularly as I am a biologist by training and studied the islands at university! The life around the islands is unique and so diverse - there really isn't anywhere else like it in the world. From hunting penguins and playful sea lions, to marine iguanas grazing beneath the waves, the Galapagos just offers so many remarkable diving experiences - and plenty of photography opportunities. And then there's the Darwin and Wolf islands, where big, bucket-list marine species gather en-masse, including yellowfin tuna, manta rays, whale sharks, and huge schools of hammerheads, to name just a few!
---
Adam Broadbent, ZuBlu co-founder
Favourite dive site - Barracuda Point
My favourite dive is Sipadan's Barracuda Point in Sabah, Malaysia, simply because it offers such a complete dive experience. First you drop into a school of jackfish being corralled by whitetip sharks and giant trevally. Then, drift down the wall towards the corner, encountering grey reef sharks, dozens of green turtles, and possibly even hammerheads in the current. As you make the bend, you'll ascend into the famous tornado of barracuda before finally finishing in the shallows with a train of bumphead parrotfish… And I haven't even mentioned the macro! Interesting subjects like leaf scorpionfish, ghost pipefish, giant frogfish, and much more, can also be spotted along the way. Barracuda Point is truly epic.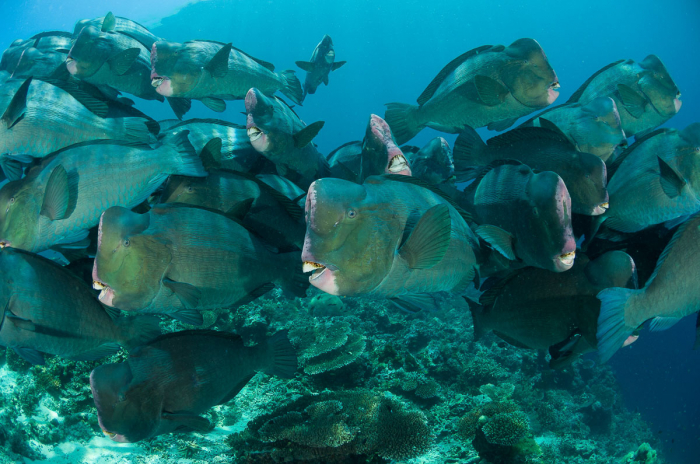 Bucket-list dive destination - Banda Sea
I think the Banda Sea, Indonesia, has to be my ultimate bucket-list dive destination, as it is home to - arguably - one of the most incredible liveaboard itineraries. Starting from the macro mecca of Ambon, you head through the remote and rarely explored waters of Banda - home to hammerheads, isolated volcanic seamounts, and all manner of other marine life - followed by the breathtaking reefs and island landscapes of Misool and Raja Ampat. I'll have to take at least three logbooks just to have enough space!
---
Marc Rowbottom, ZuBlu dive travel expert
Favourite dive site - Ulong Channel
It's hard to choose, but Ulong Channel, Palau, would have to be very high on my list. This channel is often cited as one of the world's best drift dives, and for good reason. The currents here are so much fun and the coral garden is simply incredible, with an expanse of lettuce coral that every diver remembers as a highlight. It's always worth hanging around at the mouth of the channel before the drift, as loads of grey and whitetip reef sharks often put on a show.
Bucket-list dive destination - Socorro
I'd love to join a liveaboard trip to Socorro and the Revillagigedo Islands, off the Pacific coast of Mexico. The chance for a truly once-in-a-lifetime encounter here just seems too good to be true. Whilst never guaranteed, this archipelago seems to deliver extraordinary experiences with a frequency that is unheard of almost anywhere else in the world. We recently had a guest who witnessed dolphins giving birth, right before their eyes, during a trip to Socorro - and even managed to film it! I doubt there's a diver on this planet who would pass up on a chance to see that.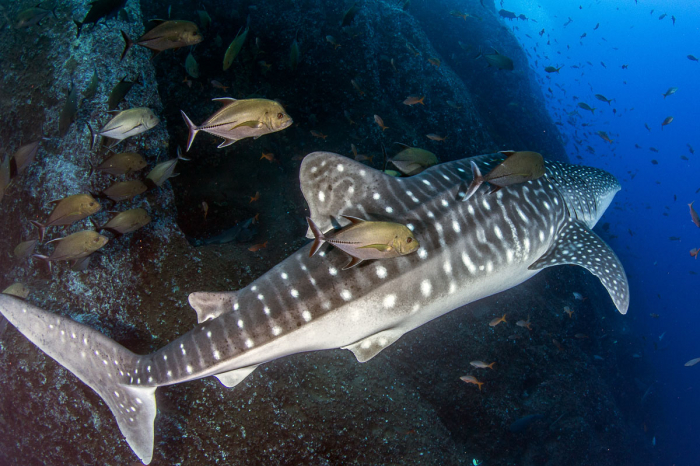 ---
Joe Taylor, ZuBlu content king
Favourite dive site - USAT Liberty
I'm not the biggest metal-head out there, but it's almost impossible not to be blown-away by the USAT Liberty in Tulamben. The sheer size of this wreck is impressive enough - and it's only a stone's throw from the shore. Plus, there's a maze of swim-throughs, structures and small chambers to explore, so it's easy for you and your buddy to slip away from other divers and find your own space. Amongst the bulkhead, boilers and skeletal superstructure, this site hides an impressive array of marine life, with critters like frogfish, leaf scorpionfish and pygmy seahorses amongst the coral and schools of trevally and bumphead parrotfish swirling overhead.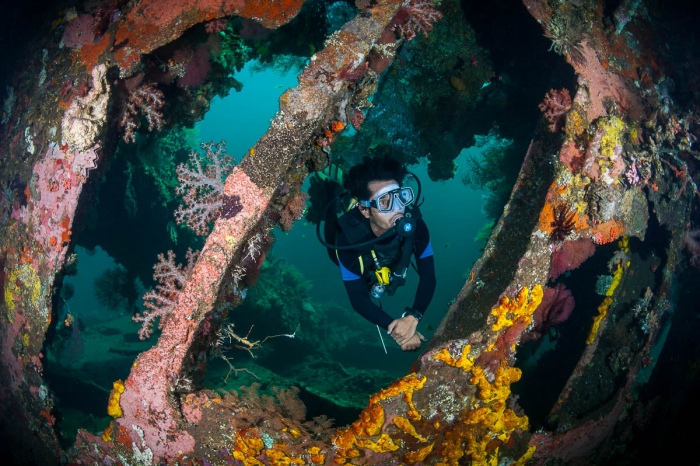 Bucket-list dive destination - Fakarava
If I could go diving anywhere in the world tomorrow, I'd choose Fakarava in French Polynesia. This atoll is about as remote and isolated as I can imagine and would be well worth the visit just for that 'edge-of-the-world' experience. But the atoll offers way more for divers, including once-in-a-lifetime drifts accompanied by grey reef sharks, lemon sharks, hammerheads, and oceanic whitetips. My dream would be to dive the narrow Tumakohua Pass during the spawning aggregation - combining the beauty and chaos of thousands of mating marbled groupers, with the thrill of formidable predators looking for a feast.
---
Sophie Bugliosi, ZuBlu dive travel expert
Favourite dive site - Four Kings
My favourite dive site ever is Four Kings in south Raja Ampat. It's mind-blowing topography and the diversity of marine life will stay with me forever. The site features four giant pinnacles, each draped with colourful healthy corals and guarded by grey reef sharks which patrol in between. Mobula rays can be seen swooping past, mantas queue at the top waiting for a clean, and a colony of giant groupers can usually be found hunting in the deep. Just thinking about it still gives me goosebumps. I want to go back!!!!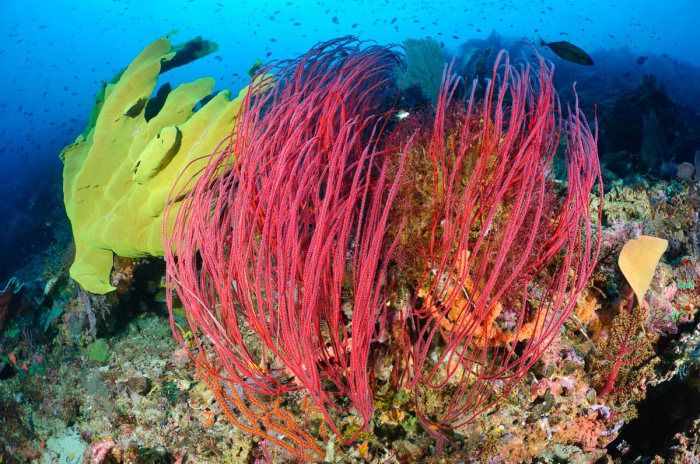 Bucket-list dive destination - Malpelo Island
Malpelo Island is definitely number one on my bucket-list of dive destinations. 500-kilometres off the coast of Colombia, the remote wilderness of this place makes it super tempting. Just getting there seems like an adventure in itself. And, once you arrive, you get the whole place to yourself; one liveaboard with an entire marine park at its disposal, and the diving here is as exhilarating as it gets. The powerful open-ocean currents and vertical walls which this island is so well known for delivers unparalleled pelagic encounters, with dolphins, sailfish and mantas often putting on a show, as well as silky sharks and hammerheads schooling in their hundreds.
---
Eny Karyani, ZuBlu partner master
Favourite dive site - Panagsama
I'm new to the world of diving, but the best place I've seen so far has been Panagsama in the Philippines. This was one of the first dives I did after completing my open water and it couldn't have been better. I still can't believe how many sardines were living right next to the beach! The school was so big it blocked out the light from above, opening up as we swam through, surrounding us in a cloud of fish. This was an absolutely amazing experience that I'll remember forever - I can't wait for more!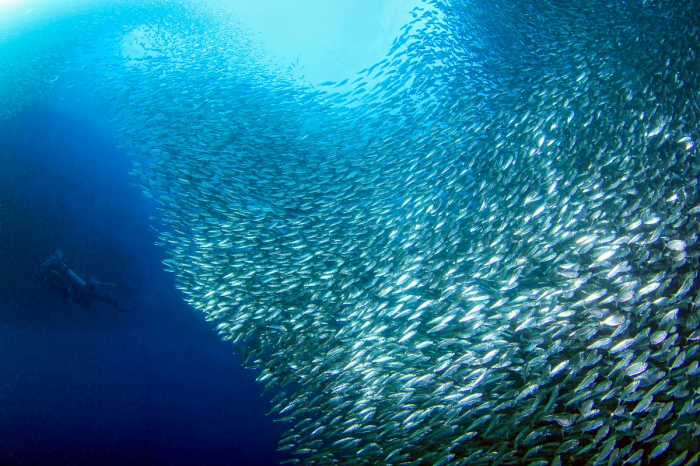 Bucket-list dive destination - Azores
The Azores is one of the places I would most want to visit as it offers a great mix of activities - creating a tempting all-round holiday experience! Cast out in the middle of the Atlantic Ocean, these European islands deliver some absolutely unbelievable beaches, culture, mountain paths and whale-watching… and then there's the diving. Beneath the water, these islands are home to shallow reefs, easy wrecks, and action-packed offshore banks visited by dolphins, blue sharks and makos. You can even dive with mobula and manta rays, which is something I've always wanted to do.
---
Syauqi Hidayat, ZuBlu marketing maestro
Favourite dive site - The Crack
Sitting between Komodo and Alor, Maumere is often overlooked as a dive destination of its own, but it's home to one of my all time favourite dive sites. Just outside of Maumere Bay, near the islands of Pulau Babi, a huge tectonic crack has ripped an unstoppable path through the reef, driven by the earthquakes that caused the 1992 tsunami. Known a little obviously as "The Crack", this product of destruction has become overgrown in rich corals over the years, with tons of sea fans, sponges, hydroids and sea squirts creating a vibrant and colourful reef.
Bucket-list dive destination - Cocos Island
The destination I dream of visiting most is Cocos Island, off the coast of Costa Rica. This place is ridiculously remote - taking more than 30 hours of sailing to reach - but the stories sound almost too good to be true! The main reason I'd like to visit is to experience diving in the legendary Hammerhead Triangle, which is undoubtedly the best place to witness these guys schooling in large numbers. But the crazy currents around this isolated island attract all kinds of big and powerful species, from mantas, mobulas and marble rays to billfish, bottlenose dolphins, sea lions and humpbacks.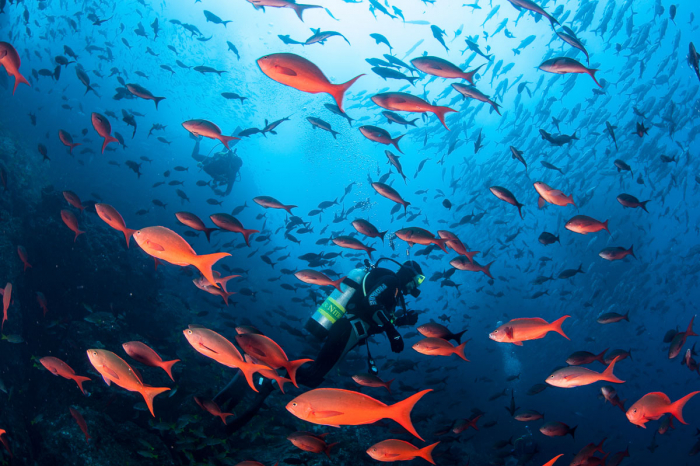 ---
Ready to book your dream dive holiday?
Get in touch with the ZuBlu Travel Team

---