The Azores were named Europe's Leading Adventure Tourism Destination at the World Travel Awards 2022, making it the third consecutive year this archipelago has won. Heralded as the Hawaii of the Atlantic, this lush subtropical chain of volcanic islands boasts a Garden of Eden-esque landscape, both above and below the waves. Often overlooked by mainstream tourists, the Azores offers a more relaxed ambience - free from the crowds that can plague other destinations.
While you might be familiar with the towering peaks, forests, and picturesque lava flows that the islands are famous for, the real highlights of the Azores are found underwater, including vibrant reefs and fascinating wrecks. And, thanks to its remote location in the open ocean, the Azores is a hotspot for marine megafauna - with dolphins and whales, sharks, and playful pelagic rays gracing its sparkling azure waters. 
Keep reading for all the details on where and when to spot these amazing animals, plus ZuBlu's top tips to help you make the most of your time in the Azores!
What makes the Azores a hotspot for marine wildlife?
Officially named the Autonomous Region of the Azores, this charming archipelago is the crown jewel of Macaronesia - a remote region found in the Atlantic Ocean. The islands are often dubbed a "magnet" for marine wildlife - not only because they lie in the migratory path of so many species but also thanks to the oasis in the open ocean that they create. These islands are also swept by the Gulf Stream current, which carries massive upwellings of nutrient-rich water as it passes. This daily delivery of krill and plankton attracts vast shoals of baitfish, which, in turn, beckon larger predators in from the deep. 
The Azores were created by massive underwater volcanoes millions of years ago, hence the steeply plummeting walls and rocky offshore banks. This landscape of seamounts, craters, and lava tubes is a paradise for pelagics, allowing marine megafauna to venture into the shallows to eat and visit the archipelago's cleaning stations. 
Ready to start planning your dive holiday to the Azores?
Search, compare and book from our hand picked resorts.
Dolphins and whales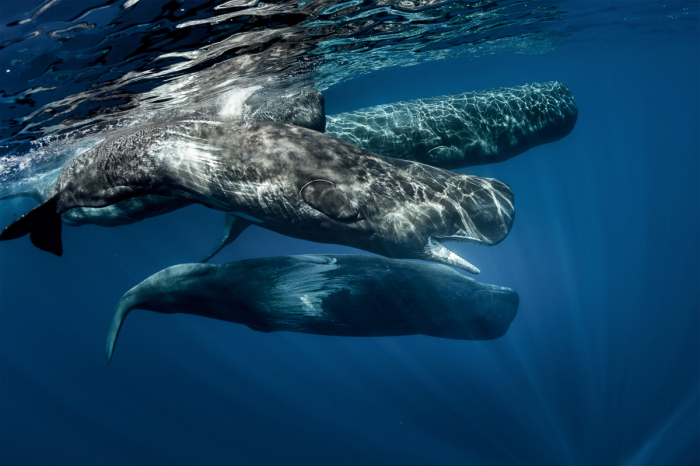 The Azores are renowned for whale and dolphin watching, as the islands are an essential stopover for many species of migrating marine mammals. These cetaceans return to the same waters year after year to breed and feed, with up to 20 species making special appearances during the peak season, from mid-March through the end of October.
Whales are protected in the Azores, and entering the water with them is prohibited. Instead, whale watching tours are conducted on the surface, adhering to strict guidelines to protect both humans and marine mammals alike. Swimming with dolphins is permitted, however. And, many tour operators offer three to four hour-long in-water experiences allowing guests to get up close and personal with these cheeky oceanic acrobats. 
While some of these animals - including bottlenose and common dolphins, and sperm whales - call the Azores home all year round, others only pass through. Blue whales, for example, the largest whale species on our planet, only visit the Azores for a few months between March and May. 
Mobula and manta rays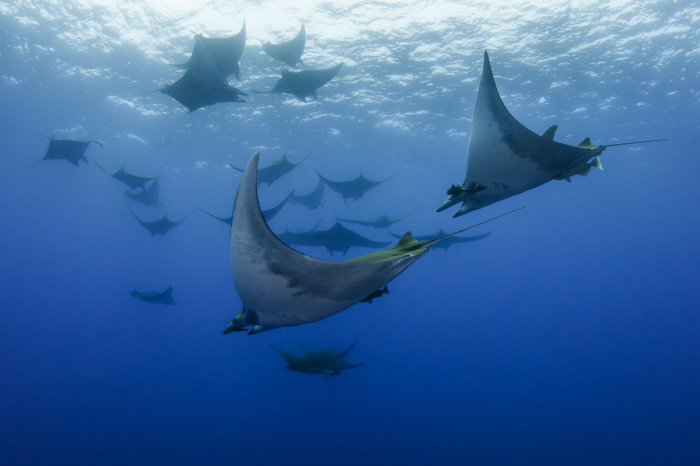 Each year, between June and October, playful pelagic rays gather in the waters around the Azores. Different mobulas, particularly sicklefin and spinetail devil rays, are commonly seen plunging and barrel rolling with the current, gills agape, whilst filtering large amounts of ocean water for their favourite foods - plankton and krill. Sometimes appearing in great numbers, these charismatic species appear in easy to predict aggregations, making them a delight for divers and snorkellers alike. 
While nobody knows exactly why devil rays visit the Azores - or where they go before and after - a few things are certain. The rays prefer to gather around a few specific seamounts - Ambrósio near Santa Maria, and Princesa Alice near Faial and Pico. And, all of the rays that visit these areas are mature adults, including a large number of heavily pregnant females. This leads researchers to believe that the seamounts play an important role as birthing or mating areas.
As a bonus, these incredible encounters occasionally include an additional species - giant oceanic mantas. The largest ray in the world, these massive filter feeders can reach a stunning seven metres across. And, like their smaller seasonal companions, they aren't shy about interacting with divers. In fact, they'll often approach groups curiously, sometimes making two or three passes to take a closer look.
Blue, mako, and whale sharks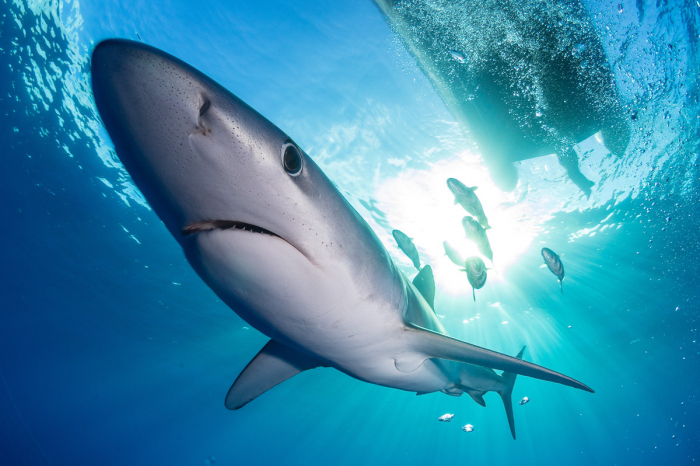 As well as the cetacean and majestic mobulas, the Azores are also a hotspot for sharks. Between July and October, mako and blue sharks can be seen with surprising regularity at remote seamounts around the island of Pico. During these months, visibility peaks, with many days reaching 30 metres or more. So, it's also an excellent opportunity for underwater photographers to capture once in a lifetime images of these elusive pelagic shark species.
Later in the scuba diving season, while the Azores' plankton blooms are at their peak, whale sharks enter the region. Migrating along the archipelago's southern border, specifically around the islands of Pico and Santa Maria, these gentle ocean giants are most commonly seen cruising in the shallows and feasting on their microscopic meal of choice. But, they are sometimes encountered at depth as well, sucking down vast quantities of tiny fish that swirl together in bait balls at the islands' offshore seamounts.
When to visit the Azores
The Azores are a highly seasonal scuba destination, with conditions changing greatly throughout the year. The winter months, between November and February, are subject to storms and regular rainfall, with temperatures dropping as low as 14°C. 
Spring months, between March and May are famous for migrating baleen whales. But, this season is prone to poor visibility, sometimes dropping to as low as 10 metres. This is also jellyfish season in the Azores, with occasional Portuguese man o' war sightings that can disrupt scuba diving schedules.
The Azores' high season runs from June through September, when weather and sea conditions are at their most stable, visibility peaks, and wildlife of all kinds can be found in abundance. These months also boast good visibility and warm water, sometimes reaching a balmy 24°C. If you're hoping to spot all the region's signature species but have the best sites to yourself, consider visiting during September or October. You'll likely spot whale sharks, pelagic rays, and sharks - and you won't encounter as many summer holidaymakers as you might between June and August.
Species Guide:
Whales - March through October 
Rays - June through October 
Sharks - July through October
Whale Sharks - August through October
---
Need help planning your trip to the Azores?
Contact one of our dive travel experts today.

---
---
Join the ZuBlu community to receive the latest insights and unmissable adventures
Don't worry, we'll only send you really good stuff - and we never share your details
---