Forget flowers, give your loved one something they really want - a romantic dive getaway they'll treasure for years to come. 

We've put together a selection of the most romantic - and totally picture-perfect - dive resorts in 2022, so you can surprise your loved one with an idyllic dive getaway. Book today to share your love for the ocean and create unique underwater memories that will last a lifetime.
Our top romantic dive getaways for 2022:
---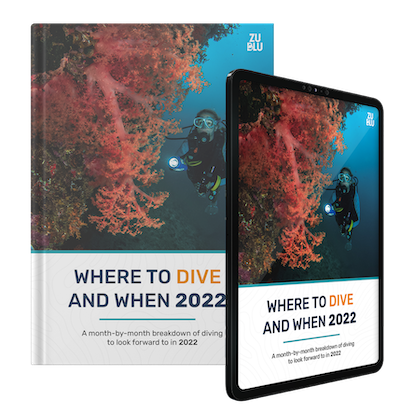 Need some inspiration for your next diving holiday? Download this FREE month-by-month guide to ZuBlu's top diving destinations.
---
---
Dreaming of your romantic diving holiday?
Contact one of our dive travel experts and start planning today.

---
Mirihi, South Ari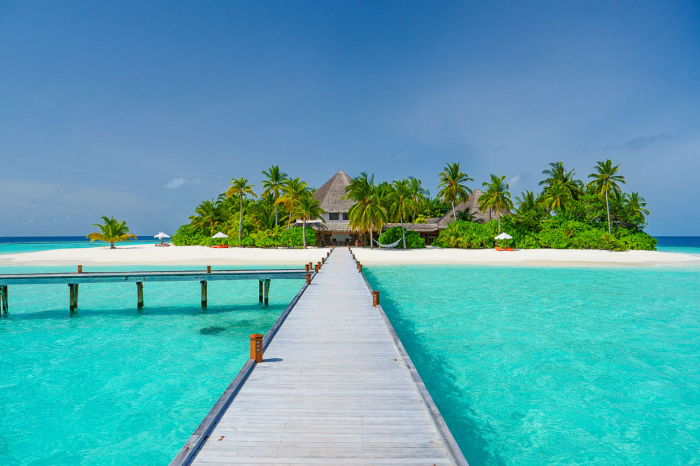 Intimate private island paradise for adventurous couples and discerning divers

Mirihi is one of the most intimate and exclusive islands in South Ari Atoll. The resort's modern design perfectly showcases the island's natural beauty, with dazzling white sand beaches, a calm clear lagoon, and plenty of quiet jungle hideaways for rest and relaxation. And, with far fewer villas than other private islands, Mirihi feels more like a boutique island escape than a sprawling resort. 
Guests looking to connect over candlelight will find a tantalizing selection of fine dining restaurants, wine bars and cocktail lounges - all just steps from the ocean and surrounded by breathtaking vistas or fresh tropical foliage. Or, for a little extra indulgence, the island's award-winning Duniye Spa, featuring massage, bodywork, ayurvedic therapy, and romantic couples sessions. Travelling with children? No problem. The resort's expert staff is happy to offer childcare while you take some time to yourselves.
Diving
Located in the atoll's deep south, Mirihi is a paradise for divers, offering short boat rides to some of the Maldives' best sites for encounters with marine megafauna such as whale sharks and manta rays. Not to mention the resort's own house reef, which comes with its own wreck dive, and is open for self-guided exploration whenever you want. 
The in-house PADI 5-Star dive centre are specialists in concierge-style service and unique underwater experiences. Guests can make the most of on-demand tank fills, complementary nitrox, multiple-dive discounts, and more - making Mirihi one of the Maldives' best resorts for dedicated divers.
Como Cocoa Island, South Male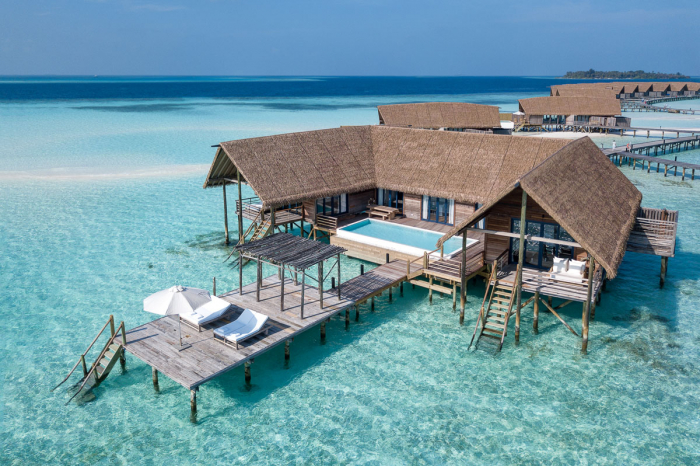 Exclusive eco-friendly resort offering peaceful retreats packed with unique concepts
The exceptional COMO Cocoa Island is a luxury eco-conscious resort in South Male Atoll, hidden away from other resorts, and surrounded by coral reefs and white sand bars. This exclusive getaway promises what few luxury Maldivian resorts can truly provide - peacefulness, privacy, and the opportunity to do as much, or as little as you please. Stroll the powdery sands, discover kaleidoscopic marine life, or de-stress on a massage table or daybed.
From overwater villas with direct access to the turquoise lagoon, to the serene Shambhala Retreat and raw, organic cuisine, everything at COMO cocoa is tailored towards wellbeing.
Couples looking to create lasting memories together can also enjoy customised cruises, private dinners, and once-in-a-lifetime experiences from watersports to enriching island excursions.
Diving
COMO Cocoa boasts an outstanding PADI 5-Star dive centre, run by a professional, multilingual team and equipped with full equipment rental, as well as nitrox and underwater cameras. Guests can explore the delightful dive sites of South Male, including Kandooma Caves and Cocoa Thila, try a night dive on the popular house reef, or venture further afield with full-day boat trips.
Guests looking to enhance their experience can sit in on marine life presentations or take part in an expert-led dive with the resort's resident marine biologist.
Ray Cay Island Resort, Belize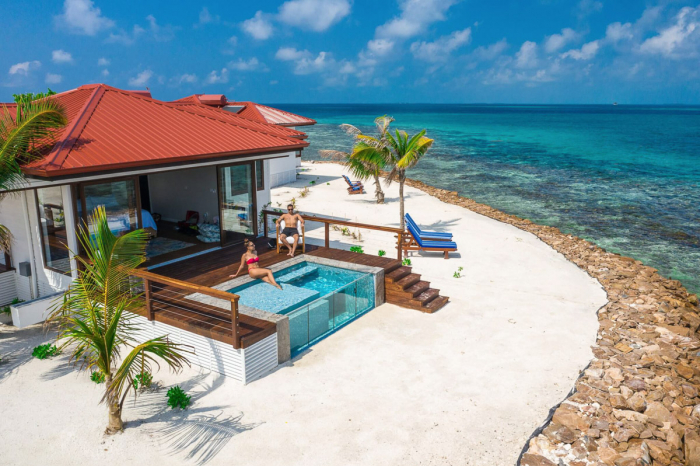 Off-grid private island resort, offering a taste of the Caribbean, before it got crowded
Located around 30-kilometres off the coast of Placencia, Ray Cay is a unique private island resort specifically designed to provide a sanctuary for the spirit. Offering authentic alternative vacation experiences, this enchanting island escape is perfect for adventurous couples seeking a pure, exotic, and fun destination that is as far removed from the pressures of daily living as you could possibly wish for.
Surrounded by pristine natural scenery, Ray Cay encourages guests to unplug from electrical devices and devote each day to calming their mind and getting reacquainted with loved ones or long-dormant passions. An on-site fitness centre, yoga studio, freshwater pool, and massage services mean switching off is easy, while complimentary use of paddleboards, Hobie catamarans, kayaks, and volleyball courts help guests make the most of the unspoiled setting.
Diving
Thanks to Ray Cay's proximity to Gladden Spit, Silk Cayes Marine Reserve, and the Belize Barrier Reef the unbelievable experiences continue beneath the waves. Run by local experts, the on-site Pirate Reef Dive Shop takes guests to the best sites at the perfect moment, dropping divers directly into the action time and time again. As well as the untouched, biodiverse local reefs, guests will also have access to seasonal whale shark aggregations and extended trips to iconic sites such as Glover's Reef and the Great Blue Hole.
Turneffe Flats, Belize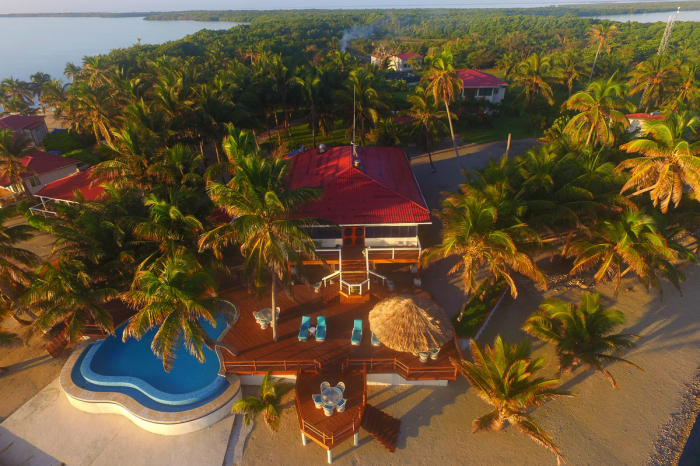 Sustainable sporting holidays in the serene natural setting of Turneffe Atoll

With its secluded beachfront location, amid Belize's largest marine reserve, Turneffe Atoll, this resort is an absolute must for outdoor-orientated couples. Turneffe Atoll is often touted as the 'actual' location of the legendary Fountain of Youth, and is believed by some to have provided inspiration for the fictional paradise of 'Neverland'. With so much wonder on its doorstep, this family owned-and-operated retreat has been delivering adventurous activity-focused holidays for several decades, with flexibility and sustainability at the forefront. Guests are accommodated in a selection of comfortable cabanas and sizeable villas, providing options for a range of budgets and preferences. 
Without a doubt, this resort is best known for its exceptional saltwater fly fishing, with the ever present possibility of landing bonefish, permit and tarpon all in a single day. So, if you and your loved one are equally-avid anglers, Turneffe Flats should certainly be high on your list. But there's plenty of other ways to connect here, with kayaking, bird watching, nighttime walking tours, and excursions in search of exciting wildlife such as manatees, crocodiles and dolphins.
Diving
For established dive buddies, or couples keen to embark on an underwater adventure together, Turneffe Flats' PADI dive centre offers excursions to more than 65 dive sites around Turneffe Atoll, as well as the renowned Great Blue Hole. To ensure guests enjoy every moment of their experience, this resort provides a true valet-style dive service. Kick-back and relax while your gear is washed and stored at the end of each day, and find it ready-and-waiting for you on the boat the following morning.
Constance Lemuria, Seychelles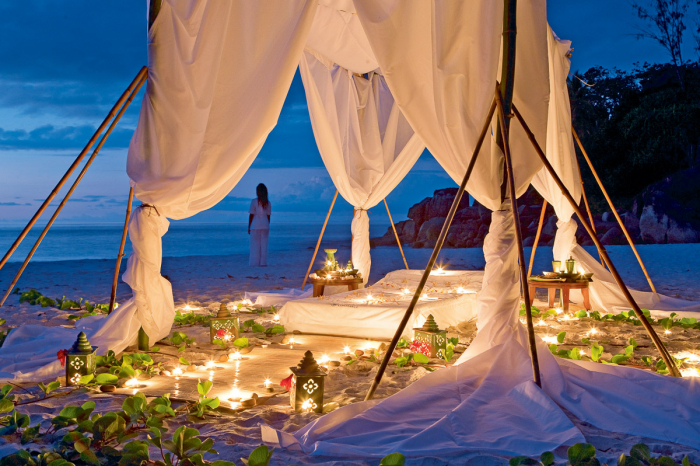 Extravagant five-star resort with exquisite dining and extensive recreation facilities

Constance Lemuria is one of the most indulgent dive resorts in the Seychelles, making it a fantastic option for a romantic break. Located on the island of Praslin, this five-star paradise boasts elegant architectural design, meticulous attention to detail, Green Globe certified sustainable operations, and a wide range of facilities befitting royalty. Romantic moments come thick and fast throughout Constance Lemuria's extensive options for drinking and dining. Expect open-kitchen cooking shows, sommelier wine room experiences, ocean-facing private dining decks, gourmet sunset snacking, chic cocktail and cigar lounges, and pool bars with free-roaming peacocks - to highlight a few. 
The onsite spa provides treatments of all kinds, and incorporates a relaxation garden, hair salon, sauna, steam room, and cold plunge pool, while a three-tiered infinity pool cascades towards the ocean. For couples who like to stay active, Constance Lemuria provides an onsite fitness centre, two flood-lit tennis courts, and the only 18-hole championship golf course in the Seychelles.
Diving
Thanks to its convenient location, Constance Lemuria's PADI 5-Star dive centre is able to offer exciting excursions to many of the Inner Islands' iconic sites. A diverse selection of underwater experiences are on offer, with short and long-range trips around Praslin and its surrounding islands, where pink granite reefs and charismatic marine life can be found. Both PADI and CMAS courses are available, while an onsite turtle sanctuary adds extra charm.
Anantara Maia Villas, Seychelles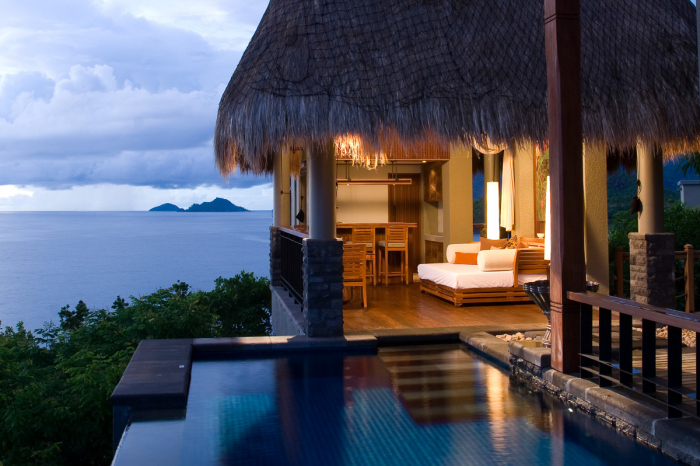 Enchanting all-inclusive resort going the extra mile in the name of luxury and romance
Anantara Maia brings nature into the lap of luxury, delivering highly-exclusive service and unprecedented facilities on one of Mahe's most scenic stretches of coast, all surrounded by 30 acres of unspoilt forest. Throughout its operations, Anantara Maia elevates the standard of luxury to new heights, offering 'Beyond All Inclusive' packages with an exclusive 'Dining by Design' concept, allowing guests to collaborate with a personal chef to create their own bespoke dining experience.
Built in perfect harmony with the surroundings, Anantara Maia's stunning villas are perfect for romance, offering sweeping views, plenty of privacy, private swimming pools, and round-the-clock service from your dedicated villa host. Amongst the virgin forest and the floral and herb-filled gardens, guests will also find yoga and qigong pavilions, and an onsite spa complete with Vichy tables, Jacuzzi tubs, and open-air couple's treatment areas. 
Diving
Anantara Maia may have its own onsite dive centre, but scuba still takes centre stage. Partnering with local reputable operators, this resort is able to offer flexible 'a la carte' diving schedules to suit guest preferences. In fact, certified guests staying in this resort's resort's premier villa will benefit from unlimited dives, with multiple departures each, all planned by the private villa host!
Volivoli Beach Resort, Fiji
Fiji's premium boutique resort, mastering the art of slow living
Volivoli Beach Resort lies on the untouched north coast of Fiji's main island - surrounded by lush green forest and azure seas that play host to some of the earth's healthiest coral reefs. The area is home to thriving mangroves and history-filled caves, which give way to thundering waterfalls, abundant crop fields and colourful Fijian villages inland.
Nestled on its own peninsula, within several acres of land, Volivoli has everything you need for an unspoilt paradise retreat. Savour the company of loved ones as you bask in the peaceful sunshine around the oceanfront swimming pool, or lounge in a hammock by the beach watching the sunset. Share laughs and memories over inspired local cuisine in one of the two 'farm-to-table' restaurants, or as you soak in the pool with an ice-cold drink from the pool bar. Or, enjoy the silent romance of a relaxing couples massage - what more could you possibly ask for this valentines day?
Diving
Diving enthusiasts will be pleased to know that the local diving is among the best in Fiji, focussing on the renowned Bligh Water, which is home to the most spectacular soft corals and incredible reefs. There are over 50 incredible dive sites, suitable for various levels of experience, with many of the best lying just a 20-minute boat ride from the beach. Ra Divers is one of Fiji's longest established dive operators, boasting a modern building and advanced equipment. The dive centre is a fully certified PADI and SSI facility and is among the most reputable in the South Pacific. 
VOMO Island, Fiji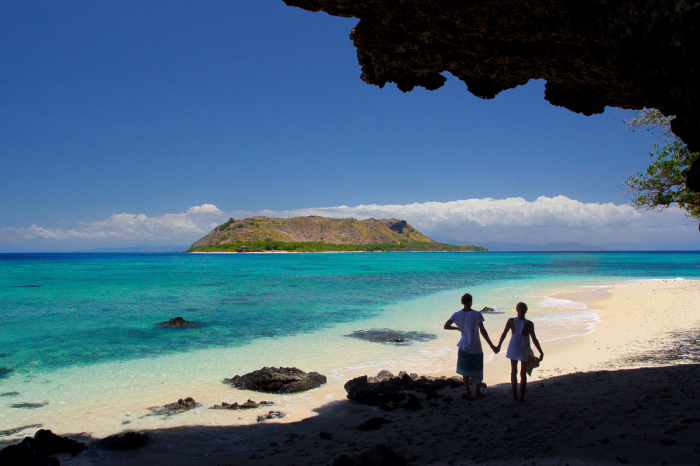 Ultra-stylish private island dive retreat where you'll want for nothing
Spread over two stunning private islands within the Mamanucas, and surrounded by five-kilometres of powder-white sand, VOMO is one of Fiji's most remarkable resorts. Guests at this resort will be spoiled with concierge-style service and an endless array of recreational facilities. Snorkelling, stand-up paddleboarding, and windsurfing are obvious island activities, but guests will also find tennis courts and a nine-hole pitch and putt golf course to pass the time. Couples treatments are offered in the onsite spa, while Mt. VOMO provides breathtaking 360-degree views of the island - the perfect to watch the sunrise with a loved one.
The elegant ambiance of VOMO's adults-only restaurant and bar is sure to inspire romance, offering gourmet menus, an enticing infinity-pool, and an expansive deck dotted with cabanas, sun loungers, and 'floating' pool chairs. Once a week, the resort also hosts a traditional Lovo and Meke celebration, with dancing and barbecue cuisine beneath the stars.
Diving
Lying at the far northeast of the Mamanuca Islands, on the cusp of the Yasawas, VOMO Island provides access to some of Fiji's best diving. Conditions here are often mild, allowing scuba divers of all experience levels to search for exciting species such as sharks and rays. The resort's onsite dive centre ensures stress-free service at all times during scheduled trips, and will happily create a personalised multi-day programme, customised specifically towards your skill and experience level.
---
Ready to start planning your romantic holiday?
Contact one of our travel travel experts today.

---
---
---