Sultry, tropical, and alluring, Fiji easily tops the charts as one of the world's most romantic destinations, with hundreds of secluded islands and spectacular beaches to explore. Thankfully, Fijians are well aware of their country's idyllic allure, and no matter where you travel, you'll likely find an impressive selection of romantic resorts to provide the perfect setting for your experience. 
These island hideaways cater to travellers of all types, with exciting adventures like diving, watersports and hiking, as well as leisurely activities including island hopping, wandering some of the world's most picturesque beaches, or simply soaking in your swimming pool. They also foster romantic connection with beautiful, intimate accommodation set to a backdrop of Hollywood-worthy scenery, delicious fine dining and drinking, and indulgent spa services.
Discover Fiji's most romantic experiences, including a selection of the most charming and intimate dive resorts. 
---
Need help planning your romantic getaway to Fiji?
Contact one of our dive travel experts today

---
Why Fiji is a dream destination for romantic getaways
With exquisite backdrops, unforgettable adventures, and tons of charisma, the Pacific island nation of Fiji is an ideal destination for doting dive buddies.
Stunning natural settings
Fiji is a Pacific island nation famous for its year-round tropical climate, beautiful beaches, and picture-perfect scenery, including thundering waterfalls and dense, old-growth rainforests. It's also home to some of the world's most unspoilt landscapes, including scenery that provided the backdrop for Hollywood classics like Castaway and The Blue Lagoon. With two main islands and hundreds of smaller isles, Fiji is perfect for island hopping and sailing, with each secluded destination seemingly more lovely than the last. And, thanks to its lack of large-scale tourist infrastructure, much of the region remains pristine - ideal for peaceful connection between couples.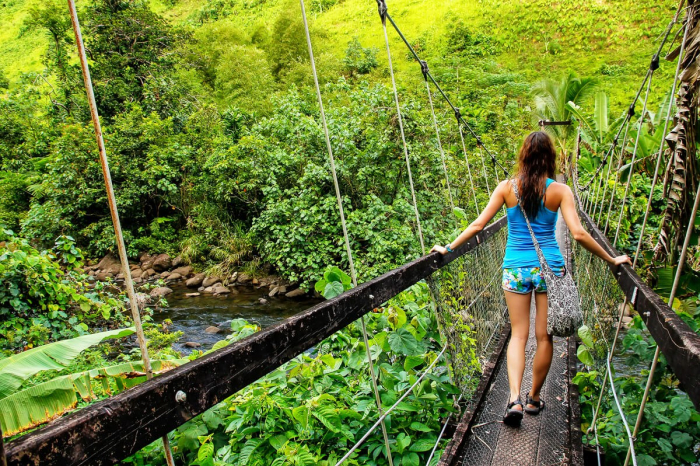 Cultural charm
Fiji is home to a fascinating and unique culture, blending traditions from all around the world. It's impossible to visit the country without attending at least one Meke, a ceremonial song and dance performance. Local village tours often include a chance to try kava, a slightly narcotic beverage made from the crushed roots of the yaqona plant that packs an aphrodisiac punch. Other can't miss experiences include Fijian Lovo - a feast wrapped in banana leaves and roasted underground, and the incredible fire walkers of Beqa - a sight that you'll have to see to believe!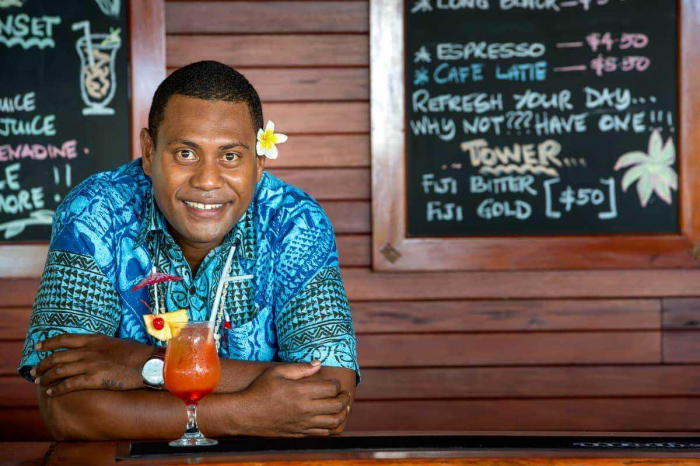 Secluded relaxation
Fiji is also famous for its luxurious island resorts, boasting private oceanfront Bures and villas. With one of these indulgent resorts as your base, you'll hardly have to see another human if you don't want to, with footprint-free beaches, private concierge and butler services, exclusive drinking and dining opportunities, and the chance to enjoy five-star spa services in total seclusion.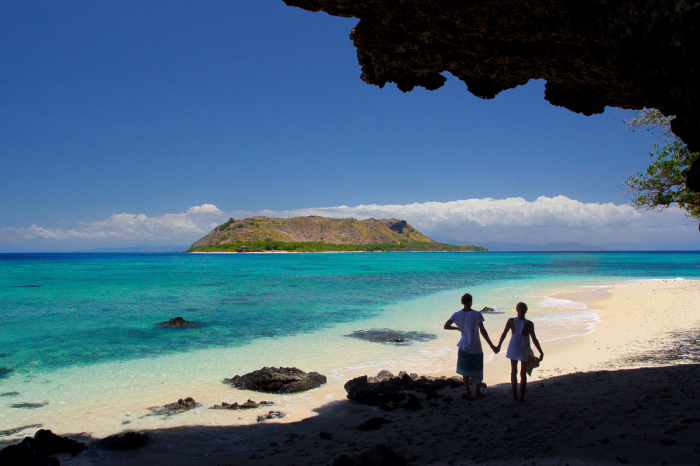 Scuba diving
Lastly, if you're a couple that enjoys outdoor adventure together, you're in luck. Fiji is unparalleled in its opportunities for adrenaline-inducing underwater exploration. Dubbed the shark diving capital of the world, famous dive sites in Pacific Harbour and Beqa offer encounters with up to eight species of sharks. The sharks are beckoned by Fiji's powerful currents, which are also to be thanked for the country's incredible soft coral gardens. These fascinating formations sway with the tidal flow, creating a moving carpet of colour, home to myriad creatures and making for an incredible underwater photography background.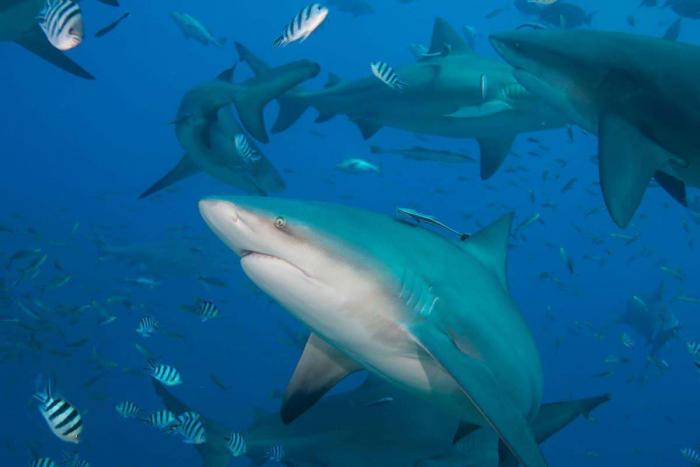 Ready to start planning your romantic getaway to Fiji?
Search, compare and book from our hand selected dive resorts
Fiji's most romantic resorts
When it comes to exclusive private islands and relaxing resorts, couples visiting Fiji are spoiled for choice. But, a few resorts do stand head and shoulders above the rest! 
Volivoli Beach Resort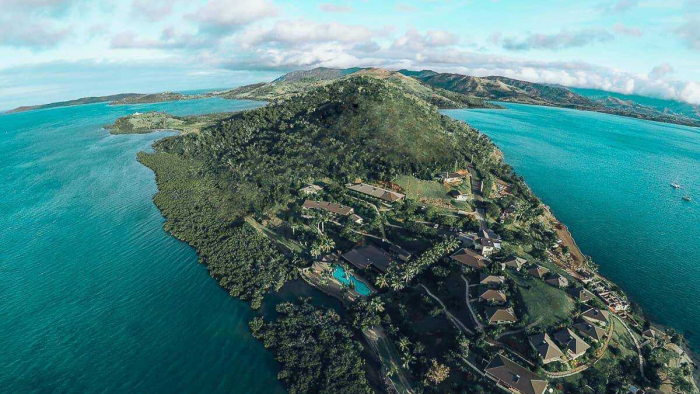 Tucked away on a wild stretch of Viti Levu's untouched northwest coast, this award-winning, family-run boutique resort expertly combines luxury and adventure for an authentic Fijian experience like no other. Visitors will enjoy a peaceful and romantic location nestled between lush jungle and sparkling white sand, with beautiful and well-appointed ocean view villas surrounded by tropical gardens and a sprawling infinity pool complex - all just steps from the sea. Get ready to fall in love all over again, with romantic fine dining experiences, soothing spa services including optional couples treatments, and loving afternoons spent lounging beneath swaying palms.

Dedicated divers will delight in Volivoli's privileged location, with world-class underwater exploration right at its doorstep. Fiji's legendary Bligh Water is just minutes away by boat, in addition to nearly 50 outstanding diving areas within striking distance. Adventurous couples are free to explore the house reef any time they'd like, with 24/7 access and easy entrance from the shore. Exciting local activities like trekking, kayaking, and paddleboarding are also available, as are visits to traditional villages.
VOMO Island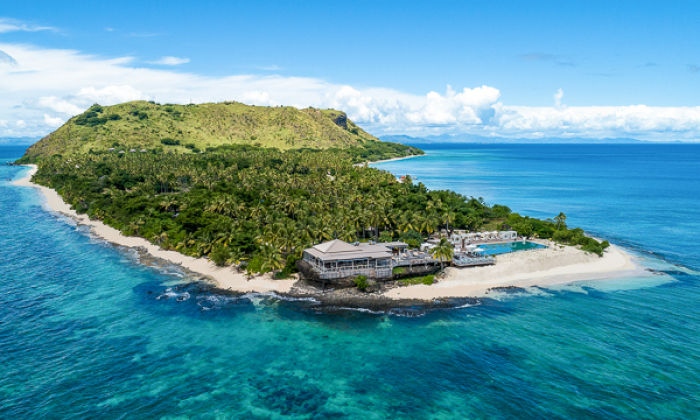 Fiji's premier romantic retreat, VOMO includes two spectacular private islands surrounded by five kilometres of white-sand and sprawling coral gardens. Created with a style of luxury that is understated, organic, and genuine, this remarkable resort is ideal for couples in love, with options to dive and relax in a true tropical paradise. Explore any time you want with complimentary watersports equipment for kayaking, sailing, windsurfing, snorkelling, and paddleboarding. Activities back on land include tennis, golf, kilometres of exciting island trekking, and deep relaxation at the sparkling oceanfront swimming pool.
With just 28 hillside and beachfront rooms, visitors at VOMO can expect the finest concierge service both above and below water. Let your private butler arrange each day's activities, including scuba diving excursions with just six guests per boat, trips to legendary shark diving sites like The Supermarket, and up to four dives per day. Back on land, enjoy exceptional facilities with adults-only areas throughout the resort, modern and beautifully appointed common areas, and plenty of quiet corners to kick back with your dive buddy and enjoy the view. Sumptuous chef-prepared meals, luxury villas, calming spa services, and all-day childcare add to the exclusive experience.
Garden Island Resort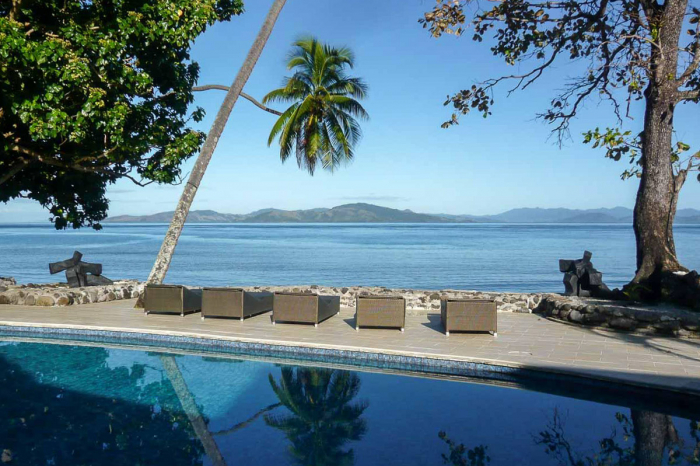 This secluded getaway is renowned for its spacious oceanfront rooms with breathtaking views and pristine tropical surroundings. Garden Island prides itself on offering a tranquil oasis of calm for travellers, with a cosy and intimate setting, genuine hospitality, and unique character of laid back luxury, perfect for an unfussy couples adventure with a focus on nature. Located on Taveuni, Fiji's garden island, this is the ideal base for exploring flourishing reefs, thundering waterfalls, and dense tropical jungles, as well as authentic Fijian culture. Take on as much adventure as you'd like in the surrounding sea and countryside, or stay on property to indulge yourself with an oceanfront pool, delicious dining, soothing spa services, and warm, personalised service.
If you're up for a bit of exploration, grab your partner and hit the house reef for fantastic snorkelling, scuba diving, and kayaking any time you want - or wander the resort's romantic gardens, home to tropical birds, lizards, and butterflies. This resort also offers access to some of Fiji's most beautiful dive sites, including Great White Wall, Fish Factory, and The Zoo, known for their stunning soft coral gardens and close encounters with sharks.
Start planning your romantic holiday to Fiji!
Search, compare and book from our hand selected resorts
Privacy and romance at sea
What's more romantic than you and your loved one spending days together at sea, enjoying the utmost privacy, spectacular scenery, and adventures tailor-made for two? Nothing compares to a private chartered yacht experience, allowing you to book an entire vessel, create your own custom itinerary and schedule, and handpick all the luxurious details that suit you best.  
Fiji's award-winning Aparima is easily one of the country's top picks, with smooth and stable sailing during day trips and extended excursions, comfortable, well-appointed cabins and plenty of space to relax and unwind in between adventures. Voyages include outstanding scuba diving and snorkelling, fine dining, and watersports galore. Couples can also add romantic extras like luxury drinks packages and half-day spa experiences, adding an extra dose of pampering and relaxation. Tour the planet's soft coral and shark diving capital with the option to hit the water whenever you want, enjoying relaxing pursuits like island hopping in the stunning Mamanuca and Yasawa islands, cultural tours, and jungle excursions during your surface intervals.  
---
Need help planning your dive holiday in Fiji?
Contact one of our award winning travel experts today!

---
---
Join the ZuBlu community to receive the latest insights and unmissable adventures
Don't worry, we'll only send you really good stuff - and we never share your details
---