From the incredible critter sites in the Lembeh Strait, to Anilao, Ambon and Alor, dive in and explore ZuBlu's guide to the best muck diving destinations in Asia.
The term 'muck diving' was first coined by Bob and Dinah Halstead in Papua New Guinea, who were amongst the first to discover the delights of exploring those 'less than optimal' sites in search of the weird and wonderful.
In contrast to colourful corals, a typical muck sites might have a barren or exposed seabed, covered in silt, algae, even natural or manmade debris - and the animals that are able to thrive here are those that most excite critter hunters. These species have evolved incredible adaptations to life in these difficult habitats, most often showing incredible camouflage, subterfuge and mimicry, or vivid warnings that threaten a noxious mouthful if eaten. And it is the quest for these rare or unusual animals that lies right at the heart of muck diving.
1. Lembeh Strait, Indonesia
Although the term 'muck-diving' was first coined to describe dives on 'less-than-optimal' sites in Papua New Guinea, the title of 'jewel in the critter-crown' must go to the famous Lembeh Strait. Since its diving discovery in the early 1990's, Lembeh has become synonymous with a spectacular diversity and concentration of weird and wonderful critters that make their home on the sand, rubble slopes and reefs.
A complete list of the critters and macro-life found in the Lembeh Strait will never be complete, but a simple list of iconic species that are commonly seen reveals just how good Lembeh is - rare octopus and cuttlefish, spectacular camouflaged fish such as Rhinopias and Ambon scorpionfish, seahorses big and small, huge numbers of different nudibranchs, eight species of frogfish, hairy shrimps, boxer crabs and Bobbit worms amongst many, many other species. And as well as actually spotting a particular critter, divers to Lembeh also have a good chance of being witness to plenty of behaviour - mating, laying eggs, feeding and fighting are very obvious parts of life in the Lembeh Straits.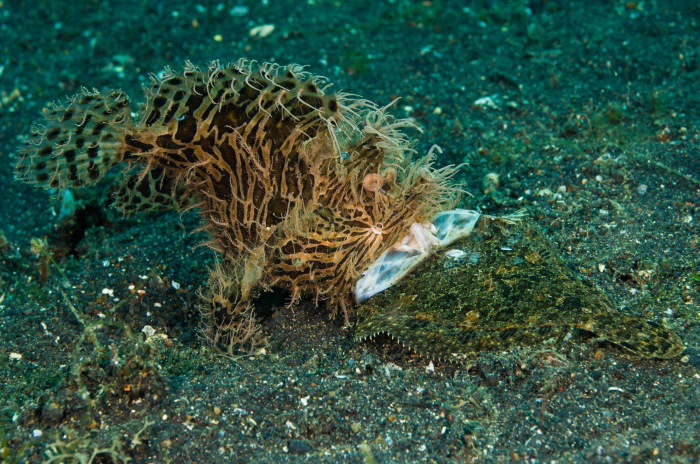 Lembeh offers a mix of barren sand slopes, reefs, walls, wrecks, jetty dives, plains of seagrass - and everything in between. Animals come and go and certain sites will have more critters than others so it is best to ask the guides at your resort if you would like to see anything in particular - they are the ones with the relevant and up-to-date information and are experts at finding those rarities!
Great for: Everything muck and macro! Lembeh really does live up to its reputation and is home to a huge range of species. But for many people, it is Lembeh's diversity of frogfish as well cephalopods including mimic octopus and wonderpus that are the real highlights.
Best time to visit: Lembeh can be dived year round but if there is one time of year that seems to have more life than others, it is following the cold water months of July and August where life in Lembeh seems to explode. However the Lembeh Strait is one of those destinations where the diving really is good all year round.
Best places to stay: Today, diving in the Strait is big business and there are many resorts on both the mainland north and south of Bitung, as well as up and down Lembeh Island's western coast, inside the strait. With dive sites scattered up and down the strait, the resort's all have similar access to dive locations and guests should base their choice of resort on the budget and facilities on offer. ZuBlu recommends Lembeh Resort, NAD and Dive into Lembeh.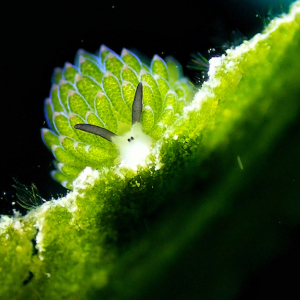 Recommended insight
Muck diving hit list - the creme de la creme of critters
Dive into the fascinating world of muck critters and learn about some of the ocean's coolest and most photo-worthy macro species.
2. Ambon, Indonesia
Once famous for its role in the spice trade and fought over by colonial powers, Ambon today has become world-renowned for an entirely different reason - as home to some of the best 'muck' diving on the planet. And 'muck' it is. Some dive sites can be dirty and littered with man-made waste, but they are home to an astonishing array of bizarre and beautiful critters. Ambon is easily on a par of other famous muck destinations and with its unique species and low-key diving, could rightly claim to be the best muck destination in Indonesia.
Diving in Ambon is focused on the famous 'muck' sites of Ambon Bay. These sites are concentrated along the north coast and hidden on the gentle slopes are an incredible variety of unique critters - some found nowhere else in the world. Close to the airport is the Laha area, named after a small village next to Maluku Divers resort. Here, at the 'Twilight zone' can be found Rhinopias, frogfish, ghost pipefish, different species of unusual octopus, crustaceans and nudibranchs galore.
Amongst the legs of the jetty and amidst piles of debris thrown overboard from fishing boats are schools of striped catfish, silversides and moray eels, whilst Ambon scorpionfish and Inimicus lie camouflaged. Further away from the 'Twilight Zone' are equally interesting sites - Rhino City, Mandarin City, Middle Point and more are all home to unusual and fascinating species. Whilst some of the diving is 'muck' to the extreme, these sites are some of the most consistent for sightings of unusual critters in the world.
Great for: Real 'muck' diving with unique creatures including Rhinopias, lots of unusual octopus, nudibranchs galore and plenty of frogfish - in particular, the elusive psychedelic frogfish.
Best time to visit: Although Ambon can be dived year round, the best time of year is probably September to December when the visibility can be great and there are plenty of critters to be found. Strong winds from June to August / September can make diving in the south and Ambon Bay, including the well-known muck sites, difficult and visibility can be very low. In fact the resorts in this part of Ambon shut down from July through to September for maintenance.
Best places to stay: Tourism is Ambon is still very low key and there are only a couple of resorts that offer diving, as well as liveaboards that pass through the the area during their Banda Sea itineraries.
3. Anilao, Philippines
With its fantastic marine biodiversity and healthy reefs, Anilao is regarded as one of the best dive destinations in Asia particularly for macro-lovers and muck diving enthusiasts. With it's easy access from Manila, divers can head down for a long-weekend or book an extended stay to fully appreciate the incredible critters that have made this destination so famous.
Anilao has developed a well-deserved reputation for being the type of destination where guests can see pretty much every critter on their wish list! Rare species of shrimps, crabs, frogfish, scorpionfish, pipefish, seahorse, and octopus are all seen regularly, and the dive guides have become expert at leading guests to the right spot at the right time.
On top of all the muck sites to choose from there are also some very healthy reefs with an abundance of hard and soft corals - perfect for gorgeous wide angle photography. To add a bit of variety, day trips to nearby Verde Island are also possible, but most people stay focused on macro and critter spotting.
Like much of the rest of the Philippines, diving in Anilao is from local open boats, called bangkas. These boats can be hired by visiting groups along with freelance guides with the knowledge and experience to find the rare species - giving guests the best possible chances to find all the critters on their wishlist. In many other locations, night dives are often regarded as optional but in Anilao they are almost seen as compulsory – in the darkness, Anilao comes to life with the unexpected and unique always a possibility.
Great for: Rhinopias, plenty of frogfish, rare octopus and cuttlefish, plus pretty much every other critter! Anilao also has some beautiful, colourful reefs to explore.
Best time to visit: The main diving season is from October to May, with the best months typically during the 'shoulder months' of November and May. Anilao's location means it lies within the typhoon belt and can experience strong monsoon conditions in July and August. Anilao can also experience poor visibility due to run-off from the mountains during rainy periods. Local photographers consider the cold water months in January and March to offer the best critter diving.
Best places to stay: With its proximity to Manila, Anilao has a well-established tourism industry and there are plenty of small resorts and home stays. However, the area also has some fantastic resorts built specifically for photographers and divers, in particular Anilao Photo Academy and Buceo Anilao.
4. Dauin and Dumaguete, Philippines
Hidden away at the foot of Mt Talinis are the volcanic black sand beaches of Dauin. With such stunning topside scenery, visitors might be forgiven for staying on dry land, but they would be missing out on exploring one of Asia's muck diving gems. Dauin's fascinating inhabitants rival those of the muck diving meccas of Lembeh and Anilao, and as such, this beautiful destination makes a perfect, quiet coastal retreat for macro lovers.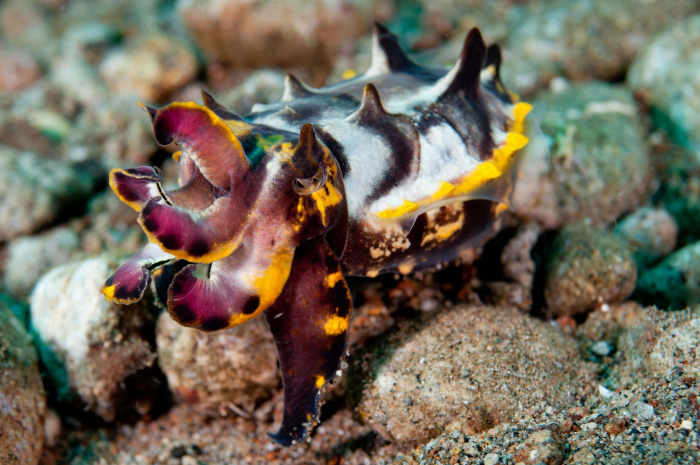 Dauin and Dumaguete have recently gained a reputation amongst critter-loving enthusiasts for their amazing biodiversity. From yawning frogfish and camouflaged ghostpipefish, to mating flamboyant cuttlefish and hunting coconut octopuses, Dauin's gently sloping sand plains, dotted with coral patches, are home to plenty of rare species. Other critter highlights include thorny and pygmy seahorses, exotic nudibranchs and flatworms, velvet ghostpipefish, Ambon scorpionfish and mating mandarinfish. 
If that's not enough, nearby Apo island, surrounded by coral walls and bustling reefs, makes a great day trip and perfect complement to the muck-diving that so regularly steals the show. Just a 30 minute ride on a traditional Filipino banca, divers visiting Apo Island can see large schools of jacks, plenty of turtles and the occasional roaming pelagic, a testament to the conservation efforts that have protected these reefs for so long. And keep an eye out for the volcanic gases bubbling up through the sand - it is not every day you can say you have dived in a geothermal vent.
Great for: Unusual octopus and cuttlefish species, frogfish, ghostpipefish, Ambon scorpionfish and plenty of unusual nudibranchs, plus the beautiful reefs of Apo.
Best time to visit: October to early June is the main diving season around Dauin; the monsoon period between July and September is best avoided. Local dive operators in the know prefer early in the season - October to December - for plenty of octopus and cuttlefish action.
Best places to stay: Compared to other well-known muck destinations, options are more limited at Dauin and Dumaguete, but divers are very well catered for at resorts such as Liquid, Atlantis and fish Unlimited.
5. Mabul and Kapalai, Malaysia
Perched on the edge of the Celebes Sea, Mabul Island is perfect for those keen to explore Sipadan's incredible marine life, but also offers some amazing 'muck' diving in its own right. The fringing reefs, coral bommies and sand patches of the surrounding area provide the perfect habitat for an eclectic array of 'muck' critters, reef fish and more, making this area one of Asia's best all-round dive destinations.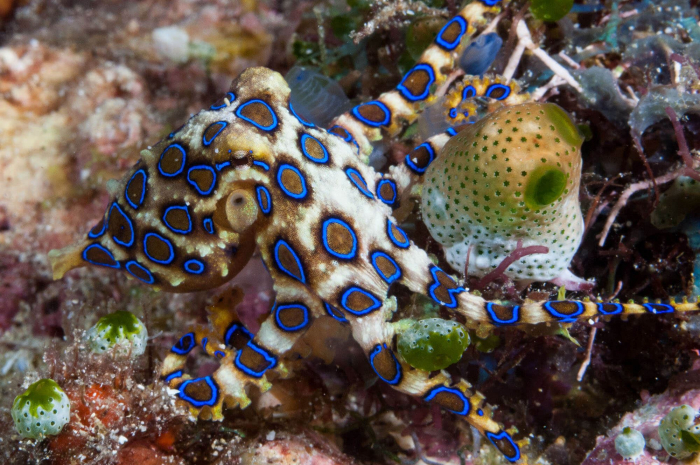 The diving around Mabul and Kapalai is about diversity and interesting critters, rather than great visibility and big fish and although there are some interesting reefs, they are not a patch on those of Sipadan nearby. The mix of different habitats around Mabul and Kapalai means a great diversity of life and as a result, the islands have become well known amongst divers hunting for unusual species and 'macro' critters.
A typical dive on Mabul or Kapalai might mean hunting for leaf scorpionfish, frogfish, ribbon eels, different crustaceans and ghost pipefish. Blue-ringed octopus are also a prime target here. In the sheltered sandy bays can be found more sought after 'muck' critters including mimic octopus, Ambon scorpionfish, frogfish, flamboyant cuttlefish, sea horses and some unusual nudibranchs. Wherever you dive, you will encounter amazing numbers of reef fish, schooling snappers and goatfish, sting rays and gobies in the sand, anemones in the shallows with their resident 'Nemos' and shrimps, and - this being Sabah - passing turtles.
Great for: A fantastic diversity of macro species and proper muck critters, as well as reefs, schooling fish and turtles.
Best time to visit: Although Mabul can be dived year round,  the best times are normally at the end of the wet season in April and May and the end of the dry season in September and October.
Best places to stay: Mabul and Kapalai together have a number of resorts from tiny homestays upwards. On Mabul, ZuBlu recommends Scuba Junkie Mabul, well known of their environmental work, and Seaventures Dive Platform, a converted oil rig located just off Mabul's north coast. Guests can also stay at the Kapalai Dive Resort, Kapalai Island's only accommodation.
6. Alor, Indonesia
Located in the heart of the Coral Triangle, approximately 1,000km east of Bali, Alor and the Pantar Strait provide world-class diving on one of the most well-preserved coral reef systems in Indonesia. With its currents, critters and hammerhead sharks, volcanoes and villages lost in time, Alor is one of Indonesia's last frontiers.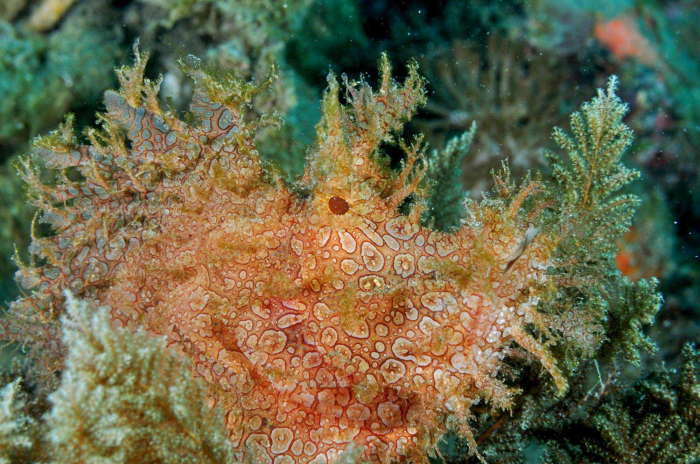 Diving around Alor is characterised by clear waters and currents, a near-pristine reef system and endless fields of beautiful corals, sponges and anemones. Unusually for such a small area, visitors can explore an entire spectrum of different dive sites - from colourful reefs packed with marine life, to current swept pinnacles with big pelagic species and sheltered bays with amazing muck diving - all in a single day.
As well as its spectacular reefs, Alor is building a reputation as a world-class muck diving destination - particularly amongst divers that would like to get away from the crowds at more popular destinations. Most of the reef sites have a fantastic diversity of life, but it is the proper 'muck' sites in Kalabahi Bay, Alor, and Beang, or Beangabang, Bay on Pantar in the southwest, that attract those divers in search of unusual 'critters'. 
The currents that run through the strait push nutrient-rich, cold water into these bays, creating perfect conditions for exciting macro diving. Rhinopias are the star of the show here, but seahorses, frogfish, ghost pipefish, Ambon scorpionfish, unusual crustaceans, Mandarinfish, weird and wonderful nudibranchs and plenty of unusual cephalopods are all on the cards as well.
Image courtesy of Alor Divers.

Great for: Rhinopias and a huge selection of other critters, crowd-free sites, amazing reefs and the chance of some pelagic action.
Best time to visit: Probably the best time of year is September to November, when the currents are strong and the water is cold - increasing the chances of seeing bigger animals as well as providing amazing muck diving. The visibility is normally it its best during the dry southeast monsoon between June and October.
Best places to stay: Once the domain of liveaboards only, Alor now has a selection of resorts on both sides of the Pantar Strait. Those in Kalabahi Bay have direct access to the much diving there, whilst those on Pantar have easier access to Beang Bay to the south. ZuBlu recommends Alor Divers at the northern tip of Pantar Island.
7. Bali, Indonesia
Bali's vibrant mix of culture, arts, beaches and waves, all set against a stunning backdrop of verdant rice fields, temples and volcanoes, have long drawn visitors from around the world. However, Bali also has some of Indonesia's best and most accessible diving, including some exciting muck diving at several well-known sites around the island.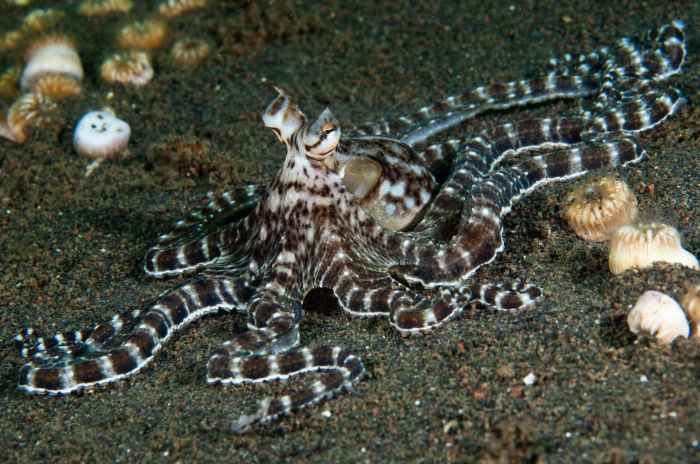 Bali's diving is best summed up with one word - diversity. Diversity of species and diversity of locations. Lying within the Coral Triangle and at the edge of a channel that funnels extraordinary volumes of water from the Pacific to the Indian Ocean, the range of conditions and habitats around Bali support a huge diversity of species.
From the fringing reefs of Menjangan and black sand ridges and patch reefs at Seraya, to the current swept rock of Nusa Penida - all are home to a fantastic diversity of marine life. Close to Gilimanuk in the far northwest, the aptly-named Secret Bay is filled with unusual critters and juveniles that are washed in with the change of the tides. Divers can search for unusual frogfish, seahorses, Bobbit worms and different juveniles, all hidden amongst the debris that litters the floor of the bay. Further east is the famous PJs or Puri Jati, a featureless sandy plain at the mouth of a small river covered in small cup corals. Here, guests can hunt for those experts of camouflage and subterfuge - mimic octopus, frogfish and Ambon scorpionfish. Closer to Tulamben is Seraya Secrets, a classic muck site marked by a series of coral ridges separated by sandy plains. Seraya is well-known for its harlequin shrimps, nudibranchs and boxer crabs, but maybe other critters are commonly seen here. 
Finally, on Bali's southeast coast is the Padangbai jetty. Originally built for cruise ships, the abandoned jetty has now become a haven for critters that have taken shelter beneath the jetty, and is also Bali's best spot for Rhinopias that are found here when the water is cold.
Great for: Diversity of both macro subjects and classic muck species. Bali has a bit of everything, but highlights include mimic octopus, boxer crabs and harlequin shrimps and Rhinopias.
Best time to visit: Bali can be dived year round but the best diving conditions are during the dry season from April to October. Between May and September, the monsoon winds can make conditions more rough in the southeast, whilst between January and February the north and west can get rough weather.
Best places to stay: Bali has a huge variety of accommodation from luxury resorts to humble homesteads. Given the diversity of diving around the island, ZuBlu recommends booking a dive safari tour with companies such as Abyss Ocean World or The Underwater Tribe to make the most of your time there.
---
---
Join the ZuBlu community to receive the latest insights and unmissable adventures
Don't worry, we'll only send you really good stuff - and we never share your details
---