Rare and unique critters, reefs and muck, and exceptional resorts dedicated to avid divers make the Lembeh Strait an incredible one-of-a-kind destination. Lembeh's reputation as Indonesia's critter capital is well-deserved, with each dive revealing a wealth of fascinating pint-sized creatures - some of which are so bizarre in appearance, you'll swear they're the work of science fiction!
If you're hoping to explore Lembeh's spectacular sites in search of their weird and wonderful species, this article's for you! Keep reading for our top tips on how to get there, making the most of your time underwater, and why Lembeh is THE place to score some fantastic macro photography shots.
Indonesia's critter capital
Lembeh Strait is a narrow waterway running between North Sulawesi and Lembeh Island. While the strait isn't home to stunning coral reef systems like most of the surrounding dive destinations, it is home to a wealth of weird and wonderful wildlife. Lembeh has long been a haven for macro fanatics and underwater photographers, and its popularity shows no signs of slowing down. In fact this acclaim is excellent news for divers, as the strait now has a wide variety of resorts on offer and easy travel options.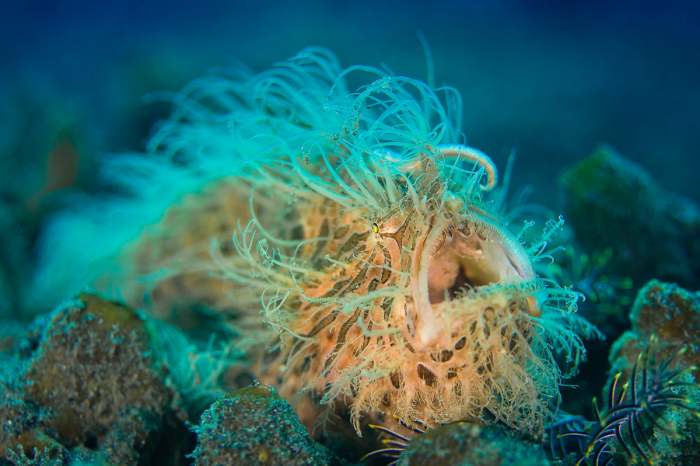 Lembeh's first dive resort opened during the 1990s and today find everything from quiet guesthouses and divers lodges to luxury resorts with high-end facilities - and everything in between! And, while it is true that Lembeh's popularity has grown steadily over the decades, there's no need to worry. You're unlikely to feel crowded at local dive sites, or around your resort, thanks to the specialised nature of the diving which tends to attract dedicated muck divers rather than holiday-makers. 
What makes the Lembeh Strait so special?
If you are used to exploring coral reefs, the underwater world of Lembeh will immediately feel different. Known as Indonesia's critter capital, this is the original home of muck diving in Southeast Asia - a unique type of underwater exploration dedicated to the search for strange and small animals known as "macro", or critters! Muck diving isn't just different because of its focus on unique species. It also varies from a traditional experience because of where and how the dives are conducted. In most cases, you'll be searching a seemingly featureless sand, silt, or rubble bottom in search of rare and unusual species - and most likely armed with a camera. Muck dives can often be slow and steady, covering a much smaller area, and you'll need perfect neutral buoyancy to avoid stirring up or accidentally coming in contact with the bottom. 
So, what makes the dive sites around Lembeh so special for muck divers? And, what attracts the strange creatures that call the strait home? The Lembeh Strait has incredibly nutrient-rich water thanks to the currents that flow through it, as well as a black sandy bottom, small reefs and walls, and sheltered bays. These conditions bring tons of microscopic food and juvenile fish into the strait - and keeps it there - supporting Lembeh's weird and wonderful wildlife, including fascinating species that have evolved to survive on the barren sandy slopes. Some of their evolutionary wonders include crazy camouflage, and cool survival techniques for hiding, reproduction, feeding, and evading predators. Simply put, the daily struggle of surviving life in environments such as Lembeh has made for some otherworldly, yet photo worthy species and behaviours!
Ready to start planning your diving holiday in Lembeh?
Search, compare and book from our exclusive selection of resorts
Lembeh's unmissable sites
The Lembeh Strait is a surprisingly large area, with dozens of spectacular sites. Most divers just spend a handful of days exploring here in hopes of spotting the region's strange signature wildlife. And if you don't have tons of time, hit these "can't miss" sites first! Be sure to try a few dusk and night dives, offering opportunities to spot otherwise impossible to find creatures.
Hairball
This gently sloping black sand and muck dive site is one of the most famous in Lembeh, boasting incredible animals on nearly every dive. Scour the shallows for multiple species of frogfish, seahorses and pipefish, and a stunning variety of nudibranchs. And, don't forget to peek inside unlikely objects like open clam shells, coconut husks, and discarded bottles, where rare coconut octopus love to hide. This site is easy to access from the shore or by boat, and its wonders begin just a few metres from the waterline - making it a top pick, no matter where you're staying. Hairball is also one of Lembeh's best dive sites to visit after dark, with hard to find species like stargazers, Spanish dancers, and cuttlefish making surprise appearances.

Police Pier
Don't let its name fool you - this site isn't a pier at all. Named after the nearby Lembeh police station, this outstanding spot for critter hunting is actually made up of sand and silt, rubble, and scattered soft coral gardens - not concrete pillars and pylons. Spend your dive searching downward to encounter pipefish, frogfish, ribbon and snake eels, sea moths and dragonets, and a stunning variety of scorpionfish and lionfish lurking on the bottom. This is also an excellent place to search for strange cephalopods like the flashy flamboyant cuttlefish, wonderpus, and long-armed octopus. Dive here at dusk for a chance to spot mating mandarinfish performing their colourful dance routines.
Nudi Falls
Thanks to its sometimes strong currents, this site boasts some of Lembeh's most impressive soft coral gardens. Be sure to search the walls of sponges, sea whips, and gently swaying gorgonians for pint-sized finds like nudibranchs, crabs, and shrimp. And watch for delicate species like pipefish and seahorses taking cover from the surge and fast-moving water. Head past the coral garden to a small drop-off studded with sea fans, where pygmy seahorses can be spotted by the dozen, below which you'll find a rocky seabed crawling with flying gurnards, mantis shrimp, and other surprising bottom dwellers. As its name suggests, this is one of Lembeh's very best sites for nudibranch hunting, with some of the region's most colourful and hard to spot species. 
Pantai Parigi
This is one of Lembeh's most unique sites, thanks to its mix of white sand, rubble and reef - a unique combination amongst Lembeh's black sand sites. And, the different backdrop can present a fun challenge for macro photographers who typically spend most of their time shooting on darker volcanic muck sites. The shallows around Pantai Parigi are also home to some of Lembeh's most dense hard coral cover, not frequently seen elsewhere. This site's gently sloping bottom is also famous for sightings of the rare Ambon scorpionfish, as well as tube dwellers like mantis shrimp and gobies, ribbon eels, and hard to spot species like minuscule sea dragons. Don't forget to search around the bommies here for a glimpse of kaleidoscopic and cryptic animals like nudibranchs and cowries.
Teluk Kambahu
Teluk Kambahu is actually three dive sites in total - commonly referred to as TK1, TK2 and TK3 - and is one of Lembeh's most exciting and expansive diving areas. Depending on the day's current, you may have the opportunity to combine more than one into a single tank. All three of the TK sites begin with shallow and silty flat bottoms, eventually transforming into black sand slopes. This 'muck' provides the perfect place to search for strange bottom dwellers like sea moths and flying gurnards, and hard to spot cephalopods, including coconut, blue-ringed, and mimic octopus. As you head deeper, you'll encounter scattered coral bommies and patches of sponge and soft coral, where a wide variety of crabs, shrimp, and frogfish can be found hiding out in the crevasses.
---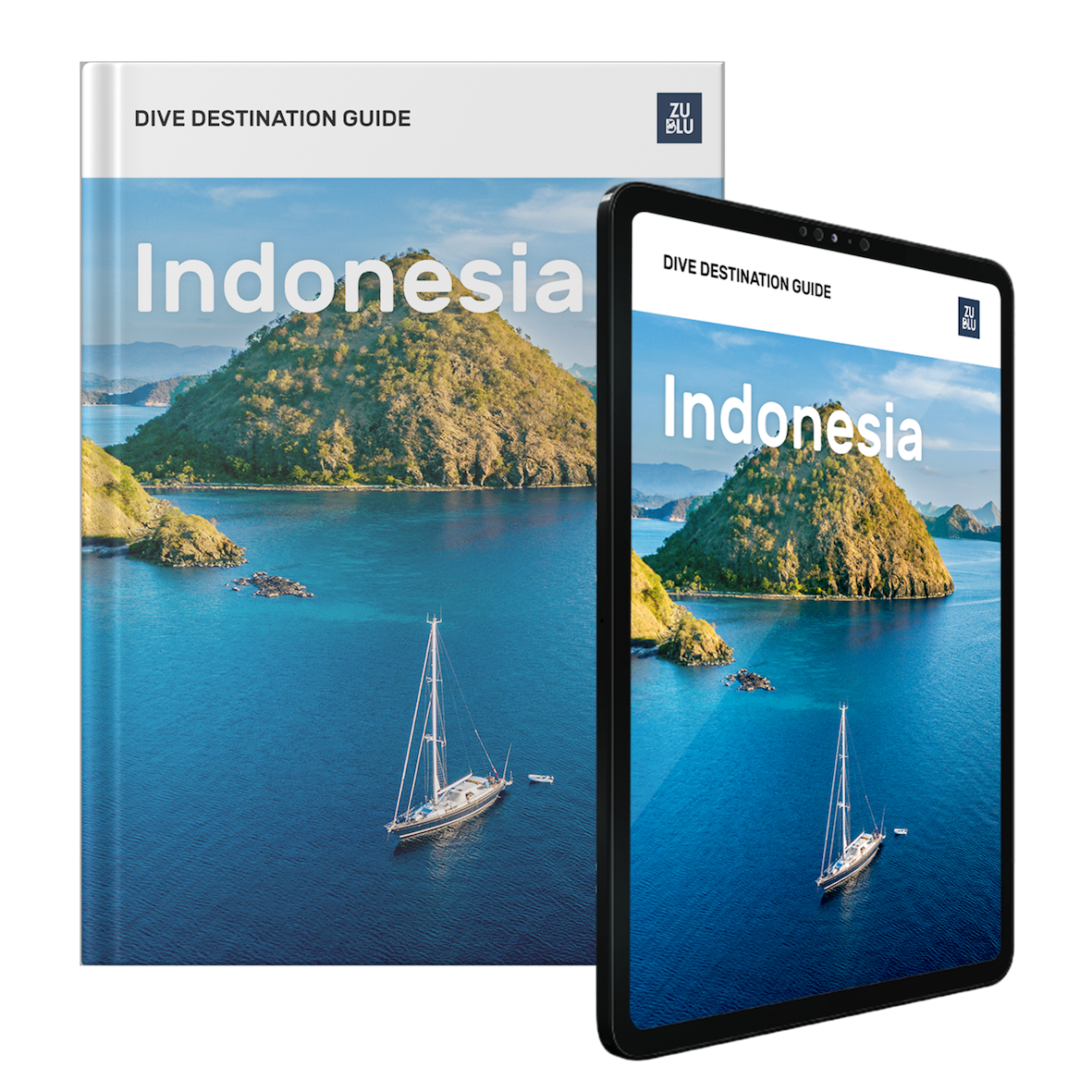 Discover the secrets of Indonesia in this FREE 150+ page scuba dive destination guide. Read online or download today and let us inspire your next diving holiday.
---
A paradise for underwater photographers
Lembeh is one of the best places on planet earth for macro photography thanks to its incredible biodiversity, beautiful black sand, small diving groups, usually with no more than four guests per divemaster, and highly skilled local guides. These eagle-eyed spotters are experts when it comes to finding the strait's most spectacular wildlife, including impossibly small specimens, some barely visible to the naked eye. They're also well versed in camera handling and care and will happily help you get in and out of the water with your gear, and give pointers underwater if wanted - to help you score that perfect shot!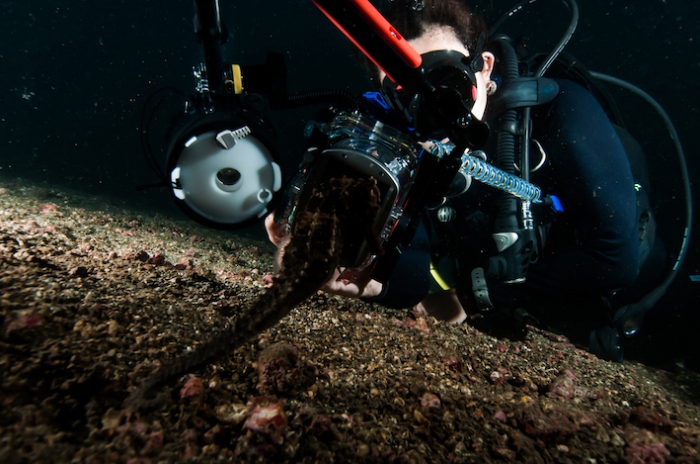 You'll also notice that most dive centres and resorts in this region focus on underwater photography. Expert led photo workshops, private guiding, and even hands-on coaching and guidance for those who need it are on offer nearly everywhere. And, outstanding facilities including modern camera rooms, individual rinse bins for electronics, and in-room workstations come standard. This is also a great place to try your hand at new underwater photography techniques, using strobes, snoots, and other high-tech gear to help you capture the very best images possible.
When to go and weather
When compared to other diving destinations in Indonesia, Lembeh experiences a longer and more pronounced rainy season, but this is unlikely to impact your experience as visibility doesn't matter too much when you have your head down in the sand! You should also plan for slightly cooler water temperatures than elsewhere in Sulawesi, with lows of around 24°C. It's important to note that the strait itself enjoys calm conditions during every month of the year, but the area's outer reefs to the east of Lembeh Island are prone to strong winds, surge, and swell between July and September.
No matter when you plan to visit Lembeh, you can expect a hot, humid, tropical climate out of the water. And, daily downpours are never out of the question, even during the dry season. Be sure to pack plenty of lightweight clothing and sun protection to beat the island heat!
Getting there and away
Most visitors in Lembeh arrive via the international airport in Manado, which offers regularly scheduled connections through major Indonesian cities like Jakarta, as well as Singapore and other destinations in Southeast Asia. From there, you can arrange local transfers by shuttle, car, boat, or even a local bus. But, to make your trip even easier, all of Lembeh Island's main resorts offer prearranged transfers to and from the airport. 
While plenty of divers do visit the region just for a chance to explore the legendary Lembeh Strait, it's well worth your while to spend a bit of extra time in Sulawesi. You'll have the opportunity to dive Bunaken and Bangka's incredible hard and soft coral reefs, plummeting walls, and other muck and macro hotspots along the Manado coast.
---
Are you ready to start planning the trip of a lifetime to Indonesia's critter capital?
he ZuBlu team is here to help! Our highly-trained travel experts have years of experience in the industry and access to all the latest travel tips to custom-create your seamless scuba diving holiday in Lembeh.

---
---
Join the ZuBlu community to receive the latest insights and unmissable adventures
Don't worry, we'll only send you really good stuff - and we never share your details
---