The island nation of Indonesia is one of the world's best destinations for a charter yacht experience, with an exceptional selection of luxurious crewed vessels and a nearly endless array of secret spots just waiting to be explored. Part of the renowned Coral Triangle, the watersports here are second to none, from diving and snorkelling amidst record-breaking biodiversity, to kayaking and paddleboarding through hidden waterways beneath looming karst cliffs. On land, each island offers something a little different, with unique cultures, religions, culinary delicacies, and endemic wildlife to discover. 
In this article, we've put together some of the best itineraries for an Indonesian charter yacht trip to help you find the perfect fit – from quick holidays hitting all the highlights, to remote adventures lasting up to two weeks at sea. Find your favourite below. 
---
Need help planning your charter trip?
Contact one of our dive travel experts today

---
Best charter yacht itineraries in Raja Ampat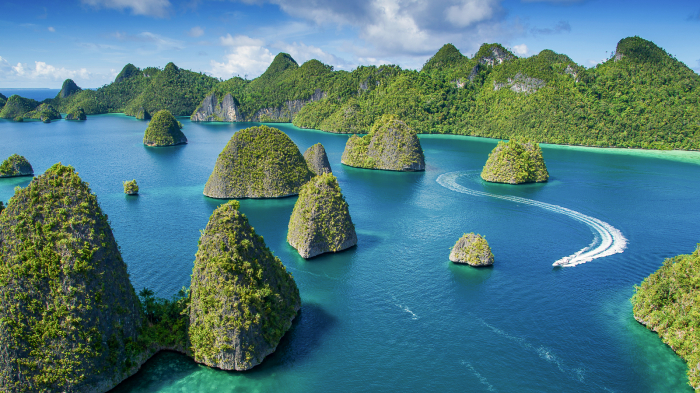 Charter a yacht throughout the year in 'the heart of Raja Ampat'
Raja Ampat is often billed as the epicentre of marine biodiversity, so what better way to discover this unique environment, than with a trip right into its heart? Lasting between five and eight nights, these bucket-list voyages explore many of Raja Ampat's unmissable spots, from karst cliffs and hidden lagoons, to current-swept coral ridges exploding with life.

Departing from Sorong, these trips head straight towards the action, with a stop in the legendary Dampier Strait. You'll explore the famous Cape Kri, home to record-breaking levels of biodiversity, and Manta Sandy in search of Raja Ampats's resident manta rays. Finish off your time in the Dampier Strait with a hike up to Piaynemo Island's iconic viewpoint, for a glimpse of the breathtaking scenery below. 
Heading north towards the Pacific Ocean, this itinerary might head to the beautiful islet-scattered lagoon of Wayag, visit a pearl farm in Aljui Bay or cross the hemisphere on a single dive at the Equator Islands. Gam is one of the last stops on the journey back to Sorong, ending things on a high with a handful of exceptional experiences. Search for birds of paradise onshore, explore mangroves fringed with coral, and dive a narrow, twisting channel between two islands known as The Passage.
Explore Raja Ampat's 'four kings' during one charter yacht itinerary
For many, a chance to explore the remote region of Raja Ampat comes along just once in a lifetime, so a charter itinerary that explores the entire region – the 'Four Kings' – is the best way to make the most of your time. These extended 10 to 12-night trips explore all the most sought-after spots in the region, before taking the adventure a step further by venturing to the isolated southern island of Misool. 
From Sorong, your vessel will head to the Dampier Strait, visiting famous dive sites such as Cape Kri and Manta Sandy. You'll then head north, searching for birds of paradise on Gam and Yangeffo Island, before visiting a pearl farm at Aljui Bay and crossing hemispheres on a single dive. In the far north, you can dive Cathedral Rock and scale the summit of Mt Pindito at Wayag Island, before sailing south in search of Misool – stopping at Piaynemo and the Fam Islands along the way.
Arriving at Misool, you'll be free to meander through Balbulol's stunning labyrinthine lagoon, hike to the peak of Harfat Island for a spectacular view, or explore the mysterious caves of Tomolol. The protected southern side of Misool is home to some of the best diving on the planet, with oceanic manta rays at Magic Mountain and some of the healthiest reefs you'll ever find. 
---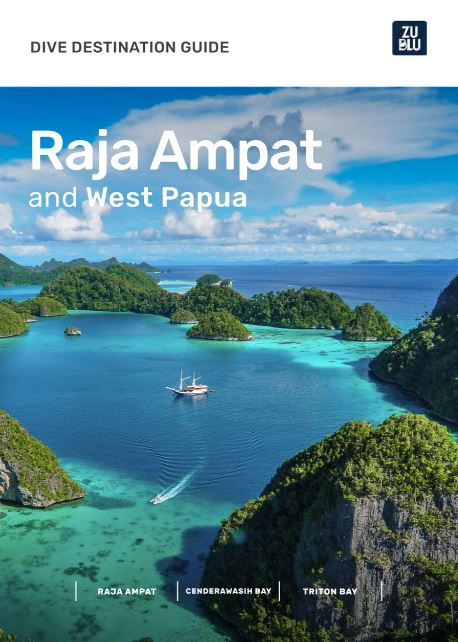 Discover the best places to dive in Raja Ampat, Triton Bay and Cenderawasih Bay in this free guide to West Papua's diving.
---
Best charter yacht itineraries in Komodo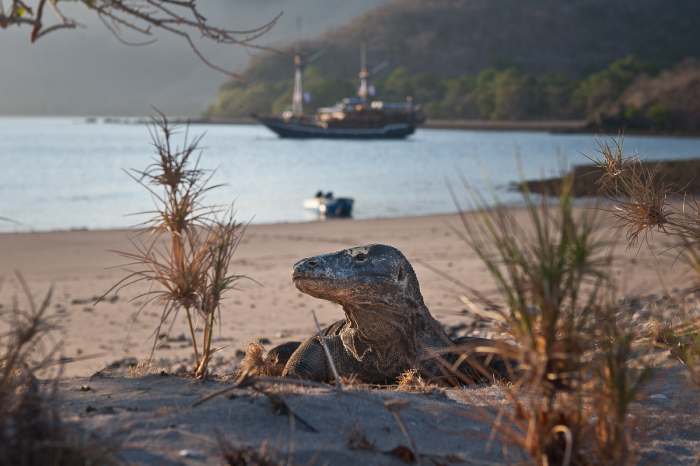 Explore the park in its entirety during an 'ultimate Komodo' charter yacht itinerary
From the world's biggest lizards to postcard-worthy pink beaches, Komodo National Park is synonymous with the extraordinary. Five to 10-night charters allow visitors to discover this incredible destination in all its glory, covering almost everything you could ask for from a trip to Komodo in one unparalleled experience. Or, you can even find itineraries that swap some of the more famous attractions for a few remote and rarely visited destinations.
Departing from the gateway to Komodo, Labuan Bajo, it won't take long before you're right in the thick of it, exploring the park's iconic central region. Aptly known as Current City, this part of the park offers some exhilarating dive sites for intermediate and advanced divers, including around the islands of Sebayur, Tatawa, and the manta cleaning station of Karang Makassar. From here, you can also explore Padar Island, with its breathtaking viewpoint, picturesque pink beach, and scenic bays.
Venturing to the southern coast of Rinca, divers can explore the macro havens of Horseshoe Bay, while non-divers can spot Komodo dragons sunbathing on the beach. Next up is the south coast of Komodo Island, where Manta Alley provides unbeatable encounters with these incredible creatures. Komodo Island also offers its own pink beach and another chance to see the world's largest lizards with a trek to the park's ranger station. The northern islands of Gili Lawa Laut and Gili Lawa Darat are likely the last stop of your voyage offering adrenaline-inducing dives and more mind-blowing scenery.
Short charter yacht itinerary in 'central and north Komodo'
Short on time or looking to cut the cost? This Komodo charter yacht itinerary packs plenty of memorable moments into a quick, action-packed trip. Lasting between just three to six nights, this itinerary skips the distant southern sites in favour of the most famous spots further north – helping you save on both time and money.
From Labuan Bajo, you'll head west, taking some time to experience the current-swept dive sites around Sebayur and Tatawa, enroute. Heading towards the northwest reaches of the park, you can explore the islands of Gili Lawa Laut and Gili Lawa Darat, as well as their iconic dive sites – Crystal Rock, Castle Rock, and The Cauldron. 
Sailing south along Komodo Island's east coast brings incredible manta ray encounters at Karang Makassar, followed by an anchorage at Padar. This central island offers several splendid bays, a glorious pink beach, and simply stunning views across the park – not to mention iconic diving and snorkelling spots such as Secret Garden, Three Sisters, and Pillarsteen. Finally, it's over to Rinca to come face-to-face with the endemic Komodo dragons followed by a serene sunset filled with thousands of flying fruit bats.
Ready to start planning your charter yacht in Indonesia?
Search, compare and book from our hand selected boats
Set sail to the east during a 'Bali to Komodo' charter yacht itinerary
One of the biggest draws of a charter yacht trip is the freedom to explore, and the trip between Bali and Komodo – two popular destinations – is the perfect example. Why spend hours on a plane or ferry trying to reach Komodo when you can simply sail there aboard your private yacht instead? Departing from Bali, these trips last between seven and 11-nights and allow guests to explore two of Indonesia's most iconic destinations, and a handful of off-the-radar spots along the way.
Setting sail from Bali, your charter will journey towards the protected island of Moyo, located north of Sumbawa – perhaps stopping at Tulamben's Liberty Wreck or Lombok's Gili Islands along the way! Dive, snorkel and hike among Moyo's pristine natural surroundings, before watching the sun set over Satonda while fruit bats fill the sky. As your charter heads further east, you'll discover the smoking volcano of Sangeang, where bubbling underwater vents attract weird and wonderful creatures.
Entering the famous Komodo National Park at its northwest edge, you'll be greeted by Lawa Laut and Darat – home to Crystal Rock, Castle Rock, and a white-knuckle drift dive known as The Cauldron. You'll then head south towards the central island of Padar, visiting Karang Makassar – or Manta Point – along the way. At Padar, you can stroll the pink beach and get the perfect holiday snaps from its iconic viewpoint. Finally make a stop at Rinca and hike into the national park to meet the infamous Komodo dragons, before disembarking in Labuan Bajo.
Best charter yacht itineraries in the Banda Sea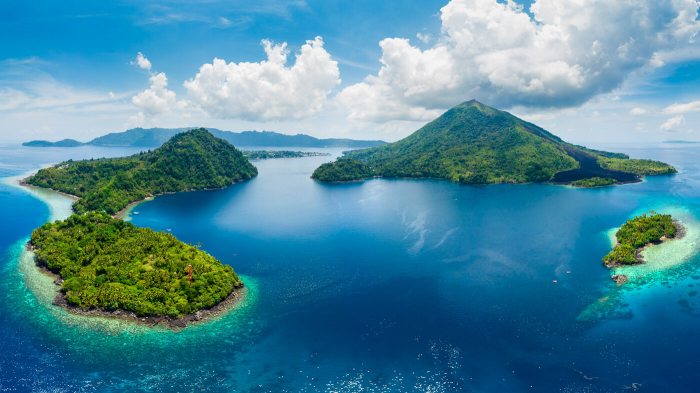 Explore the remote Banda Sea as part of a 'Spice Islands' charter yacht itinerary
The Spice Islands are among Indonesia's more remote and fascinating destinations, with a complex and captivating history and plenty of untamed natural appeal. Lasting between one week and up to 10-nights or more, these enchanting, off-the-beaten-path charter trips are a must for adventurous souls. 
Before departing from the island of Ambon, you'll have the opportunity to explore one of the world's best muck diving destinations, searching for rare creatures such as the lacy scorpionfish and psychedelic frogfish. Then, you'll sail east towards Nusa Laut, before venturing south into the vast open expanse of the Banda Sea.
The islands of Banda, Neira, Ai, Run and Hatta are steeped in colonial history, having been the focus of European expansion into Southeast Asia thanks to their spice production. Here you'll visit Dutch colonial ruins, explore modern spice plantations, climb Gunung Api, or dive dramatic underwater lava flows. 
Sailing further south still, you'll stumble across a volcanic peak rising from 3000m of water. Known as Manuk, this island is a beacon for sea snakes, with dozens seen on every dive. As far south as most cruises will venture, the small islands of Serua and Nil Desperandum offer a taste of authentic Indonesian life and thriving reefs frequented by hammerheads. At this point your charter will turn around and set a course back to Ambon, stopping at Manuk, Banda, or one of its tiny neighbours along the way.
Season: March to April and September to November
Recommended yacht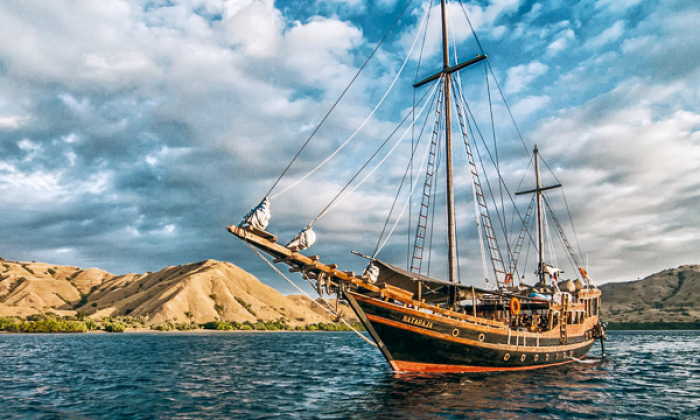 Nataraja
Nataraja is a stylish sailing vessel, perfect for exploring Indonesia's legendary scuba diving destinations. This boat offers adventurous and intimate voyages, catering to small groups ...
Combine 'Banda and Raja Ampat' for the ultimate Indonesian charter yacht itinerary
Combine the Banda Sea's wild adventures with the dreamy landscapes and unparalleled biodiversity of Raja Ampat during this incredible charter itinerary. Lasting at least 10-nights, this trip is the ultimate expedition of discovery, navigating remote waters and isolated islands in search of authentic experiences, and rare and endemic wildlife.
Commencing in Ambon, your cruise will provide the opportunity to explore the world-class local muck diving before sailing east towards the thriving reefs of Nusa Laut. This itinerary then ventures south towards the history-rich 'Spice Islands' of Banda, Neira, Ai, Run and Hatta where you'll visit Dutch colonial forts and modern nutmeg plantations. Some charters may venture even further south in search of Manuk's sea snakes, before setting sail north for Misool, stopping at Koon or the Watubela Islands along the way for a final dive in search of hammerheads.
Misool is a haven for nature-lovers with breathtaking landscapes and protected waters that attract wildlife of all kinds. Dive Magic Mountain in search of oceanic manta rays and scour the reef for nudibranchs at the aptly named Nudi Rock. Then, get lost in Balbulol's labyrinthine-like lagoon and climb Harfat to gaze out over the scenery. Heading north towards the port of Sorong, you'll pass through the legendary Dampier Strait, exploring the most biodiverse waters on Planet Earth to end this phenomenal experience. 
Season: March to April and September to November
---
Need help planning your charter adventure in Indonesia?
Contact one of our award-winning travel experts today

---
---
Join the ZuBlu community to receive the latest insights and unmissable adventures
Don't worry, we'll only send you really good stuff - and we never share your details
---