Bunaken National Park is one of Indonesia's most known scuba diving destinations, home to stunning coral reefs, dizzying drop-offs, and underwater marine life galore. Established in 1991, this park was one of the country's first protected marine areas, and the results are obvious. Today, more than 30 years later, Bunaken National Park remains one of Sulawesi's most impressive areas for underwater exploration and an excellent representation of the region's mindblowing biodiversity.
If you're ready to dive into the depths of Bunaken National Park, you're in the right place! Read on for our expert advice on what to expect in the world-class dive destination.
Basic facts about Bunaken National Park
Bunaken is a small island found west of Sulawesi's northern coast, not far from the city of Manado. Bunaken National Park actually includes a much larger geographic area, and is split into two sections. The southern section lies near the mainland villages of Poopoh and Arakan, and is made up mostly of sheltered bays and mangroves, while the northern section incorporates five islands – Manado Tua, Siladen, Mantehage, Nain and Bunaken itself. 
As one of Indonesia's first protected marine areas, Bunaken is a well-established, sustainable diving destination offering resorts and dive centres catering to all budgets and personal travel styles. And, while the park is certainly popular, it rarely feels crowded. The best dive sites in Bunaken are well spread out allowing groups to explore in peace, and the area receives fewer guests than hotspots like Bali or Komodo.
Marine biodiversity in Bunaken National Park
If you're visiting Indonesia to marvel at the Coral Triangle's renowned biodiversity, then Bunaken won't disappoint. Bunaken National Park was one of the first protected marine areas established in Indonesia, and decades of protection have helped to preserve the region's stunning biodiversity. In fact, this marine park is often lauded as one of the best examples of sustainable dive tourism in the world. Today, Bunaken National Park is home to more than 70% of all fish species known to live in Indonesian waters, and around 390 species of coral.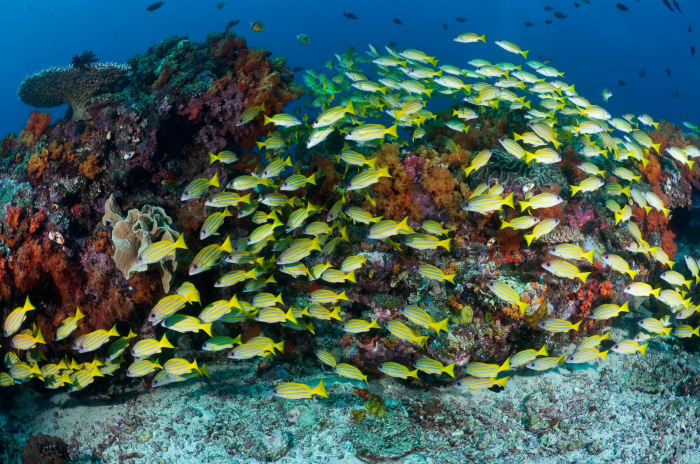 What makes diving in Bunaken so diverse?
The waters around Bunaken National Park are deep, plummeting over 1,500 metres in places. This allows strong ocean currents to sweep past the islands, depositing larvae and juvenile fish into the park along the way. As a result, the park is home to some of Indonesia's most diverse diving. The nutrient-rich water and near vertical topography have ensured an extensive coral reef system and some incredible wall diving, while nearby volcanic sand has created hotspots for macro species and critters. Plus, the deep channels and powerful open ocean currents passing through Bunaken National Park also act as a superhighway for marine megafauna including migrating cetaceans like whales and dolphins.
What can divers see in Bunaken National Park?
Overall, divers visiting Bunaken National Park can expect to see schooling fish, sea turtles, eagle rays and sea snakes, alongside chance encounters with marine mammals such as dolphins, pilot whales, sperm whales, and even dugongs in the southern mangroves. When it comes to critters, many of the region's most sought-after subjects can be spotted, including pygmy seahorses, frogfish, and nudibranchs of all shapes and sizes.
Ready to start planning your dive holiday to Bunaken?
Search, compare and book from our hand-pick selection of eco friendly dive resorts
Other dive experiences near Bunaken
Bunaken National Park actually covers nearly 900 square kilometres, with 97% of its area occupied by the ocean. This includes a large swathe of North Sulawesi's western coast, around Manado Bay. Other nearby islands such as Siladen and Manado Tua offer fewer local dive sites but are equally lovely and still provide direct access to the marine park.
The different diving areas found in this part of Sulawesi are home to an incredible variety of wildlife, with over 70% of all the fish species found in the Indo-Western Pacific observed within the park's boundaries. And, while many divers in Bunaken focus on the island's easy to reach sites, the opportunities for exploration slightly further afield are well worthwhile.
On the mainland north and south of Manado there is world-class muck diving, boasting silty and sandy slopes, home to a wide variety of small and strange macro wildlife. And, far fewer divers than other "critter" destinations like Lembeh and Ambon. Keep your gaze downward for chances to spot all kinds of weird and wonderful animals like pipefish, nudibranchs, frogfish, and rare cephalopods, including the mimic octopus.
Most dive centres and resorts in the region focus on packages offering dives around Bunaken and Manado, but sometimes add other nearby destinations including Bangka and Lembeh into the mix. These slightly longer adventures are well worth an extra day or two, with chances to explore all different types of underwater environments, including unmatched macro diving, calm coral gardens, and even a worthwhile shipwreck!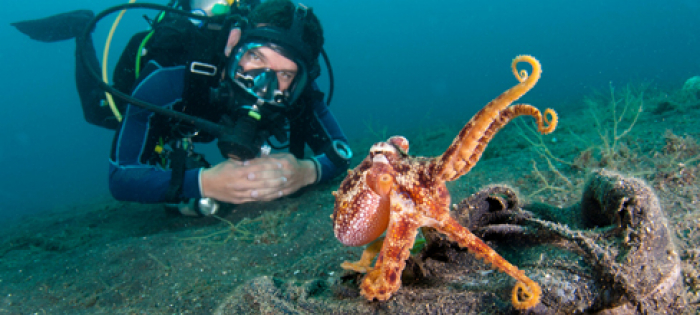 Timing your dive trip to Bunaken
Because the park is somewhat sheltered by the mainland, it can be dived year round. But, Bunaken's period of peak diving coincides perfectly with North Sulawesi's dry season, with the 'shoulder' months at the start and end of the monsoon typically offering the best conditions. You can find more details on Bunaken National Park's diving seasons on our destination page.
Travelling to your Bunaken dive trip
Despite its seemingly remote location, you'll be pleased to know that Bunaken is surprisingly accessible. And, to make things as stress-free as possible, we've explained the entire process of how to get to Bunaken National Park in a separate article, including typical flight times and airline options.
---
Ready to plan your trip to Bunaken?
Contract one of our dive travel experts today!

---
---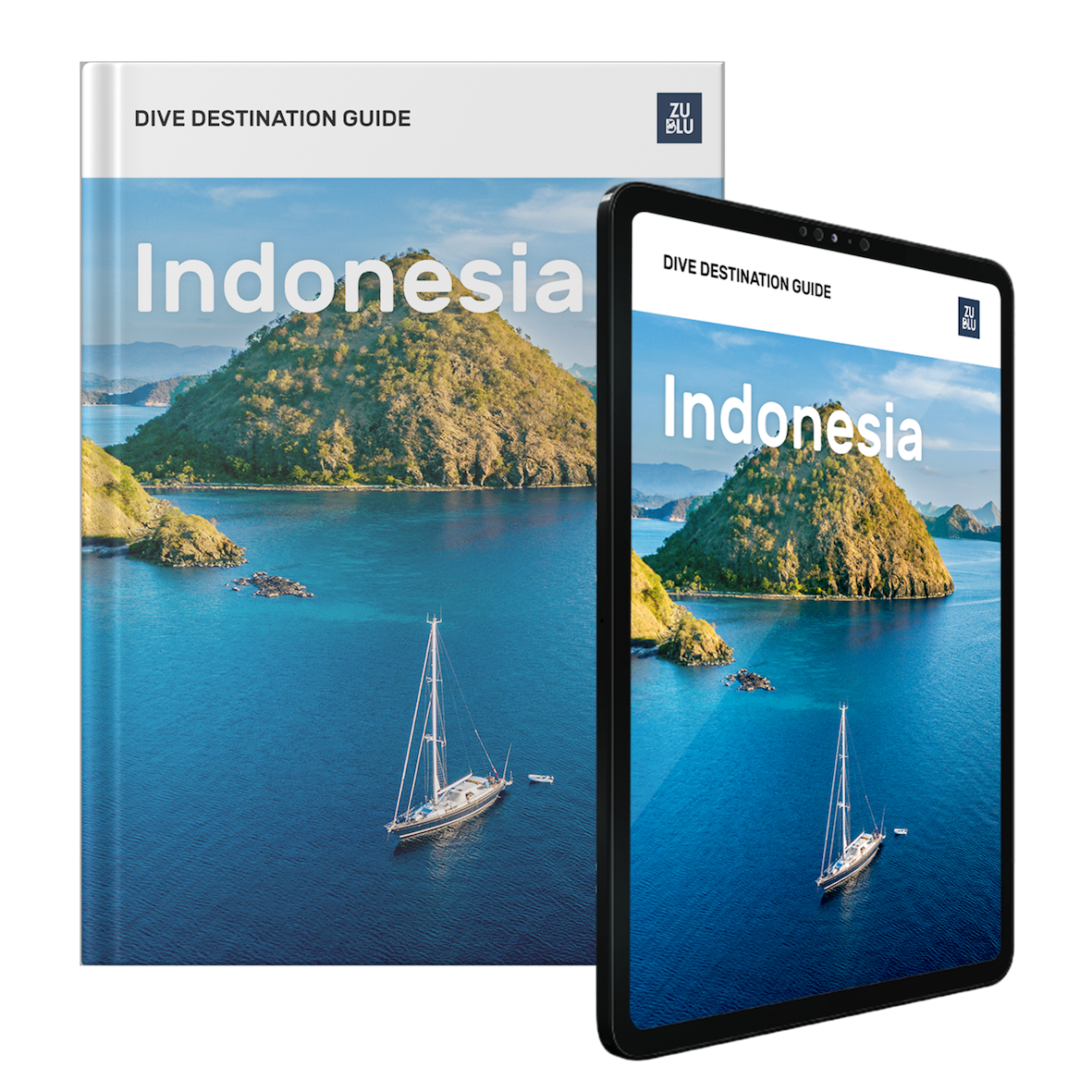 Discover the secrets of Indonesia in this FREE 150+ page scuba dive destination guide. Read online or download today and let us inspire your next diving holiday.
---
---
Join the ZuBlu community to receive the latest insights and unmissable adventures
Don't worry, we'll only send you really good stuff - and we never share your details
---