Bunaken National Park is one of Indonesia's most beloved diving destinations, home to stunning coral reefs, dizzying drop-offs, and underwater marine life galore. The park was one of the country's first designated protected marine areas, established in 1991. 30 years later, the results are obvious, as this remains one of Sulawesi's most impressive areas for exploration and an excellent representation of the region's mindblowing biodiversity.
If you're ready to dive into adventure exploring some of Sulawesi's very best sites, this is your guide! Read on for our top tips on getting there and away, what wildlife to look out for, and unmissable dive sites.
Know before you go
Bunaken is a small island found west of Sulawesi's northern coast, not far from the city of Manado. Bunaken National Park actually includes a much larger geographic area, and encompasses the neighbouring islands of Manado Tua, Mantehage, Nain and Siladen. The park is home to some of Indonesia's most diverse diving, with an extensive coral reef system, dizzying drop-offs and plummeting walls, and even some world-class muck and macro sites nearby. And, thanks to its moderate currents and good visibility, this area has long been a haven for intermediate divers who prefer to take it easy on the reef. 
With over 30 years of marine park protection, Bunaken is a well-established, sustainable diving destination offering resorts and dive centres catering to all budgets and personal travel styles. And, while the park is certainly popular, it rarely feels crowded. Dive sites are well spread out allowing groups to explore in peace, and the area receives fewer guests than hotspots like Bali or Komodo.
Explore some of North Sulawesi's most stunning coral reefs
If you're visiting Indonesia to marvel at the Coral Triangle's renowned biodiversity, then Bunaken won't disappoint. Bunaken Marine Park is a fantastic example of sustainable tourism, with the region's protection benefitting marine life and divers alike. Plus, most sites begin just a few fin kicks from the shore, with many of the region's most fascinating species found hanging out in the shallows. Thanks to several geographical factors, the marine park is also home to some of Indonesia's most varied and interesting diving, with conditions and marine life to satisfy all preferences. 
Most dive centres and resorts in the region focus on packages offering dives around Bunaken and Manado, but sometimes add other nearby destinations including Bangka and Lembeh into the mix. These slightly longer adventures are well worth an extra day or two, with chances to explore all different types of underwater environments, including heart-pounding drift diving, calm coral gardens, and even a worthwhile shipwreck!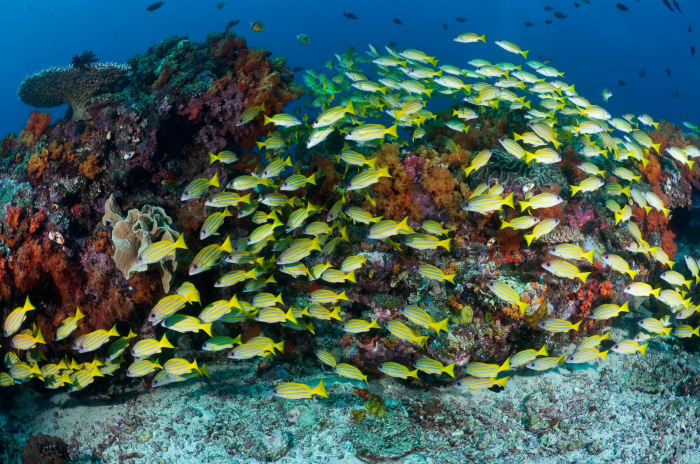 What makes the diving around Bunaken so diverse? In addition to decades of marine park protection, this region benefits from the proximity of Manado Bay's deep water, bottoming out at over 1,500 metres. This, combined with occasional powerful currents, draws an influx of nutrition into the local waters, fuelling incredible coral reef growth, especially in the shallows. It also adds up to some incredible wall diving, with near vertical topography at many of Bunaken's most stunning dive sites. Nearby volcanic sand muck sites likewise help to create hotspots for macro species and critters. All the powerful open ocean currents passing through Bunaken National Park also create a superhighway for marine megafauna including migrating cetaceans like whales and dolphins. 
Ready to start planning your dive holiday to Bunaken?
Search, compare and book from our hand-pick selection of eco friendly dive resorts
Nearby underwater adventures
Bunaken National Park actually covers nearly 900 square kilometres, with 97% of its area occupied by ocean. This includes a large swathe of North Sulawesi's western coast, around Manado Bay. Other nearby islands such as Siladen and Manado Tua offer fewer local dive sites but are equally lovely and still provide direct access to the marine park. 

The different diving areas found in this part of Sulawesi are home to an incredible variety of wildlife, with over 70% of all the fish species found in the Indo-Western Pacific observed within the park's boundaries. And, while many divers in Bunaken focus on the island's easy to reach sites, the opportunities for exploration slightly further afield are well worthwhile.
On the mainland north and south of Manado there is world-class muck diving, boasting silty and sandy slopes, home to a wide variety of small and strange macro wildlife. And, far fewer divers than other "critter" destinations like Lembeh and Ambon. Keep your gaze downward for chances to spot all kinds of weird and wonderful animals like pipefish, nudibranchs, frogfish, and rare cephalopods, including the mimic octopus.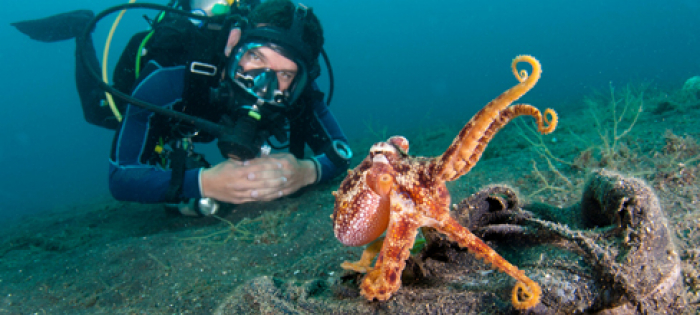 Timing your trip
Bunaken's peak scuba diving season runs from April to October. These months also represent North Sulawesi's dry season with hot, sunny days, clear skies, calm surface conditions, and great visibility - with many days topping out at over 30 metres. During the rainy season, between November and April, you can expect daily tropical downpours, but you'll still get plenty of sunshine. The visibility drops during these months, especially at Manado's coastal sites. And, the seas can also be a bit rough during January and February when the western monsoon wind is blowing. Water temperatures in Bunaken average between 27 and 28°C, occasionally dropping to a low of 26°C during July and August.
Because the marine park is sheltered from the open ocean by the mainland, it can be dived year round. But, divers in the know prefer to visit from May to July or during September and October, when conditions are at their best. And, if you want dive sites all to yourself, consider avoiding August, as well as the Easter and Christmas holidays.
Getting there and away
Most visitors in Bunaken arrive via the international airport in Manado, which offers regularly scheduled connections through major Indonesian cities like Jakarta, as well as Singapore and other destinations in Southeast Asia. From there, you can arrange local transfers by boat to the island, with trips lasting around 45 minutes. It is also possible to stay on "mainland" Manado and make the boat trip each day, though this option is far less popular and can make for significantly longer days on the water.
---
Whether you're hoping to start or continue your scuba education or just explore Sulawesi's incredible underwater world, Bunaken is a dream destination for divers. And, the ZuBlu team can help you plan the trip of a lifetime in its calm, clear waters. Get in touch today for up-to-date travel tips and advice, plus pro support for all your adventures! 
---
Ready to plan your trip to Bunaken?
Contract one of our dive travel experts today!

---
---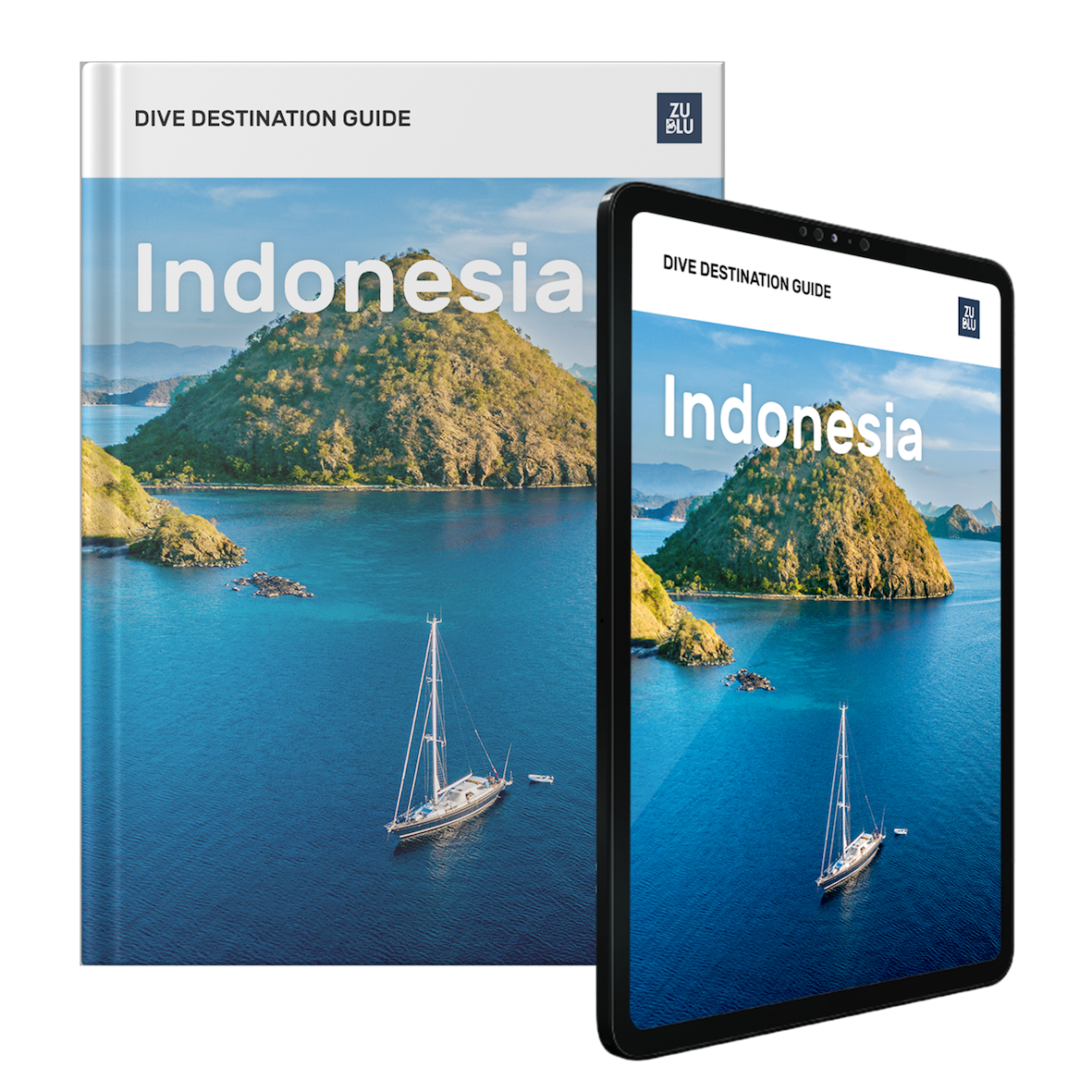 Discover the secrets of Indonesia in this FREE 150+ page scuba dive destination guide. Read online or download today and let us inspire your next diving holiday.
---
---
Join the ZuBlu community to receive the latest insights and unmissable adventures
Don't worry, we'll only send you really good stuff - and we never share your details
---