Home to some of Indonesia's best wall diving, and a major part of the exceptional underwater playground of North Sulawesi, Bunaken National Park is widely regarded as one of the best dive destinations on the planet. 
But with over 30 individual dive sites to choose from within the boundaries of the park, you simply might not have the time to explore them all. So here's a selection of the best dive sites in Bunaken National Park that you absolutely don't want to miss. 
---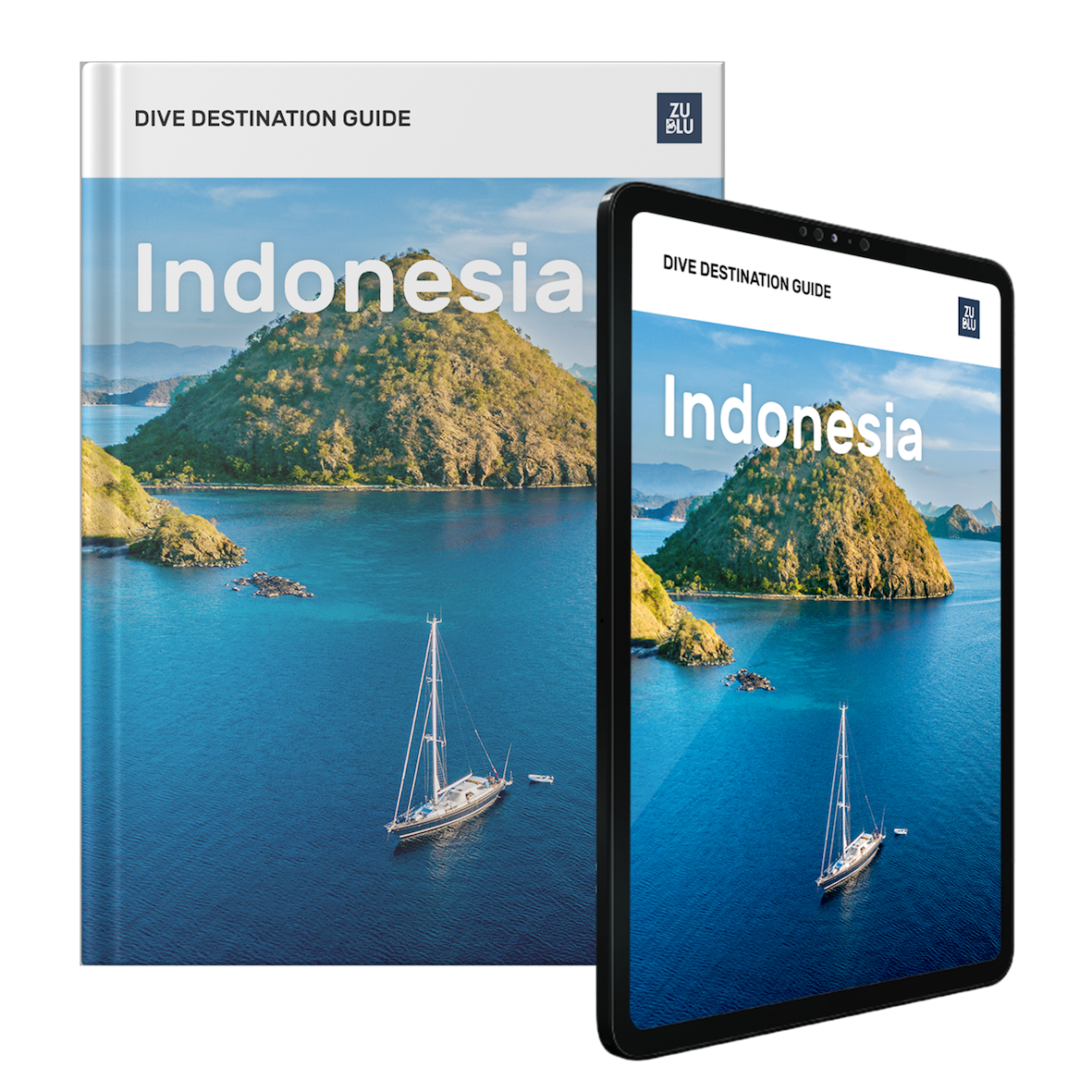 Discover the secrets of Indonesia in this FREE 150+ page scuba dive destination guide. Read online or download today and let us inspire your next diving holiday.
---
What's so great about Bunaken's scuba diving?
Bunaken National Park is located off the northwest coast of Sulawesi and is split into two sections. The southern part lies near the mainland villages of Poopoh and Arakan, and is made up mostly of sheltered bays and mangroves, while the northern section incorporates five islands - Manado Tua, Siladen, Mantehage, Nain and Bunaken itself. The reefs around these islands drop rapidly towards the seafloor, reaching depths of more than 1,000-metres in places. Strong ocean currents sweep past these islands from the northeast, depositing larvae and juvenile fish in the park enroute, and creating an exceptionally biodiverse habitat with crystal-clear visibility.

Bunaken National Park was one of the first protected marine areas established in Indonesia, and decades of protection have helped to preserve the region's stunning biodiversity. In fact, this marine park is often lauded as one of the best examples of sustainable dive tourism in the world. Today, Bunaken National Park is home to more than 70% of all fish species known to live in Indonesian waters, and around 390 species of coral. Visitors can expect moderate currents flowing over dizzying drop-offs and along coral-encrusted walls, where schooling fish, sea turtles, eagle rays and sea snakes bring the reef to life. Not to mention chance encounters with marine mammals such as dolphins, pilot whales, sperm whales, and even dugongs in the southern mangroves. 
Ready to start planning your next underwater holiday in Bunaken?
Search, compare and book from our hard selected resorts
The best of Bunaken's dive sites
All that diversity adds up to plenty of diving, making it tricky to compare different dive sites. Our top suggestions for diving in Bunaken include a bit of something for everyone - from classic Bunaken walls, to Manado's muck sites!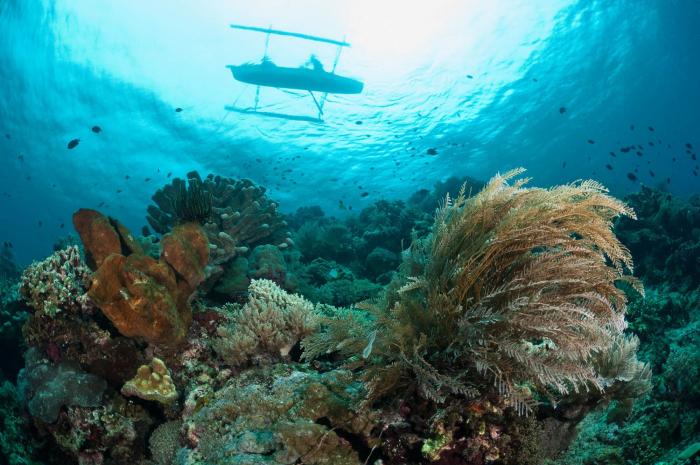 Sachiko's Point - Bunaken Island
Sachiko's Point is located on the north-east side of Bunaken Island and is a shining example of Bunaken's world-class walls. The coral-encrusted drop-off begins in less than five metres of water and extends beyond the recreational diving limits. In the shallows sections, the wall is covered with vibrant coral growth, while large gorgonians and caves take centre stage as you descend.
Easy-going conditions make this site ideal for intermediate divers and underwater photographers, but the currents are stronger on the south side of the island, attracting massive schools of snapper and triggerfish, as well as pelagic species bluefin and giant trevally. Blue spotted stingrays can also be found hiding in the crevices along the wall, while green sea turtles cruise around in abundance, often keeping divers company during their safety stop.
Tanjung Kopi - Manado Tua
Translated to 'Coffee Point', Tanjung Kopi is an advanced dive that delivers exceptional wide-angle and macro photography opportunities. Located on the east coast of the volcanic island of Manado Tua, this site slopes gradually to a depth of around 30-metres, followed by a vertical wall that drops off into the abyss. Currents can be very strong and awkward here, pulling divers both up and down, so entering the water at the correct point is crucial.
For experienced divers, these currents make Tanjung Kopi the perfect place to spot some of Bunaken's bigger fish, including dogtooth tuna, Napoleon wrasse, giant trevally, eagle rays, and blacktip and whitetip reef sharks. Batfish, jacks, and blacktail barracuda can also be seen schooling in the current, while harlequin shrimps, boxer crabs, and nudibranchs hunker down in the reef below.
Mandolin Reef - Bunaken Island
Mandolin Reef lies on Bunaken's west coast, facing the island of Manado Tua. The water here reaches depths of up to 600-metres in places, and currents can be strong, making it a great site for spotting pelagics such as sharks and tuna. Also offering a range of dramatic and unusual coral landscapes, tons of macro, and plenty of opportunity to go deep, this site stands out from many others in the park, and is sure to stimulate every type of diver.
The wall here tumbles down in large steps, becoming hidden beneath a dense forest of whip corals in the deeper sections. Macro-lovers will enjoy searching for various shrimps and whip gobies here, while larger species such as Maori wrasse, bumphead parrotfish, and white-tip reef sharks skulk to-and-fro. Eventually the wall surrenders to a dense carpet of sponges and bubble coral where tiny porcelain crabs and candy crabs can be found.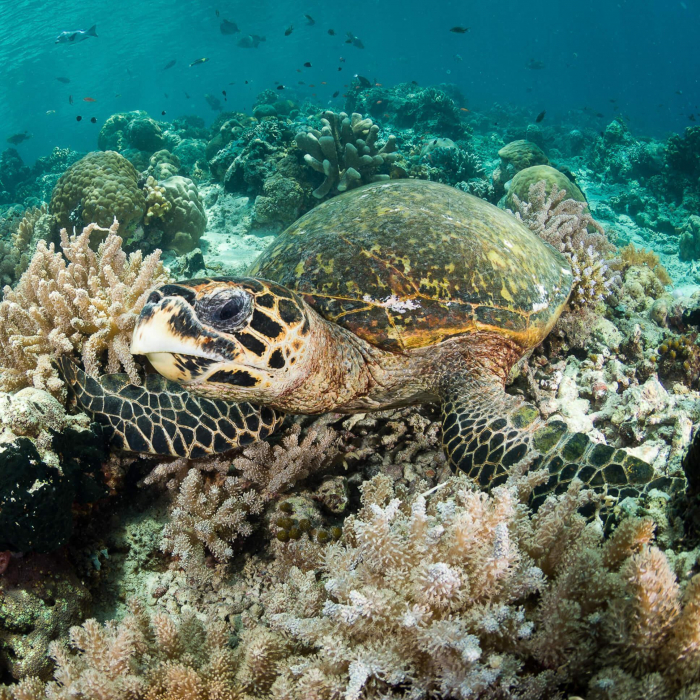 Fukui Point - Bunaken Island
Located on the west coast of Bunaken Island, Fukui Point is one of the island's only dive sites without a wall. Once underwater, divers are immediately greeted by a lovely sand slope dotted by beautiful hard corals. Nudibranchs can be found scouring the seafloor, while red-tooth triggerfish school in the current just above.  
Impressive stag horn and cabbage corals can be found at a depth of around 15-metres, along with schools of spadefish, goatfish and batfish. Further along the slope, lies a group of around five jaw-dropping giant clams, followed by a small plateau filled with carpet anemones and enormous barrel sponges.
While Fukui Point is not the classic Bunaken wall dive, some of this site's deeper bommies are used as cleaning stations by large pelagic fish including giant trevallies, Napoleon wrasses, and supersized snappers - especially during early morning dives.
Celah Celah - Bunaken Island
Above water, this site enjoys consistently calm conditions, thanks to its protected location on the south side of Bunaken Island. But, below the waves, it's prone to powerful currents running parallel to the reef, setting the stage for some fantastic drift diving. This site's name, Celah, means crack in the local dialect - and once you descend onto the wall, you'll instantly understand its origin. 
Deep fissures can be found here, each filled with its own soft coral garden of fans and sponges. When the current is pumping, keep an eye out for tuna, eagle rays, and reef sharks passing by in the blue. Or, on a calm day, take it easy searching for pygmy seahorses, nudibranchs, and harlequin shrimp. The reeftop here is also an excellent place to spot sea snakes, morays, and colourful schools of reef fish. 
Lekuan I, II and III - Bunaken Island
Located on the southern coast of Bunaken Island, this site comprises three vertical wall dives in one - and all are frequently ranked among the best in the park. Each section features incredible coral cover, with massive green stands of black coral bushes extending well beyond 40-metres. You'll start your dive with schooling anthias and turtles munching away in the shallows before descending to find schooling bumphead parrotfish and Napoleon wrasse. 
Be sure to peek in the wall's many caverns and crevasses to spot lionfish, scorpionfish, and kaleidoscopic nudibranchs hiding out, as well as huge green sea turtles and even whitetip reef sharks. And, being Bunaken, you'd be wise to keep an eye on the blue, where pelagics such as tuna and trevally cruise the reef's edge and eagle rays and blacktip reef sharks make surprise appearances. 
Muka Kampung - Bunaken Island
This site is found in the southeast tip of Bunaken Island, just in front of the main village, offering easy access from the shore and a variety of underwater terrain. A steep sand and rubble drop-off starts just a few metres from the beach here, allowing divers to drift along at a healthy pace amongst shoals of butterflyfish, black damsels, and fusiliers. Around halfway through the dive, this wall turns into a steep slope covered in pink hydroids and green cup corals. 
Sea snakes can frequently be seen prowling and probing the coral in search of food on this site, while a surprising amount of larger wildlife passes by out in the blue, with eagle rays, tuna, and Napoleon wrasse making regular appearances. But, like much of Bunaken, the real treat here is macro. Comb a fantastic soft coral garden to encounter colourful nudibranchs, minuscule crabs and shrimp, and cephalopods of all kinds. 
Poopoh - Manado
This site lies just off the Manado mainland and is most often referred to as Poopoh after the small fishing village where it is located. Like many of Manado's dive sites, the slope here is made up of black sand and silt, along with some old nets and ropes and something else a little different - seagrass. And, despite the seemingly desolate conditions here, this area is home to some of the best biodiversity in the world, with more than 300 fish species recorded - making it the 3rd richest fish site ever recorded.
On the top of the slope lies a large area dotted with seagrass beds which are known to help conceal cool critters. Ghost pipefish, frogfish, dragonets, pegasus sea moths, mimic octopus, and several species of seahorse can all be found here. The sea grass also attracts larger marine life like sea turtles and dugong, who enjoy feeding on its tender shoots in the shallows.
---
Need help planning your holiday in Bunaken?
Contact one of our dive travel experts today

---
---
Join the ZuBlu community to receive the latest insights and unmissable adventures
Don't worry, we'll only send you really good stuff - and we never share your details
---