Visit the islands of Wakatobi to scuba dive the pristine coral reefs of a UNESCO Biosphere Reserve, and enjoy the archipelago's secluded atmosphere and traditional charm.
Highlights
Secluded archipelago of islands and reefs, far from tourist crowds
Designated national park and UNESCO Biosphere Reserve
Explore the largest barrier reef system in Indonesia
Seasonal chances to spot passing pilot whales
Healthy coral reefs, seagrass meadows and mangroves
While word is slowly spreading about this idyllic corner of Indonesia, for now, Wakatobi still remains below-the-radar of even the most avid travellers. Seemingly perched on the edge of civilisation, this UNESCO Biosphere Reserve boasts the country's largest barrier reef and all-but-untouched atolls, making it a worthy bucket-list destination for scuba divers and travelers in search of tranquillity. Offering spectacular natural scenery, diverse cultures, and over 50 dives sites to explore – with more waiting to be discovered – Wakatobi is certainly one of Indonesia's best kept scuba diving secrets.
Diving in Wakatobi
Schooling reef fish

Year round

Macro Creatures

Year round

Healthy corals

Year round

Walls & pinnacles

Year round
Marking the western edge of the Banda Sea, the Wakatobi Archipelago is home to some appropriately impressive scuba diving. While you can find more action-packed diving elsewhere in the region, the experiences on offer here are all about breathtaking reef vistas and awe-inspiring diversity. Indeed, Wakatobi delivers a sizable expanse of finging, atoll, and barrier reefs – as well as mangroves and seagrass meadows – and is thought to host upwards of 600 fish species and 400 types of coral. What's more, the dry climate and limestone composition of this small archipelago guarantees an exceptionally clean underwater environment, allowing divers to appreciate Wakatobi's world-famous reefs in crystal-like clarity.
Visitors can explore more than 50 named dive sites scattered throughout this archipelago, with a most around Tomia Island, Lentea Island, and neighbouring Kaledupa Reef. In this hotspot, divers can explore iconic sites such as Roma, Cornucopia, Table Coral City, and Blade. Unlike many dive sites, these locations rarely focus on a specific attraction or species sighting. Instead, the highlight is found in the experience as a whole, promising long, multi-level dive profiles exploring spectacular scenery, pristine coral formations, and a colourful variety of reef dwelling marine life.
Expect to see turtles, reef sharks, and schools of trevally, fusiliers and triggerfish above the reef, while leaffish, pygmy seahorses, nudibranchs, and more, live out their lives amongst the whips, sea fans, and corals below. A little further afield, the atolls of Koromaha and Koka to the east feature yet more thriving reefs, while the sites around Wangi-Wangi and Hoga Island present a marginally higher chance of pelagic species, including mobula rays. Short-finned pilot whales can also often be seen in the right season.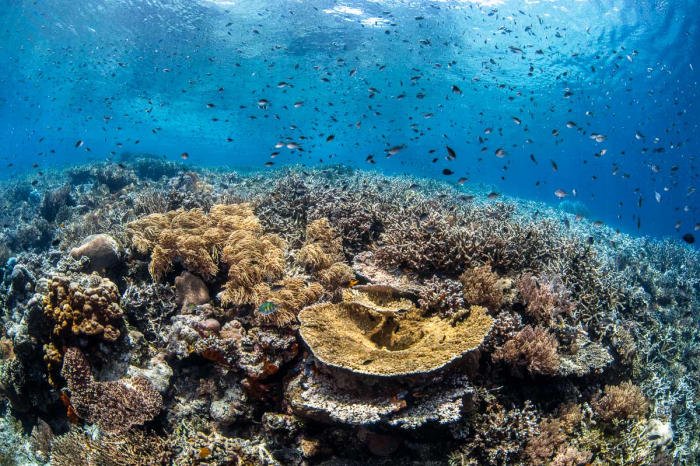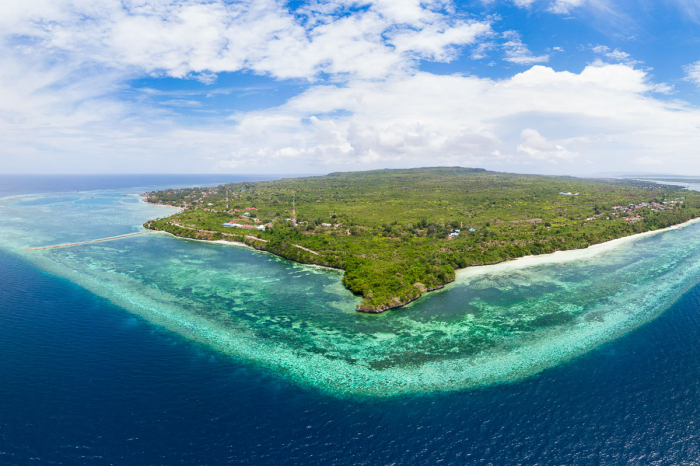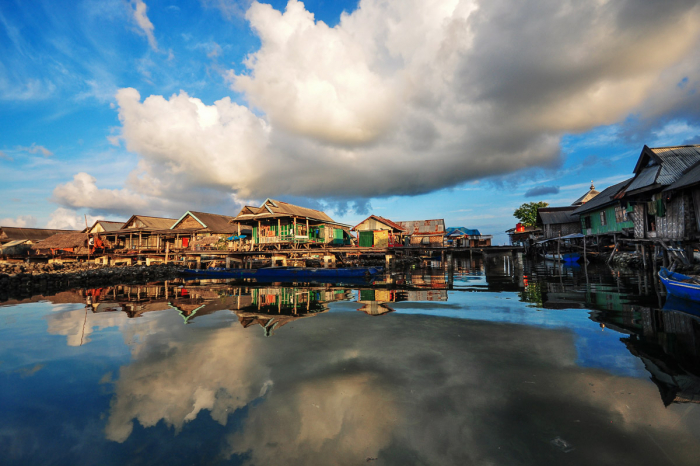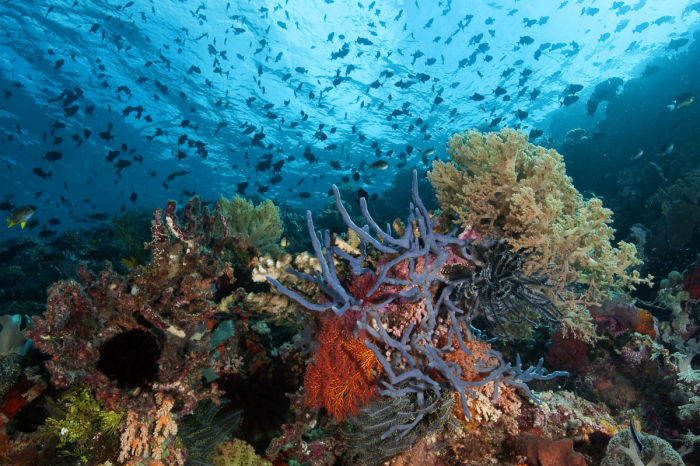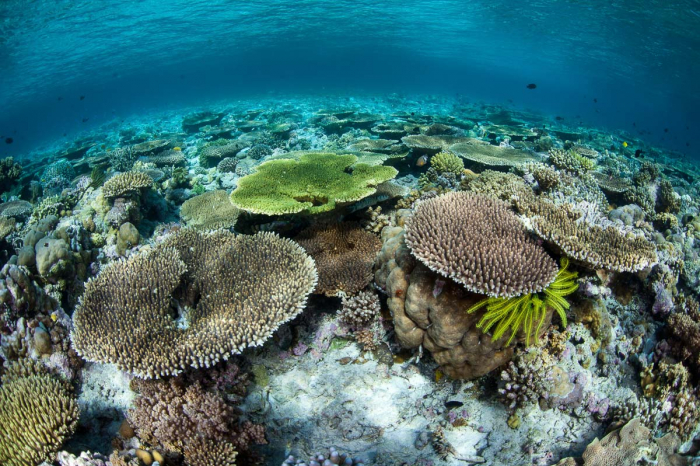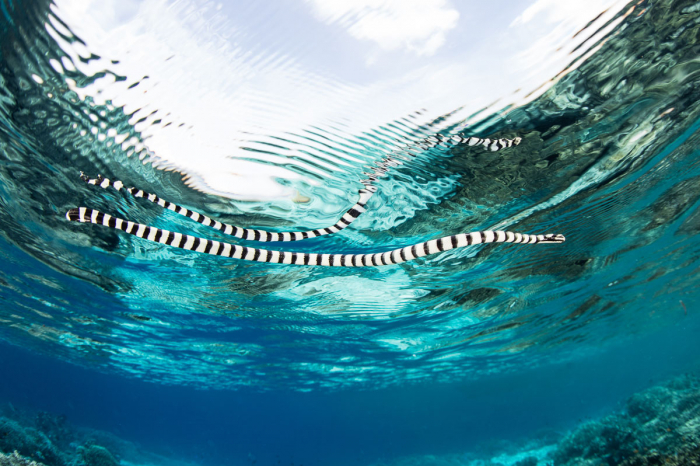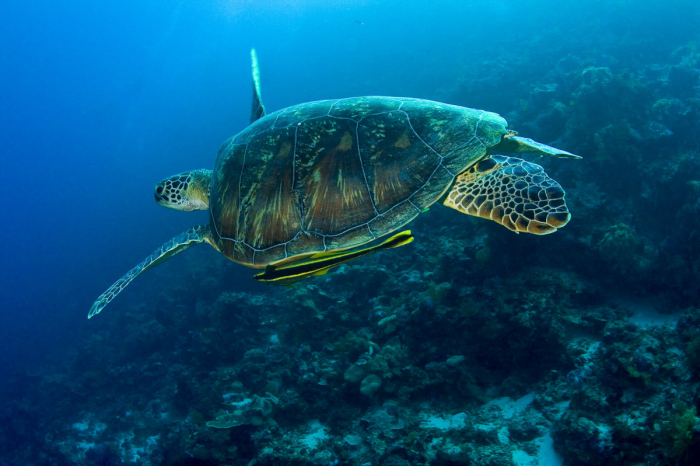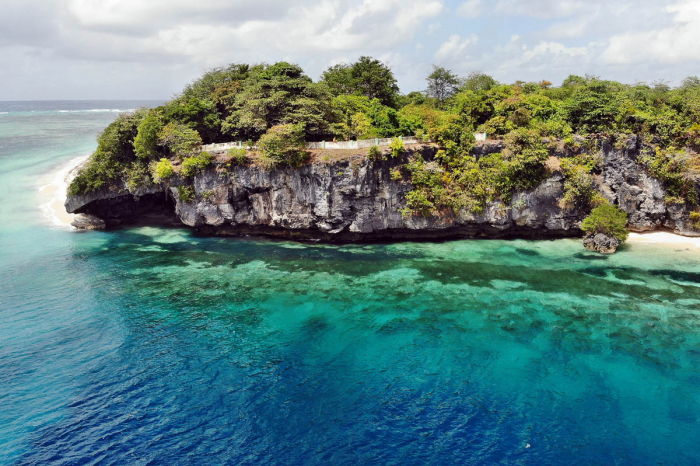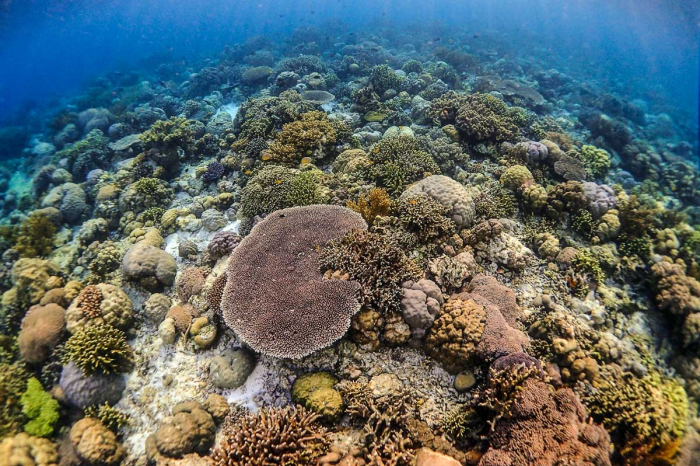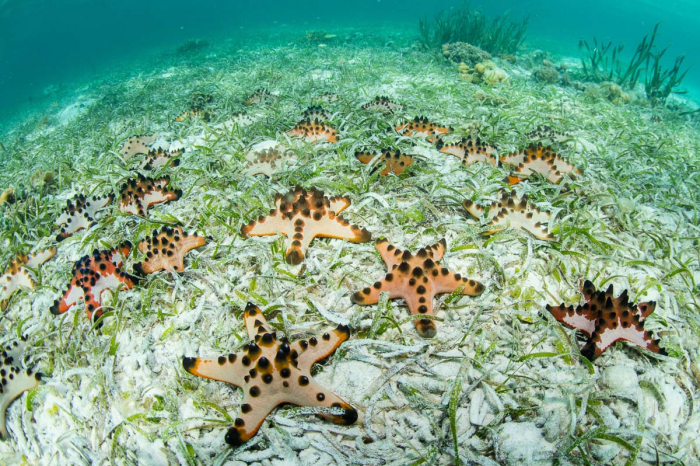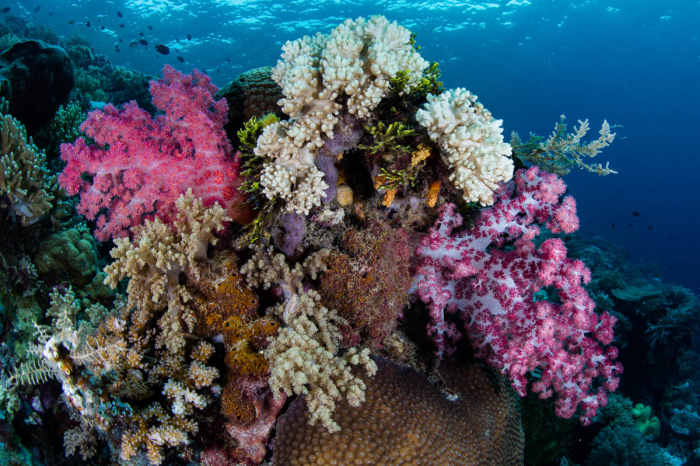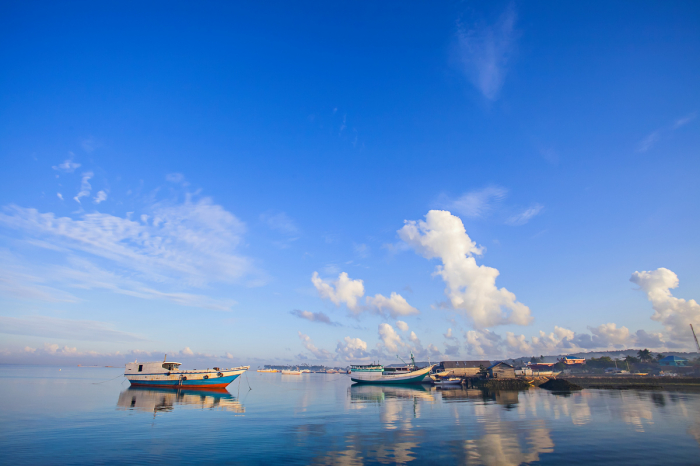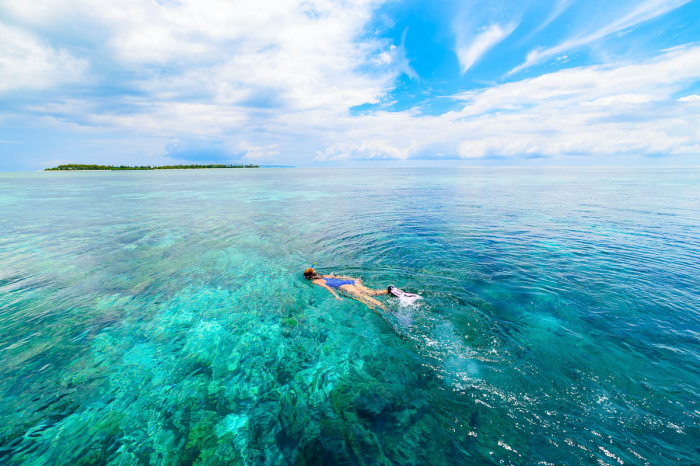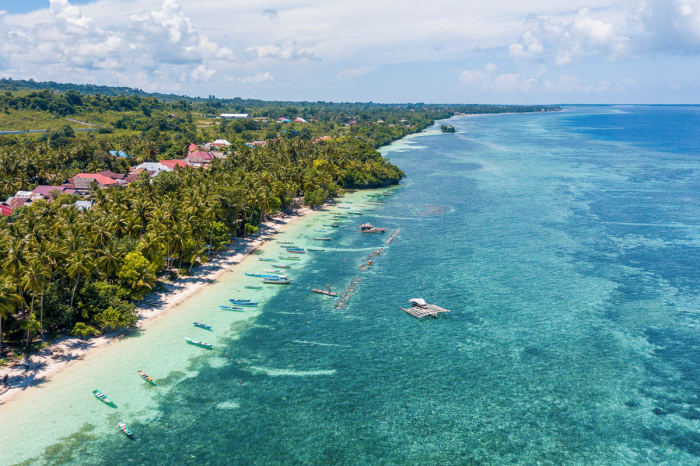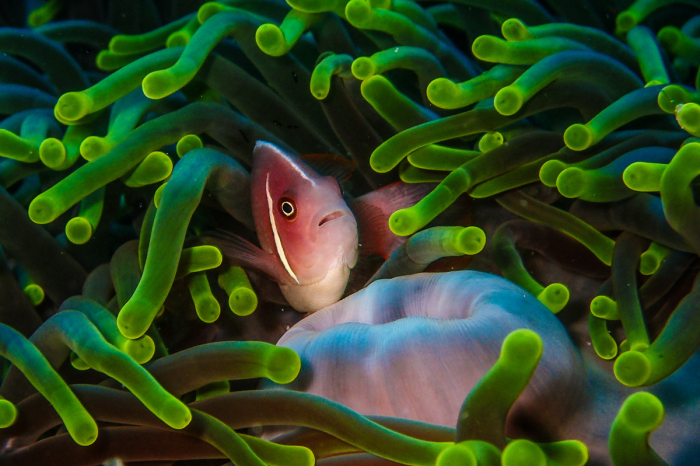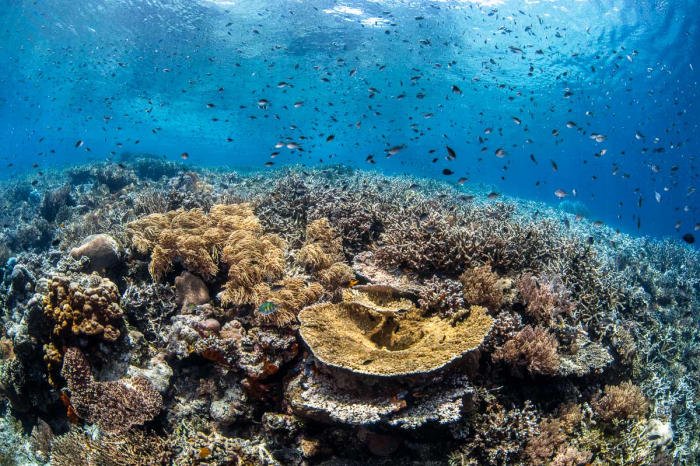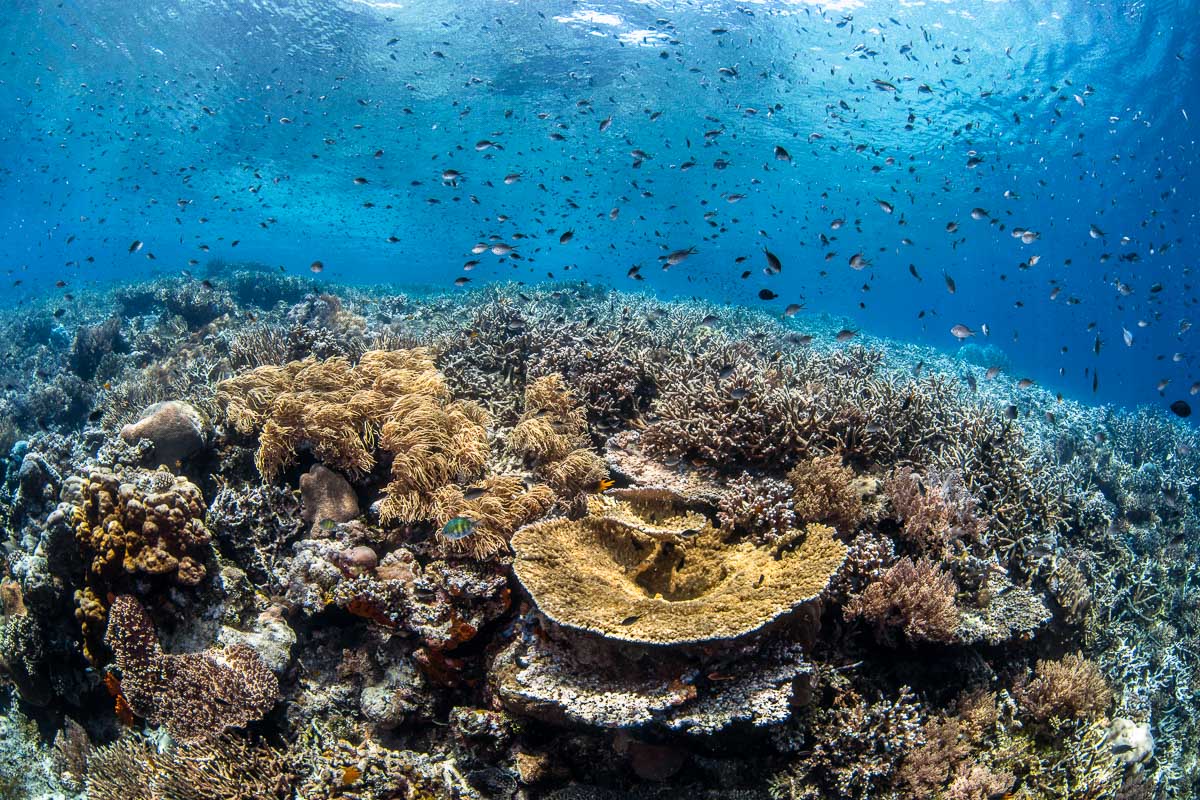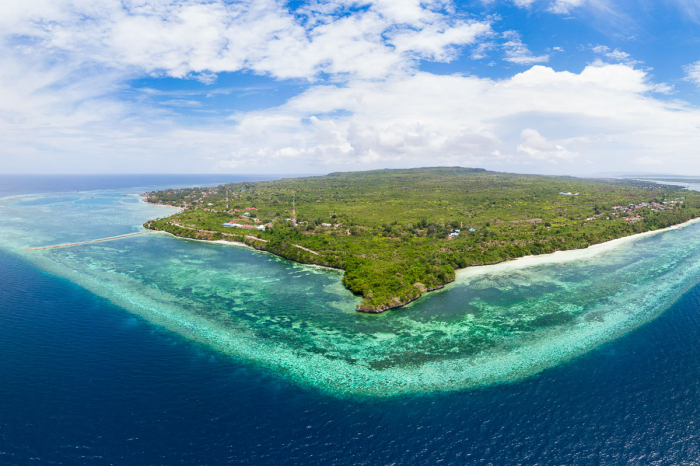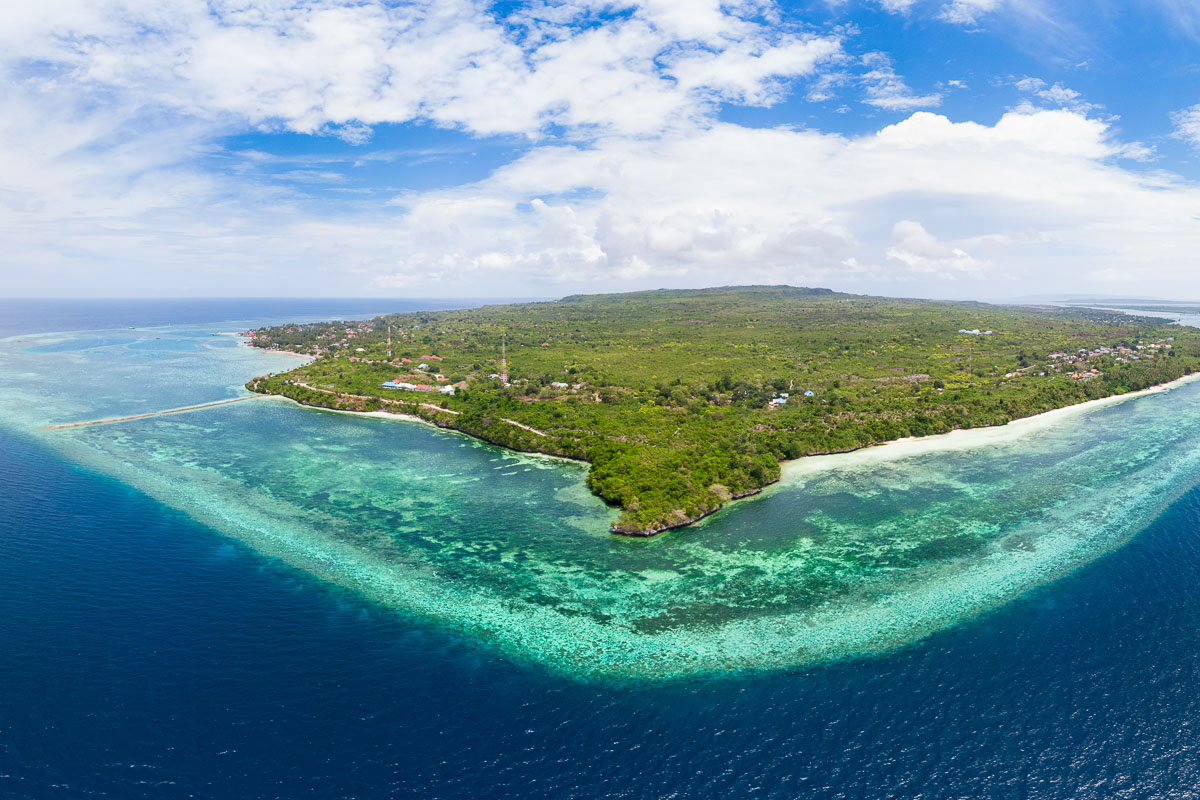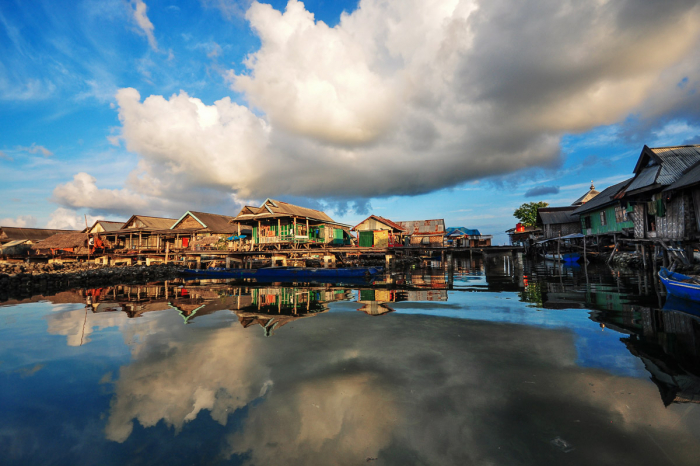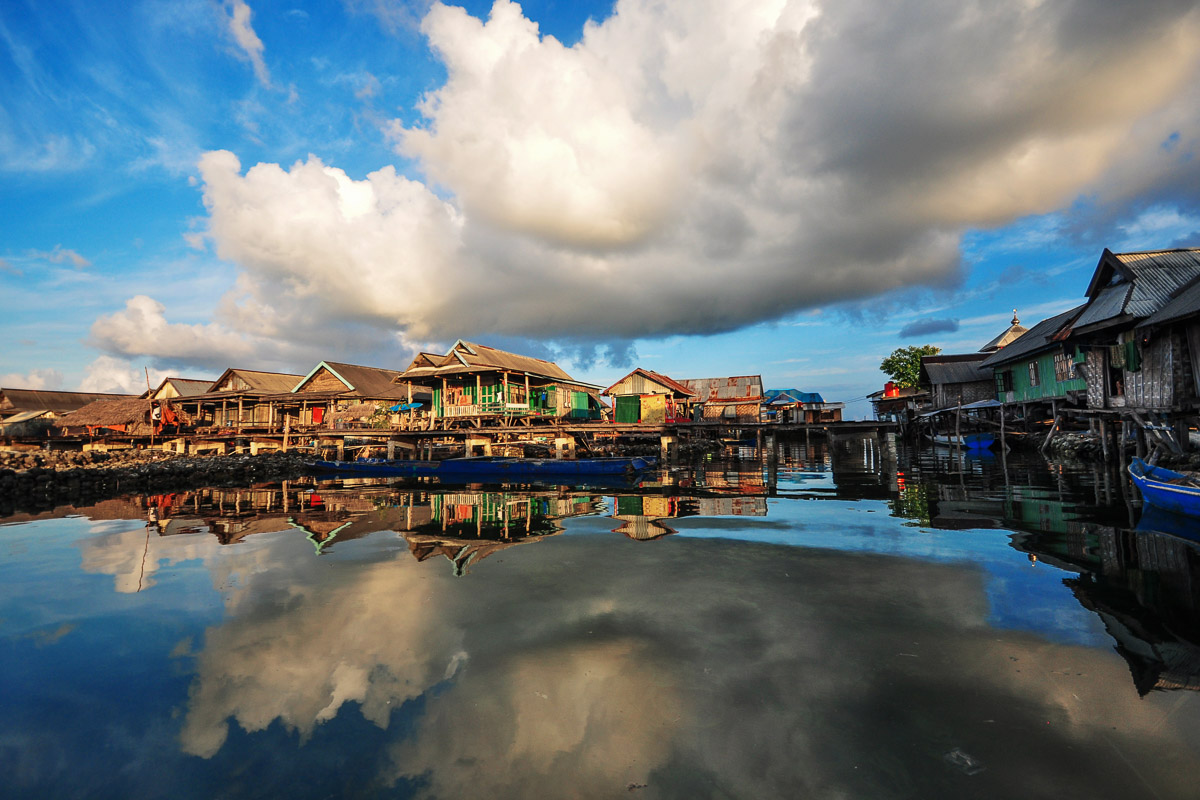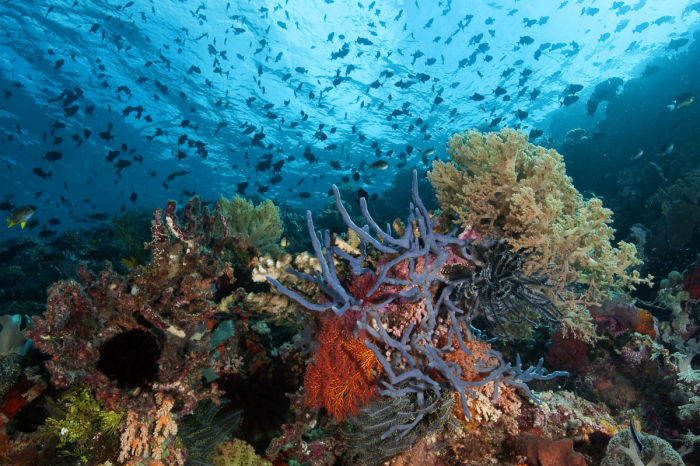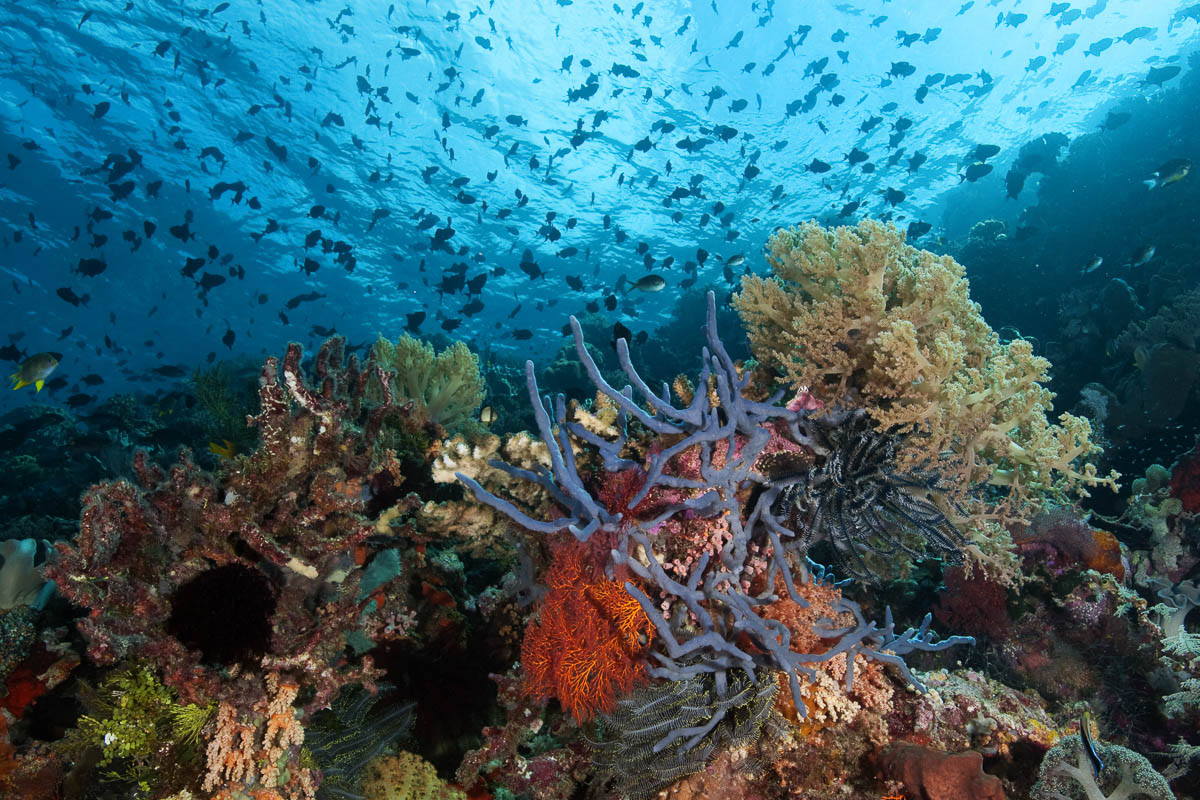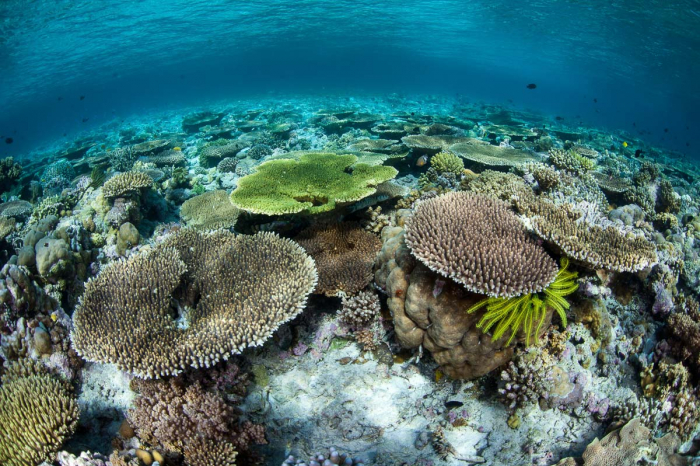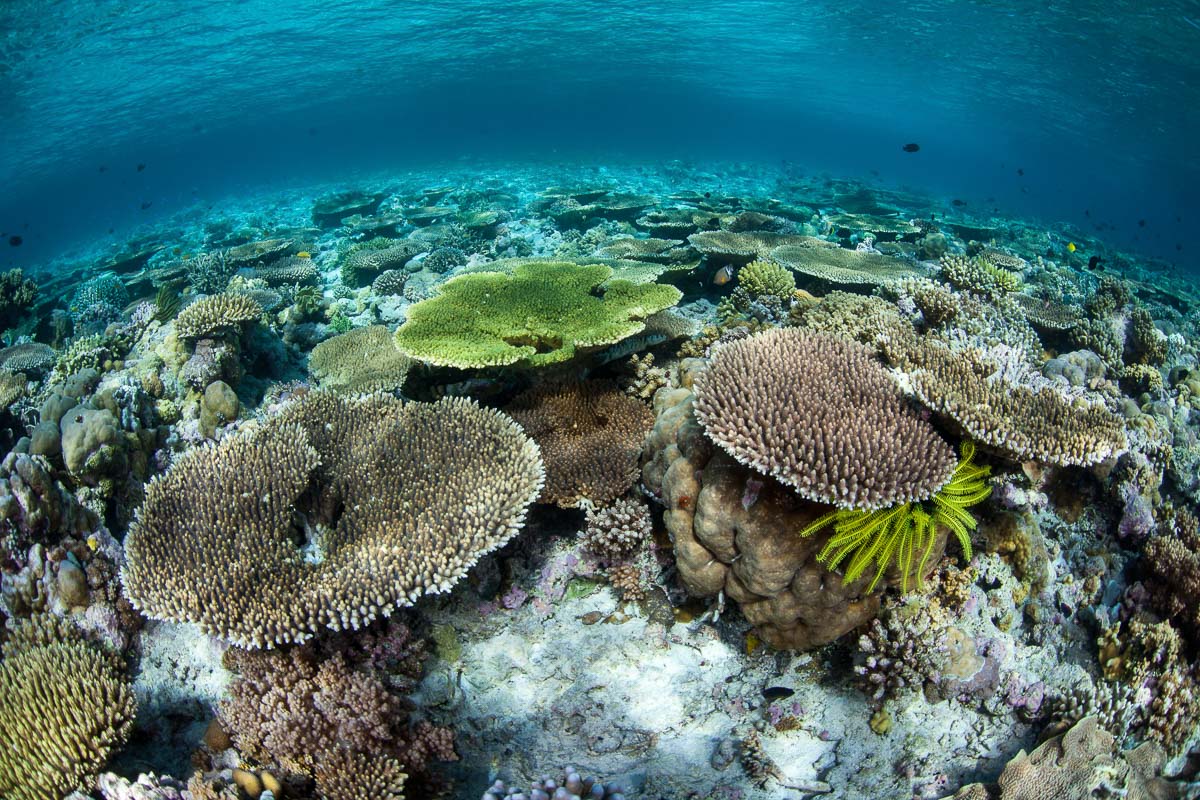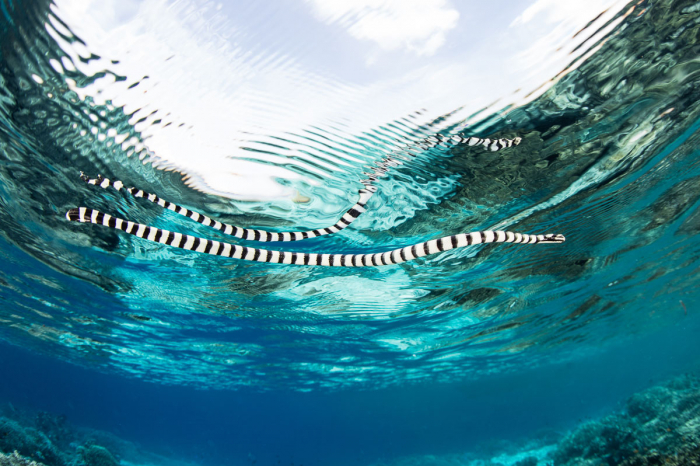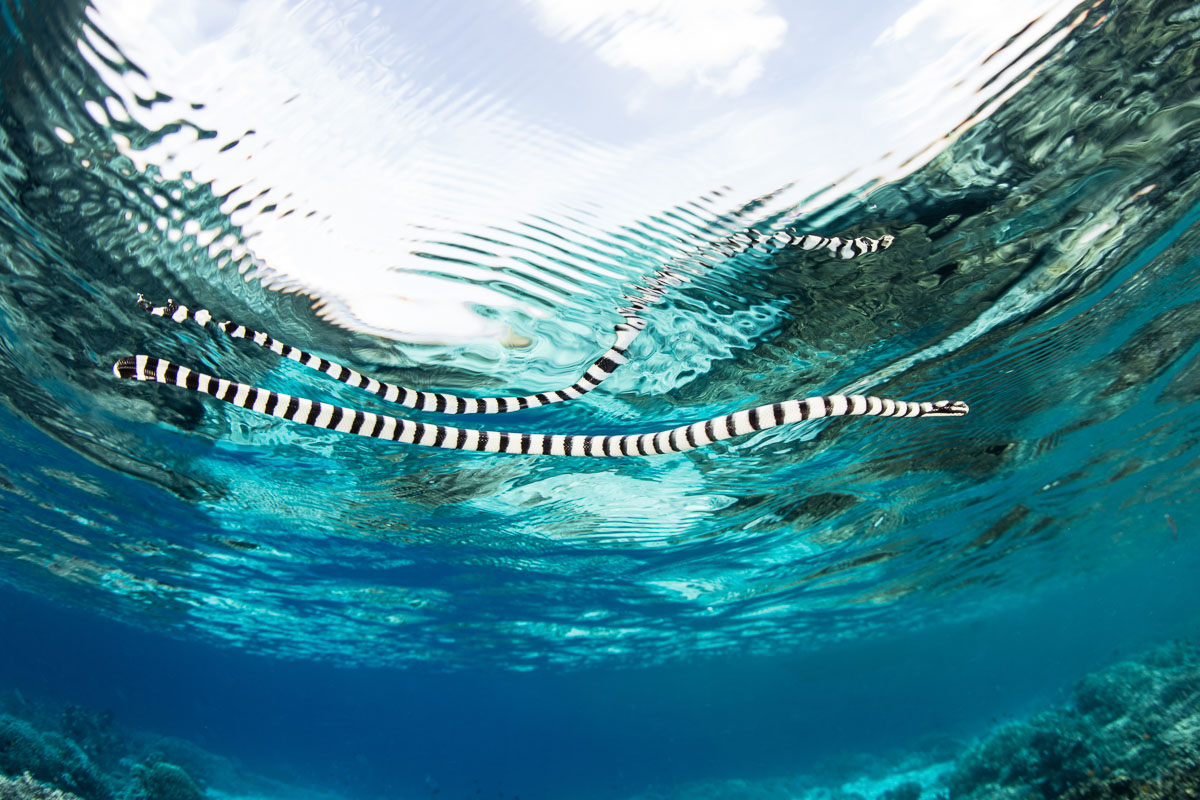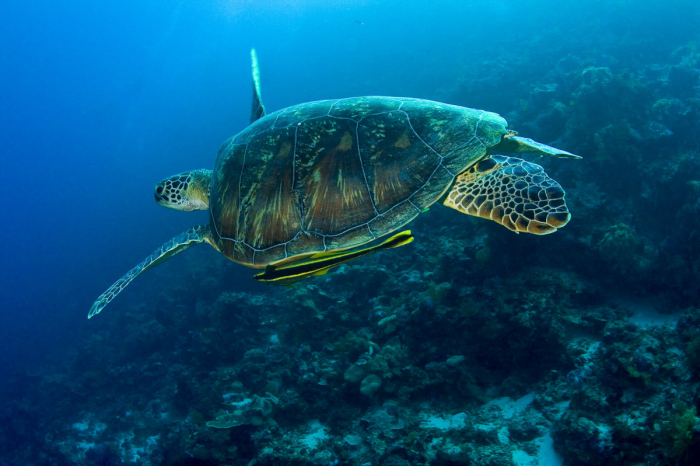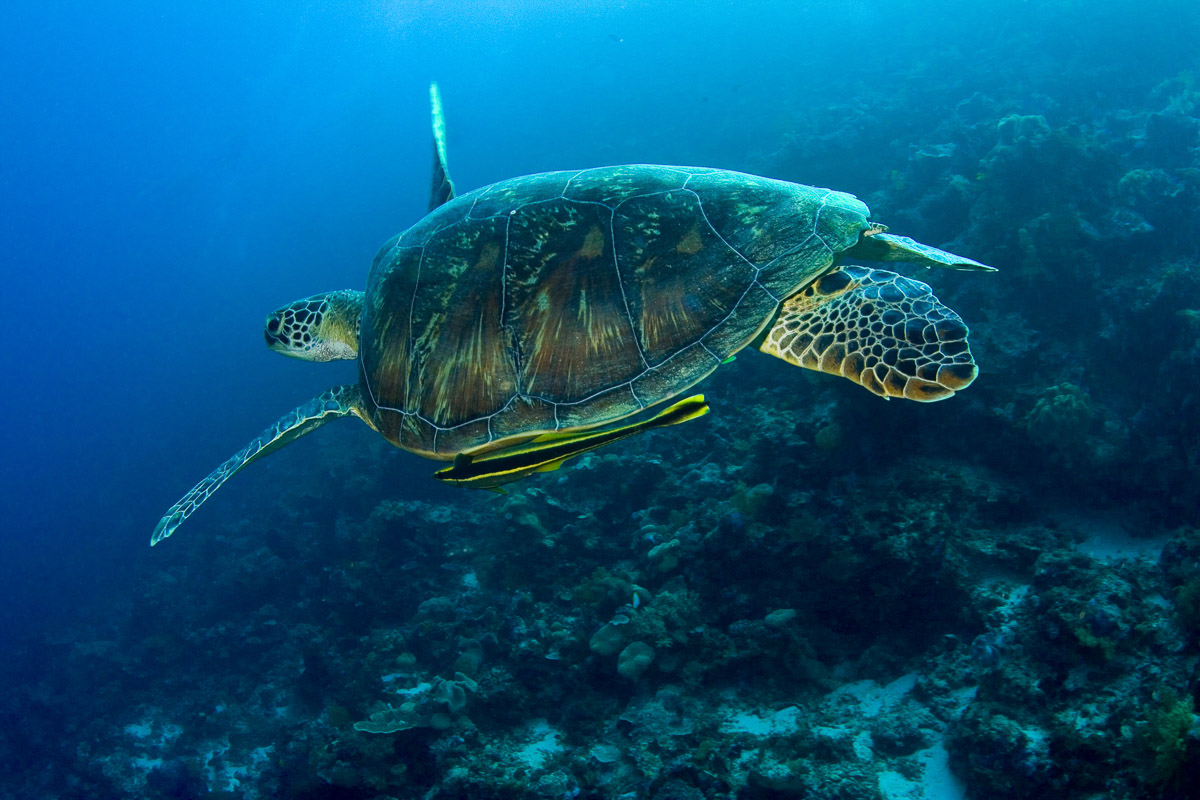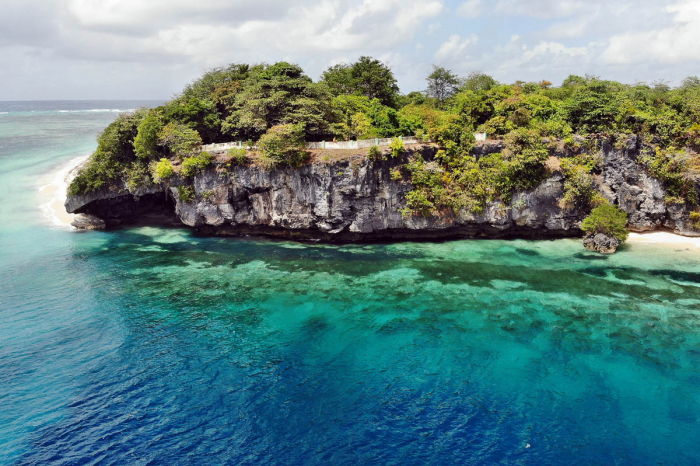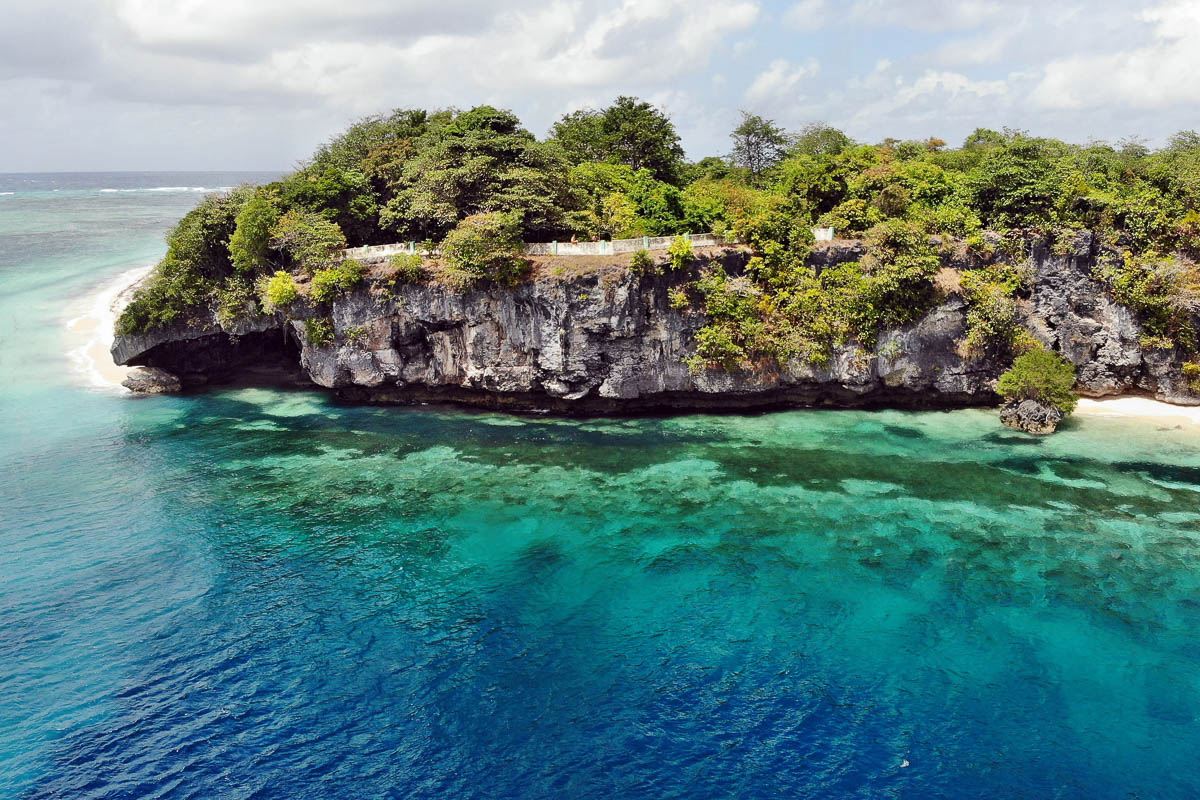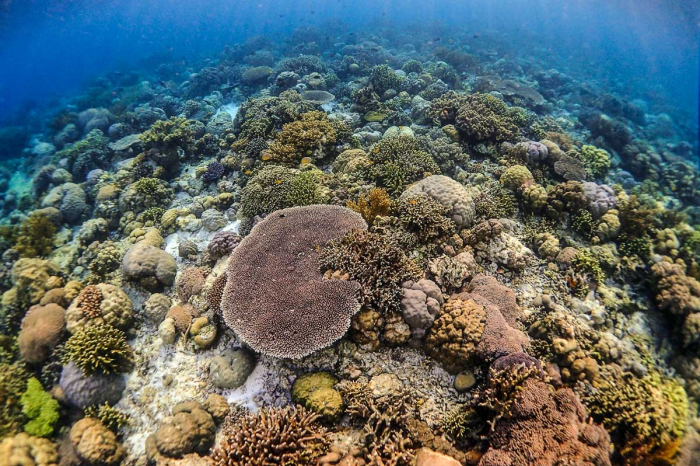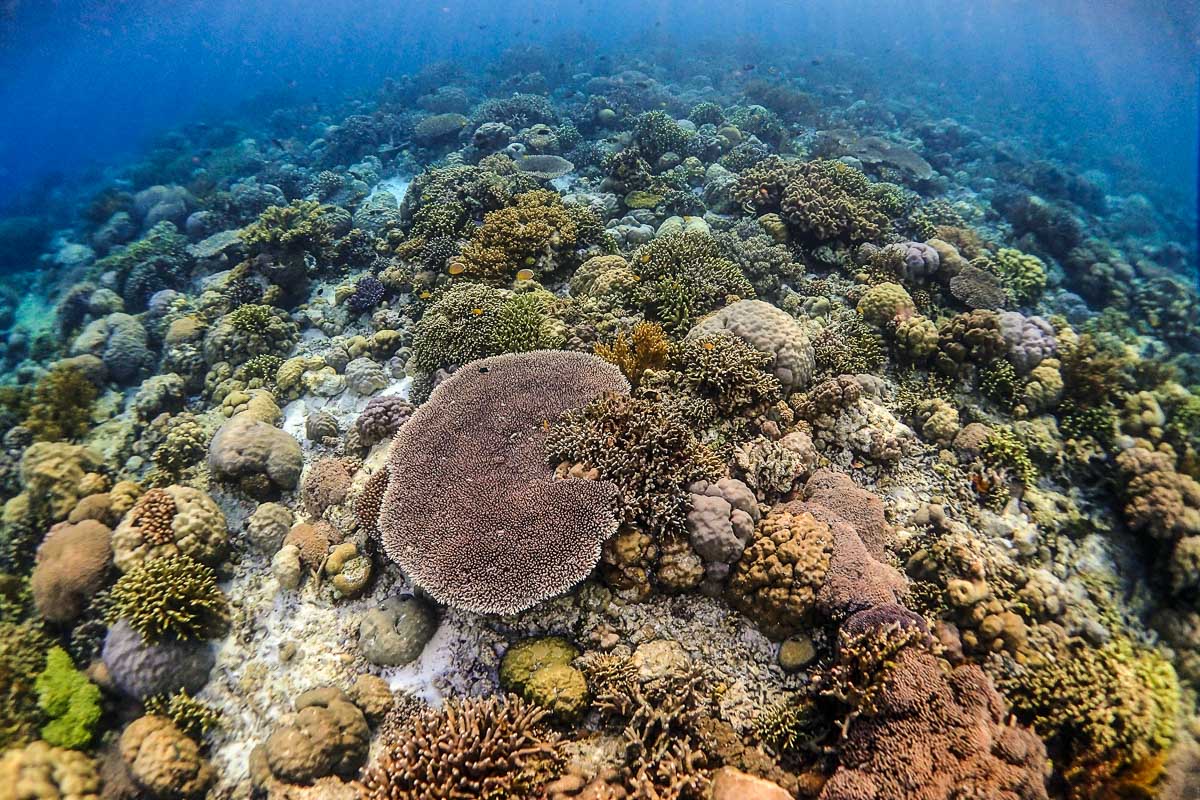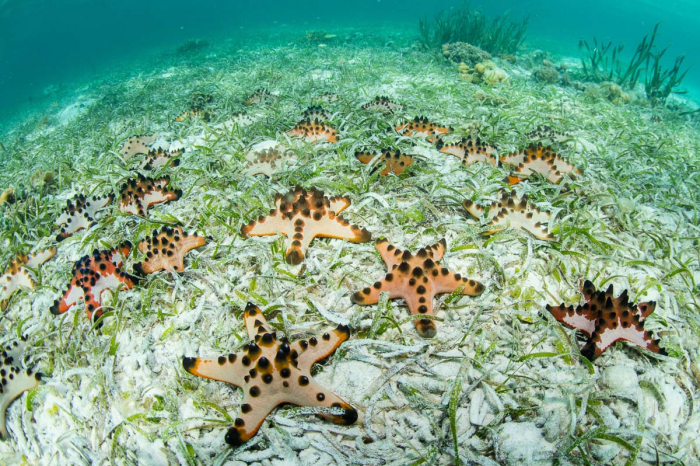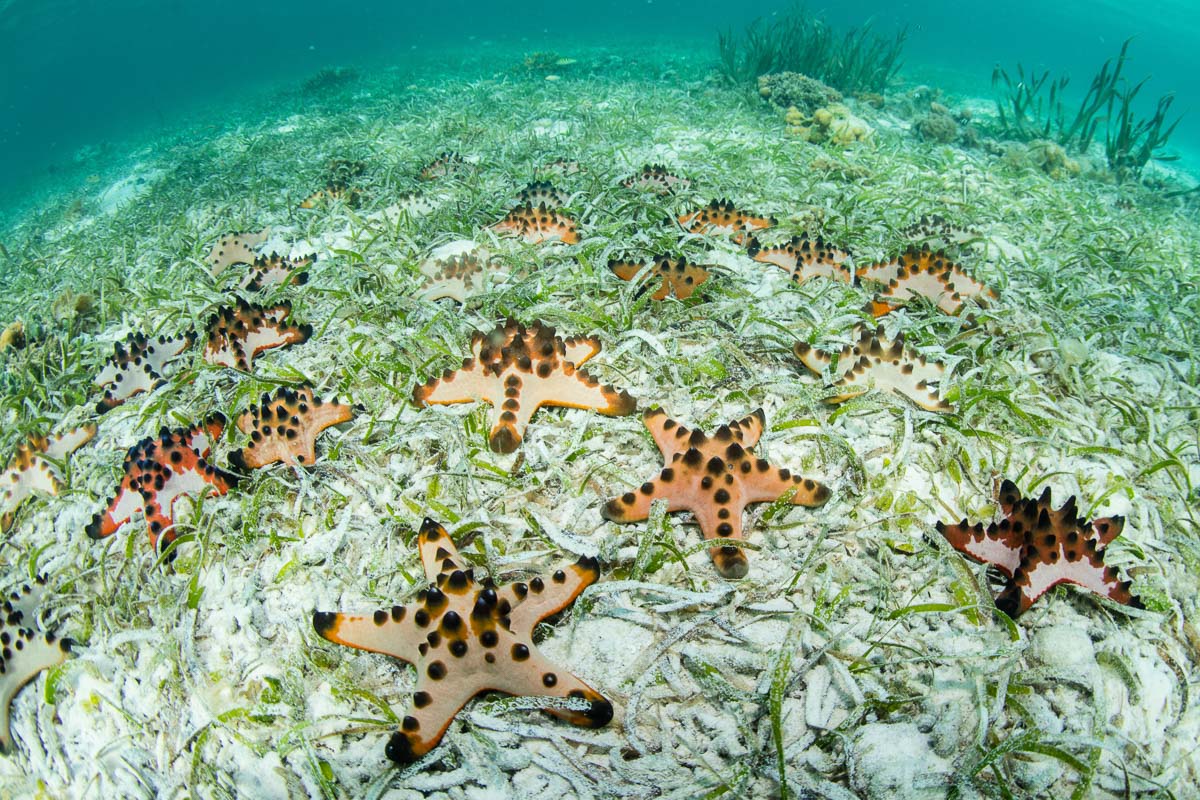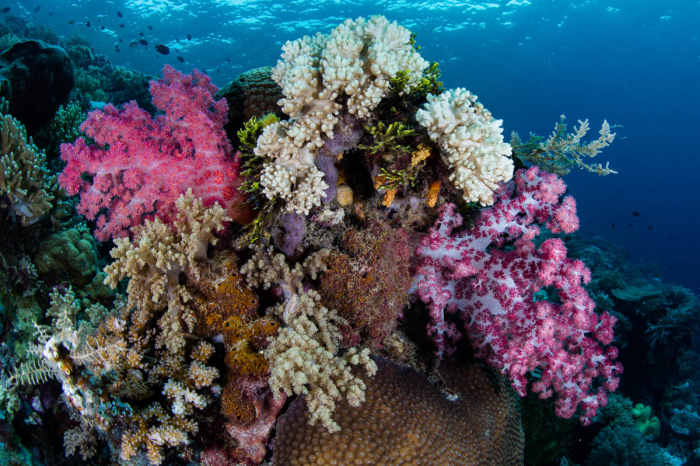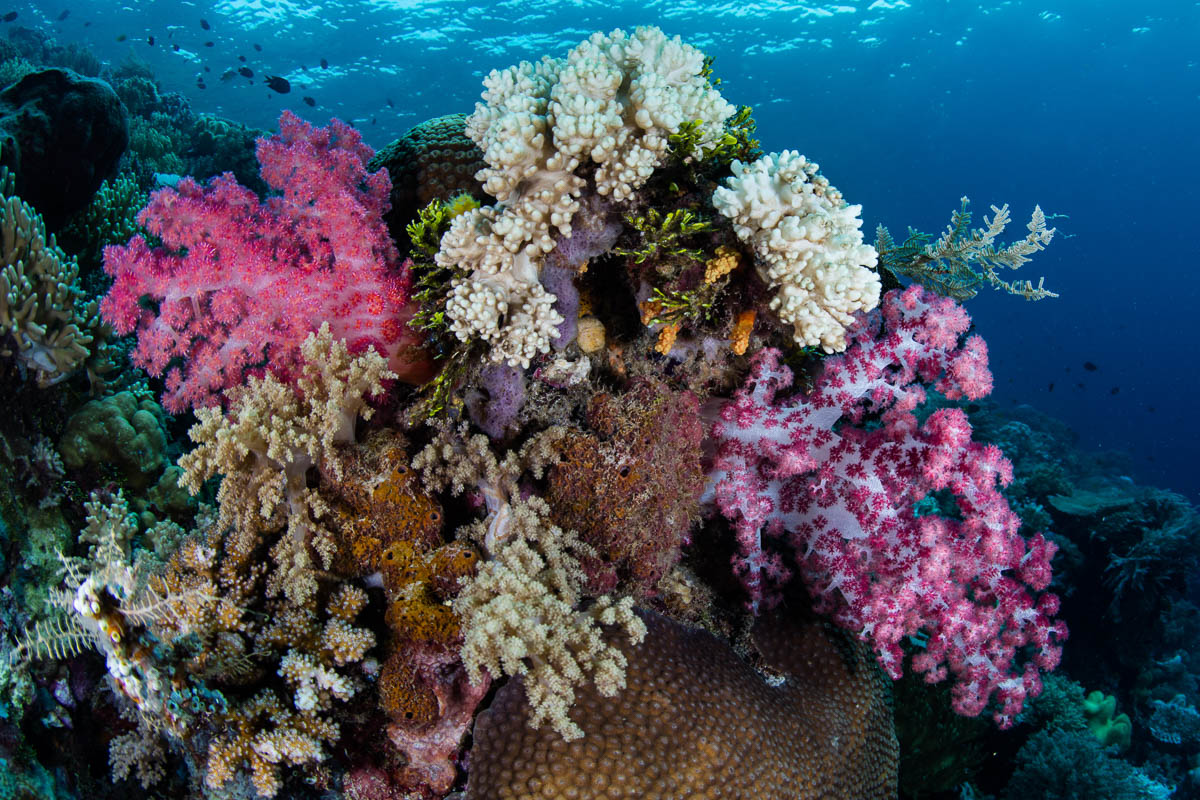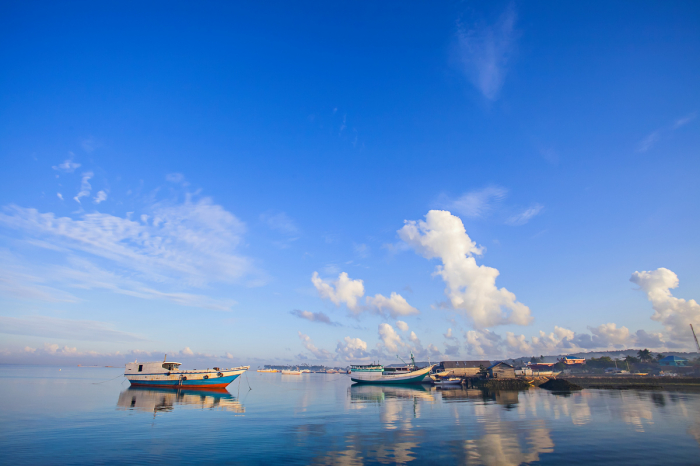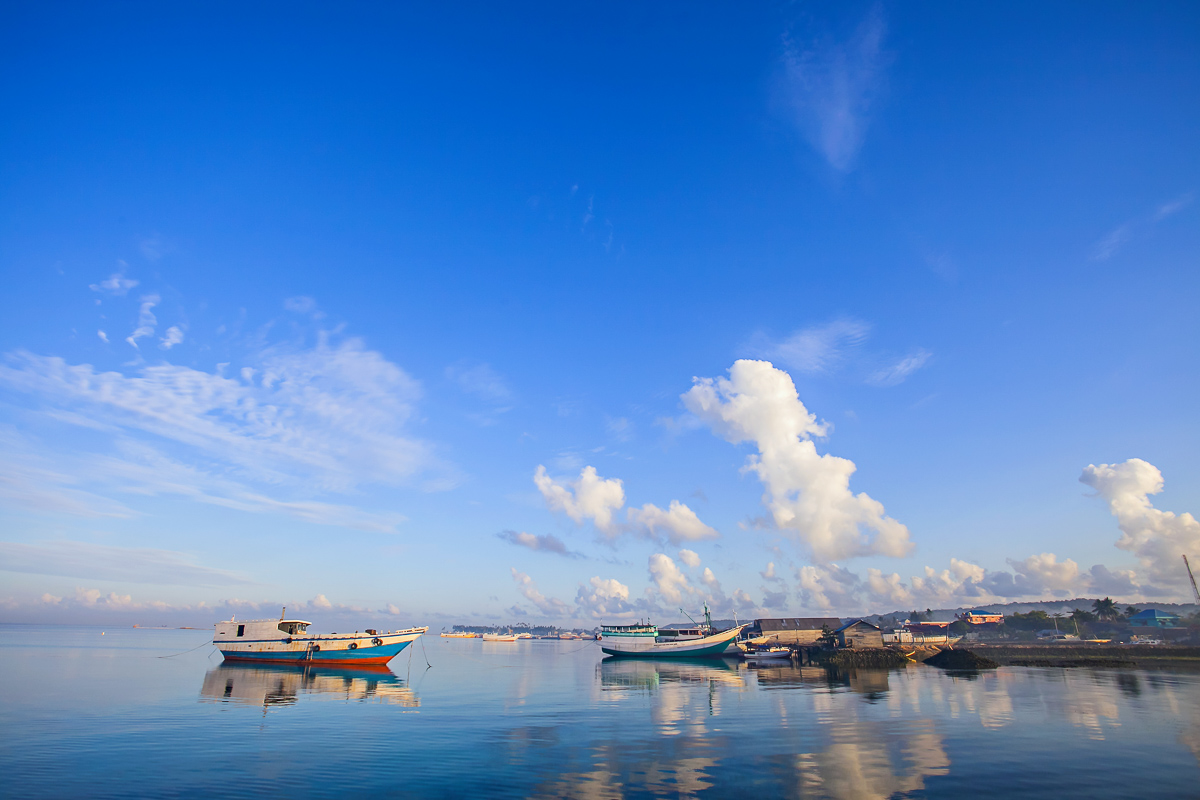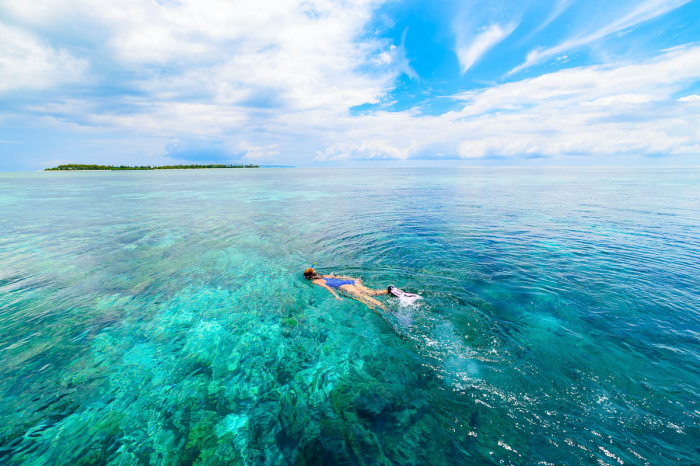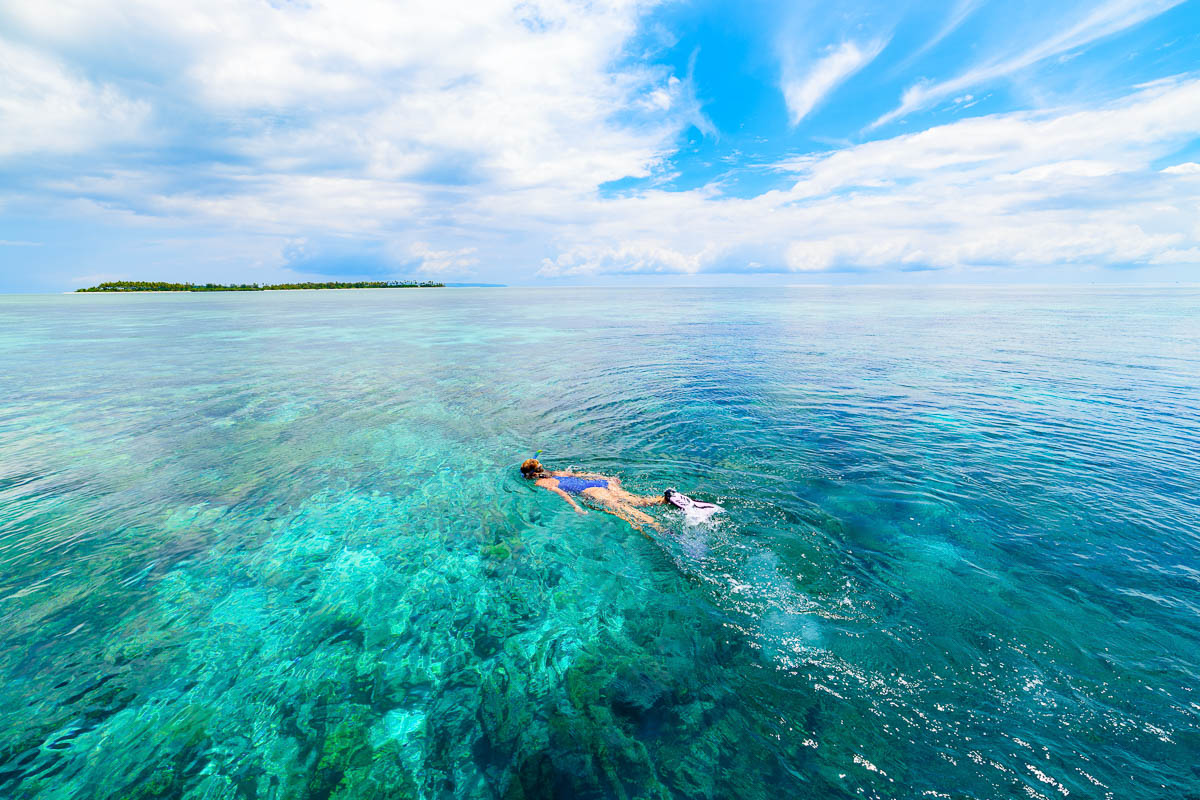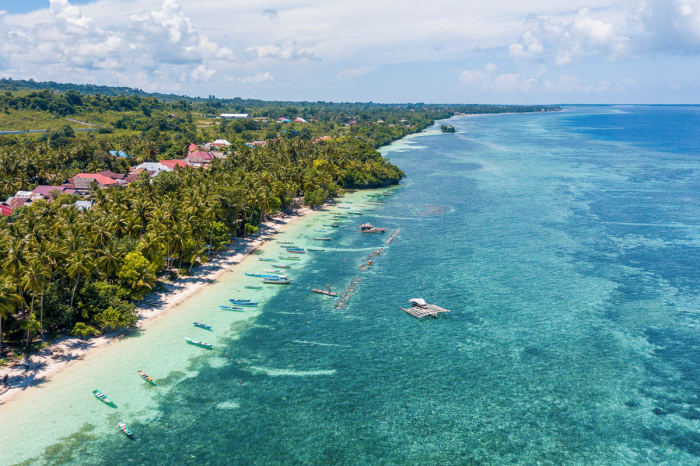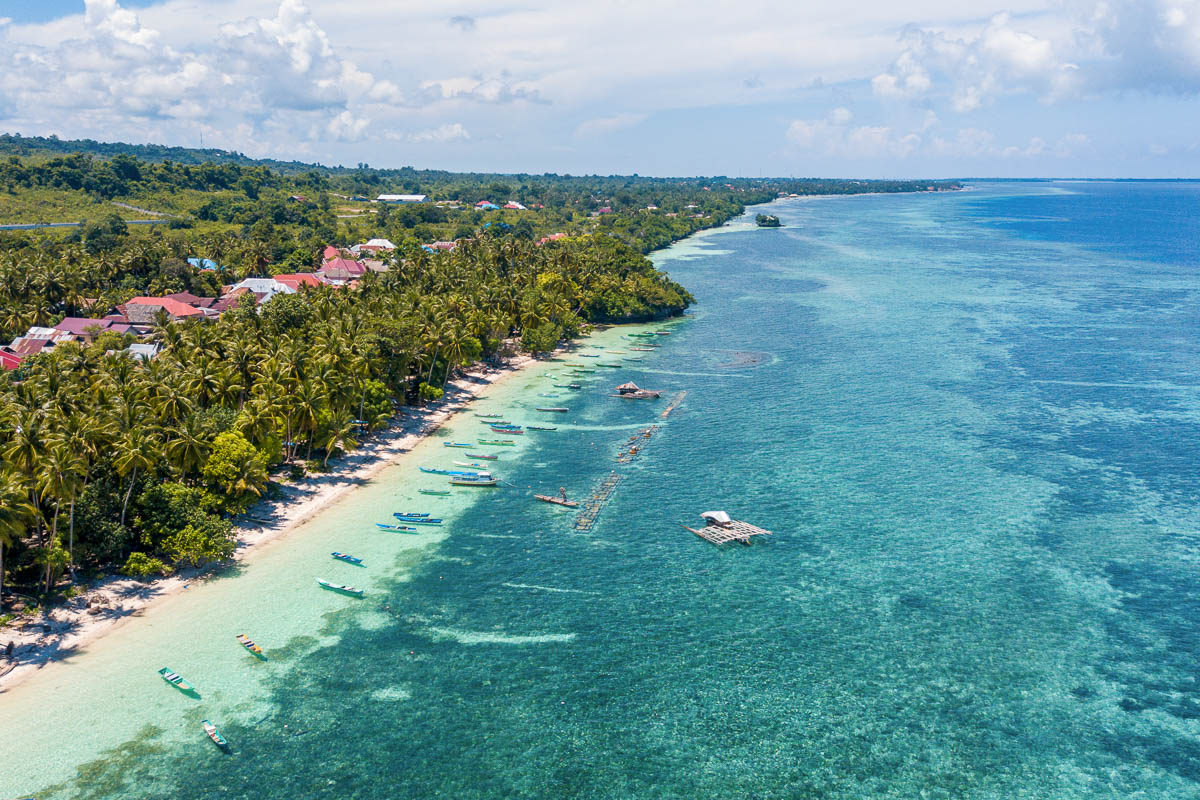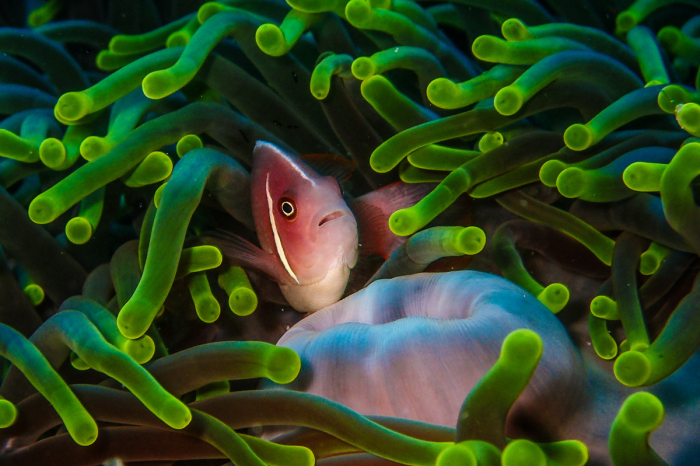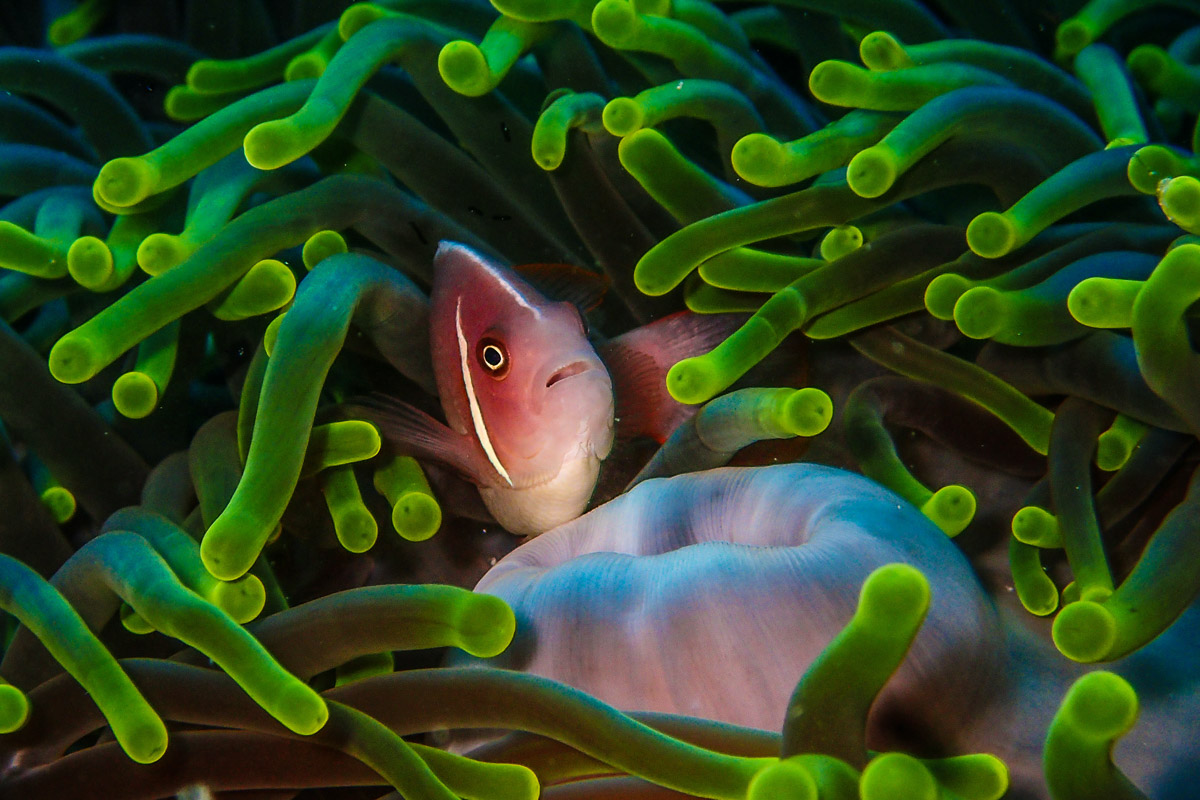 Diving Environment
Type
Coral reef, pinnacles, macro
Level
Beginner to Advanced
Top tips

At the centre of the overwater village of Bajo Mola, visitors will find a celebrated handicraft shop – the perfect place to pick up a souvenir.
Dolphin watching is a common activity, with six different species making appearances.
Join the locals for a refreshing swim at the natural springs of Kontamale and Tekosapi.
Watch a traditional Lariangi dance performance on Kaledupa and learn the knowledge and wisdom passed down through generations.
About Wakatobi
Wakatobi is an archipelago of around 150 islands and atolls, located off the coast of Southeast Sulawesi in the Banda Sea region, only seven of which are inhabited. Officially called Tukang Besi, meaning "ironworker", the name Wakatobi is an acronym that combines the first two letters of the four largest islands – Wangi Wangi, Kaledupa, Tomia, and Binongko. Together, this island chain forms the largest barrier reef system in Indonesia and boasts immense levels of biodiversity. Understandably, these were two driving factors behind the decision to designate Wakatobi as a national park in 1996 and a UNESCO Biosphere Reserve in 2012.
Aside from diving, one of the main highlights of Wakatobi is its seclusion, and low-key tourism that is only slowly gaining traction. On arrival, visitors may well feel as if they've discovered a lost world, having flown over emerald-coloured atolls, white sand beaches, thick forests, and seemingly endless mangroves. And, with a mix of Buton, Bajo, and Bugis peoples scattered across the islands, life in this archipelago is every bit as diverse as it is on the reef. Inhabited islands are home to fishing villages, including several beautiful Bajo sea gypsy settlements which stand on stilts high above the water. 
Getting to Wakatobi
With its own domestic airport and bustling harbour, Wangi-Wangi acts as a gateway to the Wakatobi Archipelago. The airport receives flights twice a week, on Mondays and Fridays, from the city of Kendari in Southeast Sulawesi. Kendari itself receives flights from Jakarta or Makassar. For guests of the luxury Wakatobi Resort or Pelagian liveaboard, charter flights are offered between Bali and the resort's private airstrip on Tomia Island. Public ferries operate between Wangi-Wangi and the other main islands of Kaledupa, Tomia, and Binongko, taking around two, four, or six hours respectively. 
Where to stay
As the primary point of entry for all visitors, and the centre of government and commerce, Wangi-Wangi is one of the more developed islands in the archipelago. Still, with the help of a motorbike or car, everything is within easy reach. Visitors will find several peaceful resorts and homestays around the coastline along with a few interesting cultural attractions to explore. Once the home of the region's rulers, Kaledupa is an idyllic island boasting a rich cultural heritage and large areas of stunning natural scenery left virtually untouched. Tomia is the most popular island among divers, and is home to the most developed tourist infrastructure as a result, with numerous homestays and hotels to be found – including the exclusive Wakatobi Resort. The beauty of Binongko lies in its traditional charm and visitors should expect a small selection of simple accommodation.
Liveaboards are a popular way for divers to explore Wakatobi, as they provide access to all of the archipelago's 50 or so dive sites, without the need for time-consuming ferry journeys. One or two vessels stay solely within these waters, while most combine Wakatobi with other areas such as the Banda Sea or Alor. Liveaboards that do embark or disembark here will likely do so at the harbour town of Bau Bau, on the island of Buton, with the exception of the Pelagian, which operates out of Wakatobi Resort.
Wakatobi's diving seasons
Located just south of the equator, Wakatobi offers a consistent climate, with air temperatures sitting in the high 20s more or less year-round, and two distinct seasons. Easterly winds blow from June to October, bringing dry weather and stunning conditions. Plankton blooms are common around the month of August, as water temperatures hit lows of 26°C, before climbing again to highs of about 30°C by the end of October. July and August also see a slight increase in wind, which can create rougher conditions, though rarely enough to cause any problems with diving.
Westerly winds dominate between December and April, marking the region's wet season. However, Wakatobi is one of the most arid parts of Indonesia, receiving around 25% of Indonesia's average rainfall, meaning surface conditions and visibility are rarely affected by downpours. This is typically Wakatobi's off-season, but is also the peak period for pilot whale sightings. The transitional months of November and May often offer some of the very best conditions.
Conservation
Now used to refer to the entire island chain, Wakatobi was originally the name given to the national park established in 1996. Covering an area of over a million hectares, it is the third largest national park in Indonesia. In 2012, Wakatobi became a UNESCO Biosphere Reserve and is now tentatively listed as a UNESCO World Heritage Site.
The park is home to atolls, as well as fringing, patch, and barrier reefs, alongside mangroves, seagrass meadows, and more. Throughout these habitats, upwards of 600 fish species and 400 types of coral are known to exist, with some reports suggesting these numbers are far higher. Several whale species have also been recorded here, namely beaked, pilot, sperm, Bryde's, and melon-headed whales, as well as bottlenose, Risso's, spinner, and spotted dolphins. The park also contains numerous sites known to host fish spawning aggregations, including Kapota Coral, Hoga Channel, Otiolo Coral, Table Coral City, Tomia Coral, Runduma, Kentiole, Binongko, Koko Coral, and Moromaho.
---