Whether you're travelling alone or bringing a buddy along, diving can be different for women. We have our own travel concerns, plan and pack differently, and may feel more comfortable in some diving destinations than others. And, with female divers now making up nearly 40% of the underwater community, there have never been more options for girls who dive. Stay tuned for ZuBlu's top tips for womens' dive travel, including our all-time favourite destinations, to help you start planning your next adventure!
A word on safety
You are a strong, independent scuba woman - and we know you don't need extra looking after! But, a few small safety precautions never hurt anybody. And, as a woman, especially if you're travelling solo, taking these extra steps will give your friends and family peace of mind - no matter how unnecessary they may seem to you. 
Make sure somebody knows your travel plans - where you're going and who you'll be with. That way, if something goes wrong, it won't take days for your loved ones to start worrying. You can also register your travel with your home government, or consider using a reliable travel agent like ZuBlu to book your adventure - that way someone will know where you are all the time! Be sure to take out travel insurance, even if it's a diving only package from a reliable provider like DAN. And, bring copies of all your important documents with you, just in case something happens to the originals.
As women, we spend our whole lives taking extra precautions that men simply don't have to worry about. And, our number one tip for safe solo travel is to maintain that vigilance while abroad. Stay aware of your surroundings, avoid any situation that feels unsafe, and don't be afraid to say "NO" to plans or invitations that don't seem quite right. Going out for the night? Have fun! Just let somebody know where you're headed, take care with your drinks, and be sure you have a plan for getting home once the party's over. 
Pack smart
If you're a woman scuba diving in remote areas, you might want to pack a few extra items from home. Some female-specific products can be especially difficult to locate while abroad, or downright impossible if you're exploring in far-flung and off-grid regions. 
To start with, you'll want to stock up on any medications or sanitary products you might need while you're away from home. Female divers in the know prefer sustainable and easy travelling options like the Moon or Diva cup. And, keep in mind that your options for birth control may be limited or nonexistent depending on where you're headed. You should also pack whatever basic hygiene items you need to look and feel your best throughout the adventure. Don't forget reef safe sunscreen and insect repellent, and an earth-safe detangler like coconut oil and plenty of elastics if you have long hair.
You've already heard it a thousand times, but we promise it's true - dressing more modestly than you do at home can help you feel more comfortable while travelling overseas. You'll stand out less, and potentially avoid unwanted attention. Plus, you'll seem like an experienced traveller - and therefore less of an easy target - while showing respect for the local culture. If you're planning to visit any cultural or historic sites, be sure to pack clothing that covers your shoulders and knees - but at a pinch, even a couple of sarongs will do! 
What not to pack can be just as important as what you bring along. Leave your expensive jewellery at home during your holidays to avoid heartbreak. And, only pack luxury items like electronics if they are absolutely necessary. 
Finding your tribe
Arriving at your resort or liveaboard as a solo lady scuba diver can feel a bit like the first day of school - but it doesn't have to! There are plenty of ways you can help ease yourself into the situation. Consider contacting your operator of choice ahead of time to find out who your roommate or dive buddy might be. Getting to know your companion before the trip can help you feel comfortable with your surroundings. Or, if you'd rather not travel alone, consider finding another female diver through your local club, or an online group like Girls that Scuba.
If you're travelling solo, you might find it helpful to dive with a purpose. Citizen science and volunteer-based dive trips are a great way to feel connected to the sport that you love, and make a positive contribution to the underwater world! You're also likely to spend time around other like-minded scuba fanatics, making these trips the perfect place to meet your next dive buddy. 
Adding a scuba course or certification to your trip is another great way to meet divers and get to know your team of instructors. And it'll help take your underwater adventures further, too.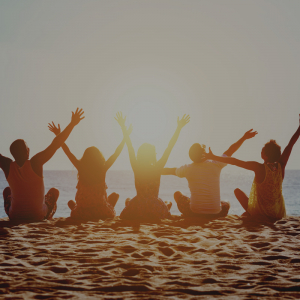 Recommended insight
Explore and restore with Ecoventures
Discover how you can explore and restore the world's oceans by taking part in an ecoventures project.
Search from our hand-picked Ecoventures around the word
Explore and restore with these marine conservation volunteer and internship experiences.
Where to go
When it comes to solo dive travel for women, where you go can be absolutely essential to enjoying the adventure. Some places are just more female-friendly. And, others up your odds for making new friends. Check out our quick list of ideal dive destinations - hand picked by ZuBlu's expert team of women divers!

Bali and the Gili Islands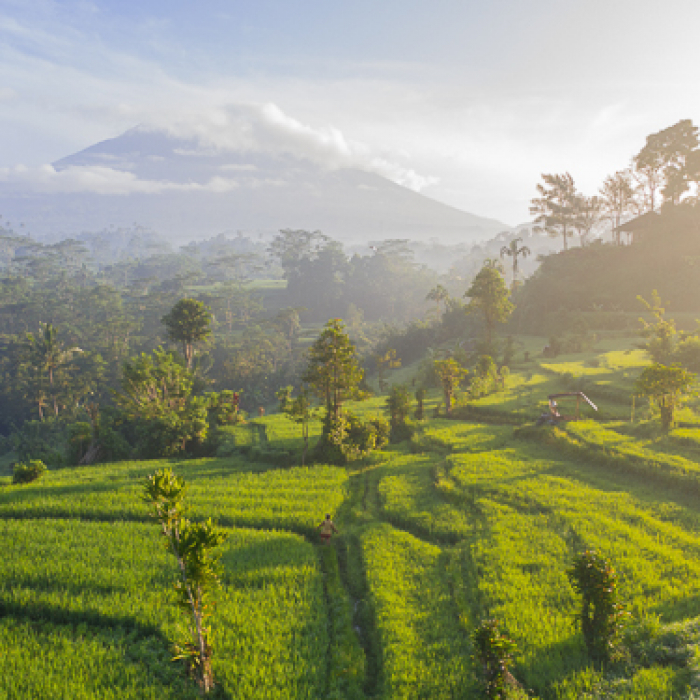 Bali and the nearby Gili Islands are an international hub for solo travellers of all kinds, and a great place to meet your next dive buddy. You'll find budget accommodations at every turn, exciting nightlife and dining, and welcoming family-style dive centres where you're guaranteed to feel right at home. Plus, plenty of domestic and international connections via Bali to help you continue the adventure!
Best of all, the diving in this region is simply stunning, with wildlife ranging from minuscule macro to mighty megafauna, and everything in between. You'll also find seasonal opportunities to encounter rare wildlife like the mola mola, heart-pounding drift dives, and even options for tech diving!
Two Fish Divers Lembongan - this well-established dive centre offers some of the area's cleanest and most affordable accommodation, plus exciting current and big fish diving, and easy access to famous dive sites such as Manta Point and Blue Corner. Combine your stay with one of their other locations for a seamless multi-destination adventure! 
Manta Dive Trawangan - with a range of rooms to suit all budgets, this is one of Gili T's best options. You'll also enjoy small group sizes, great divers' facilities including a training pool, and close access to the island's best bars, restaurants and more.
Galapagos Islands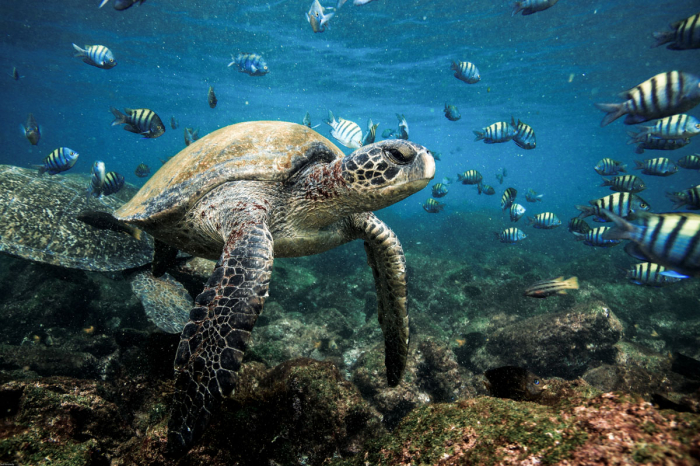 Liveaboards are a safe and easy way for solo women divers to travel, and meet one another at sea! And, there's no place on earth more exciting for a dive safari than the Galapagos Islands. Famous for its endemic wildlife like penguins, fur seals, and marine iguanas, the diving here just feels different. Plus, some of the archipelago's farthest flung sites like Wolf Island and Darwin's Arch are famous for close encounters with marine megafauna of all kinds, with whale sharks, mantas, and schooling hammerheads making frequent appearances. 
Getting to the Galapagos takes a bit of work, but we promise it's well worth your while. Once you've made it to the islands, you'll find an incredible variety of land and water-based operators offering everything from tortoise trekking and birdwatching, to thrilling naturalist snorkelling tours. 
Humboldt Explorer - This industry-leading sustainable liveaboard offers stunning eight-day itineraries throughout the Galapagos, with a focus on the central archipelago. You'll love this boat's spacious and social common areas, outstanding facilities for divers, and little luxuries like an on-deck Jacuzzi. 
Calipso - If you're hoping to combine land and water-based adventures, this boat is your best bet. Not only was it recently remodelled, it also boasts generous cabins, multiple sun decks, a hot tub, and a massive shaded dive deck where each day's adventures begin.
Northern Red Sea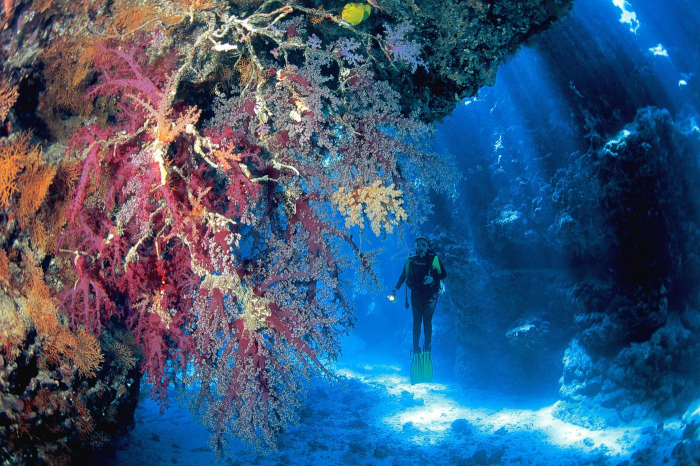 Sharm El-Sheikh, Hurghada, and Dahab are easy to explore via multi-day liveaboard dive safari or from a land-based resort. These lovely seaside towns boast three distinct personalities, with a bit of something for everyone - from Bedouin backpackers to high-end resorts. And, travel between them is simple, making for an easy multiple-destination Red Sea diving adventure. 
Egyptian operators are well-versed in solo female dive travel, and will happily partner you up with another woman diving on her own! Failing that, you might get lucky and be given your own private room at no additional cost, as mixed-gender shared rooms are practically nonexistent in this region. 
Sea Serpent Grand - Whether this is your first liveaboard or you've been at it for years, you'll love this boat! Spacious and luxurious common areas, cabins for every budget and personal travel style, and diverse itineraries hitting all of Egypt's dynamic northern diving areas make this a top pick for female divers of all stripes. 
Snefro Pearl - If you don't have tons of time on your hands, this boat's mini-safaris are an excellent option. And, with just 12 guests onboard, you're guaranteed an intimate and adventurous experience, with plenty of personalised service.
Similan Islands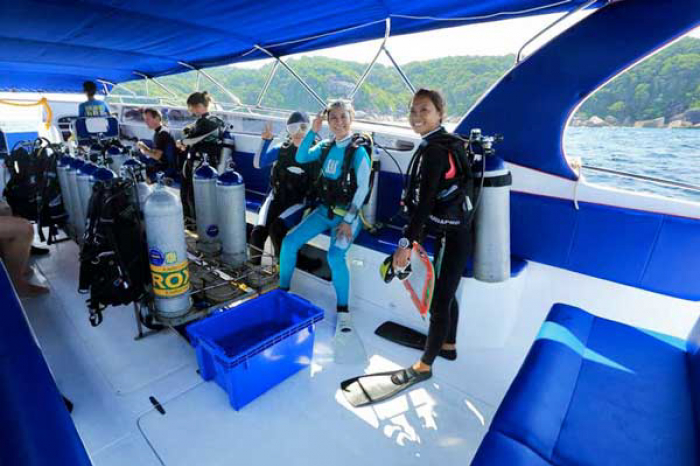 Thailand is well travelled and an excellent place to meet new people who are also travelling solo. This is also one of the planet's most LGBTQ and female-friendly dive destinations, with warm and welcoming hospitality for all - hence its nickname, the "land of a thousand smiles". And, despite its solid position on the dive travel radar, it remains one of Southeast Asia's most affordable scuba diving destinations.
The Similan and Surin Islands are home to some of the world's best-known dive sites, like Elephant Head and Richelieu Rock, and the Koh Tachai Pinnacle. These reefs are known for their dense coral gardens, vast schools of colourful reef fish, and marine megafauna - including everyone's favourite gentle giants, whale sharks. 
Big Blue - One of Khao Lak's best-established dive centres, this is an outstanding place to get scuba certified or continue your underwater education. And, their day boats out to the Similans are seamlessly organised, with diver friendly details and plenty of hands-on service.
---
Are you ready to book your next adventure?
Contact our team of dive travel experts for a seamless experience from start to finish. We're happy to help you plan and prepare, and offer additional support and guidance for women solo divers.

---
---
Join the ZuBlu community to receive the latest insights and unmissable adventures
Don't worry, we'll only send you really good stuff - and we never share your details
---