We are proud to announce this incredible partnership with Daughters of the Deep, a not-for-profit organisation that is brining ocean education accessible to women everywhere. 
We talked with Elle Haskin, one of the founders of DOD, to find out what this program is all about and how you can contribute to making marine sciences inclusive.
Keep reading to find out more...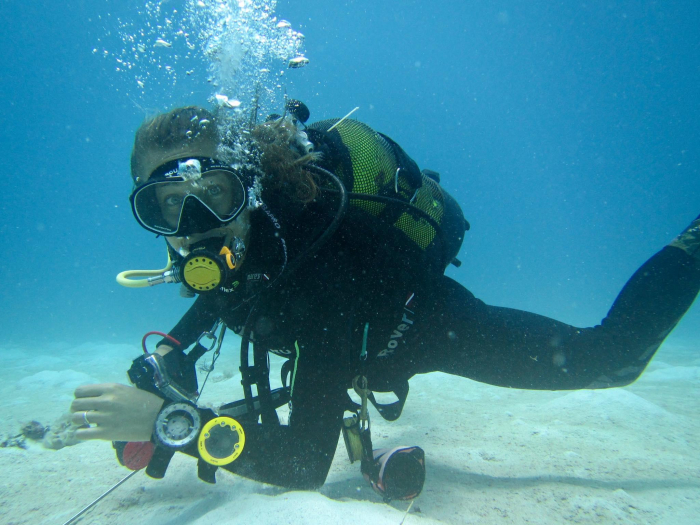 Briefly describe your organisation and your role:
Daughters of the Deep is an organisation that facilitates and inspires women towards undertaking careers in marine industries by providing access to education, training and employment opportunities. We raise funds by collecting donations and selling merchandise, and then provide financial support for disadvantaged women to receive training in their area of interest. This scheme helps women gain financial independence, contribute to industries, and follow their passions. 

My role within the organisation is multifaceted. I fundraise, create social media contents, manage local logistical components, as well as brainstorm and launch new projects to help women. There are 4 central members in our team including myself, George, Kate and Gigi.
When did your organisation launch and what inspired the concept and conservation strategy?
Our organisation began in 2021 as a conversation about the poor representation of women in marine industries. All our team members work in these industries, mostly in conservation, and all of us have witnessed significant imbalances between the workforce and opportunities available between men and women. Additionally, and most importantly; we noticed this gendered gap was much more prevalent in underdeveloped and developing countries. The research and scientific consensus is already quite clear: In order to take sustainable steps forward regarding the use of our oceans, social equality is necessary. This is a concept that can be applied to many of the problems of the 21st century - women make up just over half of the global population, and they must be included in problem-solving our global issues. Diversity is often a fantastic recipe for success.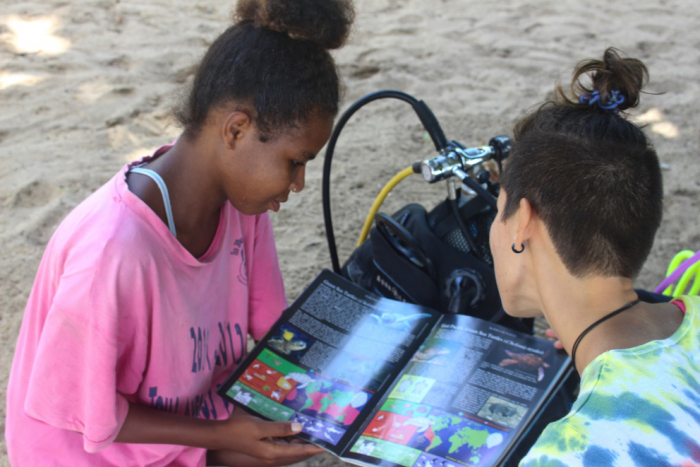 What is the most significant change from when your organisation first opened to what it is today?
Initially, when we first began this journey, our idea was to support women in diving, conservation and STEM roles. However we have learned that in some cases, it isn't as simple as 'teach her science and let her roam'. We learned that in order to get closer to our goal, equity is necessary. Women can have different needs to men, and the fact that many do not have access to their own finances means that we need to design programs and scholarships which will meet their needs. In the past, far too often women's needs have not been considered, and so it has been significantly more difficult for them to excel in a world that was designed without them in mind. So, we have developed each of our sponsorships accordingly, and in some cases will provide more than simply science, or diving, or other varying marine-related training. This could include food stipends, or helping girls go back to school to finish their education, in order for them to then progress to the next steps.
What is the most rewarding part of your job?
I absolutely love seeing and hearing updates from the girls and women we have helped so far, it makes me so happy to see. Myself and my colleagues are privileged enough to travel, study, dive and have so much choice in our lives. And, for me, being able to contribute to others being able to make their own choices, choose a career, and enjoy their time in ways which they didn't previously have access to is definitely the most rewarding part of this work.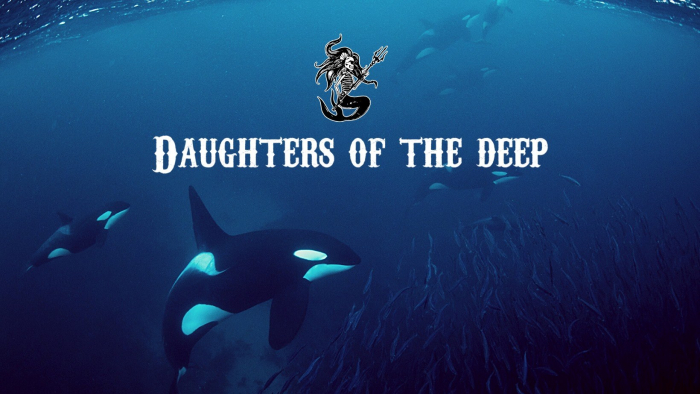 Share with us one of the most exciting moments at your organisation.
Just after we heard the heart-breaking story of Marie-Jeanne, a young girl we sponsored in Madagascar - we collectively and simultaneously agreed that she was so deserving of a chance to follow her dreams, finish school and learn about ocean conservation. She was the first girl we sponsored, and it was incredibly exciting to put our money where our mouths were and give someone the opportunities they deserve. She is now receiving English lessons, marine education through MRCI, her SCUBA ticket, a food stipend and is finishing her high school education. Myself and the team are so excited to see the amazing things she'll do with her life. 
What are 3 things that make your project unique?
Well - there are a few things here. Firstly, our team is made up of people with different nationalities, languages, and skillsets and all of us are doing this work on our own time. So, no wages are being taken from our pool of donations - and the startup costs were funded by us. So, apart from a very small amount of necessary and unavoidable expenses, virtually all funds which are received, are being put towards the cause. 
Secondly, being that we have not yet, and will not limit ourselves to where we want to try to contribute to helping women gain opportunities in marine paths. Our team has contacts around the world and many voices of friends and previous collaborators which are keen to contribute ideas to areas with women who need help, and in this way we feel that we'll be able to have a reaching impact. Even if one woman within a community with traditional gender roles is given the opportunity to learn and excel - we believe that in some cases, this can be enough to help communities and leaders change their mindsets of what women are capable of, when given the opportunity to excel. Precedents are important, and we want to help set as many as we can. 
Additionally, we provide a platform for girls to find approachable role models through our team, and our 'Sisters of the Sea'. We believe that it's not only important to fund opportunities for girls and women within communities through our donations but to also provide relatable and approachable mentors and role models with a variety of backgrounds and experiences.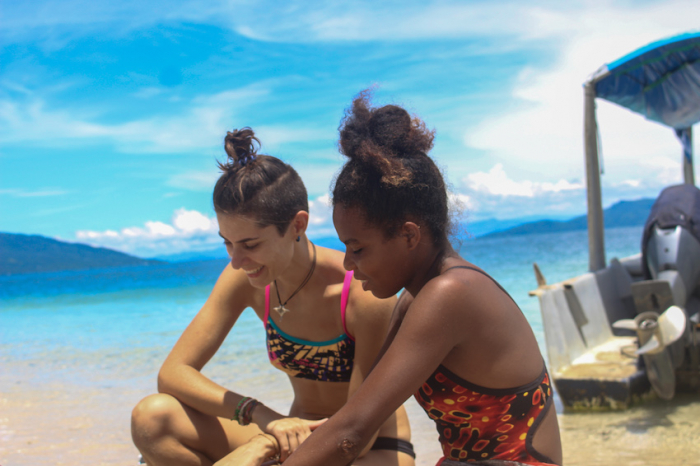 How do people donate to your project and what are those funds used for?
We have an international donations platform through Conservation Diver - Daughters of the Deeps sister organization, and where George and myself started our ocean conservation journeys. The Conservation Diver platform is where we receive much of our financial support. Additionally, people can support our work by purchasing merchandise via our product store, or getting in touch with us if you live locally in Melbourne, Perth or Exmouth (Australia), Koh Tao or Koh Samui (Thailand), and Mallorca (Spain) - as we have our tees stocked in these locations!
What is the most important thing for your backers to know before they make a donation?
We want our backers to know that we are invested in the women we support. We are following their journeys and want to do everything we can to help them succeed. It is unlikely that we, as a global community will be able to achieve sustainable use of our oceans and planet in general without social equality. And, through our privileges and abilities to travel, we have witnessed social inequalities across many landscapes. We truly believe that if you can do something to make a difference, even if on a small scale - that you should. And so this is why we have built Daughters of the Deep.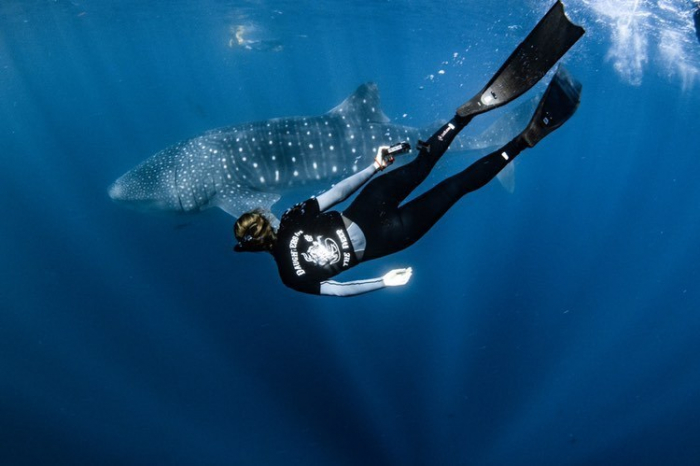 Tell us about your favorite underwater experience!
I am fortunate enough to have had many incredible underwater experiences! A favourite of mine was a few years back when diving with Conservation Diver at the New Heaven Reef Conservation Program in Thailand. I was leading a UV night dive, and the underwater bioluminescence was absolutely unreal! It felt like a documentary experience, with tiny sparkling light shimmering off my body with every move I made, even the turning of my head, and would illuminate around my ponytail! It was absolutely surreal, and really made me stop in my tracks and appreciate how phenomenally lucky I am to experience the best of the natural world, and how badass evolution is! I hope that everyone is able to experience the magic of marine bioluminescence in their life.
---
Join the ZuBlu community to receive the latest insights and unmissable adventures
Don't worry, we'll only send you really good stuff - and we never share your details
---