Simply put, yes! When it comes to dive gear, fit is the single most important factor. So, it should come as no surprise that buying equipment, especially designed for your body is well worth it. And, with the sport of scuba diversifying more and more, speciality items like women's scuba gear are more widely available than ever before.
Are you in the market for gender specific scuba gear? If so, this is your article. We'll walk you through what to look for in your equipment, piece by piece, to help you find the perfect fit. And, we'll even share our top tips for where to purchase your gear - with insider information shared by our team of female dive professionals.
Womens scuba wetsuits
Depending on where in the world you dive, a wetsuit might be the first piece of gear that you purchase! Rentals are often ill-fitting, either constricting motion or letting water in during your dive and robbing you of vital warmth.
If you're diving in a cool climate, you'll be wearing a thicker suit, likely 5 to 7mm or more. To make your suit easier to get in and out of, try wearing a base layer like a skin suit or a women's scuba rash guard. This will help the neoprene glide over your skin without binding or catching. And, the right rash guard will also double as lightweight protection for diving and snorkelling in warm water!
Thinner suits are easier to put on, but a proper fit is still absolutely essential. Choose an anatomically correct cut that hugs your curves without restricting motion. You should be able to squat, reach your arms overhead, bend forward, and twist comfortably. And, your suit's wrist, ankle, and neck seals should feel comfortable and snug - not tight or restrictive. 
Divers in extremely cold climates wear dry suits and undergarments to keep the chill away. In many cases, these must be custom-made, regardless of gender. But, if you prefer to shop off the rack, a specific women's scuba diving drysuit will be essential. 
Womens scuba fins
While it's highly unlikely that you'll find a major difference between mens and womens fins, there are some female-friendly design elements to look out for. First, consider the size of your fin's foot pocket. Even if you're wearing thick boots, women generally require a smaller space. But, not to worry -  these days, even fins for technical diving are being sold in small sizes!
You'll also want to consider your fin's weight. Heavy fins deliver extra power underwater, but they can also leave smaller divers feeling fatigued, especially during long surface swims. Keep in mind that the best scuba fins for women will be the models that fit your foot the best - so don't rely too heavily on lists and articles to make the right choice.
To try on a "closed heel" or snorkelling style fin properly, you should put the fin on and then gently lift your heels off the ground one at a time. If you feel any slipping or sliding, try a size smaller. This motion can lead to painful blisters! For "open heel" or traditional scuba diving fins, you'll first need to put on a pair of scuba diving booties. Then, slide your foot into the fin and adjust the strap if needed. Your foot should feel snug in the pocket, not sliding side to side or forward and backwards.
Women's BCDs
An ill-fitting BCD can become a real drag, especially during multiple days of diving. A jacket that's too loose won't distribute the weight of your tank evenly, allowing it to roll from side to side on your back, and it might ride up on the surface. By contrast, a BCD that's too tight or doesn't accommodate your curves can squeeze you like a snake when fully inflated. 

Female-specific BCDs are often cut differently, trimmed in at the waist and out at the bust to help you feel stable and safe in the water without restricting motion. BCDs for women are also likely to have slightly smaller holes for your arms or highly-adjustable straps to keep the jacket from "floating around" on your shoulders. You should also look out for a chest strap to help with proper weight distribution. This is especially important if you'll be diving from shore or walking great distances with a tank on your back.
For the ultimate in custom fitted BCDs, many women are moving away from traditional jacket styles, instead opting for a backplate, wing, and harness or webbing. These buoyancy compensators, originally intended for technical diving, offer a much more tailored fit - cut down to your exact specifications. Just keep in mind that a wing or "back inflating system" will be less comfortable on the surface, potentially making it a poor match for locations requiring long surface swims.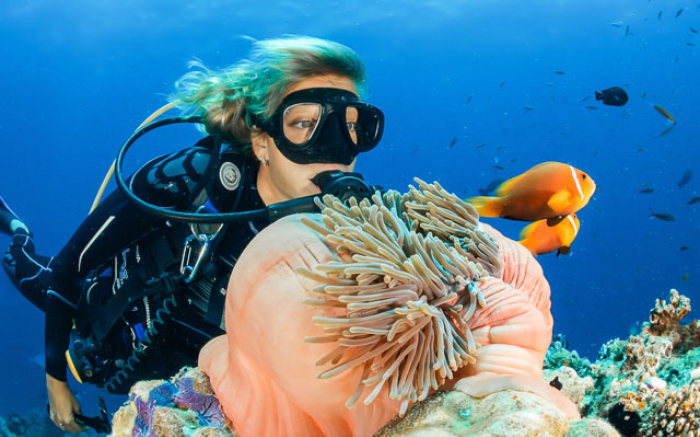 Women's scuba masks
If you've ever spent an entire dive trying to clear your mask, only to have it fill right back up with water, you know that finding the right fit for this piece of gear is absolutely essential. Otherwise, your underwater experience might end up completely overshadowed by needless discomfort. 

Most mask styles that boast a female-specific design are just smaller - this accommodates more petite features typically associated with women. But, the only way to find out if a mask will fit you properly is to try it on. To test your mask, start by holding it up to your face - then, place it in the proper position over your eyes and nose without using the strap. Inhale through your nose, and see if the mask hugs your face securely. If not, it will almost certainly leak underwater!
You should also spend a few minutes exploring your chosen mask's other features and design elements. Are you more comfortable in a clear or black skirt? This flexible piece of silicone can change the entire look and feel of a mask! Do you prefer a traditional high-profile fit or something sleeker like a freediving mask? You should also keep an eye out for details like comfortable and easy to operate buckles, purge valves, and any other special characteristics that might impact how your chosen model will operate at depth.
Other equipment
When it comes to gender specific scuba equipment, the sky's the limit. From gadgets like women's scuba diving watches to basics like snorkels and booties, you're nearly guaranteed to find gear especially designed and marketed toward female underwater explorers. 
But, if you prefer a unisex option or it just fits better, that's totally fine, too. Not every piece of gear in your bag has to be designed for women - and having it all in matching colours is far from essential. No matter what equipment you're shopping for, fit should be your first priority, followed by performance - not style. 
Are you interested in reading more straight talk about scuba diving? Check out the rest of the articles on our Insights page, and stay up to date by joining the ZuBlu community - that's where we share exciting updates and unmissable adventures!
---
Ready to book your next diving holiday?
Contact a dive travel expert today!

---