White sand beaches, exclusive resorts, and an endless turquoise sea renowned for close encounters with spectacular marine wildlife – the Maldives is a dive destination synonymous with stunning scenery, luxury and adventure.
But there's more going on beneath the surface, as nearly every private island in the Maldives boasts its own incredible house reef! Covered in colourful coral and home to cool macro creatures, exciting marine life like sea turtles and juvenile reef sharks, and even manta rays, these underwater theme parks offer hours of excitement and self-guided exploration for adventurous buddy teams.
Read on to discover the best house reefs in the Maldives, hand picked by ZuBlu's team of diving experts. 
---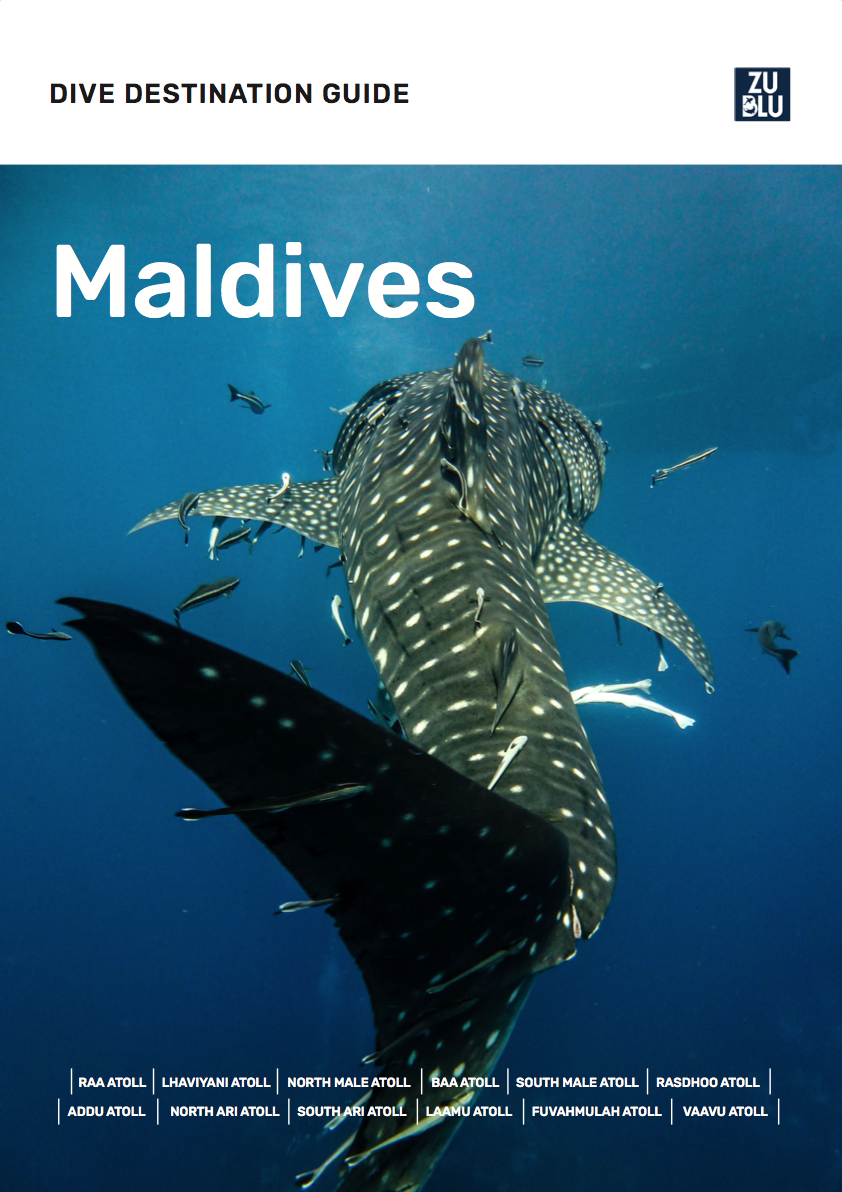 Complete guide to the best diving in the Maldives. Explore the atolls, seasons, and pro tips in this free 37 page destination guide.
---
Kuredu Island Resort and Spa - Lhaviyani Atoll
This family-friendly resort offers the perfect blend of luxury and adventure, with a focus on exciting watersports like diving and snorkelling. Kuredu Island's massive house reef is ideal for scuba students and new divers, thanks to its calm conditions and excellent visibility. But, it's also a great place to go exploring unguided, just you and your dive buddy. You'll find kilometres of coral, two small shipwrecks, and vast schools of tropical reef fish. Diver oriented details like free nitrox and packages for unlimited tanks on the house reef make this one of the atolls very best values, perfect for making the most of your time underwater.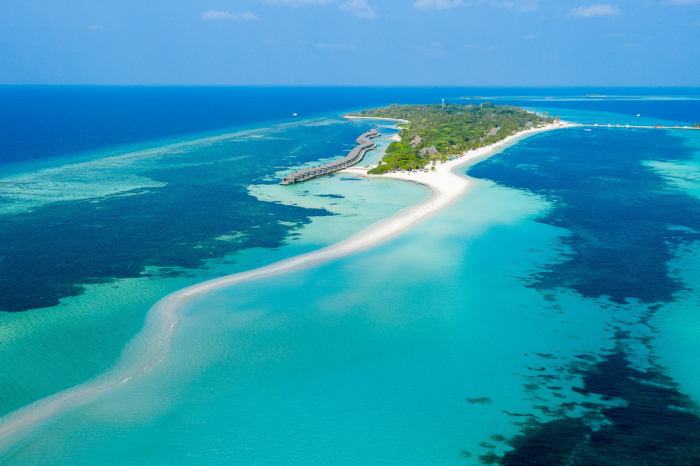 Amilla Fushi - Baa Atoll
Amilla Fushi masterfully combines some of Baa Atoll's best diving and highest-end accommodations with personalised service and a warm, welcoming atmosphere. This resort has far fewer rooms than most similarly appointed private islands, leaving plenty of space for nature. This includes a stunning technicolour house reef, complete with its own blue hole. Snorkel and dive your days away here, exploring kilometres of thriving coral or try a fluorescent nighttime experience. Best of all, Amilla Fushi is located just ten minutes by boat from the world-famous Hanifaru Bay, famous for its manta ray encounters.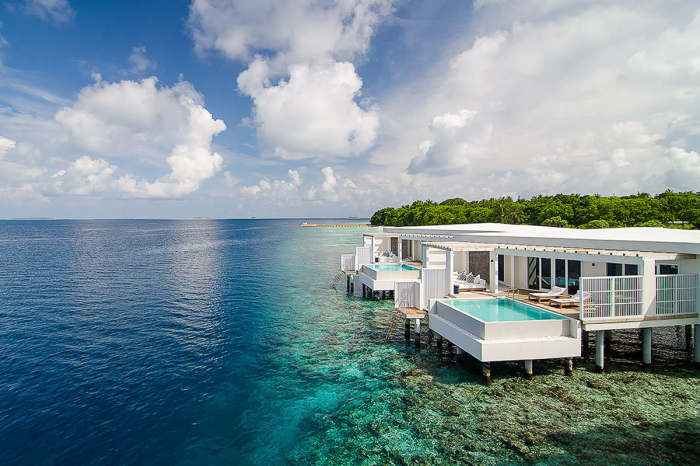 Anantara Kihavah - Baa Atoll
This private island takes luxury to a whole new level with sumptuous offerings including world-class spa service and underwater fine dining restaurant. Plus, some of the best diving and snorkelling in the Maldives right at its doorstep. No trip to Baa Atoll is complete without visiting Hanifaru Bay, where lucky guests can witness reef manta rays gathering by the hundreds, and performing their rare cyclone feeding behaviour. But, the house reef at Anantara Kihavah is so nice that you will likely spend most of your time diving from shore. This pristine coral garden is home to hundreds of colourful fish species, and well-known for encounters with sea turtles and juvenile reef sharks.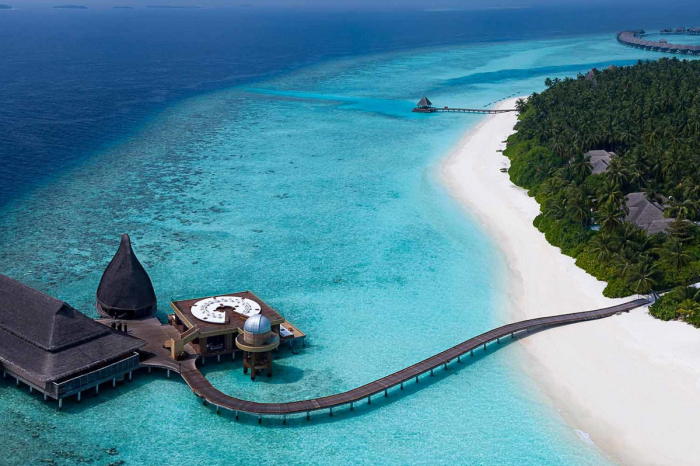 Baros - North Male Atoll
Baros is one of the longest operating boutique resorts in the Maldives, setting the standard for private island luxury in the region. This award-winning getaway is ideal for adventurous couples, nature fanatics, and manta-loving underwater enthusiasts. The island's impressive house reef is home to a stunning collection of coral, teeming with tropical reef fish. And, two small shipwrecks can be explored, just metres from shore. But, the real stars of the show here are reef manta rays, who make year-round appearances at this island's cleaning stations and shallow feeding grounds. For the best chances of an encounter, visit during a new or full moon when the mantas are most active.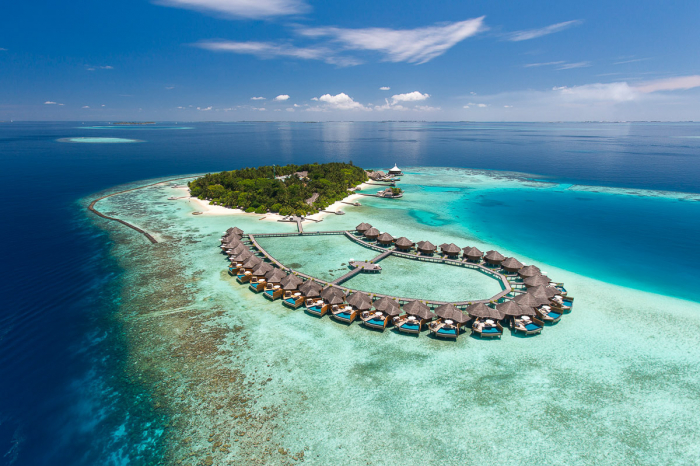 Angsana Ihuru - North Male Atoll
This eco-friendly resort offers a luxury private island experience, perfect for environmentally conscious and adventurous guests. You'll love Angsana Ihuru's marine centre, dedicated to ocean conservation, and protecting the region's most famous residents - reef manta rays. This island also plays host to one of the most beautiful house reefs in the Maldives, complete with a shipwreck large enough for penetration. The Rannamaari dredger was intentionally sunk as an artificial reef in 1999, and today it's a great place to earn your wreck diving certification, search for cool macro creatures like frogfish and nudibranchs, or try a spooky night wreck dive. And, it's easily accessed from the shore!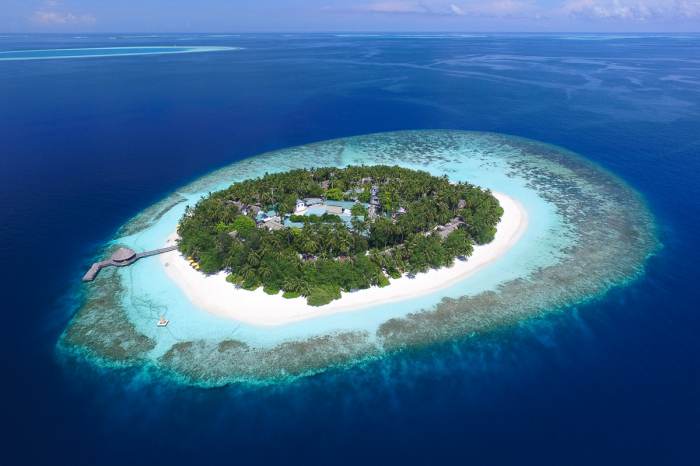 Ellaidhoo by Cinnamon - North Ari Atoll
Located in a quiet corner of North Ari Atoll, Ellaidhoo Maldives by Cinnamon offers a secluded sanctuary for divers seeking plenty of peace and quiet. One of this island resort's marquee features is the vibrant house reef which wraps around the island. This impressive coral reef can be found just a few metres from the beach and is open to experienced dive buddies at almost any time of the day or night. Home to a 750-metre long wall and several small caves, the house reef can be explored time and time again without losing interest, while the wreck of a small inter-island ferry adds an extra curiosity.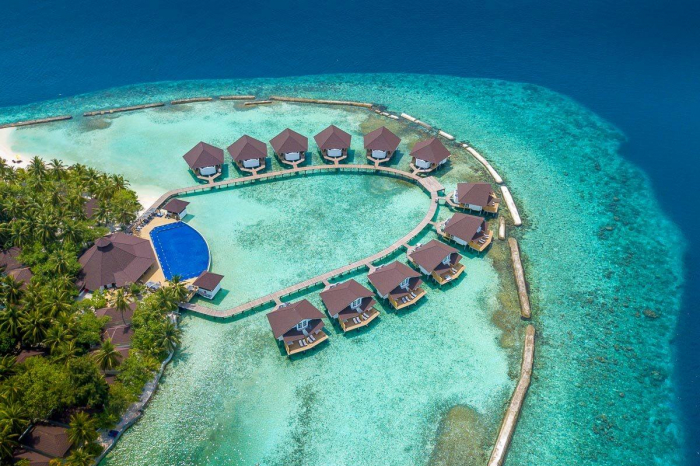 Centara Grand Island Resort and Spa - South Ari Atoll
This private island paradise is home to some of South Ari Atoll's most luxurious accommodations, with a rustic and unfussy ambience and pristine nature at every turn. Adventurous divers flock to this region for year-round encounters with massive pelagics like whale sharks and manta rays. But, there is plenty to discover here without ever leaving the island. The Machchafushi wreck was intentionally sunk in 1998 to create an artificial reef for the island. Today, it lies in 15 to 30 metres of water, making it ideal for exploration by divers of all skill and experience levels. This wreck is large enough for penetration, and a favourite among underwater photographers, thanks to its dense coral cover.
Mirihi Island Resort - South Ari Atoll
Plenty of guests visit Mirihi Island Resort for its luxurious overwater villas and bungalows, divine spa services, and day trips through the remote South Ari Atoll, known for encounters with whale sharks and manta rays. But, this private island's most stunning feature lies just a few fin kicks from its white sand beach. This tiny resort boasts what is commonly considered the very best house reef in the Maldives, ideal for scuba divers and snorkellers of all skill and comfort levels. Take part in a guided diving adventure by day or night, or grab your snorkelling gear and set off on a self-guided adventure!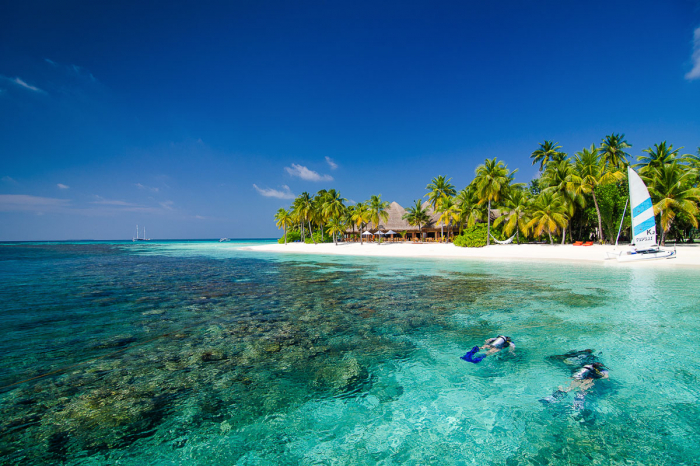 Filitheyo - Faafu Atoll
Filitheyo Island Resort balances luxury and adventure in an unfussy private island setting, perfect for dedicated divers and nature enthusiasts. Unlike many of the region's resorts, the real attraction here is the island itself, with tropical jungle, mangrove forest, and white sand beaches plus two of the best house reefs in the Maldives. Both of these massive coral gardens are easily accessed from shore, offering endless self-guided adventure by day and night. Plus, the Faafu Atoll is less often visited than neighbouring dive areas. So, you'll likely have the region's very best dive sites all to yourself.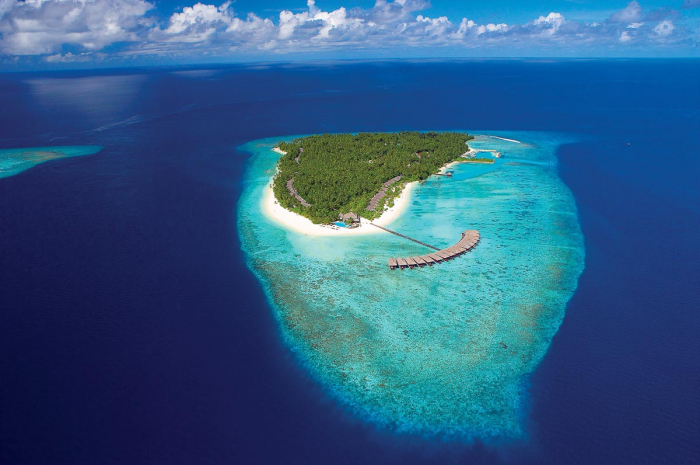 Six Senses - Laamu Atoll
This award-winning eco-resort is one of the Maldives' finest properties, with an emphasis on barefoot serenity, natural style, privacy, and a commitment to sustainability, community and conservation. Six Senses boasts one of the best house reefs for snorkelling in the Maldives, home to an abundance of turtles, corals and tropical fish species. These calm, clear waters are also perfect for beginners, and those looking to do a refresher dive. If you're up for a bit of adventure, this is a great place to try fluorescent night diving for the first time - an opportunity to see the reef in a whole new light!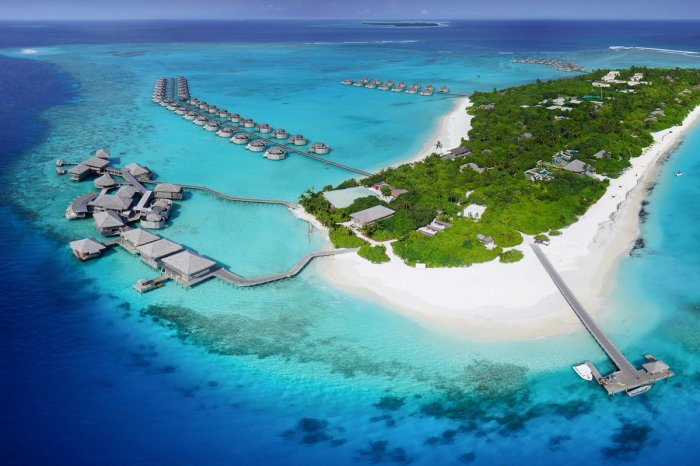 Can't find what you're looking for?
Browse our extended selection of resorts with house reefs in the Maldives
---
Need help planning your next dive holiday?
Chat with one of our travel experts today!

---