Bali, the island of the gods, is home to some of Indonesia's best dive sites.
Known worldwide for its trendy surf spots, mesmerizing sunsets, chic cafes and fantastic culture, Bali is a magical place both above and below the waves.
Read on to discover the best dive sites in Bali.
North Bali
Eel Garden, Menjangan
Depth: 10-50m
Difficulty: Beginner-Advanced
Highlights: Interesting macro, exciting pelagic action
If you're searching for the best diving in Bali, Menjangan Island should be high on your list! Sat within the Bali Barat National Park, this island is packed with vibrant corals and unspoiled marine life. Eel Garden is Menjangan's must-see dive site and is renowned for its meadow of masked garden eels. The dive generally begins on a wall boasting stunning gorgonian fans and the tantalizing possibility of spotting pygmy seahorses. When the currents are strong here, divers can see reef sharks, dogtooth tuna, giant barracuda, or giant trevallies. Shallow coral gardens also play host to turtles, leaf scorpionfish, giant frogfishes, and nudibranchs, making Eel Garden one of the best all-round dive sites in Bali.
Temple Garden, Pemuteran
Depth: 15-30m
Difficulty: Beginner-Intermediate
Highlights: Explore Bali's underwater temple 'ruins'
Pemuteran's sheltered bay is full of interesting artificial reefs and Temple Garden is no exception. But it's the magical feeling of exploring a 'lost city' that sets this one apart from the rest. In fact, this site has to be Bali's ultimate 'underwater temple' diving experience. Nestled in the deeper area, Temple Garden features a traditional temple gateway and statues of Buddha, Krishna and Ganesh. Beginner divers can also enjoy the scenery with a new 15-meter section. The locally-carved stone installations are now covered in gorgonian fans and attract a variety of life. That said, most visitors come for the other-worldly experience of gliding through underwater ruins – and Temple Garden doesn't disappoint.
East Bali
Liberty Wreck, Tulamben
Depth: 5-30m
Difficulty: Beginner-Intermediate
Highlights: Easy wreck penetration, diverse and plentiful marine life
Easily one of the best dive sites in Bali, and one of the most famous, is the Liberty Wreck in Tulamben. This amazing wreck is over 100-meters long and lies just a short swim from the beach. With a minimum depth of just 5-meters, the Liberty Wreck can be enjoyed by beginners and more advanced divers alike. Now covered in soft corals and sponges, this sunken ship provides a maze-like home to tons of exciting marine life. In fact, the Liberty Wreck is well known for its resident school of great barracuda, as well as jackfish and bumphead parrotfish. Turtles, reef sharks and eagle rays can also be seen, as well as the occasional mola mola if you're lucky. 
Jemeluk Bay, Amed
Depth: 10-35m
Difficulty: Beginner-Intermediate
Highlights: Thriving artificial reefs, schools of bigger fish in the current
With so many incredible places to dive in Bali, the sleepy town of Amed is often overlooked. A few vibrant artificial reefs can be found inside Jemeluk Bay itself, offering sheltered conditions and plenty to see. But, the most exciting diving lies just around the headland. The strong currents here are ideal for coral growth and attract plenty of big fish. Schools of barracuda, bumphead parrotfish, and bluefin trevally are all frequent visitors. Divers can also see dogtooth tuna, white and blacktip reef sharks, redtooth triggers, and more. But with all that action, don't forget to check the corals for shy pygmy seahorses.
Padangbai Jetty, Padangbai
Depth: 5-20m
Difficulty: Intermediate
Highlights: One of Bali's best muck dive sites
Originally built to welcome large cruise ships, the 300m jetty failed to meet safety standards and has never been used. Instead, this 'secret spot' has developed into one of Bali's best muck dive sites, providing shelter for rare and wonderful creatures which live amongst the rubble. Divers can find anything from pygmy seahorses, ornate ghost pipefish, and mantis shrimp, to blue-ring octopuses, and even the elusive wunderpus! The jetty is also a haven for frogfish fans and is one of the best dive sites in Bali to search for Rhinopias. 
South islands
Manta Point, Nusa Penida
Depth: 5-30m
Difficulty: Intermediate - Advanced
Highlights: Year-round manta sightings
Nusa Penida is famous for having some of Bali's best scuba diving sites. Dominated by strong currents, this island is ideal for close encounters with large fish. Manta rays are Nusa Penida's most famous residents, with sites such as Manta Point offering year-round sightings. Marble rays, eagle rays, tuna, and Spanish mackerel can all also be seen as well as rare mola mola in the summer months. The currents which attract these larger fish can make this a difficult site for beginners. If you want to get your Open Water certification in Bali, consider learning elsewhere and heading to Manta Point with a few more dives under your belt.
Crystal Bay, Nusa Penida
Depth: 5-40m
Difficulty: Advanced
Highlights: Best dive site in Bali to see mola mola
On its day, Crystal Bay has to be one of the best places to dive in Bali! Visit during the right season, and this site will deliver some of the most consistent mola mola sightings in the world. The reef here is also stunning and provides shelter for tons of marine life including blue-spotted rays, napoleon wrasse, trumpet fish, frogfish, and banded sea snakes. Trevallies, jackfish, tunas, snappers, and mackerels are also common. And if that's not enough, Crystal Bay is also a great option for diving with sharks in Bali, boasting regular encounters with grey and whitetip reef sharks. This dive site can have strong down-currents so is best for more advanced divers.
There's more where that came from!
These are just a few of our favourite dive sites in Bali, but there's plenty more to choose from. With short journey times and easy road links, you can explore a variety of destinations in a single trip! Read our ultimate guide to diving in Bali below.
---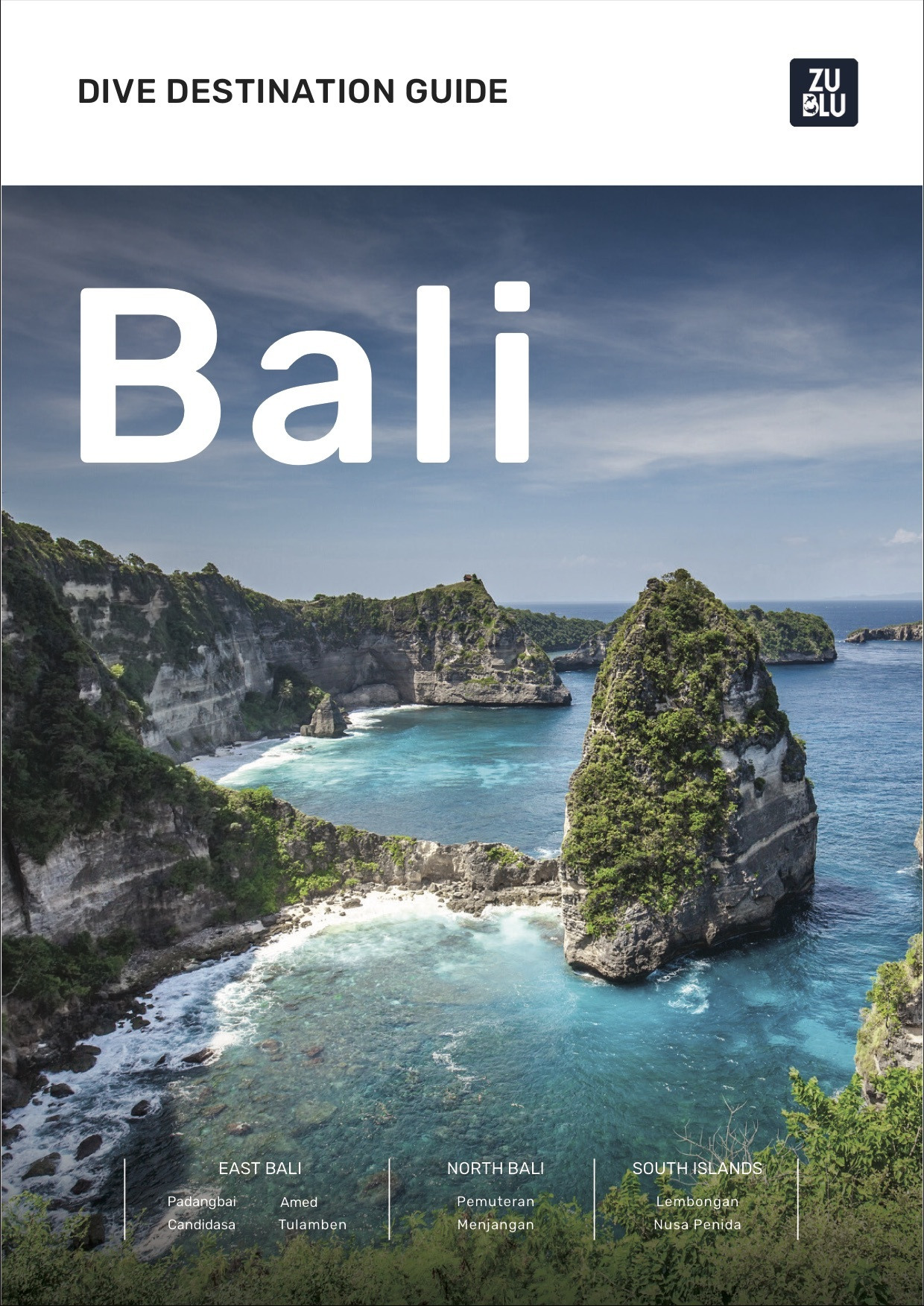 Discover the best places to dive in Bali
---