Bali is Indonesia's tourism hotspot, and amongst the first of the country's islands to be explored beneath the waves. Yet even as divers venture ever deeper into Indonesia's remotest region, Bali remains top of the list for many divers. 
Believe it or not, Bali is actually one of the country's most diverse diving destinations. The island is home to a huge variety of dive sites with flourishing reefs, wrecks, plummeting walls, and mucky slopes, and is home to some of the planet's most fascinating underwater marine life, including pelagics like manta rays and mola mola. In fact, in almost all of Bali's diving destinations, you'll find a site that can claim a spot among Indonesia's very best. As a bonus, the island is so well connected and easy to navigate that you'll likely have the opportunity to visit different dive spots in just one trip.
Read on to learn about the best places to dive in Bali, with a list of world-class sites handpicked by ZuBlu's team of travel experts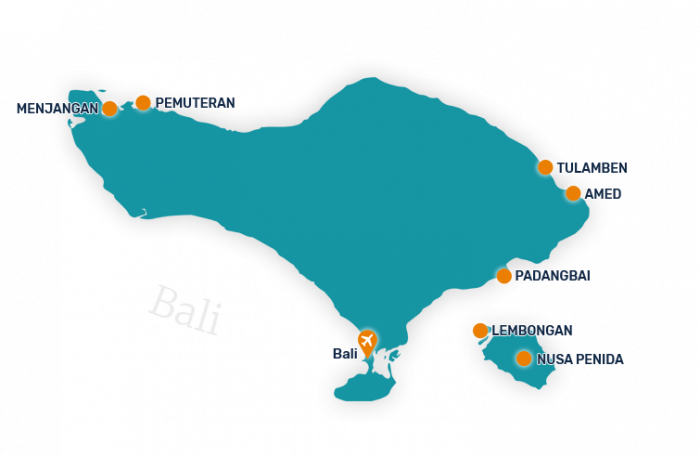 ---
Need help planning your diving holiday in Bali?
Contact one of our award winning travel experts today

---
What makes diving in Bali great
Bali is the westernmost of Indonesia's Lesser Sunda Islands, sandwiched between Java to the west and Lombok to the east. The island is wrapped by powerful currents, as incredible volumes of water move back and forth between the Indian and Pacific oceans. This event, known as the Indonesian Throughflow, is strongest on Bali's eastern coast in a channel known as the Lombok Strait. These fast-moving waters provide the region with a steady stream of nutrient-rich water, allowing corals to thrive and offering a food source to the wide range of marine life that calls the area home. Bali's position within the Coral Triangle also ensures an incredible array of species, with thousands of different types of fish and coral. 
In addition to its fantastic biodiversity, Bali has become a hotspot for divers because it's so easy to reach. This convenient getaway is home to one of Indonesia's busiest international airports, with regular flights arriving from Australia, Southeast Asia, and Europe. Once you arrive in Bali, getting around is easy, with good road conditions and well-organised transfers.
You can expect to explore everything from impressive walls swept by strong currents, protected bays sheltering thriving coral gardens, and artificial reefs including both shipwrecks and purpose-built restoration projects. The island is also home to seemingly barren slopes of volcanic silt and muck, hosting weird and wonderful critters. And, don't forget to keep an eye on the blue while diving - Lembongan and Nusa Penida are hotspots for pelagic species, with reef manta rays and mola mola making reliable appearances during the season. 
---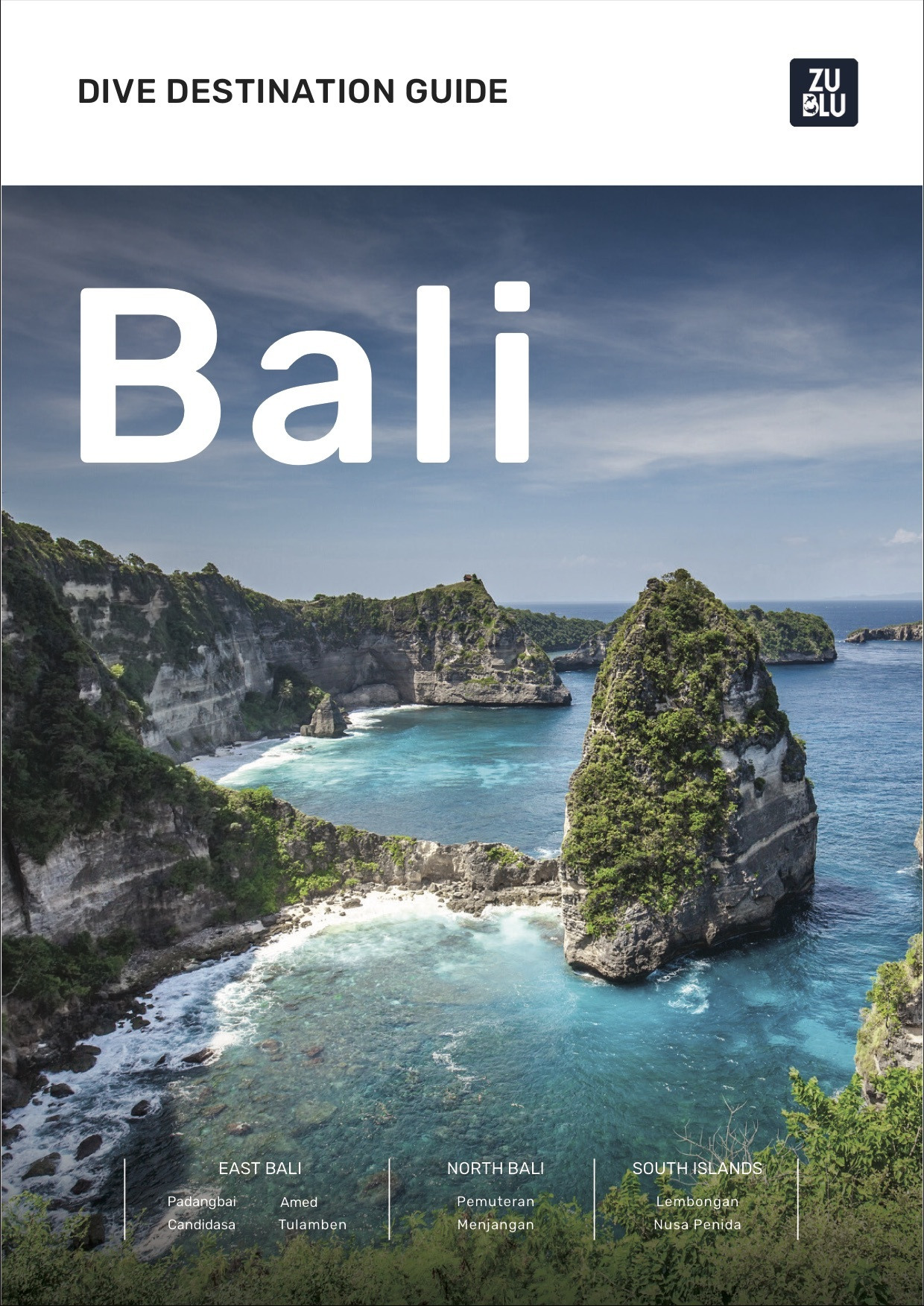 Discover the top dive sites, the best seasons and other tips in this comprehensive guide to diving in Bali.
---
Best dive sites in Bali
Bali is home to hundreds of dive sites around its coast and several smaller offshore islands, so choosing which areas to explore will likely be the most challenging part of planning your trip. For a taste of what's in store, check a few of our favourites! 
Best sites for bigger species
Crystal Bay, Nusa Penida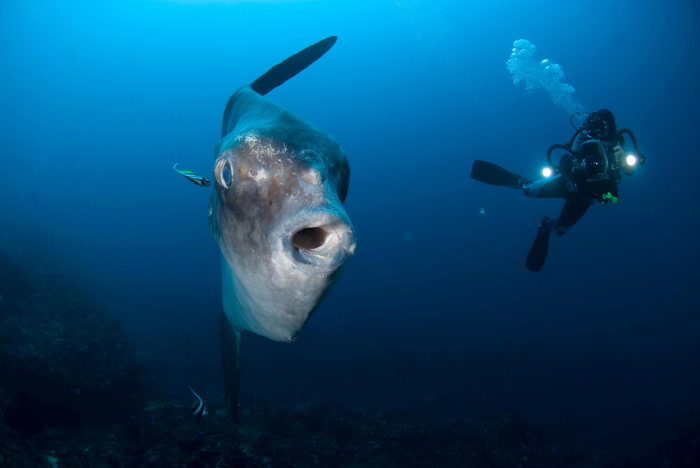 This site has become a legend in the diving community, famous for big fish action with some of the most consistent mola mola sightings in the world. Also known as ocean sunfish, these strange animals only appear during the coldest months of the year, when they are encountered at cleaning stations. The reef at Crystal Bay is also stunning, providing shelter for tons of marine life in all shapes and sizes, from blue-spotted stingrays and massive Napoleon wrasse to tiny frogfish, and banded sea kraits. Trevally, jacks, tuna, snapper, and mackerel are also common here. And, if that's not enough, Crystal Bay is also a great spot for shark diving, boasting regular encounters with grey and whitetip reef sharks. This dive site can have strong thermoclines and powerful down-currents, so it's best suited to advanced and experienced divers.
Manta Point, Nusa Penida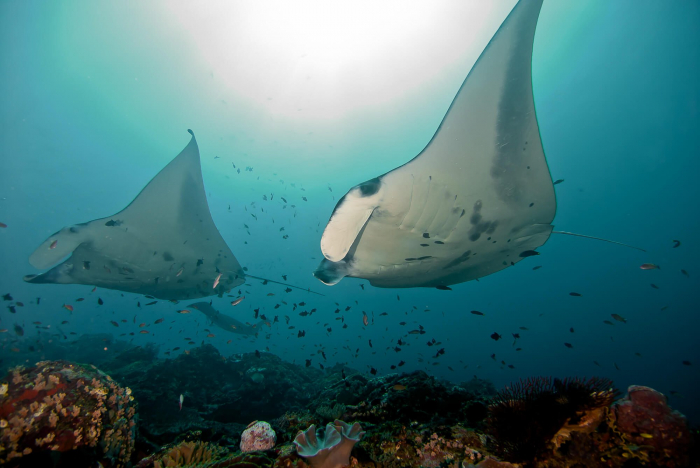 Manta Point is located on the southwest coast of Nusa Penida, and actually encompasses several spots where manta rays can be encountered. Located at the foot of dramatic cliffs they offer visitors the chance to get close to big mantas that feed in the plankton rich currents or visit cleaning stations. Divers can either patrol the barren rocky reef or wait at the cleaning station for the mantas to arrive. Hunker down on the reef and watch these graceful oceanic acrobats swoop and barrel roll overhead and queue patiently at nearby cleaning stations. Marble rays, eagle rays, tuna, and Spanish mackerel also make appearances here. 
---
Best wrecks
Liberty Wreck, Tulamben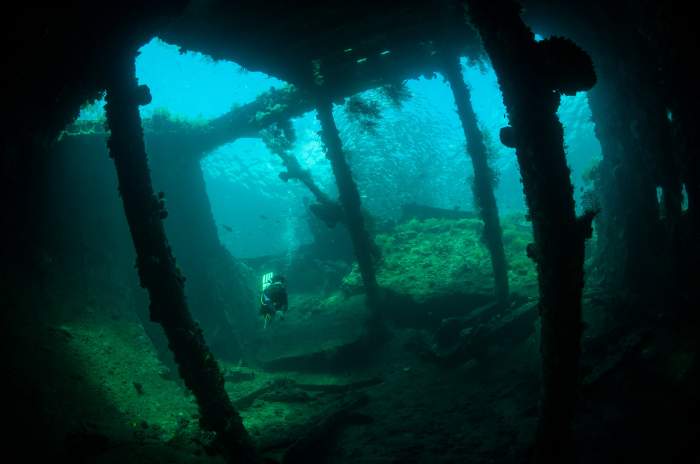 Easily one of the best dive sites in Bali, and certainly among the most famous, is Tulamben's Liberty Wreck. This sunken vessel, measuring over 100-metres long, lies in the shallows, just a short swim from the beach. With a minimum depth of just five-metres, the Liberty Wreck can be enjoyed by beginners, but advanced divers will find plenty to see here, too. Thoroughly encrusted in soft corals and sponges, this sunken ship has transformed into a thriving artificial reef, providing a safe haven to tons of exciting marine life. This site is well known for its resident schools of jacks, and bumphead parrotfish. Turtles, reef sharks and eagle rays can also be seen, as well as the occasional mola mola in the deep during the cold water season if you're very lucky. 
Boga Wreck, Kubu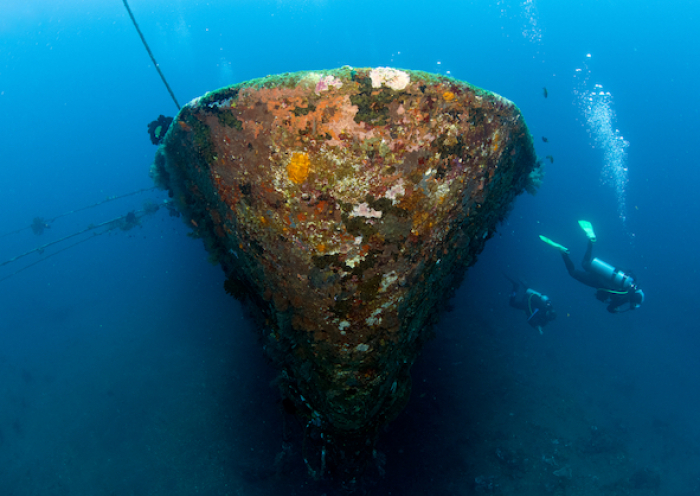 This vessel was intentionally sunk off the coast of Tulamben in 2012 to create an artificial reef. The top deck begins at 16-metres, and the propeller sits at 38, offering multilevel experiences for beginners and advanced divers alike. There are also multiple routes open for penetration, including a spacious cargo hold with statues of Buddha, vintage Volkswagen vehicles, and other sunken treasures. While the Boga's hull has transformed into a coral garden populated by fascinating macro species, there's plenty to see here in open water, as well. Keep an eye out for schools of spadefish, fusiliers, barracuda, and giant trevally. 
---
Best sites for reef diving
Eel Garden, Menjangan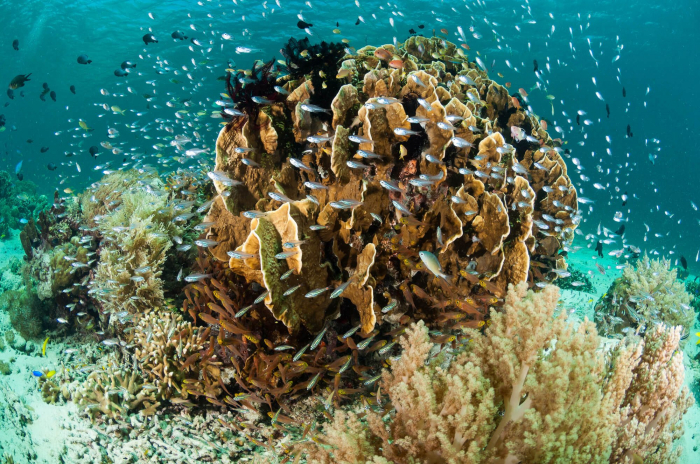 If you're searching for the best reef diving in Bali, Menjangan Island should be high on your list! Set within the Bali Barat National Park, this area is packed with vibrant corals. Eel Garden is Menjangan's most famous dive site, renowned for its meadow of masked garden eels. Descend along a steep wall blanketed in coral and studded with swaying gorgonian fans, home to colonies of pygmy seahorses. Then, let the current carry you past schools of fish including fusiliers and pyramidfish. The shallows are home to vast coral gardens, with turtles, leaf scorpionfish, giant frogfish, nudibranchs, and schools of reef fish, making Eel Garden one of the most diverse and best all-round dive sites in Bali.
Coral Gardens, Tulamben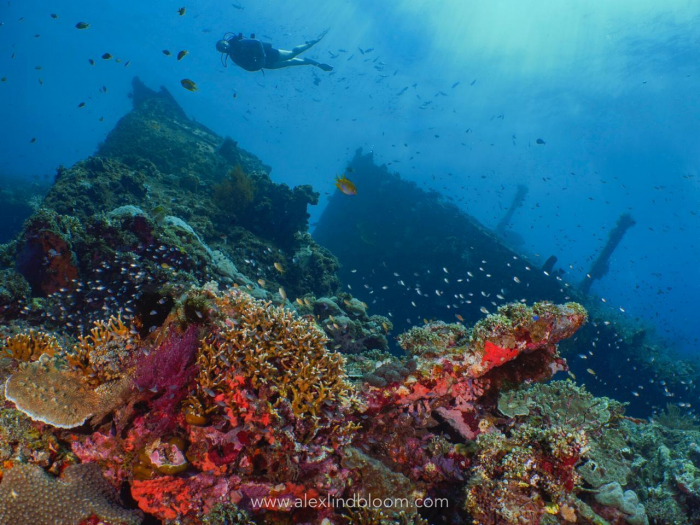 Also known as Paradise Reef, this expanse of hard and soft coral extends east out into the bay, leading toward a steep drop-off. This dive site is famous for its biodiversity, with a fantastic variety of species on display, including juvenile reef fish, ribbon eels, and well-camouflaged creatures such as scorpionfish, nudibranchs, and minuscule crabs and shrimp. Search the sand channels for sleeping stingrays and colourful cuttlefish, often found in pairs. Or, head a bit deeper to swim alongside massive sponges, sea fans, and whip corals, gently swaying in the current. Coral Gardens has something to offer at every depth, making it a popular site for divers of all certification levels.
Toyapakeh, Nusa Penida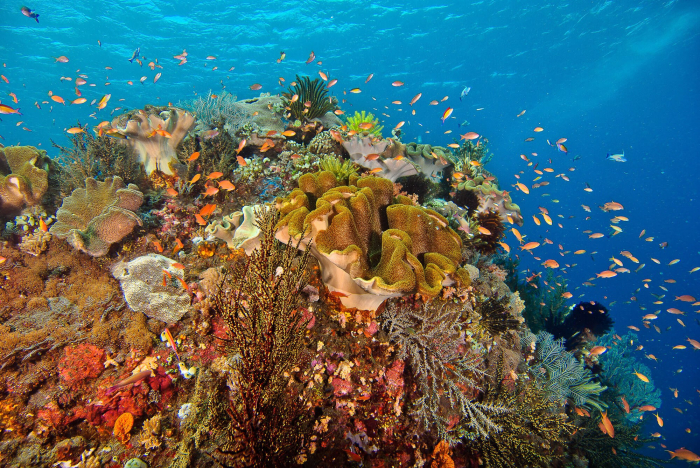 On the northwest tip of Penida, Toyapakeh has a well earned reputation as one of the best reef dives in Bali. The site has a gentle reef slope with several plateaus covered in hard corals, fans, big bommies and black coral bushes. The fish life here is prolific and there are plenty of angelfish, parrotfish, grouper, schooling sweetlips and snapper, anthias and stingrays. There are also many morays, fusiliers and butterflyfish, and often sharks, tuna and mola mola at the southern end of the site where a steep wall marks the start of the channel. If that's not enough, there are normally plenty of smaller critters in the coral itself, with blue ribbon eels, leaf scorpionfish and more waiting to be discovered.
Ready to start planning your dive holiday to Bali?
Search, compare and book from our hand selected portfolio of Bali's top dive resorts
Best sites for muck diving
Padangbai Jetty, Padangbai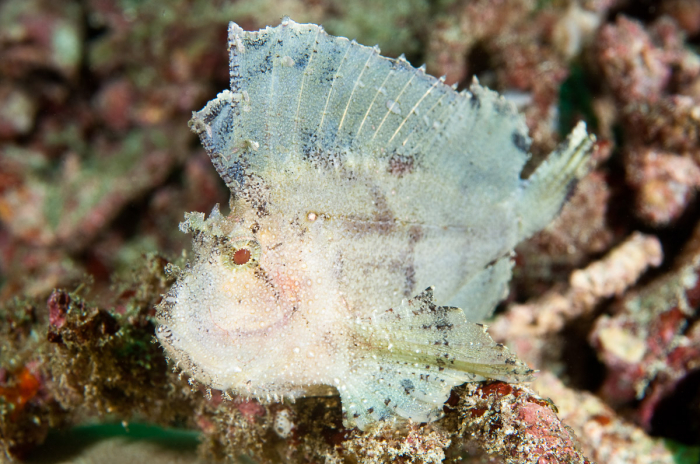 Originally built as a cruise ship port, this 300-metre jetty failed to meet safety standards and was never used. Instead, this 'secret spot' has developed into one of Bali's best muck diving sites and a favourite among underwater photographers. The pier's support beams and rubble bottom now play host to an incredible variety of rare and wonderful creatures. Lucky divers can find anything here, from pygmy seahorses, ornate ghost pipefish, and mantis shrimp, to blue-ring octopus, and even the elusive wunderpus! The jetty is also a haven for frogfish fans and is one of the best dive sites in Bali to search for Rhinopias. 
Secret Bay, Gilimanuk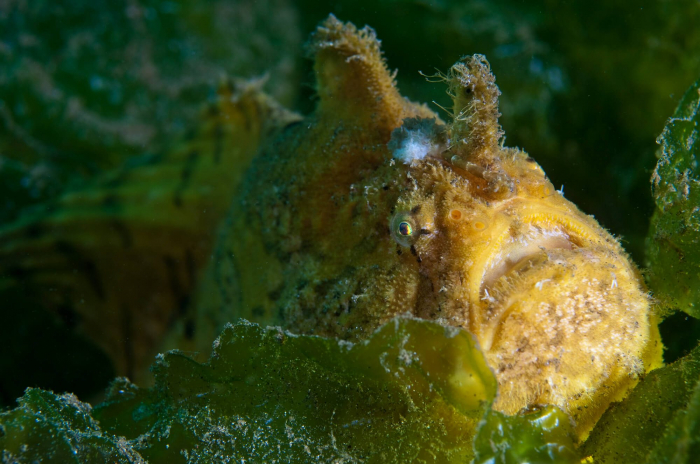 Far from Bali's hustle and bustle, this site is tucked away in a northwestern corner that sees little visitor traffic - hence the name. Secret Bay is unique in its varied bottom composition, with seagrass, silt and muck, and sloping fields of rubble. The bay is also swept by cold currents, with water from the deep channel running between Bali and Java forced through its narrow entrance. This flow brings a constant supply of nutrition into Secret Bay, in addition to the eggs and larvae of countless species, making it an exceptionally biodiverse area. Secret Bay is home to everything from seahorses and unusual nudibranchs to mandarinfish, frogfish, and rare finds like the Ambon Scorpionfish. 
---
Best wall dives
POS II, Menjangan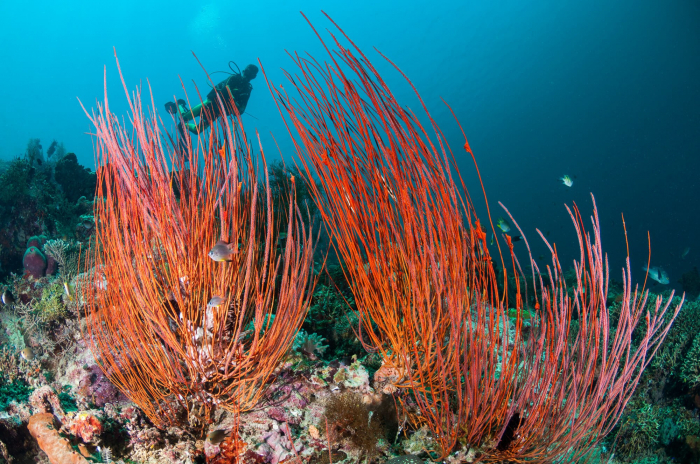 This iconic wall dive, located on the southeast tip of the island can be accessed either by boat or directly from the shore. The wall starts at around 12-metres, and from there, divers drift depending on the current. Heading east, you'll descend into a sprawling soft coral garden swept by currents. Keep your eyes peeled for turtles, reef sharks and eagle rays. Heading west, you're almost guaranteed to spot vast schools of anthias and chromis. If you dive here on a calm day, be sure to scour the wall's cracks and crevices for smaller species like gobies, scorpionfish, and cryptic nudibranchs. 
Amed Wall, Amed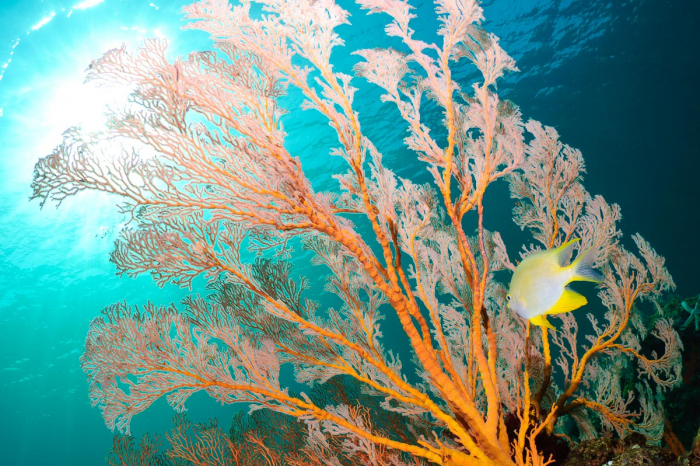 This combination of sloping reef and a steep drop-off isn't just one of Bali's most impressive walls - it's also one of the easiest to dive. Just a five-minute boat ride from the shore, Amed Wall is blanketed in magnificent coral, with hard and soft gardens stretching to depths of 40-metres and beyond. Start your dive in the shallows on a colourful plateau clouded by tropical fish, before descending to search for reef sharks, turtles, and schools of reef fish. But, this site is generally quite calm, with conditions to suit divers of all skill and comfort levels. 
---
Best artificial reefs
Jemeluk Bay, Amed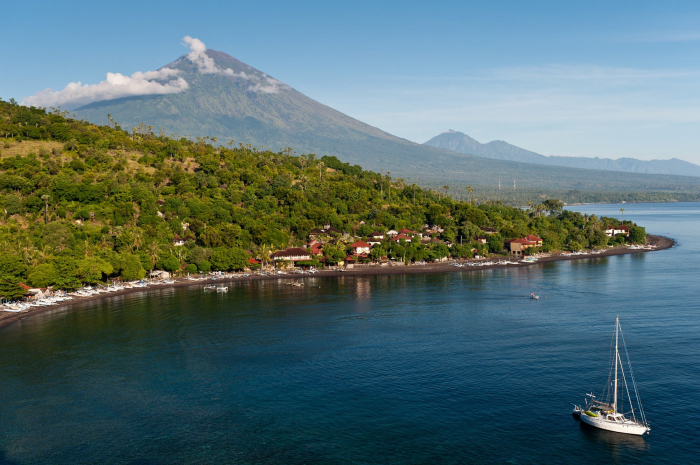 Jemeluk Bay is home to dozens of pyramid-shaped artificial reefs covered in coral, ranging from 12 to 25-metres. These cement structures offer shelter for a variety of species, creating ideal conditions for a wide variety of wildlife ranging from reef fish to rare macro. Once you've explored the sandy slope and pyramids, swim out to the headland where currents fuel fantastic coral growth and attract barracuda, bumphead parrotfish, and bluefin trevally. Lucky divers can also spot dogtooth tuna, white and blacktip reef sharks, and vast schools of redtooth triggerfish. With all that action midwater, don't forget to peek under stone outcroppings for nudibranchs and check the swaying sea fans for shy pygmy seahorses.
Thinking of getting involved in coral restoration on your next holiday?
Search and compare from our hand-picked coral volunteer programs in ZuBlu's Ecoventures
Biorock, Pemuteran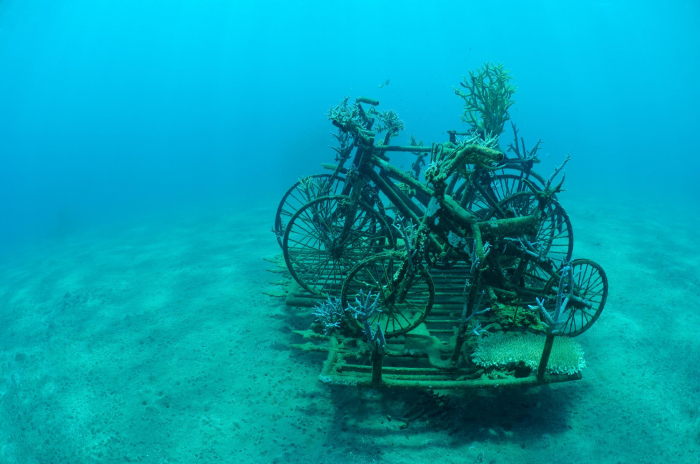 Established as a coral restoration project back in the year 2000, this is now the planet's largest system of biorock structures, with over 115 installations in total. These wire domes and sculptures use a gentle electrical current to stimulate growth, with a wide variety of hard coral transplants slowly expanding to cover their surfaces. The site is also home to numerous statues and artistic installations, slowly being taken over by the sea. Juvenile reef fish, and sand-dwelling species like shrimp gobies are common in the shallows here, and the structures are a top spot for underwater photography thanks to its great visibility in the mornings.
---
Need help planning your dive trip to Bali?
Contact one of our award winning travel experts today

---
---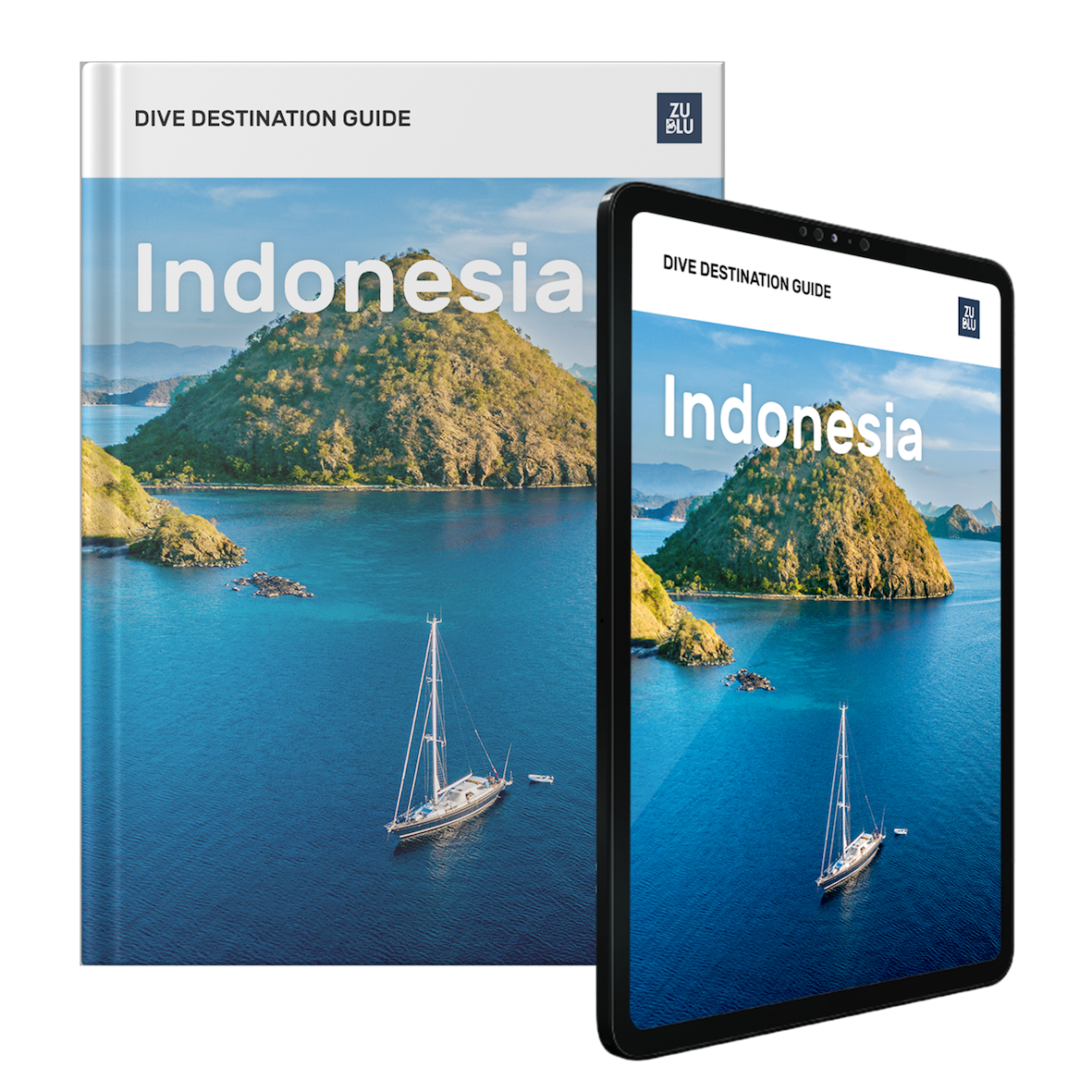 Discover the secrets of Indonesia in this FREE 150+ page scuba dive destination guide. Read online or download today and let us inspire your next diving holiday.
---
---
---