Mahe and its nearby islands are famous for heavenly scenery both above and below water, with fascinating granite formations and beautiful white sand beaches giving way to thriving reefs. It is also the easiest to reach of all the Seychelles' islands, hosting the nation's capital and transport hub and some of the country's most impressive dive sites. Whether you're looking for laid back reef exploration, or close encounters with the biggest fish in the sea, Mahe has what you're after! Read on to learn all about the island's top diving, handpicked by the ZuBlu team. 
---
Need help planning your dream diving holiday in Mahe, Seychelles?
Contact one of our dive travel experts today

---
What makes the diving around Mahe so special
The Seychelles sit hundreds of kilometres from the nearest landmass in one of the Indian Ocean's most biodiverse regions. Mahe, and the other Inner Islands, formed roughly 145 million years ago, after breaking off from the supercontinent Gondwana. They are the planet's only oceanic islands made of granitic rock, entirely unique in their composition. The Seychelles' Outer Islands, by contrast, are made of fossilised coral - atolls similar to those found in the Maldives. 
Mahe isolation has allowed many endemic species to evolve on land, while powerful currents sweeping past the islands ensure plenty of diversity below the waves. Both the South Equatorial Current and the East African Coastal Current meet here, pulling vast amounts of seawater past these islands each day, and delivering a constant influx of nutrients, as well as the eggs of numerous species that eventually populate Mahe's granite reefs. 
Mahe's unique underwater scenery and stunning biodiversity is well protected and separate parks are found around the island, offering hundreds of kilometres of sanctuary for oceanic wildlife. Free from the pressures of commercial fishing and unsustainable tourism, the reefs found within these boundaries are home to an incredible variety of sea life.
Visitors can expect a wide variety of sites ranging from sheltered coves and rocky granite reefs blanketed in coral, to plummeting walls and towering granite pinnacles swept by strong surge and current. The islands are also known for rare encounters with whale sharks between September and November.
Ternay Bay Marine Park
This shallow and protected cove offers laid-back reef diving at its best, with plenty of beautiful hard and soft coral and bustling marine life everywhere you look. Clouds of colourful reef fish are split by free-swimming morays, sea turtles, and the occasional hunting wahoo or tuna. The reef is also home to many smaller organisms, with colourful nudibranchs, crabs, and shrimp hiding out in crevices, and fields of anemones guarded by boisterous clownfish. 
Dolphins and other marine megafauna - including whale sharks in the past - are sometimes spotted around Ternay Bay during their respective seasons. Keep a lookout during your surface intervals, as they're most commonly seen cruising in the shallows. Depending on the day's conditions, you'll likely dive at the Ternay Bay lighthouse, Cap Ternay, or Willie's Rocks either before or after exploring here.
Best for - rare, seasonal whale shark encounters
Ennerdale Wreck
Until the 19th century, navigation around the Seychelles was incredibly dangerous, claiming countless ships. The rocky shallows around the archipelago are numerous, difficult to locate, and littered with massive granite boulders. One of the country's most notable casualties, the Ennerdale, is a 74-tonne British oil tanker that ran aground in 1970. The Ennerdale's cargo of oil was lost to the sea, creating one of the worst environmental disasters in the Seychelles' history. 
Today, the wreck lies upright and listing to port in 30 metres of water. While much of the hull has been damaged beyond recognition, the wheelhouse remains intact with options for penetration. The Ennerdale's massive bronze propeller is also a point of interest for divers, as is the collection of wildlife that calls the wreck home. Keep an eye out for eagle rays, grouper, and even the occasional shark.
Best for - wreck enthusiasts and history buffs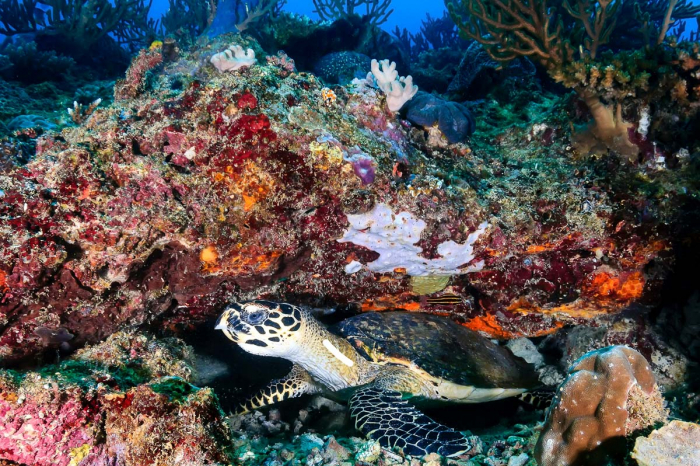 Trois Bank
Often combined with dives at nearby Therese Reef, these three submerged granite banks offer steep drop-offs, plunging walls, stone ledges, and swim-throughs. These current-swept sites can't support much hard coral, but their rocky surfaces are completely carpeted in colourful soft corals, gently swaying with the tide. These fast-moving waters make for fun drifts, occasionally escalating to a breakneck pace that requires advanced techniques.

All that current attracts plenty of big fish to the area, with sea turtles and reef sharks patrolling the reef's edge and large schools of pelagic fish out in the blue. Eagle rays are also commonly seen here, sometimes swimming in large groups. 
Best for - fun and fast-paced drift diving
Brissare Rocks
Halfway between Mahe and Praslin, this remote site has a reputation for biodiversity with countless fish species in all shapes and sizes. There are two diveable coves here, both with granite benches and pinnacles that create protected, current-free areas where shoals of snapper and fusiliers gather. 
Outside of these sheltered pockets, the rocks are often swept by strong currents, changing quickly with the tides and creating hard to predict conditions. Out in the blue, Napoleon wrasse, eagle rays, and reef sharks are likely to pass by, sometimes joined by large schools of pelagic fish. The reef itself is home to countless invertebrates like crabs and shrimp, plus moray eels and several species of stingrays.  
Best for - fascinating underwater topography
Ready to start planning your dive holiday in Mahe?
Search, compare and book from our hand selected resorts
Conception Island
Conception is home to multiple sites, the most famous of which are Conception Arena and Conception Point. West of the island, a submerged granite reef forms a natural amphitheatre with boulders and deep gullies with coral carpeted swim-throughs. This site eventually drops off to a shelving sandy bottom swept by strong currents, where larger fish species are often spotted. Schooling pelagics, stingrays, sea turtles, and reef sharks are seen on most dives, sometimes  joined by squadrons of eagle rays.
The island's southern point is home to steep walls, chiselled gullies, and towering boulders which house an impressive number of larger reef fish and invertebrates. This site is prone to ripping currents and offers little shelter, making it best suited to advanced and adventurous divers.
Best for - challenging conditions and big fish action
Lost City
Considered the most interesting site in the Inner Islands by many divers, the Lost City is a massive submerged seamount that looks a bit like an underwater mountain. Divers can cruise channels and canyons, traverse lengthy granite benches, and explore swim-throughs clouded by glassfish. Peer into the reef's many cracks and crevices to spot huge morays, sleeping whitetips, and cryptic species like crabs and shrimp.
While the reef itself is the primary focus here, don't forget to keep one eye on the blue. Turtles, sharks, rays, and large schools of barracuda patrol the drop-off, carried along by the currents. This area is especially treacherous during the southeast monsoon during July and August, becoming all but impossible to reach.
Best for - wide-angle photography 
Recommended resort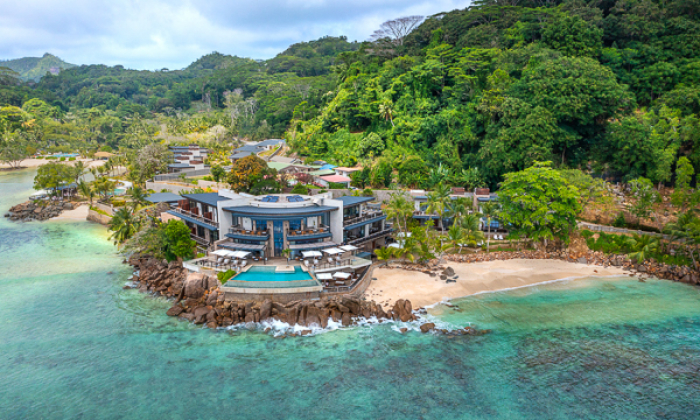 Mahe, Silhouette and North Island
Mango House Seychelles
This intimate retreat is ideally located in Mahe's stunning southern coast, perched on the shore of Anse Aux Poules Bleues bay with direct access to the sea and a range of brand new ...
Beacon Island
Found at the far eastern border of the St. Annes Marine Park, this granite island's dive sites are characterised by deep grooves and ridges. These cracks are loaded with small wildlife, including cryptic species like nudibranchs making it a top pick for night dives. The island's southern side boasts large rock formations blanketed in soft coral and swept by prevailing currents. These waters are visited by pelagics of all kinds, and thanks to their proximity to the open ocean, you never know what might pass by in the blue!
To the west of Beacon Island, three rock spires break the water's surface. Known as Pinnacle Point, this site is home to towering pinnacles and an expansive boulder field covered with hard and soft coral. You'll spot schools of fusiliers and snapper here, joined by lone hunting pelagics like tuna. Keep an eye out for reef sharks, especially close to dawn and dusk.
Shark Bank
Halfway between Beau Vallon and Silhouette Island, this is one of Mahe's fishiest dive sites. The shallowest point for hundreds of kilometres, this submerged bank is a natural hotspot for big fish, offering rare shelter from the open ocean. Visitors can expect abundant reef life with colourful fish, groupers and eagle rays, and the occasional passing pelagic. Large schools of barracuda, snapper, and bigeye sometimes gather at the drop-off, joined by reef sharks on patrol.
At this site's edge, steep and current-swept walls lead to extremely deep water. Shark Bank is also prone to cold upwellings, making it a hotspot for filter feeders like rare whale sharks and manta rays during their season. Just remember to keep an eye on your depth here, as it's easy to accidentally drop well below the recreational diving limit.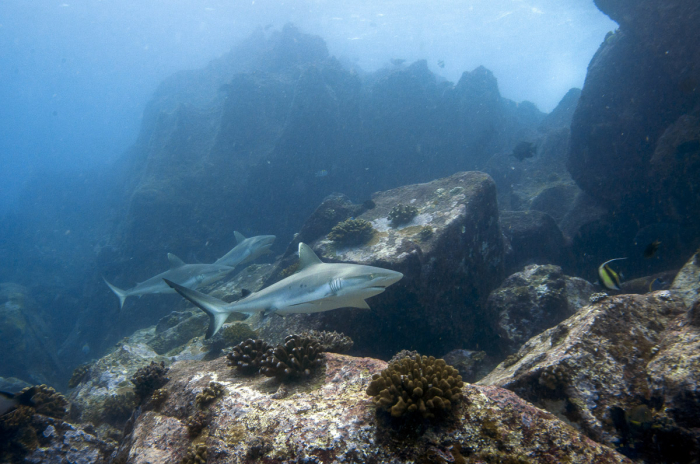 Silhouette Island
Normally visited as a full-day excursion from Mahe, Silhouette Island is home to half a dozen dive sites ranging from shallow sloping reefs to steep drop-offs. Head to Anse Mondon for rocky topography and vast soft coral gardens clouded by colourful fish. This bay is well protected from current, making it an ideal spot for beginners and groups with snorkellers. Further south, a wall of cascading granite boulders known as Black Rock is ideal for spotting sweetlips, lionfish, and parrotfish relaxing in caverns and overhangs. Peek inside the small caves found here for a chance to spot napping sharks.

Heading toward North Island, Morane Bank is a deep submerged dive site with high chances for pelagic encounters. Sharks, turtles, and rays can all be seen in a single dive, cruising in the current. This site is often swept by powerful currents and is best left to experienced divers.
Best for - day trips from Mahe
North Island
About 40 minutes by boat north of Silhouette Island, this is one of the Inner Islands' most remote and exclusive diving areas, with just a handful of visitors making the trip. The underwater landscape is dominated by massive granite boulders and pinnacles, separated by sand channels. Your chances of spotting reef sharks and eagle rays are high here, in addition to large schools of barracuda and bigeye.
Because North Island is sparsely developed and sees so few guests, it hosts some of the most pristine diving in the archipelago. Nearly every species of fish found in the Seychelles can be seen here, in addition to dozens of hard and soft corals and invertebrates in all shapes and sizes.
Best for - impressive biodiversity 
Recommended resort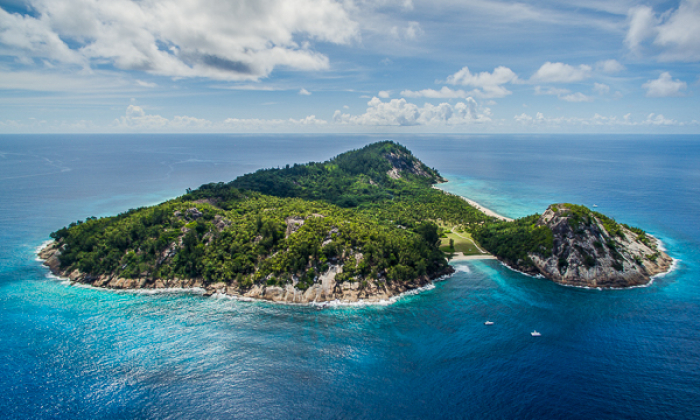 Mahe, Silhouette and North Island
North Island
Situated some 30-kilometres off the northern coast of Mahe, and home to just 11 unique villas along its pristine white sand beach, this remote private island resort is a true paradise ...
---
Need help planning your dream holiday to the Seychelles?
Contact one of our dive travel expert today

---
---
Join the ZuBlu community to receive the latest insights and unmissable adventures
Don't worry, we'll only send you really good stuff - and we never share your details
---