Praslin, La Digue, and the surrounding islets are among the most beautiful destinations on the planet, boasting some of the Seychelles' most photographed natural attractions. The islands' idyllic beaches, calm lagoons, and unique granite formations, are the site of dozens of dive sites waiting to be explored. Divers can take on a variety of adventures here, from relaxed reef tours to high-speed drifts and chance encounters with exciting ocean wildlife, including sharks and rays. 
Read on for detailed descriptions of the very best sites to help you start planning your trip today!
---
Need help planning and booking your dream holiday in the Seychelles?
Contact one of our dive travel experts today!

---
What makes diving in Praslin and La Digue so good
Formed over 100 million years ago, after breaking off from the ancient supercontinent of Gondwana, Praslin and La Digue are part of the Seychelles' Inner Islands, hundreds of kilometres from the continental Africa. These Inner Islands are the planet's only oceanic islands made of granitic rock, a unique composition that enhances their striking appearance.
The Seychelles' isolated location has allowed endemic species to evolve on land, while strong currents have fuelled incredible diversity underwater. The South Equatorial Current and the East African Coastal Current converge here, delivering a steady stream of nutrients and juvenile species to the reefs. Outstanding marine park protection around some of Praslin and La Digue's satellite islands, such as Ile Coco and Curieuse, has also helped these reefs flourish, offering sanctuary to countless species. Without the pressures of commercial fishing and unsustainable tourism, the reefs found within these protected boundaries are thriving, offering hope for other at-risk areas in the Indian Ocean.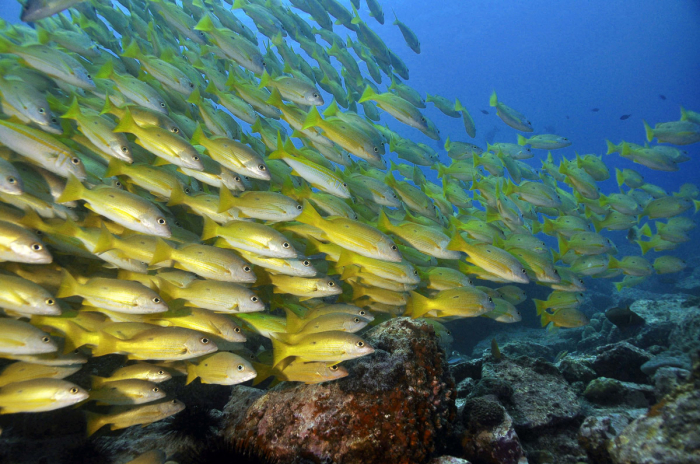 Praslin and La Digue are home to a wide variety of sites, including sheltered lagoons, submerged seamounts and craggy granite reefs covered in coral. Strong surge and current are sometimes encountered, especially around the more remote islets, where dive sites are subjected to open ocean conditions. Though now rarely seen in the Seychelles, lucky divers and snorkellers also have a rare chance of spotting whale sharks during their season between September and November.
Ave Maria
Found in the channel between Praslin and La Digue, Ave Maria is a small island ringed by craggy granite reefs. Massive boulders form underwater canyons and crevices blanketed in soft coral, with a variety of interesting reef life, including turtles, stingrays, and bumphead parrotfish. Reef sharks are also seen here occasionally, as are eagle rays, barracuda, and large schools of snapper and fusiliers. Peer in between rocks for a chance to spot lobsters, octopus, and other cryptic species like crabs and shrimp. 

Ave Maria's maximum depths are around 20 metres, and the site is typically quite calm, making it a top pick for beginners. Also located within the channel separating Praslin from La Digue is White Bank, a submerged site often combined with Ave Maria during a day trip. 
Channel Rock
Nearly breaking the water's surface, these rock formations between Praslin and La Digue are swept by strong currents, making them a hotspot for larger marine species. Hunker down between the granite formations and watch as eagle rays and reef sharks cruise by. You might also spot hunting pelagics like tuna and wahoo and schools of barracuda.
Channel Rock is also prone to cold upwellings and plankton blooms, making it one of the top sites for rare encounters with whale sharks during their peak season from September through November. Keep an eye out during your surface intervals, as they are most commonly seen cruising slowly close to the surface.
Best for - rare seasonal whale shark encounters
Recommended resort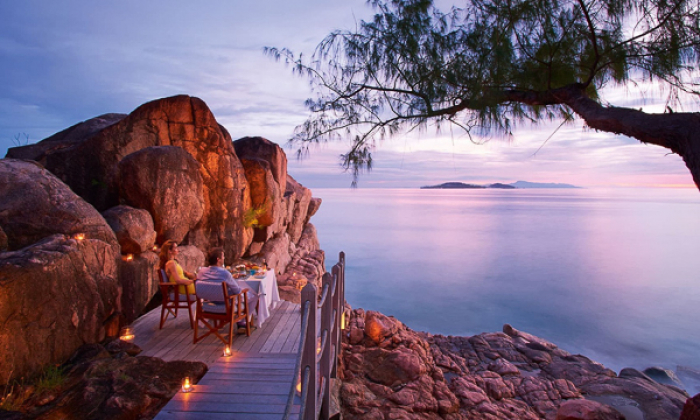 Praslin and La Digue
Constance Lemuria
Nourish your senses with a stay at the secluded five-star paradise of Constance Lemuria, where nature blends with luxurious architectural design. Tucked away between white sand beaches ...
St. Pierre
This shallow site lies within the Curieuse Marine National Park to Praslin's north. St Pierre is one of the Seychelles' most scenic destinations, with famous granite formations above water that rank among the country's most photographed sites. Below the waves, these same stones lend a unique appearance to the reef, with deep grooves and crevices filled with life. 

The shallow reefs around St. Pierre are among the best for beginners, but seasoned divers will find plenty to see here as well. The island's coral gardens are ideal for underwater photography and play host to some fascinating macro creatures, including mantis shrimp, nudibranchs, crabs, and shrimp, as well as plenty of clownfish furiously defending their anemones. 
Best for - underwater photography
Booby Island
This isolated rock lies a few kilometres north of Praslin on the way to Aride Island. The site's south-facing side is home to a large crevice both above and below water, creating a sheltered haven for marine life. This is an excellent site for biodiversity, with lobsters, stingrays, octopus, eagle rays, and turtles seen on most dives. Keep an eye out in the blue while exploring here, where large schools of amberjacks occasionally buzz past lucky dive groups.
Booby Island is one of Praslin's best sites for spotting reef sharks. These graceful predators are sometimes seen swimming in groups, with as many as 15 individuals prowling the reef's edge together.
Best for - shark enthusiasts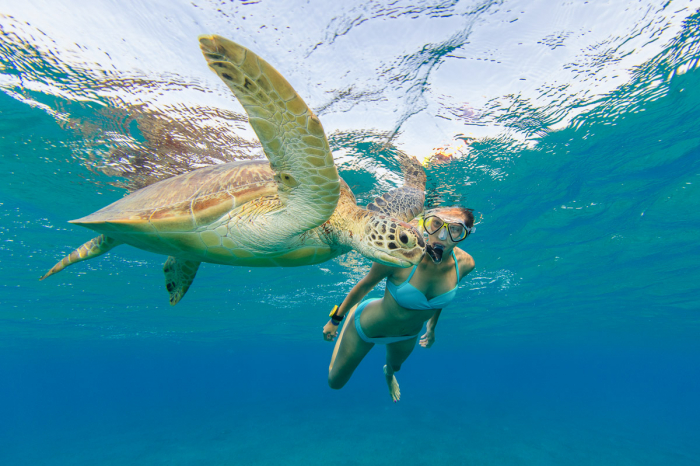 Ready to start planning your dream holiday to Seychelles?
Search, compare and book from our hand selected resorts
Sister Reef
Spanning the two Sister Islands, this dive site is shallow but plays host to a fascinating variety of species. This is a reliable spot for schooling reef fish, including snapper and fusiliers by the hundred. You're also likely to encounter pelagics, with tuna and eagle rays seen cruising in the moderate current, sometimes joined by reef sharks.
In addition to its biodiversity, this is one of Praslin's most notable sites for visitors interested in the Seychelles' unique granite topography. Divers can drift past massive boulders blanketed in swaying soft coral, peek into myriad crannies and caverns, and even explore a few swim-throughs.  
Best for - relaxed reef diving 
South Marianne
If you're up for a bit of adventure, this island, due east of La Digue, is guaranteed to deliver. Home to some of the best drift diving in the Seychelles' Inner Islands, South Marianne is known for flowing currents and big fish. The site's interesting rock formations reach depths of 25-metres where large ocean wildlife like jacks, tuna, eagle rays, and grey reef sharks are often seen.
In addition to powerful currents and pelagics, South Marianne Island boasts stunning topography, with plenty of pinnacles and canyons to explore in addition to the Seychelles' signature boulder fields. The trip from Praslin is also quite scenic, passing Ave Maria, Ile Cocos, Grande and Petite Soeur, La Digue, and Felicite along the way.
Best for - fast-paced drifts
Recommended resort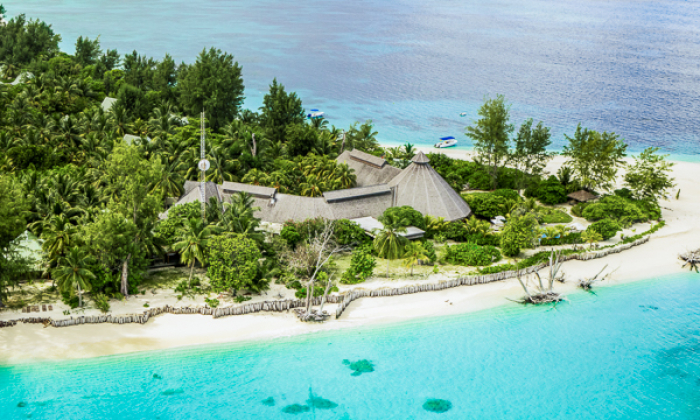 Praslin and La Digue
Denis Private Island
At just 375 acres in size, and lying more than 50-kilometres north of Praslin, Denis Private Island is little more than a speck surrounded by the vast Indian Ocean, but offers ...
Aride
North of Praslin, this far-flung site offers some of the area's most rewarding long-range diving, with outstanding visibility and large fish, including whitetips and grey reef sharks. Explore the submerged granite formations in search of small and cryptic species like lobsters, octopus, moray eels, crabs and shrimp, and nudibranchs. And be sure to peek into larger caverns and outcrops where sleeping sharks and grouper are often seen.
Aride is one of the region's most diverse sites, with vast soft coral gardens dominated by swaying sea fans and clouded by colourful reef fish. Large schools of barracuda, snapper, and jacks are often seen here as well, joined by the occasional Napoleon wrasse or eagle ray.
Best for - impressive biodiversity
Amoujie Maman
This is the most demanding of all the Seychelles' Inner Islands dive sites, famous for its ripping currents. You'll make a negative descent into a field of massive granite rocks separated by sand channels. Here, you'll have the option to hunker down between boulders and wait for pelagics to pass by or hop into the current for a fast-paced drift. You'll pass granite formations, gullies and canyons, and enjoy panoramic views of the big blue along the way.
Thanks to this dive site's proximity to the open ocean and fast-moving waters, you never know what kind of marine life might pop up. Lucky groups can spot reef sharks and eagle rays, but supersized animals like whale sharks and mantas are also encountered on occasion.
Best for - advanced and experienced divers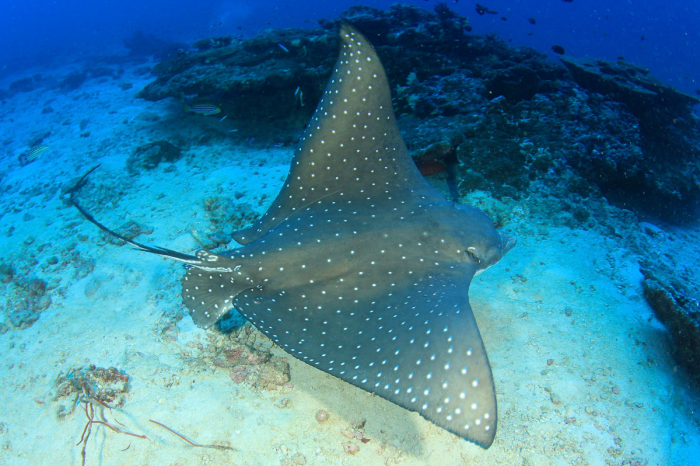 Ile Cocos
This island is stunning, both above and below water. Sitting in its own nature reserve, it boasts some of the area's most pristine reefs, including both hard and soft coral gardens filled with life. Visitors can spot nearly every reef-dwelling species in the Seychelles here, including rare juveniles and hard to spot macro species. This is a shallow and protected reef, suitable for all skill and comfort levels. 
To keep Ile Cocos unspoilt, visitors are asked to pay a small conservation fee. This helps maintain the park's protection with regular marine patrols. It also reduces visitor numbers, keeping this idyllic island uncrowded and enjoyable for divers and snorkellers alike. 
Best for - mixed groups of divers and snorkellers
---
Need help planning your dive holiday in Seychelles?
Contact one of our dive travel experts today

---
---
Join the ZuBlu community to receive the latest insights and unmissable adventures
Don't worry, we'll only send you really good stuff - and we never share your details
---