From beautiful scenery and a laid-back beach vibe, to breathtaking underwater walls and a unique 'sardine run' – the much-loved scuba diving mecca of Moalboal has everything you could ask for from a dive trip to the Philippines.

Keep reading to hear our favourite underwater attractions in this iconic destination.
Heart of the Visayas
Moalboal is located on the southwest coast of Cebu Island, in the heart of the Visayas region – one of the Philippines' most popular travel destinations. The town's story is typical for this region; a once sleepy fishing village turned scuba diving hotspot. But, while the popularity of Moalboal's underwater world has risen over the decades, development has remained low-key, allowing the town's original peaceful charm to shine on. Today, the peninsula on which Moalboal is located is home to a collection of dive centres, dive resorts, restaurants and bars, along with plenty of secluded space as you travel away from the popular Panagsama Beach. And, while the rocky shoreline might not be your typical blissful beach scene, it's what lies just beyond the coast that really counts.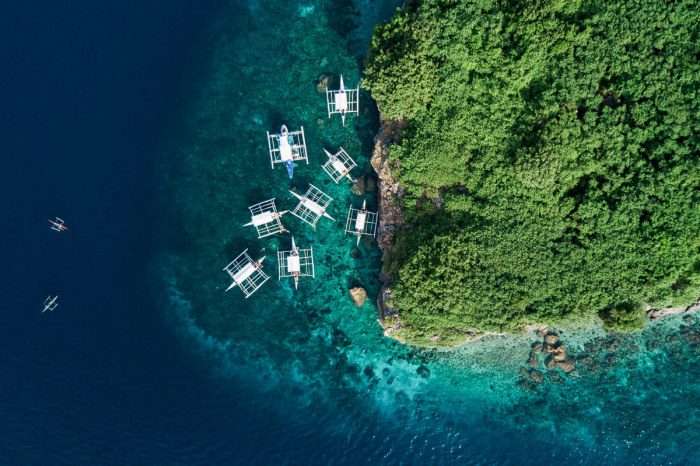 Schooling sardines, steep walls and swim-throughs
After being 'discovered' by the dive industry in the 1970s, Moalboal's popularity has continued to grow, and for good reason. Learn more about Moalboal's best diving experiences below.
Moalboal's mega-wall
The town of Moalboal looks out over the 160-kilometre-long Tanon Strait which separates the islands of Cebu and Negros. This deep channel attracts plenty of sizeable marine life, including manta rays and 14 species of whales and dolphins. It's even a known whale shark migration route, although sightings are far from frequent. Some of the Philippines rarest marine species have also been spotted here, including dugongs and the chambered nautilus. Because of this impressive biodiversity, the strait was declared a protected seascape in 1998 and remains the Philippines' largest marine protected area.
Reaching depths of up to 500-metres and swept by currents, the Tanon Strait is framed by plunging coral-clad walls located just a few fin kicks from shore. In fact, with the exception of Pescador Island, virtually all of Moalboal's dive sites are part of a single gigantic wall! Each dive is simply done on a different section, with its own entry and exit points, unique characteristics, and local marine life.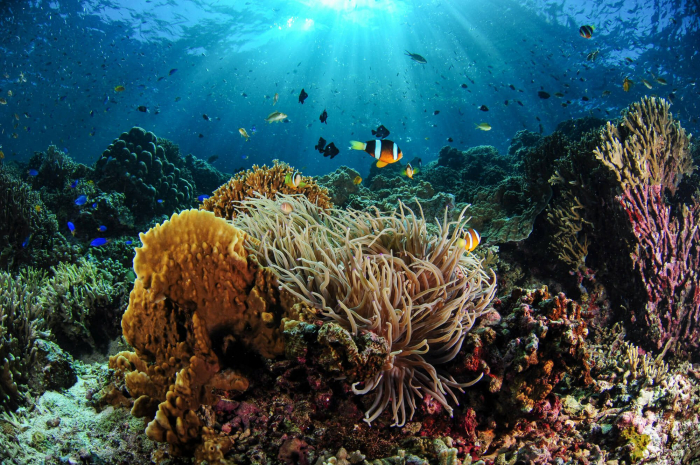 Swimming with the sardines
Most divers have heard of South Africa's spectacular sardine run – when vast schools of sardines can stretch out for kilometres along the coast – but many might not be aware that a similar, albeit smaller experience can be enjoyed in the warm tropical waters of the Philippines. And, while South Africa's sardine run is seasonal, in Moalboal, the school of fish are present practically every day of the year.
Moalboal's sardines seem surprisingly content in their surroundings. Originally discovered around Pescador Island, just a short boat ride from Moalboal, the sardines have since moved to Panagsama Beach on the mainland and show no signs of moving on. In fact, they typically stick close to the drop-off – just a stone's throw from the shore – and rarely shift more than a few hundred metres up and down the coast. The bait ball's consistent behaviour and accessibility from the shore make this phenomenon even more special, allowing divers and snorkellers to simply swim out and enjoy the show.
Seasoned and novice divers alike will enjoy the unique experience of hundreds of thousands of sardines twisting and turning in perfect unison, as the huge bait ball morphs from one shape to the next as it moves. Larger species such as mackerel and tuna can also be spotted, lurking at the edge of the school ready to snatch an easy meal. Occasionally the vast school will even open up to swallow divers whole, plunging them into a silvery darkness – a truly one-of-a-kind experience.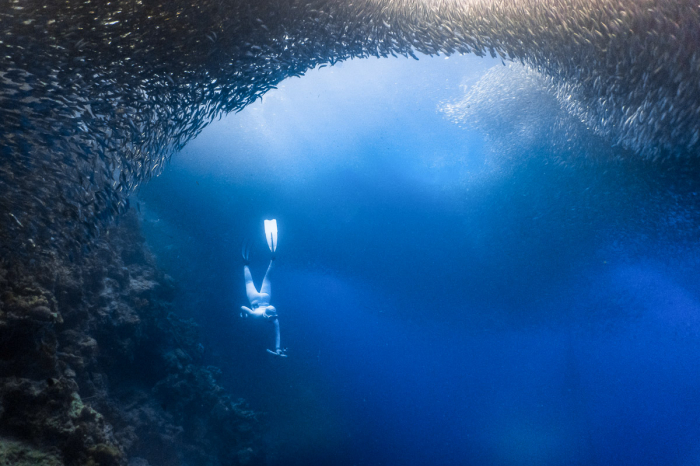 Pescador Island
Three kilometres west of Panagsama Beach, Pescador Island frequently ranks as one of the Philippines' best dive sites. It was the appearance of the large sardine school that originally put Pescador on the dive map, but despite the shoal moving closer to shore, many still consider Pescador to be the jewel of the area. Resembling an underwater lighthouse, the island rises from a depth of around 70-metres and is surrounded by sheer walls swept by the currents of the Tanon Strait. Large gorgonian fans cling to the vertical drop-off, while schools of fusiliers and snapper flash back and forth. A little deeper, large trevally and barracuda can also be seen, as well as elusive white-tip reef sharks. And, while the main sardine shoal has moved on, it is still possible to encounter smaller baitballs around the island.
Interestingly, once the sardines moved closer to shore, some of Pescador's secrets were revealed, including a series of stunning swim-throughs and tunnels within the reef. One particular highlight is a cave located on the northwest side of the island, commonly referred to as Pescador Cathedral. The cave can be found at around 28-metres deep and features a large chamber with a vertical chimney rising for more than 10-metres. As you explore the chamber and ascend through the chimney, the name of this dive site will make perfect sense, as sunlight streams down from openings above.
Understandably, diving around Pescador Island is primarily about the scenery, with the plunging walls and picturesque swim-throughs creating magical vistas and lending themselves to wide-angle photography. But, with a little patience, there's plenty of macro life to be found here too, including everything from nudibranchs to skeleton shrimp and large resident frogfish.
---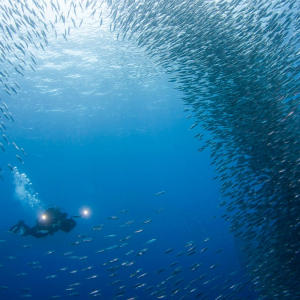 Recommended destination
Cebu and Visayas, Philippines
Moalboal
Looking for Asia's very own version of the famous 'Sardine Run'? Then look no further than Moalboal, tucked away in the heart of the Visayas and home to some of the Philippines'...
---
Moalboal's top resorts and liveaboards
Dolphin House
Set within four hectares of tropical garden, this boutique eco retreat is remarkably well-equipped for both relaxation and underwater exploration. When it comes to diving, Dolphin House caters to even the most advanced underwater enthusiasts, with extensive equipment facilities, its own marine biology college, and a spectrum of scuba courses taught in groups of just two guests per instructor. You'll even have access to the 130-metre house reef whenever you want!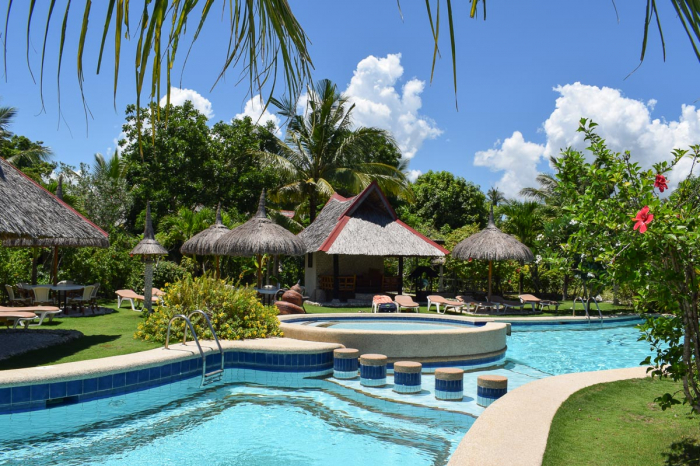 Magic Island Resort
Located on the southern tip of the peninsula, this resort is secluded but still offers easy access to the famous Panagsama Beach. With just ten guest cabins and long, communal dining tables, you can expect a warm, social atmosphere at Magic Island, where everybody feels like part of the family. Experienced divers are granted unlimited access to this resort's house reef, which features its own 50-metre drop-off and vibrant coral garden.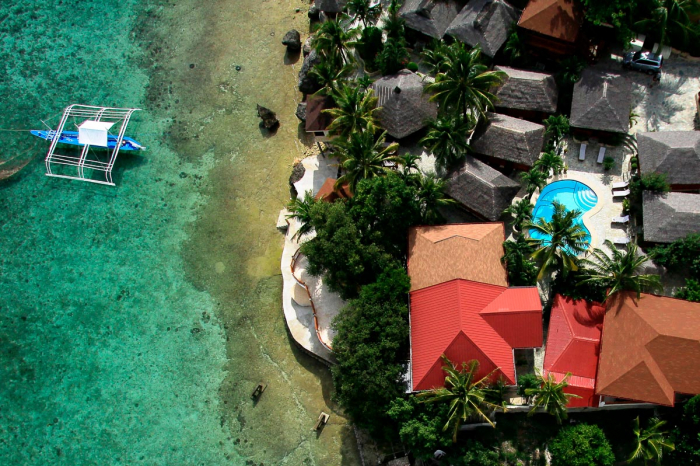 Infiniti
Infiniti is a thoughtfully-renovated motor yacht offering unparalleled comfort. This vessel is also the only liveaboard in the Philippines classed and certified by RINA for unrestricted navigation in the open ocean, providing peace of mind for safety-conscious divers. Whilst aboard Infiniti, guests are invited to dive up to four times a day, including night and dusk dives, while a new camera room, media centre and workstations help photographers capture every moment.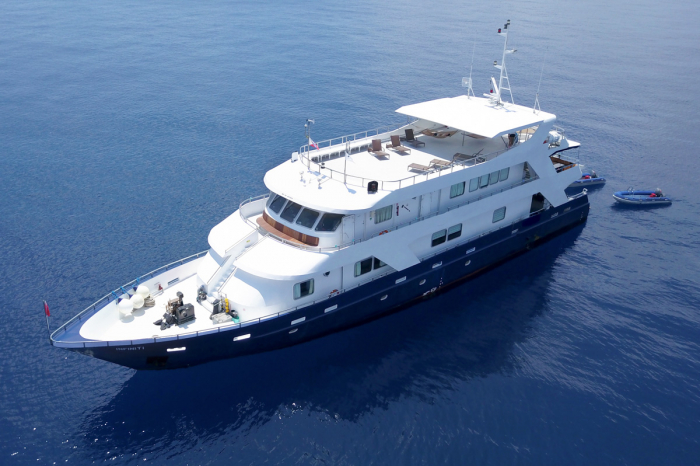 Philippine Siren
Philippine Siren is a gorgeous schooner-style vessel that combines classic charm with modern luxury, plus an interior aesthetic that is simply breathtaking. At 40-metres long, this vessel accommodates just 16 guests guaranteeing ample space during every voyage. The Philippine Siren also boasts a handful of industry-leading dive amenities, such as rebreather support and professional-grade underwater photography facilities – including a fully-equipped camera and video station.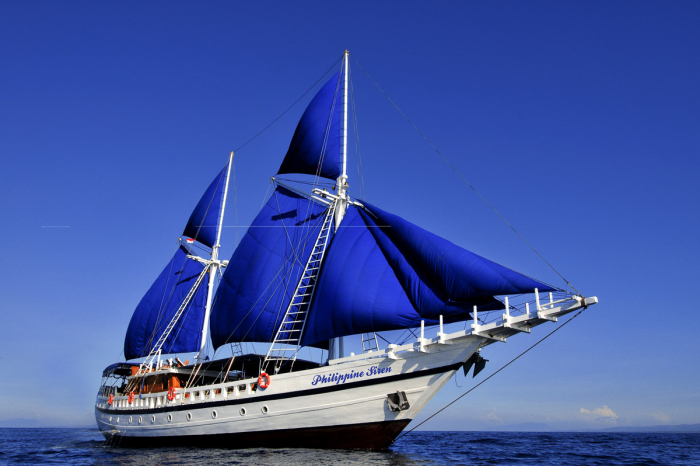 ---
Need help planning your dive holiday in the Philippines?
Chat with one of our travel experts today

---