Scuba diving in
Atlantic Islands
Portugal
Discover spectacular landscapes - above and below the waves - and dive remote banks in search of pelagics including rays and sharks.
Diving highlights
Explore the remote Condor and Princess Alice Banks
Dive the offshore islands of Formigas and Dollabarat
The Azores are a charming Portuguese archipelago located 1500-kilometres from the European coast. Comprising nine volcanic islands, the Azores are both stark and striking in appearance, boasting verdant volcanic ridges cradling emerald-green lakes, and sapphire-blue bays below. Each island has its own unique charm, and underwater highlights including shore dives, wrecks and bluewater dives at offshore banks.
Visitors can expect a unique culture, delicious food, and slow paced living, plus dramatic adventures in nature with shark diving, whale watching and volcano hiking - this spectacular destination has it all.
---
Destinations in Atlantic Islands
Ready for your dive adventure in Atlantic Islands?
Top Atlantic Islands experiences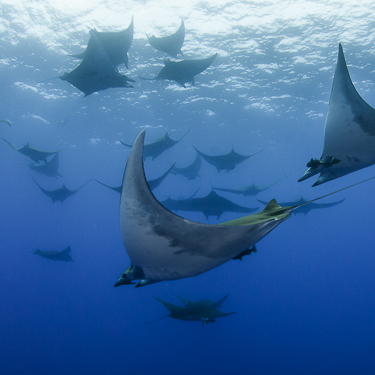 ---
Dive seasons in the Atlantic Islands
The main diving and whale watching seasons run from July to October, offering the best chances to spot mobulas, mantas, blue sharks, and whale sharks, plus whales and dolphins. This is also when the archipelago experiences its best and most consistent weather, with temperatures reaching the low 20s - both on land and in the water - and suitable conditions at the more remote offshore sites. Larger baleen whales such as blue, fin and sei whales often pass through a little earlier in the year, around April and May, while humpbacks are generally more common in October.
Atlantic Islands top resorts
Atlantic Islands top liveaboards