The Azores Islands have been named Europe's Leading Adventure Tourism Destination at the World Travel Awards for the last three years - and the title is well earned! This stunning region, long overlooked by international travellers, is home to incredible attractions both above and below the waves. 
Sometimes referred to as the Hawaii of the Atlantic, this chain of volcanic islands boasts towering peaks, forests, lava flows, and thriving seas. And, thanks to its remote open-ocean position, powerful currents and deep waters, the Azores is a hotspot for marine megafauna, with species like mobula rays and whale sharks making frequent appearances. 
Keep reading for a full primer on this lesser-known scuba destination, plus ZuBlu's top tips on where to dive while you're there!
About the Azores
So, where in the world are the Azores? This destination is on the frontier of European adventure travel, well off the radar for mainstream dive tourism. Officially called the Autonomous Region of the Azores, this chain of volcanic islands is found in Macaronesia - a remote region of the North Atlantic Ocean.
The Azores lie above an active triple junction between three of the planet's major tectonic plates - the North American, Eurasian and African Plates. The collision of these landmasses first thrust the islands upward toward the ocean's surface, creating the region's plummeting walls and offshore banks. It is also responsible for fuelling significant volcanic activity that continued to shape the archipelago for many years to come. Towering peaks, craters, calderas, and lava tubes and flows are among the islands' signature sights.
As a diving destination, the Azores is uniquely positioned for adventure. The islands benefit greatly from their remote location surrounded by deep water, beckoning all sorts of pelagic wildlife from the open ocean. And, the region's reefs are also fuelled by a major influx of nutrient-rich water delivered by the passing Gulf Stream current.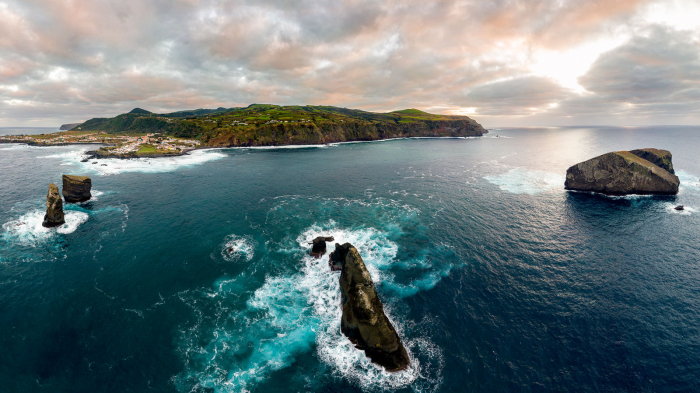 Seamounts, banks, and submerged sites
When the Azores formed around eight million years ago, not all of the peaks created by the colliding plates reached the surface. Other smaller formations remained underwater. Today, these seamounts, banks, and other submerged geological features are among the Azores most treasured dive sites. Because they rise up from deep water, they offer unparalleled access to the islands' famous marine life. And, as some of these areas have enjoyed decades of marine park protection, they are among the most thriving reefs in the archipelago. 
Princess Alice
This is one of the islands' farthest flung sites, nearly three hours by boat from the coast of Pico. But, divers who make the trek will be deeply rewarded! This is one of the best places in the Azores to spot schooling mobulas, hammerheads, and blue sharks. Keep in mind, this site begins at around 30 metres, so it's best left for advanced and experienced divers.
Condor Bank
This was the first marine park protected seamount in the Azores, and it shows! Lucky divers here could encounter friendly pods of dolphins, blue sharks, or even makos. And, of course, massive schools of pelagic fish like barracuda and tuna. As the bank is in the open ocean, off the southwest coast of Faial, dive are in blue water with no visible bottom, so perfect buoyancy control is absolutely mandatory.
Dom João de Castro
Located between Sao Miguel and Terceira, this site begins at just 15 metres, making it the most accessible seamount in the Azores for new divers. A series of submerged volcanoes, this site's geology is nothing short of spectacular with near-vertical walls, bubbling vents of natural gasses, and a massive crater surrounded by peaks. The strong currents found around this site also make it a hotspot for pelagics.
Formigas and Dollabarat
To the northeast of Santa Maria, these twin sites are joined by a massive underwater rift studded with pinnacles and swept by strong currents. This is one of the best pelagic sites in the Azores, with Galapagos sharks, giant mantas, and even hammerheads turning up. The visibility here is outstanding, topping out at 40 metres on some days - but beware of the site's strong currents. This is no place for newbies!

Thriving reefs
While the Azores isn't a region famous for its coral, the area is home to several thriving reefs. These sites boast soft gardens of sea whips, fans, and black coral trees, plus the occasional hard formation. And, they are absolutely swarming with colourful species - parrotfish, triggerfish, and wrasse can be spotted schooling by the thousand! Don't forget to peek in the reef's cracks and crevices here for a chance to spot eels, lobsters, and even cryptic creatures like nudibranchs.
Sabrina
This area was an islet off the western tip of Sao Miguel and is ringed by reef, with calm to moderate currents and plenty of shallow and sheltered areas suitable for exploration no matter how new a diver you are. Relax in the shallows as massive shoals of tropical fish pass by, scour the reef for small and secret animals, or enjoy a view from the surface - there is plenty for snorkelers to see here, too. 

Lourenços
More than just a flourishing coral garden, this site also boasts several towering and current swept pinnacles. Stay on the protected side to enjoy laid back reef diving among stunning hard and soft formations, or head out into the blue in search of pelagics like mobula rays and giant schools of tuna and barracuda.
Ready to start planning your trip to Azores?
Search, compare and book from our selection of resorts and liveaboards
Sombre and spectacular wrecks
Thanks to its remote position in the Atlantic and passing Gulf Stream current, this archipelago has long been a stopover for big ships. And, that naturally means a worthwhile wreck or two. 
Terceirense
One of the most stunning dive sites in the Azores, this shallow wreck makes for an exceptionally easy dive, just minutes from the shore on Graciosa. While the hull is beginning to break apart, there's still plenty to see here, with a stunning carpet of coral, schools of colourful fish, and even the occasional pelagic passing by. 
Dori
Despite having sunk in 1964, this World War II-era vessel remains in outstanding condition, just off the coast of Sao Miguel. Explore the superstructure, zigzag through the open cargo hold, and search the coral cover for cool macro critters. But, don't forget to keep an eye on the blue, too - mobulas and schooling pelagics make surprise appearances here, especially during safety stops.
Anchor Cemetery
This UNESCO World Heritage site isn't a shipwreck at all, but it still deserves an honourable mention. A collection of discarded antique anchors from 18th and 19th-century ships is found off Terceira, some of which have been nearly reclaimed by the coral. Believe it or not, most of the anchors sunk naturally, snapped free from their ships by the region's powerful trade winds. 

---
Are you ready to explore the Azores?
We've got all the details on this cutting edge European dive destination, and are happy to help you plan the adventure. Get in touch with us for all the latest travel tips and advisories!

---
---
Join the ZuBlu community to receive the latest insights and unmissable adventures
Don't worry, we'll only send you really good stuff - and we never share your details
---