Scuba diving in
Pacific Islands
Explore idyllic island chains scattered across the Pacific Ocean, home to pristine reefs, abundant marine life, and wartime shipwrecks - along with some of the best scuba diving in the world
Diving highlights
Pristine reefs, and channel dives with legendary pelagic marine life
Sobering wartime wrecks littered with artefacts and carpeted in coral
Incredible biodiversity supported by huge marine protected areas
Diverse underwater landscapes with plummeting walls, channels and fringing reefs
The Pacific Islands are a mecca for scuba divers, with an incredible variety of oceanic experiences on offer. Like oases in the desert, tiny specks of land soar from the abyssal depths, creating beautiful island chains that attract pelagic wildlife of every size. The region also has a rich and fascinating seafaring history, from the first settlers navigating by the stars, to whaling, pirates, and even a world war. Visitors can explore thousands of islands, boasting lush tropical rainforests, stunning white sand, and diverse cultures. And, each island group boasts its own colourful heritage, with unique cuisines, traditions, languages, and landscapes!
Below the waves, this massive region is home to hundreds of shipwrecks, breathtaking current-swept reefs and atolls, and some of the planet's healthiest populations of pelagic marine life. Thousands of fish and coral species are found here, as are supersized and showstopping animals including mighty whale sharks and manta rays, migratory cetaceans including whales and dolphins, and over a dozen different shark species.
---
Ready for your dive adventure in Pacific Islands?
Top Pacific Islands experiences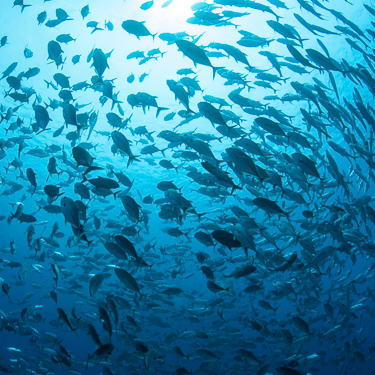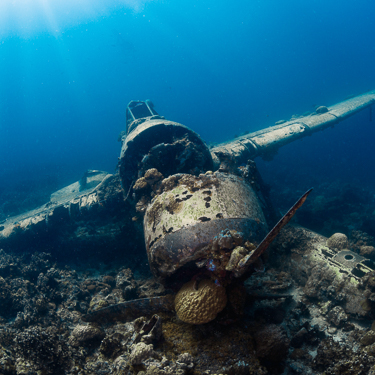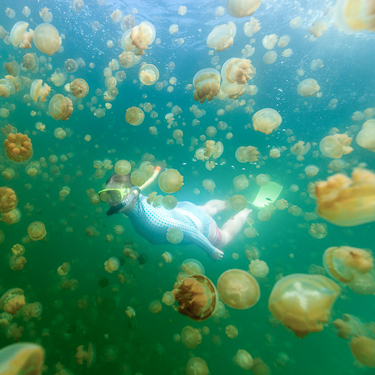 Year round
Swim with thousands of stingless jellyfish, Rock Islands
As well as spectacular scenery, the Rock Islands are home to a unique saltwater lake, home to vast schools of stingless jellyfish. Snorkelers can dive in amongst the jellyfish as they migrate back and forth across the surface, following the sun.
---
Pacific Islands scuba diving seasons
The Pacific Islands enjoy a fantastic year-round climate, with warm, clear water between 28 and 30°C, and most divers will be comfortable in a skin suit or shortie. The rainy season in Palau is between June and August and during this period storms and rain cn bring reduced visibility, sometimes dropping as low as 15m - down from a daily average of over 30m. The peak months for tourism fall between December and April, with some of the very best conditions during February and March.
Palau has four known coral spawning events in February, May, August, and September. As the corals release their eggs and sperm, the water becomes clouded with food for filter feeding marine life including whale sharks and manta rays. Other mating events include reef sharks in December, sea turtles between April and July, and manta rays from December through March. Palau has slightly cooler water than the rest of the region, and divers may want to wear slightly more exposure protection here, as temperatures occasionally dip down to 26°C.
---
Pacific Islands top resorts