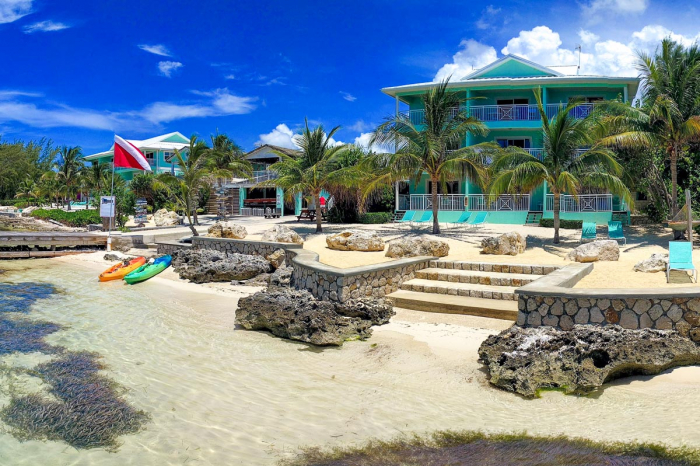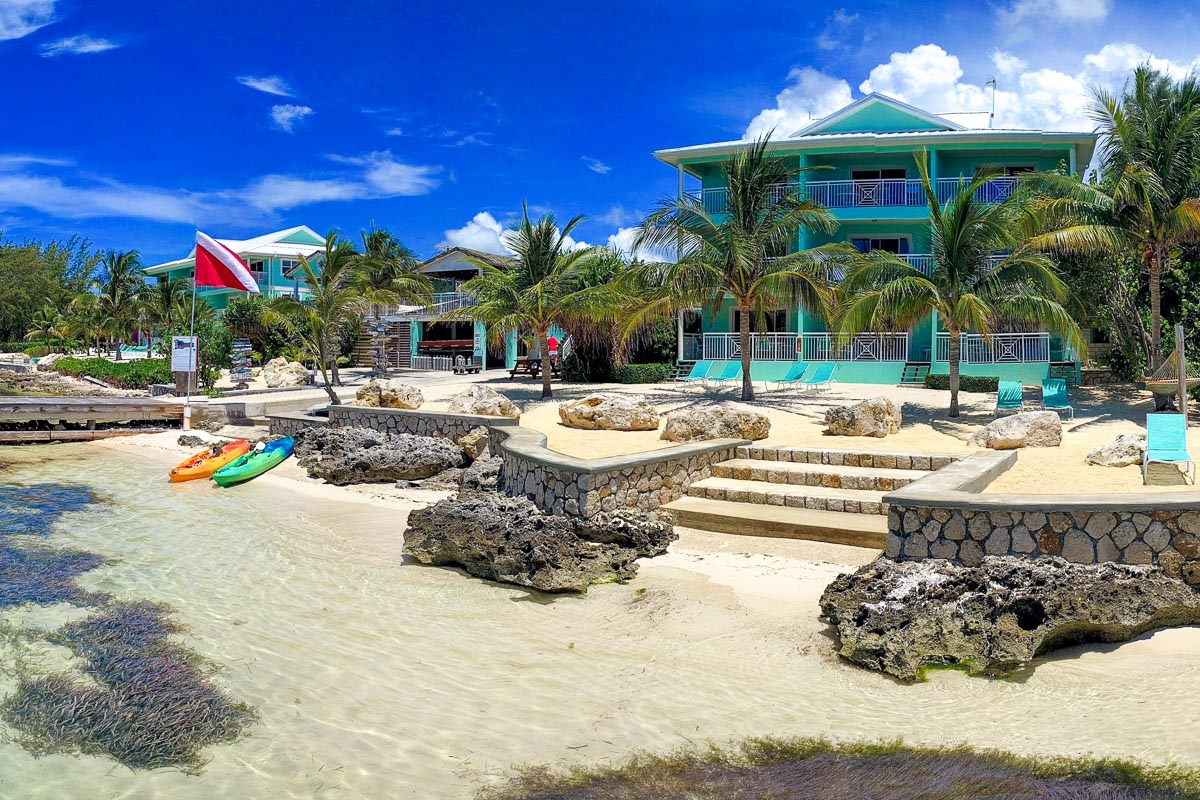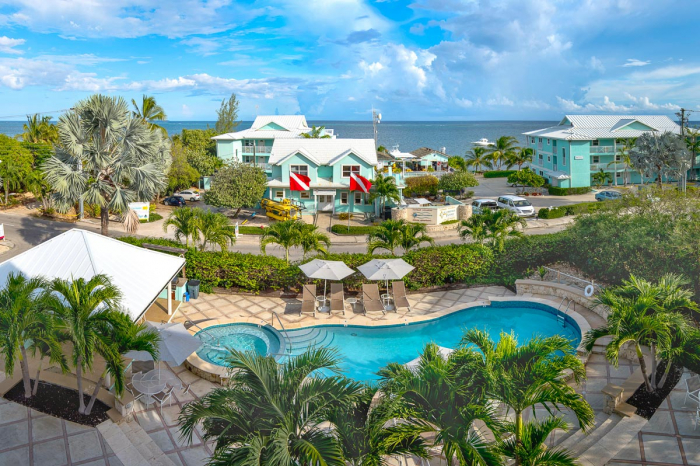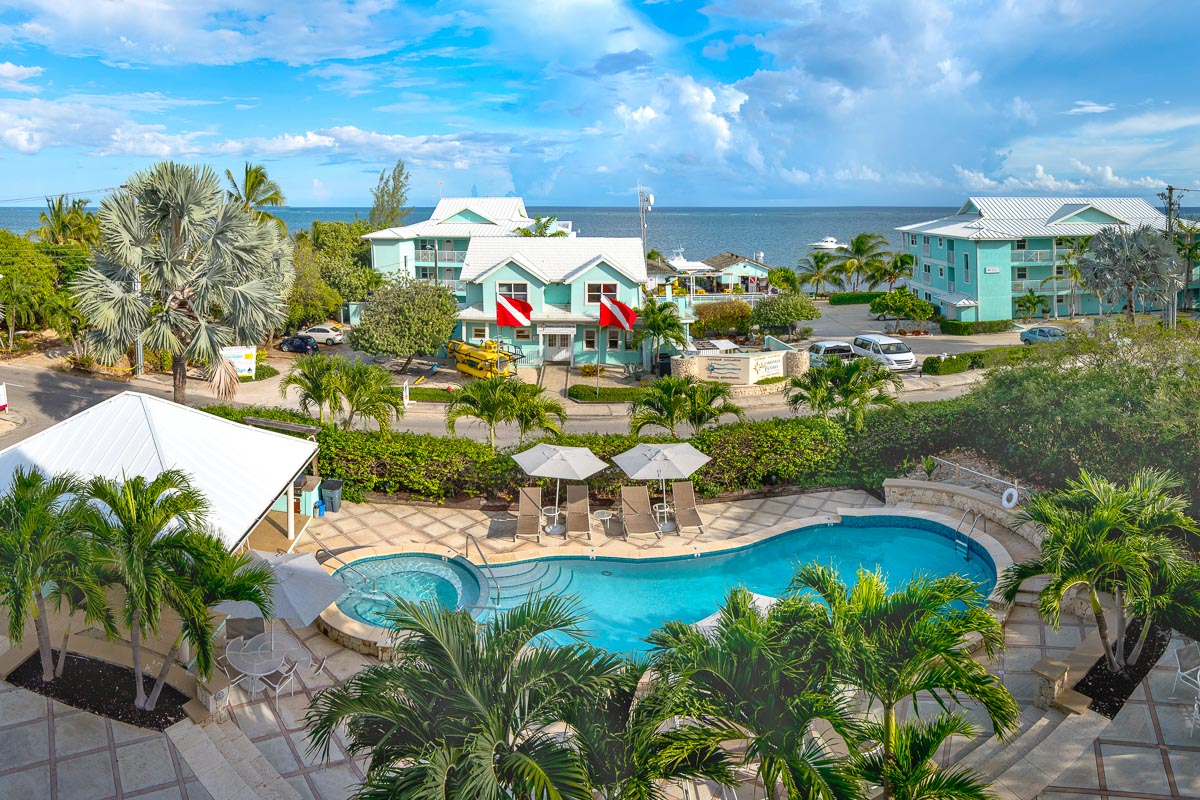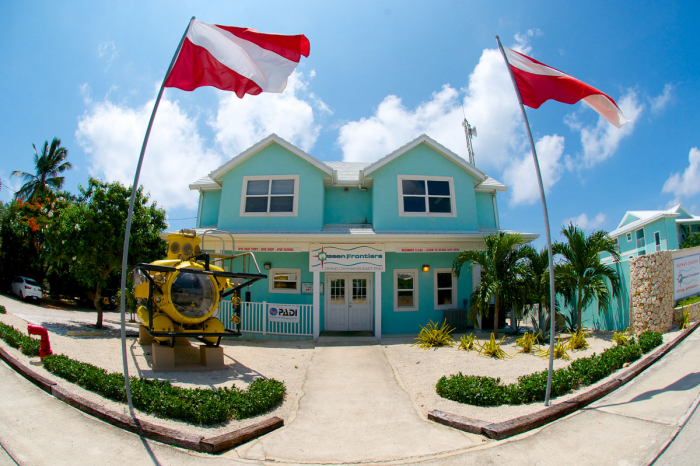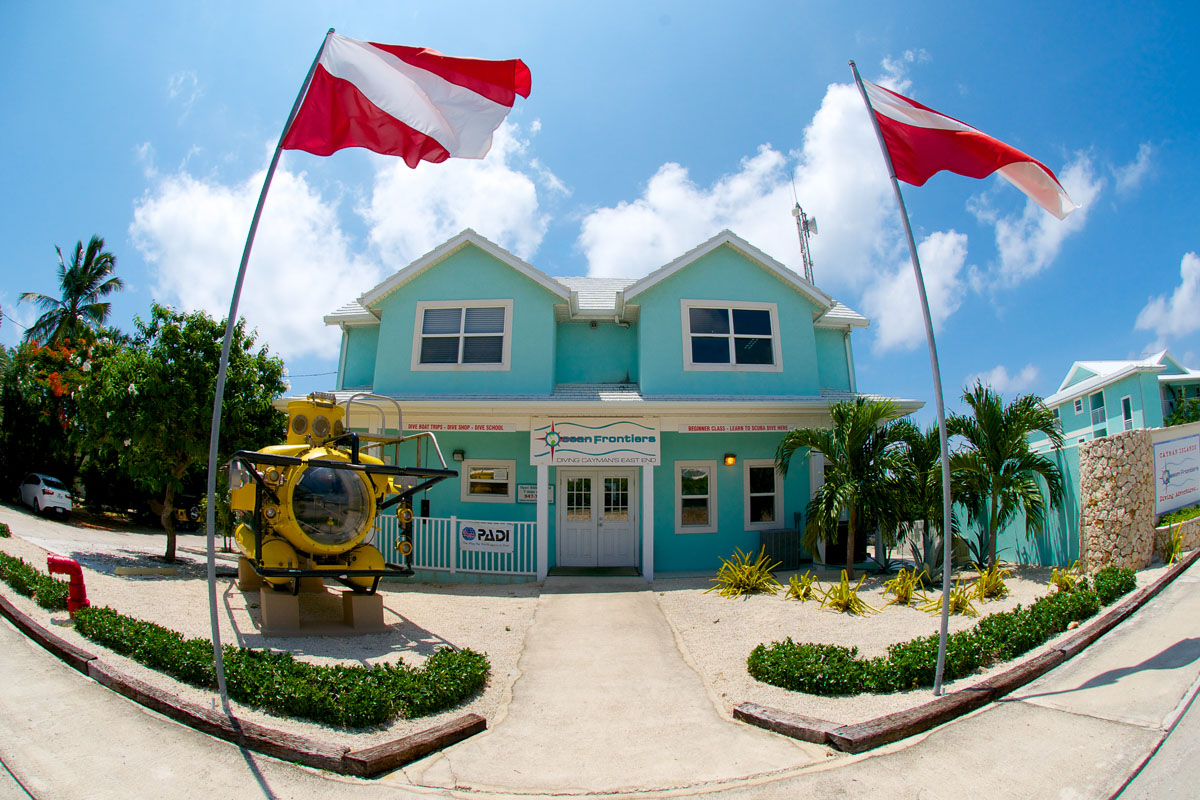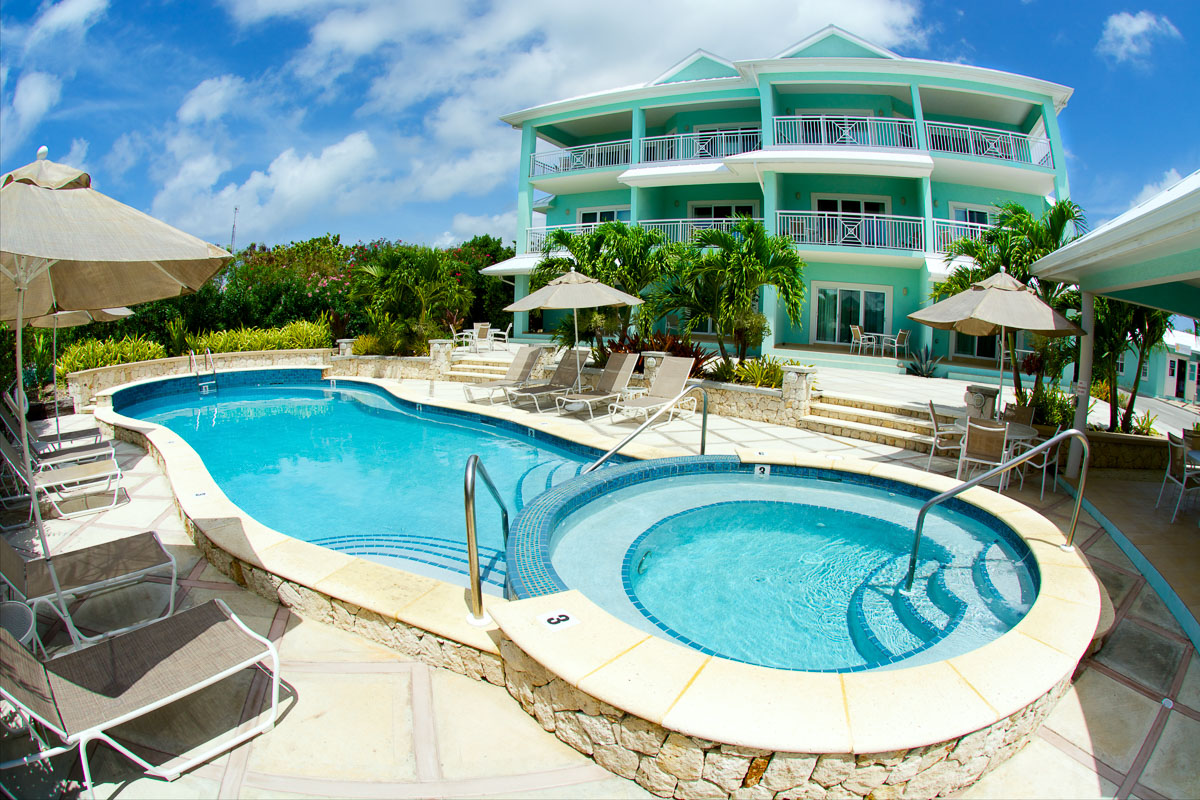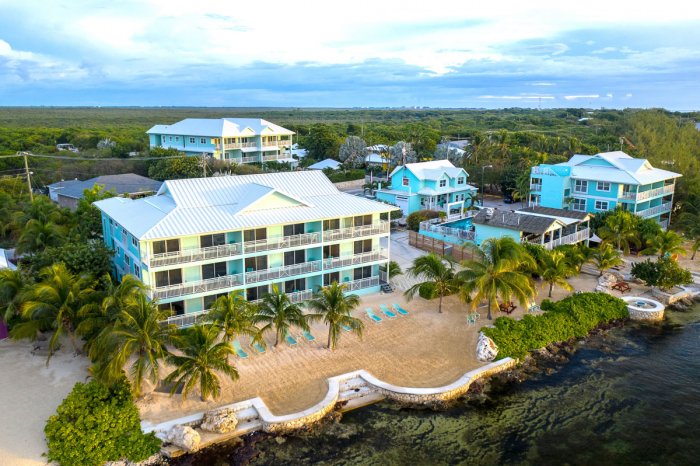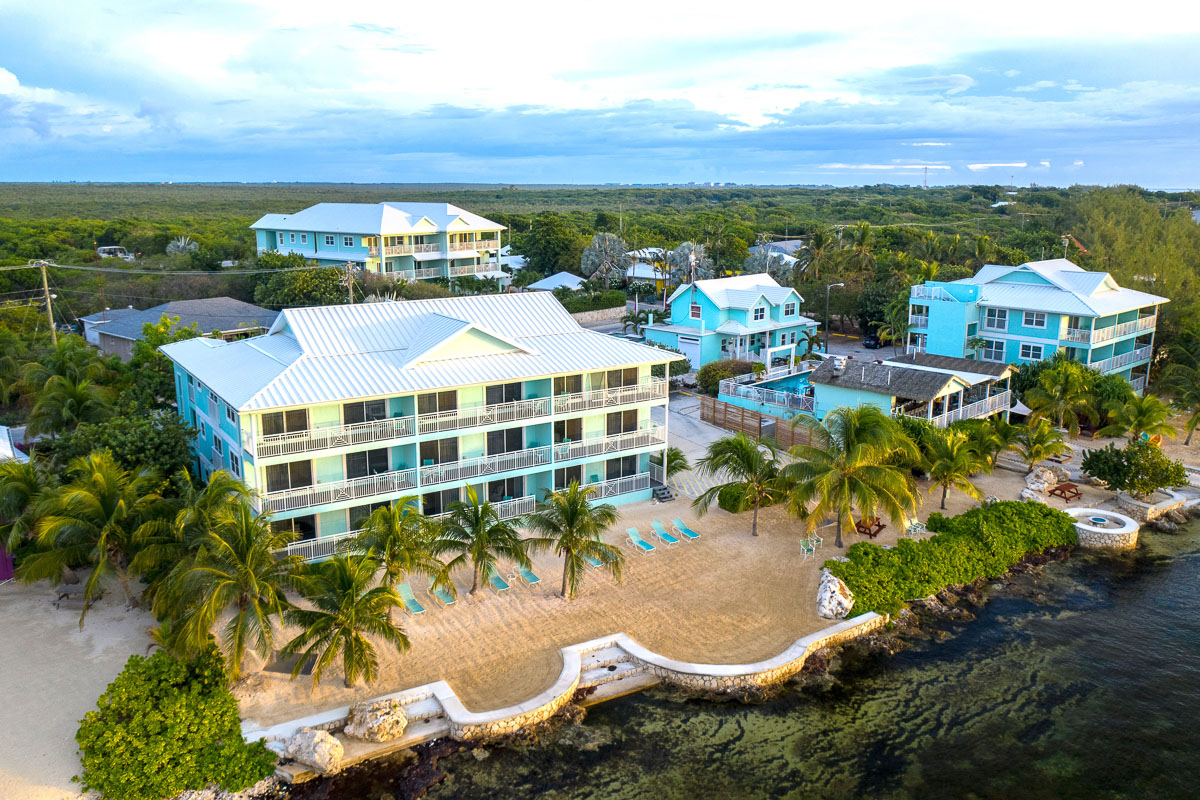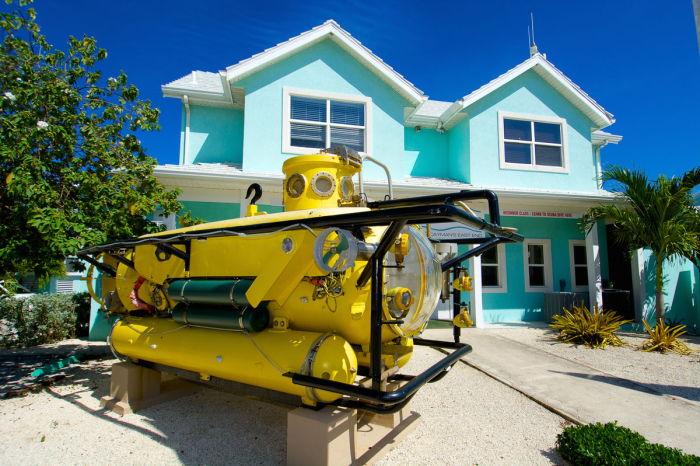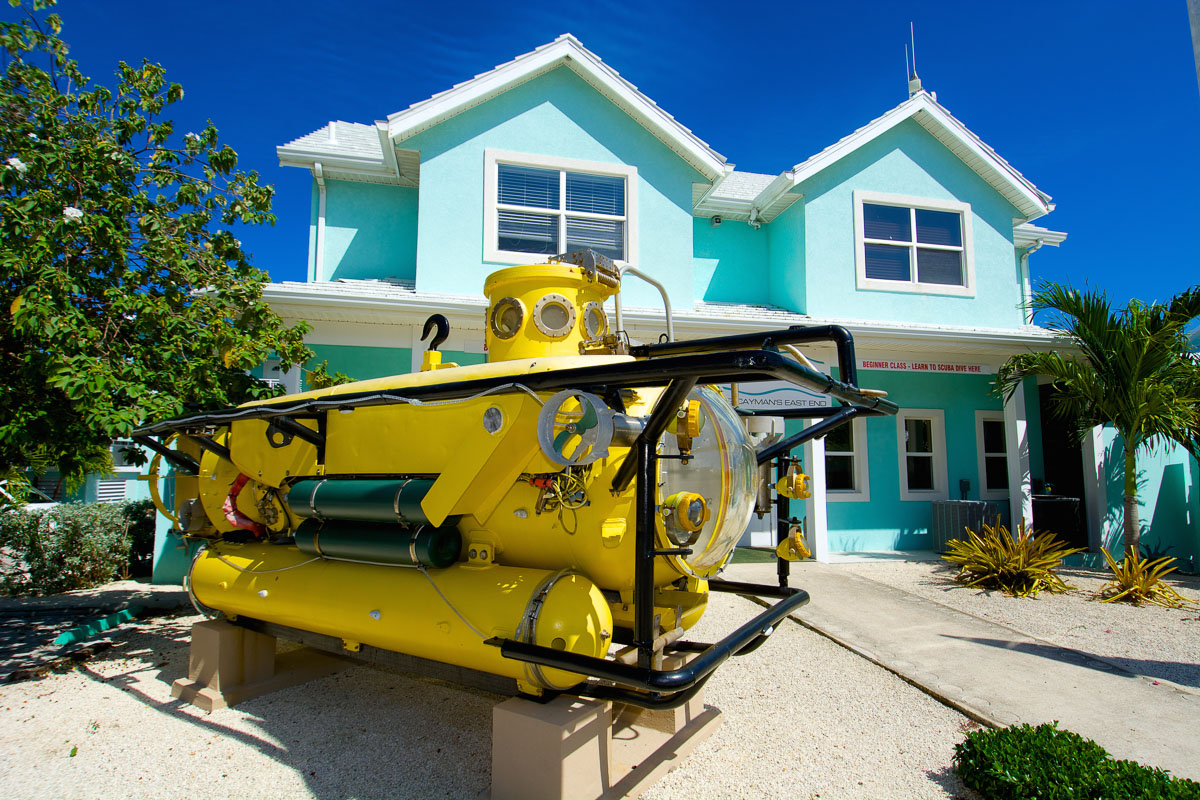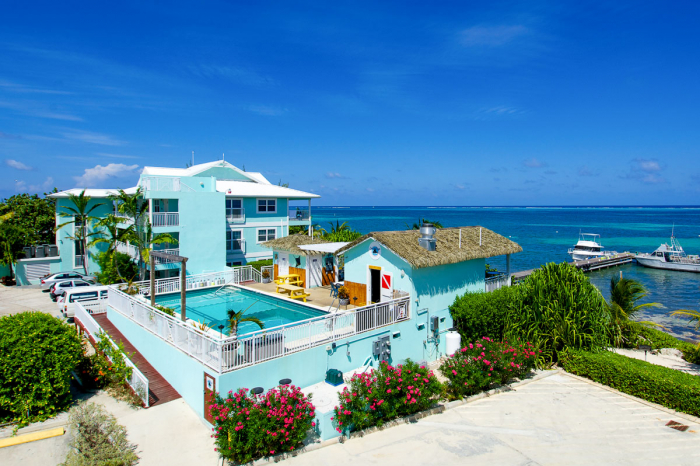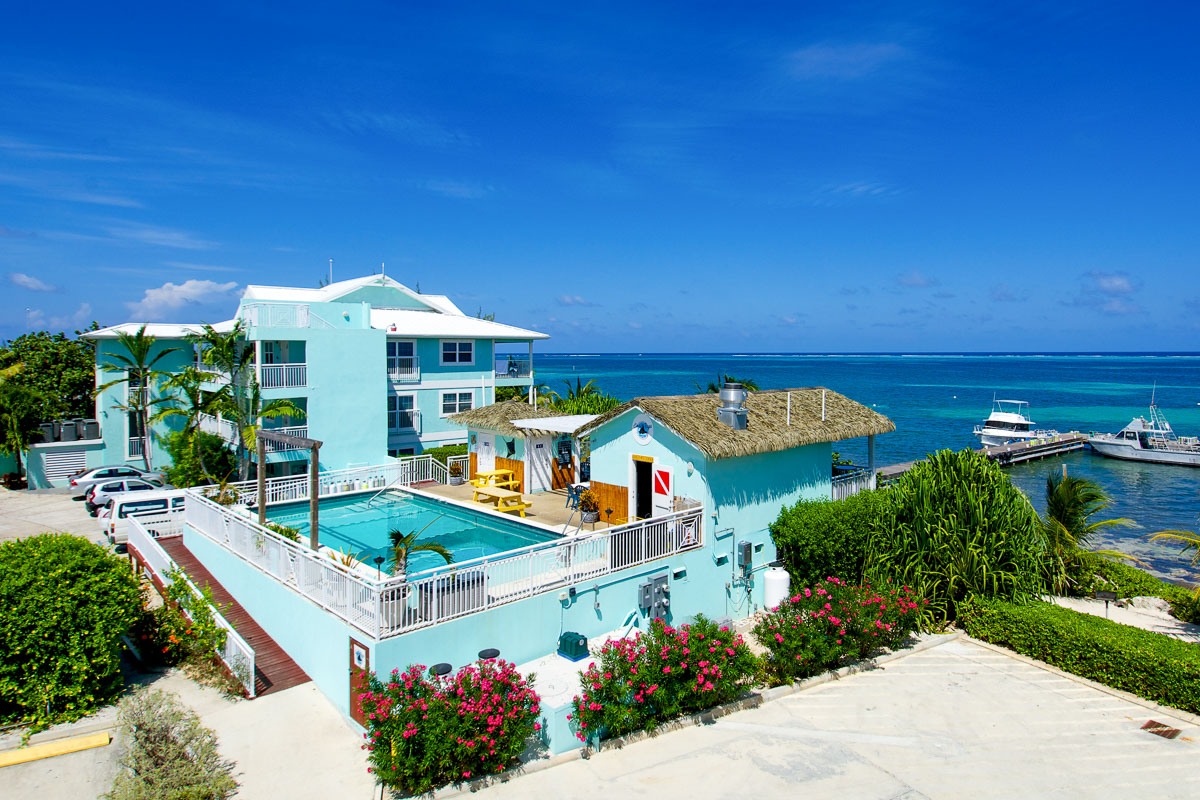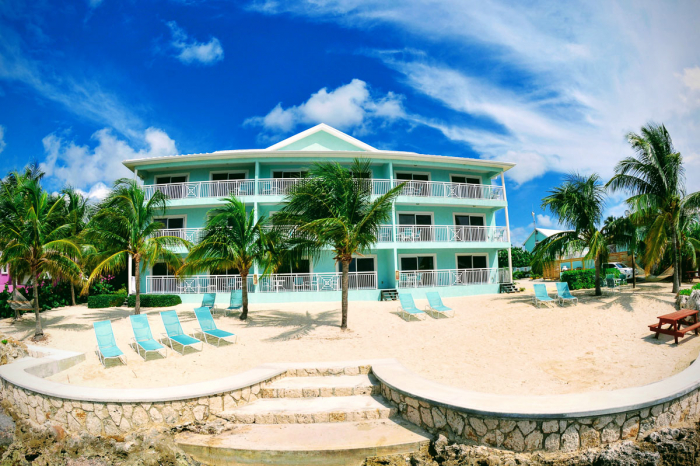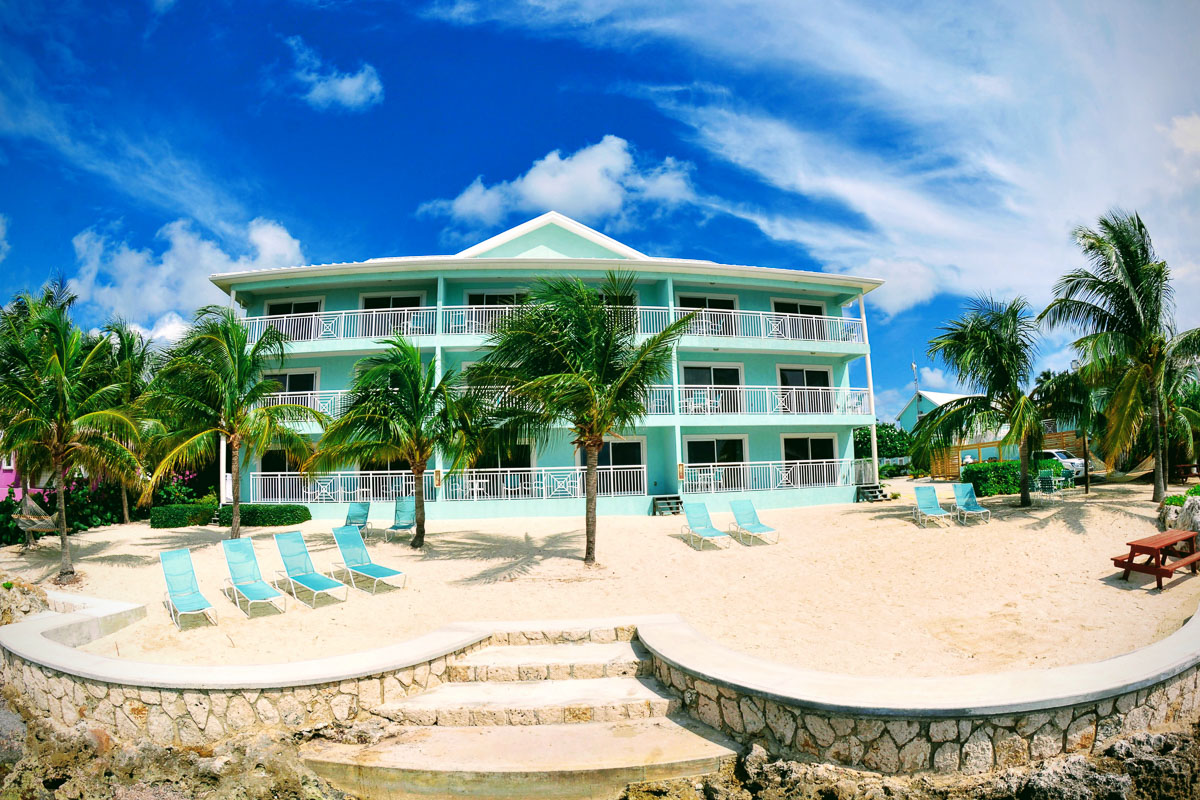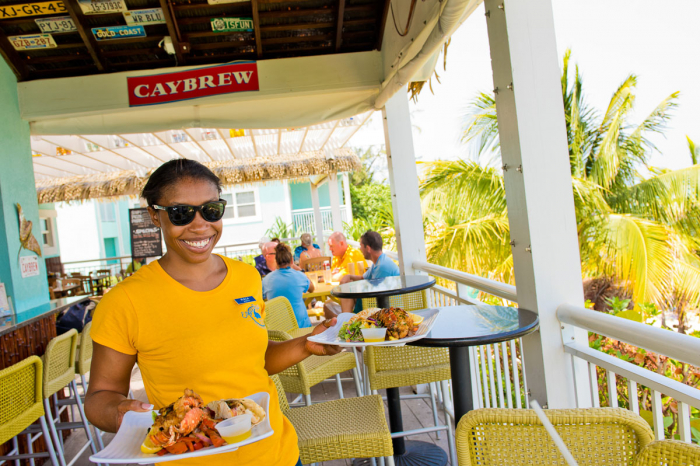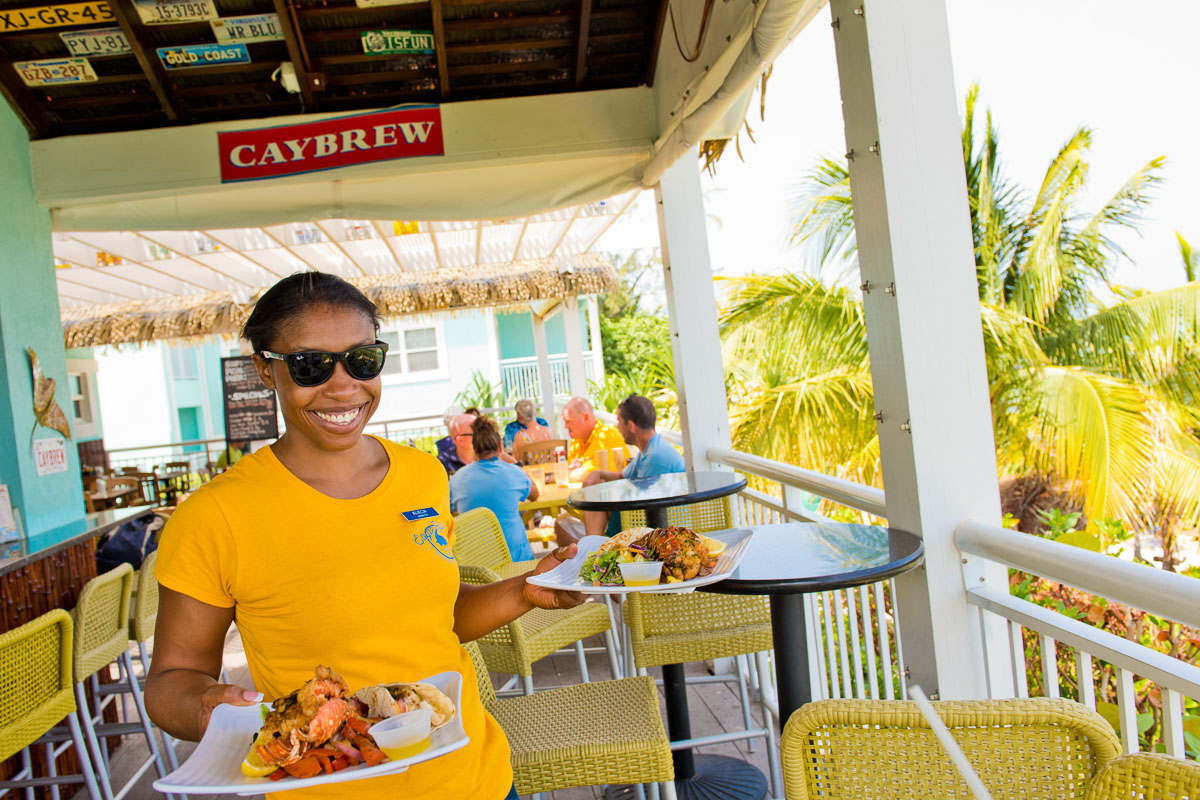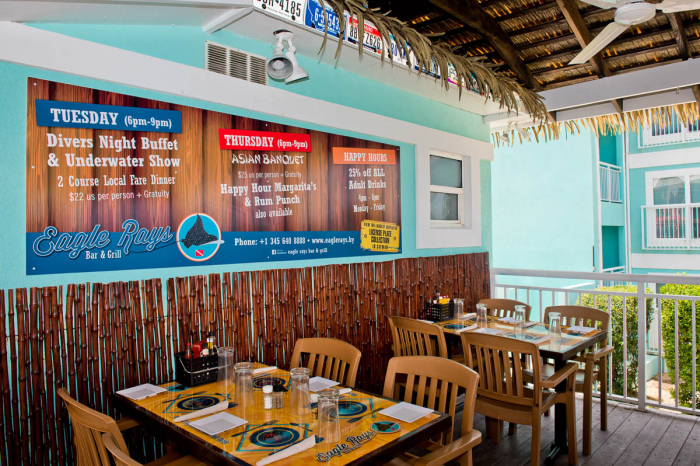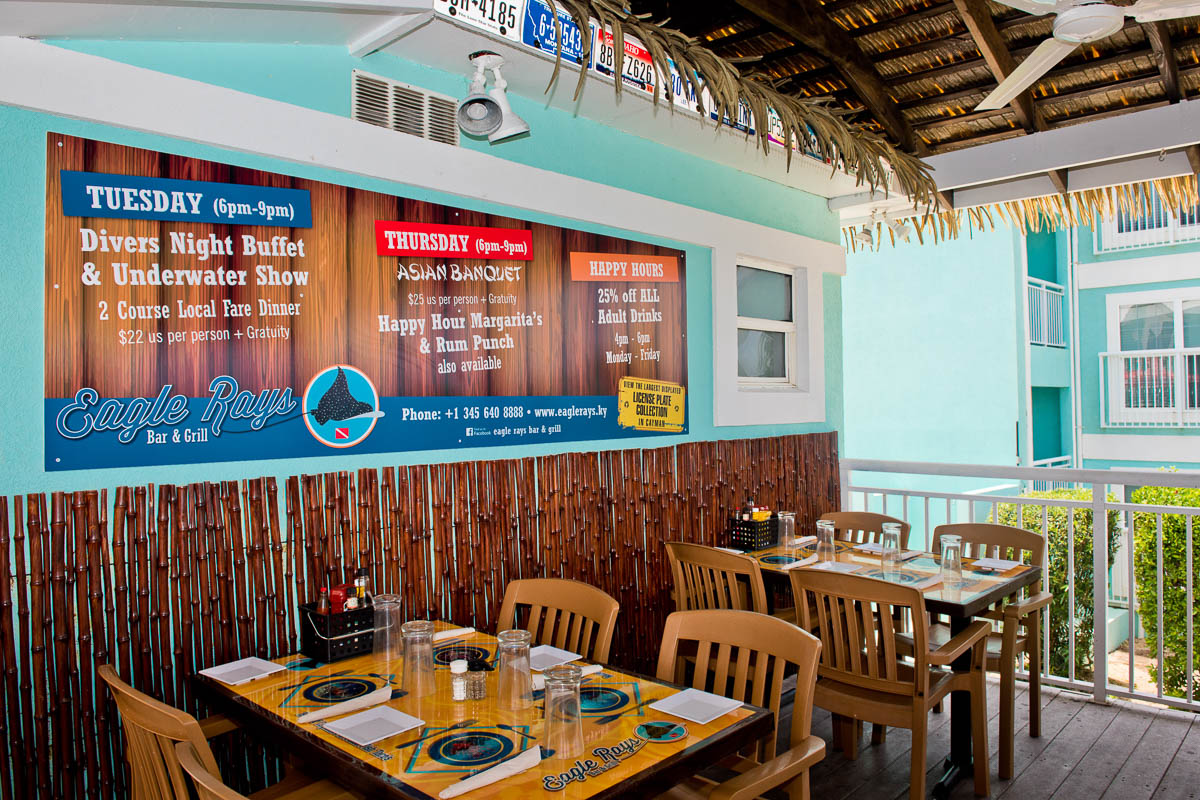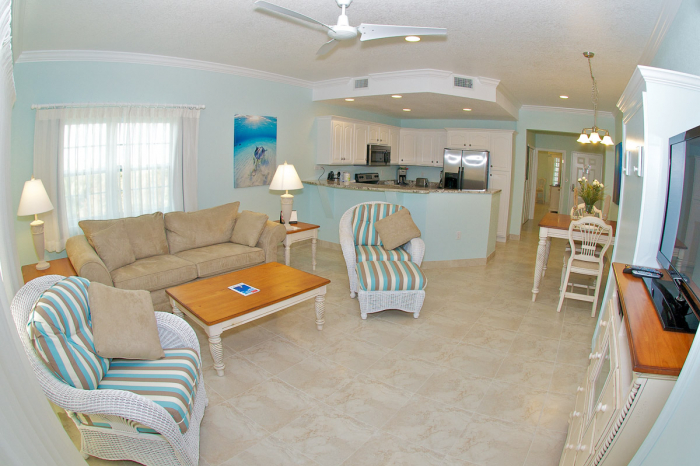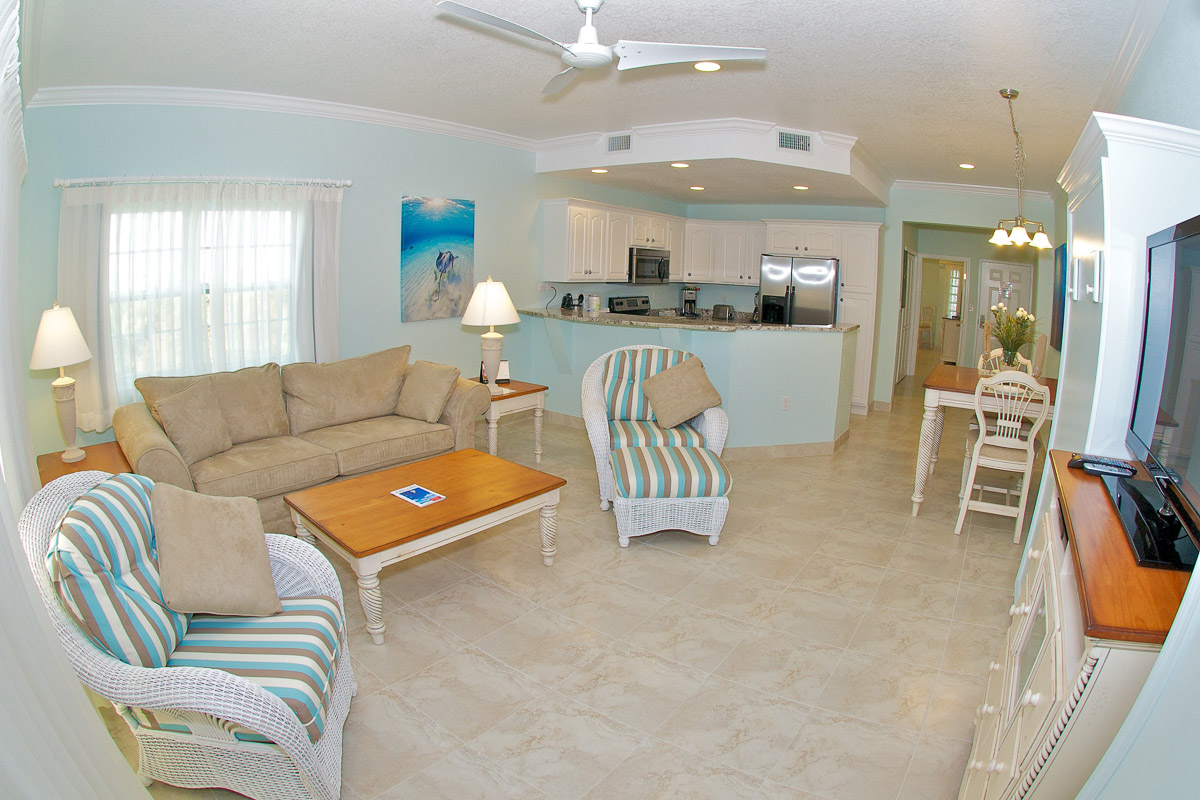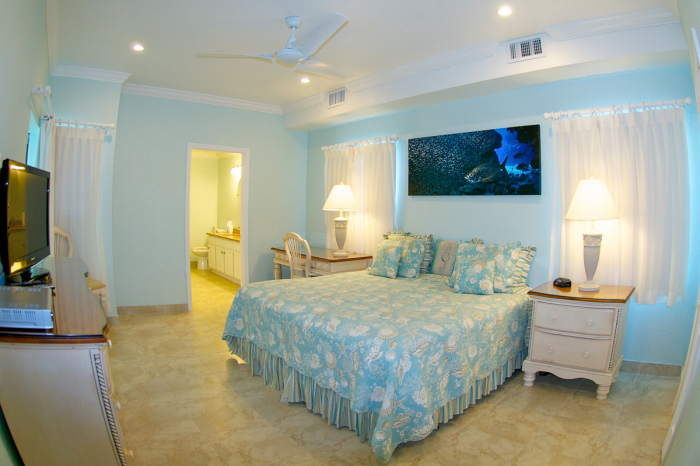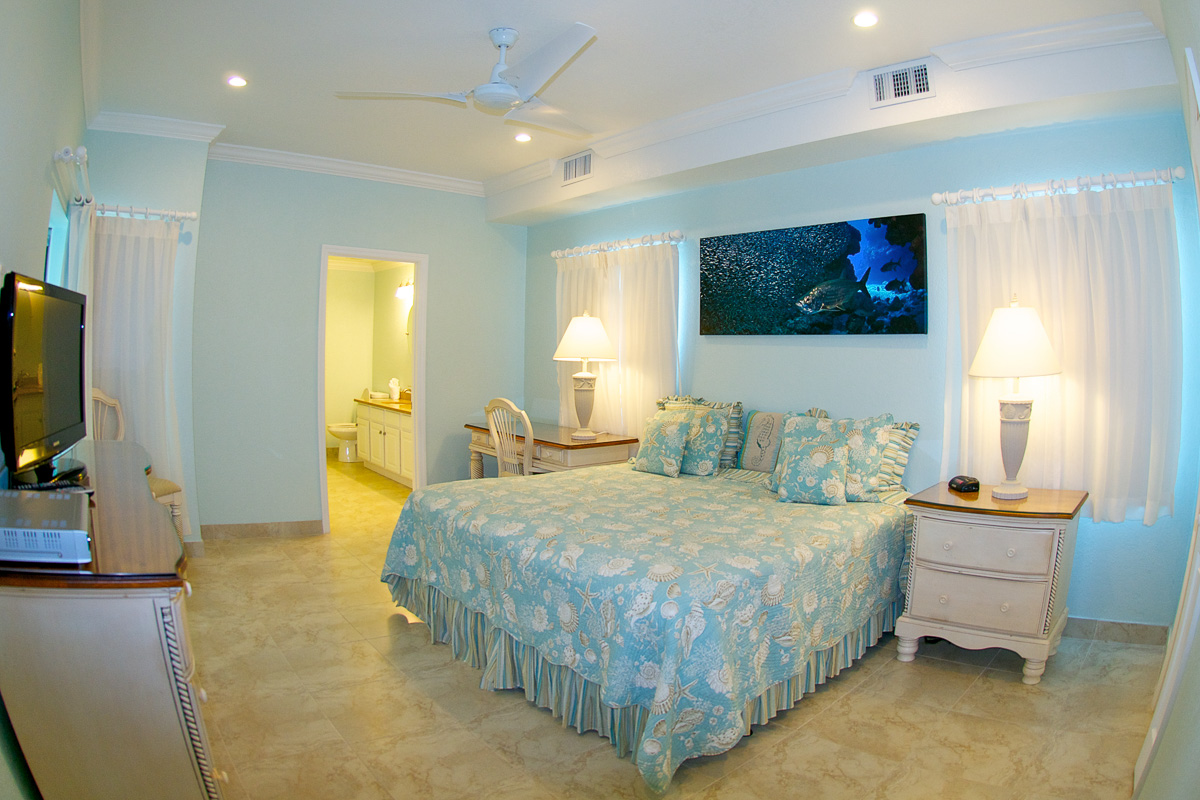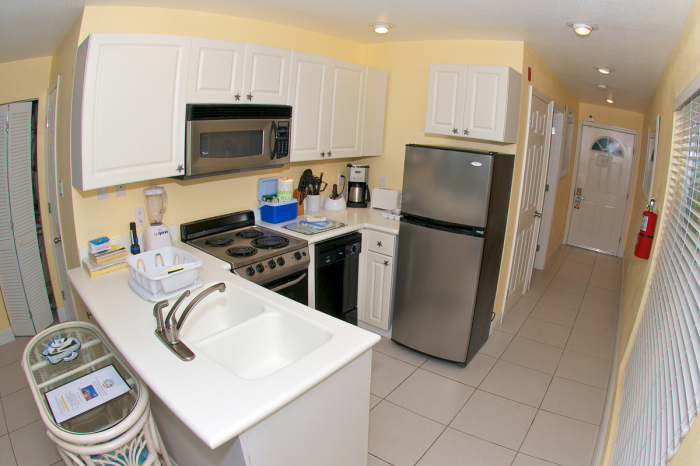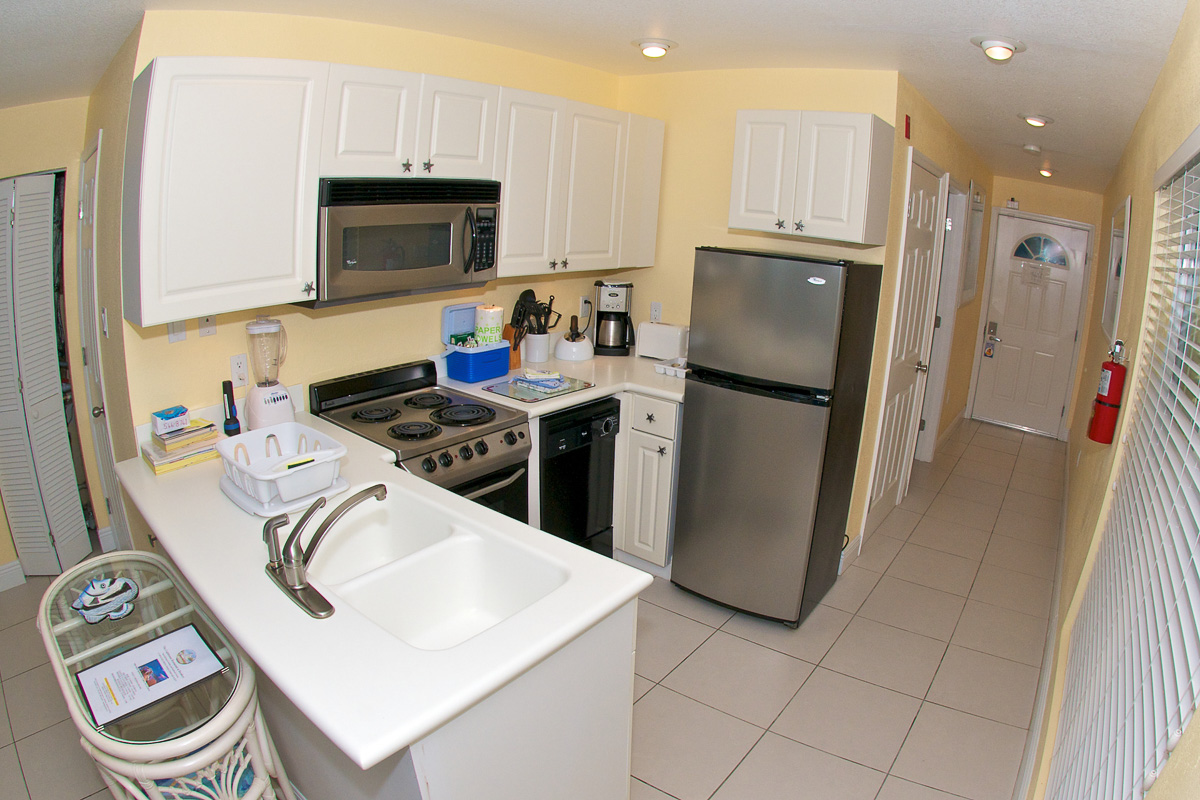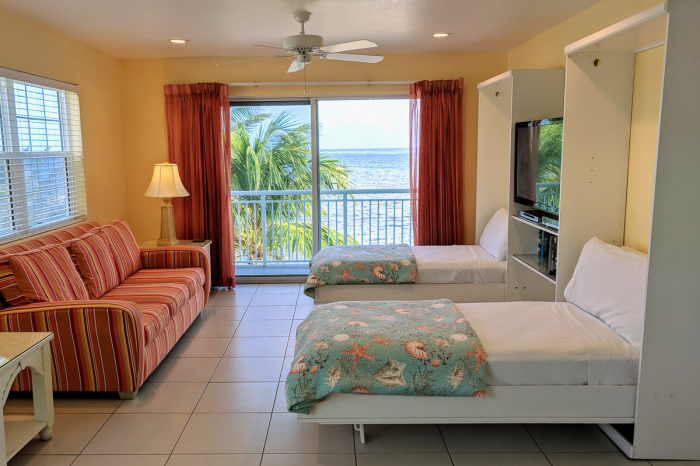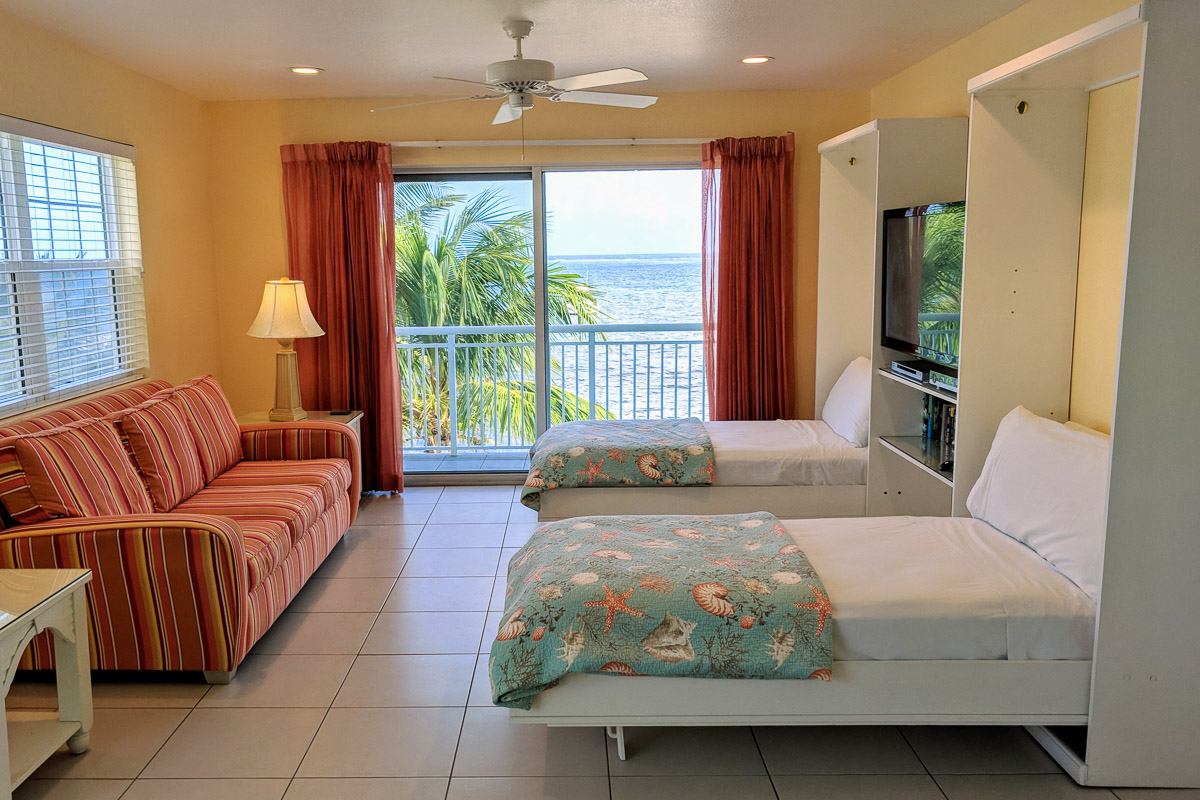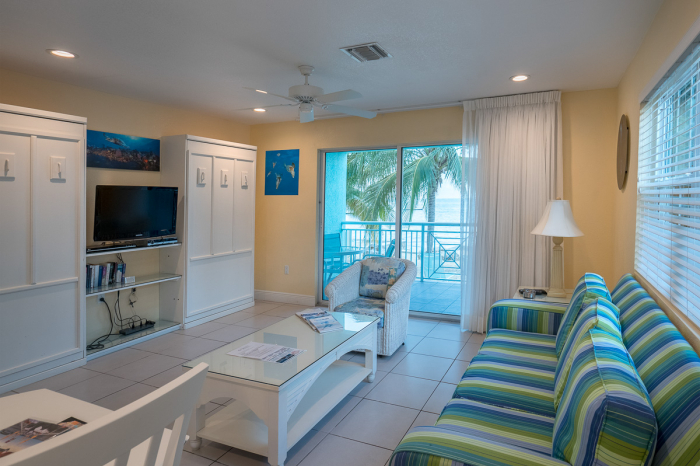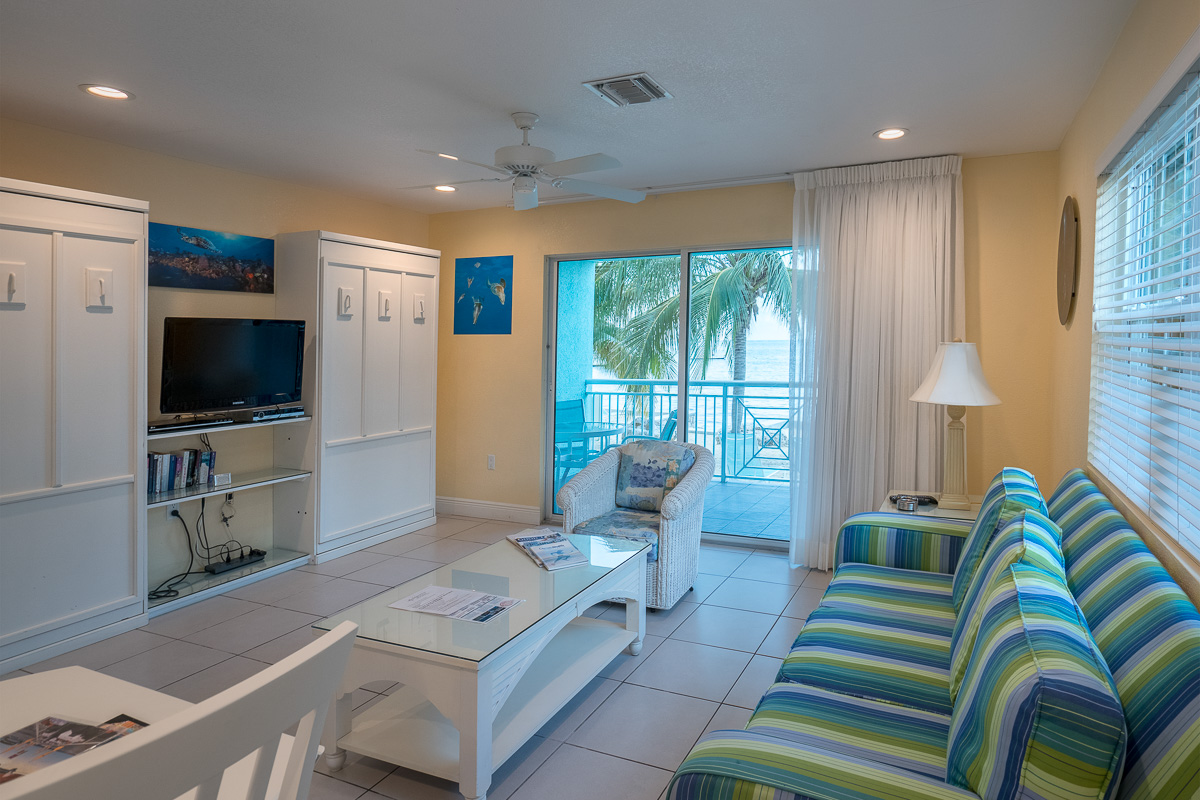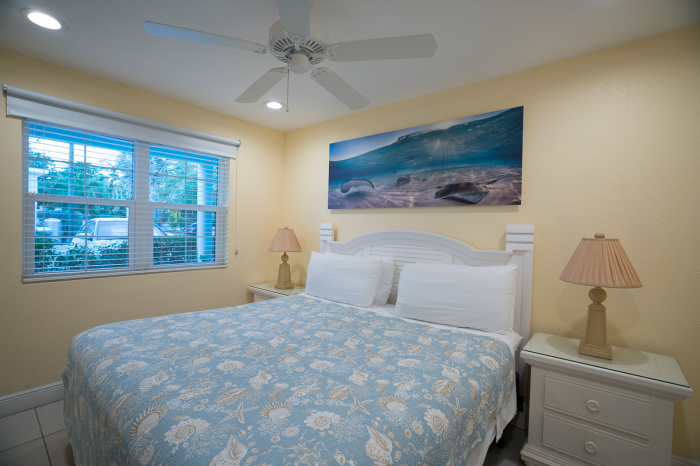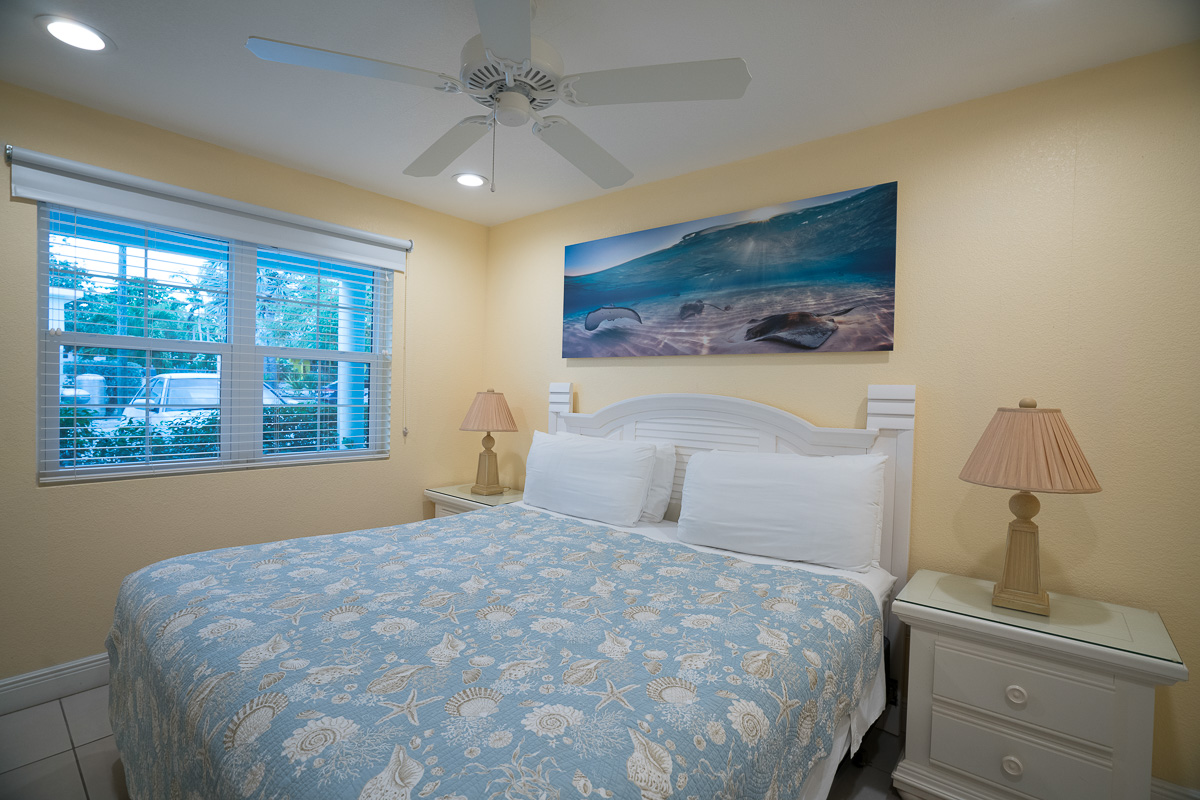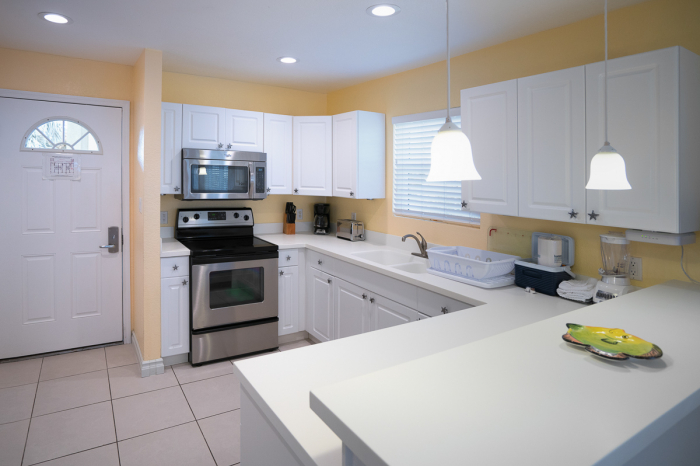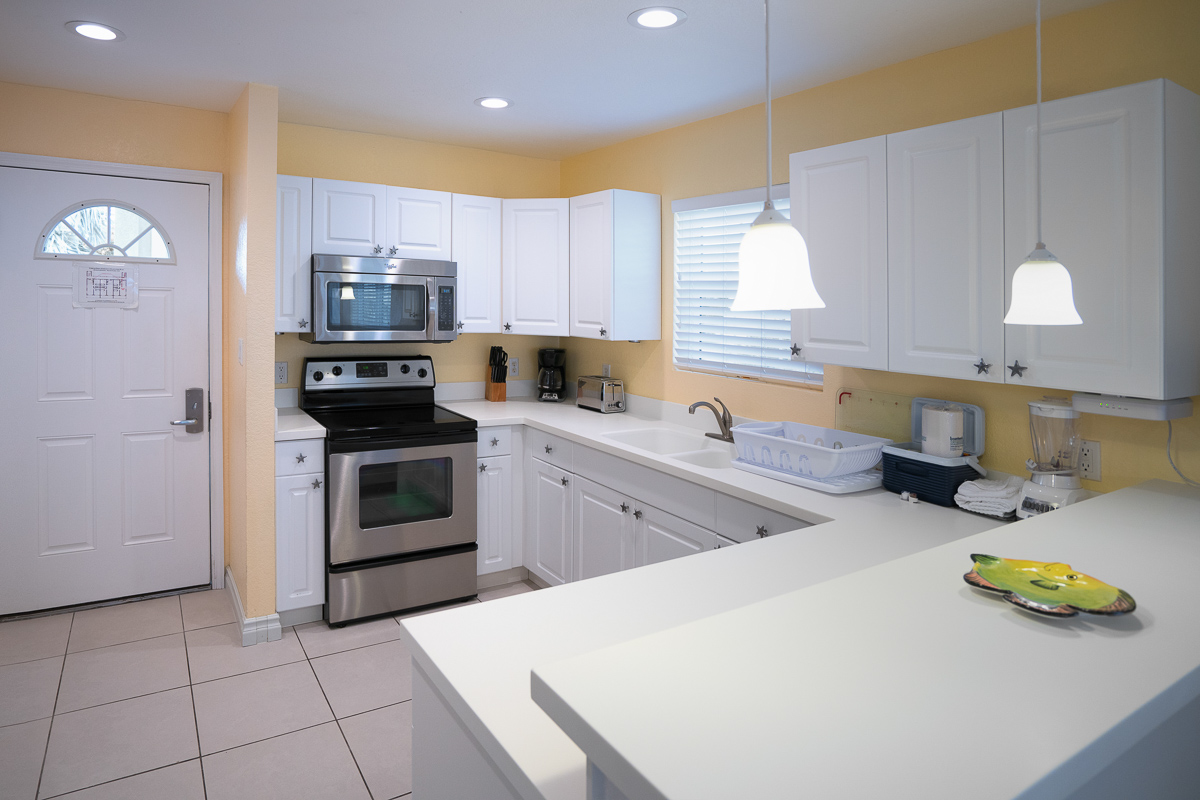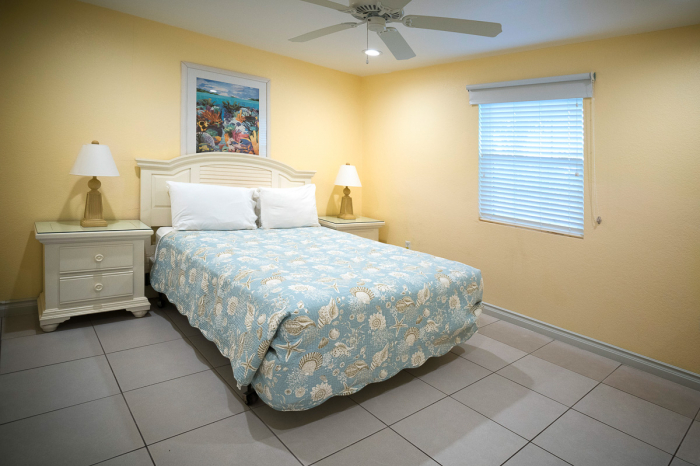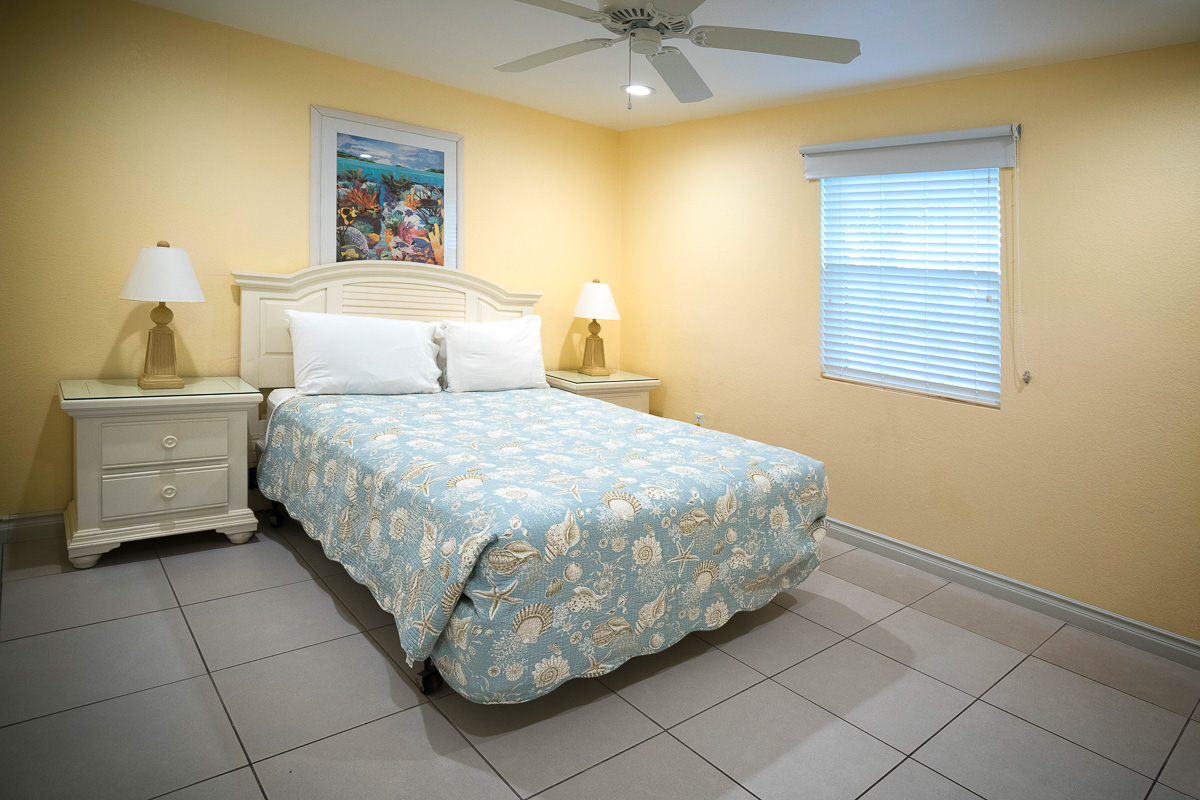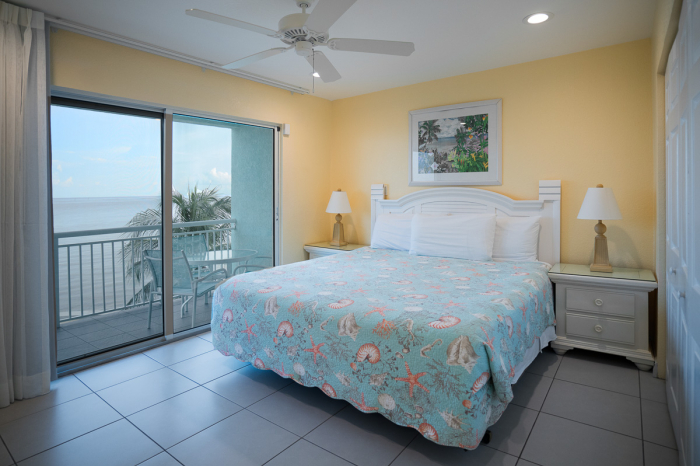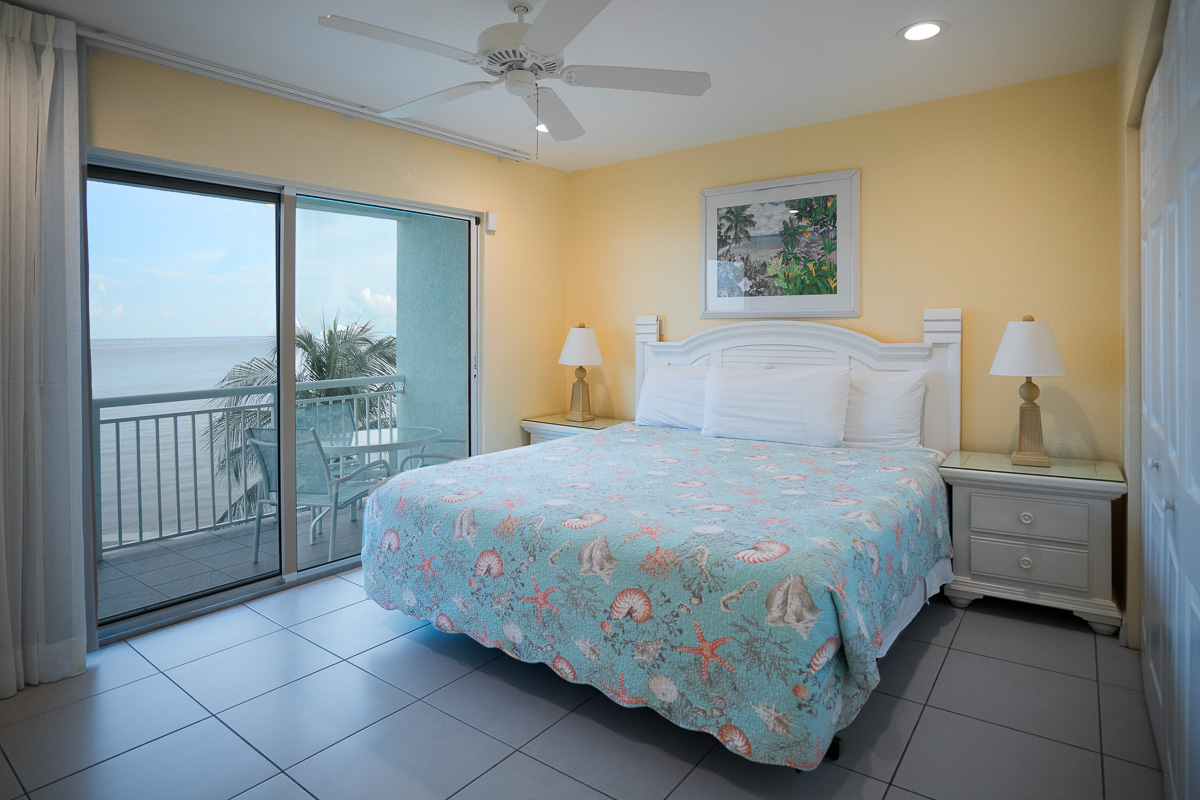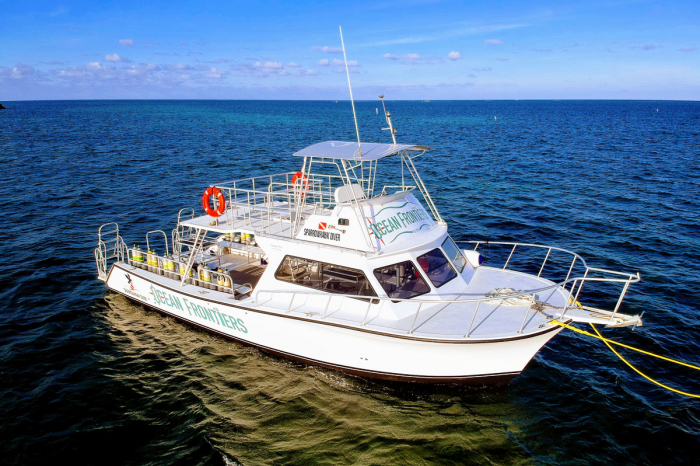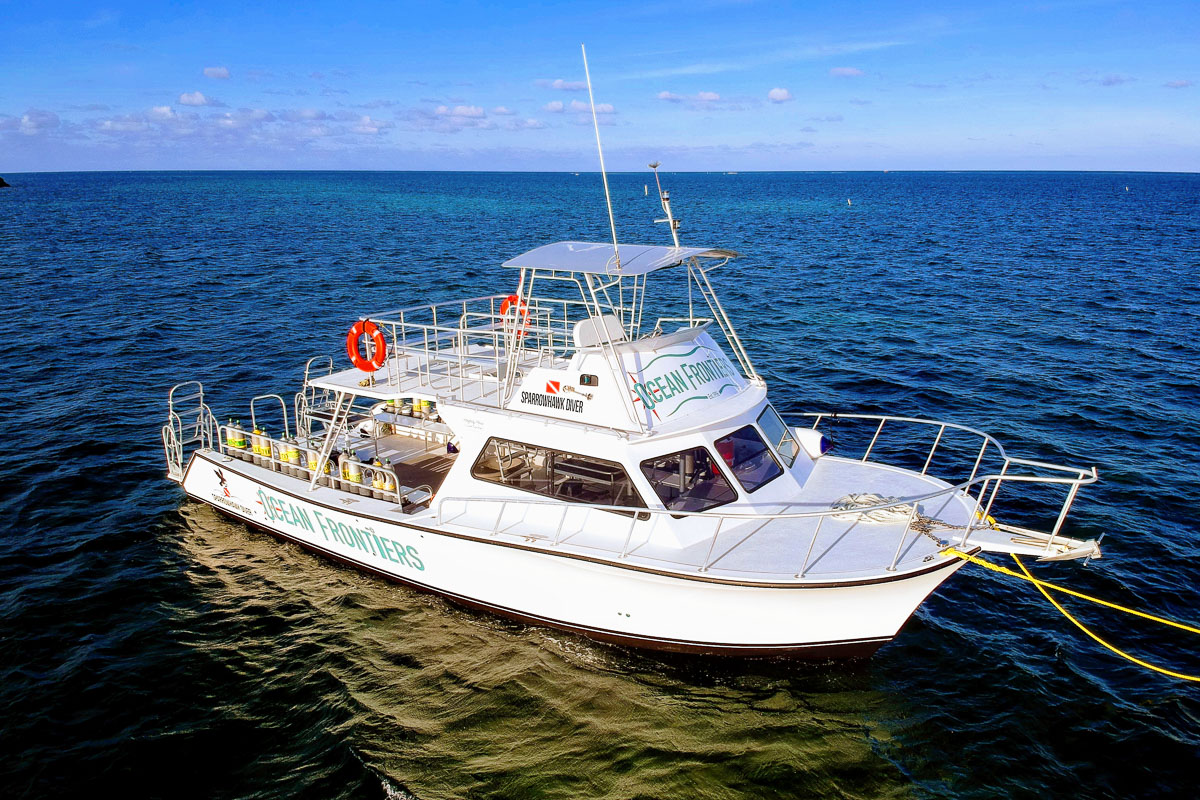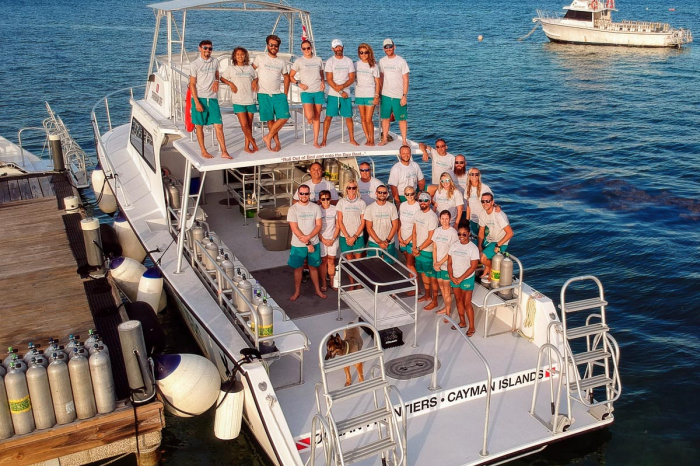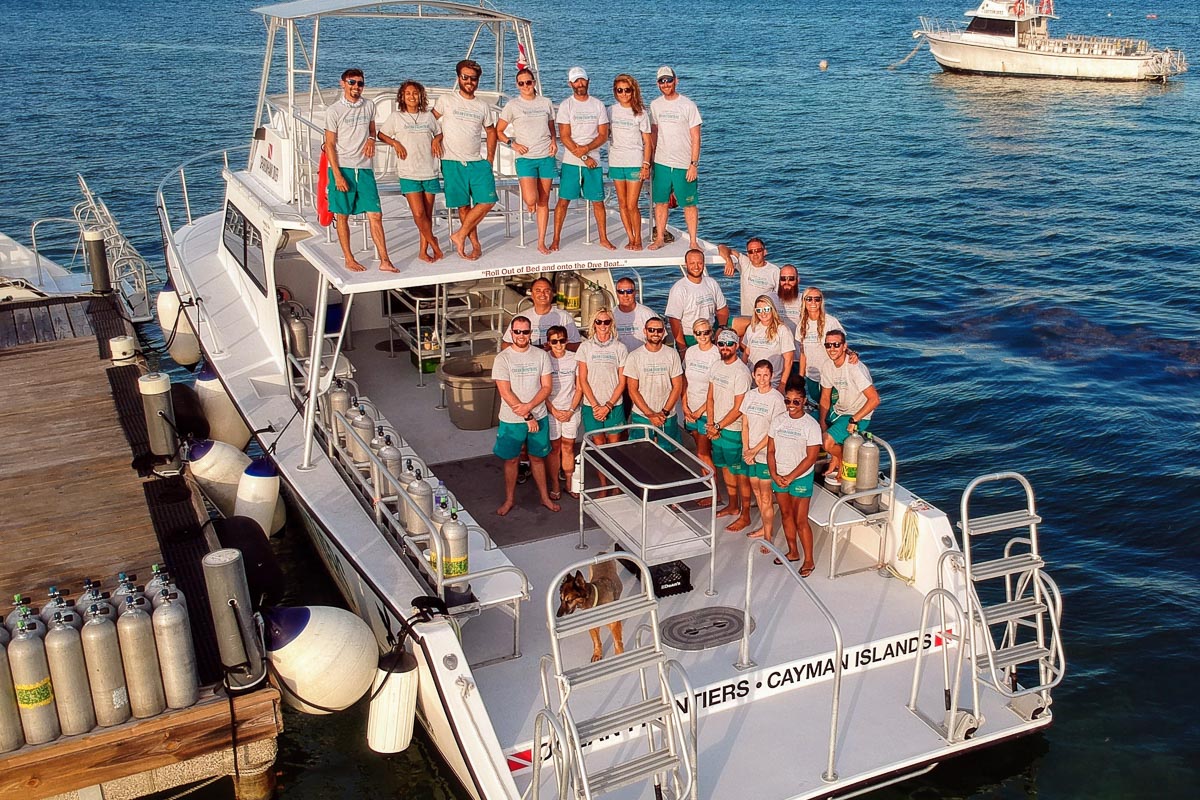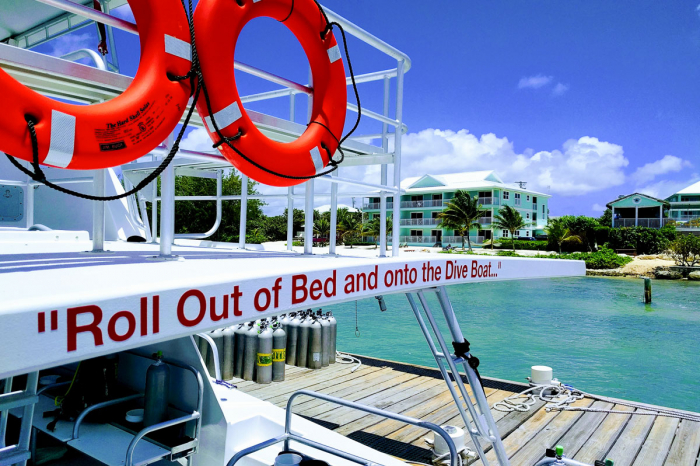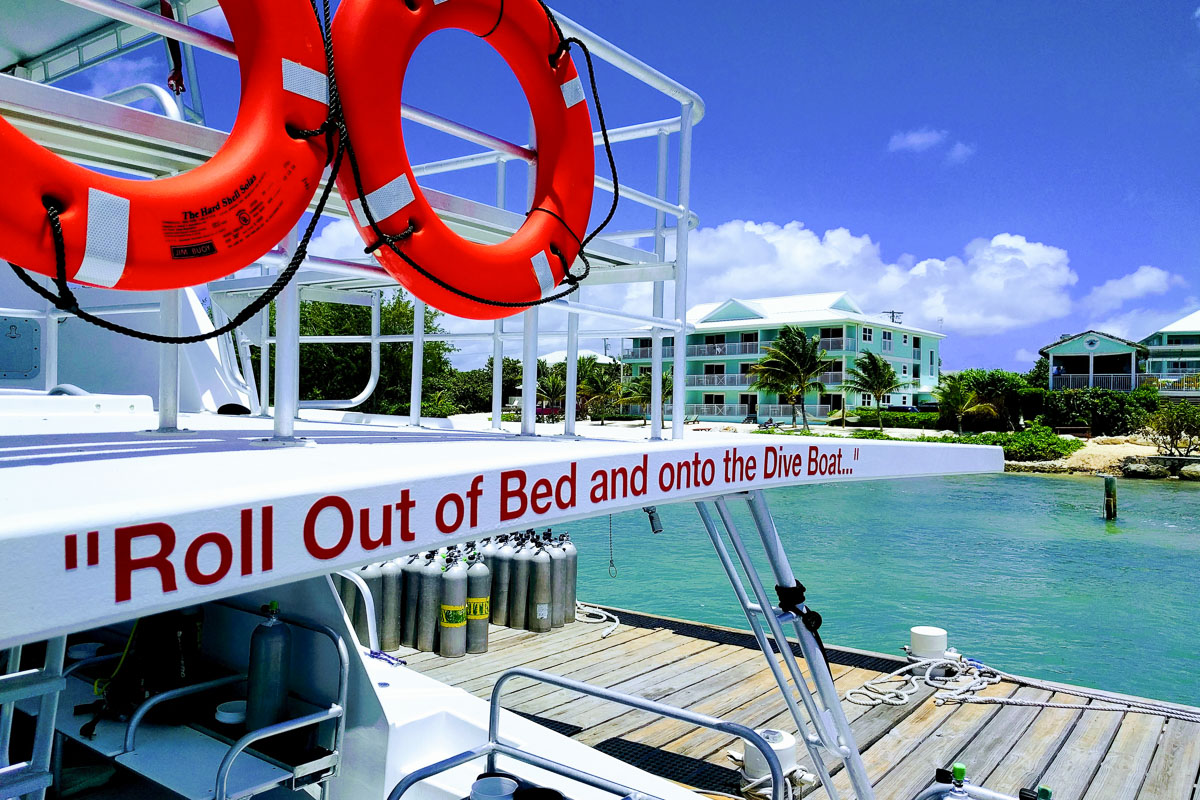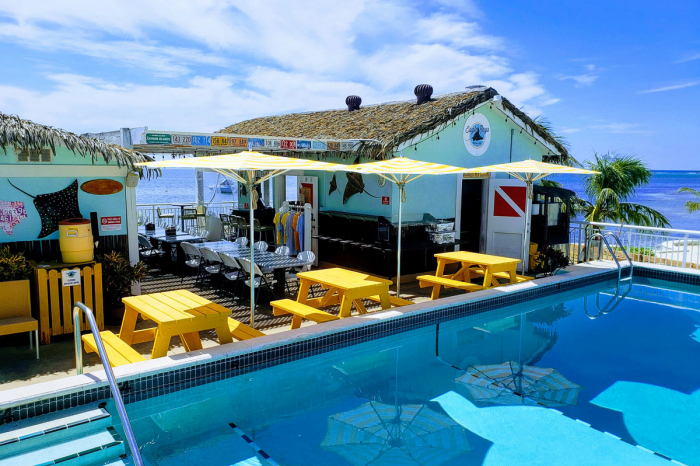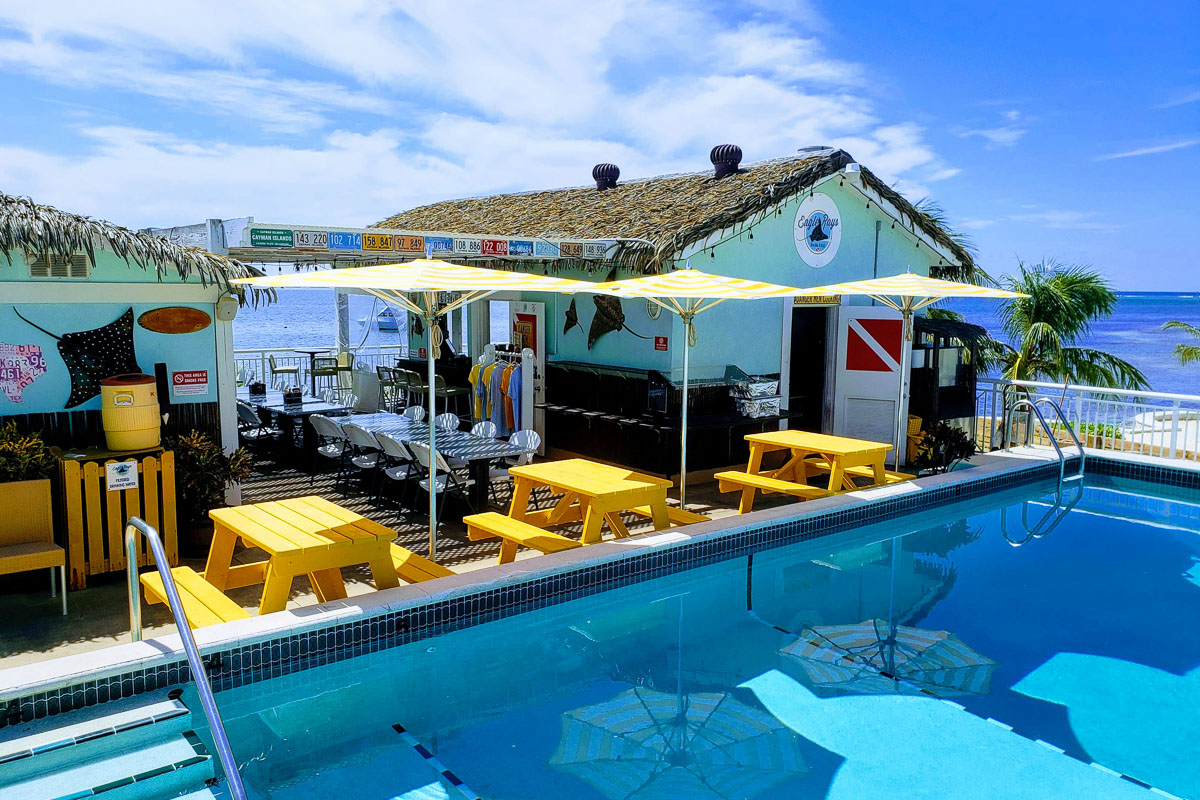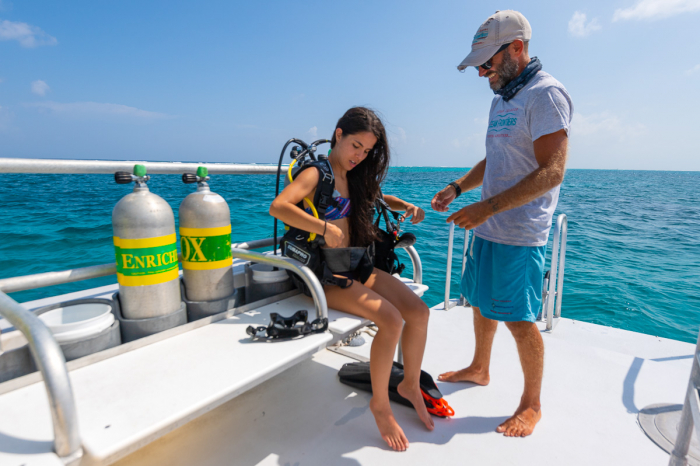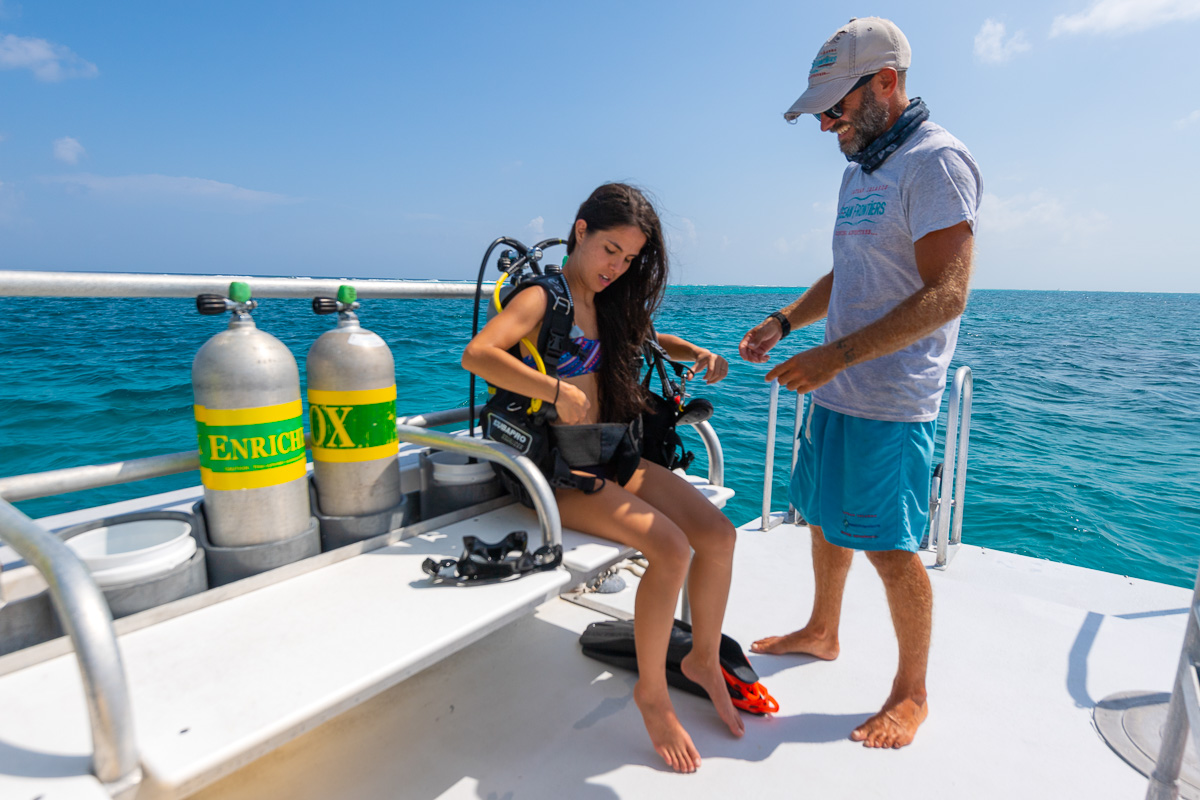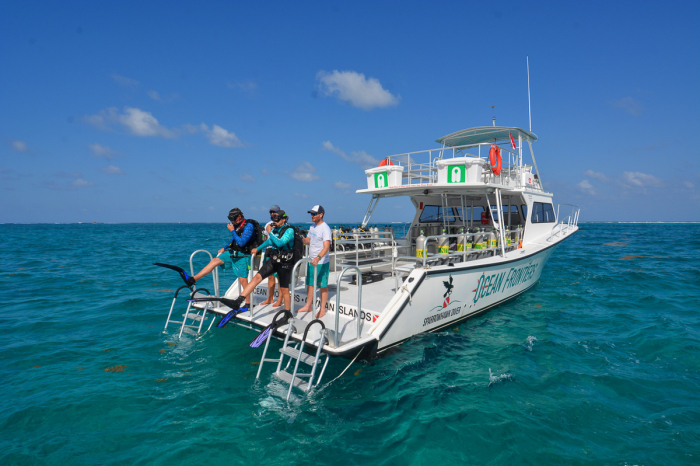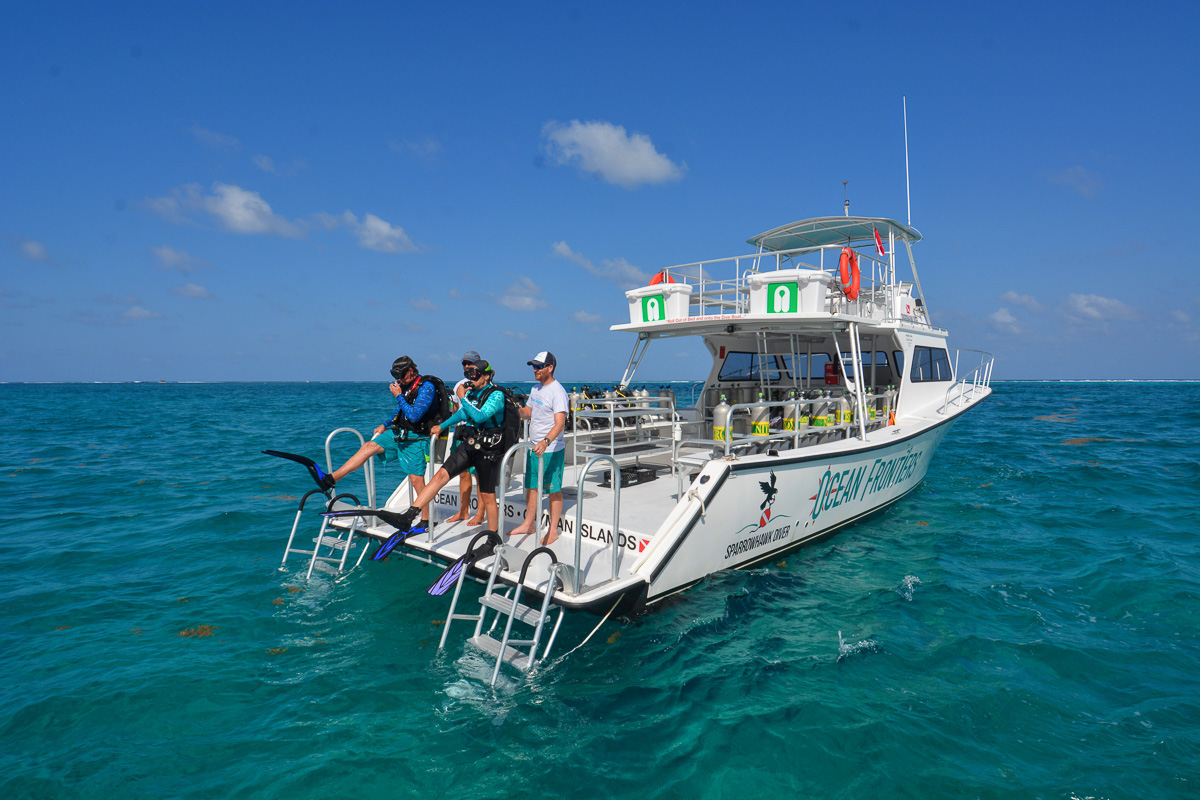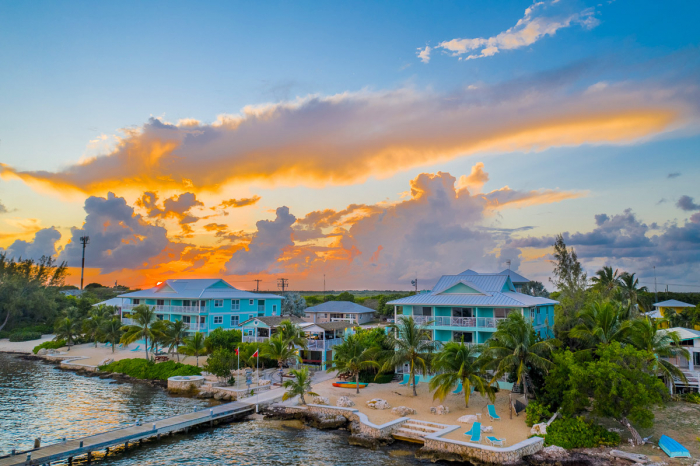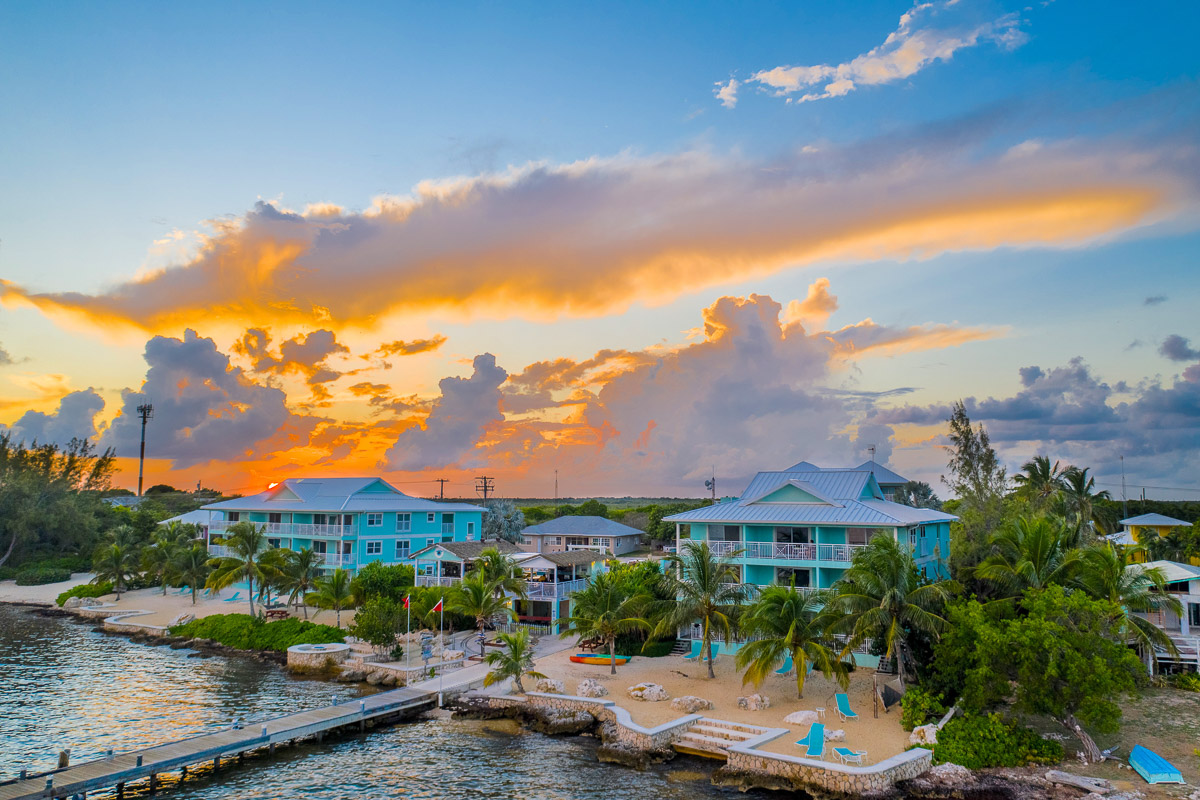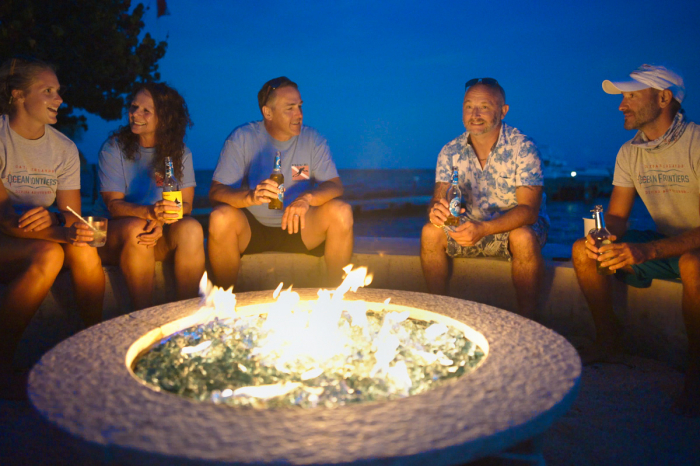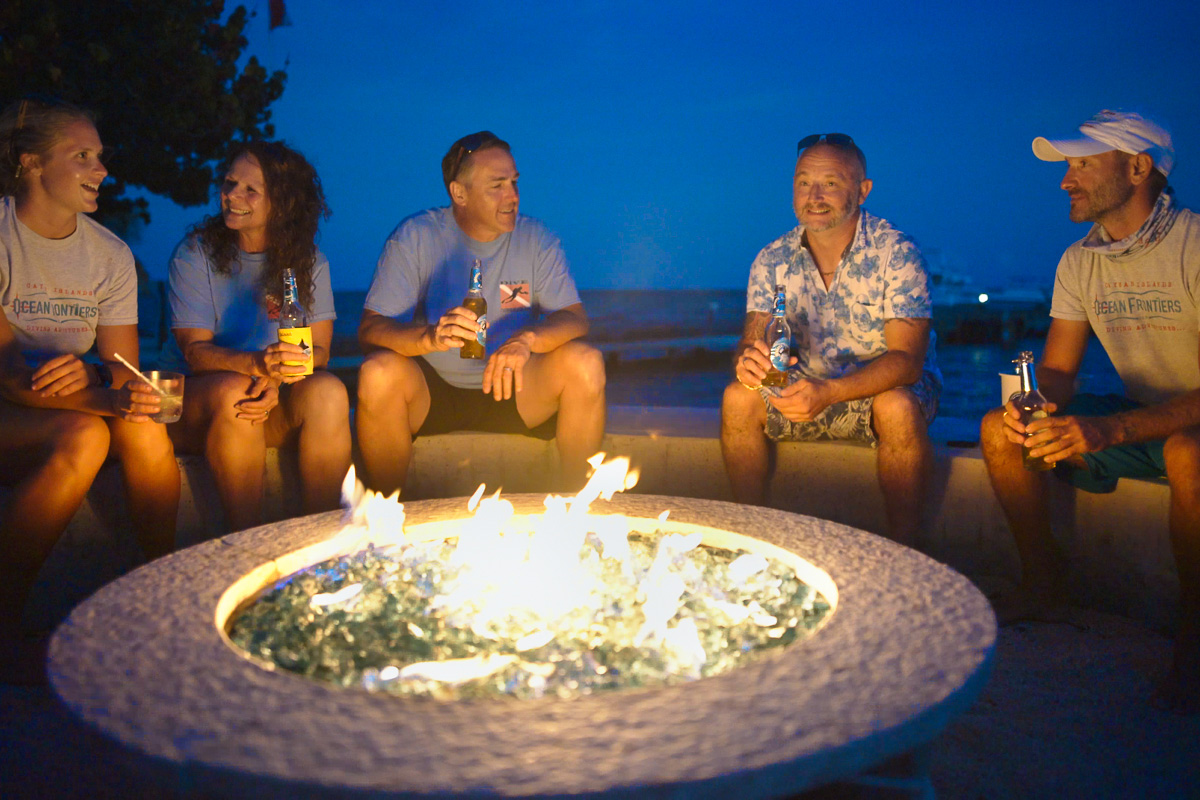 Overview
World-class diving from the resort's dock, just steps from your front door
Amenities include pools, BBQs, rental bikes, hammocks, and more
Well-appointed condos and penthouses for up to seven guests
Options for shopping, dining, and drinking, on and off the property
Compass Point Dive Resort's motto - roll out of bed and onto the dive boat - perfectly summarises a stay at this East End property. This spacious Green Globe-certified resort boasts two beaches, a generous pool complex and outdoor grilling area, plus free sports equipment for everyday use. And, Compass Point is perfectly positioned for discovering Grand Cayman's most stunning diving, with over 55 different sites waiting to be explored, many of which are just minutes from the shore. This location was carefully selected with discerning divers in mind, lying further from the airport, nightlife, and capital than all other hotels, yet closer to the best ocean exploration the island has to offer!
---
---
Amenities
---
About
About Compass Point Dive Resort
The Green Globe certified Compass Point Dive Resort offers plenty of peace and quiet in one of Grand Cayman's most scenic areas - the stunning East End. With just 28 spacious guest accommodations, this waterfront retreat feels miles away from the island's large scale hotels yet offers delicious options for drinking and dining, fun facilities for the whole family, and on-site access to shopping and sports of all kinds. All rooms boast stunning views of the sea, concierge service, and morning pickups for diving, and are located just a short walk from two pristine beaches, a snorkelling entrance point, and a spacious pool complex.
This is one of Grand Cayman's most laid back and remote resorts, with lodging and dining to suit every travel preference - from couples to families and dive groups. Custom holidays are what this resort is all about, with easy to modify accommodations - sleeping up to seven guests under one roof as well as a la carte meals and options for self-catering, and endless opportunities for self-guided exploration. Plus, this resort's expert team boast decades of experience on the island, and they're happy to help plan and prepare every element of your stay - from flights and transfers to rental cars and dives at secret shore-entry sites!
Explore the resort
Compass Point Dive Resort offers a unique opportunity for family and group getaways with plenty of privacy and comfort. Each unit comes complete with facilities for cooking, laundry, and entertainment and includes free use of bicycles and kayaks. The resort's common areas boast a spacious pool complex, outdoor grills and entertainment areas, two pristine beaches with world-class views, and so much more! For those in need of extra rest and relaxation, comfortable hammocks and sun loungers are available, as are intimate spaces including a lookout tower for ocean observation and a tiki hut, ideal for sipping sundowner cocktails.
In addition to self-catering, guests can enjoy delicious on-site buffet dining at Eagle Ray's Bar and Grill - as well as room service - plus numerous restaurants and bars within striking distance. This relaxed waterfront resort also offers close access to many of the East End's most scenic points of interest, with hiking, beachcombing, and wildlife preserves a few kilometres away. Land and water-based sports, snorkelling, and scuba diving are available each day, in addition to guided tours and optional services like childcare.
Diving at Compass Point
Compass Point's partner dive centre, Ocean Frontiers, caters only to this resort's guests, and offers scuba diving, snorkelling, and watersports for all. The dive centre has some of Grand Cayman's best diving right at its doorstep, with the island's legendary corals, canyons and sand chutes just minutes offshore. These formations lead to the island's outer reef, where near-vertical walls plummet to almost 2,000 metres. This well-established operator specialises in concierge service, so no need to carry or wash your equipment. Instead, guests can simply roll out of bed and onto the dive boat, with everything already prepared for up to five stunning dives per day.
Ocean Frontiers prides itself on top-notch facilities for students and leisure divers alike, including private gear lockers, a dedicated training pool and air-conditioned classrooms, and three of the island's most modern boats. Their passionate and professional team offers PADI courses and underwater guiding for divers of all abilities, combined with professional-quality rental gear, and speciality experiences like lionfish hunting, shark, wreck, and macro diving - meaning you're guaranteed the scuba holiday of a lifetime.
---
Top tips
Compass Point is one of Grand Cayman's more remote resorts, meaning a rental car is a must if you want to explore the rest of the island.
Take advantage of Compass Point's free ocean kayaks every day between 7am and 5pm.
Pack plenty of sun protection, comfortable walking shoes, and lightweight clothing - you'll want them for exploring Compass Point and the surrounding coast above water!
Ask the Ocean Frontiers team about Grand Cayman's secret sites for shore diving, some of which are just minutes from the resort.
Conservation
Compass Point Dive Resort is a proud Green Globe certified hotel that supports several island-wide environmental efforts, many of which begin on-site. Current initiatives include a comprehensive recycling programme for aluminium, glass, and PET plastics with collection points in every condo and throughout the property's common areas. Compass Point is also dedicated to water and energy conservation, asking guests to be mindful of their personal use and installing environmentally-friendly fixtures and appliances wherever possible.
Grand Cayman's surrounding coral reef ecosystem is under threat, but Compass Point is doing its part to protect it. The resort's restaurant serves only sustainable seafood, and guests are asked to make responsible choices when dining off-property. The resort also maintains a strict "no touch, no take" policy above and below water and offers detailed environmental briefings before outdoor activities.
---
Diving
Diving in Grand Cayman Island
Schooling reef fish

Year round

Walls & pinnacles

Year round

Caves & caverns

Year round

Plentiful reef life

Year round
Grand Cayman scuba diving holidays deliver the ultimate Caribbean atmosphere thanks to the island's blend of beautiful beaches, reefs and vibrant culture. Whether you're after complete rejuvenation, cosmopolitan dining, energetic nightlife, or crystal-clear Caribbean waters, Grand Cayman is sure to deliver. Sink your toes into the seemingly infinite sands of Seven Mile Beach, enjoy duty-free shopping for designer brands in George Town, or head east for an authentic island experience and plenty of beautiful flora and fauna. And, no matter where your journey takes you, you'll enjoy world-class underwater adventures in the birthplace of recreational scuba diving.