A relaxing liveaboard trip to the remote Similan Islands or the vast national parks of Raja Ampat and Komodo would be a once-in-a-lifetime experience for many scuba divers. But you don't have to break the bank to book one of these extraordinary trips!
In fact, its possible to find and book affordable liveaboards in some of the world's greatest dive destinations. Each offering high standards of service, incredible experiences and amazing value for money.

Read on and discover Southeast Asia's best, affordable liveaboards! Or, click here for more information on liveaboard diving.
---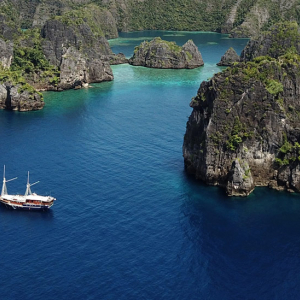 Recommended insight
The ultimate guide to liveaboard diving in 2023
Everything you need to know about liveaboard dive holidays, what to consider when booking a dive safari, and the best liveaboard dive destinations in the world!
---
Ready to start planning your liveaboard adventure?
Contact one of our dive travel experts today

---
Reasons to book an affordable dive liveaboard
Same amazing dive destinations aboard a value-for-money boat
Highly-sociable trips with like-minded guests
Reduced costs allows 'once-in-a-lifetime' trips to be enjoyed again and again
Smaller boats can mean fewer divers
Action-packed diving itineraries without unnecessary 'frills'
Friendly, intimate and personalised experience
Why dive from liveaboards?
Liveaboards offer a completely immersive scuba diving experience and are considered by many to be the perfect way to enjoy a dive holiday. In truth, certain destinations are actually better dived from a liveaboard, allowing guests to explore larger geographical areas and visit many dive sites in just one trip. Boats often travel from one destination to another over-night or during mealtimes, providing action-packed diving itineraries with almost no 'wasted' time due to travel. Although liveaboards are seen as luxurious and expensive, it's worth remembering that accommodation, meals and diving are usually covered in the price, keeping costs to a minimum once on board. And don't forget, there are also many affordable liveaboards offering high levels of comfort and service, meaning no diver should have to miss out on that trip of a lifetime.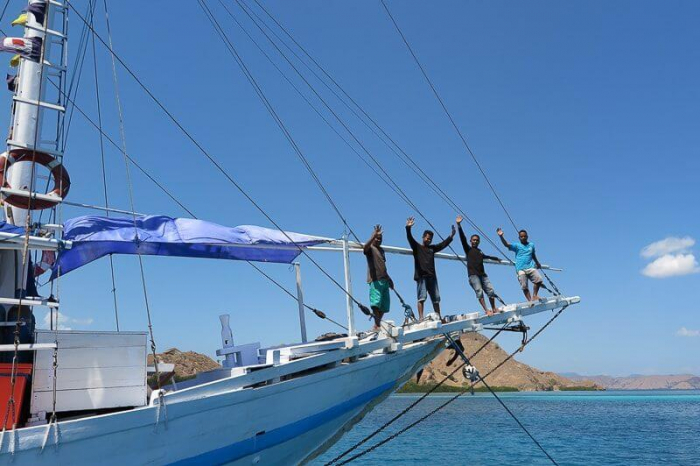 What does an affordable dive liveaboard do differently?
Affordable liveaboards keep costs low by removing some of the 'frills' associated with more luxurious boats and focussing on the fundamentals. Vessels might be slightly smaller, offering less private spaces and encouraging the use of communal areas such as lounges and sundecks. And when it comes to food, simple but tasty meals are often served buffet-style for guests to enjoy around communal tables. Accommodation can include double, twin or even shared bunk cabins which are likely to be fan-cooled and use shared bathrooms. While dormitory cabins may not immediately appeal to everyone, they are great for socialising with other guests and expanding your network of world-wide dive buddies. Finally, affordable liveaboards also tend to remove a lot of the free perks available on more luxury boats – so you might need to pay extra for nitrox, photography facilities, airport transfers, beer and wine.
So what is the same on an affordable liveaboard?
Most importantly, affordable liveaboards visit the same destinations and offer the same action-packed diving itineraries as any other liveaboard – after all, diving is what it's all about! With this in mind, they provide exceptional value for money, bringing the cost of a once-in-a-lifetime trip down to a budget-friendly level. Affordable liveaboards also offer the same great atmosphere as you and a group of like-minded diving enthusiasts explore some of the most incredible destinations nature has to offer. In fact, as the boats are often slightly smaller, guests tend to spend more time in the communal areas, forming strong bonds as they dive, eat and relax together. Smaller boats can also mean fewer people and some affordable liveaboards are guaranteed to depart with just three divers on board, providing truly intimate experiences with dedicated personal service. 

Southeast Asia's best budget-friendly dive liveaboards
Ratu Laut, Indonesia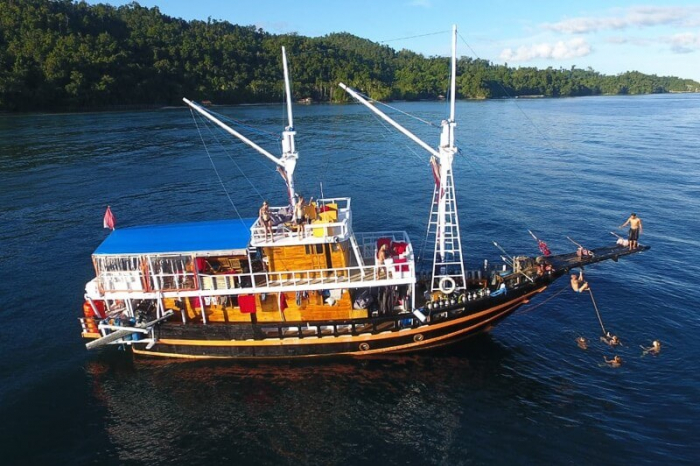 Ratu Laut, meaning 'Queen of the Sea', is a recently refurbished traditional phinisi boat offering great service with a personal touch. All profits from the trips exploring Raja Ampat help fund conservation and community projects operated by Barefoot Conservation, making Ratu Laut the perfect option for those wanting an eco-friendly liveaboard experience. During the trip, guests can view presentations and hear talks from resident marine biologists on topics such as marine megafauna research, reef checks, climate change surveys and manta ray identification. Ratu Laut accommodates ten divers in four cabins which are equipped with both air-con, ceiling fans, fresh towels and linen. 

Best for - Citizen Science and all-round conservation
Mimic, Komodo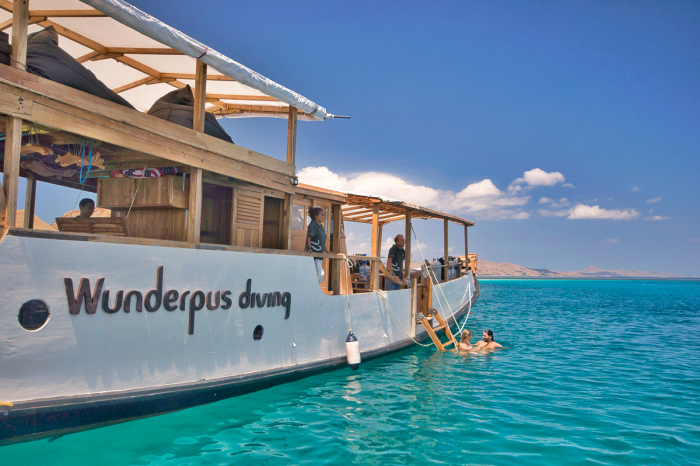 Mimic offers bespoke adventures for up to six guests in Indonesia's exciting and exotic Komodo National Park. Spend your days aboard this perfectly-appointed traditional sailing phinisi exploring dynamic, current-swept sites alongside expert local guides. Then, enjoy delicious dining and a relaxed atmosphere on board, complete with a comfortable shared outdoor sleeping deck under the stars. This vessel focuses on off the beaten path exploration and escape from the region's crowds, making it ideal for adventurous guests who want to explore the real Komodo – complete with the region's namesake Komodo dragons, spectacular sunsets, and lesser-seen sites.

Best for - Intimate and highly-social experiences
Sunshine, Sulawesi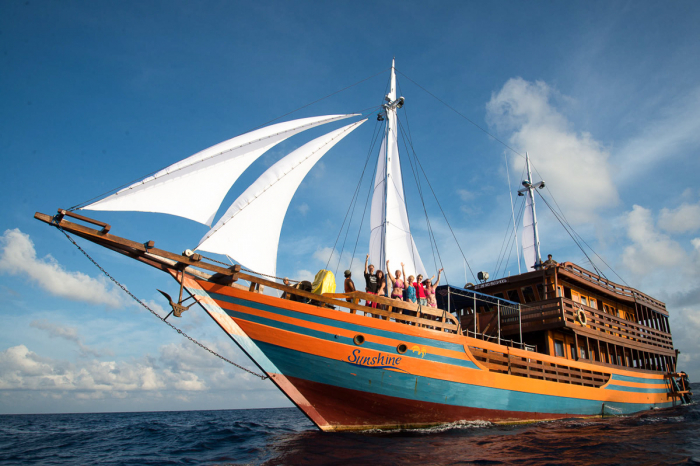 With exciting expedition-style itineraries lasting up to 14 days at sea, a nearly 1:1 crew to guest ratio, and accommodations for just eight divers, this is easily one of Indonesia's top picks for an intimate and exciting liveaboard adventure. Sunshine's itineraries visit far-flung biodiverse dive spots without breaking the bank. Destinations include Halmahera, the Togian or Sangihe Islands, and Sulawesi or Bangka – or take the adventure even further, visiting newly discovered dive destinations like Dongala, Toli Toli, and Kwandang where you'll likely be the only boat in sight. In addition to fantastic diving, this vessel offers land-based excursions and flexible trips that allow you to spend up to two days on board before and after you set sail. 

Best for - Adventurous explorers
The Junk, Similan and Surin Islands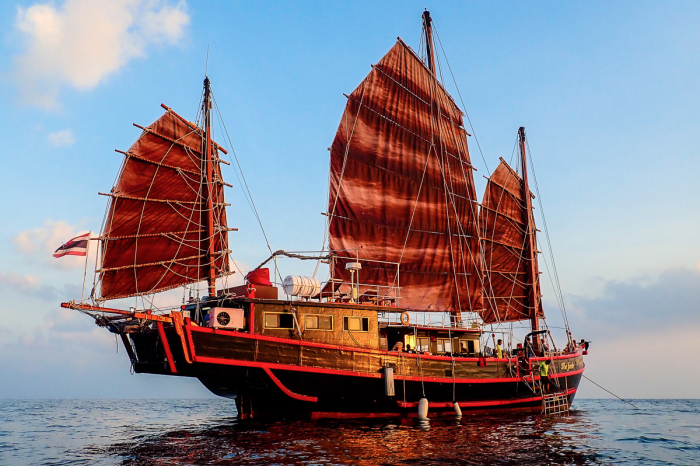 Easily one of Southeast Asia's most stylish liveaboard vessels, The Junk adds a touch of glamour to its multi-day dive safaris, boasting a unique aesthetic that has been featured in Hollywood films. Touring the Similan and Surin Islands, this boat stops at world-renowned scuba sites known for thriving coral and marine megafauna like whale sharks, while catering to a wide variety of skill and comfort levels with a patient and friendly crew and onboard dive certification services. Comfortable two and four-person cabins, social al-fresco style meals, complimentary kayaks, and island excursions mean The Junk is a top pick for adventurous and outgoing dive buddies and groups travelling together!

Best for - Backpackers and friendship groups
Smiling Seahorse, Andaman Sea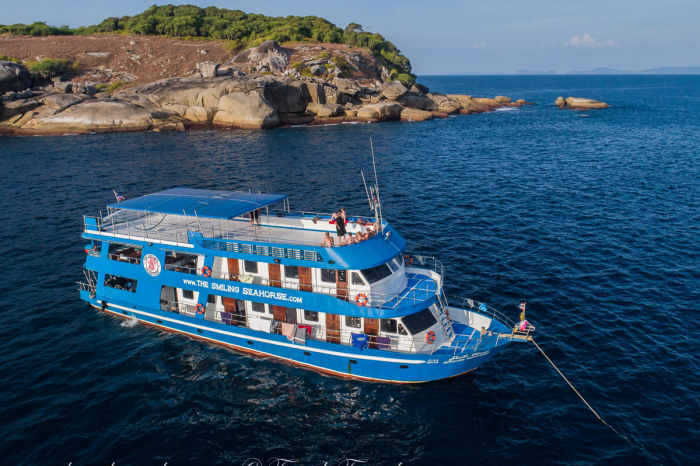 Smiling Seahorse offers dynamic expedition-style adventures to the best diving areas in Thailand and Myanmar's Andaman Sea. This vessel's range of itineraries also includes specialised safaris focused on blackwater diving, marine megafauna, and underwater photography. With a large shaded dive deck, custom tenders, support for tech and sidemount equipment, small dive groups with no more than four clients per guide, and a dedicated camera room, this is also one of the region's most diver-friendly vessels. The Smiling Seahorse also prides itself on warm Thai hospitality, with delicious dining and drinking, spacious and sparkling clean cabins, and a nearly 1:1 crew to guest ratio. 

Best for - Underwater photographers
Ways to get a good price on dive liveaboards
While the affordable liveaboards listed above offer exceptional value for money, there are other ways to get a great price on your next liveaboard trip. For all-round lower rates, consider diving 'off season', such as Raja Ampat in the summer months or Komodo over winter. While the conditions might be a little different from the prime season, in some spots they barely change at all and prices are likely to be lower. But remember that some destinations, such as the Similan Islands, are closed to divers during the 'off season'. Many liveaboards also offer great deals on last-minute availability as well as reduced rates for early bird bookings – so be sure to sign up for the ZuBlu mailing list. 
---
Ready to start planning your liveaboard holiday?
Contact one of our dive travel experts today.

---
---
Join the ZuBlu community to receive the latest insights and unmissable adventures
Don't worry, we'll only send you really good stuff - and we never share your details
---