Imagine yourself at sea, sailing from one incredible island to the next aboard a private yacht, stopping along the way to scuba dive and snorkel, wander pristine white-sand beaches, and take in Hollywood-worthy tropical scenery. This is a charter yacht trip in the heavenly Mamanuca and Yasawa Islands. 
Fiji's Mamanuca and Yasawa Islands are one of the world's most exquisite tropical escapes, and an island hopping charter allows you to explore them in style, touring remote areas that only see a handful of visitors each year. 

These private charter voyages can be customised to suit your every desire – whether it's an unusual itinerary, personalised food and drink, or a selection of specific activities. And, best of all, you won't share the experience with anybody but the vessel's dedicated crew and your invited guests. 
Read on to learn all about Fiji's island hopping charters, including tips on where to go and what activities to expect.
---
Need help planning your island hoping adventure in Fiji?
Contact on of our award winning travel experts today

---
Why the Mamanucas and Yasawas are Fiji's best destinations for an island hopping charter
If you're looking for a remote island escape surrounded by idyllic scenery, no place on earth rivals this Fijian paradise. Located off Viti Levu's northwest coast, the Mamanucas and Yasawas are two separate island chains, strung out along the coast. With dozens of islands in close succession, it couldn't be easier to sail from one to another, stopping along the way to visit stunning natural areas, scuba dive and snorkel to your heart's content, and enjoy the country's rich and unique culture. You'll also find numerous resorts to visit en-route, with options ranging from remote island lodges to backpacker haunts and sprawling five-star properties complete with every luxury imaginable.

As you venture further from the main island of Viti Levu, each stunning sand-fringed island appears more pristine and beautiful than the last, with most of the archipelago remaining blissfully undeveloped and free from large-scale tourism. And, there's plenty to see and do, with picture perfect tropical scenery backed by powerful marine park protection, keeping the ocean ecosystem in near-perfect condition. Much of the Mamanucas' and Yasawas' culture and tradition remains untouched as well, with daily rituals still in practice that date back hundreds of years.
Island hopping is hardly a new concept in fiji, thanks to the calm seas and prevailing winds that combine for fantastic sailing and cruising conditions. The region's indigenous people have been taking advantage of this for centuries, travelling between the islands in open canoes known as Camakaus. Pirates, sailors, and ocean voyagers of all kinds have called these waters home, too – seeking safe anchorage in the calm lagoons.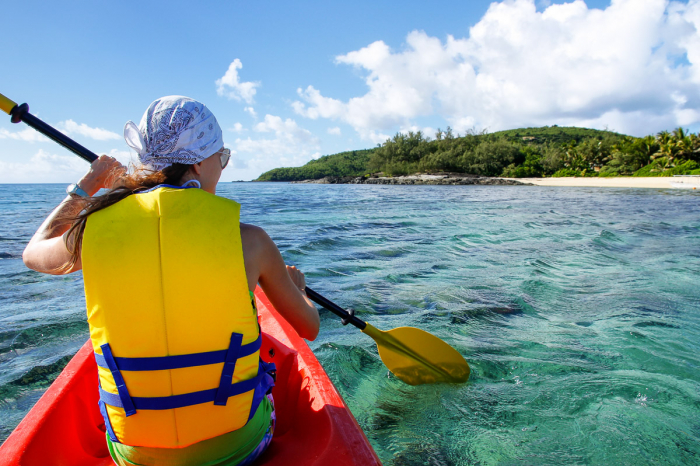 Activities offered by charter yachts in Fiji's Mamanuca and Yasawa Islands
Scuba diving
Surfing
Fiji's consistent swell means surfing is top of the list for many visitors, with local waves to suit every experience level. Other water sports like wake skating and biscuit rides are offered by both luxurious chartered yachts and the five-star resorts where they often stop for excursions ashore. 
Other watersports
If you enjoy watersports, this place is a paradise. Fiji's countless sheltered turquoise lagoons are perfect for exploration on kayaks and paddleboards. The islands are also home to some spectacular snorkelling, with seasonal manta ray sightings, limestone caves, and endless shallow reef flats with plenty of marine life. Fishing and spearfishing are also permitted, with rigid environmental guidelines in place to keep Fiji's marine ecosystems thriving. 
Relaxation
For adventurers who prefer more laidback pursuits, the islands also boasts incredible sightseeing and relaxed island activities. Indulge in sumptuous beach barbecues and sunset cocktails, wander deserted sandbars and uninhabited islands, or curl up with a good book and take in the views. You'll also find fantastic spa services at many of the high-end resorts, with treatments such as massage and bodywork set to the sound of waves and easy access from your private yacht. 
Sight-seeing
Keep your camera handy throughout your adventure in the Mamanucas and Yasawas. These islands are home to such impressive scenery that they've been the backdrop for countless movies and TV shows. Castaway was shot on Monuriki, and the Hollywood classic, Blue Lagoon, was set on Turtle Island. The Mamanucas have also provided the backdrop for reality TV sensation, Survivor, since 2006 – making it the most-used setting in the show's history.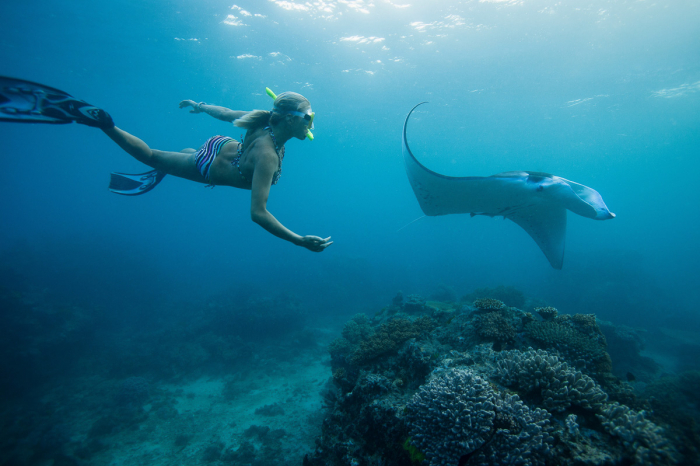 Typical island hopping itinerary aboard a charter yacht in Fiji's Mamanucas and Yasawas Islands
Malolo Lailai
Spend the start of your adventure exploring rich coral reefs with fantastic scuba diving, snorkelling, and paddleboarding. This island is also home to some of Fiji's very best surf breaks, with a wave for every skill and comfort level. Top it all off with a trip to the Malolo sandbar, one of the archipelago's most stunning beaches and the perfect place to enjoy a traditional beach barbecue and cocktails before sailing onward.
Monuriki
Monuriki Island is home to some of Fiji's most famous scenery, having provided the backdrop for Tom Hanks' movie, Castaway. Wander the footprint-free white sand beach, snorkel in the calm, clear lagoon, and enjoy a stunning sunset either from the comfort of your charter yacht or out on the water in a kayak or atop a paddleboard.
Sacred Islands
Believed to be the birthplace of Fijian culture, this group of four islands in the northern Mamanucas is the setting for many local legends – and it's one of the most picturesque parts of the entire South Pacific. Explore endless aquamarine lagoons, scuba dive and snorkel beautiful swaying soft coral gardens, and head ashore to discover an uninhabited paradise of exotic plants and animals.  
Nanuya Balavu
One of Fiji's most beloved spots for snorkelling and scuba diving, this island is home to kaleidoscopic coral gardens and marine wildlife in all shapes and sizes. Each year, between May and October, its waters are graced by a gathering of manta rays, gracefully swooping and barrel-rolling in the surf as they feed. This is also a hotspot for sharks with nearly guaranteed encounters of multiple species.
Blue Lagoon
Surrounded by some of Fiji's most dynamic diving, this idyllic destination in the northern Yasawas offers access to over 30 different sites. It's also home to the famous Sawa-i-Lau caves, an otherworldly snorkelling spot with fascinating limestone formations, as well as ancient paintings and inscriptions. This frequently photographed site is also home to a fantastic play of light against crystal clear water. 
Octopus
Headed back toward Viti Levu, this quiet seaside resort is home to excellent scuba diving and snorkelling, with intricate hard and soft coral formations and extensive reef flats in its calm, clear lagoon. Other watersports like paddleboarding and high-speed biscuit rides are also available, and lucky snorkellers might encounter giant oceanic manta rays between May and October.
Likuliu
Likuliu is the perfect end to your Fijian adventure. This island is the ideal place to enjoy some laid back reef exploration with clouds of colourful fish, sea turtles, and striking coral formations. Explore the coast on a paddleboard, spend a bit of time beachcombing, or try your hand at wakeskating. The sunset views from this anchorage are spectacular, making for a memorable last night at sea.
Best vessel for an island hopping charter in the Mamanuca and Yasawa Islands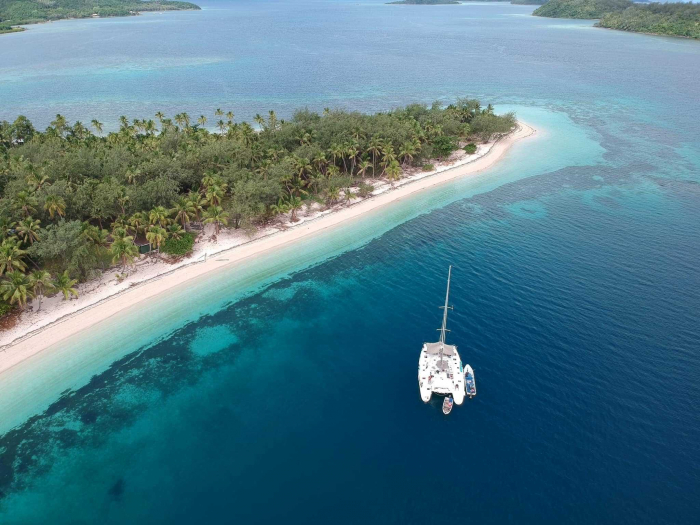 Nothing compares to the full private charter experience. Booking an entire vessel offers the utmost privacy and will allow you to customise your itinerary and daily schedule to make the most of your time in the planet's soft coral and shark diving capital.
Big Blue's smooth-sailing catamaran, Aparima, is easily one of Fiji's top picks. This award-winning vessel is well equipped for day trips and overnight adventures, with tailor-made itineraries that include outstanding scuba diving and snorkelling, fine dining, and watersports galore. In fact, Aparima comes fully-prepared to offer all the activities mentioned above, and more. Sleeping up to eight adults, this luxurious liveaboard also promises comfortable, well-appointed cabins and plenty of space to relax and unwind in between adventures. 
---
Need help planning your island hoping adventure in Fiji?
Contact on of our award winning travel experts today

---
---
Join the ZuBlu community to receive the latest insights and unmissable adventures
Don't worry, we'll only send you really good stuff - and we never share your details
---