Unique travel experiences with quirky accommodation are all the rage right now, from shepherds huts and treehouses to castles and caves. And, whilst dive holidays are all about ticking off bucket-list encounters with marine life, a growing number of resorts and liveaboards now offer once-in-a-lifetime experiences above the waves, too. Be it an unusual setting, unique ethos, or out-right peculiar design, these exceptional vessels and unusual hotels perfectly compliment your dive experiences and immerse guests in the getaway of their dreams..... 
Below, we've gathered together some of our best scuba diving vacations for a one-of-a-kind experience - read on to find your favourite.
Resorts
Gold: Seaventures, Malaysia
The gold medal for quirkiest dive resort couldn't go to any other. This unique boutique hotel is a refurbished oil platform, surrounded by sea off the northeast coast of Sabah. Now we know what you're thinking, an old oil rig doesn't sound very comfortable, right? But Seaventures have gone above and beyond to turn this hunk of metal into a homely hotel, complete with stylish, well-appointed accommodation, games and conference rooms, and a standout sundeck on the disused helipad. And in any case, with unlimited diving on the house reef, literally right beneath the resort, we doubt you'd even notice if they hadn't.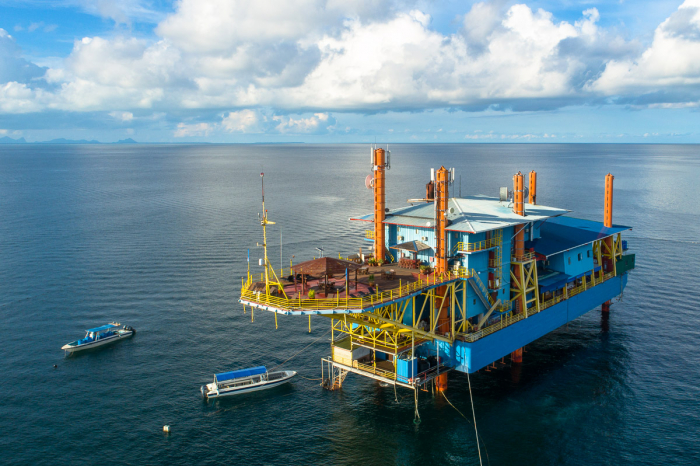 The incredible novelty of this resort continues with every dive, with a hydraulic lift lowering divers to the water whenever they get the urge. Combine this easy approach to underwater exploration with three daily boat dives - to both Sipadan and the iconic local sites of Mabul and Kapalai - and you're guaranteed a remarkable dive vacation. Not to mention, Seaventures is also fully tech-friendly, offering a range of courses, facilities for private gear, and even rental rebreathers.
Highlight: Eat, sleep and dive on an up-cycled oil rig!
Silver: Misool Eco Resort, Indonesia
If you're a sucker for a unique holiday destination, but also prefer more sustainable ways to travel - where you can give back to the local community and environment - then Misool Eco Resort is the place for you. Located in the deep south of remote Raja Ampat, hidden amongst an archipelago of uninhabited islands, Misool Eco Resort delivers one of the most unique travel experiences imaginable. This isolated eden has sustainability at its core and comes complete with an organic hydroponics lab providing fresh fruit, vegetables and herbs, and an in-house spa offering relaxing treatments using natural homemade products.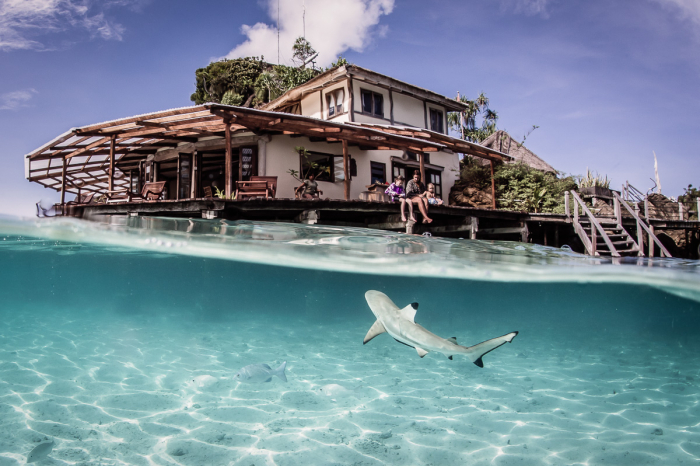 Established on a former shark finning island, Misool Eco Resort and its sibling organisation, Misool Foundation, helped to create the 300,000 acre Misool Marine Reserve in 2005. Today, the two organisations provide enriching and sustainable experiences throughout the reserve, including trips to more than 25 of the world's best dive sites - all within a short 15-minute boat ride from the dive centre! With some of the planet's most biodiverse waters on its doorstep, Misool Eco Resort ensured its photography and videography facilities were up to the task, boasting a massive camera workstation suitable for professionals and hobbyists alike.
Highlight: Back-to-nature resort with exemplary eco credentials
Bronze: COMO Cocoa, Maldives
Offering plenty of unique Maldivian splendour, including a trailing powder-white sandbar and a distinctive local aesthetic inspired by the gentle wooden curve of local fishing boats, COMO Cocoa is already pretty exceptional. But what really sets this resort apart, is its passionate philosophy for healthy living. The COMO Shambhala Retreat is an outstanding in-house wellness centre with massage rooms, outdoor bathtubs, an open-air yoga pavilion, steam facility, fully-equipped gym, and one of the country's only hydrotherapy pools. Even the cuisine is nutrition-based using raw organic produce that is steamed or grilled for maximum health benefits - adding the final touch to a truly unique luxury holiday.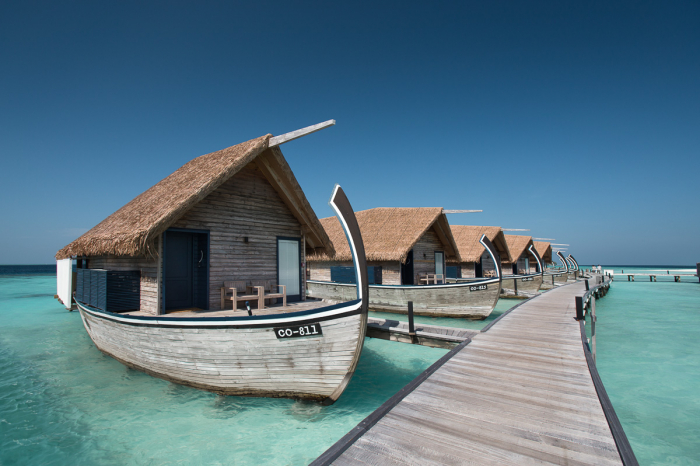 COMO's exclusive experiences continue out on the water with UV night snorkelling where guests can witness the kaleidoscopic colours of the reef in full effect. Visitors will also have the opportunity to enjoy an expert-led dive with the resident marine biologist whose knowledge and curiosity will enhance their adventures. Set away from the crowds, in a secluded part of South Male Atoll, this resort is also well placed to offer and once-in-a-lifetime encounters with manta rays and reef sharks.
Highlight: Superb shambala-style concept to rejuvenate body and soul
Notable mention: Sangat Island Resort, Philippines
If we're talking about exceptional holiday experiences, we simply couldn't overlook Sangat Island Resort. Located on one of the many islands that make up the Calamian Island Group in northern Palawan, Sangat is an ideal getaway for those seeking an alternative to the busy tourist hotspots. This eco-conscious resort has nurtured the surrounding marine and island landscapes, providing a sanctuary for countless varieties of plants and animals. And, for those who really want to get back to nature, Sangat offers two perfectly-isolated villas with private beaches - one of which can only be accessed by rope bridge or kayak - for a unique and intimate experience.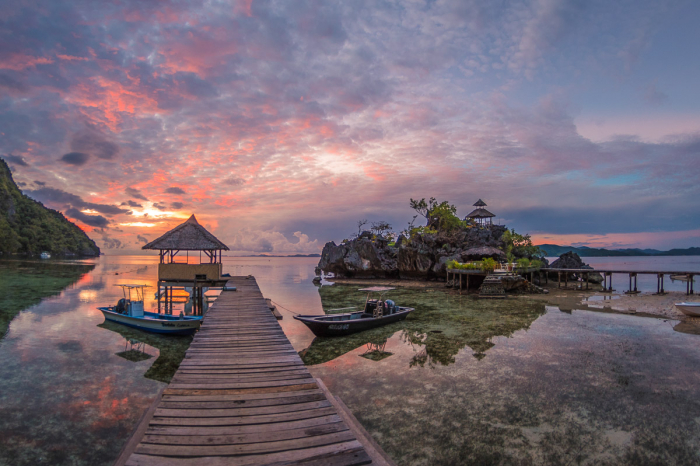 The self-sufficient Sangat Island Resort also comes well-equipped for environmentally-friendly adventure with tons of activities such as bird watching, rock climbing, hiking and watersports. Guests can grab a kayak and paddle through the mangrove forests to discover the islands' own geothermal springs. Or, for divers, Sangat offers laid-back exploration of the area's many flourishing reefs as well as 11 World War II wrecks nearby. The resort provides everything any diver could desire, no matter what their level, from equipment rental to a fantastic camera room and full-blown tech support including twin tanks, sodasorb, wings and harnesses, O2-clean gear, and more.
A true sense of escapism with highly-secluded accommodation
---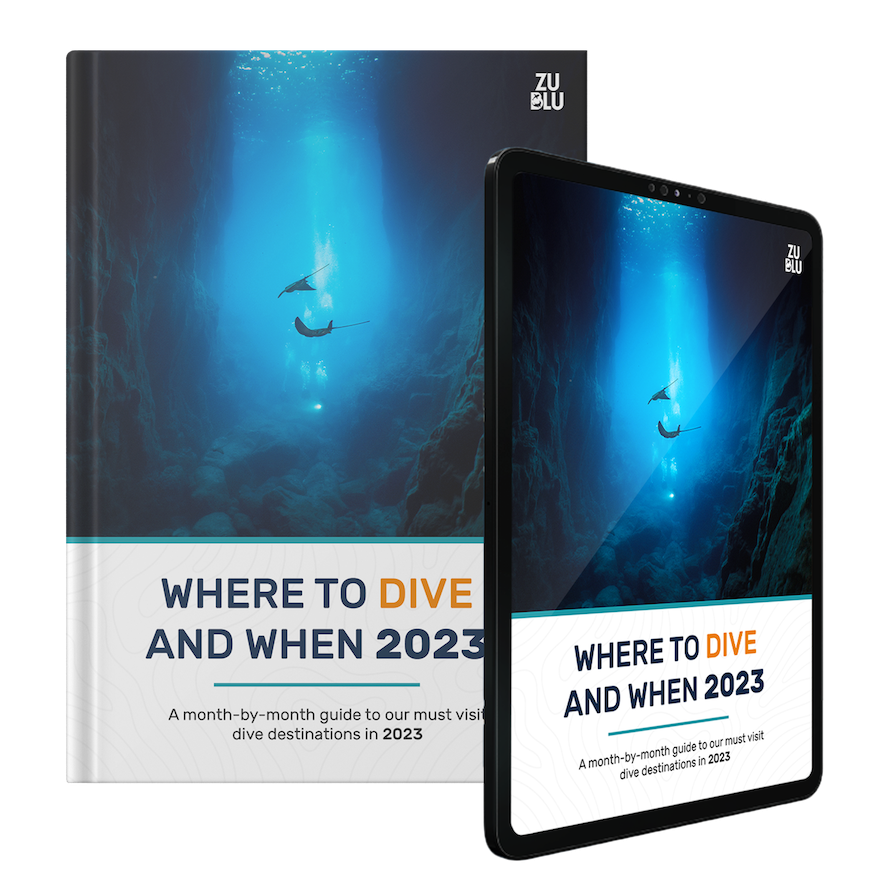 Need some inspiration for your next diving holiday? Download this FREE month-by-month guide to ZuBlu's top diving destinations in 2023.
---
Liveaboards
Gold: ScubaSpa Ying and Yang, Maldives
With their twin vessels Ying and Yang, the renowned ScubaSpa fleet has successfully combined two separate worlds - the luxury of an exclusive spa retreat with the adventurous dive-packed itineraries of a liveaboard. Think we're exaggerating? Well PADI certainly don't, as Ying and Yang are the only vessels in the Maldives to be awarded PADI 5 Star Dive Resort status. Boasting the largest onboard spa in the country, these liveaboards deliver unique vacations for couples and friends alike, with a shaded spa lounge, a secluded deck for open-air massages, and meditation and yoga led by an in-house yoga master. And, if for some strange reason you've had enough of being totally pampered, you can also enjoy exquisite dining and sunset cocktails, a gym and Jacuzzi, and even an open-air cinema!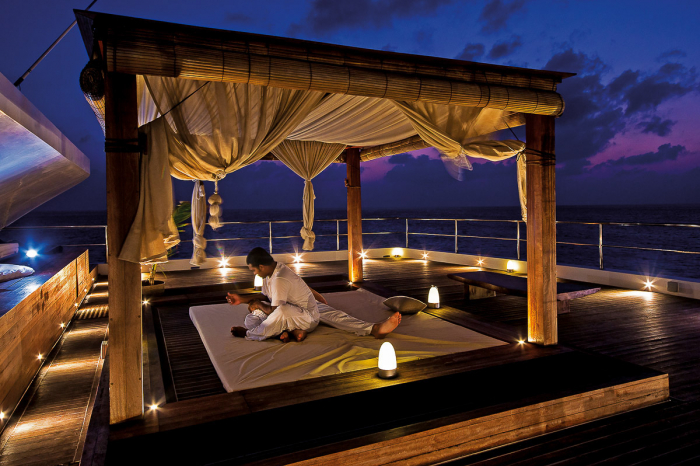 But like we said, the real beauty of ScubaSpa is that they offer every possible spa luxury, plus, a state-of-the-art floating dive centre! The accompanying 20-metre dive boat serves as both dive shop and tender, equipped with high-quality rental equipment, nitrox, and multilingual dive instructors, as well as plenty of comfortable seating, multiple entry points, and on-board facilities. Divers are led by seasoned guides to the best dive sites across the Maldives, including healthy reefs and energetic channels where sharks and manta rays congregate in the currents.
Highlight: Five-star spa services at sea
Silver: Adelaar, Indonesia
Looking for a family holiday to remember onboard a unique vessel? Then the Adelaar might just be the boat for you. Blending traditional Dutch design and modern fittings, this luxury vessel boasts over a century of history, having sailed the world before earning its place among Indonesia's elite liveaboards. With just eight guests on board, you'll feel like the master of your own adventure as you relax among the sophisticated teak interiors. Throughout the day, this vessel's expert Balinese chefs prepare gourmet Indonesian and Western cuisine which is served above deck, either under the sun or by starlight. Kayaking, snorkelling and stand-up paddleboarding are all on offer, as well as enriching excursions to local villages, and national parks, all set to the backdrop of Indonesia's stunning rugged landscapes.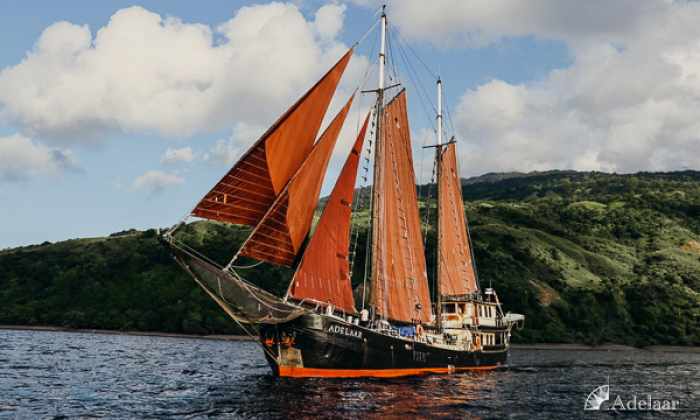 Of course, with destinations such as Komodo, Alor and Flores on the itinerary, this vessel packs everything required for underwater exploration. Full rental equipment and nitrox are available and the outstanding dive deck has ample space for kitting up and gear storage, as well as convenient hot water showers. And best of all, the experienced dive team happily customises each trip, matching your experience level and your wish list to identify the best possible sites.
Intimate experiences onboard a converted Dutch schooner
Bronze: Galapagos Sky
With such unique natural history and incredible endemic wildlife, a trip to the Galapagos Islands is guaranteed to be pretty remarkable. But the Galapagos Sky takes things to another level. Luxury has been woven into every aspect of this vessel's operations - from the rich and elegant wooden finish and plush carpets, to artisan chocolates on your pillow and a personal greeting from the captain after every dive. You can even enjoy the comfort of fine dining in a casual atmosphere while exploring one of the world's most remote destinations - not to mention complimentary beer and wine with your meal.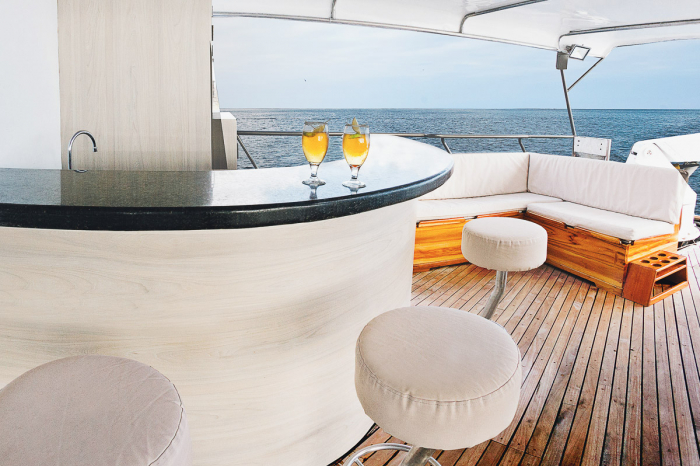 Needless to say, Galapagos Sky's itineraries represent excellent value for money, with shore excursions, night diving, and numerous snorkelling opportunities when the boat isn't moving. Plus, you'll get an exhilarating three days at Darwin and Wolf islands - home to the Galapagos' heart-pounding hammerhead schools - providing plenty of opportunities to make some lifetime memories. Unsurprisingly, with cool water, pumping currents, and powerful pelagics, this destination is generally reserved for advanced divers only. But, this vessel's expert team is happy to help intermediate divers find their comfort zone and make the most of their time in the water.
Highlight: First-class service in a remote and rugged destination
Notable mention: Argo, Costa Rica
Ever wanted to just disappear and explore a lost world, completely untouched by time? Well now you can. Thought to be the inspiration behind fictional lands from works such as Treasure Island and Jurassic Park, Cocos is far from an ordinary island. And likewise, the Argo is no ordinary liveaboard. A unique, yet very intentional blend of work-ship and luxury yacht, Argo pampers adventurous guests during epic voyages to this rare wilderness. The vessel is looked-after by 14 well-seasoned crew who cater to guests' every need, including expert chefs who can prepare fresh four-star cuisine at the drop of a hat.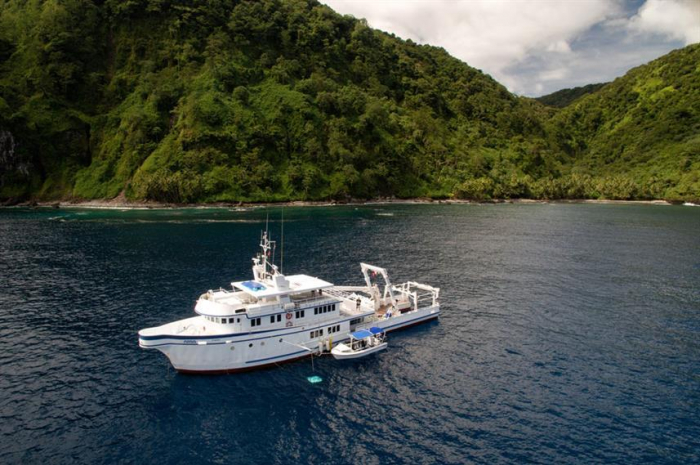 To all but a few adventurous liveaboard guests, Cocos Island's diving is the stuff of legend, with monstrous schools of scalloped hammerheads, and regular encounters with giants from the deep, including whale sharks, manta rays, and humpback whales. Of course, Argo offers all the necessary diving accessories to enjoy such an incredible destination including nitrox, rebreather facilities, zero-speed stabilisers, and three powerful skiffs. And, if you think exploring the remote island of Cocos couldn't get any more bucket-list worthy, this vessel proudly boasts its own deep-sea submersible. Yes, you read that right. Argo's DeepSee is a custom-built submarine, capable of carrying a pilot and two passengers to a depth of 450-metres below the surface!
Highlight: Dive into the abyss in a genuine deep sea submarine
If this has got you dreaming of a unique scuba diving holiday, trust our expert team to provide you with all the insights and assistance you'll need. With tons of personal experience, and simple comparisons of the top resorts and liveaboards, we'll help turn your dream into a reality.
---
Ready for your unique diving getaway?
Contact one of our dive travel experts today.

---
---
---
Join the ZuBlu community to receive the latest insights and unmissable adventures
Don't worry, we'll only send you really good stuff - and we never share your details
---