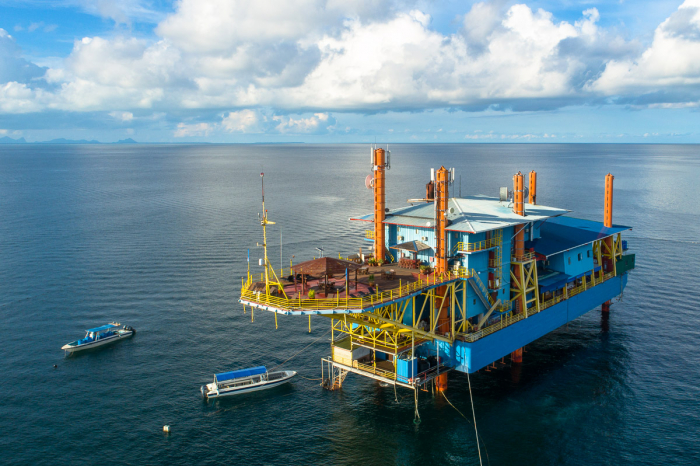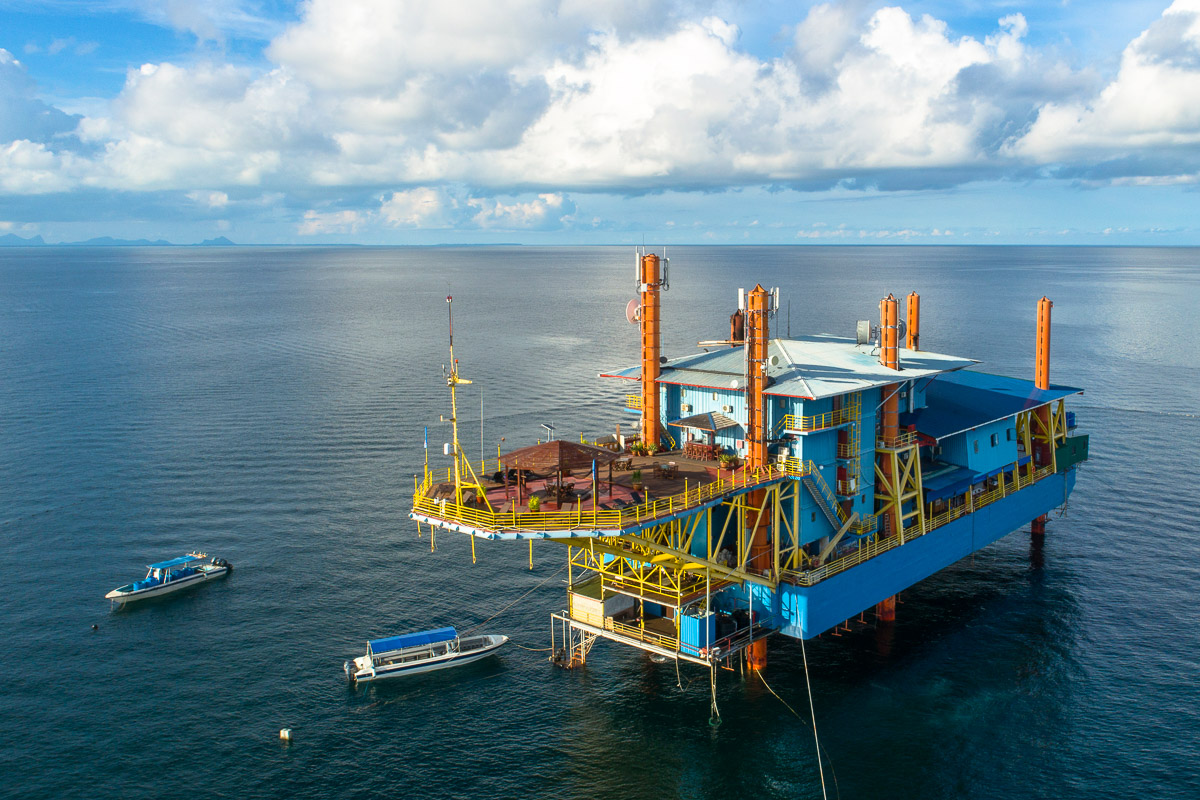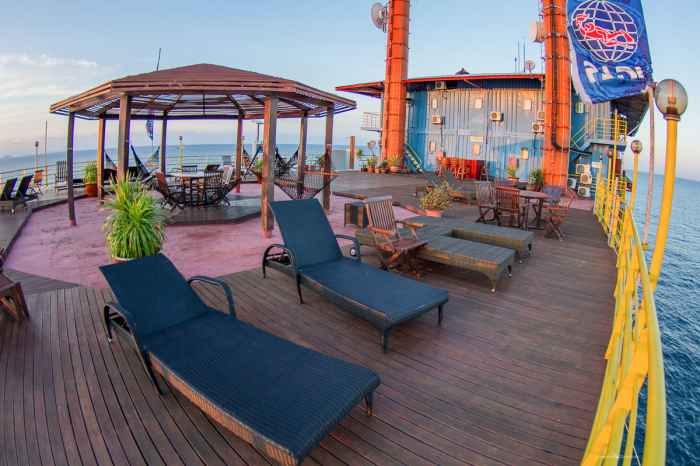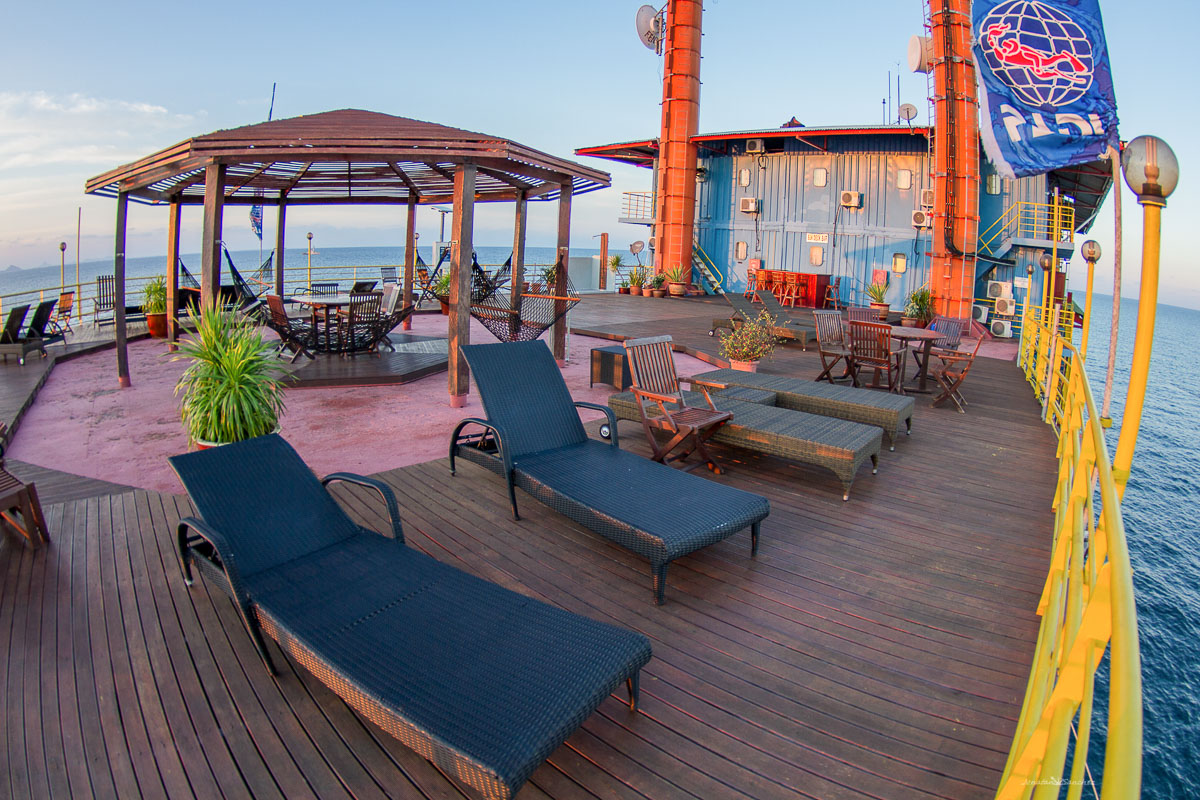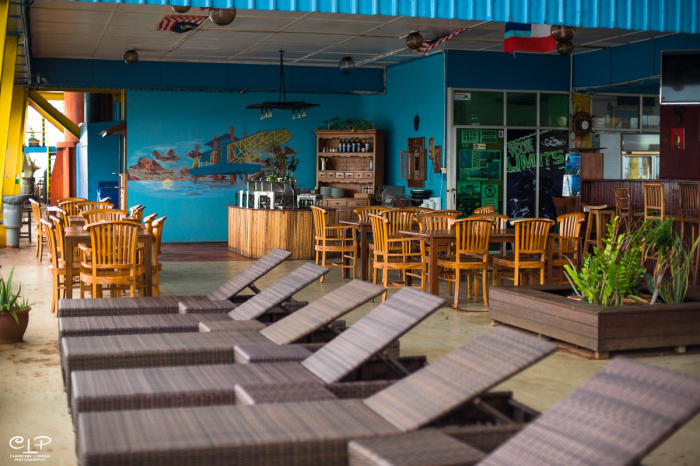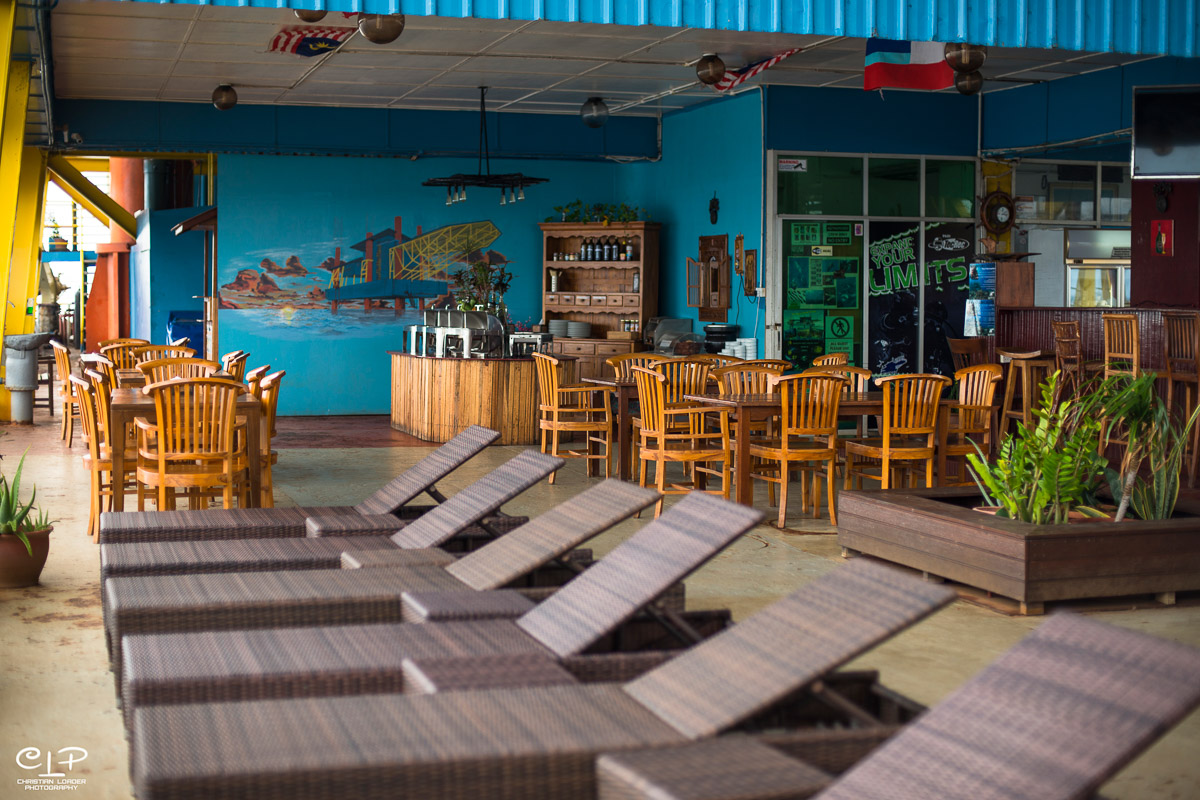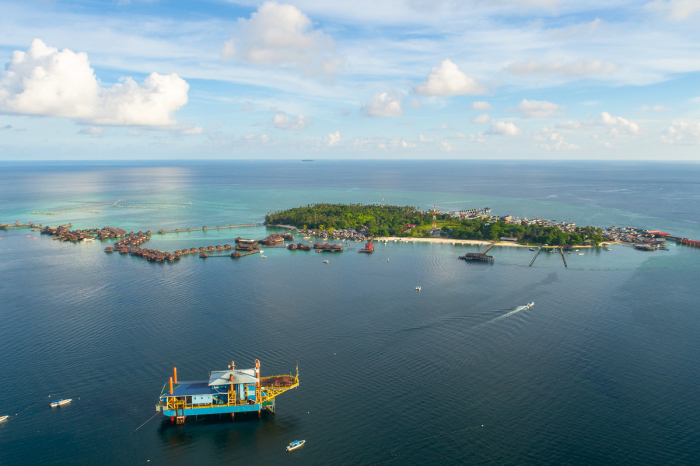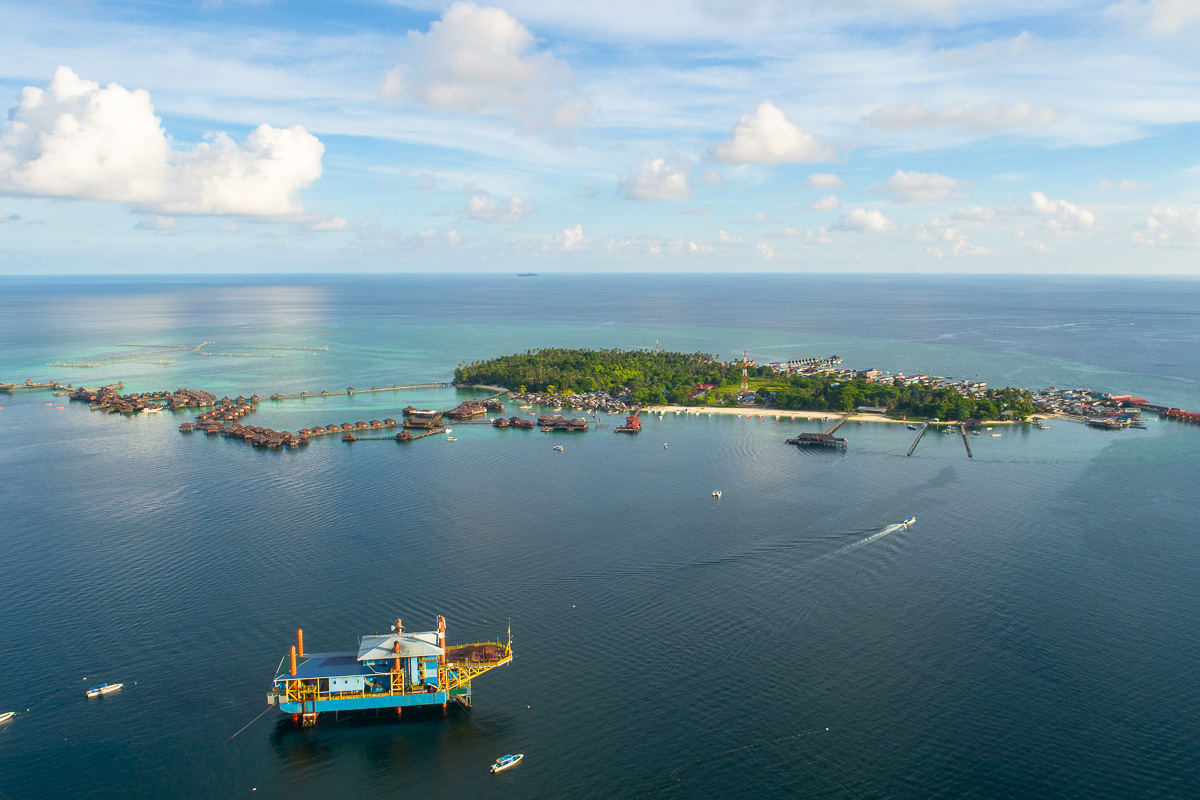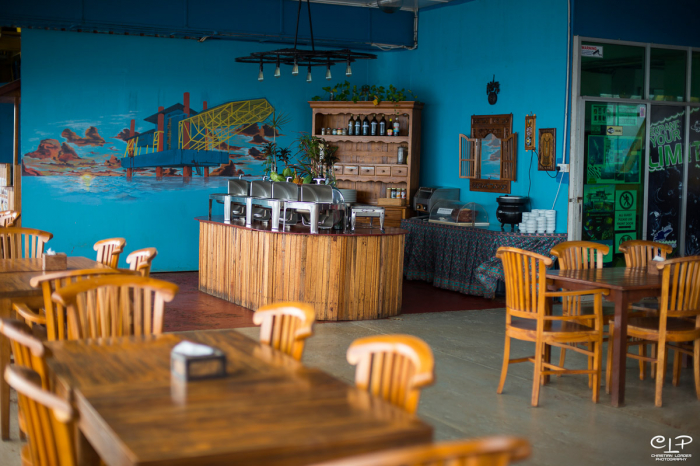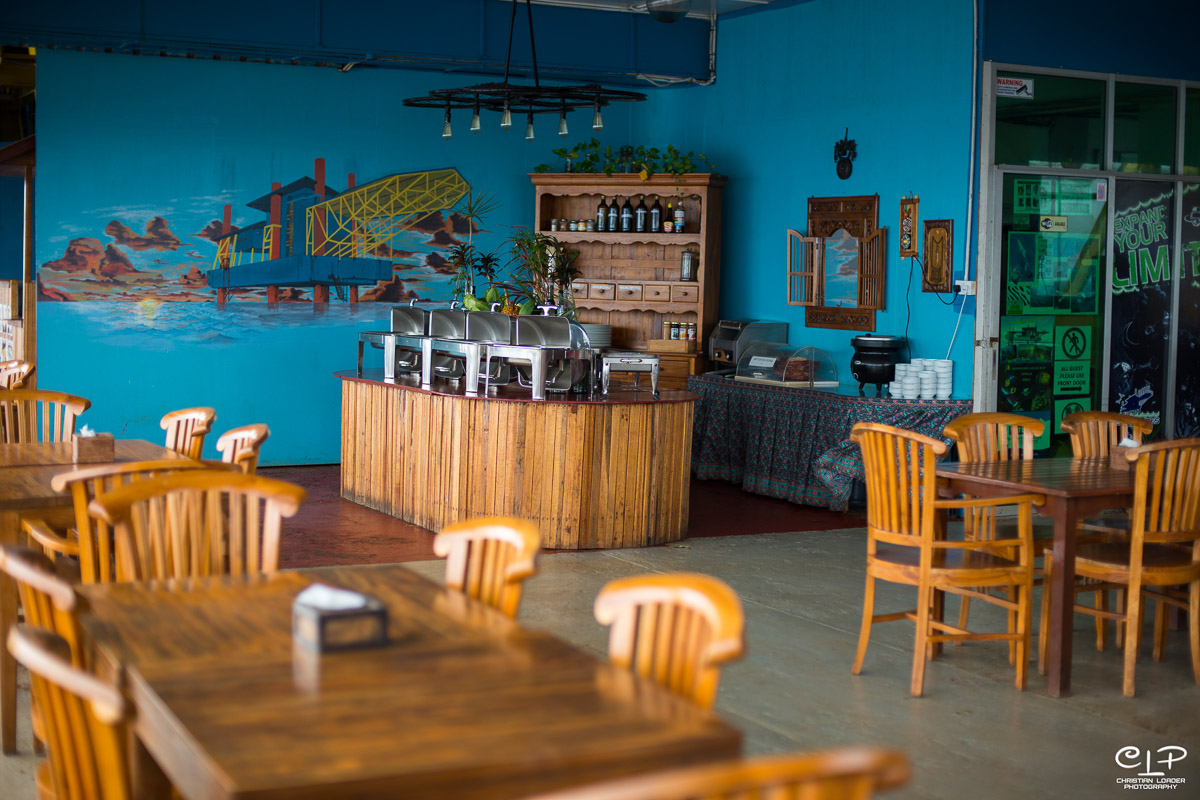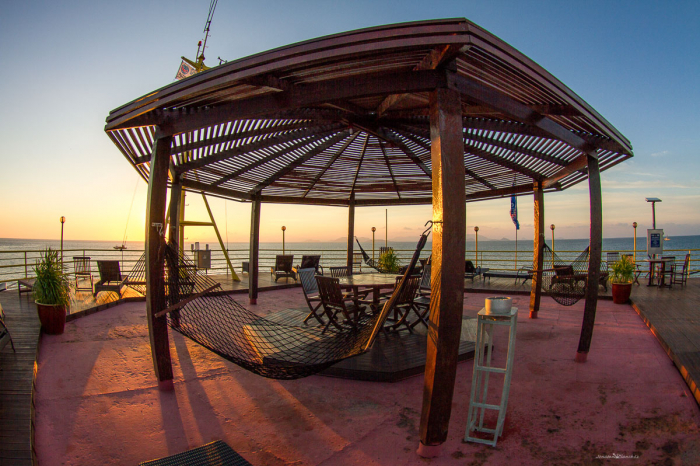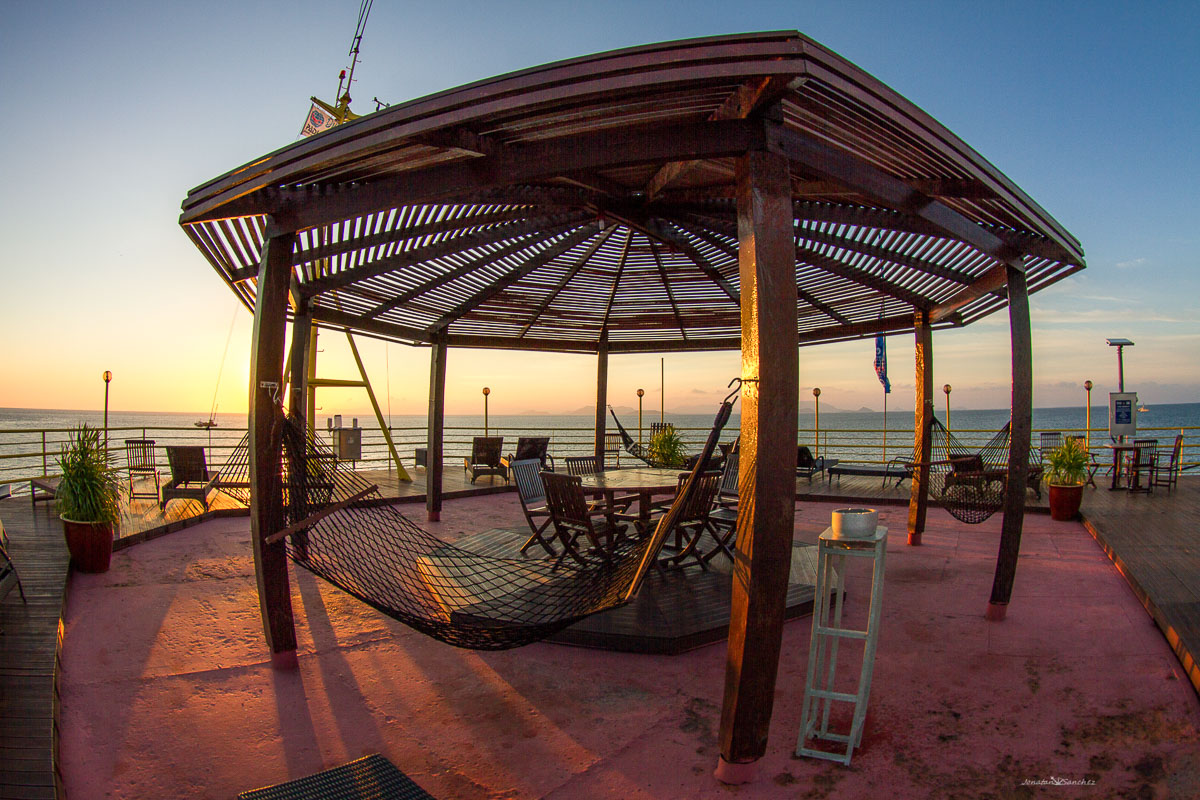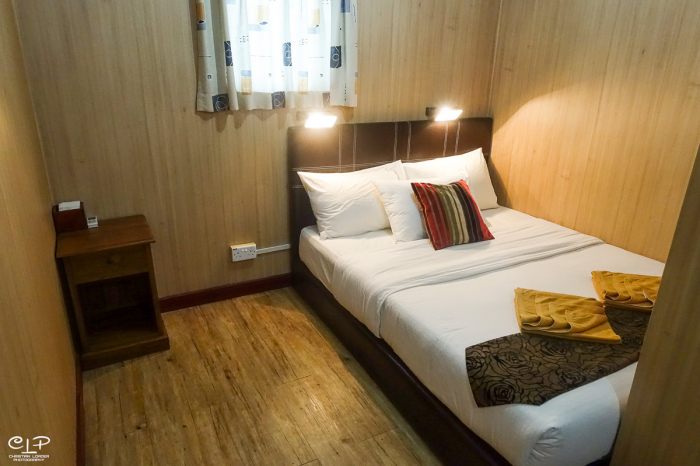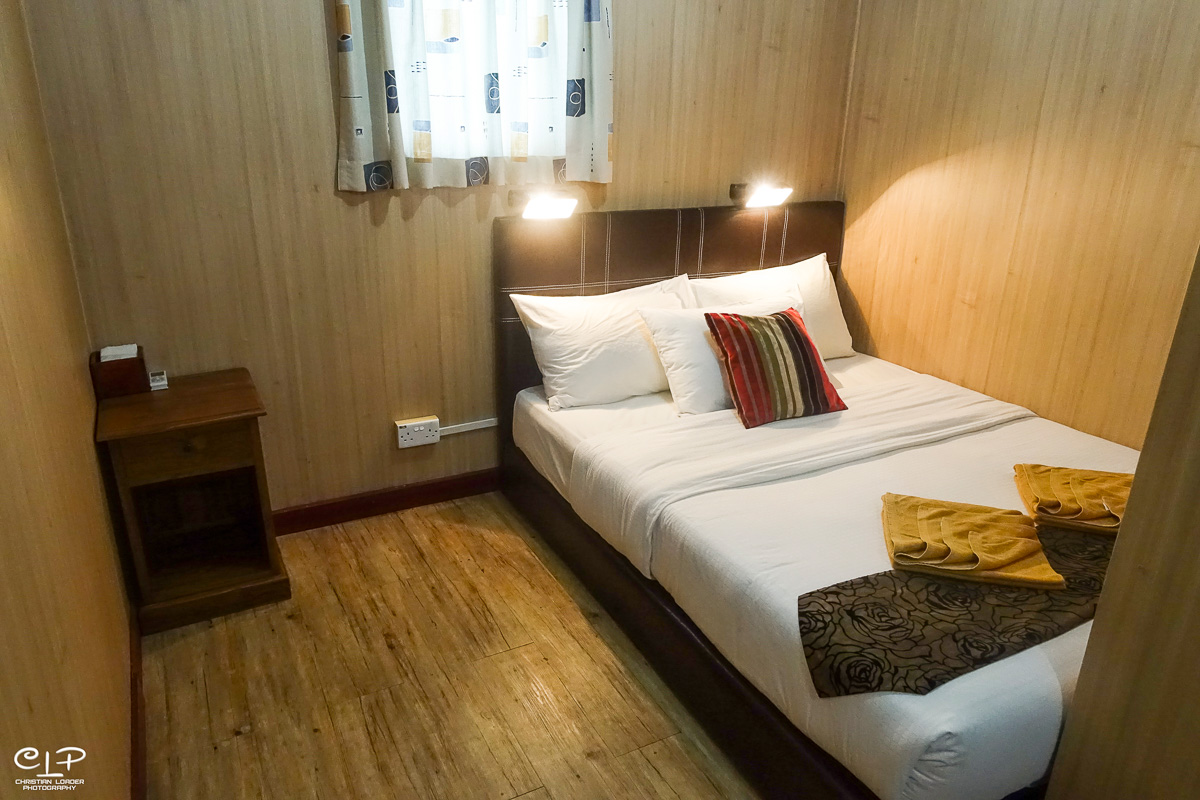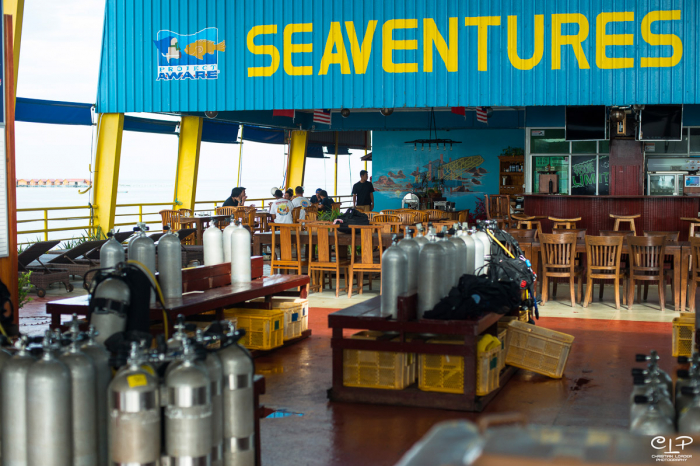 Overview
Unique converted accommodation - the ultimate recycling project
Fun and friendly "by divers, for divers" atmosphere, ideal for social guests
Unlimited diving on the house reef, right beneath the resort
Support for tec diving - including courses, facilities for gear, and rental rebreathers
Seaventures is a unique dive resort with outstanding facilities for scuba students and divers of all skill and comfort levels, as well as a fantastic team - dedicated to safety and comfort both above and below water. Located on a refurbished oil rig off Sabah's northeast coast, this resort provides the perfect base for exploring the region's exceptional diving. Enjoy easy access to both Mabul and Sipadan, as well as local muck and macro hotspots, and the house reef beneath the rig's massive metal platform base. Seaventures is the only hotel of its kind, offering a 'by divers, for divers' approach in one of the planet's most sought after destinations - complete with eco-conscious operations and all the comforts of home.
---
Rooms
---
Amenities
---
About
About Seaventures Dive Resort
Seaventures Dive Resort began as an accommodation platform, built for use in the oil and gas industry. The decommissioned platform was later spotted by the resort owners in the 1990's who saw an opportunity to repurpose the rig for an entirely different purpose. So after an extensive refit, the platform was towed to Sabah's northeast coast, refurbished especially for underwater adventures, and Seaventures Dive Resort was born! Today, this is one of the region's premier lodging options for divers in the know - with comfortable and affordable accommodations, a fun social atmosphere, and shorter daily commutes than almost any other dive resort in the area.

Located just north of Mabul, Seaventures Dive Resort is a perfect base to explore some of Borneo's most exciting dive sites - including those of the legendary island of Sipadan. This all-inclusive floating hotel feels more like a liveaboard than a resort, offering intimate tidy spaces with modern details, and plenty of room to stretch out in the sun when you aren't busy diving. This is also an excellent place to relax and unplug, with limited distractions from the outside world and an incredible array of diving at its doorstep - including exciting macro adventures right below the platform itself!
Explore the resort
Starting out as an accommodation platform, the rig's conversion to a dive resort was relatively simple - all that was needed was some home comforts and a compressor! But Seaventures went to great lengths to ensure the platform was more than just comfortable. All cabins have air-conditioning and ensuite bathrooms with hot water showers, and there is a games room, karaoke, and a conference room for showing movies. The rig also serves three tasty buffet-style meals each day, as well as coffee and tea, snacks, and fruit. Special dinners and barbeque nights are also held, as are social events on the balcony - ideal for getting to know your fellow divers.

Standout facilities include the sundeck - the rig's old helipad - with stunning bird's eye views over nearby Mabul and out, across the Celebes Sea. The deck makes a perfect place for a sunset drink and wildlife watching whilst clinking glasses with the rest of the resort's guests. The rig is surprisingly easy to dive from, with a hydraulic lift that brings divers up from the transport boat and lowers them again when it's time to dive. This elevator is also used to help divers get to and from the house reef found directly below the resort, whenever they feel like diving.
Diving from Seaventures Dive Resort
Seaventures is a PADI 5-Star resort and one of the region's best-established dive centres. Three boat dives are offered every day, visiting nearby areas such as Sipadan, Mabul, and Kapalai. The resort also provides unlimited diving on its house reef found just below the platform – famous for its sunken wrecks, cage swim throughs, and artificial bungalows with bridges covered in coral. Both beginners and more advanced divers are well catered to at Seaventures with a wide range of courses including specialities, tec diving and professional certifications. Plus, full professional-quality equipment rental, spacious custom speedboats, and outstanding facilities for personal gear.

Sipadan is one of Malaysia's most challenging and legendary diving areas, known for hair-raising currents, powerful pelagics like sharks, and the region's signature tornado of barracuda. The Seaventures team is dedicated to safety and fun, helping advanced and adventurous divers make the most of their time in the region, and bringing intermediate explorers up to speed. Spend at least a week diving here, and getting to know the sites around Mabul and Kapalai for the best shot at a Sipadan permit - an absolute requirement for entry to the park. Don't worry - the local diving is good enough to make multiple days of exploration well worth your while!
---
Top tips
Plan at least one day for self-guided exploration of the artificial reefs beneath the rig.
Dive here for a week or more for the best chances of scoring a coveted permit for Sipadan.
This is one of the region's top picks for scuba students beginning or continuing their underwater education.
Pack plenty of cash and all the essentials from home - you won't find any shops or banks here!
Conservation
Seaventures Dive Resort stands out as an extraordinary recycling project in itself - having transformed from a retired oil platform into a unique concept resort designed by divers, for divers. Seaventures also makes its mark by performing regular clean-up dives and offering a variety of PADI courses such as the Shark Awareness speciality. The resort has also constructed a number of artificial reefs around the area - using material repurposed from the rig itself or recycled scrap metal and cement from the mainland. These structures are now covered in sponges, corals and other invertebrates, and shelter schooling fish and other life, turning the platform into an extraordinary haven for marine life.
In August 2017 Seaventures held its first 'Ocean Conservation Week' with education opportunities, speciality dives reef clean-ups, educational classes with local school children and the construction of a new artificial reef. During the same event, the resort announced that it has stopped using plastic water bottles and switched to reusable, glass bottles - a major step toward a plastic-free future for the entire operation!
---
Diving
Diving in Mabul and Kapalai
Exotic cuttlefish

Year round

Clown frogfish

Year round

Giant frogfish

Year round

Unique crabs & shrimps

Year round

Artificial reefs

Year round

Ghost pipefish

Year round
Set amidst an intricate maze of coral reefs, and just 45 minutes from Sipadan, Mabul Island diving is amongst the best in Malaysia. Perfect for those keen to explore Sipadan's incredible marine life, the islands also offer amazing 'muck' diving in their own right. And if you are looking for that perfect tropical diving package - sandy beaches, palm trees and unique villages - Mabul and Kapalai have all of that, and more!
---
Resort checklist
Number of rooms
21
Official dive center rating
PADI 5-Star CDC Resort
Courses offered
Discover Scuba Diving, Scuba Diver, Open Water Diver, Advanced Open Water, Tec 40+, Freediving
---