It's safe to say, 2020 has been a year of ups and downs. The COVID-19 pandemic grounded flights, locked down major cities, and cancelled holidays all over the world, while simultaneously allowing the planet's oceans to thrive, free from human disturbance. In fact, in recent months, dive centres and resorts from around the globe have begun reporting an exciting trend - diving is better right now than it has been for decades!
But as countries begin opening their borders to tourists again, how can divers continue exploring the ocean under the 'new normal' way of life? Well, luckily for us, diving is well-suited to these changes... and we're certainly no strangers to masks.
As travel starts to open up, liveaboard holidays are emerging as one of the best options amongst divers in the know. These overnight safaris at sea can last just a few days or weeks on end, and you can find them in all of the planet's most popular and dynamic diving destinations. Here are just a few reasons why a liveaboard might be the best choice for your next 'new normal' adventure.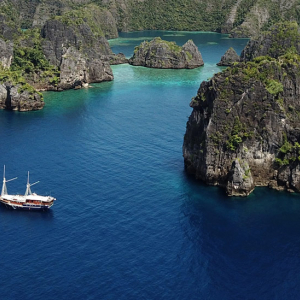 Recommended insight
The ultimate guide to liveaboard diving in 2023
Everything you need to know about liveaboard dive holidays, what to consider when booking a dive safari, and the best liveaboard dive destinations in the world!
1. Easier social isolation
Maintaining a safe distance from others is the single most important factor for preventing the spread of COVID-19 - and it can be easier on a liveaboard than in a resort! First of all, you'll be travelling with far fewer guests in most cases. This means less chance of accidental transmission during group activities and in common areas like restaurants. You're also likely to dive with the same group and guide throughout your stay, with no new divers coming and going each day. And finally, you'll likely be spending most of your time outdoors, with sun and shade decks, all-day activities in the water, and al fresco dining areas.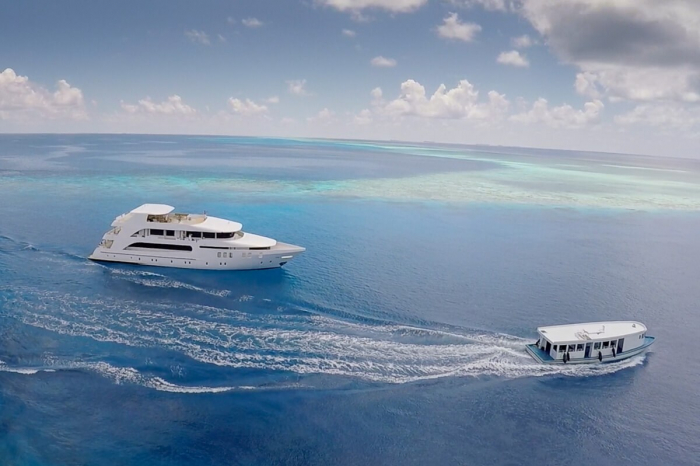 When combined with well-known methods of prevention like washing your hands or using hand sanitiser gel frequently, wearing a mask, and avoiding direct contact with others, this adds up to a much safer diving holiday.
2. Optional private charter
Most liveaboards offer private chartered trips, allowing a group of guests to rent the entire boat. Depending on which vessel you choose, this could be an intimate expedition with just a handful of friends, or, an all-out adventure with 20 or more guests on board a spacious and modern ship. No matter which scenario suits you best, a private charter allows for far more control when it comes to COVID-19. 
A charter lets you know exactly who you'll be sharing your boat with - and their current health conditions. It also allows for structured COVID-19 screening, social distancing, or even quarantining in the lead-up to an expedition.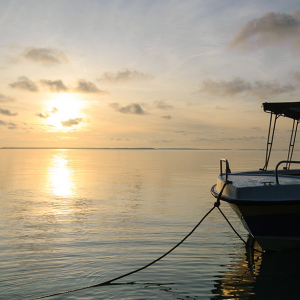 Recommended insight
Private dive getaways you don't want to miss
Here at ZuBlu, we help make diving dreams come true. We've compiled this incredible list of unmissable private charter and resort options, so that you can still enjoy the things you ...
But, safety isn't the only big benefit when it comes to a private voyage. Chartered itineraries allow you to customise nearly every detail of your trip - from where you'll dive and how long you'll spend there, to the exciting wildlife and conditions you'll encounter. Your group will also have control over additional activities, meals served, and more!
3. Multiple diving destinations
Since the start of the pandemic, the logistics of traveling have become increasingly difficult. In fact, one of the most frustrating parts of trying to go on holiday right now is the challenge of getting to and from your destination. And, in most cases, the 'new normal' will mean travel complications and restricted movement once you're on vacation, as well.
This is one way in which diving from a liveaboard is totally different! Forget staying in a hotel or resort and only exploring the nearby area. Liveaboards can travel great distances during each voyage, allowing guests to dive a wide variety of destinations - without risk of catching or spreading the virus. This unparalleled freedom of movement gives divers the opportunity to embark on unbelievable, multi-stop trips with ease.
4. Safe adventures for everyone
Do you have a passion other than scuba diving? The ocean is a place of wonder for all kinds of sports enthusiasts - not just divers! And, depending on where in the world you're visiting, you'll find a wide variety of additional activities available during your trip.
Watersports like snorkelling, freediving, ocean kayaking, and standup paddleboarding are among the most common offerings when it comes to additional sports offered onboard - and in many cases they're complimentary. Many boats also offer hiking or trekking, wildlife watching, and visits to uninhabited islands or sandbars. Wellness themed experiences are gaining in popularity as well, with yoga, meditation, and spa services at sea. Thrill-seekers can also find adrenaline-inducing sports on offer, with surfing and wind sports among the most popular options.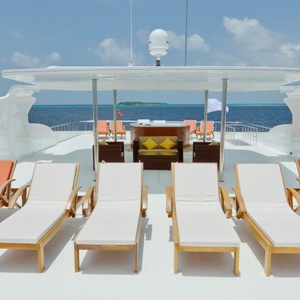 Recommended insight
Best diving liveaboards in the Maldives
Stretching across 850-kilometres of the Indian Ocean, the Maldives is an idyllic island nation boasting a string of 26 atolls, each with its own vast lagoon. With so many exceptional ...
If you're new to the sport of scuba diving, a liveaboard isn't totally off limits. Many of the most popular diving destinations boast bathtub-like conditions, ideal for beginners and nervous newbies, and more and more boats are offering scuba certifications onboard. Whether you're hoping to get Open Water certified during your dive holiday or continue your underwater education - there's an option for you out there!
Adding extra sports to your itinerary or getting certified at sea are excellent options in a post-pandemic world. You won't have to book any additional travel or deal with extra COVID screenings. And, you'll never worry about sharing sports equipment with a whole resort's worth of guests - making the entire experience safer and more enjoyable! 
5. Extended itineraries and quick trips
Liveaboard diving trips come in all shapes and sizes, with voyages lasting anywhere between one or two nights to 20 or more days at sea! So, there's an itinerary suited to nearly every budget and personal travel style - from weekend warriors to dedicated divers hoping to explore the most remote regions on planet earth.
But with current difficulties in travel, it makes sense to spend a bit more time on the water, and more and more guests are opting for extended stays at sea. And, with a wide variety of trips lasting between 14 and 21 days, you'll find plenty of options for a longer trip.
But, if you can't leave town for weeks on end, don't worry! Some destinations offer one and two night voyages, ideal for part-time scuba junkies, parents, and budget travellers. Not sure if you'll like liveaboard diving? These quick trips are the ideal way to dip your toe into the world of dive safaris.

6. Outstanding value
You might be thinking that a liveaboard trip or private charter is out of your price range, but the reality is quite different. Depending on which destination you visit, you'll likely find a wide variety of vessels - from luxurious yachts that feel like a floating five-star hotel to backpacker-friendly boats with bunk beds and a sociable atmosphere.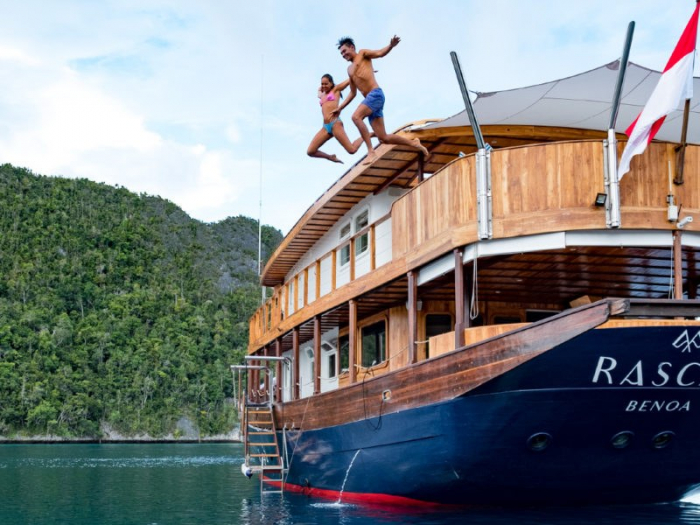 No matter which type of trip suits you best, it'll likely be great value for money right now. Most boats include three meals a day, plus unlimited coffee, tea, water, and snacks while onboard. Exciting activities other than diving are often offered free of cost, and you can expect round-the-clock customer service from friendly and enthusiastic staff. Best of all, you'll dive more than you ever could at a resort, with three to four tanks per day as an industry standard.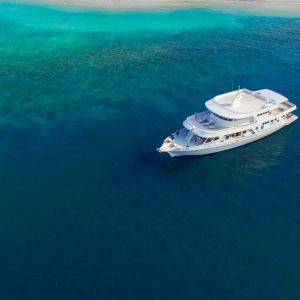 Recommended insight
The best affordable liveaboards in Southeast Asia
A relaxing liveaboard trip to the remote Similan Islands or the vast national parks of Raja Ampat and Komodo would be a once-in-a-lifetime experience for many scuba divers. But you ...
---
---
Ready to start planning your ultimate liveaboard diving holiday?
Contact one of our dive travel experts today!

---
---
Join the ZuBlu community to receive the latest insights and unmissable adventures
Don't worry, we'll only send you really good stuff - and we never share your details
---